There is no more outrageous holiday to be celebrated with thematic food and drink than Halloween! Spooktacular Halloween Party Recipes are a ghouslish combo of recipes, savory and sweet, cocktail and mocktail, to make your party one to remember (without a ton of effort)!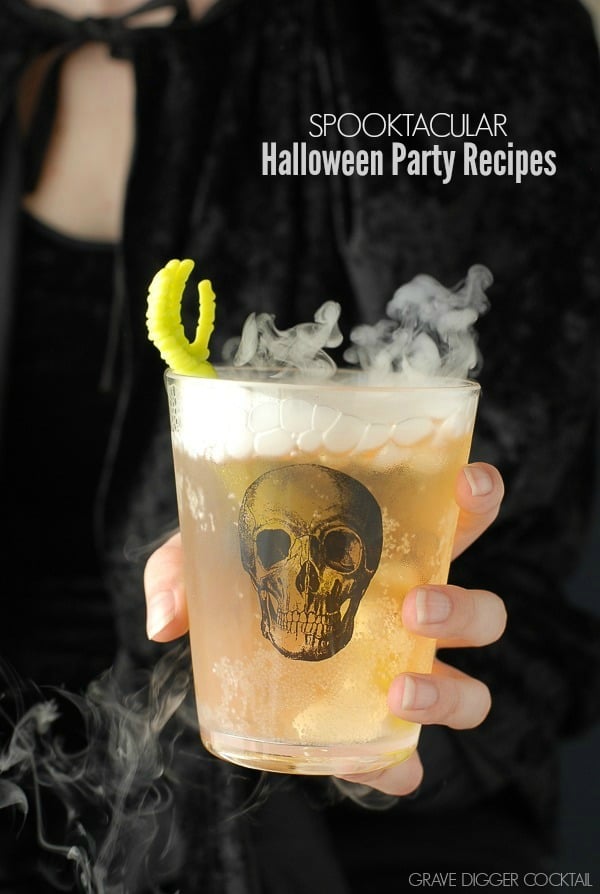 The internet is full of pumpkin spice everything signaling fall's arrival. For me, though I DO look forward to making Slow Cooker Spicy Pumpkin Chicken Corn Chowder when the weather gets chilly, my sights are set on Halloween. I love Halloween! The decorations, the costuming and of course the food!
Halloween is a special holiday, a whimsical event, and one made all the more fun with unexpected food and drink. The food doesn't need to be fussy or labor intensive, just reinvented with a spooky vibe and some great props! This collection are some favorites and the full list of options may be found on the Halloween recipes page.
Spooktacular Halloween Party Recipes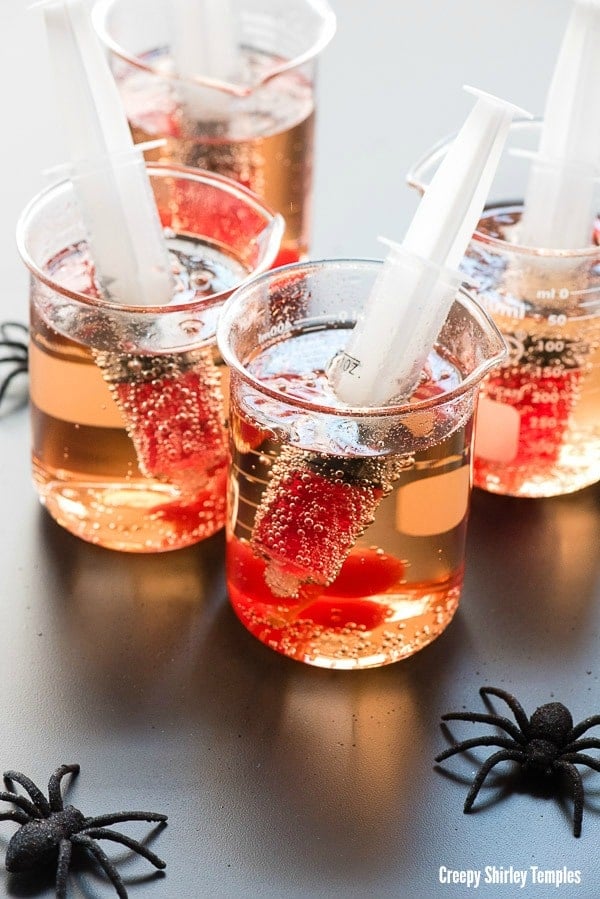 One of my favorite Halloween props are these jello shooter syringes I found at a pop-up Halloween shot (they are also available online). I have used them in multiple recipes including Creepy Shirley Temples. The classic mocktail is made oh-so-freaky just with the use of the syringes and serving in glass beakers (found on Amazon.com) instead of regular glasses. Another punch bowl mocktail recipe is Off With Your Hand Halloween Punch that features a floating ice hand made with a fun trick!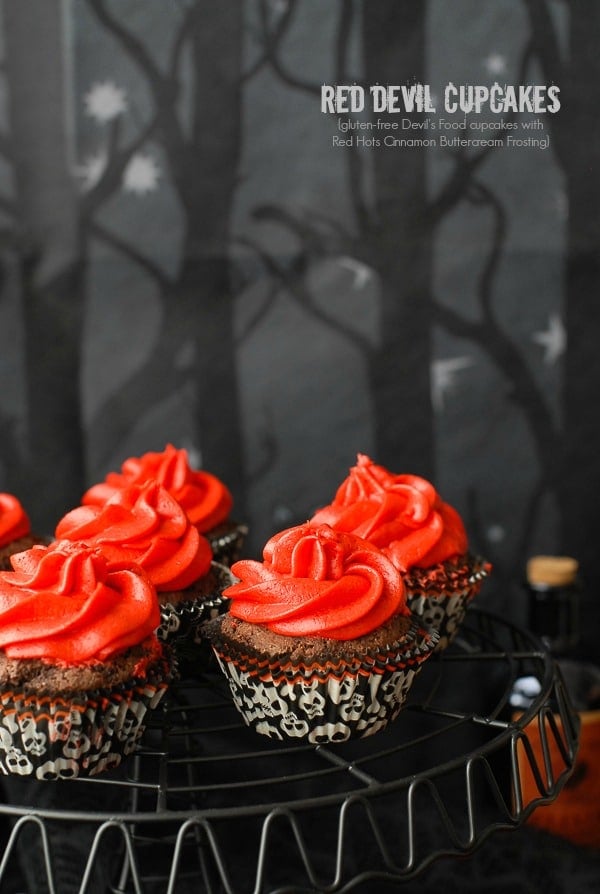 Red Devil Cupcakes. From-scratch devil's food cupcakes (gluten-free) are topped with spicy red hots cinnamon buttercream that is SO good!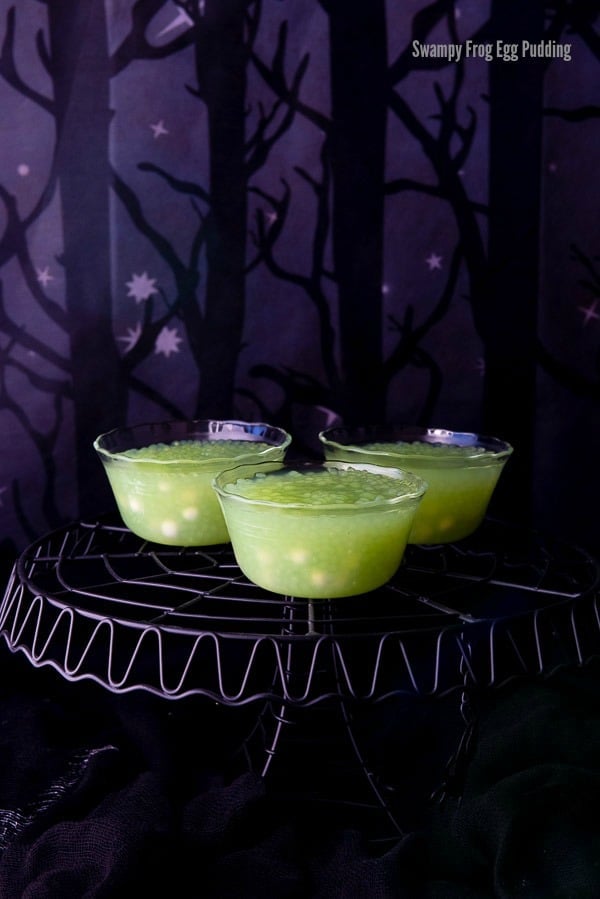 With a simple twist, classic tapioca pudding is transformed into Swampy Frog Egg Pudding. Tapioca pearls are available in a variety of colors from grocery stores with international sections or Asian grocery stores. Adding some green pearls creates this eerie color naturally without food coloring.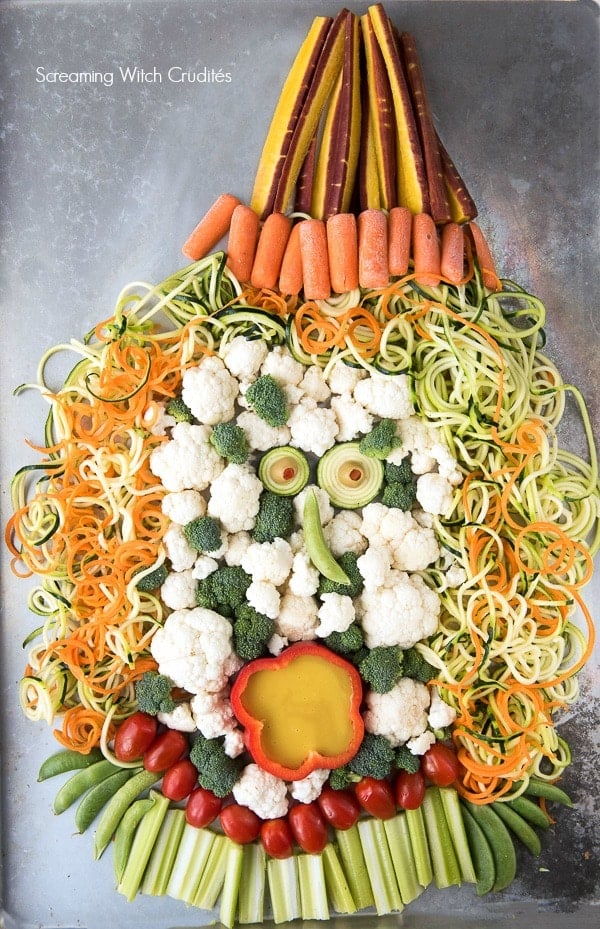 Weaving in healthy food amongst all the sugar treats can be a challenge. For Halloween, a simple vegetable platter would never do, however Screaming Witch Crudities will have everyone gobbling up the fresh vegetables. Freaky Halloween Salad uses seasonal produce and spiralizer vegetables to create a visual oddity of a salad just right for the halloween party recipes list.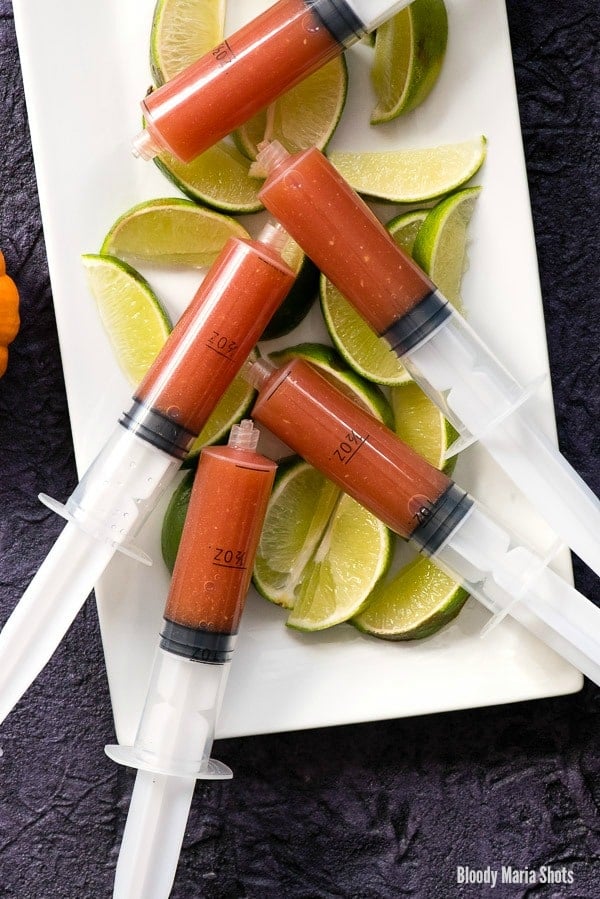 My favorite syringes used for actual shots in this recipe: Bloody Maria Shots are the south-of-the-border cousin of Bloody Mary's made with tequila. A great spicy shooter to get the party started.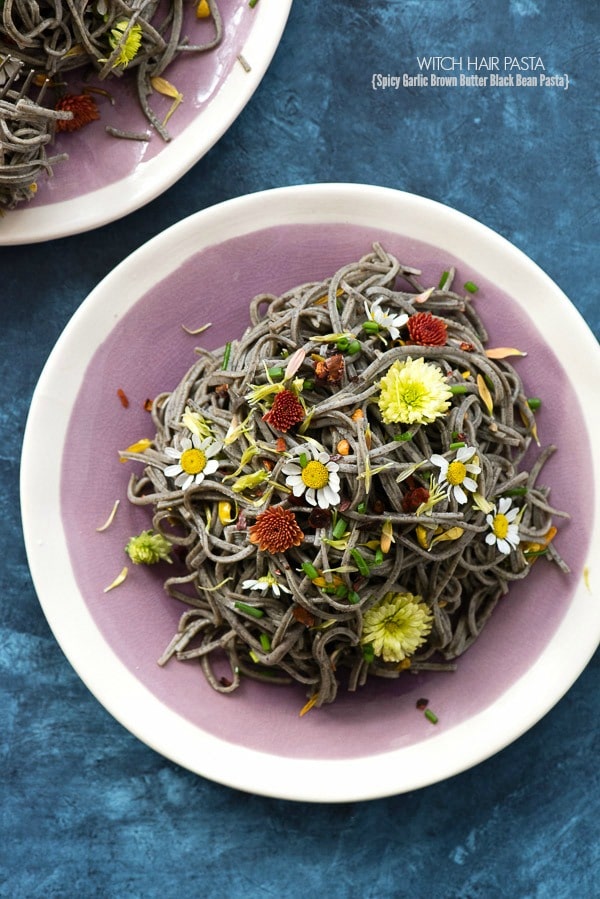 Black quinoa and black bean pasta are perfect ingredients to weave into a Halloween celebration. Witch Hair Pasta adds a Spicy Brown Butter Garlic sauce to black bean pasta trimmed with chives and edible flowers, just as you'd expect a witch's hair to have. Diablo Meatballs (taco flavored 'eye ball' meatballs), which look like devil eyes, paired with black bean pasta is another fun party main dish recipe.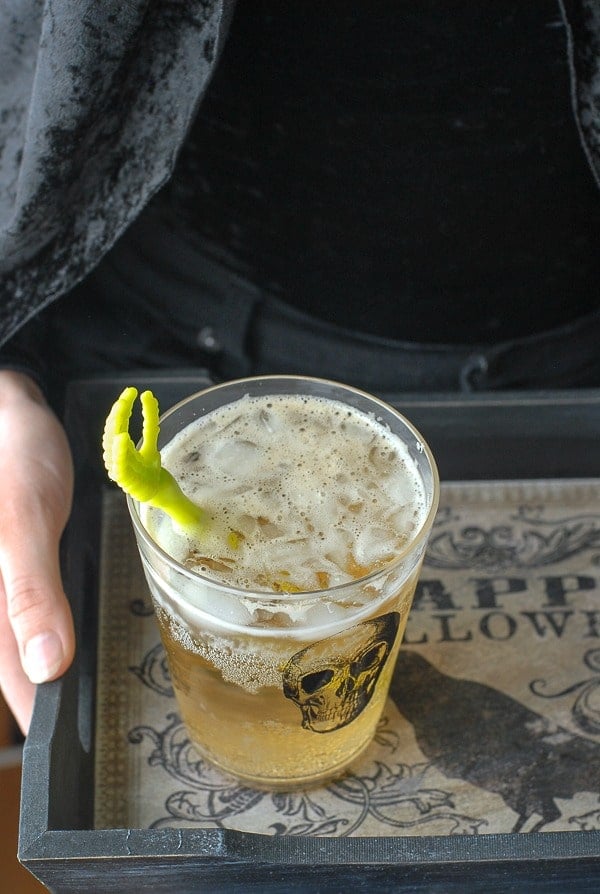 Refreshing, fizzy Grave Digger Cocktail is easy to mix up for a crowd and a sure win. Add some bone drink stirrers for a hand reaching from the grave vibe!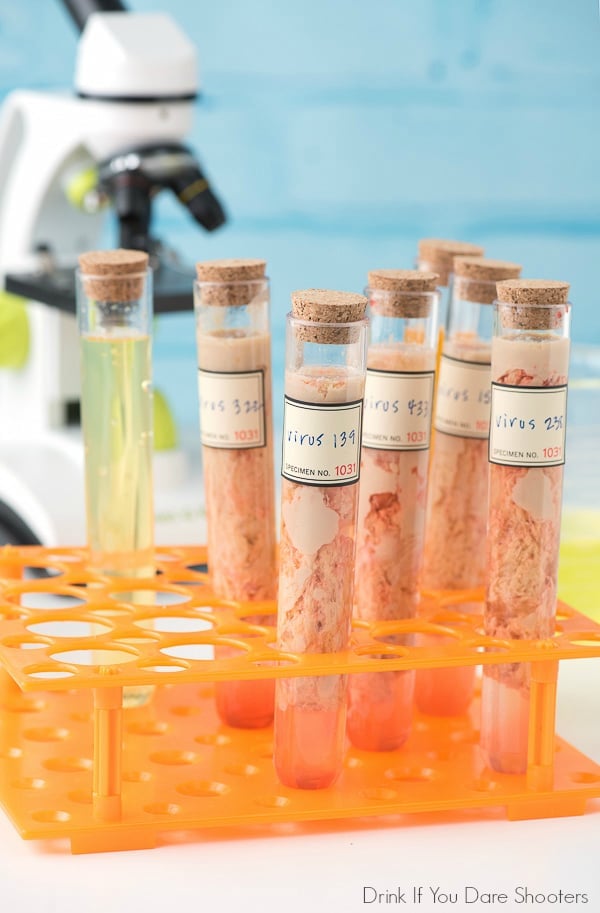 Drink If You Dare Shooters. Believe it or not, these shooters really taste good! The creepy consistency lends itself perfectly to a Halloween party especially when served in test tubes.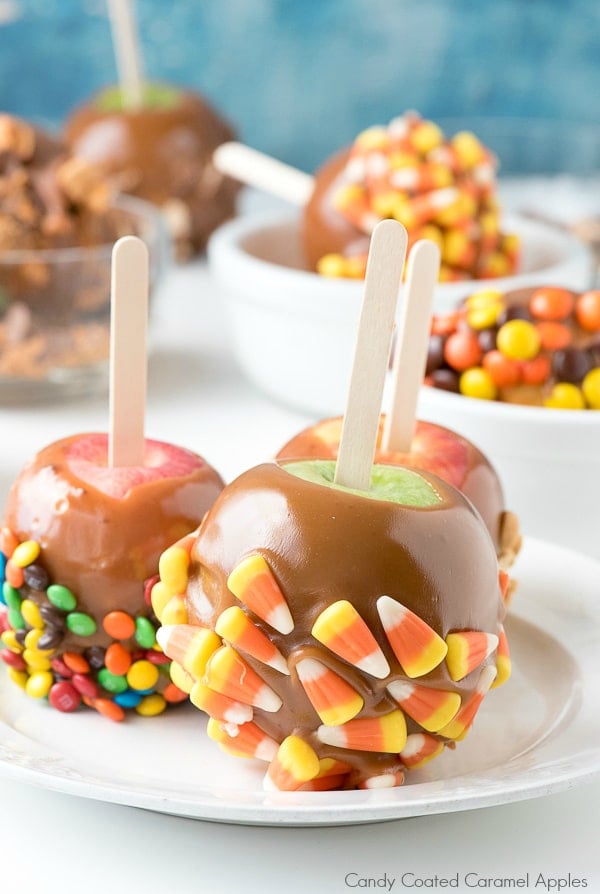 Everyone loves a caramel apple and these Candy Coated Caramel Apples are a great way to create a colorful table using candy to adorn the outside.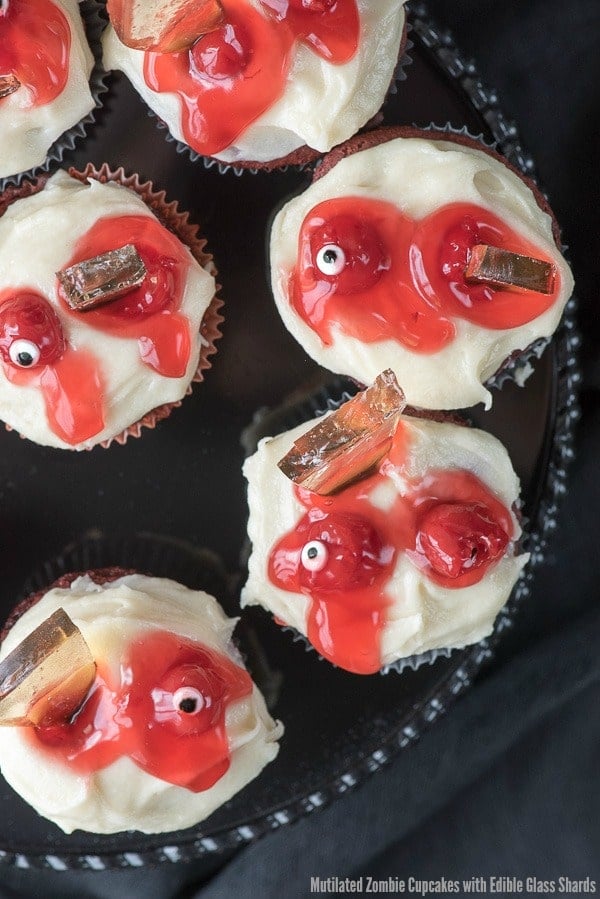 Mutilated Zombie Cupcakes with Edible Glass Shards are perfect for a gory sweet treat. Canned pie cherries and mini candy eye balls combine for a Walking Dead caliber dessert that won't soon be forgotten.
Don't forget the pumpkins! These 11 Unique Pumpkin Carving Ideas will add the ghoulish finishing touch to your party!