This easy Candy-Coated Caramel Apple recipe is one friends and family will be begging you to make again and again! A great way to use up Halloween candy too.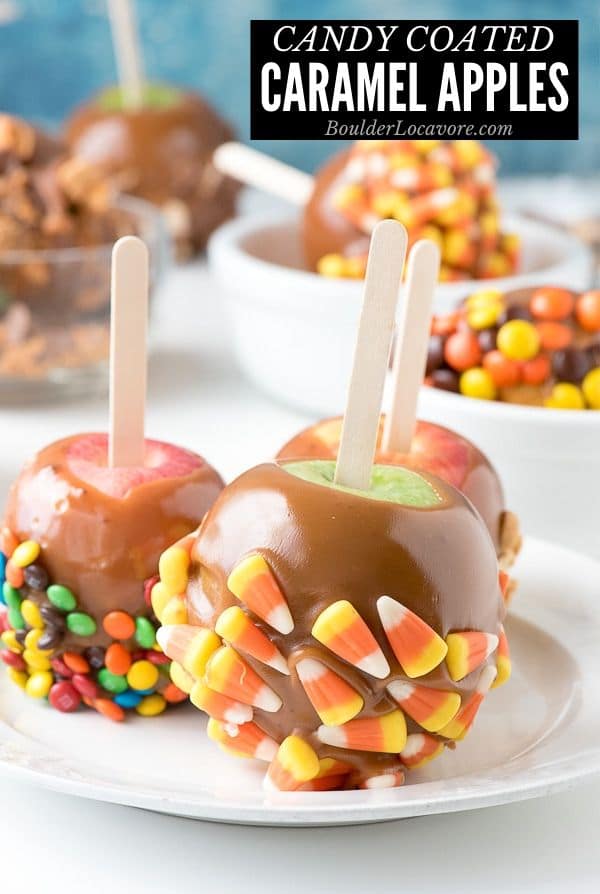 Fall is Caramel Apple season. They pop up in grocery stores around September and by December they are gone.
They are so easy to make at home! This Candy Coated Caramel Apple recipe includes a special twist you'll want to make all year long.
Candy-Coated Caramel Apple recipe
Fresh, crisp apples coated with buttery homemade caramel are adorned with your favorite candy like sweet little jewels. They are dressed up and ready for a party anytime.
The addition of the candy coating makes them extra special. Any candy coating or nuts can be used!
It's a fantastic way to use up leftover Halloween candy too.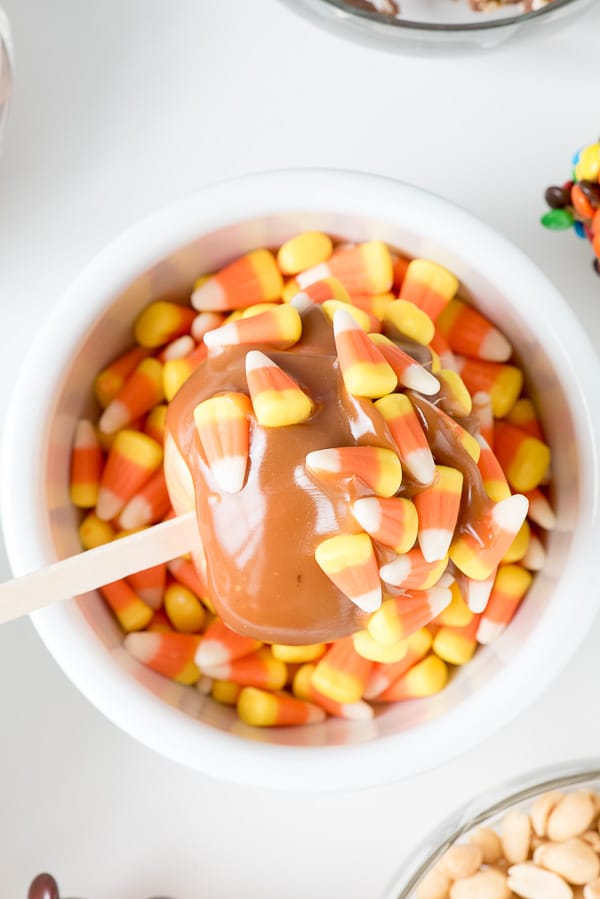 Making Homemade Caramel
Caramel is one of those things people don't realize can be made at home.
A simple combination of butter, brown sugar, corn syrup and salt transform into a buttery, silky caramel.
Making the caramel is not difficult but takes some attention.
Monitoring the temperature is the important step. The homemade caramel must reach a temperature to be pliable enough for dipping without over or under cooking.
MUST HAVE EQUIPMENT
A trusty candy thermometer ensures the caramel turns out perfectly every time.
A traditional candy thermometer that clips to the side of a saucepan or an instant read both work.
What Type of Apples to Use in this Caramel Apple recipe
Granny Smith apples are the traditional choice for caramel apples. In my household they are not always the favorite variety.
Often the tartness is not accompanied with a depth of flavor making them a bit flat tasting.
I used a variety of red apples in addition to some Granny Smith and they all were delicious.
Honeycrisp Apples are a favorite. They have a wonderful tart and sweet flavor with a thinner peel so they are easy to bite into as well.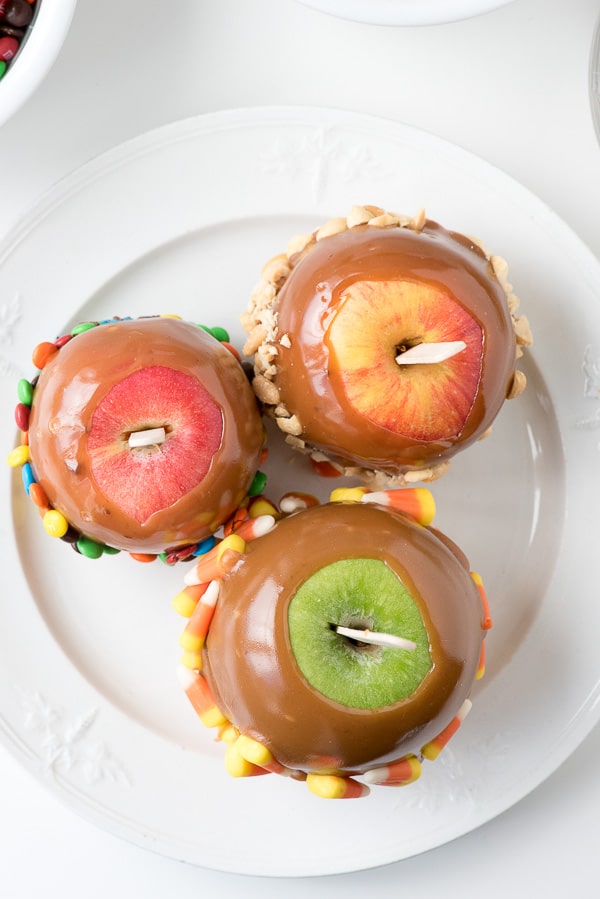 Caramel Apple recipe Ingredients
The ingredients in this Caramel Apple recipe are simple and easy to find.
For a detailed printable recipe refer to the recipe card at the end of the blog post.
Unsalted Butter
Light Brown Sugar
Light Corn Syrup
Kosher Salt
Sweetened Condensed Milk
Vanilla Extract
Apples
Candy for rolling the apples (refer to the coating suggestions for ideas)
You'll also need wooden popsicle sticks or lollipop sticks. Both should be available from craft stores or online.
Caramel Apple recipe Coating Ideas
Using different candy and nuts make pretty and exciting homemade caramel apples
The key is using smaller pieces to be sure they will adhere well to the homemade caramel coating.
Candy Coating Suggestions:
Chopped bite-size Snickers bars
Chopped bite-size Butterfinger bars
M & M's (regular or mini)
Reese's Pieces
Candy Corn
Chocolate covered Raisins (chopped)
Chopped Nuts (chopped roasted salted peanuts are great)
It would be a great project for after Halloween too to use up some of the candy. Many candies can work for this.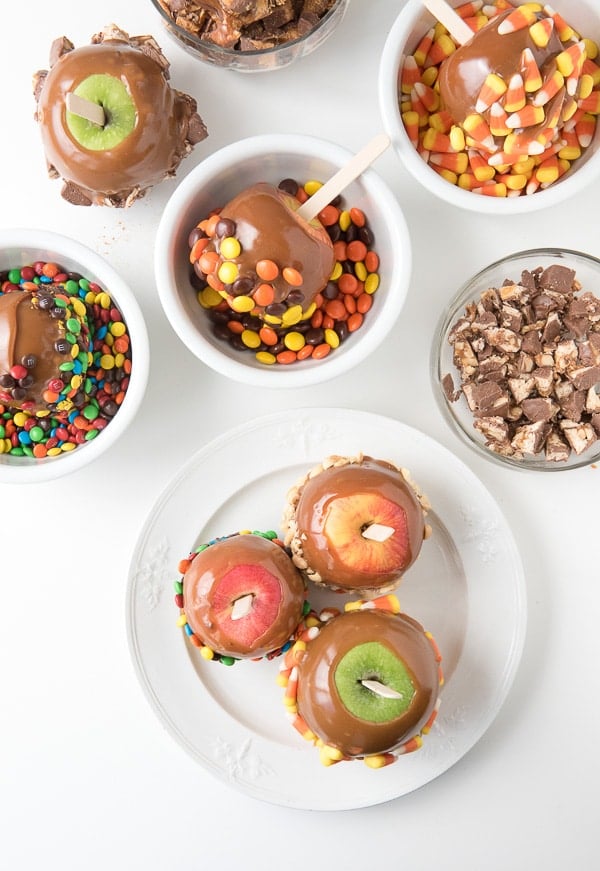 How to Make Candy-Coated Caramel Apples – Step-by-Step
STEP 1: Remove stems from apples and insert the stick into the top of the apple. NOTE: check that the apple is sturdy on the stick before beginning.
STEP 2: Put coatings in individual medium-size bowls (1 coating per bowl) with plenty of room for rolling the apple.
STEP 3: Line a rimmed baking sheet with wax paper sprayed with non-stick spray (for dipped apples to set).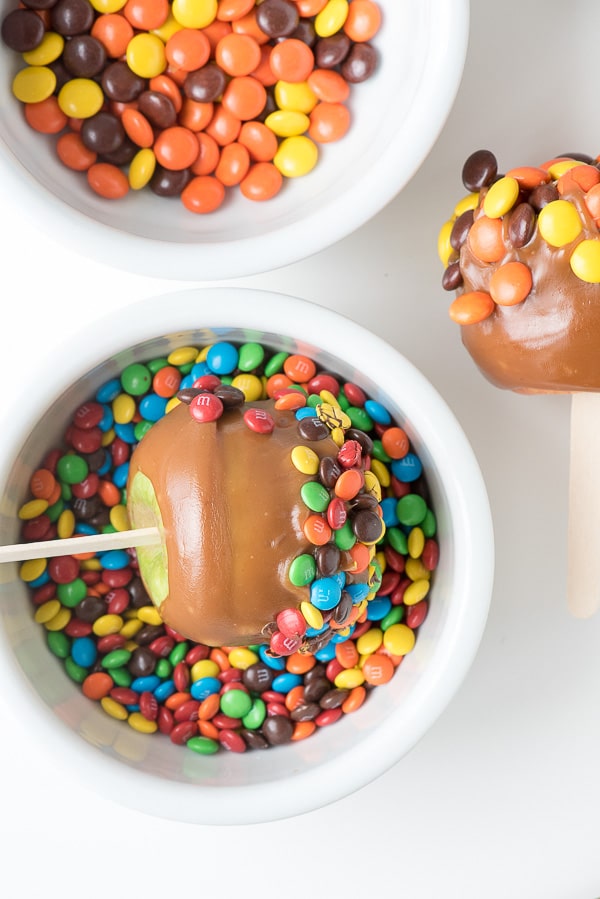 Making the Caramel
STEP 4: In a large saucepan over medium heat, combine the butter, brown sugar, corn syrup and salt. Stir together and allow to come to a boil.
STEP 5: Equip the pan with the candy thermometer (if it has an attachment to clip onto the saucepan rim).
STEP 6: Stir in the condensed milk. Allow to continue cooking until reaching 248 degrees (the 'FIRM BALL' stage).
STEP 7: Remove from heat. Stir in the vanilla.
STEP 8: Holding an apple by the stick, insert the apple into the hot caramel; twist the apple to fully coat. Allow excess caramel to drip back into the pan.
PRO TIP: tipping the saucepan at a 45 degree angle may help to coat the apples faster.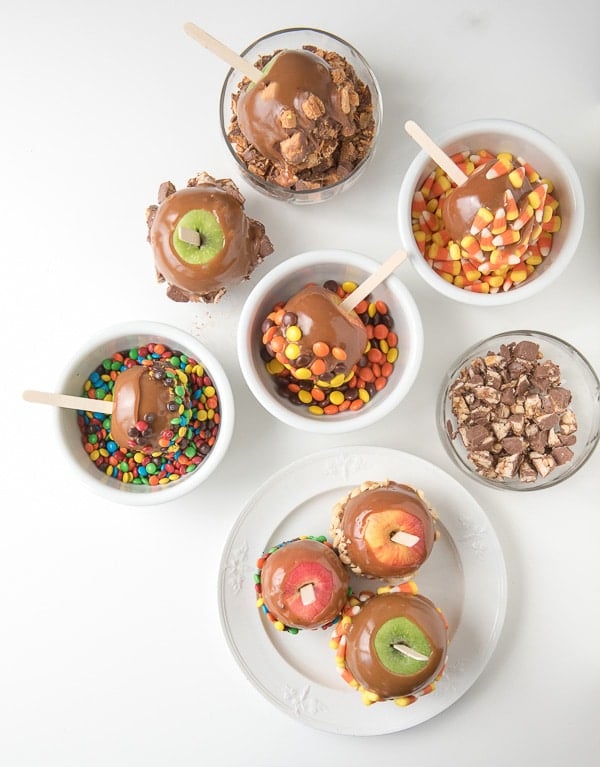 Coating the Apples with Candy
STEP 9: Immediately place the caramel apple into one of the bowls of a coating candy or nuts. Rotate to to cover all desired surfaces of the apple.
STEP 10: Place the coated caramel apple onto the prepared baking sheet to set.
STEP 11: Repeat for all desired apples.
PRO TIP: if the caramel begins to set in the pan before all apples are coated, allow the pan of caramel to sit over low heat a few minutes to liquefy again.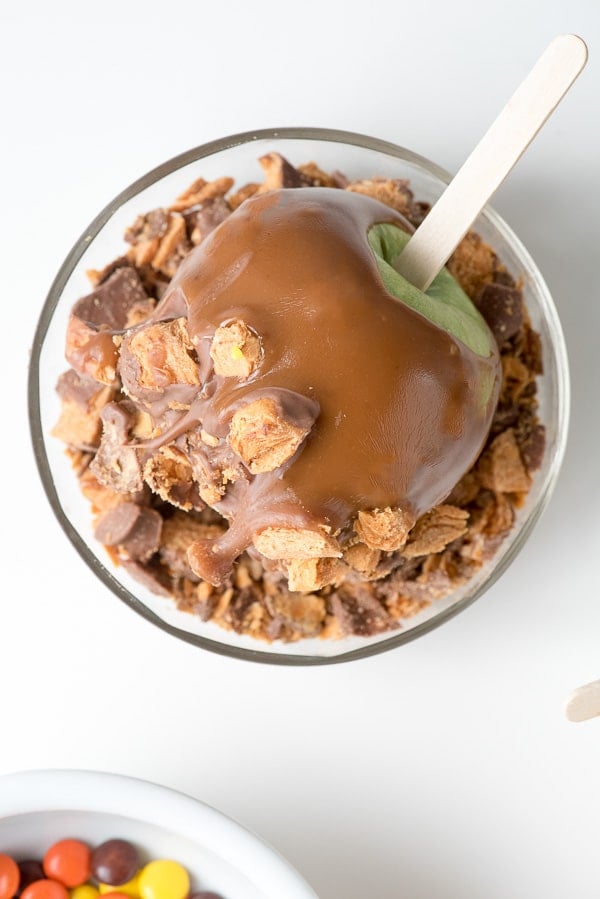 How to Store Caramel Apples
Apples are best eaten right after making them.
They can also be wrapped tightly in plastic wrap and stored in the refrigerator for up to a week.
Eating the Caramel Apples
If refrigerated allow the caramel apples to sit 45-minutes to 1 hour at room temperature for the caramel to soften. NOTE: chilling causes the homemade caramel to be very hard.
The apples can be eaten on the stick or cut into wedges and served on a platter.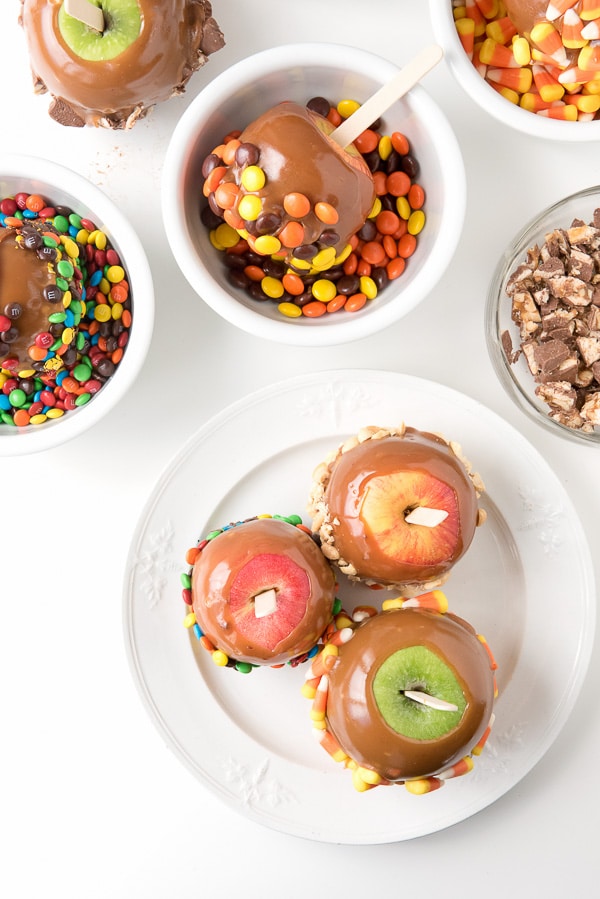 More Recipes You'll Love
Did you make it? Please RATE THE RECIPE below!
Please SUBSCRIBE and FOLLOW ME on FACEBOOK , TWITTER , INSTAGRAM and PINTEREST!
Originally published: October 25, 2015
After making this Caramel Apple recipe you'll never buy them again!