Turkey Meatballs and Black Bean Pasta are full of warming Mexican flavors making it a family favorite. An extra steps makes meatballs into eyeballs for a perfect Halloween dinner idea!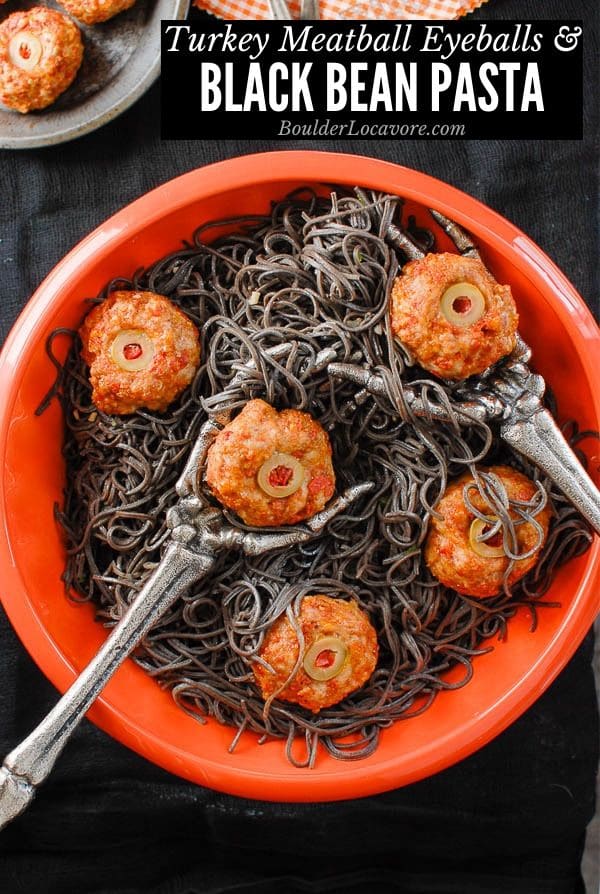 Turkey Meatballs and Black Bean Pasta is a flavor-packed main dish that has little diners squealing with delight!
The Mexican-flavors don't have everyone hooked the meatball 'eyeballs' make it perfect Halloween dinner idea!
Spaghetti and meatballs is a comfort food classic. But taco turkey meatballs with black bean pasta take it up a notch.
It's an easy dinner recipe and an exciting, unexpected rotation in the dinner menu.
When the turkey meatballs are transformed into large bulging eyeballs the crowd always goes wild!
Add some Mummy Halloween Cookies for dessert too.
And you can feel great about serving an nutrition-packed main dish before a night of Trick-or-Treating.
Turkey Meatball Eyeballs
These Mexican-seasoned turkey meatballs are both lean but also have a fantastic anemic color for an eyeball.
To make them taco flavored crushed corn tortilla chips are used as a binder instead of breadcrumbs.
The turkey meatballs in the photos used red tortilla chips for an extra creepy touch. Any tortilla chips can be used.
Shredded cheese and taco seasoning make the meatballs an irresistible favorite!
Any ground meat can be substituted into this recipe if preferred over turkey.
HALLOWEEN PARTY IDEA: The 'eyeballs' could also be served with toothpicks as an appetizer without pasta.
How to Make the Eyeballs
Half a green olive stuffed with red pepper or pimento is inserted into the meatball before baking. It creates the creepy eyeball look!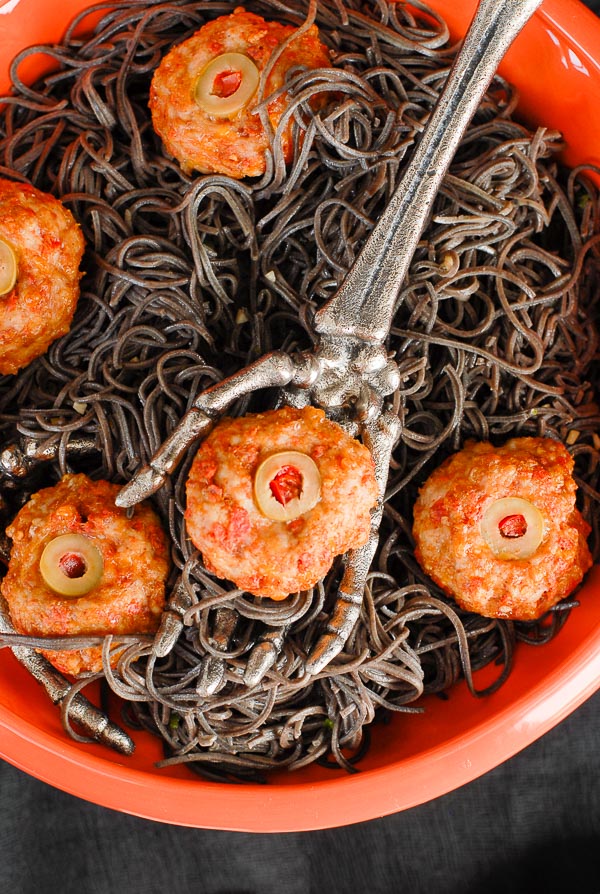 Black Bean Pasta
Have you tried Black Bean Pasta? It's a delicious, high-protein pasta made from black beans. It's naturally gluten-free since it is made completely with black beans.
The flavor is exactly of black beans making it a great option in Mexican flavored recipes.
Though the color isn't the most appealing, it is perfect for a Halloween dinner idea!
The black bean pasta is very lightly tossed with some spicy flavors but not a heavy sauce. This lets the turkey meatballs take the staring role in the recipe.
PRO TIP: If you'd like a traditional sauce, try a simple tomato pasta sauce mixed with some salsa for a Mexican pasta recipe.
Where to Buy Black Bean Pasta
Black Bean Pasta has become more popular over the past few years. It can be found at some grocery stores with a bigger pasta section (think Whole Foods).
There are many brand of black bean pasta available online. I have used Explore Cuisine brand.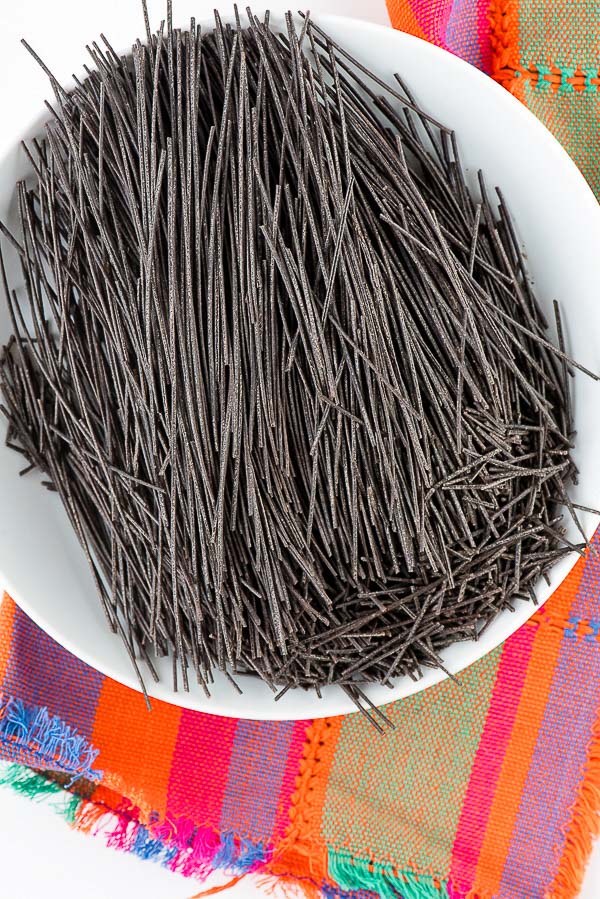 Sauce Options for the Black Bean Pasta
The black bean pasta is tossed with a simple olive oil, garlic and jalapeno chile pepper blend. It's light and keeps the turkey meatballs with their taco flavor center stage.
If you prefer a traditional sauce, choose a Diablo sauce for some spicy flavor. Or mix a simple tomato pasta sauce with some salsa for a Mexican flavor.
Since ground turkey is a leaner meat, a sauce would keep them moist as with a traditional spaghetti and meatball dish.
Recipe Ingredients
All the ingredients in both the turkey meatballs and the black bean pasta are easy to find in most grocery stores!
Turkey Meatballs Ingredients
Ground Turkey
Egg
Crushed Tortilla Chips (instructions in recipe below)
Finely grates Mexican cheese blend (either purchased or homemade)
Taco seasoning
Stuffed Green Olives
Black Bean Pasta
Olive Oil
Jalapeno Chile pepper
Garlic Cloves
Black Bean Pasta
How to Make Turkey Meatball Eyeballs – Step-by-Step
For a detailed printable recipe refer to the recipe card at the end of this blog post.
STEP 1: Preheat the oven to 425 degrees. Line a large rimmed baking sheet with parchment paper or foil (dull side up) sprayed with cooking spray.
STEP 2: In a large mixing bowl combine the ground turkey, egg, crushed tortillas chips, cheese and taco seasoning. Mix well with hands to combine all ingredients.
STEP 3: Roll meatballs 1 ½-2 inch diameter size.
STEP 4: Make an indentation with your forefinger large enough to insert a half olive. Insert the olive half, round (uncut) side into the meatball.
PRO TIP: the cut side of the olive should be flush with the edge of the meatball. The meatballs shrink when cooked and this will ensure the olive won't stick out. If it does it also can be trimmed after baking if desired.
STEP 5: Bake 10-15 minutes until no pink remains inside the meatball (the internal temperature should be 160 degrees). NOTE: turkey is very lean and can overcook so monitor the meatballs closely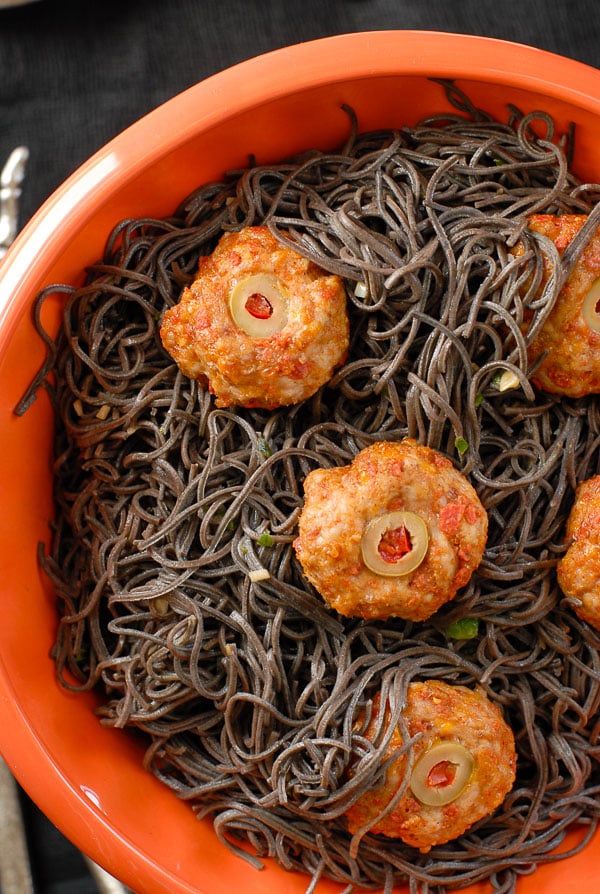 Did you make it? Please RATE THE RECIPE below!
Please SUBSCRIBE and FOLLOW ME on FACEBOOK , TWITTER , INSTAGRAM and PINTEREST!
Originally published: October 20, 2013