A simple prop makes all the difference for Halloween fun! These shot syringes are filled with Bloody Maria shots (a Bloody Mary made with tequila instead of vodka) for a spicy addition to the festivities. This post for those over the legal drinking age; always drink responsibly!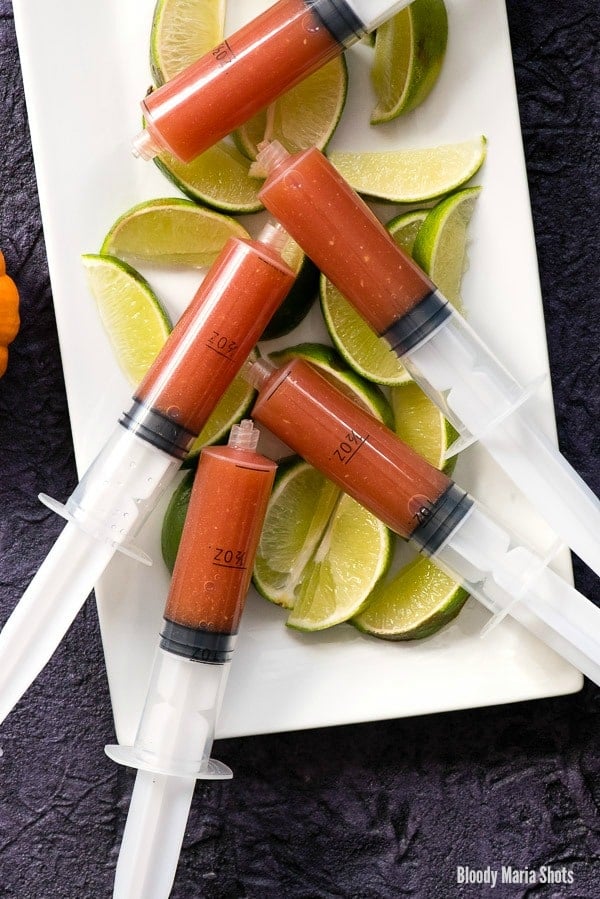 I have a few Halloween props that I'm sort of obsessed with using. I bought a set of shot syringes a few years ago at a pop up Halloween store that have been on high rotation. The odd thing though is I've never used them for what they are intended for until now.
I love repurposing. It's my idea of the most evolved level of creativity I think. I love a surprise seeing something intended for one thing used for another. When I first found the shot syringes I had all sorts of ideas for them. I used them for Green Goddess dressing in a Freaky Halloween Salad. I used them for a raspberry sauce to squeeze onto a creepy Spider Egg Pudding.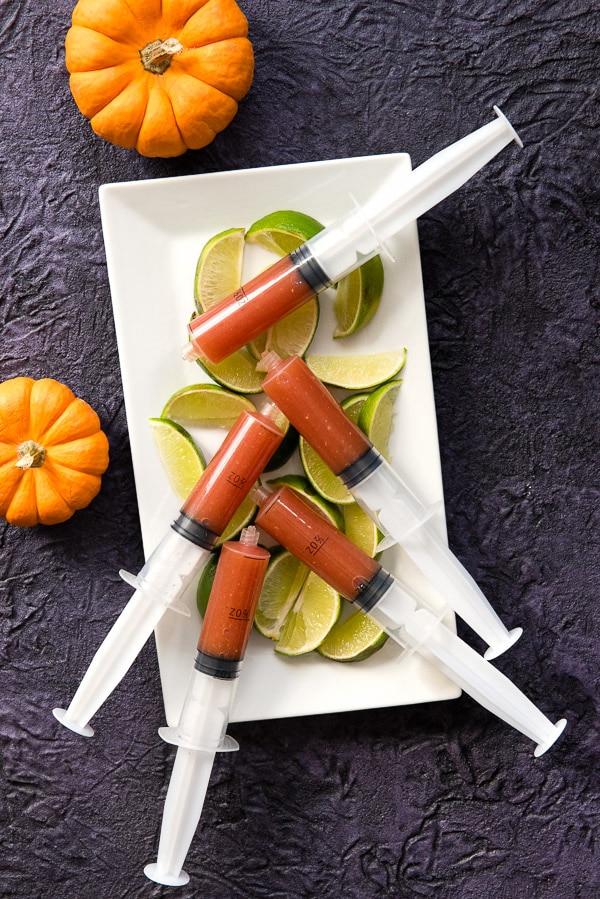 Recently they were migrated closer to their intended purpose with Creepy Shirley Temples. They were filled with the grenadine for the mocktail which sippers could inject into the drink themselves.
I decided I really wanted to think of a fun shot to actually use them as intended. As I mused through combinations that might be fun, it struck me I was ignoring the obvious. What could be better than a Bloody Mary shot for Halloween? A Bloody MARIA shot, that's what!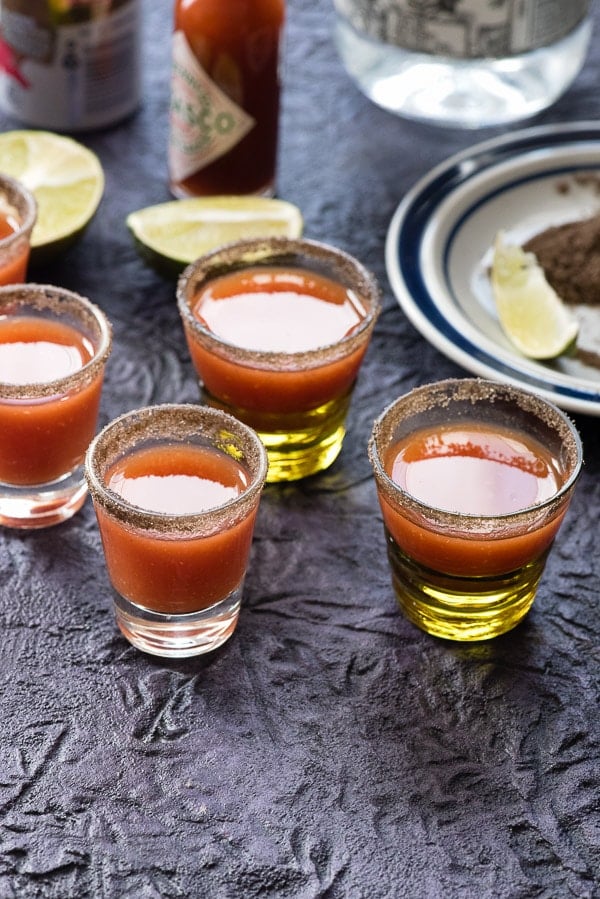 In case you aren't familiar with Bloody Maria's, they are a tomato-juice based spicy cocktail just like a Bloody Mary though instead of vodka they are made with tequila. Typically popular as a brunch drink, I love them for Halloween celebrating to take the edge off the processed sugar overload with their spicy punch.
These are made with blanco or silver tequila which tends to be lighter in flavor. Tomato juice, Worcestershire sauce, hot sauce, lime juice, horseradish and some salt and pepper. The level of heat can be adjusted before adding them to the syringes (or shot glasses for a more traditional serving method).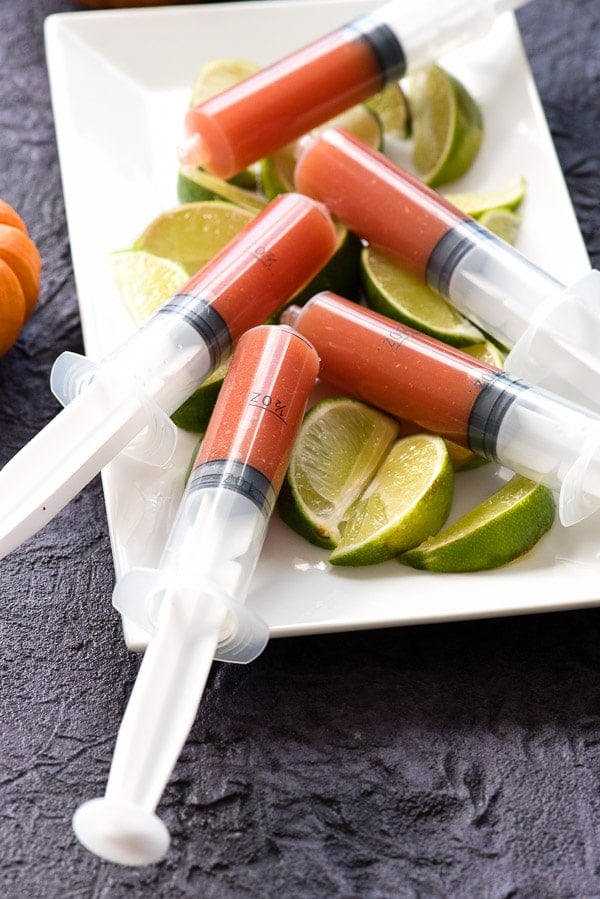 A favorite ingredient of mine is to use a small pinch of smoked salt in the cocktail itself and I use it to rim the glasses as well. It's a pungent salt and a little goes a long way. The unique smokiness is so special and really elevated the cocktail's flavors in my opinion. Serve with some thin lime wedges for a nice bite! Adding Bloody Maria Shots to your Halloween party festivities for adults (or for Trick-Or-Drink'ing which has been known to happen in my neighborhood for adults escorting ghouls and goblins on their candy collection Halloween night) they are a fun change of pace.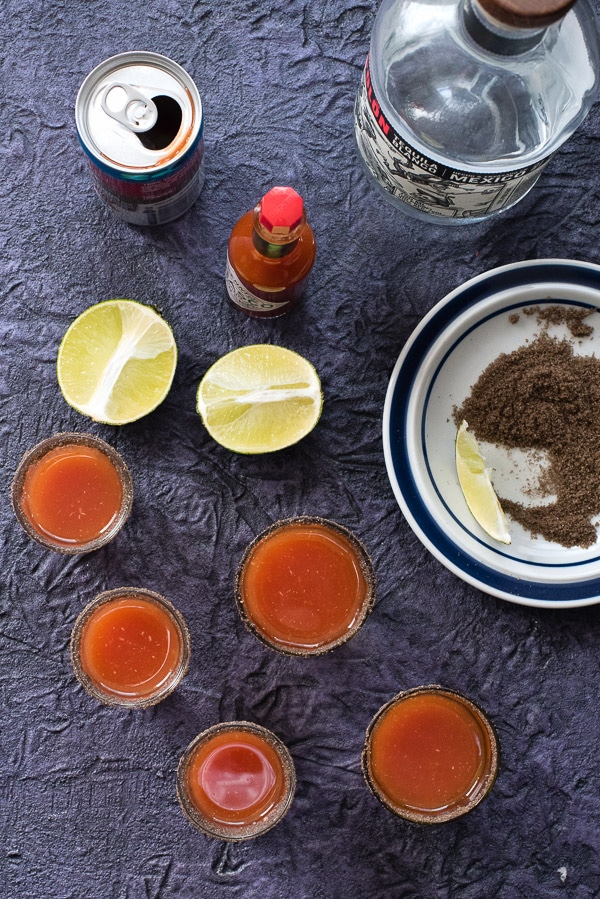 WHERE TO BUY: The syringes shown here can be found at Spirit Halloween stores or from their online store. Similar syringes may be purchased from Amazon.com as well.