Pumpkin Chipotle Cream Sauce for pasta has smoky, spicy and sweet flavors you'll love! It's a perfect comfort food recipe to warm the chilliest of days and have your crew begging for more.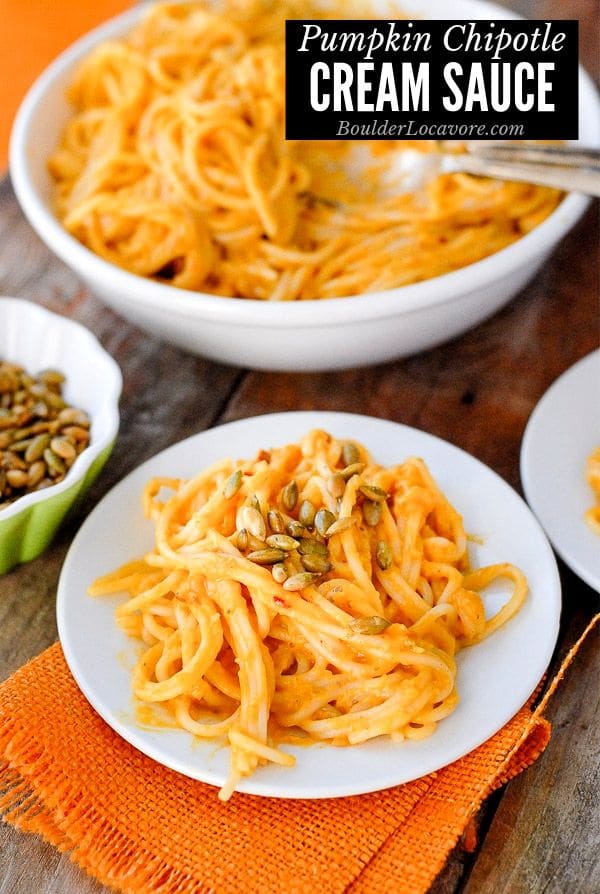 Looking for an easy dinner recipe that leaves your family and friends begging for more? Something unexpected and amazingly delicious?
Pumpkin Chipotle Cream Sauce for pasta is the ticket!
The amazing blend of sweet and spicy flavors is completely addictive. Any pasta can be used too.
It's fast, fantastic and will be tucked into your 'Delicious Recipes' file.
Pumpkin Chipotle Cream Sauce
If you love the smoldering, smoky, earthy flavors for Chipotle en Adobo this pasta sauce is for you!
It's a creamy pasta sauce. Spicy, smooth sauce sauce lightly flavored with pumpkin, oregano and sage.
The color and flavor are heavenly.
This cream pasta sauce would make a perfect addition to a Halloween party buffet to offset the traditional sweet treats.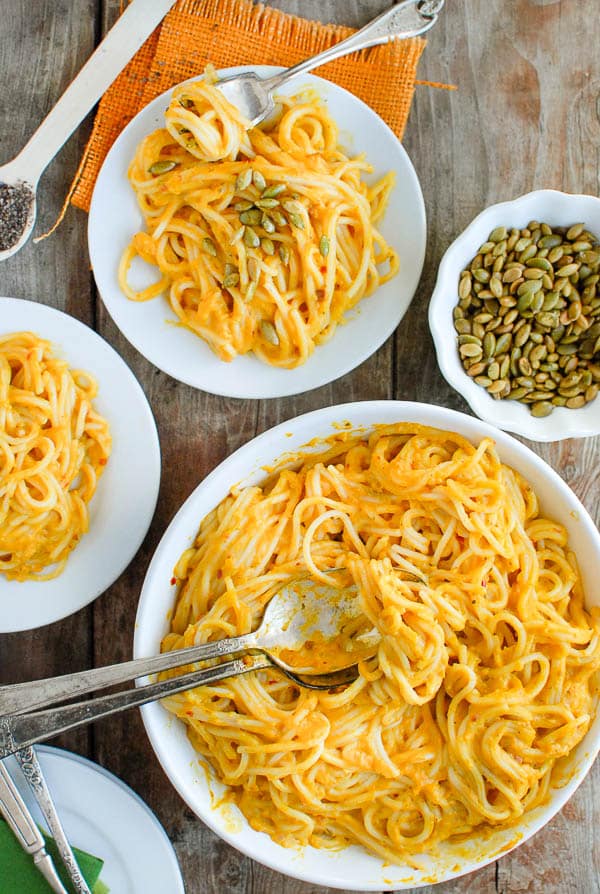 Pro Tip for Pumpkin Haters!
Are you or someone in your family not so keen on pumpkin flavor?
I have some die hard pumpkin flavor haters in my inner circle.
The idea of a pumpkin pasta sauce would have them running the other way.
I have found a secret with pumpkin. To offset the earthy sweetness that seems to turn some people off: pair it with spicy ingredients.
That winning combination rounds everything out to get the best of the pumpkin flavor without it overwhelming the recipe.
I used that trick in Slow Cooker Spicy Pumpkin Chicken Corn Chowder recipe too with delicious results!
That recipe converted one pumpkin-hating friend to handing out the recipe out to others like candy on Halloween.
Use Any Pasta with This Cream Pasta Sauce
This chipotle cream sauce for pasta works on ANY pasta! Pick your favorite.
Gluten-Free Pasta Ideas
We love Tinkyada pasta. It has good flavor and holds its structure through cooking.
The pasta shown in the photos is a white rice spaghetti pasta.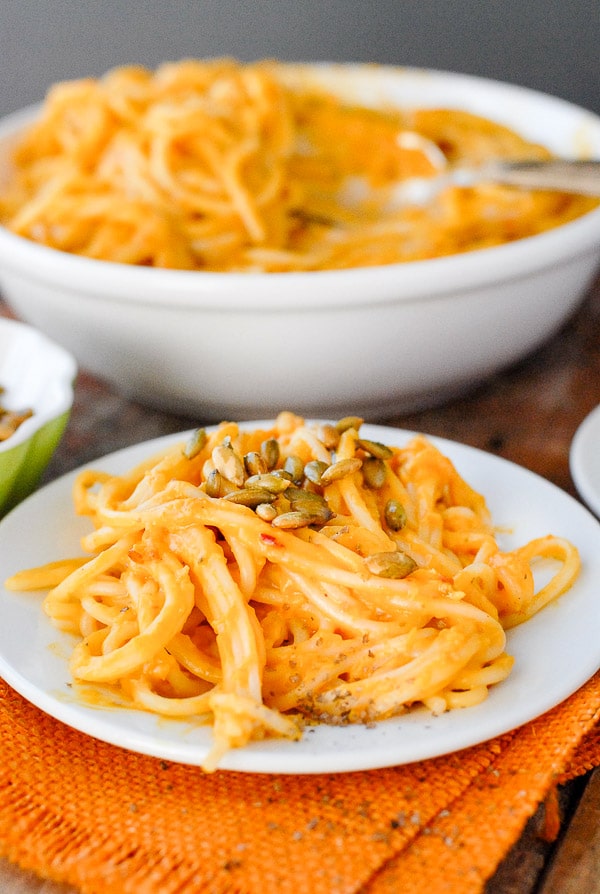 Pumpkin Chipotle Cream Sauce Ingredients
The ingredients for this pasta sauce are easy to find. You can use canned or homemade pumpkin puree too.
I love sprinkling on some hickory smoked salt (just a tiny amount) and roasted salted pepitas (pumpkin seeds) before serving. Both are completely optional.
Unsalted Butter
Olive oil
Yellow Onion
Garlic Cloves
Pumpkin Puree (canned or homemade pumpkin puree)
Chicken Broth
Dry Sherry (note: chicken broth may be substituted)
Chipotle en Adobo
Adobo sauce (from the Chipotle en Adobo can)
Dried Oregano
Red Pepper Flakes
Dried Sage
Kosher Salt
Black Pepper
Heavy Whipping Cream
Sour Cream or Crème Fraiche
PRO TIME SAVING TIP: use a mini chopper to chop the onions and garlic together.
What is 'Chipotle en Adobo'?
Do you know about Chipotle en Adobo (Chipotle Peppers in Adobo Sauce)?
It's one of my favorite ingredients especially to pair with sweet winter squash.
'Chipotles' are dried jalapeno chile peppers than are canned with Adobo sauce.
Adobo sauce is a thick, red, earthy sauce that's smoky and slightly spicy.
Made with ancho and/or guajillo chile peppers, spices like cumin, smoked paprika, garlic and usually vinegar.
Chipotle en Adobo is sold in cans or a jar, and can be easily found in most grocery stores.
Check the International or Mexican cooking ingredient section. It can also be found ONLINE.
Note for Gluten-Free Eaters
Always check the ingredients in the can of Chipotle en Adobo. I've noticed some brands include wheat flour as a thickener.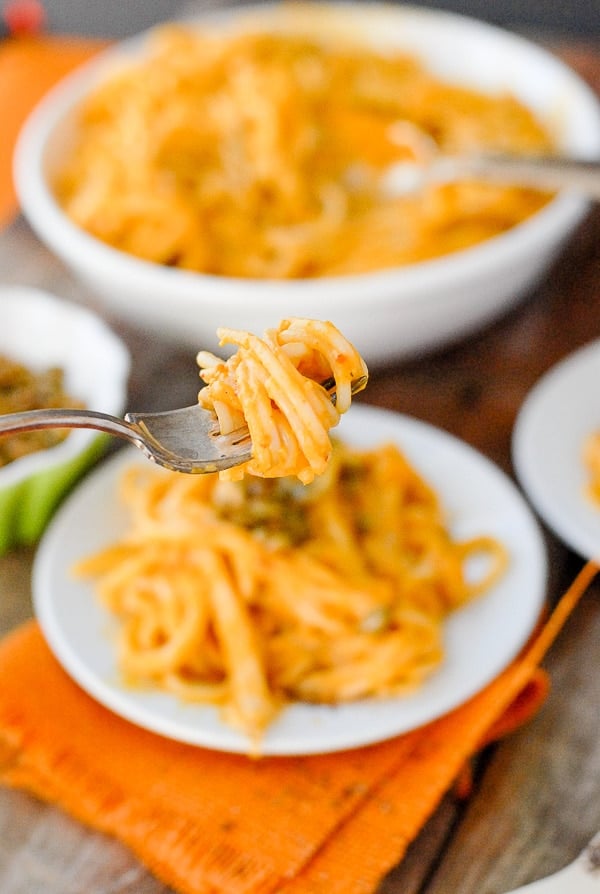 How to Make Pumpkin Chipotle Cream Sauce for Pasta – Step-by-Step
For a detailed printable recipe, refer to the recipe card at the end of the blog post.
STEP 1: In a heavy medium-size saucepan over medium heat melt butter and olive oil.
STEP 2: Add onion and garlic. Sauté until transluscent (4-5 minutes).
STEP 3: Add pumpkin, broth, sherry, chipotles, adobo sauce, and spices. Stir together.
STEP 4: Bring to a very low boil, reduce to simmering and simmer for 20 minutes. Stir periodically.
STEP 5: Add the cream and sour cream or crème fraiche. Simmer on low heat an additional 5 minutes.
STEP 6: Use an immersion blender (stick blender) and blend until smooth. NOTE: as an alternative, pour the sauce into a conventional blender and blend or puree.
STEP 7: Pour onto hot prepared pasta.
Serve immediately.
Optional: finish with a small pinch of Hickory smoked salt and roasted salted pepitas.
Storing This Cream Pasta Sauce
This creamy pumpkin sauce is best eaten when it is freshly made.
Leftovers can be stored in a sealed glass or plastic container in the refrigerator for 3-5 days.
Cream pasta sauce can separate when microwaved.
To reheat: heat the sauce tossed pasta in a saucepan over low heat or in a double boiler.
Freezing is not recommended for this sauce.
Halloween Dinner Recipe Idea
Halloween is so focused on sweets the idea of a nutritious Halloween dinner recipe can be hard to think up!
This chipotle cream sauce pasta recipe is a perfect choice.
Fuel up little Trick-or-Treaters or parents for a long night of handing out candy!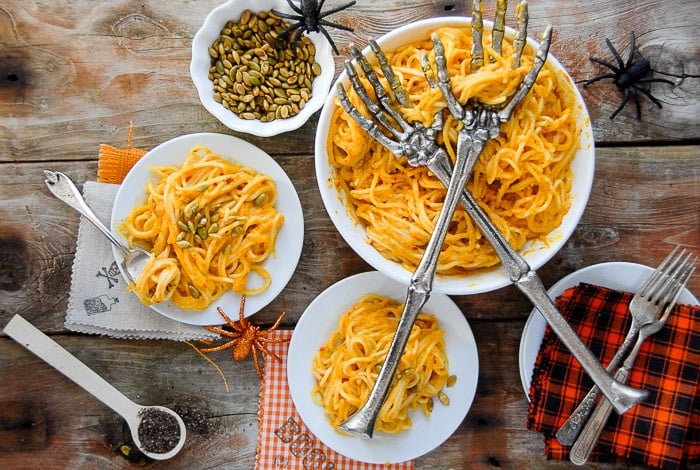 More Recipes You'll Love
Did you make it? Please RATE THE RECIPE below!
Please SUBSCRIBE and FOLLOW ME on FACEBOOK , TWITTER , INSTAGRAM and PINTEREST!
Originally published: October 24, 2012
Pumpkin Chipotle Cream Sauce for pasta is an irresistible, easy pasta sauce recipe that wow's diners every time!