Smoky, spicy and sweet are all flavors in Pumpkin Chipotle Cream Pasta Sauce. The heat from adobo sauce complements pumpkin in this unique creamy sauce great for the cooler weather and for your Halloween table!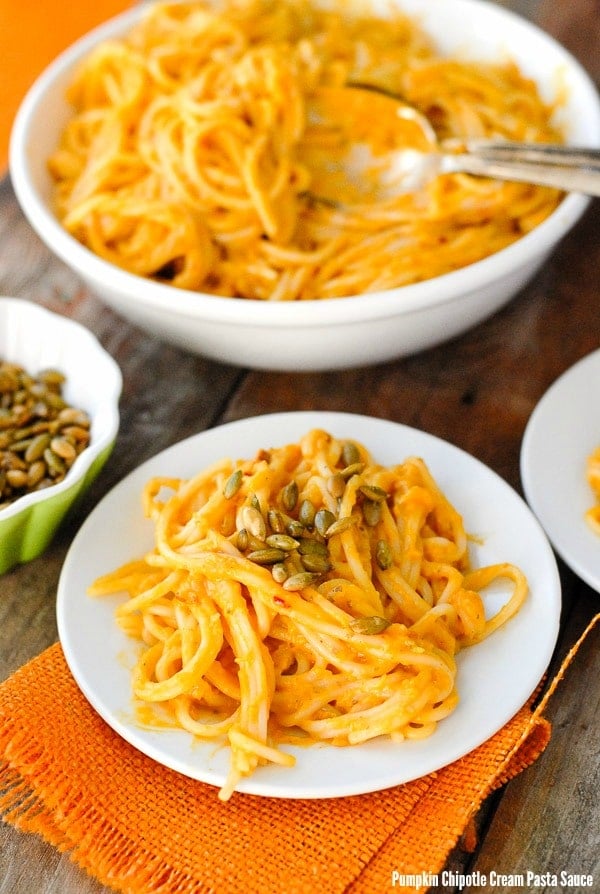 Despite the temptation, October cannot be spent existing solely on spooky treats. We'd all be psychotic by Halloween or suffering a sucrose coma in the least. Admittedly I'm having trouble letting the whimsy of the holiday go, wanting to eke out every last moment until November 1.
I challenged myself this week to consider making something with pumpkin that felt festive to the season but not baked or soup. I don't know that I've ever used pumpkin outside those two food genres. Somehow incorporating it into pasta piqued my curiosity and I set out to whip up a spicy rendition of a pasta cream sauce staying true to the fall flavors.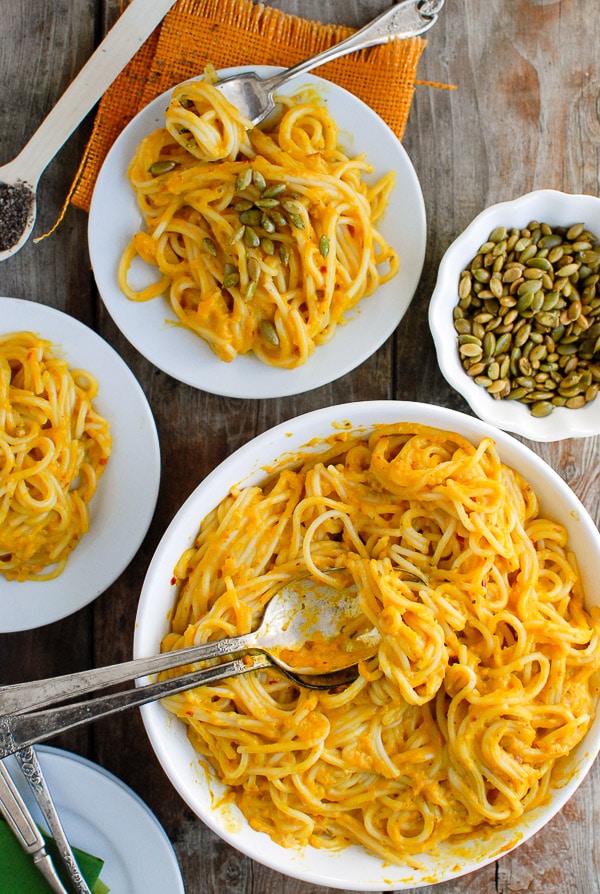 I love the smoky flavors of chipotle en adobo and that immediately sprang to mind. To my good fortunate the experimentation unveiled a creamy, spicy, smooth sauce lightly flavored with pumpkin, oregano and sage. The color can't be beat and it would make a perfect addition to a Halloween buffet to offset the traditional sweet treats. You can pair it with your favorite pasta.
I noted a new style of Tinkyada (my preferred gluten free pasta brand for the quality of ingredients and its end structure) spaghetti: White Rice Spaghetti. Though I have not compared the brown and white rice versions, I'd suppose brown rice has a higher nutritional content but I always experiment with newly released versions liking to know all my options. This looks most visually similar to gluten spaghetti and has a great texture when cooked.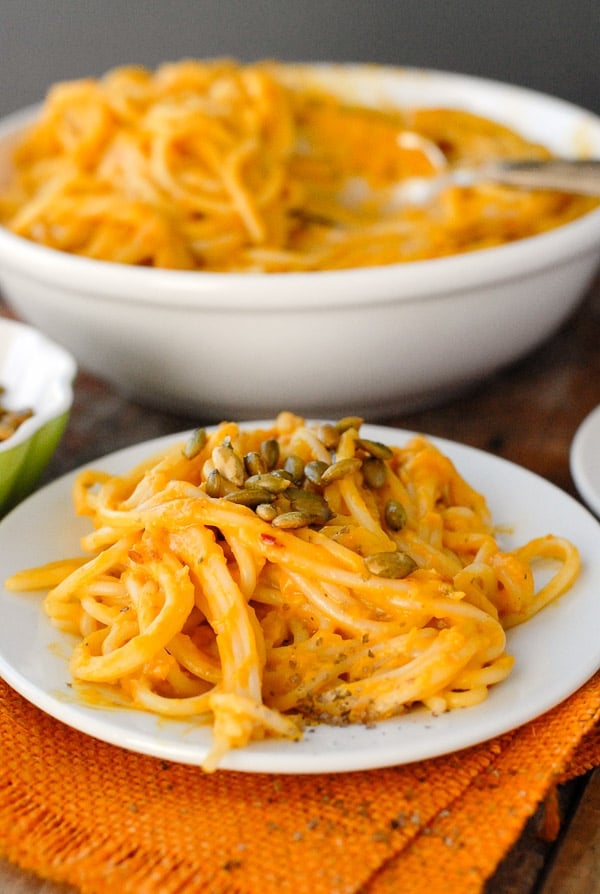 I'd like to flag something for gluten-free diners. I'm a creature of habit, shopping at the same neighborhood market and buying the same brands (largely due to the high quality and organic nature of them). I went to a different store to pick up the chipotle en adobo and fortunately checked the label of the brand I picked up. Indeed it had wheat flour. I suppose as a thickener. Brand number 2: also with wheat flour. Fortunately brand number 3 did not have anything with gluten in it but again a reminder to always read your labels!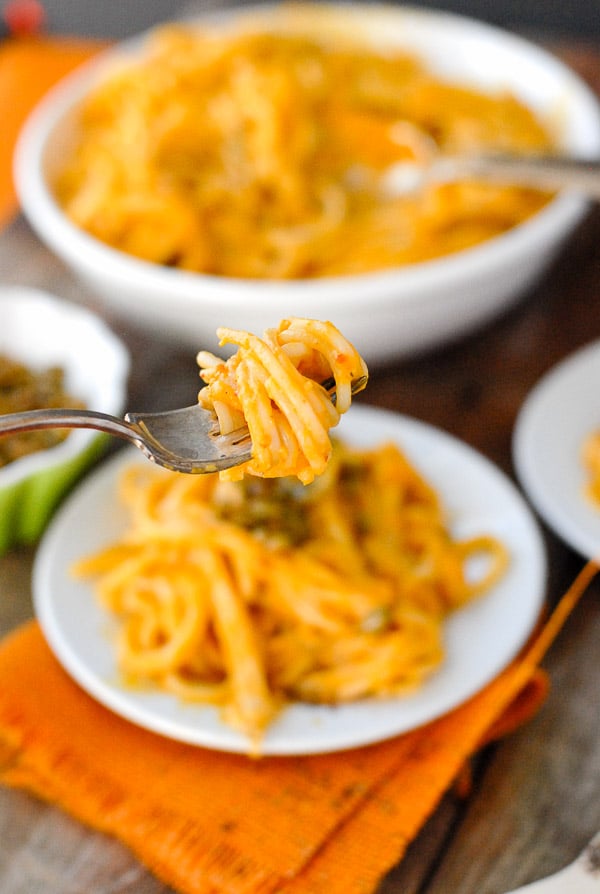 And on the Halloween front, with the right accessorizing, even a simple delicious pasta like this with Pumpkin Chipotle Cream Pasta Sauce has a place at the ghoulish table!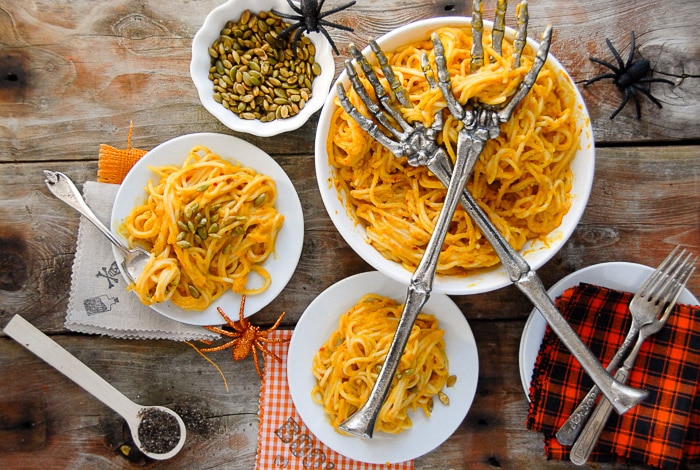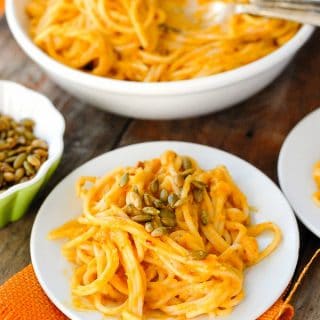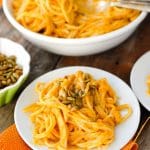 Pumpkin Chipotle Cream Pasta Sauce
This creamy pumpkin chipotle sauce is a perfect way to celebrate the season in a unique way. Full, warming flavors of fall deliver a special dish to enliven Halloween or any fall day.
Servings
4
(Sauce for one batch of pasta)
Ingredients
1

tablespoon

butter

, unsalted

1

tablespoon

olive oil

1

medium

yellow onion

, chopped

2

large

garlic cloves

, peeled and minced

1

15-ounce can

pumpkin puree or 15 ounces of fresh pumpkin puree

1

cup

chicken broth

¼

cup

dry sherry

(if you prefer not to use sherry, substitute more chicken broth)

1

chipotle en adobo

, seeded and chopped

½

teaspoon

adobo sauce

1

teaspoon

dried oregano

½

teaspoon

red pepper flakes

½

teaspoon

dried sage

Salt and pepper to taste

½

cup

heavy whipping cream

1

tablespoon

crème fraiche or sour cream

Finish: Hickory smoked salt and roasted

, salted pepitas (pumpkin seeds)
Instructions
In a medium, heavy saucepan melt butter and add olive oil. Add chopped onion and garlic; sauté until translucent (about 4-5 minutes).

Add pumpkin, chicken broth, dry sherry (note: the alcohol content will cook off), chipotle, adobo sauce, oregano, red pepper flakes and sage. Stir to incorporate. Bring to a very low boil, reduce heat to simmer and simmer on low heat for 20 minutes; stirring periodically.

Add the cream and crème fraiche or sour cream. Simmer on low for an additional 5 minutes.

Using an immersion/stick blender (or pouring sauce into a conventional blender) blend until smooth. Pour onto prepared pasta of your choice. Finish with smoked salt (I prefer hickory for this; available online or at spice shops) and roasted, salted pepitas. Serve immediately.
Nutrition Facts
Pumpkin Chipotle Cream Pasta Sauce
Amount Per Serving
Calories 785
Calories from Fat 657
% Daily Value*
Fat 73g112%
Cholesterol 199mg66%
Sodium 1719mg72%
Potassium 480mg14%
Carbohydrates 20g7%
Protein 5g10%
Vitamin A 2880IU58%
Vitamin C 26.1mg32%
Calcium 162mg16%
Iron 1.7mg9%
* Percent Daily Values are based on a 2000 calorie diet.