Halloween Cocktails make the party and Glow-In-The-Dark Infected Brain Cocktail takes the prize! A few props and a few insider tips will make your party the best ever.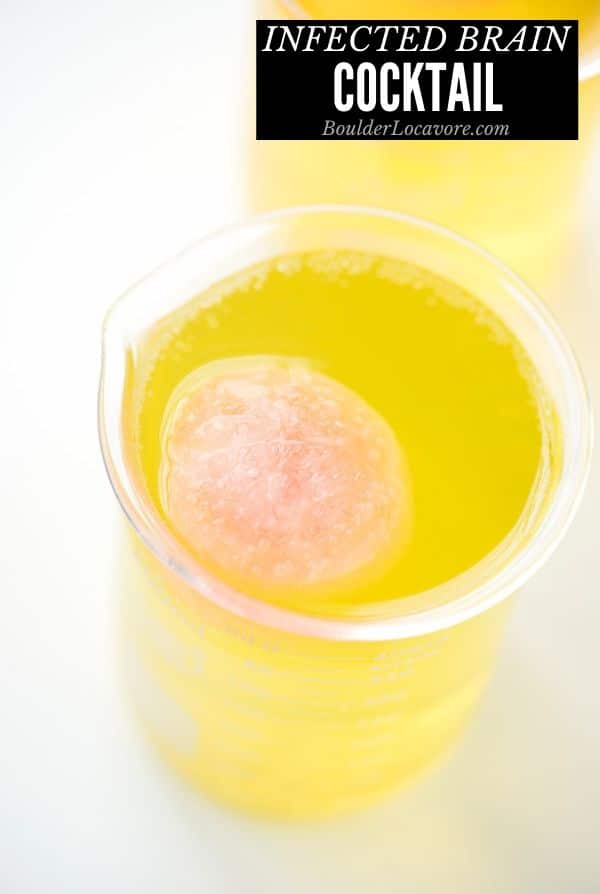 I really love thinking up fun food and drink options for Halloween each year.
I have favorites from past years too.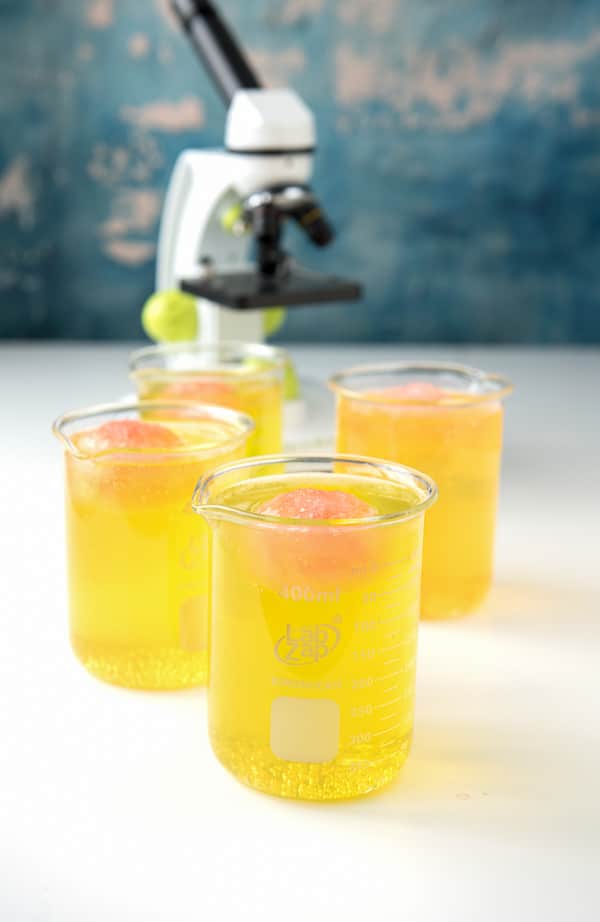 The genesis of the recipe I'm sharing today all began with an ice cube form found at a museum.
We breezed through the gift shop after seeing some exhibits, my son picked up a brain ice cube tray and convinced me I needed to buy it.
To some it might seem a weird suggestion but being the son of a food blogger, his vision extends to the possibilities such an oddity might provide.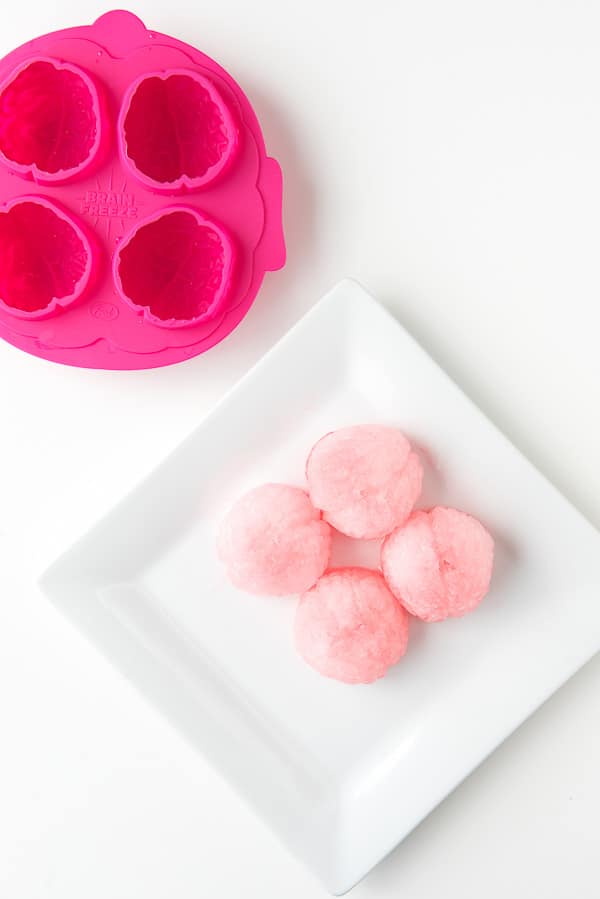 Like buying a new pair of shoes you love then figuring out the perfect outfit to go with them, my mental wheels began churning over ideas of what to pair with brain ice.
With Halloween coming and The Walking Dead on the brain (no pun intended) I decided on a party-fun cocktail: Infected Brain Cocktail.
Appropriately creepy but with a twist; it glows under a black light!
Who doesn't love a black light party?!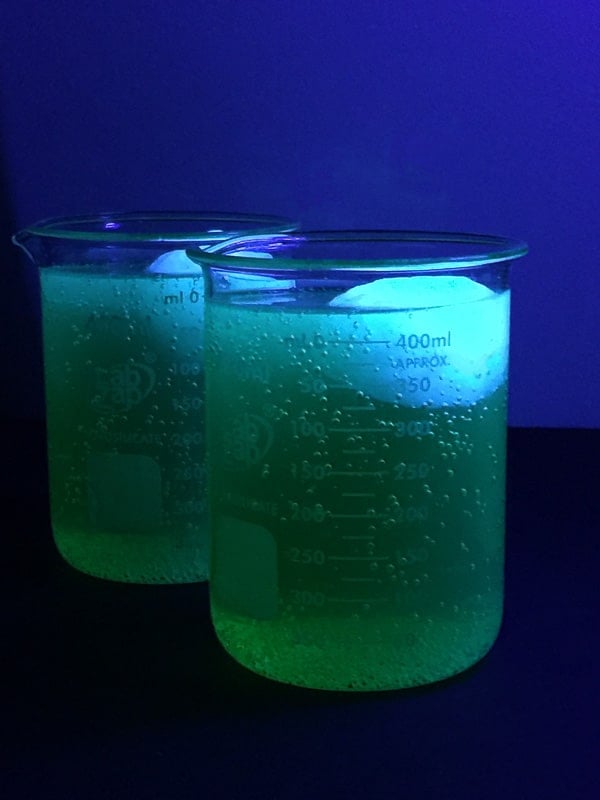 What Makes this Halloween Cocktail Glow in the Dark
The best part is that the glow comes from natural sources.
There are a few edible substances that glow in under a black light but Tonic Water is the best due to the quinine.
'll spare you a science course on ultraviolet rays but will say I used tonic water in a prior Halloween recipe for Frog shaped Jello Shots (using homemade Candy Corn Vodka) and after seeing their eerie glow under a black light bulb, I was hooked.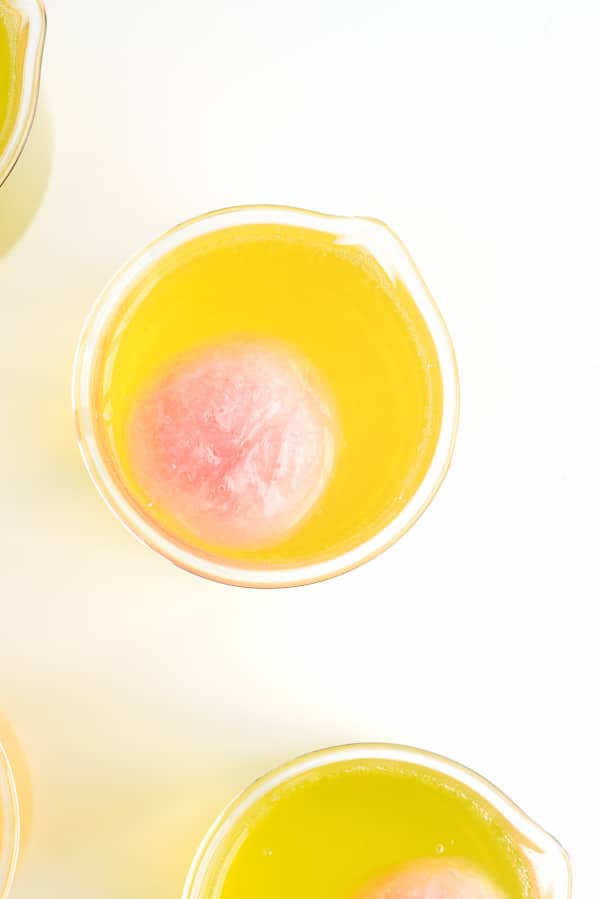 Coloring the Brain Ice Cube
When using tonic water in this way the glow is dimmed by adding food coloring.
I wanted the brain ice to look cool both in the light and the dark so added only 1 drop of red food coloring to 1 cup of tonic water which gave it the fleshy pink color but did not dim the glow as you can see in the photos.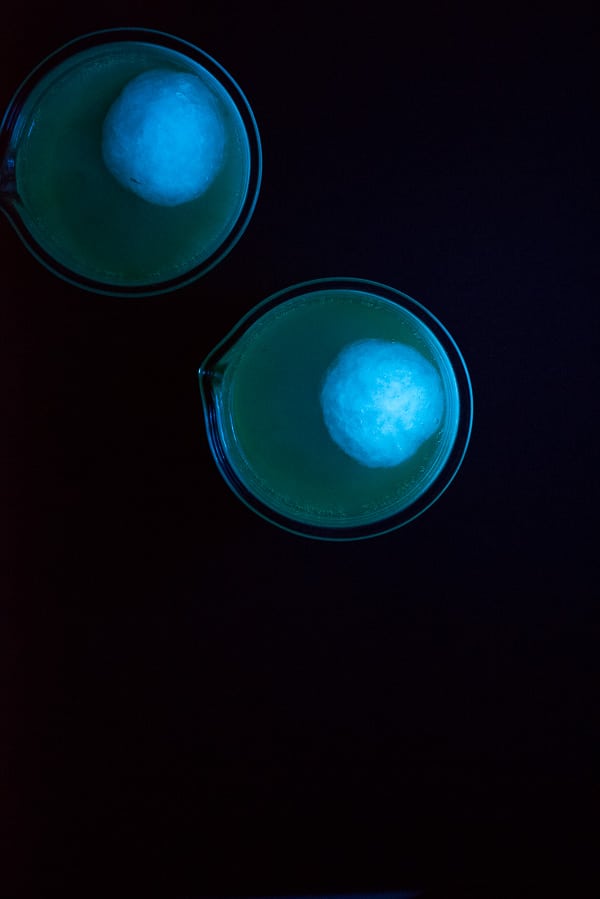 Freezing Tonic Water
The other consideration is freezing fresh tonic water will have some small bubbles due to the carbonation.
I liked the effect in this case as they look like brain lesions (gross, I know).
I also made some of the brain cubes with tonic water left out to go flat and those cubes had no bubbles.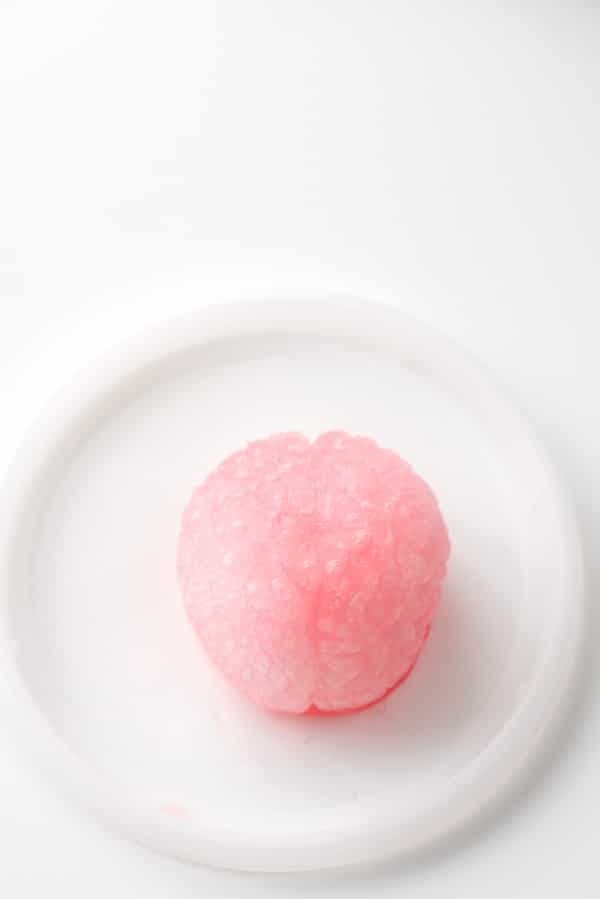 Infected Brain Halloween Cocktail Ingredients
This ghoulish cocktail is a simple mix of Mountain Dew and Midori melon liqueur for a fresh flavor, some fizz and of course the unearthly color.
If you'd prefer an alternative to Midori I'd suggest Lemon Flavored Vodka (store bought or homemade).
How to Make it a Mocktail
This is easily made into a mocktail by omitting the liquor and just serving Mountain Dew.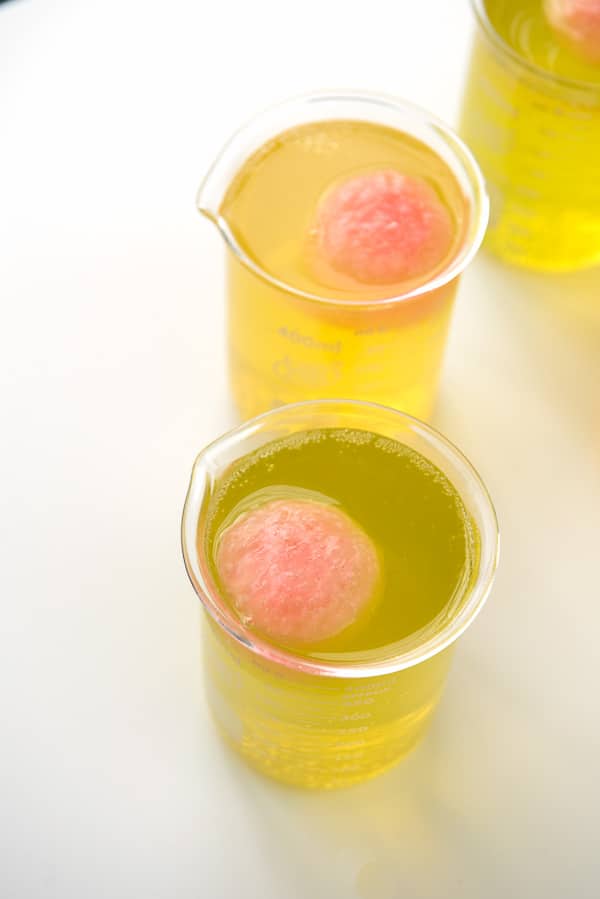 Where to Buy Supplies
Science Beakers (glasses)
I used these Science Beakers for glasses (shown in the photos).
(NEW) I just found glassware maker Libbey has a set of beaker glasses too.
Brain Ice Mold
The brain ice mold is the star of this cocktail!
Halloween Party Game Idea
This cocktail could easily weave into some fun games for Halloween or a Zombie party too.
You could make a mix of brain cubes, some with regular water and some with flattened tonic water.
When the black light is turned on party guests will learn if their brain is infected or not.
Or plop only one regular water brain ice (not glowing) in a guest's drink.
Make them the winner of the infection epidemic when the black light reveals them as the sole survivor.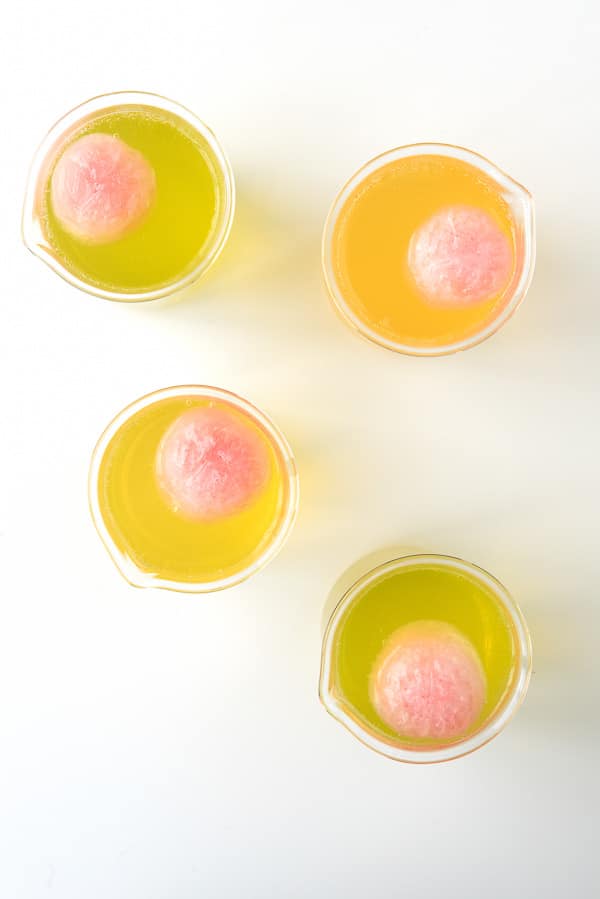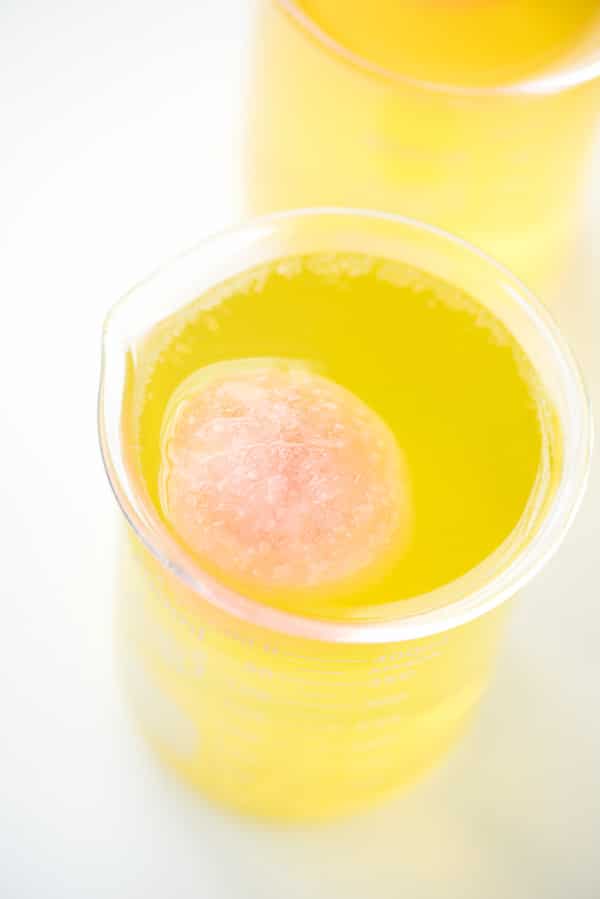 Did you make it? Please RATE THE RECIPE below!
Please SUBSCRIBE and FOLLOW ME on FACEBOOK , TWITTER , INSTAGRAM and PINTEREST !
Recipe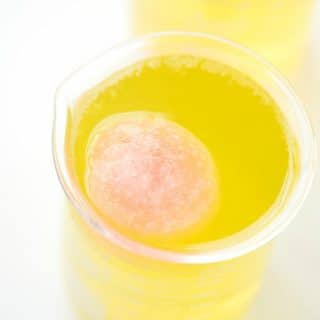 Glow-in-the-Dark Infected Brain Cocktail
Ghoulishly eerie in full daylight and transformed under black light to a glowing brain swimming in murky green liquid. What fun for a Halloween or Zombie party. Holiday party with the medical staff? The possibilities stretch the imagination. Light, fresh melon liqueur Midori adds a green hue to the yellow Mountain Dew. As the tonic water brain melts it adds another flavor dimension to the cocktail as well. Simply leave out the liquor for a mocktail with the same effect.
Print
Save Recipe
Recipe Saved!
Pin
Rate
Ingredients
1

cup

Tonic water

(flattened for no bubbles in the ice)

Red Food Coloring

Brain ice mold

24

ounces

Mountain Dew

, chilled

8

ounces

Midori

(or 6 ounces Lemon Vodka)
Instructions
Pour 1 cup tonic water into a liquid measuring cup and add 1 drop red food coloring. Stir to mix fully.

Fill the 4 ice cube cavities almost to the top (ice expands so do not fill completely to the top). Place in the freezer until fully frozen. Makes 4 brain cubes.

Pour 6 ounces of Mountain Dew and 2 ounces of Midori (or 1 ½ ounces Lemon Vodka) into 4 Old Fashioned glasses and place a brain cube in the top of each. Note: the ice cubes are weighted to once they are placed in 'brain-side up' they stay that way without rolling over.
Nutrition
Calories:
238
kcal
|
Carbohydrates:
43
g
|
Protein:
0
g
|
Fat:
0
g
|
Saturated Fat:
0
g
|
Cholesterol:
0
mg
|
Sodium:
23
mg
|
Sugar:
43
g
|
Calcium:
8
mg
|
Iron:
0.1
mg