Roasted pumpkin seeds are a crunchy, salty, irresistibly good snack and so easy to make! This recipe has a life-changing trick that makes it the BEST roasted pumpkin seed recipe you'll ever taste. Promise!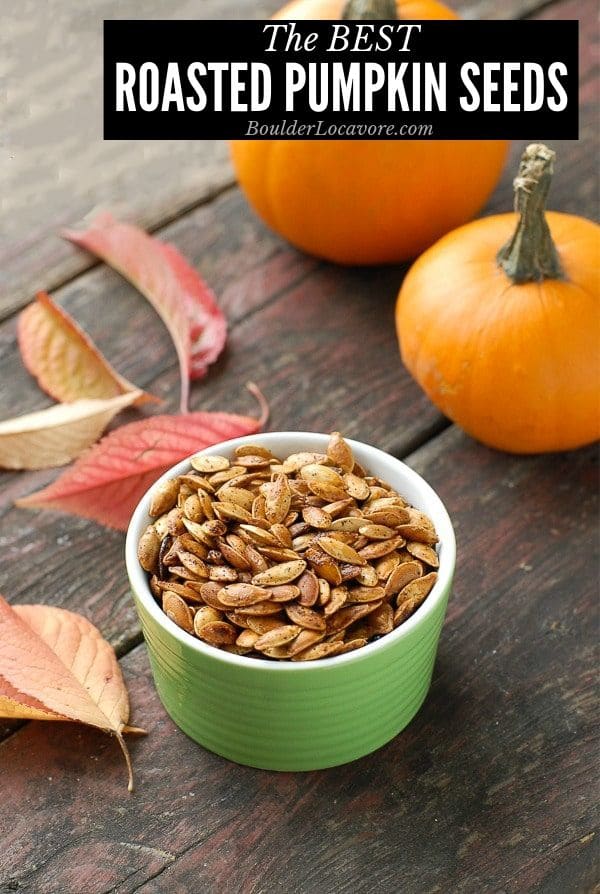 If you think carving pumpkins is the best part of Halloween, I have a surprise; it's not!
Every person I've served these roasted pumpkin seeds can't wait to cut into a winter squash to make more!
They are a wholesome snack that are addictively good.
Roasted pumpkin seeds are easy to make. Getting them out of the gooey inside of the pumpkin is the hard part.
This roasted pumpkin recipe has a special TRICK that makes all that hassle go away!
Trust me it will become your favorite recipe for roasting any type of winter squash seeds.
What do Roasted Pumpkin Seeds Taste Like?
Seeds roasted through this method are incredibly delicious.
They are very nutty and bursting with flavor (I actually find them to taste a bit like bacon).
Use this Method for All Winter Squash Seeds!
These roasted pumpkin seeds are so delicious making them only at Halloween is a crime!
This method is perfect for all winter squash seeds.
Making some Butternut Squash soup (or Butternut Squash Noodles in Sage Brown Butter)? Don't throw away the seeds; roast them.
They are delicious for snacking but also great on salads, to top soups, tossed on granola and many other foods.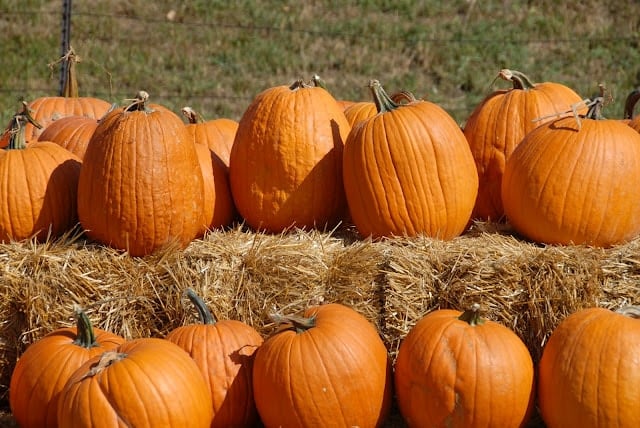 A Life Changing Trick!
Boil the seeds in salted water first.
How will that make a difference?
Boiling separates all the pumpkin membrane from the seeds, freeing them to easily be roasted.
All that time trying to pull away the slippery pumpkin goop? The boiling takes care of that.
The salt water also plumps up the seeds giving them incredible texture and flavor when they are roasted.
Why this is the Best Method for Roasting Pumpkin Seeds?
It can take hours to dig through the pumpkin membrane to release and roast the seeds.
Even then they generally don't come out well.
They can be thin, hard to crisp up for a nice crunch and lack flavor, or taste 'green'.
By pre-boiling the seeds have begun to cook before the roasting. Roasting in the oven really finishes them and crisps the outside to a pleasing texture.
It's like night and day from traditional roasted pumpkin seeds; trust me.
Which Pumpkins Have the Best Seeds for Roasting?
Pick a large pumpkin (not heavier but physically bigger) that sounds hollow when you tap it.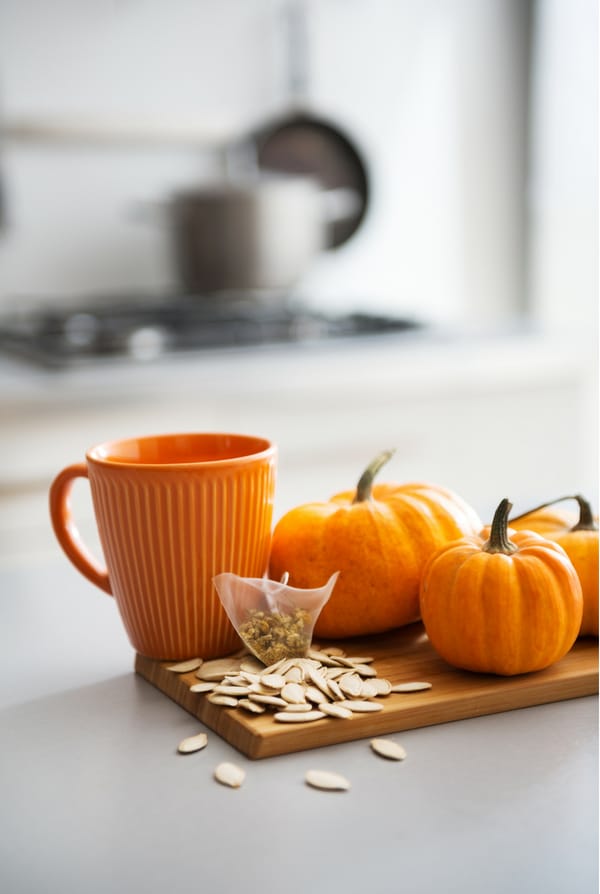 How to Season the Seeds
This is the fun part. Seasoning the roasted pumpkin seeds can be anything you love.
Salt or salt and pepper alone are delicious. Do you have a favorite spice? Try it.
Suggested Seasonings
Try a few sprinkles of Ground Chipotle Chilies, some salt and pepper before roasting. They are delicious with some smoldering heat and smoky flavor.
Sprinkle the seeds with some soy sauce or Tamari (if gluten-free) before roasting for salty Asian twist.
Cayenne Pepper is great if you love some heat.
Sumac has a citrus flavor along with a Middle Eastern taste.
You could even change it up and try some fine grain sugarfor a kettle-corn type flavor.
The possibilities are endless.
How to Dry Pumpkin Seeds?
The best method is to roast them! They turn from wet, slick, grey-colored seeds into crisp delicious seeds you won't be able to stop eating!
How to Make It – Step by Step:
STEP 1: Scrape the seeds from a partially cooked or uncooked winter squash.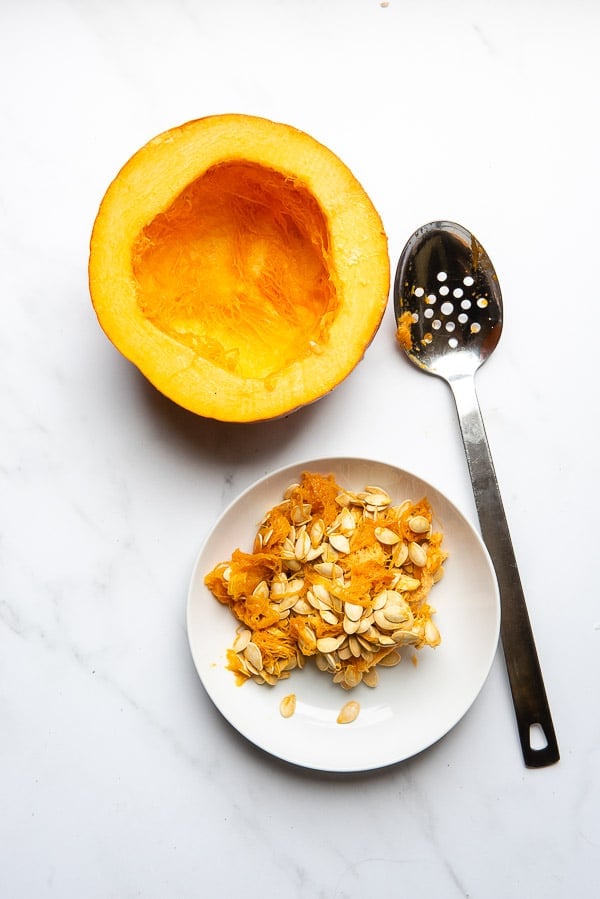 PRO TIP: using a pumpkin scoopermakes the job easier.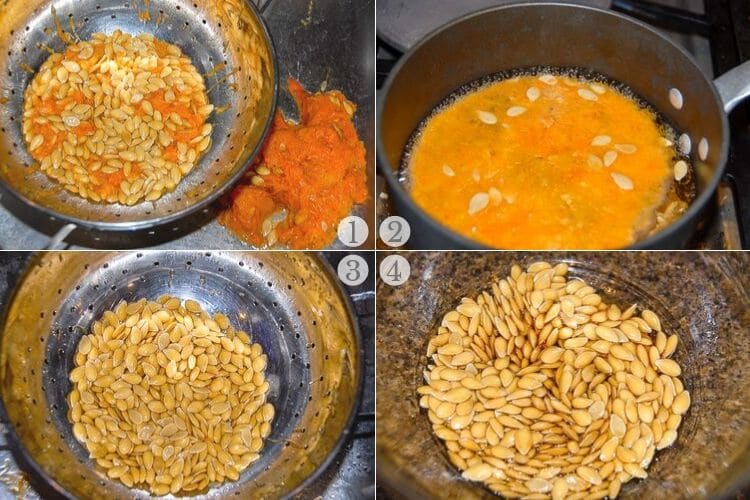 STEP 2: Rinse the seeds to remove large pieces of membrane (photo 1).
STEP 3: Preheat the oven to 400 degrees. Bring a large pot of salty water to a boil.
STEP 4: Boil the seeds for 10 minutes (photo 2).
STEP 5: Strain the seeds in a colander and remove any separated bits of pumpkin (photo 3).
STEP 6: Put seeds in a bowl and toss with olive oil, salt, pepper or desired seasonings (photo 4).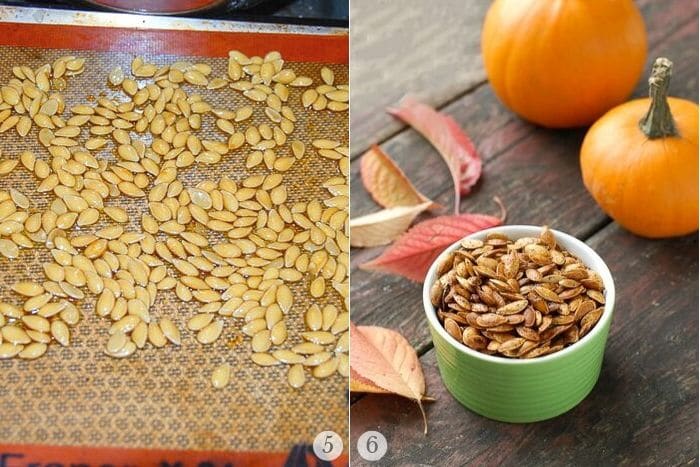 STEP 7: Spread the seeds in a single layer on a prepared baking sheet. Bake to desired crispness; usually 10-15 minutes depending on the seeds (photo 5).
Allow seeds to cool then devour (photo 6)!
How to Tell When Roasted Pumpkin Seeds are Done
The seeds start as a wet, grayish color when they are raw. As they roast they become opaque white followed by golden brown as they become fully roasted.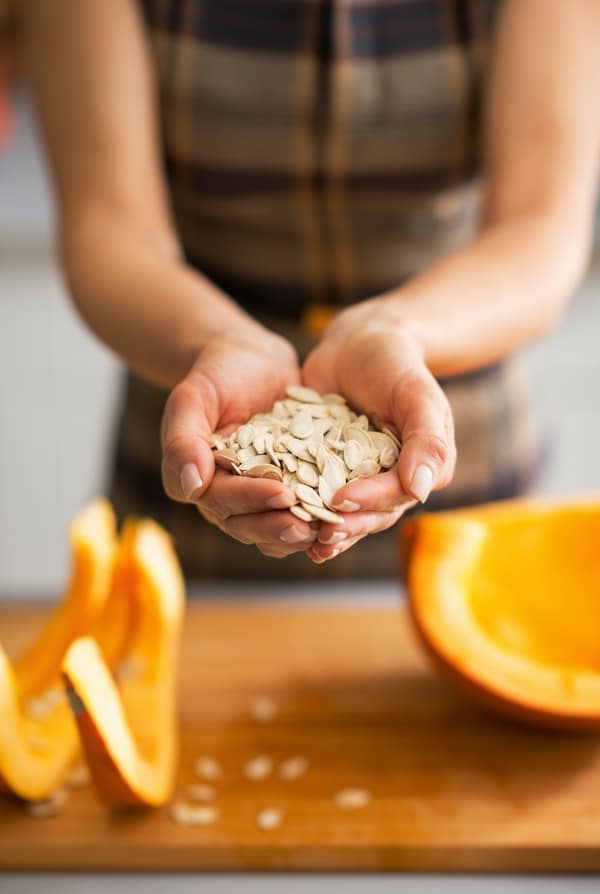 More Pumpkin Recipes You'll Love
I Think You'll Love these Recipes too….
Did you make it? Please RATE THE RECIPE below!
Please SUBSCRIBE and FOLLOW ME on FACEBOOK , TWITTER , INSTAGRAM and PINTEREST!
Originally published October 2010
Roasted Pumpkin Seeds are a wholesome, delicious snack that are so easy to make!