Roasted pumpkin seeds are the best part of carving pumpkins and this is Roasted Pumpkin Seeds: the Best Method ever! No more wrestling with slimy pumpkin goo thanks to a simple, secret trick!  It's a fast and easy way to get fantastic roasted pumpkin or squash seeds every time with little effort.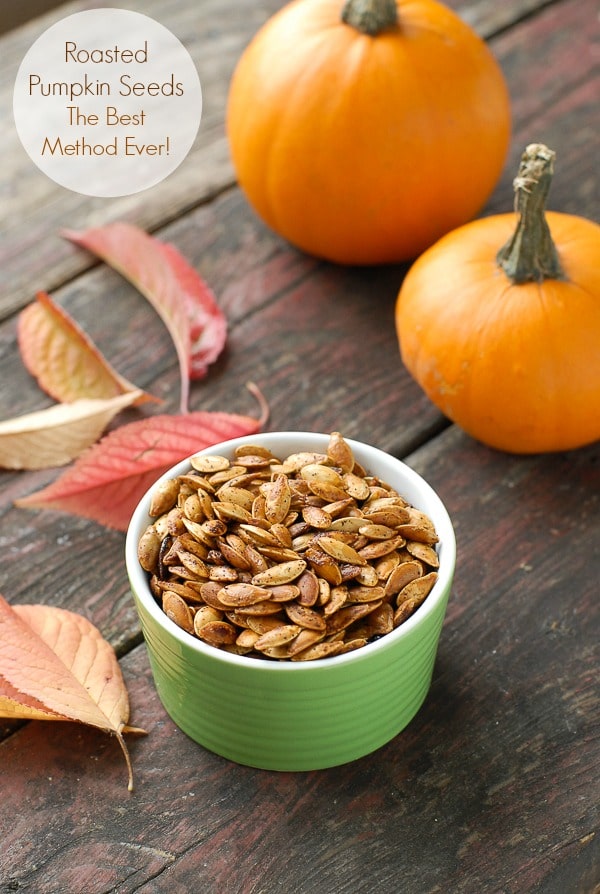 Ever since I was a kid we went through the compulsory exercise of baking pumpkin seeds when carving a pumpkin at Halloween.I'm not quite sure why since the results were 'sub par' at best. First off, trying to remove the seeds from the inner pumpkin felt like a complete exercise in futility. You can't ever grab a handful and pull it all out if the inner pumpkin is moist at all. Nor can you remove the pumpkin schmutz from the seeds, making them all the more disgusting by baking.The seeds taste green, are too pliable and thoroughly unappealing.
Last year I had a supersonic pumpkin seed epiphany. You have to boil the seeds in salted water first.The byproduct of my ah-ha moment laid the path to why one should commit the time to prepare the seeds for their own glory. Retrieving the seeds is now often my favorite part of the pumpkin carving as I know how fantastic the seeds will taste once roasted (and not having to struggle with the pumpkin goop). THESE seeds I cannot get enough of.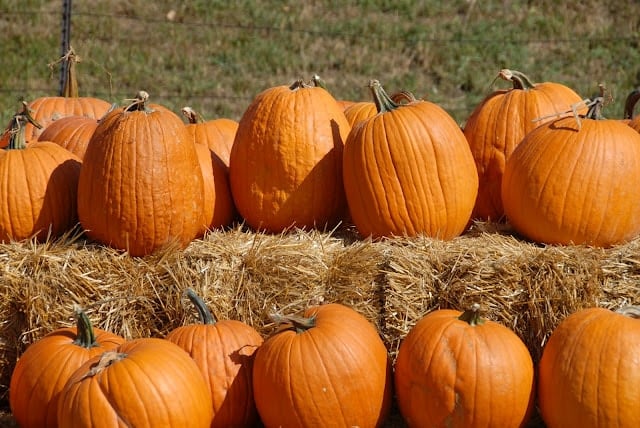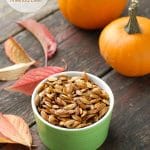 Ingredients
Pumpkin Seeds or Winter Squash Seeds

Olive Oil

Seasonings to taste
Instructions
Scrape any squash seeds out of a partially cooked or uncooked winter squash.

Rinse the seeds to remove the major chunks of squash or any strings possible. NOTE: Unlike regular methods, if these is pumpkin membrane co-mingled with seeds; no worries. The boiling separates most of it and once boiled any remaining is removed with ease in the step 5. The goal is to retain as many seeds as possible.

Preheat the oven to 400 degrees.

Bring to boil a few cups of water; about 2 cups of water to 1/2 cup of seeds. Add ½ teaspoon of salt per cup of water. Feel free to experiment and make it saltier or less so. Boil for 10 minutes.

After boiling, return seeds to a colander and rinse. Any remaining pumpkin particles or string will have separated; remove them from the seeds.

Put the seeds in a bowl. Toss with 1-2 teaspoons of olive oil to coat the seeds and add salt and pepper to taste. Additional seasonings and spices may be added too; I love using Tamari (or soy sauce if not gluten-free), or Cayenne Pepper.

Spread seeds in a single layer on a baking tray or in a shallow roasting pan in the upper portion of the oven.

Bake until they begin to brown and are a consistency of your liking; between 10-15 minutes. Different size seeds may take different lengths of time to cook. TIP: the seeds change from the wet, grayish color to more of an opaque white then golden brown as they become fully roasted.

Leave the seeds to cool on a rack until you can safely handle them.
Seeds roasted this way are incredibly delicious; very nutty and bursting with flavor (I actually find them to taste a bit like bacon).I now love this part of carving pumpkins or in the use of any squash. I hope for you too it will become a reward for your pumpkin carving efforts!
More Pumpkin Recipes on Boulder Locavore:
How to Make Homemade Pumpkin Puree
25+ Sweet and Savory Gluten-Free Pumpin Recipes You Won't Want to Miss