This Candy Corn Vodka Martini with Pop Rocks Rim will make your Halloween party complete! Made with homemade liquor infusions making a unforgettable cocktail.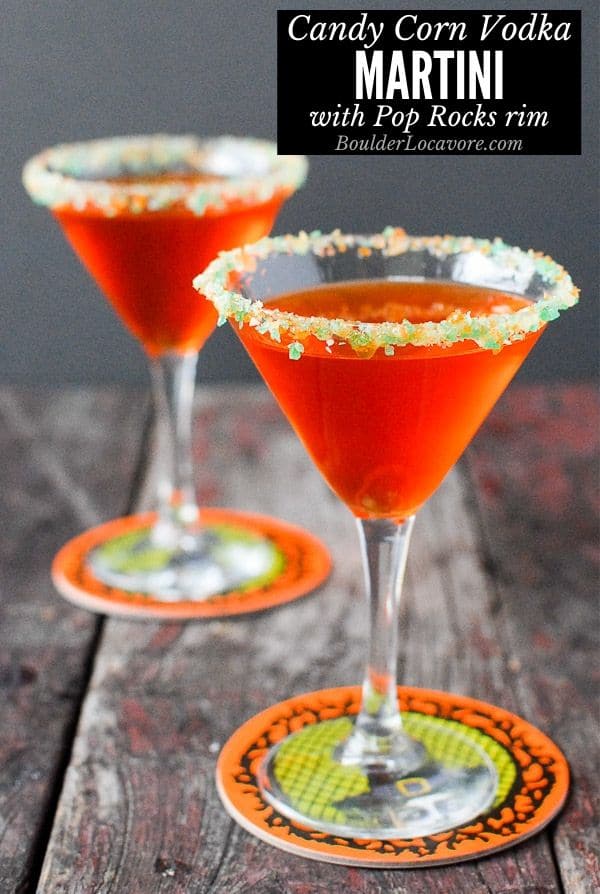 Whether you love candy corn or hate it, this Candy Corn Vodka Martini recipe will become an adult Halloween Party win!
It's a buttery strong cocktail with Halloween-perfect color.
An easy batch of homemade Candy Corn infused vodka, some homemade Vanilla vodka, a few Pop Rocks and the favorite party is at your house.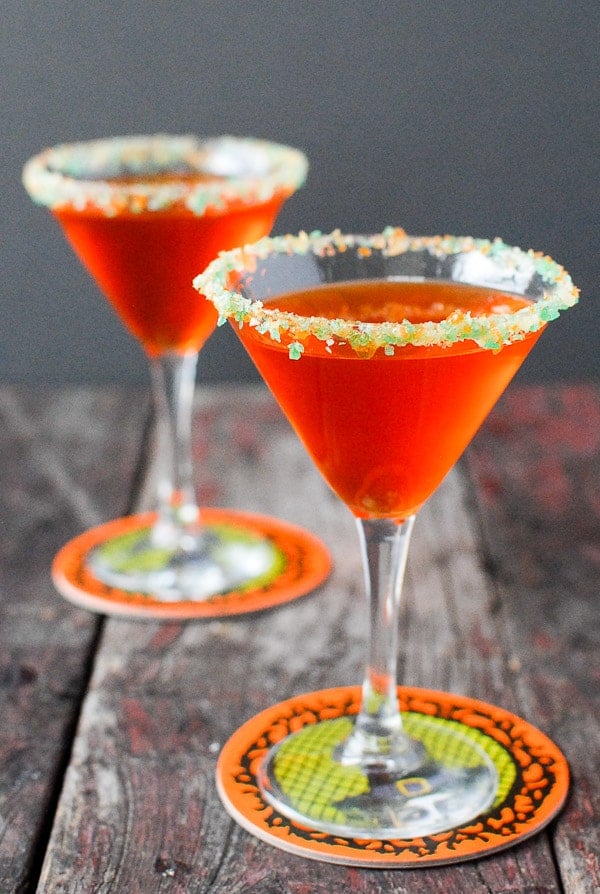 Candy Corn Vodka
That idea will either excite you and have you running for the door.
Trust me, it's easy and fun to make. And taste's great.
What Does Candy Corn Vodka Taste Like?
The polarizing thing about Candy Corn is how sweet it is. For many, it's just too much.
The fascinating thing about turning it into vodka, is the sweetness goes away. Totally.
What's left if the delicious buttery flavor found in candy corn. And the color.
Infusing Candy Corn Vodka
This is one of the easiest liquor infusion recipes you'll ever make.
It's also one of the creepiest to watch.
Shortly after the candy corn and vodka are combined, weird alien formations begin to form.
If you ever great Magic Rocks in your childhood this recipe will give you a flashback.
You aren't doing anything wrong.
In the end a clear orange vodka emerges!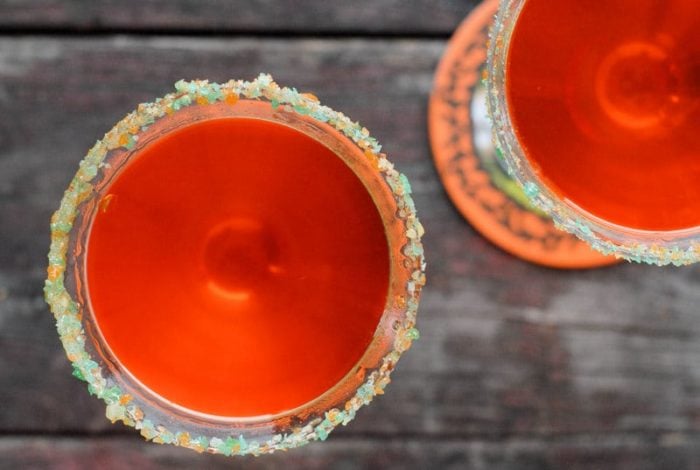 How to Make Candy Corn Vodka – Step-by-Step
This is a very easy recipe. It requires candy corn and unflavored vodka.
The candy corn dissolves into the vodka giving the vodka a warm buttery flavor without the sickly sweet sugar.
STEP 1: Combine the candy corn and vodka in a glass jar with lid (I used a quart Mason jar).
STEP 2: Store in a dark, cool location.
STEP 3: When the candy corn is fully dissolved, strain through 2 layers of cheesecloth.
How Long to Infuse Candy Corn Vodka?
I wanted the best possible flavor and infused the vodka for 4-5 days.
After five days the vodka was the most sublime color of Fanta-orange.
It separated perfectly, leaving a bit of residue on the bottom which is easily strained.
I was thrilled that it retained the candy corn flavor, without the sweetness.
Need it Faster?
The vodka can be used as soon as the candy corn has dissolved. This takes 1-2 hours.
So if you get the impulse and need the vodka faster than 4-5 days, whip up a batch!
Taste for flavor and allow it to sit as long as possible.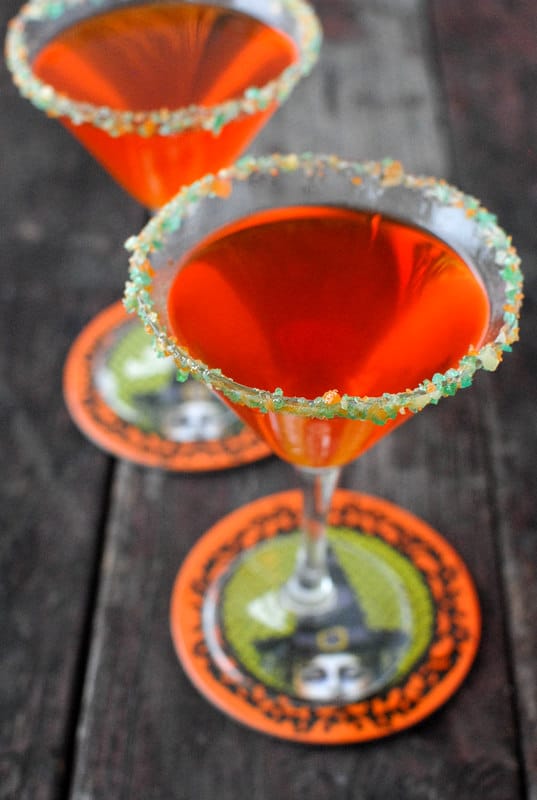 How to Make Vanilla Vodka – Step-by-Step
I decided to make a micro batch of Vanilla Infused Vodka to round out the buttery flavor for a final cocktail.
All it required is one vanilla bean and unflavored vodka.
TIME SAVING TIP: You can buy vanilla vodka.
This homemade method is easy and have wonderful flavor. If you have the time I recommend making it.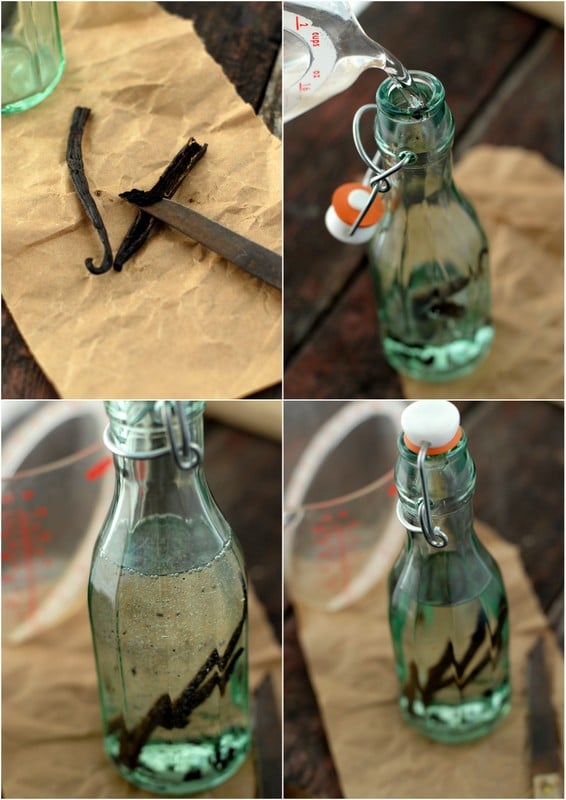 STEP 1: Combine the vodka and vanilla bean (sliced open and scraped; include the scrapings) in a sealed glass jar.
STEP 2: Store in a cool, dark location.
STEP 3: Taste after 3 days and use or allow to continue to infuse.
NOTE: if you need it faster, taste it earlier than 3 days. If you like it use it. Otherwise allow to infuse longer.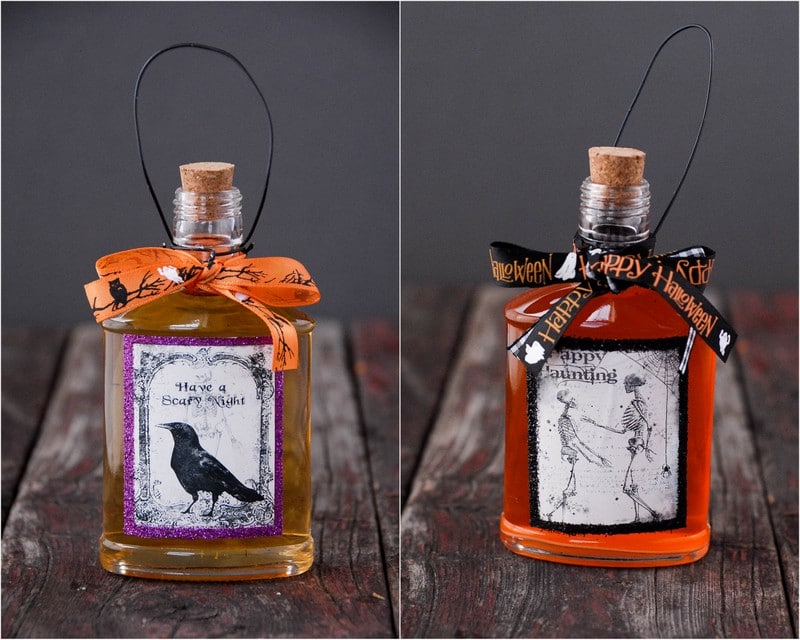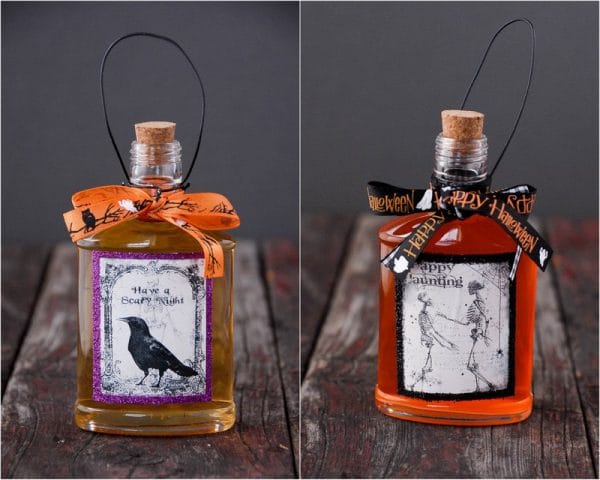 Candy Corn Vodka Martini
As with all Martini recipes, this Candy Corn Vodka Martini is all booze.
This is a festive cocktail, a novel cocktail, but also one that will feel like more of a Trick than a Treat if not consumed with respect!
TIPS FOR USING POP ROCKS
Pop Rocks are a fun addition to this cocktail glass rim. No one will guess that's what they are until they take a sip!
Do not allow the Pop Rocks to get wet before serving or they will not pop.
TIP #1: The Pop Rocks can be used 'as is' or processed through a blender or a mini chopper (mini food processor) to make a finer, more sugar-like texture which still pop.
The finer grain sill provide more coverage to the glass rim.
TIP #2: When Pouring the Candy Corn Martini ingredients into the rimmed glass, be careful not to wet the Pop Rocks or they will begin to pop.
Where to Buy Pop Rocks
The Pop Rocks used for these vodka martinis are 'Pumpkin Patch Orange'. They are a blend of orange and green.
You can find Pop Rocks at certain drug stores or 'big box' stores like Target or Walmart. Call ahead to make sure they have what you want.
Also novelty candy stores will sell them. A number of sources sell them online too.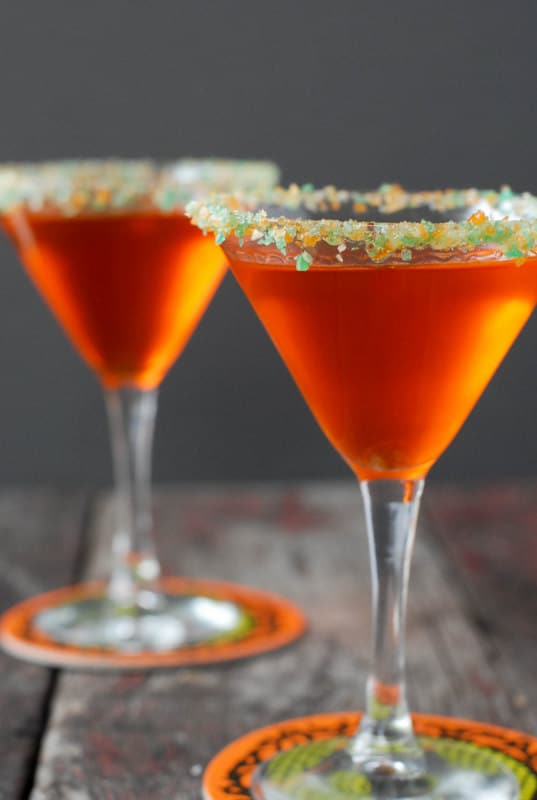 More Cocktails Recipes You'll Love!
Did you make it? Please RATE THE RECIPE below!
Please SUBSCRIBE and FOLLOW ME on FACEBOOK , TWITTER , INSTAGRAM!
Originally published: October 6, 2012
This Candy Corn Vodka Martini recipe is always the hit of every Halloween party!