This Candy Corn Martini with Pop Rocks Rim will make your Halloween party complete! Homemade DIY candy corn vodka and vanilla vodka, create a buttery flavored cocktail without any saturated sweetness you might expect. Easy to make and fun to drink!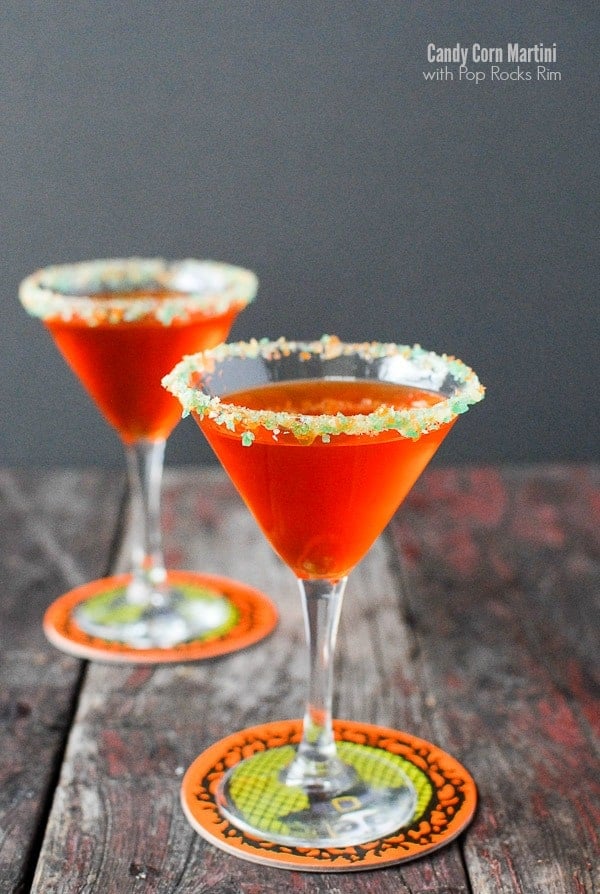 Hold on! Before you run shrieking from your computer monitor, hear me out. It's no secret I'm an 'infuse-a-holic'. A DIY'er to the core and one who loves re-purposing of almost anything. A few weeks ago I was unloading a menagerie of grocery items and it just happened that a bag of candy corn and a bottle of vodka landed next to each other on the counter. In the flurry of unloading, I glanced over to catch the pair and immediately wondered what THAT would be like.
I hesitated; wondering if it would be tipping off into a realm too disgusting to ever admit but internally countering that I'd never know unless I tried. In mere moments a mason jar of vodka and candy corn where in the pantry to see what would happen.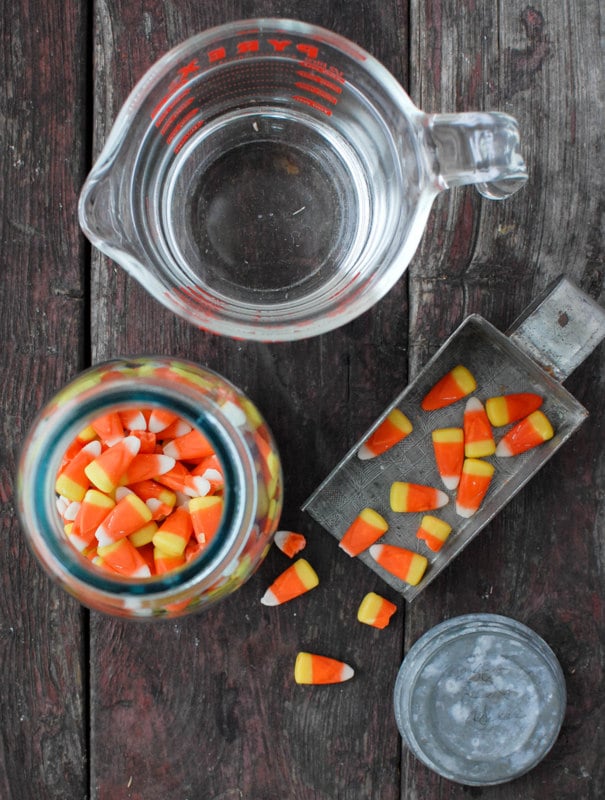 I like candy corn. I should say I like the buttery flavor in the candy but not the mainline dose of sugar when eating even just a few. I also think it's cute looking and certainly quintessential Halloween. I was repulsed however when witnessing only moments after the candy corn and vodka were combined, the quick state of disintegration of the candy. It really looked more like those Magic Rocks we grew as kids; the ones you put in the bottom of a jar and they turn into Joseph-and-the-Technicolor-Dream-Coat diminutive stalagmites. Somehow it's not as charming with candy corn.
This experiment dovetailed perfectly into a vision I had for a Halloween cocktail. An idea born this summer when visiting uber cool Frost Bar in Vail Colorado. I sampled a number of their cocktails and one of the more novel was the 'Pow Pow', a skier's fond name for 'powder' snow but also a double entendre as the cocktail is rimmed with Pop Rocks. It was completely fun and I immediately began brainstorming with Martin, one of Frost's mixologists, about a Halloween version. Desiring to stay in the Halloween color palette, the closest we came up with at that time was something with green apple.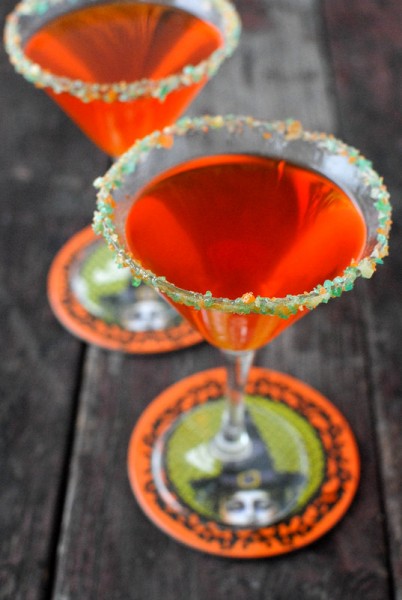 After five days the Candy Corn Vodka was the most sublime color of Fanta-orange. It separated perfectly, leaving a bit of residue on the bottom which is easily strained. I was thrilled that it retained the candy corn flavor, but not the sweetness. I'm not a chemist so I'm unsure what exactly transpired to grace me with that result but I was happy to lose the sugar. I decided to make a micro batch of Vanilla Infused Vodka to round out the buttery flavor for a final cocktail.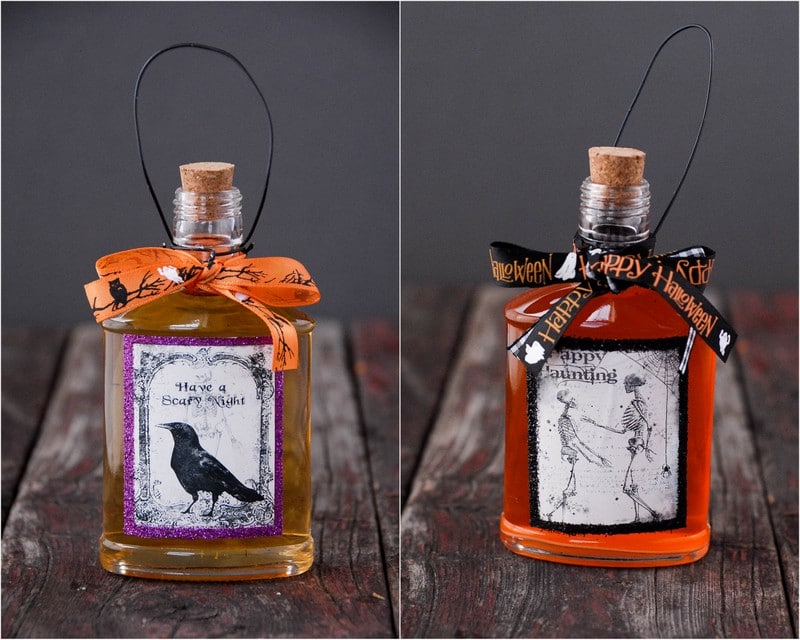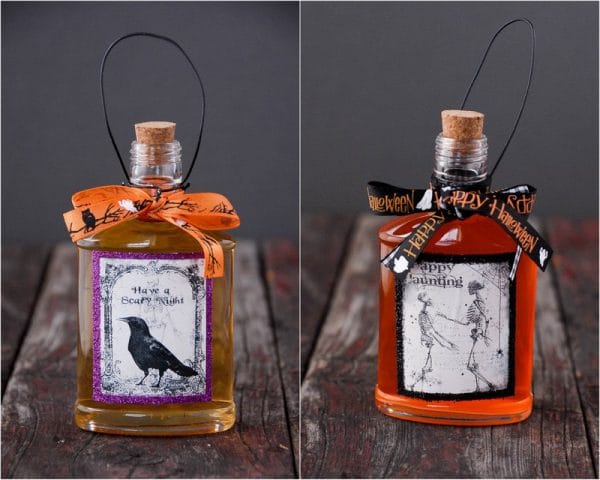 I will caution the end cocktail is a Martini. Made honoring the traditional sense of the mixology; all booze. This is a festive cocktail, a novel cocktail, but also one that will feel like more of a Trick than a Treat if not consumed with respect!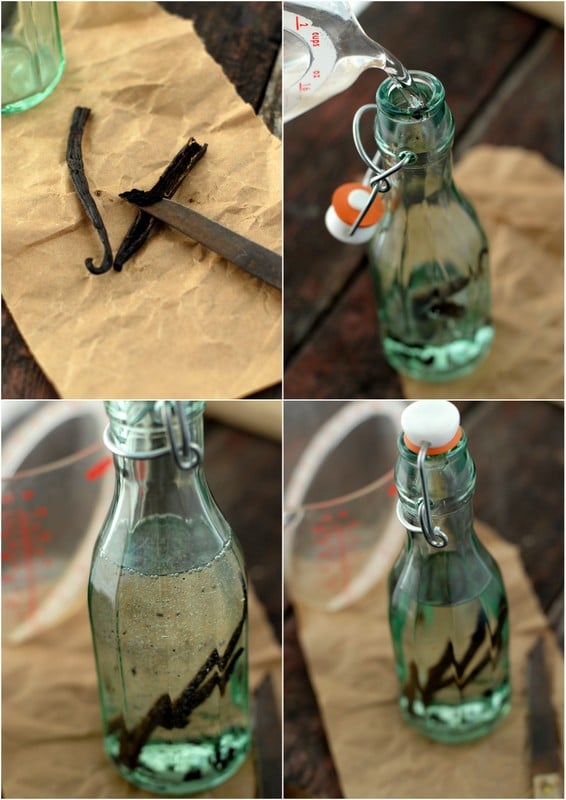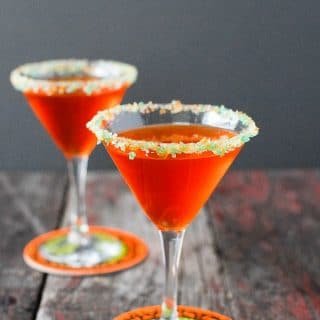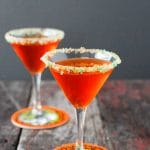 Candy Corn Martini with Pop Rocks Rim
This Halloween themed Martini is fun and festive with Candy Corn Vodka and Pop Rocks rimming the glass! The homemade Candy Corn Vodka takes 4-5 days to fully infuse. When planning to serve these Martinis, be sure to start the vodka infusion process about a week beforehand for the best results!
Total Time
4
days
10
minutes
Ingredients
Ingredients for Candy Corn Vodka:
2

cups

vodka

1

cup

candy corn
Ingredients for Vanilla Vodka:
Ingredients for Candy Corn Martini with Pop Rocks rim:
1

ounce

of Candy Corn Vodka

½

ounce

of Vanilla Infused Vodka

¾

ounces

of Martini & Rossi Rosso Vermouth

A few dashes Angostura Bitters

2-3

packages 'Pumpkin Patch Orange'

green and orange mix Pop Rocks
Instructions
Instructions for Candy Corn Vodka:
Combine ingredients in a glass container. Seal, store in a cool, dark place. Taste after 4-5 days. If to your liking, strain the vodka through two layers of cheesecloth and enjoy!
Instructions for Vanilla Vodka:
Combine ingredients in a glass container. Seal, store in a cool, dark place. Taste after 3 days and either use or infuse longer.
Instructions for Candy Corn Martini with Pop Rocks rim:
Place pop rocks into a shallow flat bowl or plate. Rim a cocktail glass with a lemon slice and dip glass into the pop rocks, twisting the glass to create full rim.

In a shaker with ice, combine the vodkas, vermouth and bitters. Shake and strain into prepared cocktail glass.
Recipe Notes
Candy Corn Vodka: The ratio I used for this infusion was 2 to 1, vodka to candy corn. You can tailor your desired batch size based on this ratio. Plan to make at least 5 days before making the Candy Corn Martini. Vanilla Vodka: This vodka infuses quickly and is a warm, flavorful addition to a number of seasonal cocktails.
Nutrition Facts
Candy Corn Martini with Pop Rocks Rim
Amount Per Serving
Calories 57
% Daily Value*
Fat 0g0%
Cholesterol 0mg0%
Sodium 0mg0%
Carbohydrates 0g0%
Protein 0g0%
* Percent Daily Values are based on a 2000 calorie diet.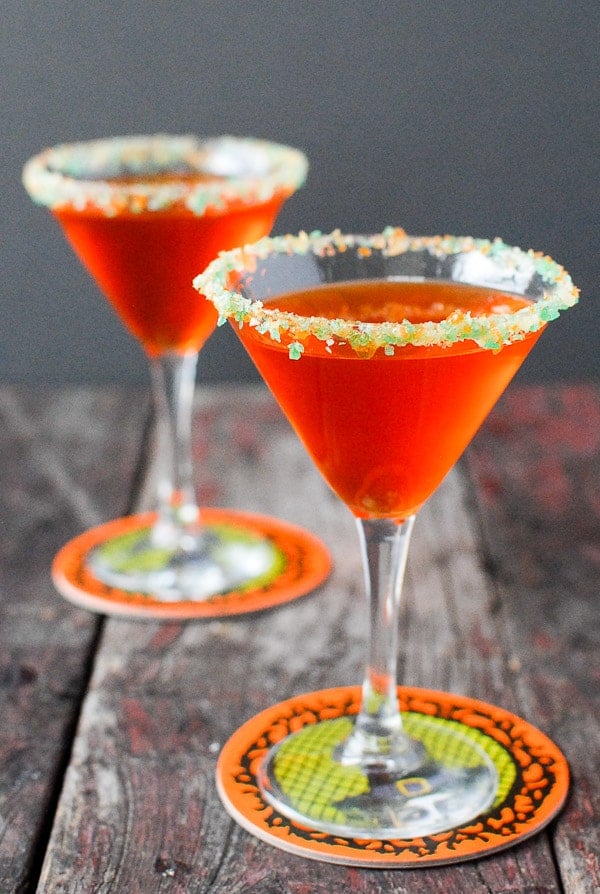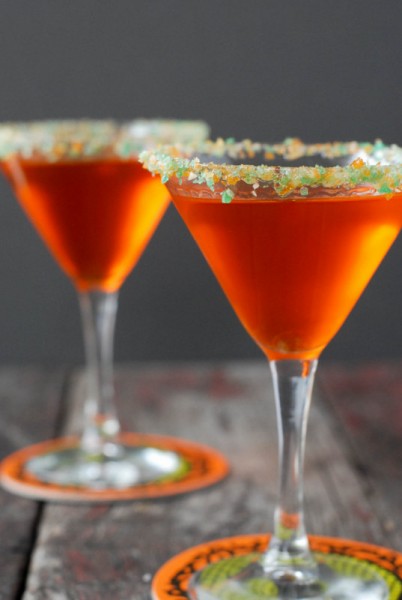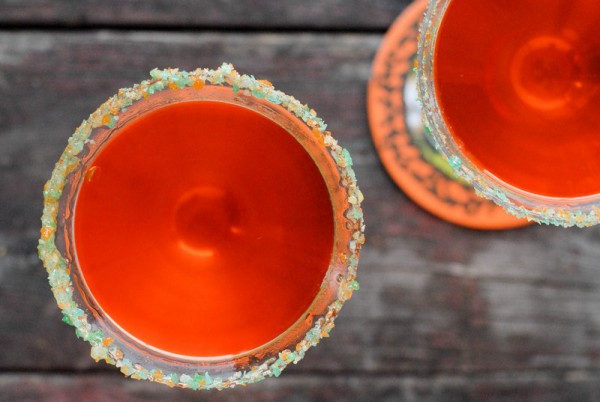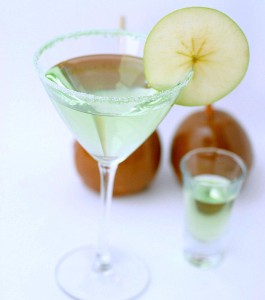 Another fun couple of cocktails for the season:  Caramel Apple Martini and Caramel Apple shot!