It's easy to make Halloween all the more fun with some spooky cocktail ideas!  Today I'm sharing 12 favorites that are sure to make your holiday ghoulishly spectacular.  This post is for those of legal drinking age.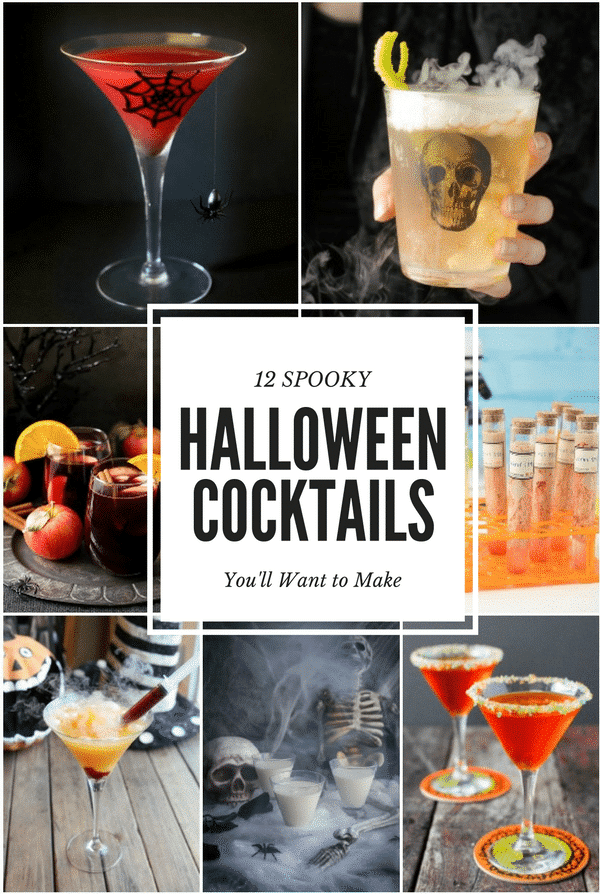 Am I the only one who feels like time is passing at a breakneck pace?  It's sort of unbelievable that October has arrived and I'm sure before we know it Halloween will be upon us.
Every year I promise myself I'll be ready earlier.  When my kids were smaller I'd really go to town on decorating the house, indoors and out.  I will sheepishly admit these days I stumble on the feeling that as fun as it is to put it all up, that I have to take it all down which seems a chore.  As soon as I blow past that and start planning fun treats and costumes, the spirit of the holiday will set in.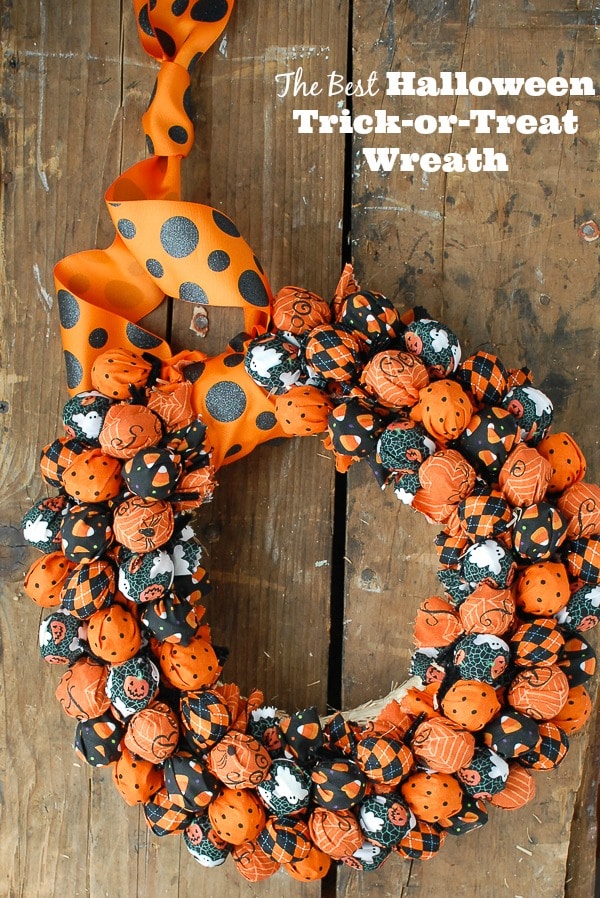 Halloween really is unlike any other holidays for the whimsy of it all.  All ages are excited about dressing up (as witnessed by full families that come to our house for Trick-or-Treating).  Every year I make a Halloween Trick-or-Treat wreath that I use for decoration until Halloween night.  The wreath is made up of Tootsie Pops covered with Halloween fabric and when the kids realize it's not just decoration but also their treat, they are so excited!  I think because it's unexpected.  We have kids that we don't even know that mention annually they are so glad we made the wreath again.  Love that.  Ok already I'm more in the Halloween spirit just sharing this.
It doesn't take much to make the evening fun for adults as well as kids.  I shared some tips for throwing a Halloween party last year.  You can find some easy, fun non-alcoholic drink ideas in my Halloween recipe section but today I've rounded up 12 Spooky Halloween Cocktails You'll Want to Make.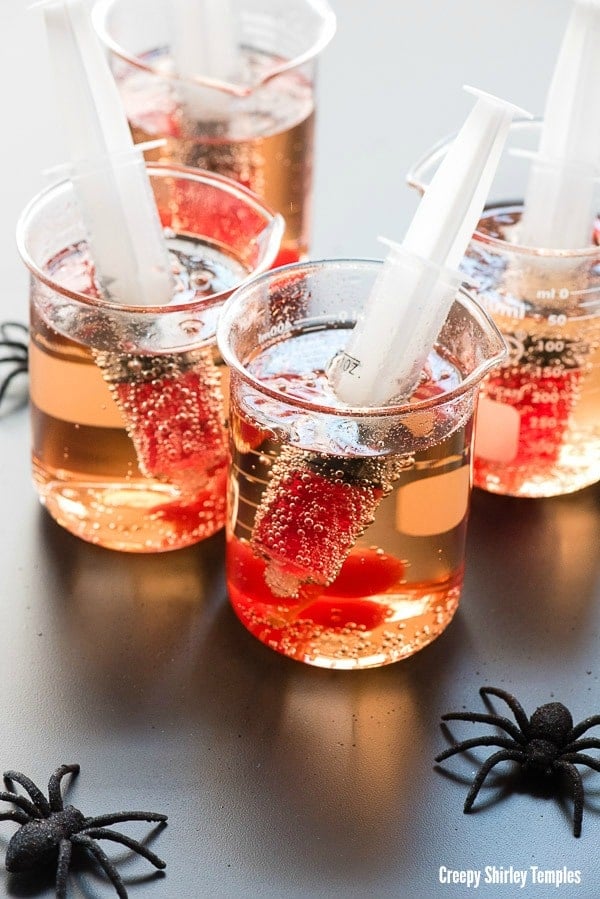 The list includes some Boulder Locavore favorites as well as some fantastic options from talented bloggers I know you'll love.  I love a creative idea and am guessing you will too!  Please remember to always drink responsibly!
Candy Corn Martini with Pop Rocks Rim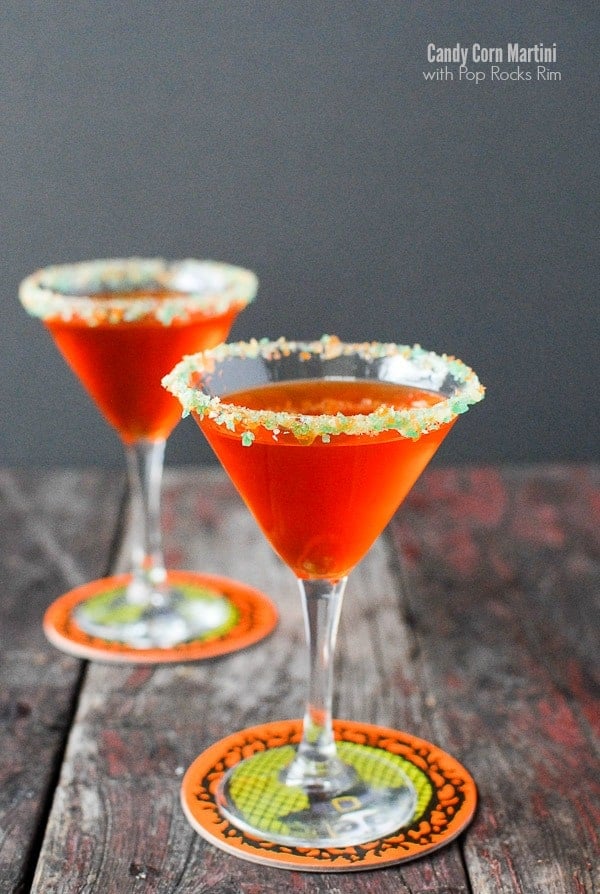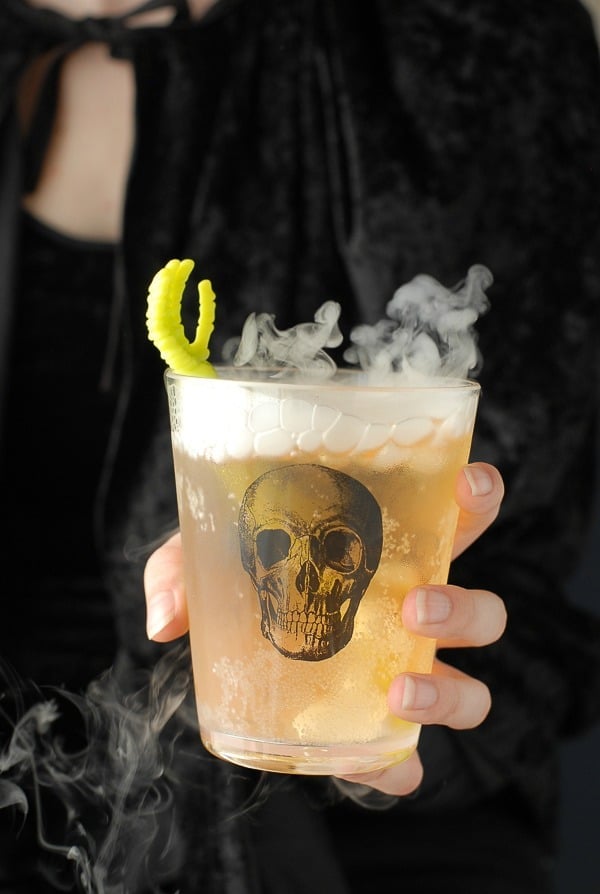 Glow-In-The-Dark Infected Brain Cocktail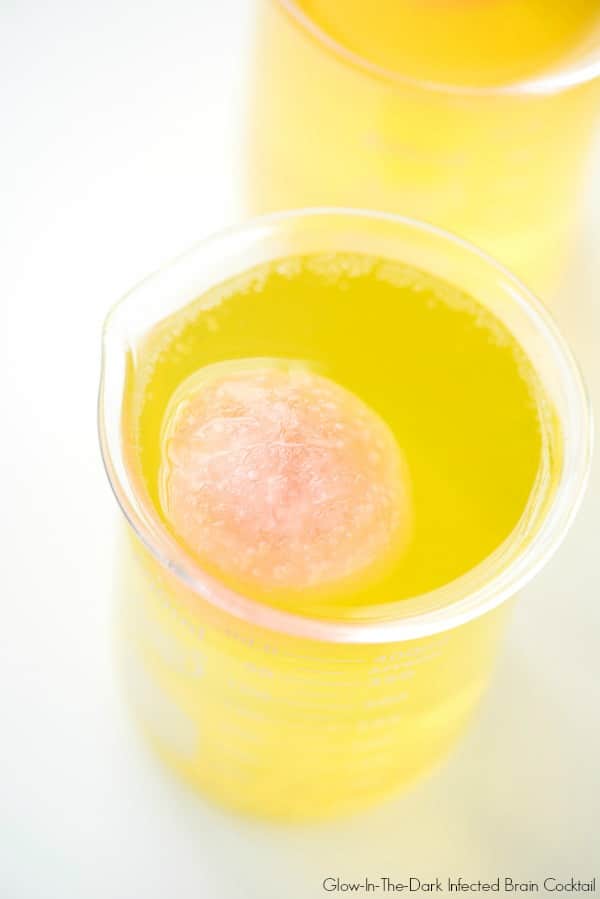 Caramel Apple Martini and a Caramel Apple Shot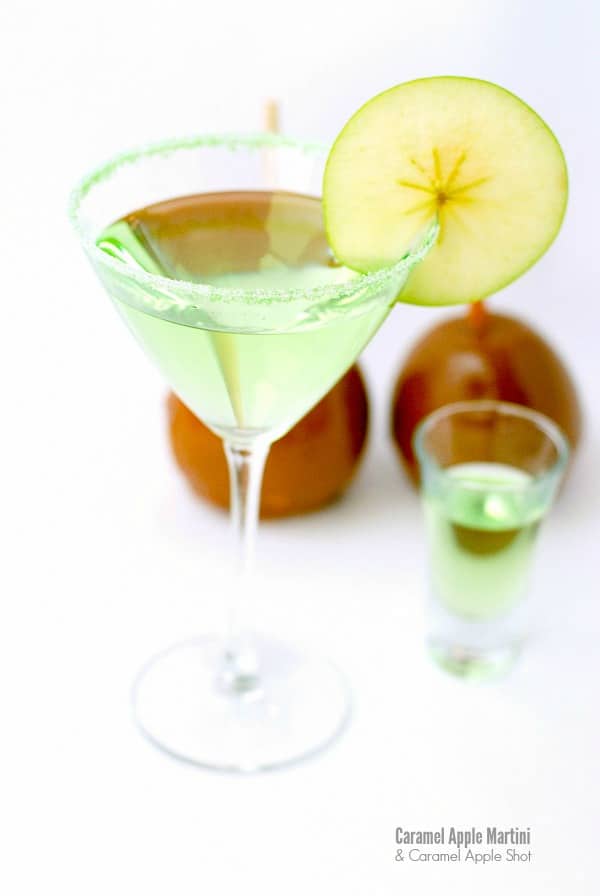 Halloween Blood Orange Martini {Culinary Ginger}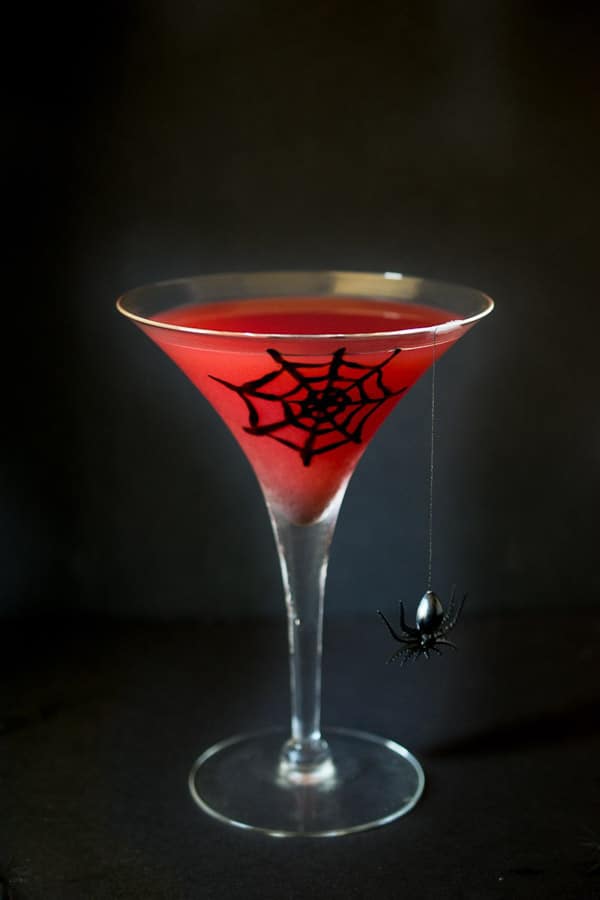 Liquid Ghost Halloween Cocktail  {Pineapple & Coconut}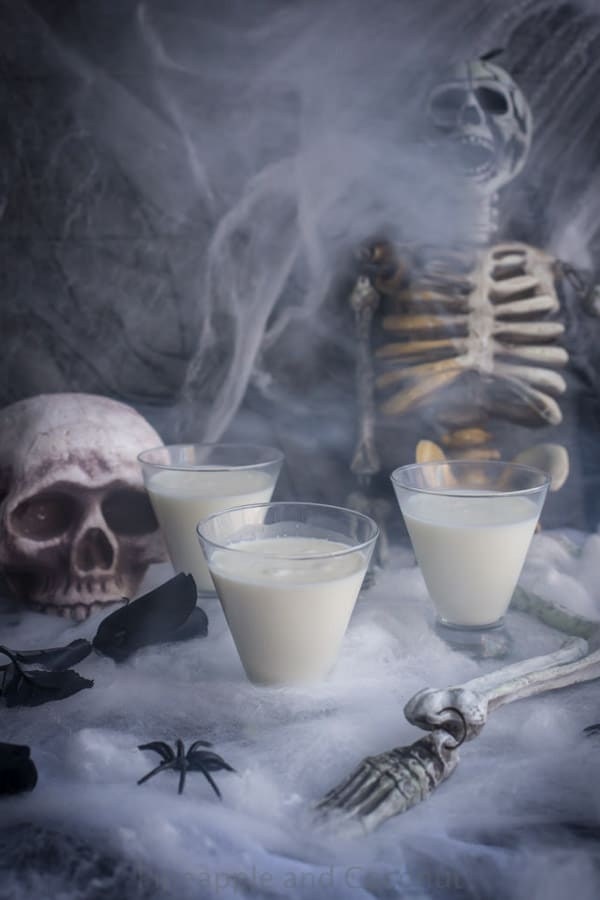 Vampire Martini {The Hopeless Housewife}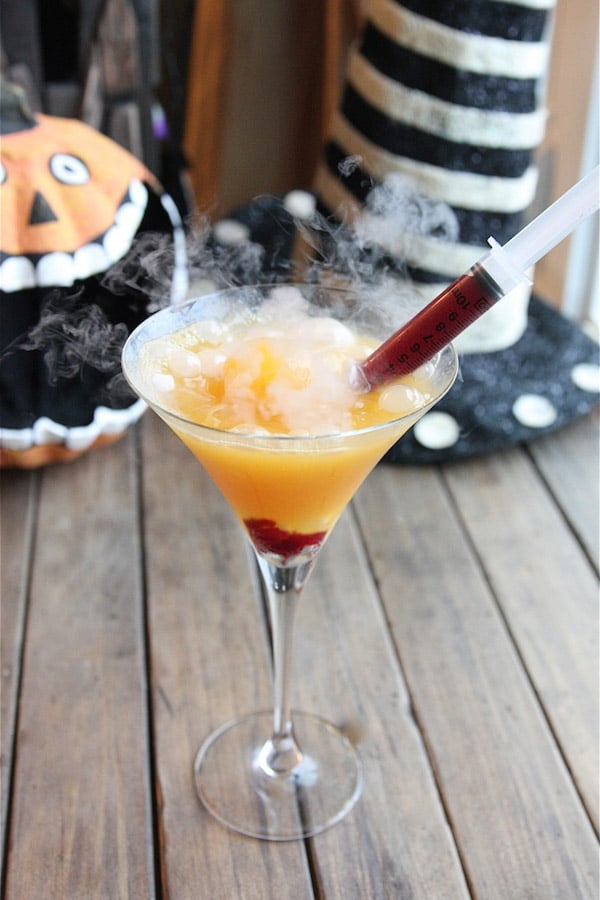 Red Apple Cider Sangria {Chocolate Moosey}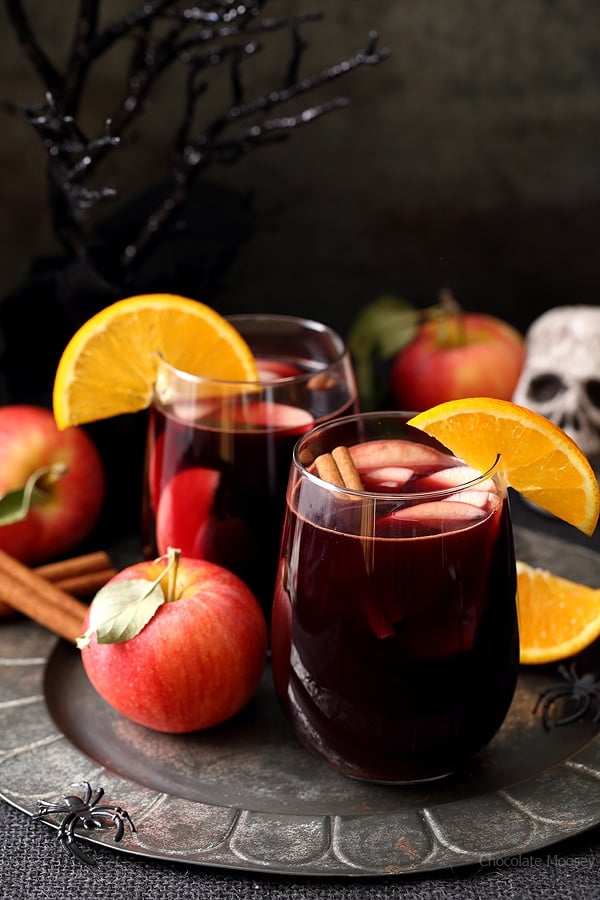 Creepy Eyeball Martini {Pineapple & Coconut}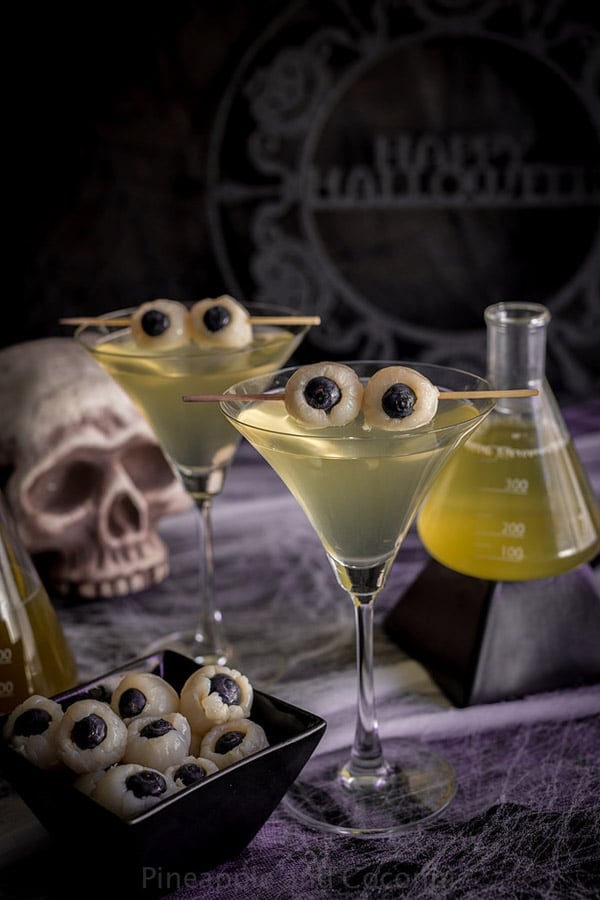 Spider Web Cocktail {Amanda's Cookin'}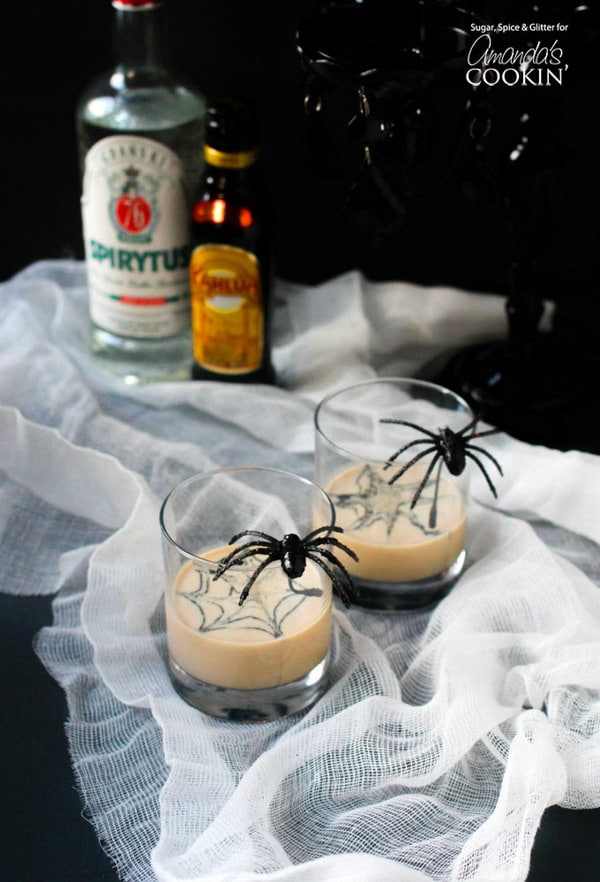 Shrunken Heads in Spiced Cider {All Roads Lead to the Kitchen}