Halloween Cupcakes make the holiday feel like a party! These Graveyard Cupcakes are a box mix hack that are SO easy to make and everyone loves them!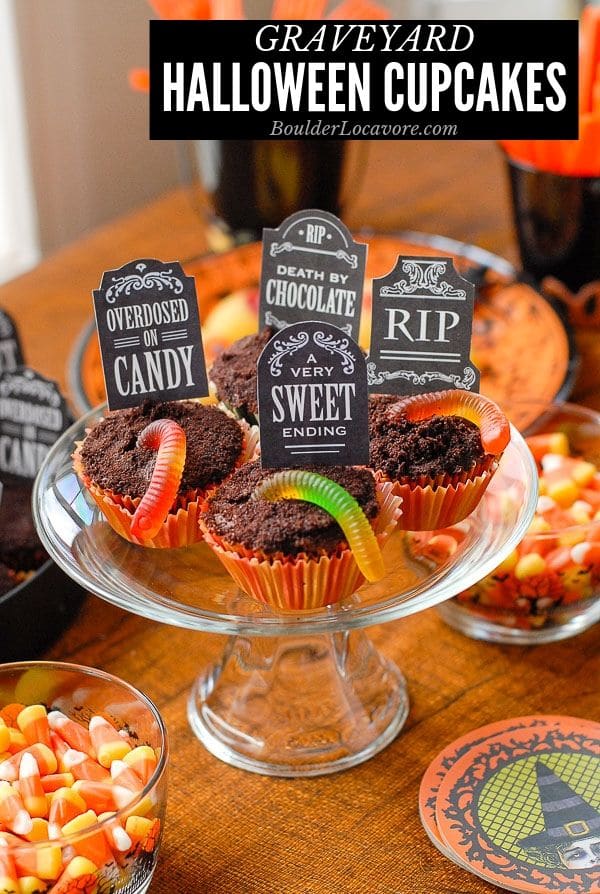 This Halloween treat will be the star of your Halloween party, class party or to celebrate the holiday anytime.
I promise you anyone you serve them to will be so excited and will never know how easy they are to make.
Graveyard Halloween Cupcakes will become a holiday tradition everyone begs for!
Jump to: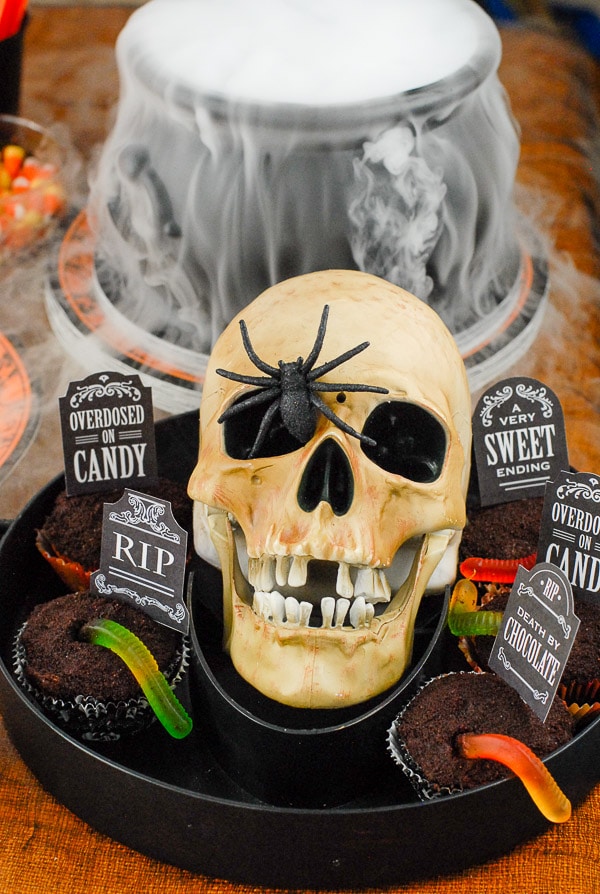 Graveyard Halloween Cupcakes
We do it up big for Halloween every year from the decorations to the food. But I often don't have time to labor over intricate treats.
Ever feel like that yourself?
These Halloween Cupcakes pack a WOW punch but are really so easy to make.
Simple frosted chocolate cupcakes transform into a spooky graveyard scene with a few tricks and a few props!
Ingredients and Supplies for Halloween Cupcakes recipe
Everything you need is easy to find at a grocery or craft store, or online.
Chocolate Cupcakes (mix or from-scratch)
Chocolate Frosting (mix or prepared tub)
Chocolate cookies/wafers (to make 'dirt')
White Cardstock (to print the tombstone cupcake toppers)
Lollipop Sticks (to stick 'tombstones' into cupcakes)
Tape (to attach the 'tombstones' to the lollipop sticks)
Gummy Worms
Chopstick (to make a hole for the gummy worm in the cupcake)
Halloween cupcake papers are optional but a great finishing touch!
Time Saving Tip: to make these Halloween cupcakes ever faster buy frosted chocolate cupcakes.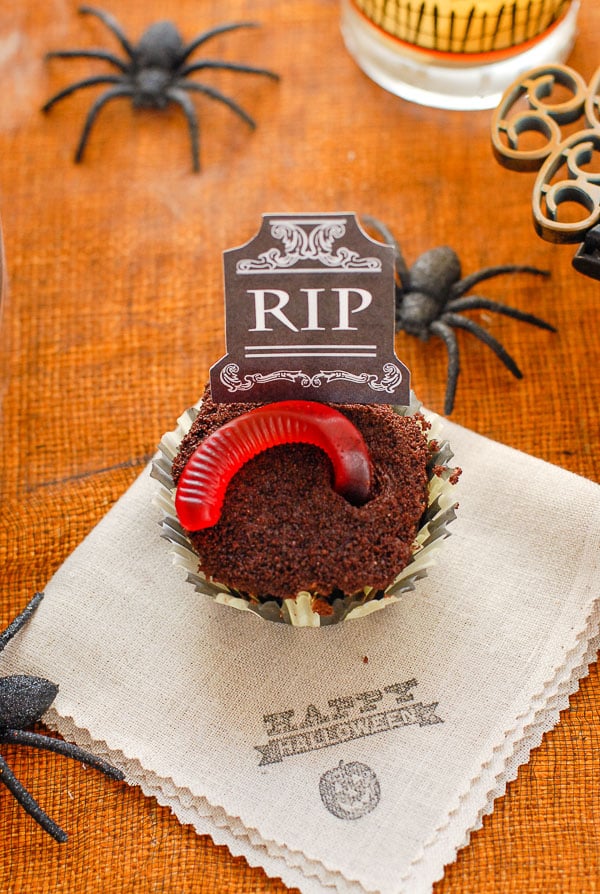 Make Them Gluten-Free or Allergy-Friendly
Any cupcake mix and frosting can be used. Choose a box mix or from scratch recipe for your dietary needs.
Often prepared gluten-free cupcakes can be found at the grocery store too.
A Fun Halloween Activity for Kids to Make
These Halloween Cupcakes are part baking and part craft. They are a fun holiday recipe kids love to make too.
Even if kids are too young for the baking, sticking the tombstones and worms in the Halloween cupcakes is fun at any age.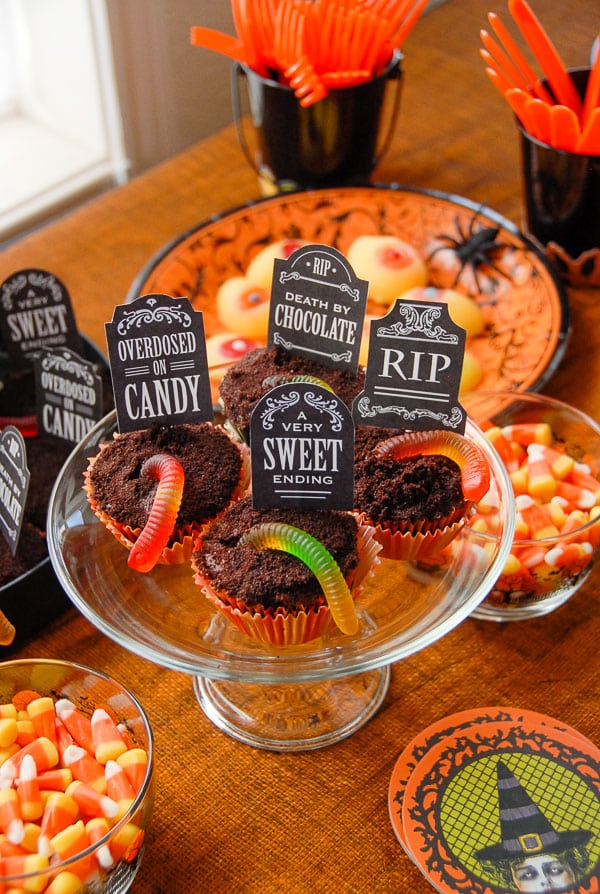 Halloween Cupcakes Decorations
Fake dirt, a creepy worm and mini tombstones are all that's needed for exciting cupcake decorations.
The Tombstone Toppers steal the scene and are easy to create.
Free Printable Tombstone Toppers are cut out and attached to lollipop sticks to insert into the cupcakes.
How to Make Graveyard Halloween Cupcakes – Step-by-Step
For a detailed printable version of the recipe refer to the recipe card at the end of the blog post.
STEP 1: Print the tombstones on white cardstock. Cut them out.
STEP 2: Place a lollipop stick on the back of each tombstone. Position it so the bottom of the tombstone will be sitting flush with the top of the cupcake.
STEP 3: Place ground cookie crumbs in a small bowl.
STEP 4: Frost a cupcake and place top side down in the crumbs.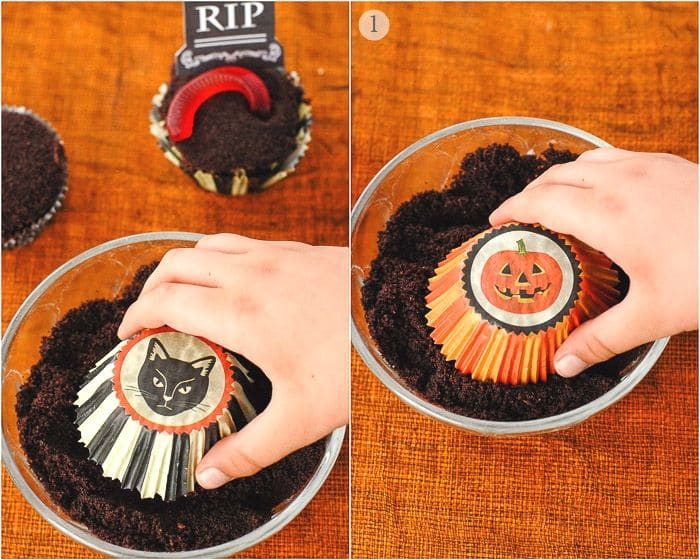 STEP 5: Gently turn the cupcake in the crumbs until covered (photo 1) with no frosting showing (photo 2).
STEP 6: Insert the tombstone in the cupcake (photo 3).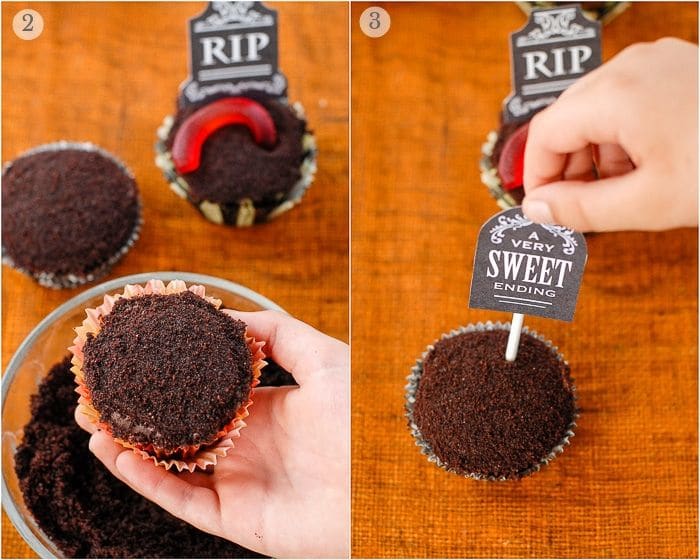 STEP 7: Insert a chopstick into the cupcake to create a hole for the gummy worm (photo 4).
STEP 8: Stick the gummy worm in the hole (photo 5).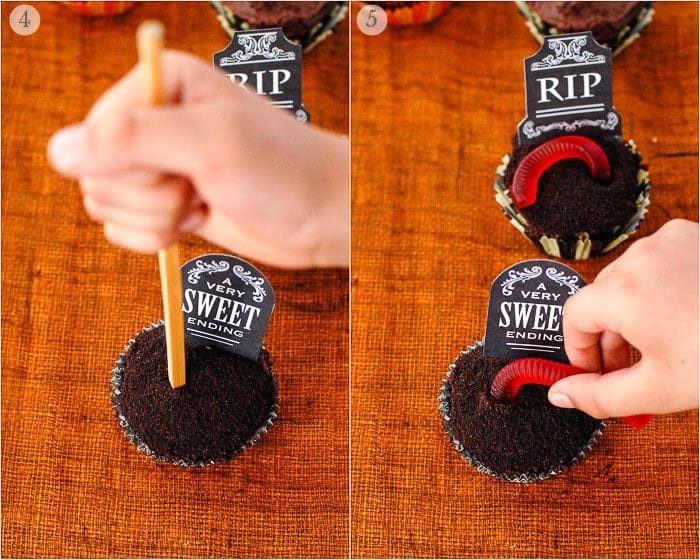 PRO FROSTING TIP
To ensure the crumbs (dirt) stick in the frosting, frost cupcakes one at a time. After frosting put immediately into the crumbs.
If using store-bought chocolate cupcakes, adding some frosting to the top before dipping into the crumbs will ensure the crumbs stick.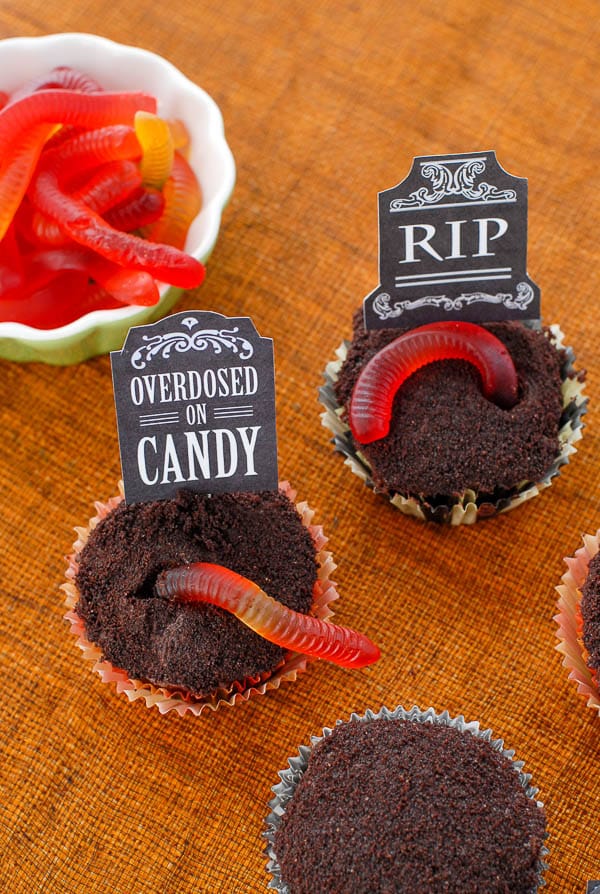 Storing Halloween Cupcakes
Assembled Halloween cupcakes can stay at room temperature for the day unless the temperature is very warm outside.
If serving cupcakes later, refrigerate the frosted cupcakes with crumbs/dirt for 3-5 days in an airtight container. Finally assemble before serving.
If storing leftover Halloween Cupcakes, remove the tombstone topper and the gummy worm. The gummy worm will become hard if chilled.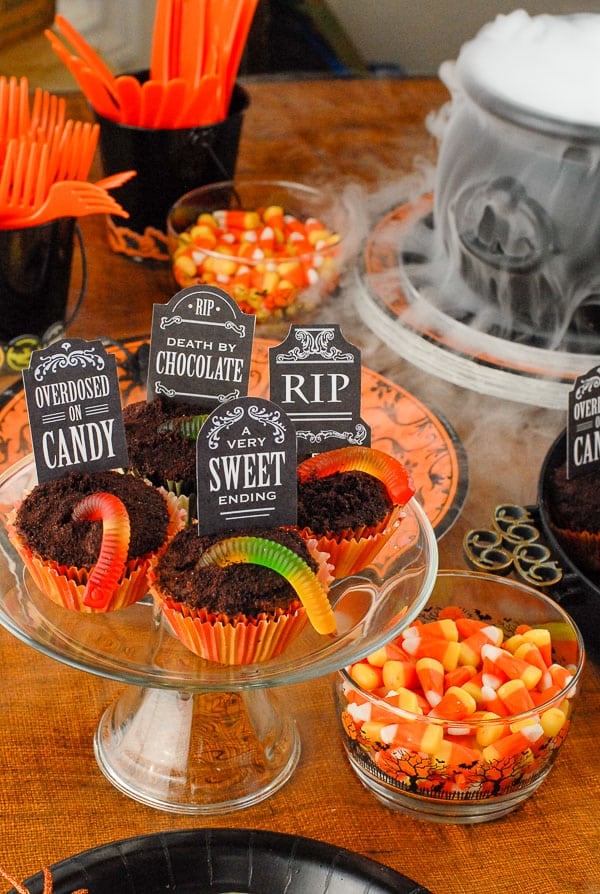 Recipe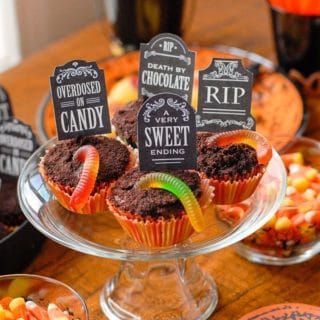 Graveyard Cupcakes
These cupcakes are very simple, delicious and bring a Halloween festivity whenever they are served!
Print
Save Recipe
Recipe Saved!
Pin
Rate
Servings:
12
cupcakes (can be adjusted as needed)
Ingredients
12

chocolate cupcakes

(preferably baked in Halloween themed cupcake papers)

1

batch

chocolate frosting

Chocolate cookies/wafers

, processed in a blender/chopper/food processor to yield 1/2-3/4 cups

1-2

pieces

white cardstock

Lollipop sticks

(note: I used 6 inch sticks, cut in half and each half worked great)

Tape

Gummy worms

(one package)

Chopstick

(or other implement the width of a gummy worm to make a hole in the cupcake)
Instructions
Print the tombstones on the white cardstock (link in instructions).

Cut out the tombstones and tape a lollipop stick to the back, ensuring when inserted into the cupcake the paper tombstone sits flush with the top of the cupcake.

Place ground cookies crumbs in a small bowl.

Frost one cupcake. Place the frosted top of the cupcake in the cookie crumbs. Gently turn the cupcake until the top is covered and no frosting is showing. Repeat with remaining cupcakes one by one.

Insert a tombstone in each cupcake.

With the chopstick make a hole in a desired location of the cupcake top and insert one end of a gummy worm into the hole.
Notes
Note on Frosting: A key step with this recipe is frosting each cupcake and dipping it into the cookie crumbs one at a time to allow the 'dirt' to adhere to the frosting. Recipe Time: assumes cupcakes are baked. The prep time includes preparing the tombstone toppers, frosting and assembling the Halloween cupcakes.
Nutrition
Calories:
303
kcal
|
Carbohydrates:
48
g
|
Protein:
2
g
|
Fat:
11
g
|
Saturated Fat:
3
g
|
Cholesterol:
0
mg
|
Sodium:
209
mg
|
Potassium:
114
mg
|
Fiber:
0
g
|
Sugar:
37
g
|
Vitamin A:
20
IU
|
Vitamin C:
0.1
mg
|
Calcium:
59
mg
|
Iron:
1.2
mg
Originally published: October 9, 2012
These Graveyard Halloween Cupcakes are the star of the holiday and so easy to make!