Buffalo Chicken Slow Cooker Meatballs are perfect for a party or the Big Game! Spicy, tangy with a touch of blue cheese. Great as is or made into mini sandwiches!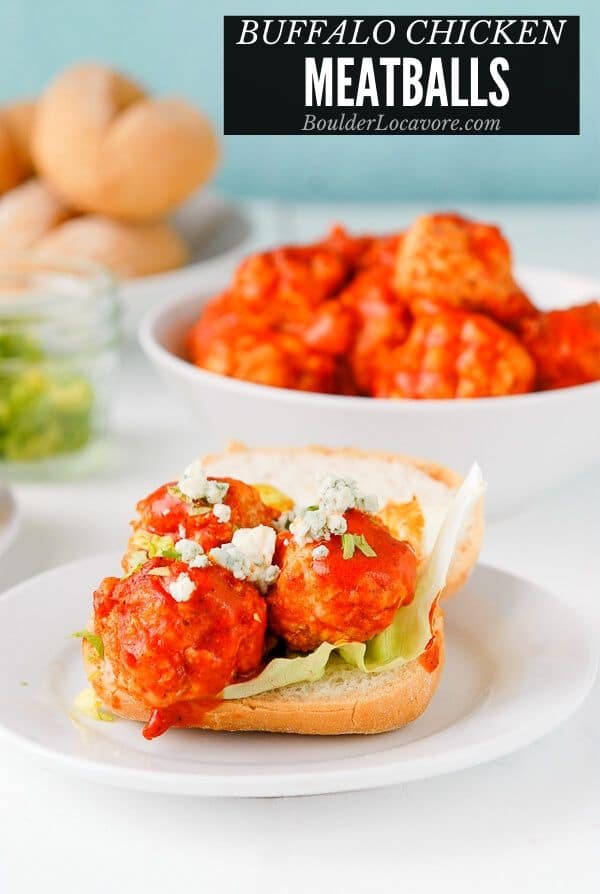 Calling all Buffalo Chicken fans!
One taste of this Buffalo Chicken Meatballs recipe and you'll be making it for every gathering in your future.
After serving them at countless parties and football play-off get togethers I feel confident you'll love them too.
Pair them with these Crostini with buffalo chicken for a delicious appetizer recipe spread!
They are easy to make and packed with tangy, spicy flavor.
Easy to keep warm in a slow cooker too!
Serve 'as is' or in mini sandwiches.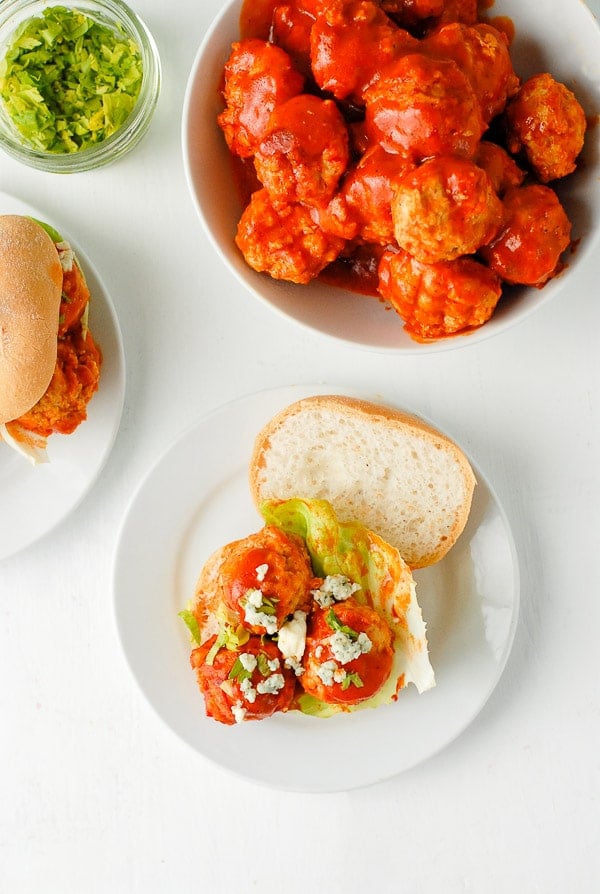 What are Buffalo Chicken Meatballs?
Lean ground chicken breast seasoned with fresh garlic, shallot and celery are just the start of these crock pot meatballs.
They are briefly browned in the oven and then cooked in the slow cooker in hot wing sauce.
They can be used as appetizers on their own, or made into mini sandwiches!
Paired with tender butter lettuce leaves, mini meatballs drizzled with sauce, sprinkled with blue cheese crumbles, a bit of diced celery leaves on a dinner roll.
Either regular or gluten-free dinner rolls can be used.
They just can't be beat.
Crock Pot Meatballs Ingredients
You'll recognize all the ingredients below as Buffalo Chicken classics!
Easy to find at any grocery store makes the slow cooker meatballs easy to whip up when the mood strikes!
Celery
Shallot
Egg
Kosher Salt
White Pepper
Bread Crumbs (regular or gluten-free)
Ground Chicken
Butter
Blue Cheese Crumbles
To the the buffalo chicken meatballs into mini sandwiches you'll also need:
Dinner Rolls
Butter Lettuce
Ingredients Notes
Bread Crumbs
Either regular or gluten-free bread crumbs can be used.
If you are in a pinch, you can also make your own bread crumbs with any type of bread:
STEP 1: Toast enough slices of bread to make the amount of breadcrumbs you'll need. Allow them to sit outside the toaster for a few minutes so any moisture can evaporate.
STEP 2: Tear the toast into large piece and place in a Food Processor or mini chopper.
STEP 3: Pulse until crumbs are formed.
NOTE: to dry them out more, spread them in a single layer and place under the broiler for a 30 seconds or more.. Be sure to watch closely so they don't burn.
Ground Chicken
I made these crock pot meatballs with ground chicken breast. It is a leaner from of chicken.
Ground chicken thigh meat can also be used.
It will have a bit more chicken flavor than chicken breast meat will have.
Hot Wing Sauce
Many brands of hot wing sauce are available in grocery stores.
Frank's Hot Wing Sauce is a brand I've used many times with great results!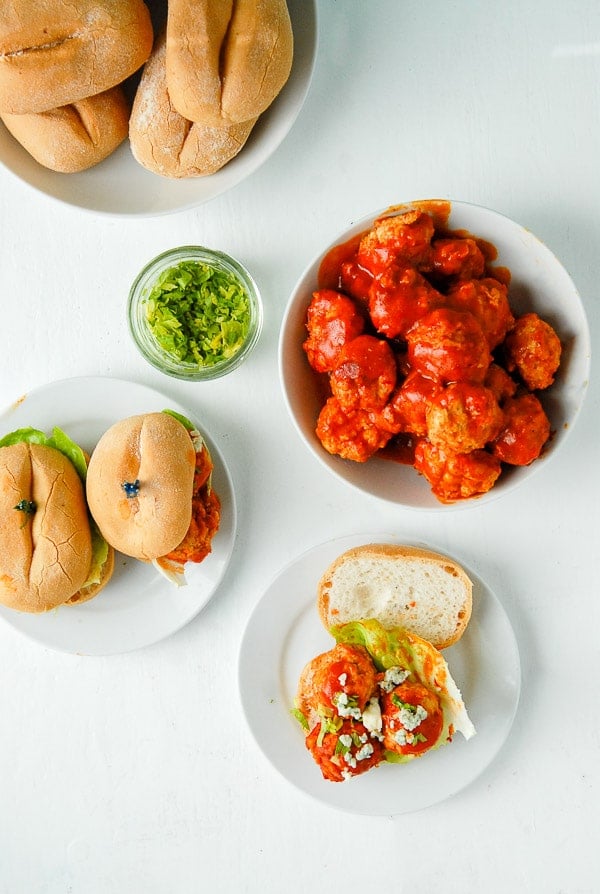 How to Make Buffalo Chicken Meatballs in the Slow Cooker – Step-by-Step
These Buffalo Chicken meatballs cook in two steps: one in the oven and one in the slow cooker.
This ensures they are well formed before completing cooking in the slow cooker for best results!
STEP 1: Preheat the oven to 350 degrees. Turn the slow cooker on LOW and place the butter in it to melt. Line a large, rimmed baking sheet with parchment paper.
STEP 2: Combing the celery and shallot in a food processor or mini chopper; process until diced. All to a large mixing bowl.
STEP 3: Add to the mixing bowl: egg, salt, pepper, bread crumbs, ground chicken, 1/4 cup of the hot wing sauce. Mix together.
STEP 4: Using a cookie scoop (my recommended method) or a tablespoon, form 1-inch meatballs. Place onto the prepared baking sheet.
STEP 5: Bake until the outside begins to become firm; approximately 8 minutes.
STEP 6: Pour the remaining hot wing sauce into the slow cooker and stir to mix with the butter.
STEP 7: Add the buffalo chicken meatballs and cook on LOW for 2 hours.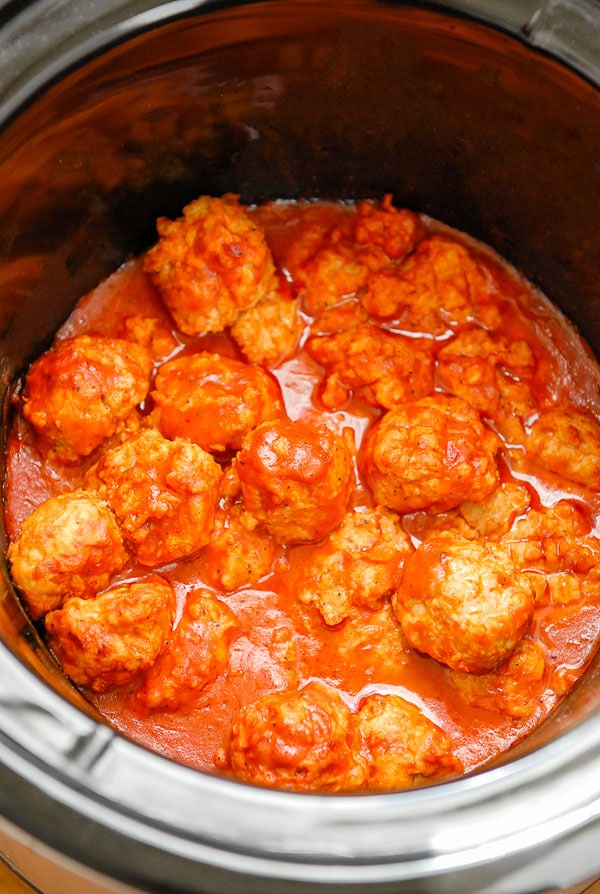 Making Buffalo Chicken Meatballs Mini Sandwiches
I find that most food in mini size has diner appeal. A mini sandwiches recipe is no exception!
This recipe is perfect for a crowd.
Because the meatballs are made and cooked in a slow cooker, it's easy to keep them warm if serving a larger group.
STEP 1: Add a few meatballs to dinner rolls or small French rolls.
STEP 2: Sprinkle on crumbled blue cheese, chopped celery and tender butter lettuce.
They pack a big flavor punch in a mini package!
How to Store Crockpot Meatballs
Leftover meatballs can be stored in a sealed container in the refrigerator for 3 to 4 days.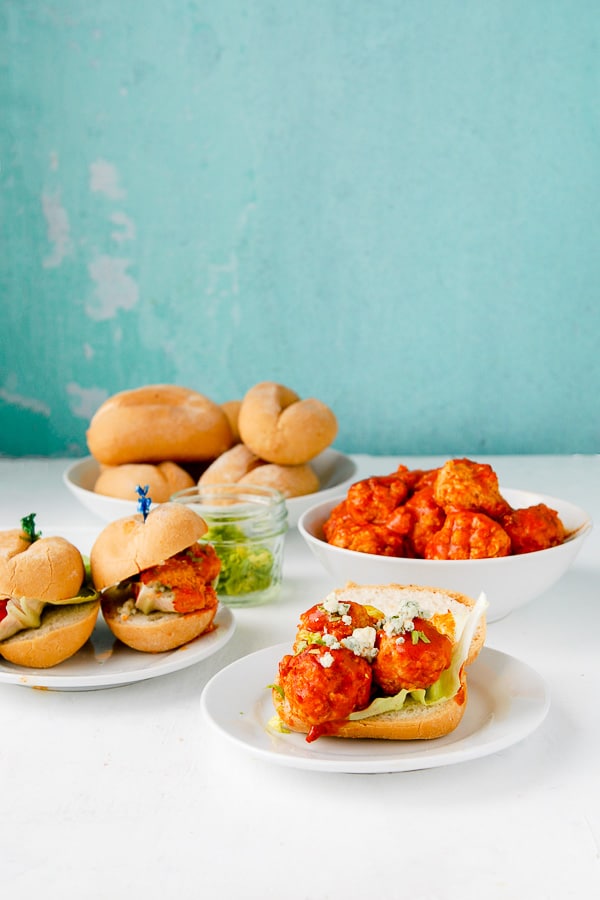 Did you make it? Please RATE THE RECIPE below!
Please SUBSCRIBE and FOLLOW ME on FACEBOOK , TWITTER , INSTAGRAM and PINTEREST !
Originally published: January 21, 2015