Making a Valentines cake is always a fun surprise but this version truly has a surprise inside! Hidden Heart Valentines Pound Cake shows your love when slicing; a heart in every serving! Works with gluten-free or other cake mixes.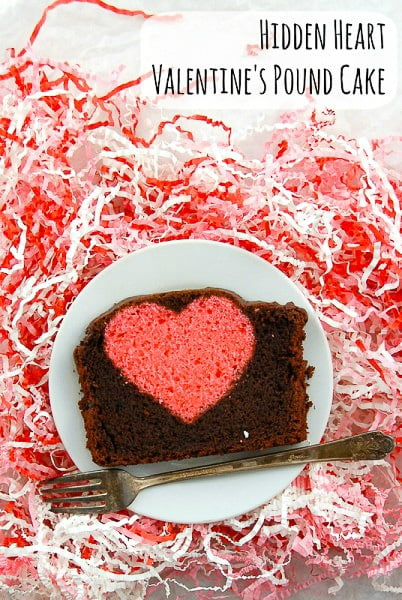 I have been chomping at the bit to get into Valentine's food. I have always loved Valentine's Day. It is such a happy occasion, just dwelling on love with the color pink abounding everywhere.
Ever since I was a child I've relished creating Valentine's cards with secret messages in conversation heart candies and hours of artistry ensuring no one was missed. The proof of that is in the Valentine's recipes available on BoulderLocavore.com!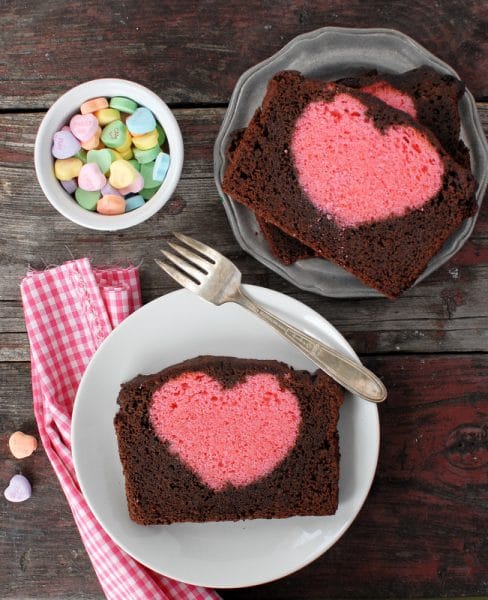 Sometime last fall a clever photo on Pinterest caught my attention. There was no corresponding recipe or article so I'm not even exactly sure what it was. It looked like maybe some seasonal bread with a spice bread pumpkin shape in the middle.
I was instantly smitten. Loving anything 'with a surprise inside' I marveled at what a delight it would be to cut into a loaf of bread and find a pumpkin.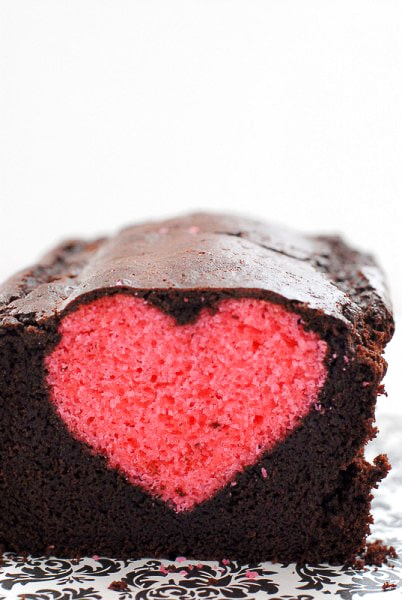 As time goes, the whirlwind of the holidays whisked the image from my memory until recently when I was experimenting with some gluten free pound cake mixes. Though I love to make everything I can from scratch, it's not always possible in the life of a busy mom-blogger.
When I can I like to try out mixes so if I'm in a pinch I have a 'go to' selection and am not experimenting late the night before a special treat is due somewhere early the next day, knowing from experience not all gluten free mixes are created equal.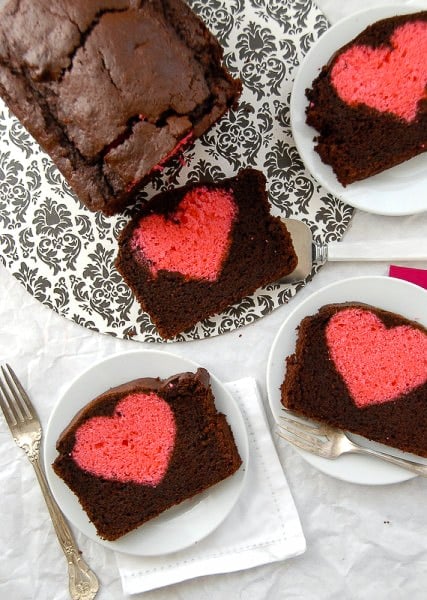 During my experimentation the bread-in-the-bread popped to mind again. I also have a passion for figuring things out, re-engineering and repurposing so decided to couple the two endeavors together to see if I couldn't pull off a gluten free Valentines-themed surprise; a Valentines cake with a surprise heart inside.
I'm NOT a fancy baker. I admire 'Martha' and the rest of the beautiful bakers out in cyberspace who create flawless confections that look to be made from porcelain but have come to terms with the fact that knack does not dwell actively (or dormantly) in my culinary DNA.
I'm more of a rustic dessert girl. Being that as it is, I generally have low expectations that anything hinting at a fussy creation will work at my more broad-brush baking hand.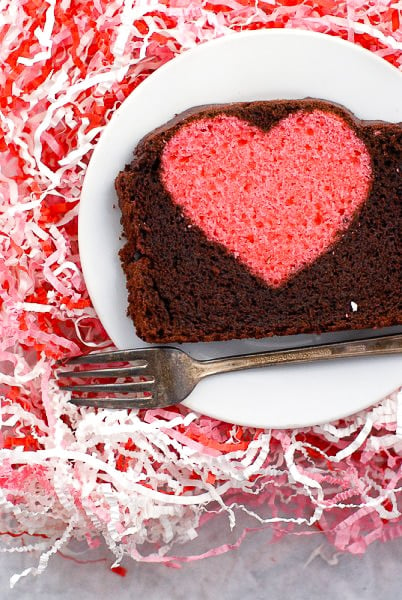 After carefully engineering what I hoped would be an unexpected, smile-invoking confection I crossed my fingers and pulled out the serrated knife. Mere words cannot express my excitement when cutting into the molten-brown, chocolately pound cake to reveal a brilliant fuchsia heart beaming from the center of every slice.
I witnessed the magic of the surprise on the faces of my familial taste testers as well. As enchanting as is the visual is of this pound cake, the flavor is truly the star. Deep, dark chocolate enveloping a glorious cherry-flavored heart. Yin and yang, kismet, meant to be; two flavors comingled in their destiny to create a happy bite.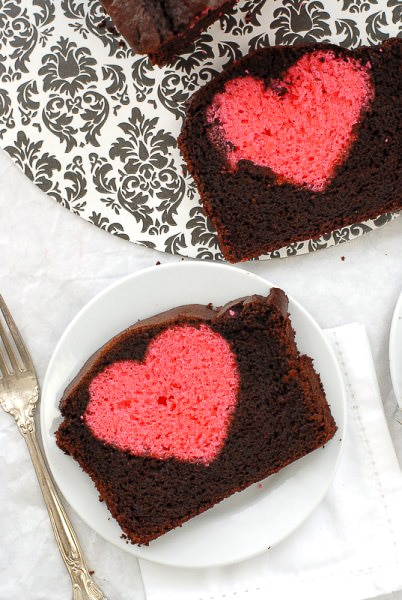 How to Make Hidden Heart Valentines Cake:
I want to connect with you! Leave a comment and follow me on Facebook, Twitter, Pinterest & Instagram!