Hidden Heart Valentines Pound Cake shows your love in every slice; a heart in every serving! This Valentines cake is a surprise cake that's a box mix hack. It's fun and will thrill your Valentines!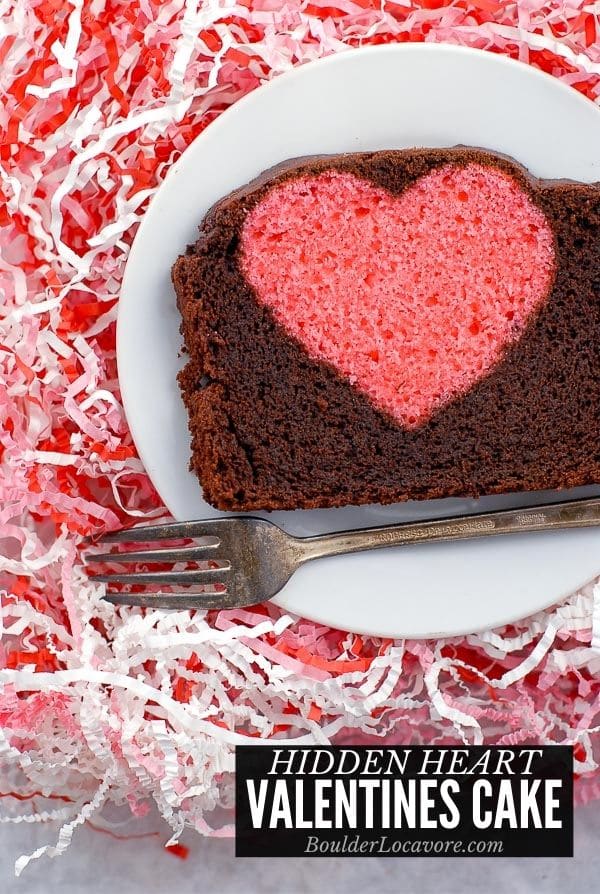 Ever since I shared this surprise inside heart cake in 2013, it has been a favorite across the internet!
Making a heart cake for Valentine's Day is always fun.
But no one will suspect this chocolate pound cake has a pink heart in the middle!
Everyone gets one since there is a heart in every pound cake slice!
This Valentines Day cake can be made with regular or gluten-free box cake mix too!
Don't let this cake scare you!
This is not a cake that takes advanced baking skills or talents!
This Valentines Day cake is part baking and part craft project.
If you can bake a box cake mix, you can make this exciting jaw-dropping surprise cake!
With easy step by step instructions and only a few ingredients it will become a holiday favorite recipe.
And no one will guess how you made it!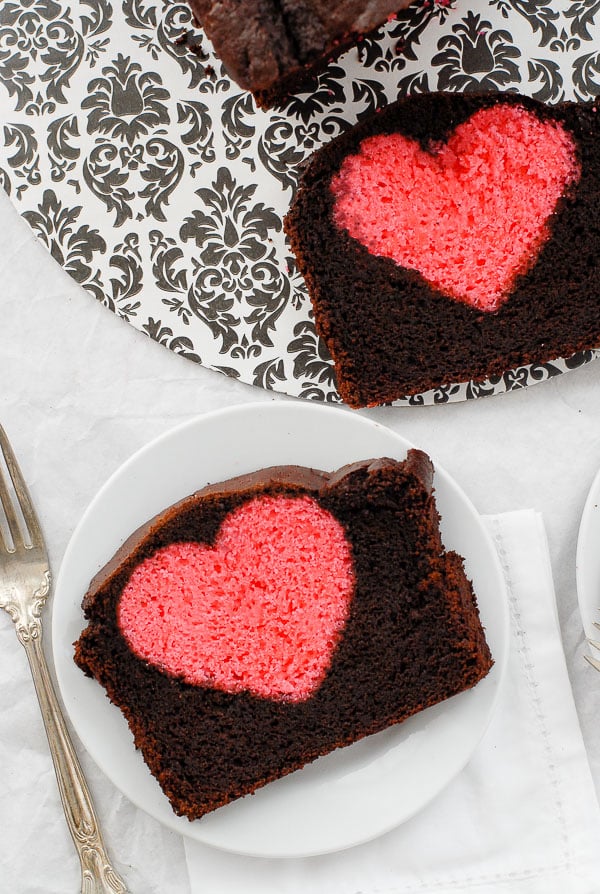 Heart Cake Ingredients
This recipe is flexible. You can use a pound cake mix or if you have a favorite recipe and enjoy baking from scratch, you can do that too!
Butter or Vanilla Pound Cake mix or recipe
Chocolate Pound Cake mix or recipe
Pink or Red food coloring
Cherry Extract
Ingredients Notes
Pound Cake
Select your favorite box mix or recipe.
Both regular and gluten-free mixes work great!
Food Coloring
Any food coloring may be used however to get a deep saturated color as seen in the photos I recommend using a gel food coloring.
For the pink heart I used Wilton in 'rose' color.
You can find this food coloring wherever baking supplies are sold including craft stores with a baking section.
Some natural or grocery store food coloring will fade when baked.
Gel food coloring will not.
PRO TIP: To add the color I use a toothpick to add a very small amount. Blend it in and add more if needed.
A little goes a long way with gel food coloring.
Flavor Extract
Adding a flavor extract to the pink pound cake is optional!
However finding a delicious complementary flavor makes the heart cake even more special!
I chose cherry which works well with chocolate.
Make it Gluten-Free
Select gluten-free cake mixes and you can make it gluten-free!
The gluten-free mixes I used are in the Notes section of the Recipe Card at the end of the post.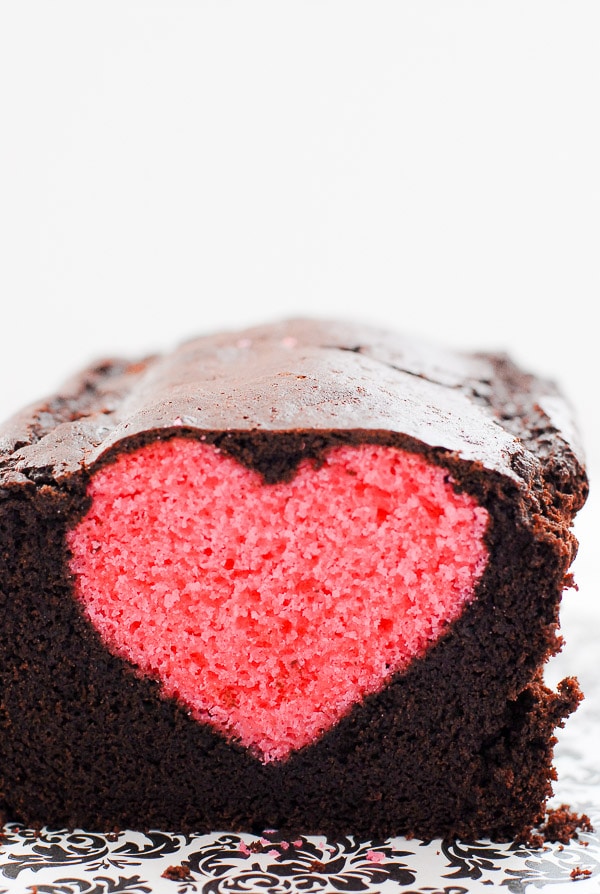 Can a Different Type of Cake Mix Be Used?
I selected pound cake because is it denser and more substantial.
Especially if making the cake gluten-free, pound cake ensures the cake will be sturdy.
Can I Use Store Bought Pound Cake?
You can for the heart inside!
Chances are it will be a traditional white (frozen pound cakes) or light yellow.
If that is ok with you, go for it!
If using a frozen pound cake allow it to thaw before constructing the cake.
Supplies for the Hidden Heart Pound Cake
Heart Cookie Cutter – 3 1/2-inches at the widest spot and 3-inches tall (NOTE: a smaller cookie cutter may be used but not a larger one)
Large Serrated Knife (or a bread knife)
Loaf baking pan.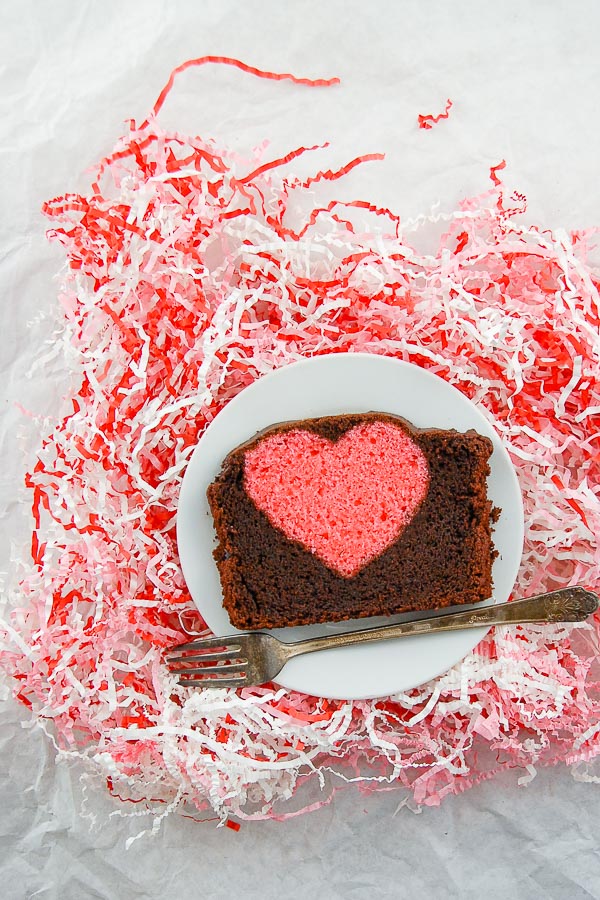 How to Make Hidden Heart Pound Cake – Step-by-Step
All the specific steps to make Hidden Heart Valentine's cake are in the recipe below (it's printable too).
Here is a high level summary:
STEP 1: Prepare the butter or vanilla pound cake mix. Add pink coloring and cherry extract. Bake as directed in the mix and allow to fully cool on a cooling rack.
STEP 2: Slice the pink pound cake the depth of the cookie cutter being used. Example: if the cookie cutter is 1-inch deep, the cake slices should be 1-inch. (photo below). Cut out a heart using the cookie cutter.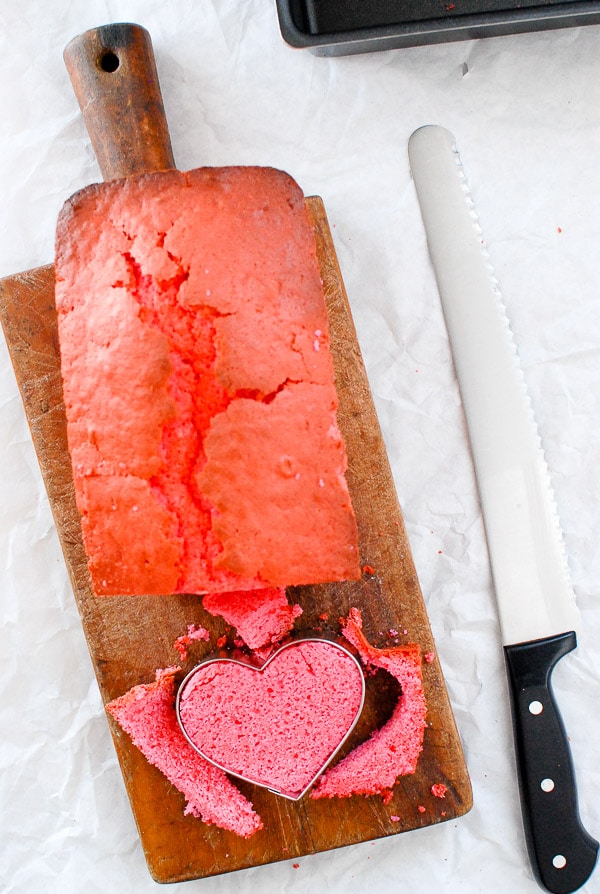 STEP 3: Slice the entire pink pound cake and cut out hearts from each slice (photo below). The excess cake can be eaten or saved to make pound cake bread pudding!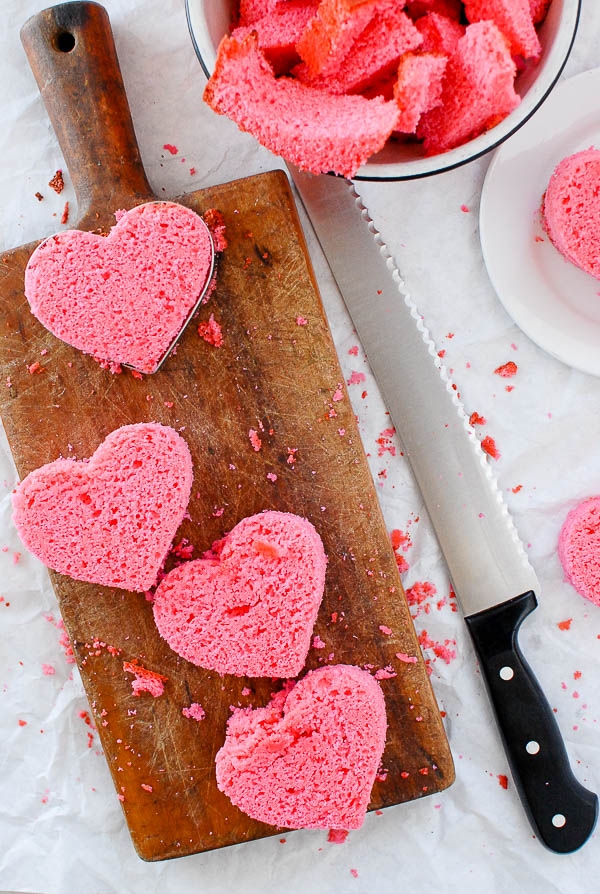 STEP 4: Prepare the chocolate pound cake and spoon a small amount in the loaf baking pan (aproximately 1/2-inch deep).
STEP 5: With a helper, line up the pink cake hearts with the bottom point in the chocolate batter and the hearts next to each other (no spaces). NOTE: there will be space in the front and back however to take a photo the pan was on its side so no space shows on the bottom of the pan in the photo above. (see below)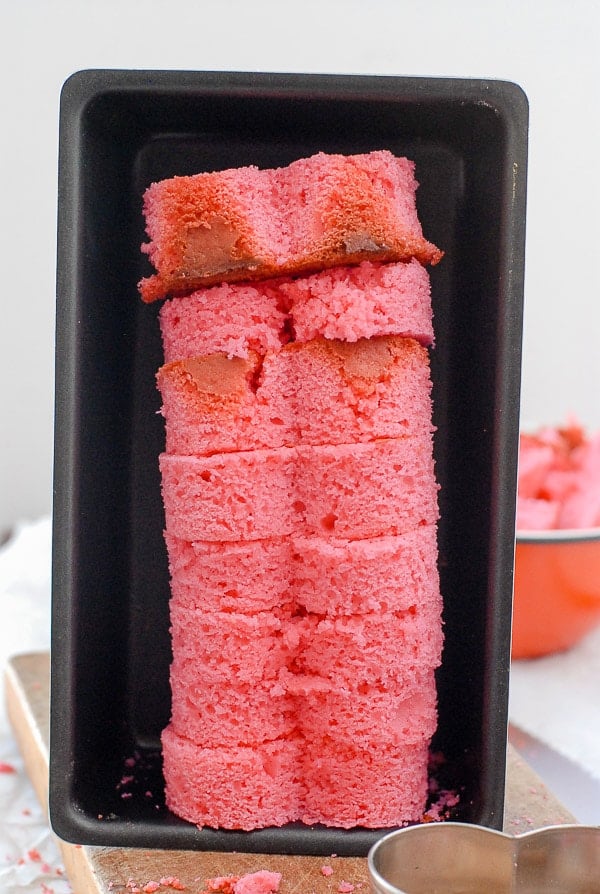 STEP 5: Fill in the rest of the pan, spooning the chocolate cake better on either side of the pink hearts to support them then covering them on top.
STEP 6: Bake and cool as specified in the recipe card below. Slice and enjoy!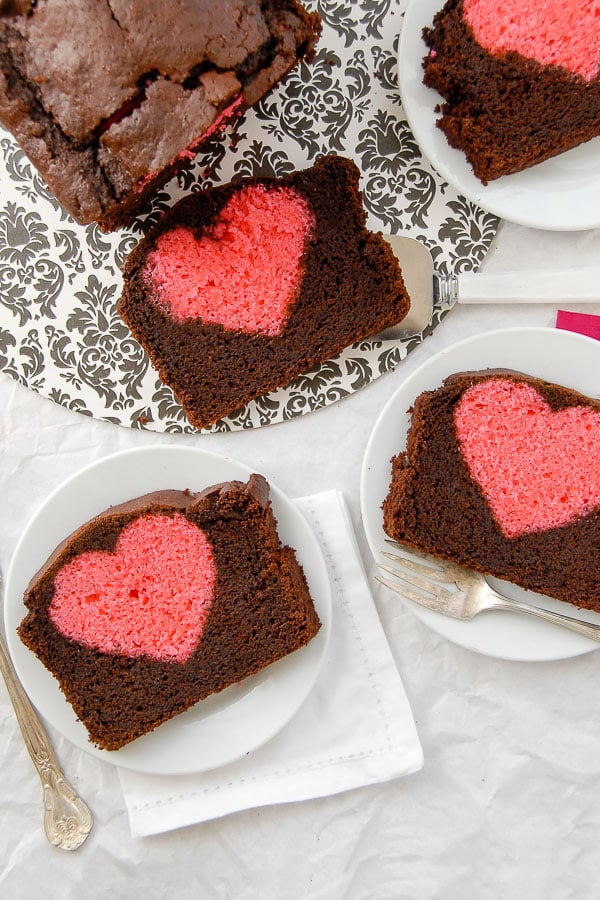 Storing the Valentines Cake
In the Refrigerator
Wrap tightly in plastic wrap and store in the refrigerator for up to one week.
In the Freezer
Once the heart cake is totally cooled, wrap tightly in plastic wrap.
Place in a freezer plastic bag. Freeze for 4-6 months.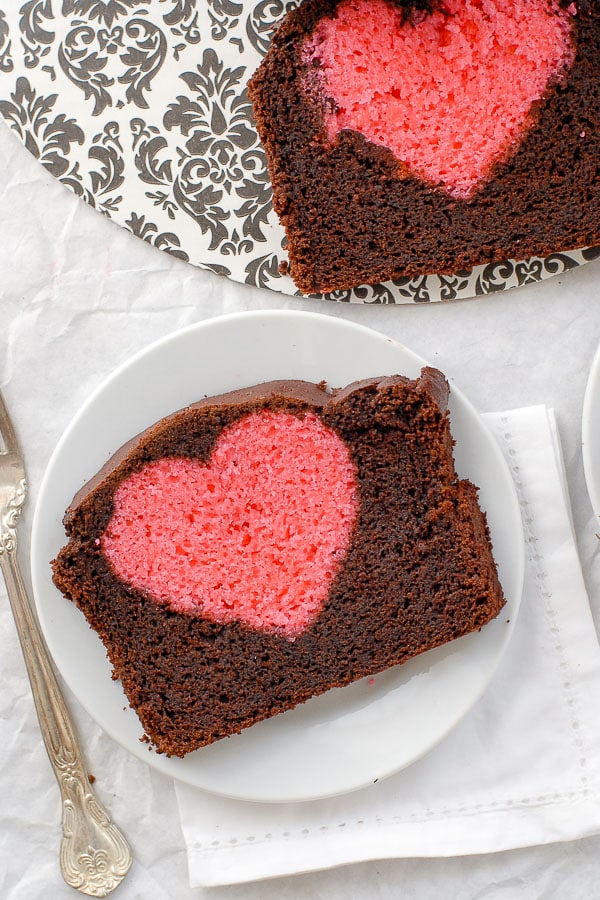 Did you make it? Please RATE THE RECIPE below!
Please SUBSCRIBE and FOLLOW ME on FACEBOOK , TWITTER , INSTAGRAM and PINTEREST !
Originally published: January 27, 2013