Roasted Peppers are easy to make and have delicious flavor. Layered with roasted garlic and oil they become a great filling and topping you'll love.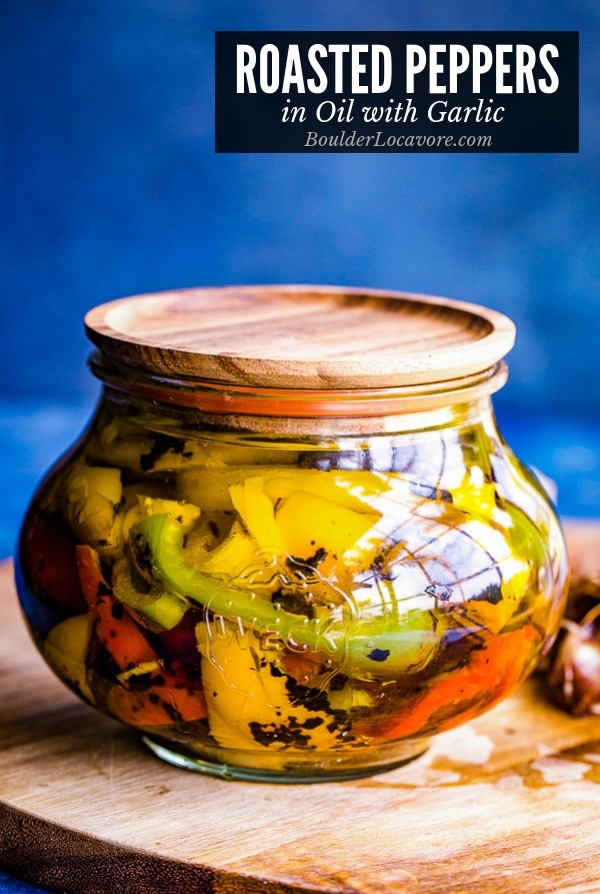 Roasted Red Peppers are a popular ingredient in everything from Italian food dishes to everyday casseroles.
The process of roasting peppers is easy and creates a completely different flavor.
This method can be used on any type of pepper, sweet or spicy.
Layering them in olive oil and roasted garlic is an easy favorite and can be used in many delicious ways!
What are Roasted Red Peppers
Roasted peppers are bell peppers which have had the outer skin charred and removed. This leaves a soft, tender pepper with a wonderful cooked flavor unique to roasted peppers.
Though red peppers are the most popular to roast, any color bell pepper can be roasted with delicious results.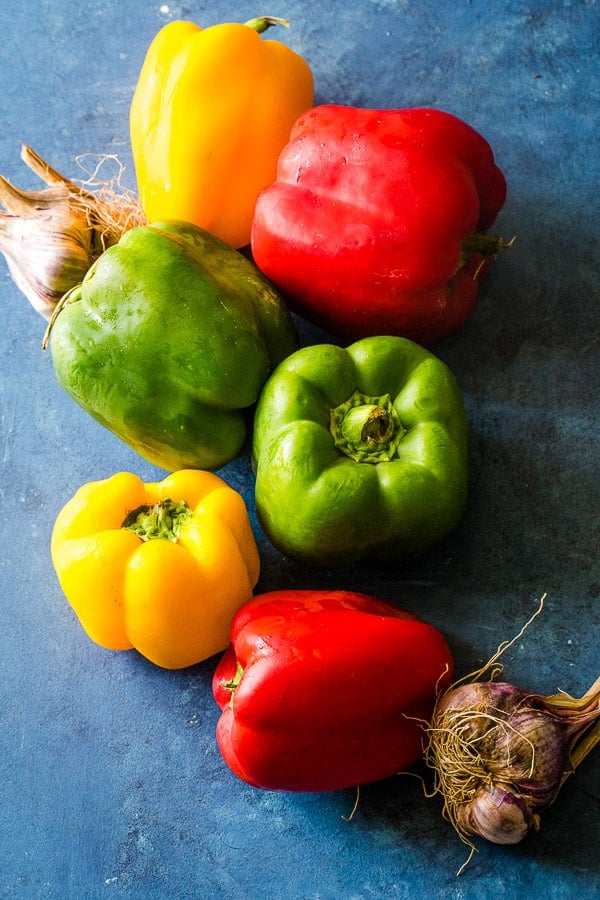 Roasted Pepper Ingredients
Bell Peppers are all that is needed for roasting! No oil is added in the roasting process.
Any peppers can be roasted in one of the following methods.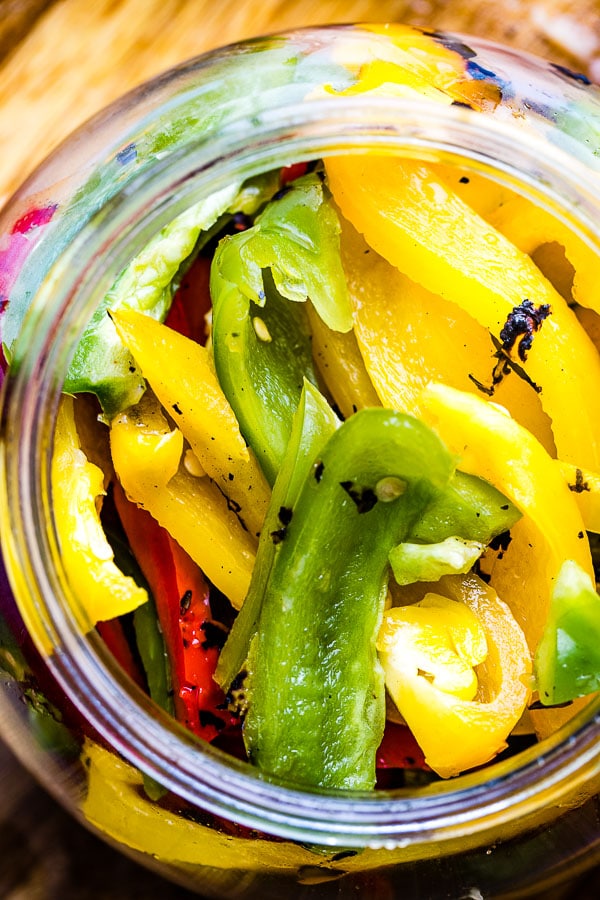 How to Roast Peppers
There are multiple ways to roast peppers. They all come down to the same steps of burning or charring the skin, and removing it.
All of the following methods of how to roast peppers will yield great results.
Roasting Peppers in the Oven
Position the top shelf in the oven to be 5 inches below the broiler element.
Place the peppers on a baking sheet and on the top shelf.
Allow the peppers to char on the top facing side (1-2 minutes usually).
Rotate with tongs to expose a new side to the broiler.
Repeat until all sides of the pepper are charred.
Roasting Peppers on a Gas Stove Burner
Place the pepper directly on the metal grate above a gas burner turned to medium-high.
As the lower side of the pepper chars, rotate with metal tongs to expose a new side.
Repeat until all sides of the peppers are charred.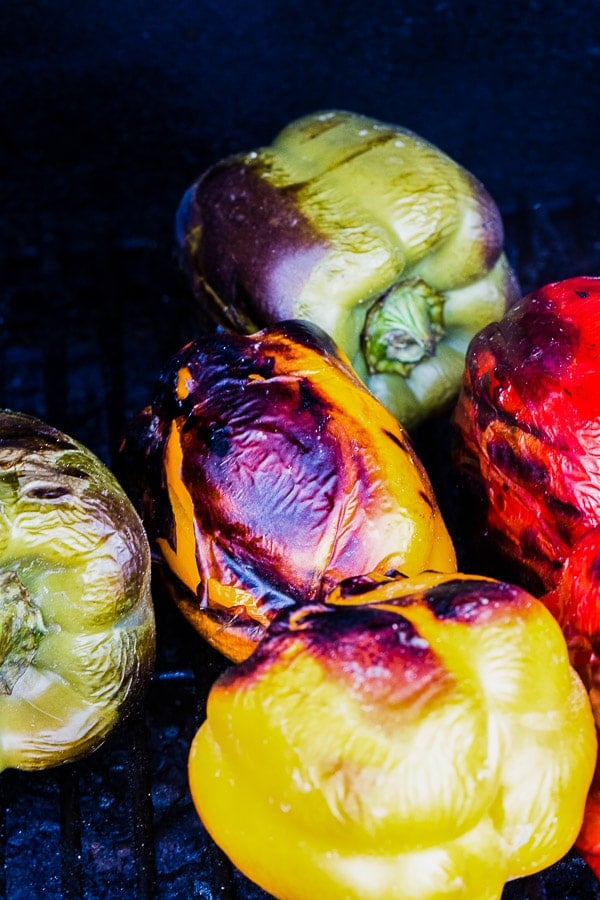 Roasting Peppers on a Grill
Heat a gas grill to 400 degrees OR use a charcoal grill with active flames.
Place the peppers on the grill grate.
As the lower side becomes charred rotate the peppers with metal tongs to a new side.
Repeat until all sides of the pepper are charred.
For All Methods
Place the charred peppers into a large plastic zipper close bag and seal. Or place them in a mixing bowl and cover with plastic wrap.
Allow to steam for 15-20 minutes.
Remove the roasted peppers and peel the charred skin off (it will have begun to separate from the pepper flesh).
NOTE: If needed scrape it off with a dining knife (not sharp) or run it under water and massage the charred skin off.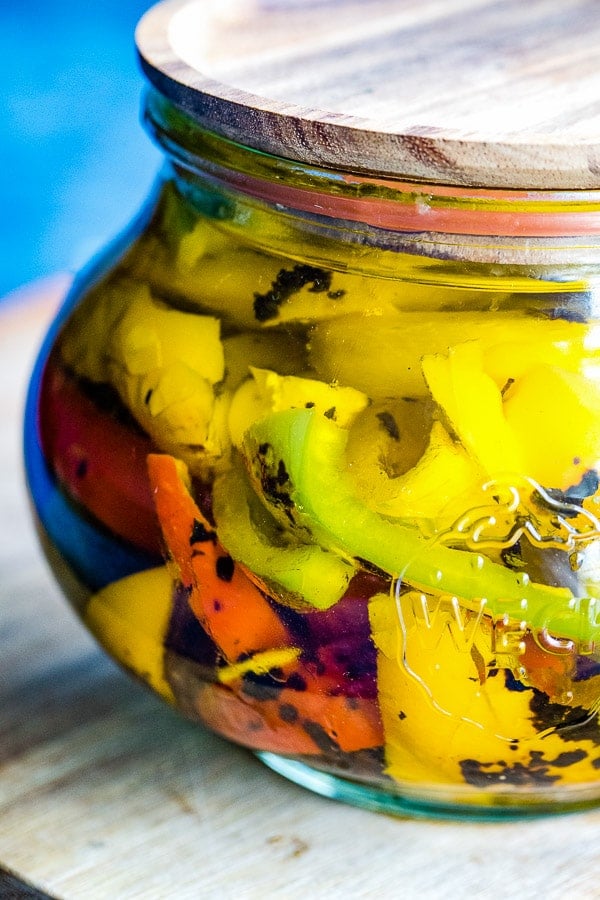 Roasted Peppers in Oil with Garlic
A favorite way to add more flavor to roasted peppers is the to soak them in oil with roasted garlic. The flavors are irresistible!
Layered in a decorative jar the mixture is perfect on on crusty bread as an appetizer.
How to Make Roasted Peppers in Oil with Garlic
For detailed instructions refer to the printable recipe card at the end of the blog post.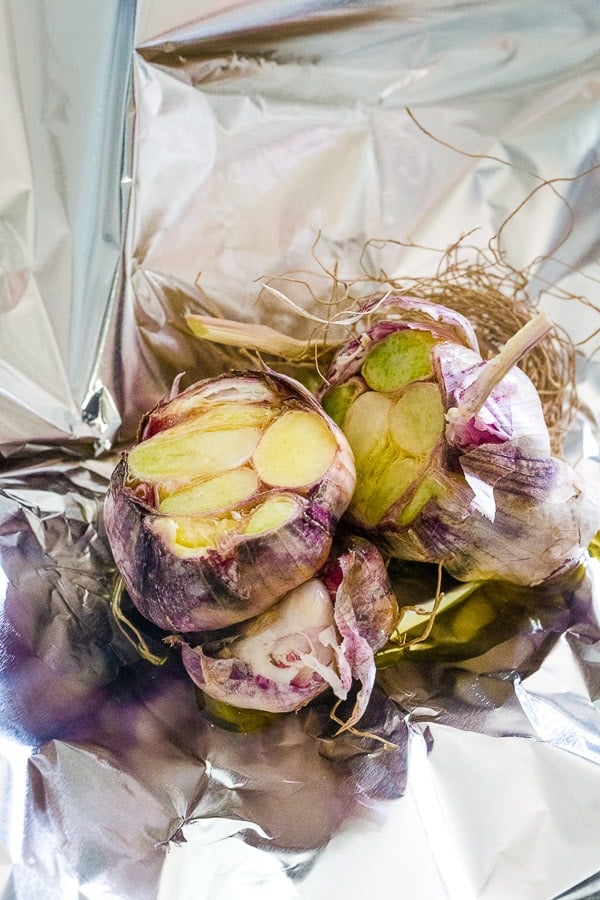 Slice the top 1/4-inch off a head of garlic. Place in foil and drizzle with olive oil.
Put in a preheated over or grill. Allow to roast for 40 minutes or until soft.
Halfway through the roasting, follow one of the methods above to roast the bell peppers.
When done halve the peppers, remove the seeds and stem. Slice into 1/2-inch slices (or desired size).
Layer the roasted pepper slices with the roasted garlic in a jar. Cover with olive oil.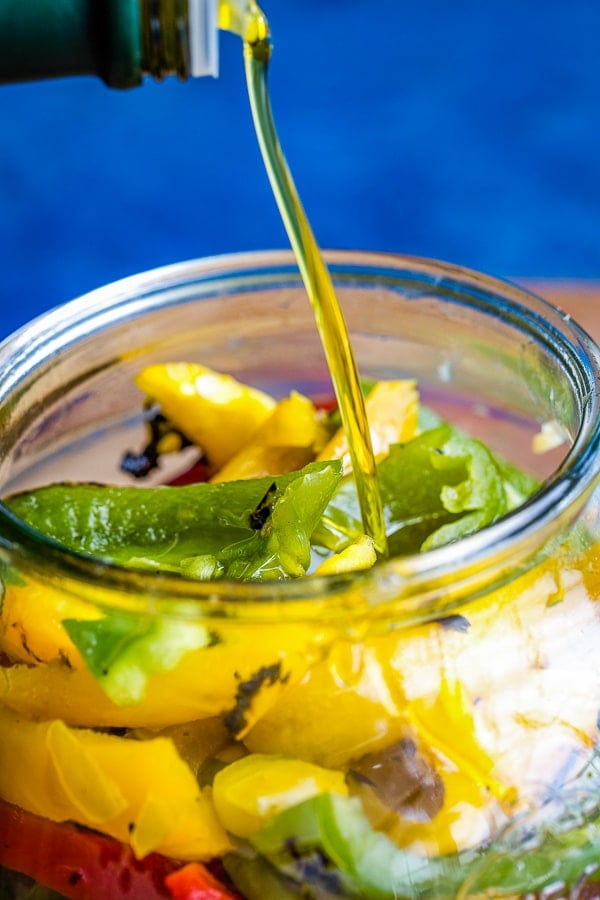 How to Store Peppers in Oil
Store the peppers in oil in the refrigerator for a week.
PRO TIP: Olive oil will solidify when cold. When ready to eat or serve, remove the desired amount from the jar and heat in microwave for 15-20 seconds or leave peppers out at room temperature for 1 hour.
For longer storage the peppers can be frozen. Remove the garlic and add the peppers and oil into a freezer safe container. Freeze for 3-6 months. NOTE: the peppers will be softer after freezing.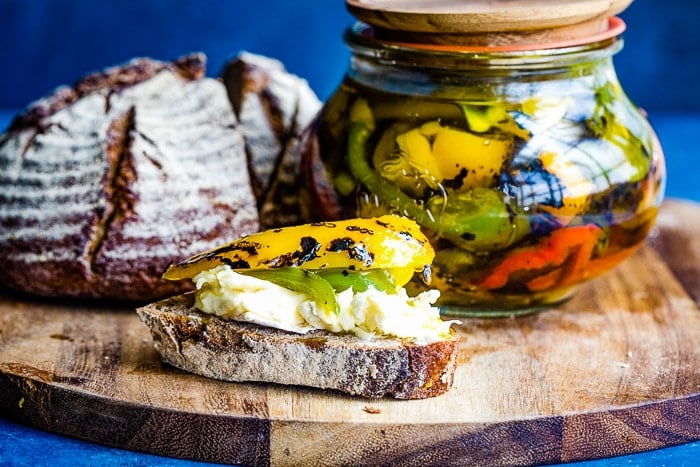 How to Use Roasted Peppers in Oil
On an Antipasti platter
In sandwiches
On crusty bread for Bruschetta
On salads or chopped and added to salads (like a quinoa salad)
As omelet filling (chop first)
On pizza or flatbread
Pureed into soup
Blended into a sauce
Pureed into a dip
More Delicious Recipes to Try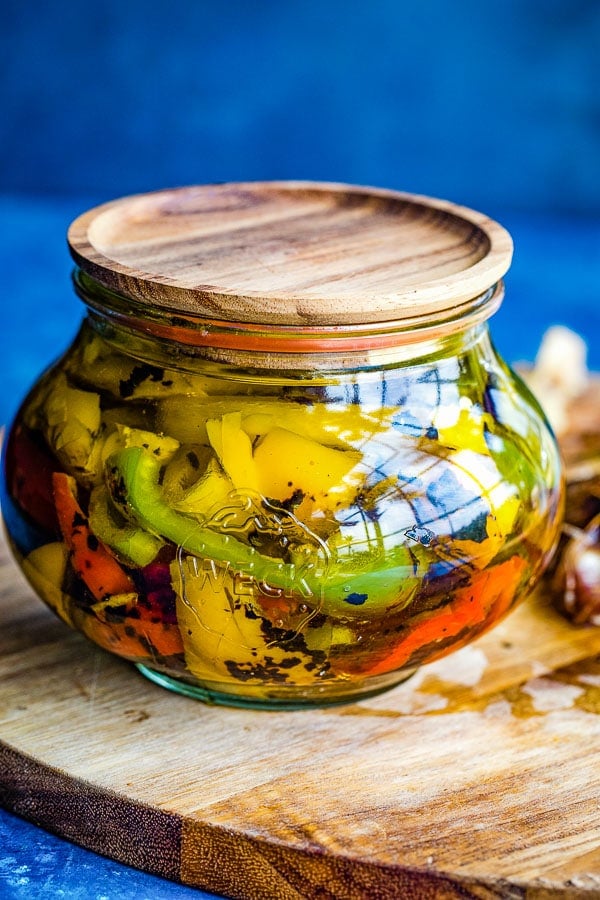 Did you make it? Please RATE THE RECIPE below!
Please SUBSCRIBE and FOLLOW ME on FACEBOOK , TWITTER , INSTAGRAM and PINTEREST!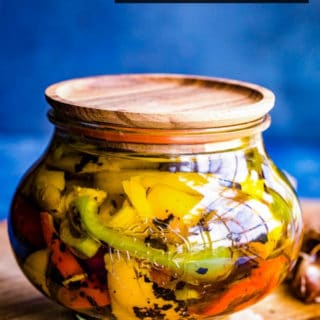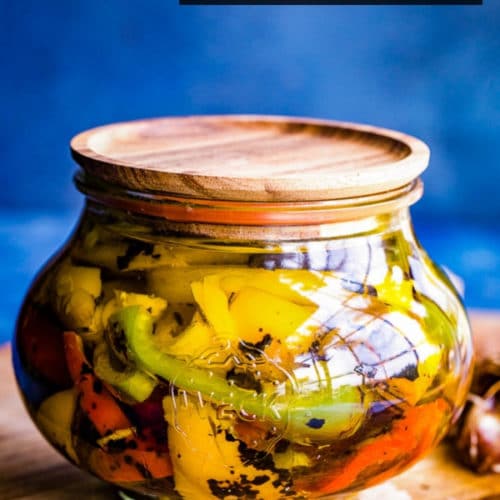 Roasted Peppers in Oil with Garlic
Roasted Peppers are easy to make and taste delicious. Layered with olive oil and garlic, they become a perfect topping or filling for many uses. Any color peppers can be used.
Print
Save Recipe
Recipe Saved!
Pin
Rate
Servings:
10
makes 1 pint total
Equipment
1-pint glass jar with lid
Ingredients
6

bell peppers

any color or a mixture

1

head of garlic

1/2

cup

Olive oil
Instructions
Roasting the Garlic
Preheat grill or Heat oven 375 degrees. Note: this can also be done on a gas grill.

Peel away the outer layers of the garlic bulb. Cut about ¼-inch off the top of the garlic head, exposing the individual cloves of garlic.

Drizzle garlic head with 1 teaspoon of olive oil and wrap in tin foil.

Roast garlic in preheated oven or grill for 40 minutes or until soft.
Roasting the Peppers
About halfway into the garlic roasting time, start roasting the peppers. Using a gas burner, heated grill or under a broiler, allow the bell peppers to char (blacken) on all sides. As one side blackens use tongs to rotate the pepper to char all sides fully.

Remove charred peppers from oven or grill and place in a plastic bag (sealed) OR a mixing bowl covered with plastic wrap. Allow to sit for 15-20 minutes.

Peel the charred skin off the pepper. TIP: using a dining knife, running under water and massaging can help remove stubborn skin. NOTE: if desired some of the charred skin can be left for looks and/or flavor.

Cut peppers in half, remove the seeds and stems, then slice into strips.

Squeeze the garlic cloves out of their skin and toss with roasted pepper strips.

Layer peppers and garlic into glass jar. Pour olive oil into jar until the peppers are submerged and covered.

Tightly cover jar with lid and refrigerate for up to 1 week.
Nutrition
Calories:
118
kcal
|
Carbohydrates:
4
g
|
Protein:
1
g
|
Fat:
11
g
|
Saturated Fat:
2
g
|
Sodium:
3
mg
|
Potassium:
151
mg
|
Fiber:
1
g
|
Sugar:
3
g
|
Vitamin A:
2235
IU
|
Vitamin C:
91.2
mg
|
Calcium:
5
mg
|
Iron:
0.4
mg