Slow Cooker Pot Roast with Caribbean flavors takes old school pot roast to a whole new level! An easy recipe creating a beautiful roast with spicy bold sauce you'll love.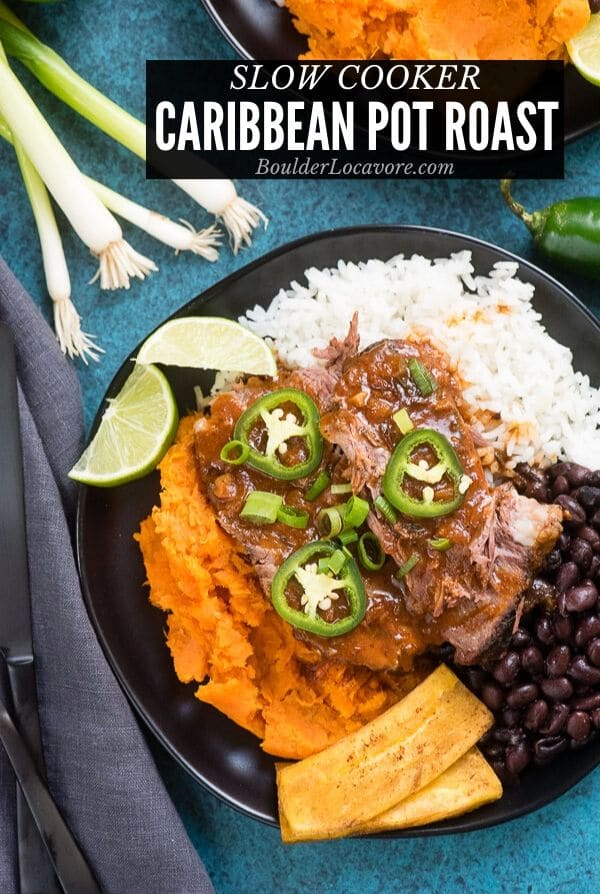 We've bumped the comfort food up to the next level with this Caribbean-inspired Slow Cooker Pot Roast.
No more boring flavors for this comfort food!
An easy homemade sauce turns this pot roast recipe into everyone's favorite dish!
AND if you have any leftovers use them for Spicy Pot Roast Nachos created just for this recipe.
Slow cookers are great for cooking up soul-warming food with big flavor and little effort from you.
Slow Cooker Pot Roast is no exception. Perfectly done meat with a mouthwatering Caribbean-inspired sauce!
An easy dinner recipe any night of the week.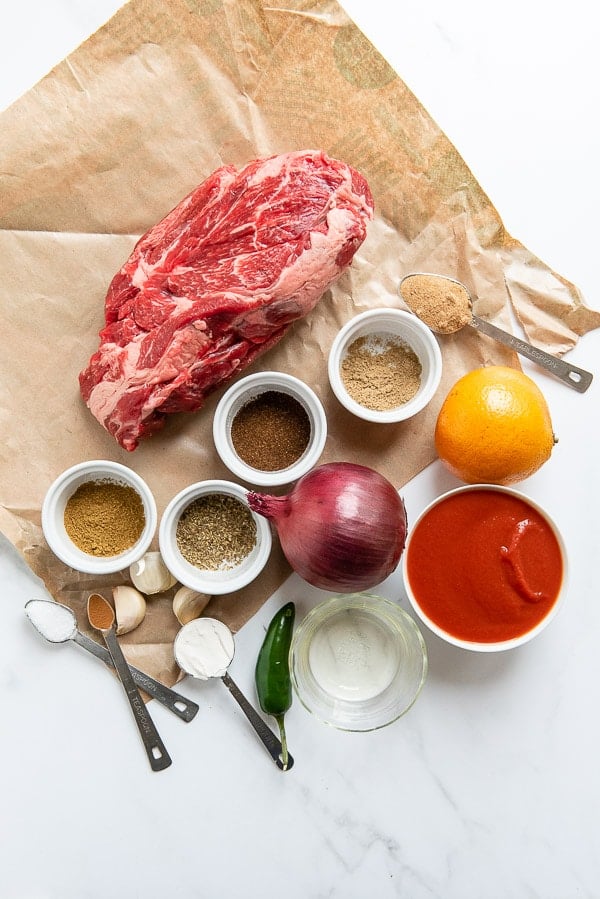 Slow Cooker Pot Roast Ingredients
All the ingredients in this slow cooker pot roast recipe are easy to find at the store!
Vegetable or Canola Oil
Boneless Beef Chuck Roast
Jalapeno Pepper
Garlic cloves
Red Onion
Kosher Salt
Brown Sugar
Chili Powder
Oregano
Cumin
Coriander
Cinnamon
All Purpose Flour (regular or gluten-free)
Orange Zest
canned Tomato Sauce
Ingredient Notes
Chuck Roast
Chuck Roast is a perfect cut of meat to create a fork-tender, fall apart delicious pot roast.
It has a lot of marbling, fat running through the meat. This gives it excellent flavor and texture when cooked properly.
Chuck Roast will sometimes have butcher's twine around it. This is holding multiple pieces of meat together.
Leave the twine ON until after cooking. Cut and remove it before slicing and serving the pot roast.
Jalapeno Peppers
Jalapeno peppers can range greatly in spiciness. I've had some that you can barely taste and others that almost blow smoke out the ears!
This will affect the spiciness of the sauce.
If you REALLY like it spicy, use an additional jalapeno pepper.
OR give the sauce a taste and add some hot sauce before cooking.
Here is my quick, easy method to remove seeds from jalapeno peppers.
Always wash hands thoroughly after cutting hot peppers and do not touch your eyes or nose.
Flour
Regular all-purpose flour or gluten-free flour blends can be used.
Using a zester is the easiest way to create orange zest. A fine grater works too.
This is my all time favorite zester (I give them for gifts I love it so much).
It zests quickly and easily and has a measurement guide on the back. Zesting with it feels like zesting butter it's so smooth.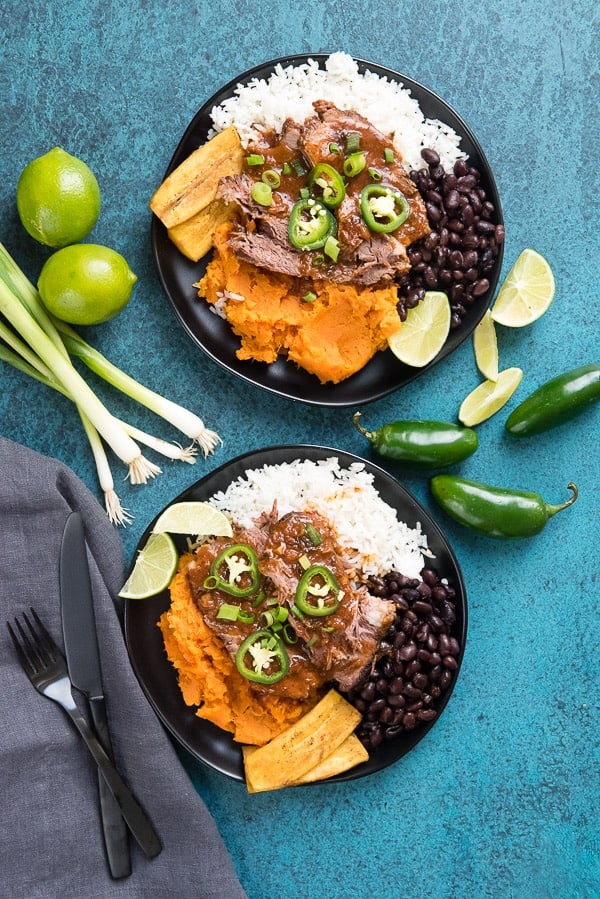 Time Saving Preparation Tip
I use a mini chopper for prepping my vegetables whenever possible.
It makes quick work of chopping and dicing vegetables with easy (dishwasher) clean up.
For this recipe I add the garlic and jalapenos together into the mini chopper to dice them.
After placing them in the cooking pan I add the onion to chop them.
Don't Skip the Browning Step!
Generally, I prefer non-fussy slow cooker meals. Those that only require adding the ingredients to the slow cooker and putting the lid on.
This recipe is an exception that's worth it!
Browning the roast and making the sauce before adding it to the slow cooker makes all the difference!
This step is crucial for building outstanding flavor in both the meat and the sauce.
It only takes a few minutes and it's worth the extra step, trust me.
How to make Caribbean Crock Pot Pot Roast – Step-by-Step
STEP 1: In a skillet or Dutch oven, heat the oil over medium-high heat (photo 1). Brown the chuck roast on all sides (photo 2); place into the slow cooker (photo 3).
STEP 2: Add the jalapenos, garlic and onion to the pan; saute until onions begin to soften (photo 4). Scrape up any browned bits while sauteing.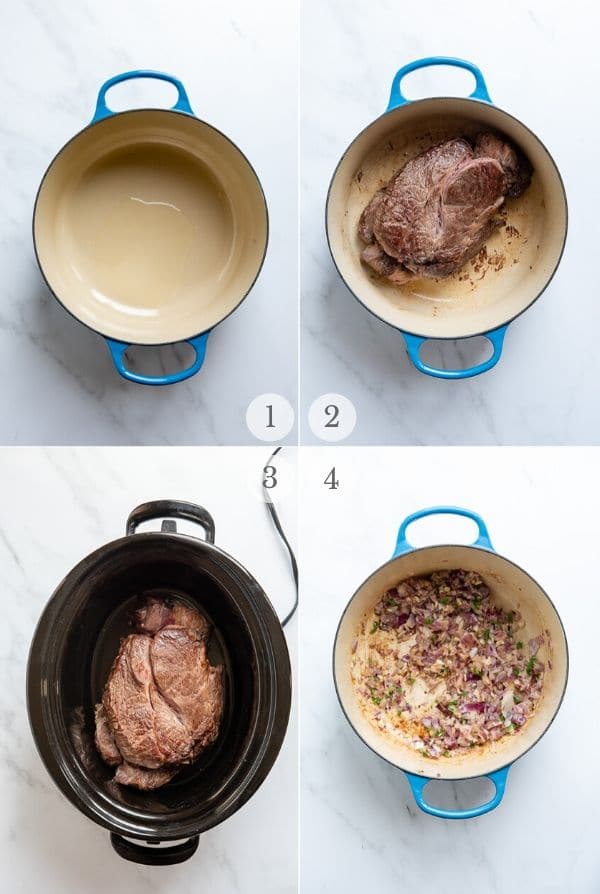 STEP 3: Add all the remaining ingredients to the pan, EXCEPT the tomato sauce (photo 5); stir to combine.
STEP 4: Add the tomato sauce (photo 6) and cook for 1 minute (photo 7; after cooking). Pour onto the chuck roast in the crock pot. Rotate the roast to cover with the sauce (photo 8).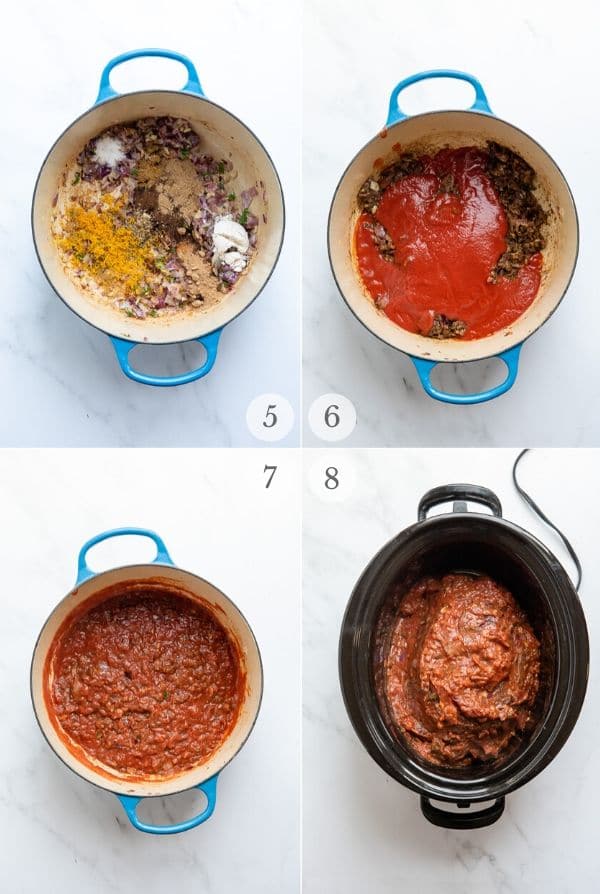 STEP 5: Cover, cook on LOW setting for 8 hours. Remove the roast and allow to rest for 5 minutes before slicing.
STEP 6: Strain any fat from the sauce and serve with the sliced crock pot pot roast.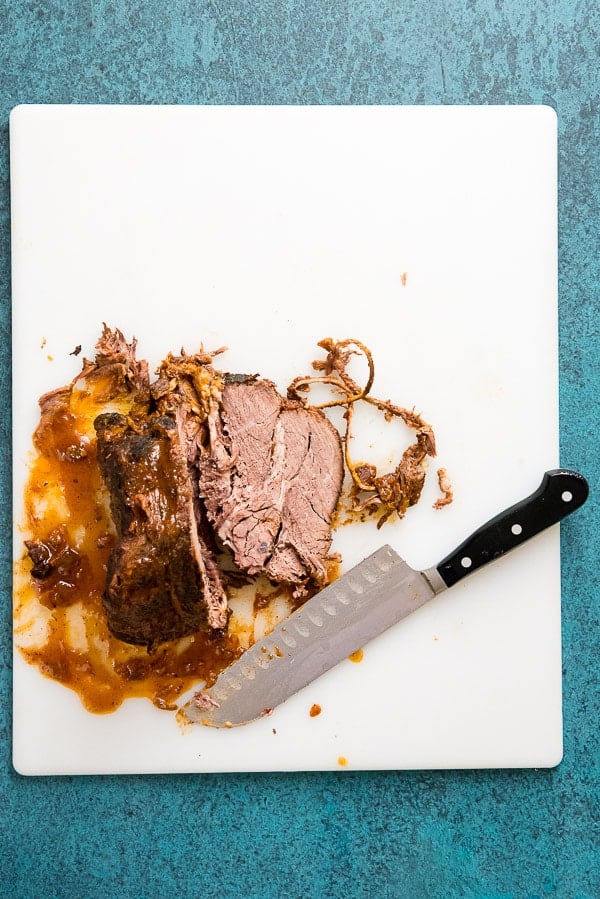 Make it a Meal!
For serving this beauty, there are so many fun side dish options!
Do You Have an Instant Pot?
Try this recipe Creamy Mushroom Instant Pot Pot Roast too!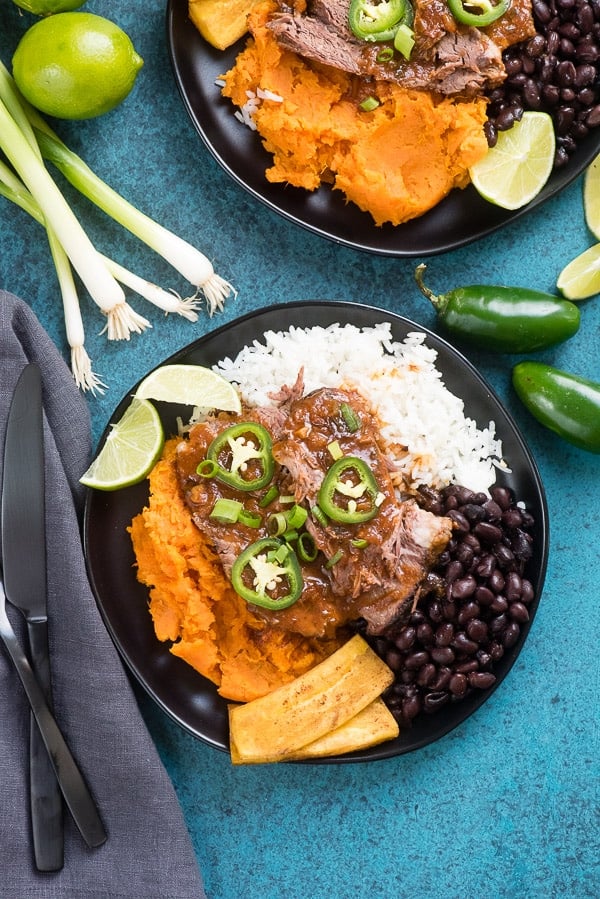 Did you make it? Please RATE THE RECIPE below!
Please SUBSCRIBE and FOLLOW ME on FACEBOOK , TWITTER , INSTAGRAM and PINTEREST !
Originally published: December 7, 2017
Slow Cooker Pot Roast is an easy dinner recipe perfect for any night of the week!