Tangy, spicy Buffalo Chicken is SO fast and easy in the Instant Pot! You'll use this moist, shredded chicken in more things than you can imagine. From sandwiches, to pizza, in soups and appetizer recipes.

If you love the flavor of Buffalo wings, this will become your new favorite chicken breast recipe!
It's so fast and easy in the Instant Pot.
The moist, tangy, spicy shredded chicken can be used in so many ways! You'll love it in this crostini recipe!
Recipe Ingredients
Buffalo Sauce (homemade or store bought)
Boneless Skinless Chicken Breasts
Salt and Pepper
Unsalted Butter
Use Fresh or Frozen Chicken Breasts
The cooking time will accommodate either.
Note on Chicken Breast sizes
Lately I've noticed boneless chicken breasts can weight almost 1 pound each which require a very different cooking time than a normal 6-8 ounce size.
This recipe will accommodate any size.
Because the chicken will be shredded and cooks with a sauce, any size will turn out great.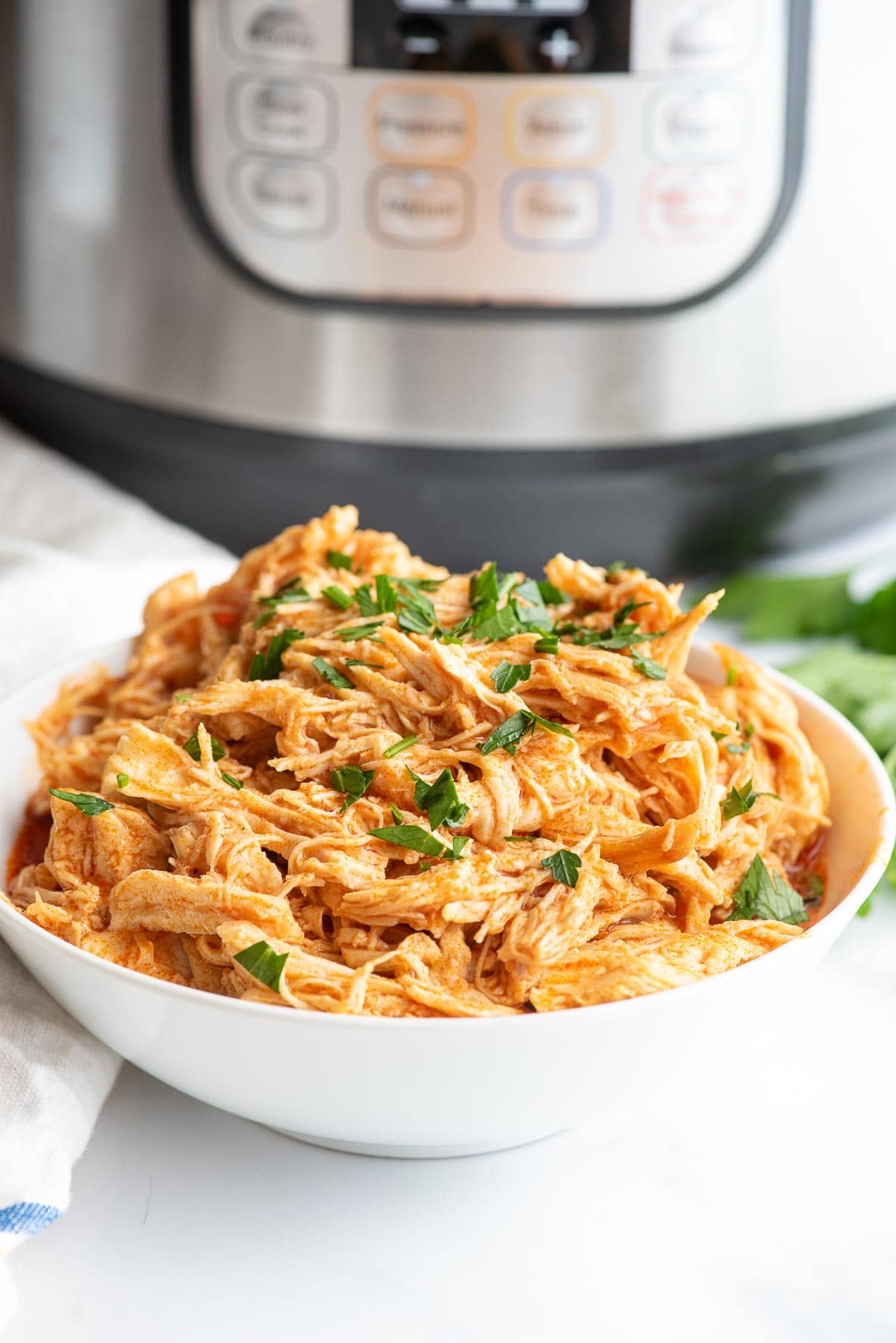 What Buffalo Sauce to Use?
Homemade
I recommend using Homemade Buffalo Sauce. It's fast and easy to make.
It's has a full, tangy, spicy flavor AND it's not overly salty as store bought sauces can be.
Store Bought
For a store bought option I recommend Franks RedHot Buffalo Wings sauce (see photos).
Franks Cayenne Hot sauce (used in my homemade Buffalo Sauce recipe) was used in the original Buffalo sauce. It's seen as the secret ingredient!
I will add I find the sauce a bit salty BUT depending on how you use the buffalo chicken, you may not notice it.
Also for a spicier store bought option try Frank's RedHot Hot Buffalo Sauce. For spicy heat lovers only.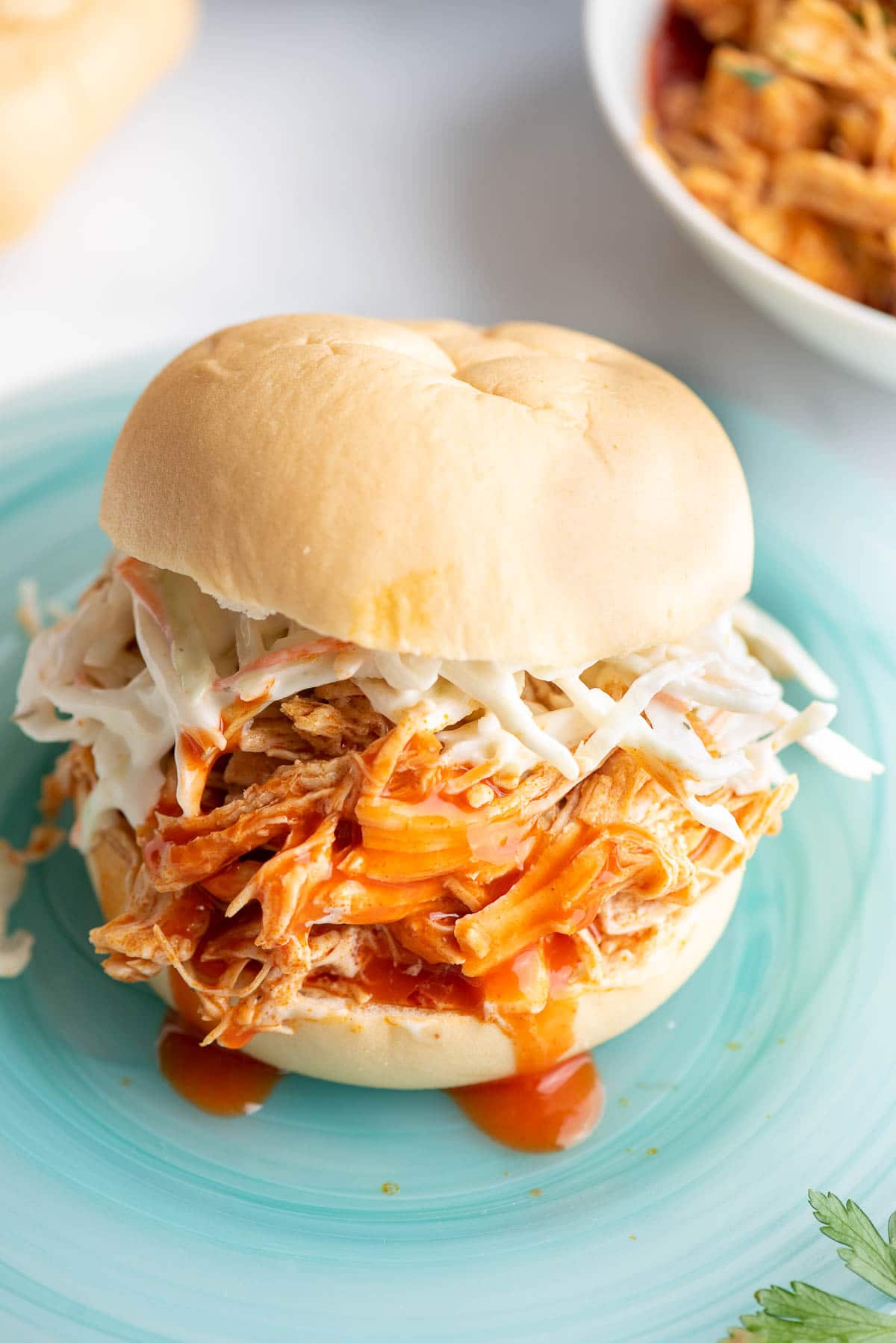 A Delicious Cole Slaw Trick!
Blue Cheese and ranch dressing are both favorite pairings with buffalo chicken wings.
I have a little trick to get the full flavor combination when using this shredded buffalo chicken too!
It's a Lazy Girl's Cole Slaw method.
Combine store bought cole slaw mix (the greens) with ranch dressing OR blue cheese dressing INSTEAD of cole slaw dressing.
It makes a creamy slaw that adds both crunch and the classic flavor you'd dip buffalo wings in.
How to Make it – Step-by-Step
When cooking in the pressure cooker the sauce will thin out.
Some of the sauce (4 ounces) is reserved in the beginning to drizzle on the finished chicken or stir into it for a thicker sauce.
STEP 1: Salt and pepper the chicken breasts on both sides (photo 1).
STEP 2: Pour some of the 1 cup of buffalo sauce into the Instant Pot just to make a light coating of the bottom (photo 2). Add the chicken (photo 3) and pour the rest of the 1 cup of sauce over to cover (photo 4).
STEP 3: Seal the lid and vent. Pressure cook on MANUAL High Pressure for 15 minutes. When complete allow a Natural Release for 5 minutes followed by a quick release of any remaining pressure.
STEP 4: Remove the cooked chicken and shred using 2 forks or this shredded chicken method with a stand mixer. I don't recommend a hand held mixer as it can pulverize the chicken.
Return the shredded chicken to the Instant Pot and stir in with the sauce to coat.
Use as is or refrigerate with the sauce for later use.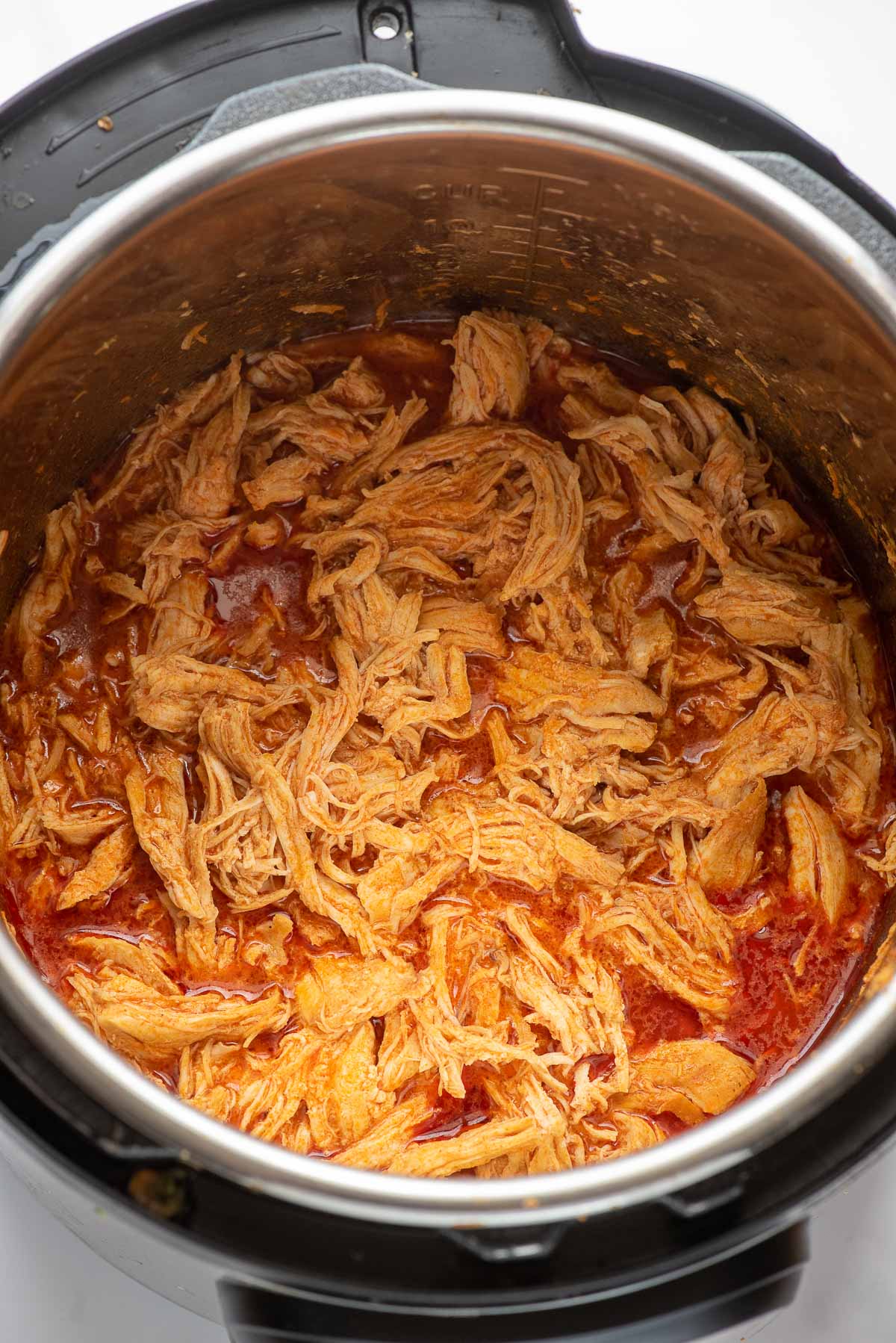 How to Make Buffalo Chicken in a Slow Cooker
Salt and pepper the chicken as described.
Pour the whole 1 1/2 cups of sauce into the crock pot along with the butter pieces. Place the chicken in and turn to coat.
Cook on LOW for 5-6 hours until the chicken is cooked through.
Shred the chicken and place back into the sauce for 20 minutes to soak up the sauce.
How to Use the Buffalo Chicken
The possibilities are endless for how to use this!
In a sandwich on bread or buns (regular or gluten-free)
On pizza
Tossed with cooked pasta
Spice up cool crisp salad greens (adds some protein too)
In soups
Buffalo Chicken Dip
In lasagna instead of ground beef
In quesadillas with loads of cheese
Stuffed into celery and drizzled with ranch dressing
Grilled Cheese sandwiches
for Meal Prep with some rice and some of the sauce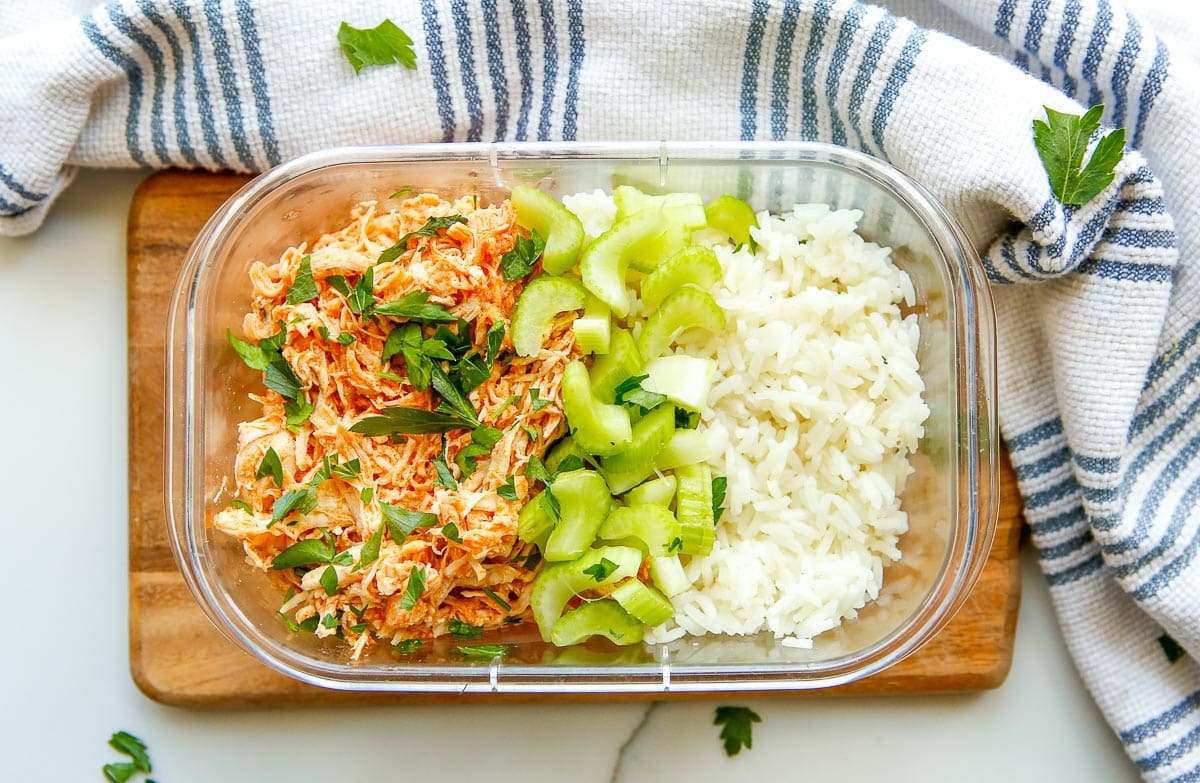 How to Store
Store in a sealed container in the refrigerator for up to 4 days.
Store with any sauce to keep chicken moist and from drying out.
NOTE: due to the butter some of the sauce may congeal when in the refrigerator. Warm in the microwave before using and the sauce will liquefy again.
How to Freeze It
After the chicken has cooled, add it with the liquid to a freezer-safe container or bag. Freeze for up to 4 months.
Pro Tip: freeze the chicken in portions sizes of 1 or 2 cups so the entire batch doesn't need to be thawed at once.
To defrost, leave in the refrigerator overnight.
More Recipes You'll Love!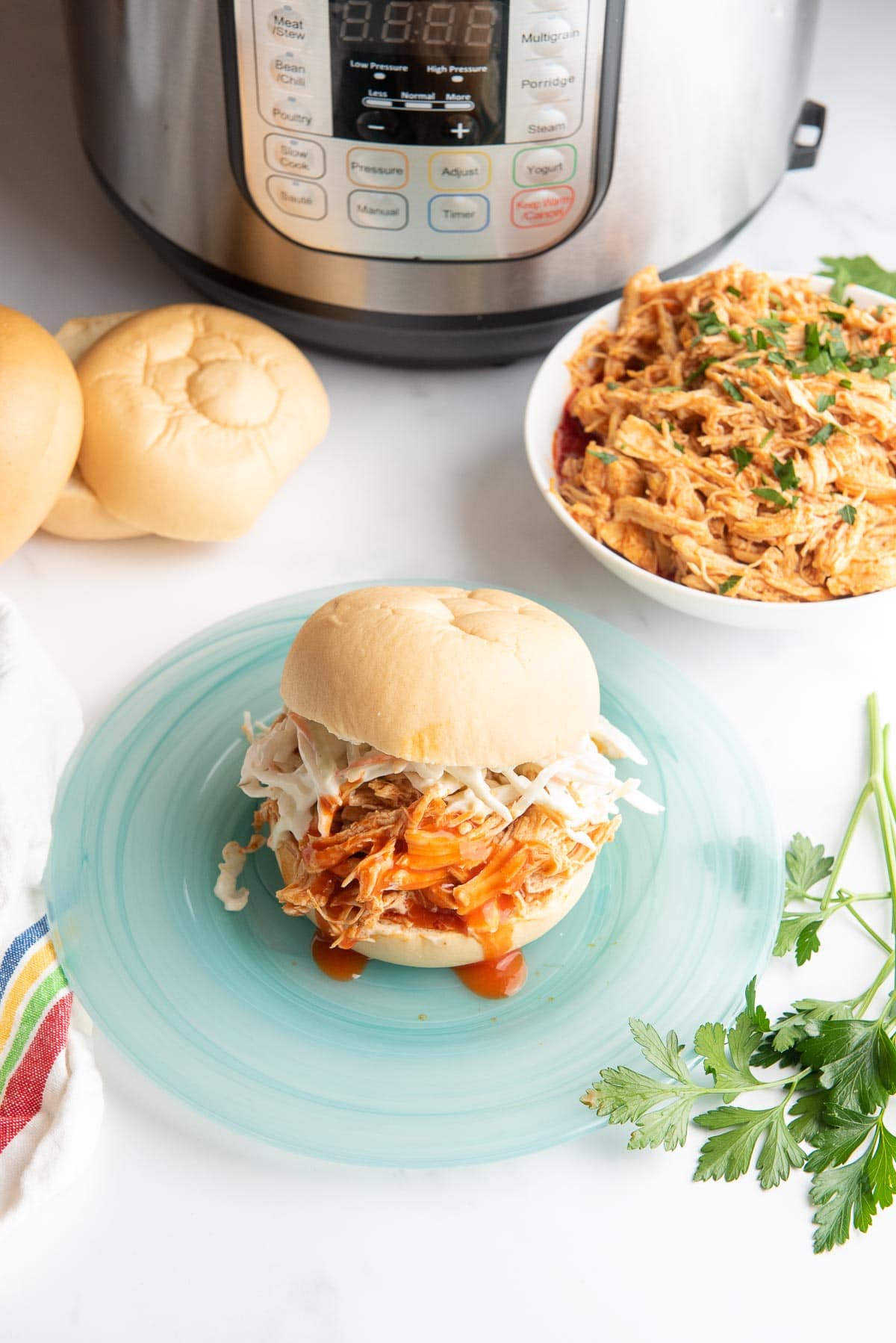 Did you make it? Please RATE THE RECIPE below!
Please SUBSCRIBE and FOLLOW ME on FACEBOOK , TWITTER , INSTAGRAM and PINTEREST !