"Rain, rain, go away…." But until it does make a batch of this Spicy Farmhouse Chicken and Pasta soup with Mini Grilled Cheese Sandwiches to warm everyone's spirits and stomachs.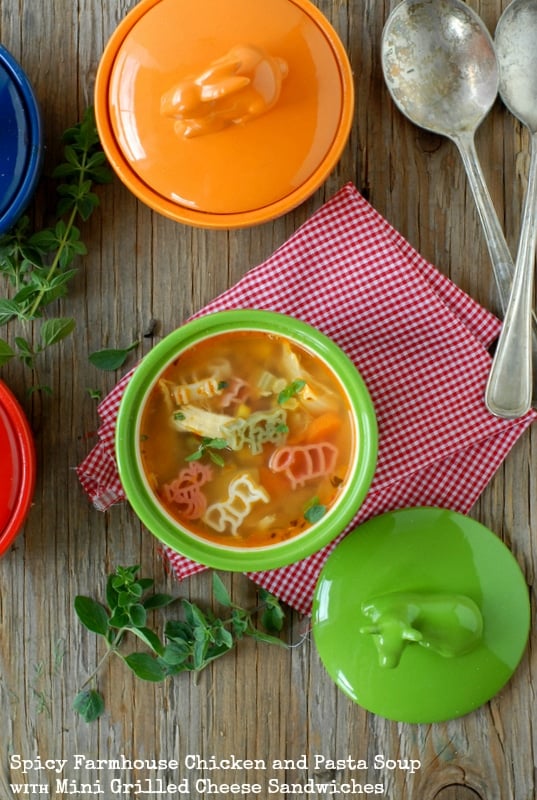 Some recipes are born from creative vision and some from necessity. This one is from both. If you live in the United States and watch the national news you'll know what has been going on in Boulder for the last half week. What I mentioned in my last post as the start of fall transformed into a 'National Disaster' within 3 days. Fourteen inches of rain in 24 hours (more outside that time frame). Roadways ripped from the earth. Trickling streams turned into blazing waterways. Communities orphaned by Mother Nature requiring air lifting to rejoin the human race.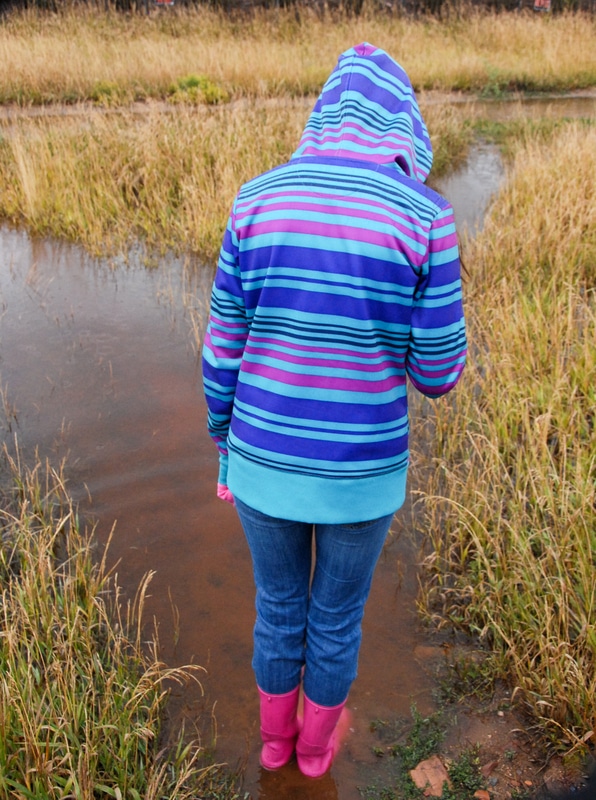 We aren't strangers to the ritual of unexpected disaster though it usually presents in the form of wild fires. A knot in the stomach that doesn't leave. Best preparation put in place. Long nights spent watching out our third floor window set to the background soundtrack of the public Sheriff's scanner online, which has the latest information and interesting insight into the private workings of our community. Falling to sleep from sheer exhaustion, remote control in hand, only to wake in 45 minutes to more news coverage and repeating that cycle until the dawn light shines.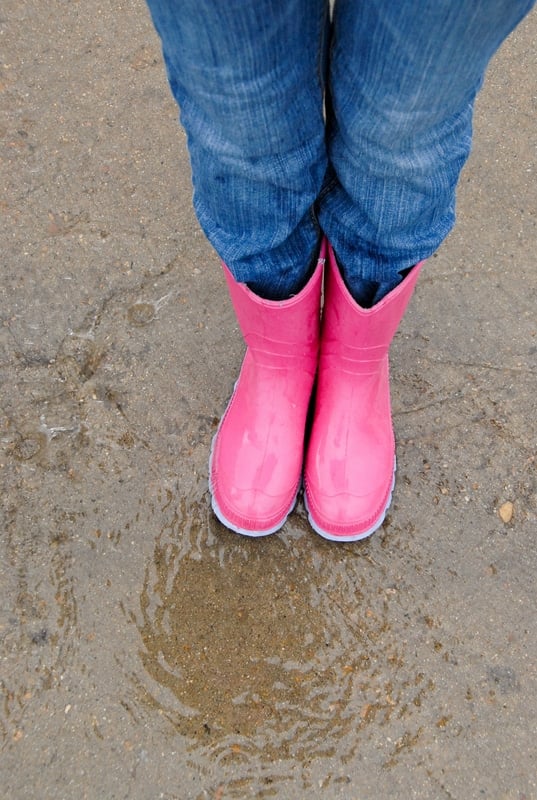 We have been spared. No leaks. No damage. Our street is clear. There is a dry creek bed two blocks south over a major street into the foothills that is raging like the Mississippi river. The photos on Twitter of our downtown looking more like an angry sea port are foreign to our view. We have not left our house at the prompting of the local authorities who are keeping the roads clear for emergency rescue vehicles. So what's a girl to do? Cook of course.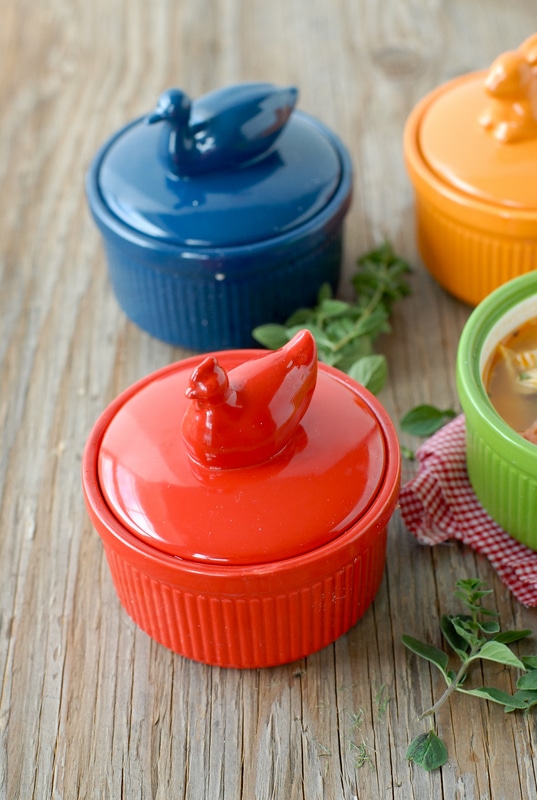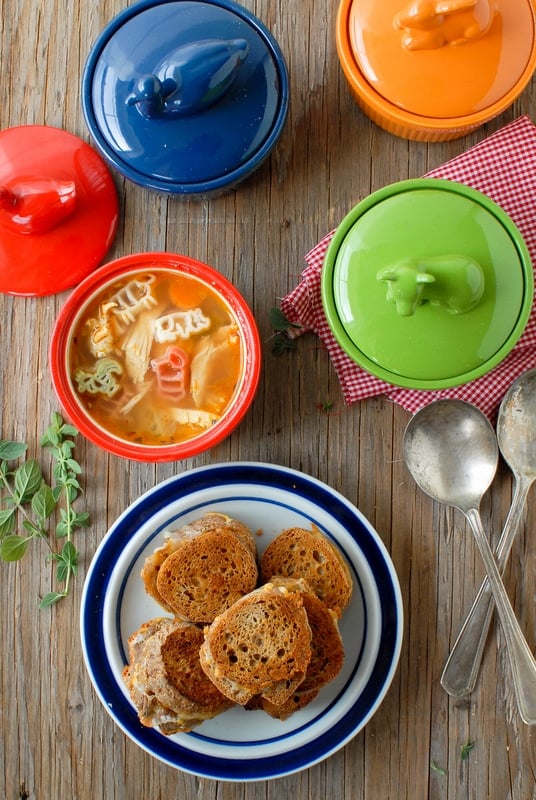 I do love the challenge of making food from what I have on hand. In this case we were fully stocked from our last CSA share pick up. Beautiful produce at its prime begging to be made into a hearty, colorful soup to take away the chill of the pounding rain.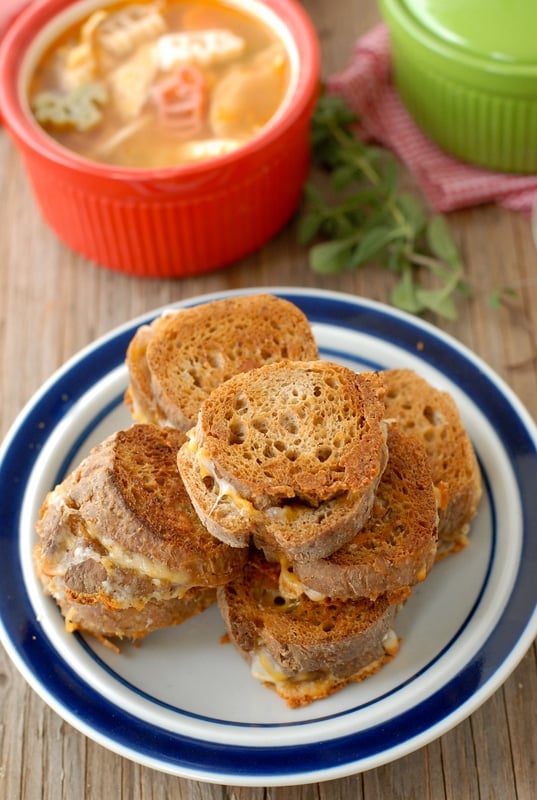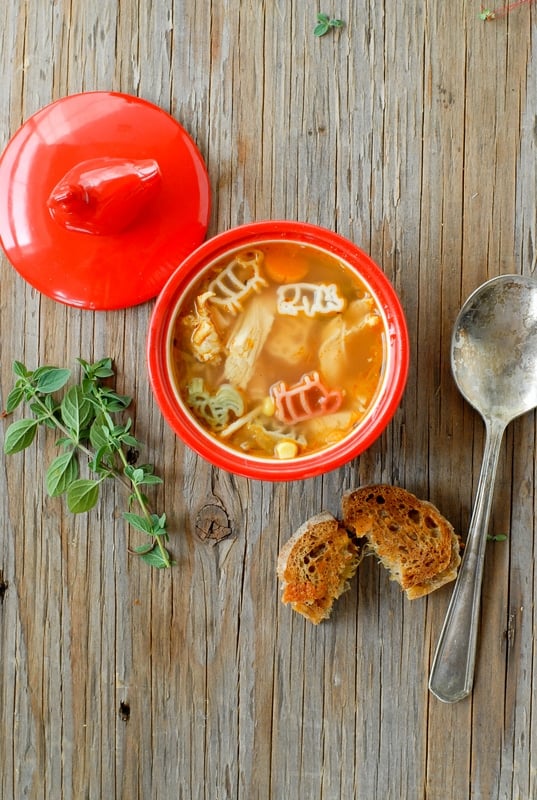 This soup has a sunny disposition. It is bursting with seasonal flavors, has a wonderful texture and I don't think it could be more festive looking. To celebrate the farm nature of it I added some barnyard animal shaped (gluten-free) pasta I've been saving for just the right dish. Paired with mini Grilled Cheese sandwiches and everyone's spirits were lifted. Don't wait for a rain storm to try this out! It's a perfect fall dish that will be served often in my household.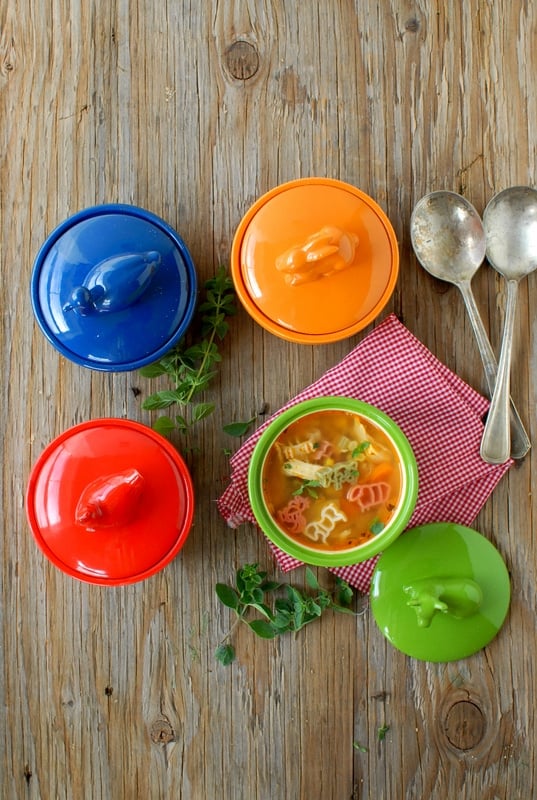 Recipe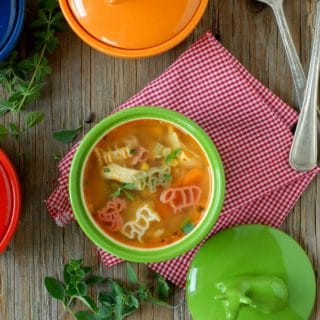 Spicy Farmhouse Chicken and Pasta Soup with Mini Grilled Cheese Sandwiches
This hearty, fresh vegetable chicken and pasta soup is sure to put a smile on everyone's face. It is full of flavor, great texture and color making it irresistible. Paired with mini grilled cheese sandwiches for an unexpected spin on traditional comfort food. Seasoning may change depending on the base used for the soup. Be sure to taste test along the way and adjust for your preference.
Print
Save Recipe
Recipe Saved!
Pin
Rate
Ingredients
Ingredients for Spicy Farmhouse Chicken and Pasta Soup:
1 ½

tablespoon

Olive Oil

1

cup

Yellow Onion

, chopped

2

large Garlic Cloves

, pressed or diced

½

teaspoon

Chili Powder

¾

teaspoon

fresh Oregano

, diced

¼

teaspoon

Lemongrass Powder

8

cups

Chicken Stock

, Broth or Chicken Broth made with a Bouillon/Soup Base*

1

heaping cup Fingerling or small New Potatoes

, sliced horizontally ¼ inch thick (fingerlings) or bite-sized chopped (New Potatoes)

1

cup

Tomatoes

, chopped (approximately 2 medium tomatoes)

¾

cup

Yellow and/or Green Beans

(total ¾ cup), sliced in ¾ inch pieces

½

cup

Baby Carrots

, sliced ¼ inch thick

1

cup

Corn Kernels

, fresh sliced from cob. or frozen and thawed

2

cups

Shredded Chicken

(cooked)

½

teaspoon

Apple Cider Vinegar

1

cup

small Pasta variety

(gluten-free or wheat pasta depending on preference)

Salt and Pepper to taste
Ingredients for Mini Grilled Cheese Sandwiches (plan on 2-3 per person):
1

small French Baguette

(1-2 inches in diameter) Note: if making this gluten-free and a gluten-free baguette is unavailable, normal GF sandwich bread cut into quarters may be substituted

Sharp Cheddar Cheese

(2 inch by 2 inch slice or 1-2 tablespoons per sandwich)

Sweet unsalted butter
Instructions
Instructions for Spicy Farmhouse Chicken and Pasta Soup:
In large heavy stock pot, warm olive oil over medium high heat. Add onion, garlic, oregano and lemongrass powder. Sauté until onions are translucent (3-4 minutes).

Pour in a cup of the stock, and using a heatproof spatula scrape bottom of the pan continuously to deglaze the pan scraping browned bits from the bottom of the pan. Add remaining stock.

Add the potatoes, tomatoes, beans, carrots, corn, chicken and apple cider vinegar. Heat to boiling then reduce heat to medium-low and allow soup to lightly simmer until the potatoes are almost cooked (about 20 minutes).

Add pasta and cook 10 minutes longer. Note: if the potatoes are still too hard at 20 minutes, allow them to cook longer before adding the pasta. Pasta should go in 10 minutes before the soup is done to avoid it becoming mushy.

Salt and pepper to taste.
Instructions for Mini Grilled Cheese Sandwiches:
Slice the baguette in ½ inch slices (2 slices per sandwich). If using a Press: place one slice of baguette on the bottom of the press. Add the cheese, second piece of baguette. Lightly butter the top and close the press. Cook until cheese is melted and top is golden brown. Alternatively, use a heavy skillet: butter one side of each slice of bread. Heat skillet to medium-high. Place the buttered side of baguette slice facing the skillet. Add cheese, and top with a second piece of baguette with the buttered side up. Brown lightly on bottom side, gently flip and cook on the second side until the cheese has melted and baguette is golden brown. Allow to sit a few minutes before eating.
Notes
*Based on necessity I made my soup base with a 100% natural Chicken Broth and Seasoning Base that is gluten-free by [easyazon_link identifier="B008XDKMZE" locale="US" nw="y" nf="y" tag="bouldlocav-20"]Orrington Farms[/easyazon_link] (no MSG, with sea salt). I purchased it originally for some winter soup mixes I gave as gifts. I liked the bouillon flavor for this soup although the mix made at the recommended strength was a bit salty for me (and had additional seasoning adding to the flavor). If choosing to make a similar bouillon soup base be sure to taste it to determine if the full strength is to your liking or dilute it.
Nutrition
Calories:
196
kcal
|
Carbohydrates:
21
g
|
Protein:
13
g
|
Fat:
6
g
|
Saturated Fat:
1
g
|
Cholesterol:
27
mg
|
Sodium:
393
mg
|
Potassium:
483
mg
|
Fiber:
1
g
|
Sugar:
5
g
|
Vitamin A:
1115
IU
|
Vitamin C:
9.4
mg
|
Calcium:
24
mg
|
Iron:
1.1
mg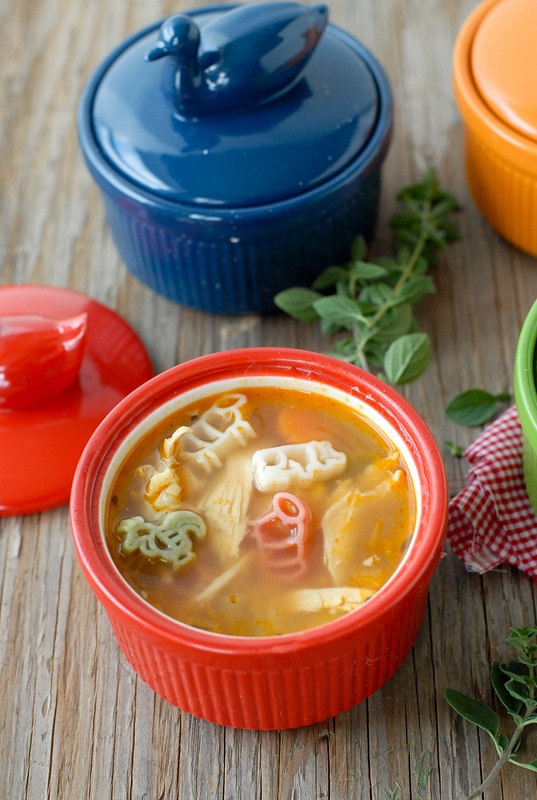 While not cooking or watching hours of news coverage, I've started a Pinterest board of Rainy Day Food; other soul-warming dishes to take the edge off. Come take a peek and follow!