Slow Cooker Red Beans and Rice are a smoky, spicy Louisiana staple. Full of Andouille sausage, ham hock, creole Cajun spices. Fit for Mardi Gras or any day!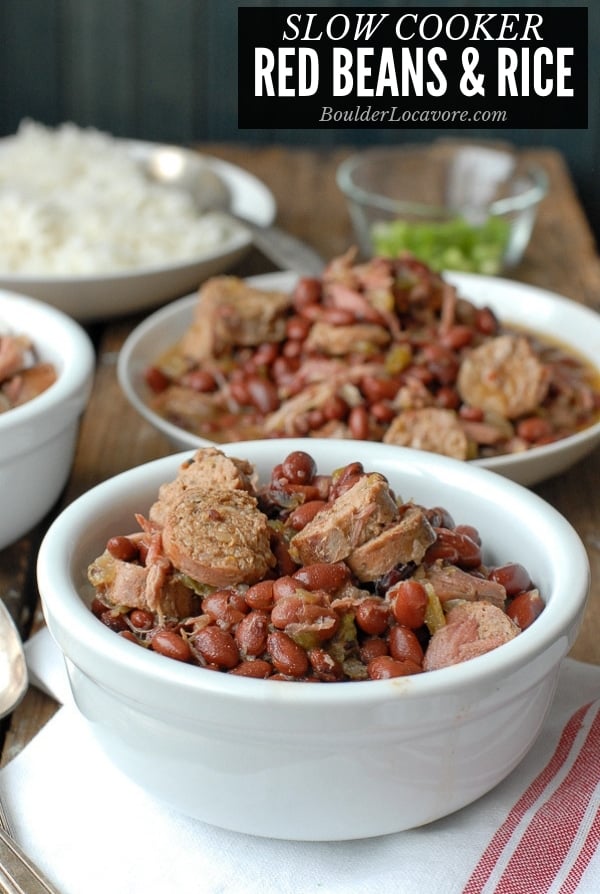 Red Beans and Rice: Classic Louisiana Comfort Food
I can't think of any better food I love better than honest, country-style food.
With a stick-to-your-ribs spiciness, these Louisiana Slow Cooker Red Beans and Rice are no exception.
Though a simple recipe, Louisiana Red Beans and Rice are all but ordinary.
Full of robust creole spices, smoky Andouille sausage, ham hock, the recipe is soulful comfort food all the way.
Whether celebrating Mardi Gras or warming up in the winter months, this classic dish is one you'll want to make often.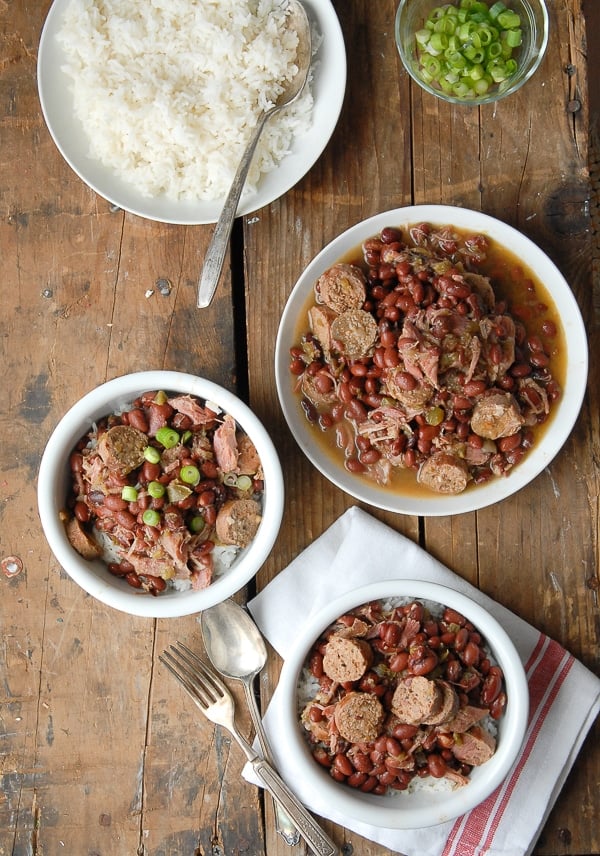 Traditional Red Beans and Rice
Like any classic recipe, there are many variations locally representing family traditions.
Red Beans and Rice is a 'Monday dish'. Traditionally served on Mondays using leftover vegetables and ham from Sunday dinner.
Typically the beans include sausage, with Andouille being traditional. It adds a smoky, spicy layer to the beans.
Some recipes call for ham hock instead or in addition to the sausage making the beans irresistible in my book.
Red beans and rice are each cooked separately.
Creole spices further differentiate this dish from other similar bean recipes, giving it more of a kick and a signature flavor.
Are Red Beans the same as Kidney Beans?
No they aren't. Red beans are smaller and rounder than kidney beans (though they are both red).
The flavor is similar enough that if you cannot find canned red beans (they will be called that on the label), kidney beans may be substituted.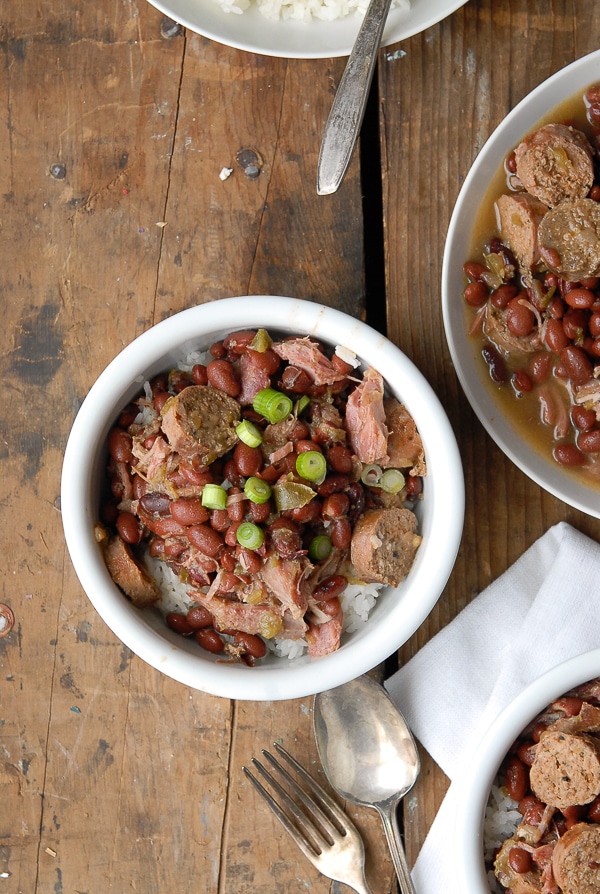 Red Beans and Rice Recipe Shortcuts
Unlike the traditional recipe, this red beans and rice recipe is made in the slow cooker (the bean portion).
This allows all the ingredients in the beans to cook together, simmering for hours filling your house with irresistible aromas.
Canned red beans are also used to save time rather than cooking dried beans.
Using the slow cooker ensures great flavor!
TIP: to make the ingredient preparation go faster, I use a mini chopper to chop the vegetables.
Because you ask, this is the slow cooker I use.
Rice Preparation Shortcut
Since I am already cooking the red beans in a slow cooker, I usually cook the rice in a rice cooker or my Instant Pot.
Then I don't have to watch pots on the stove.
If you use an Instant Pot, use this rice recipe; just do not add the cilantro and lime at the end (and you'll have perfect cooked plain white rice)!
How to Make Slow Cooker Red Beans and Rice – Louisiana Style
For my recipe I included Andouille sausage which is widely available at most grocery stores, as well as a ham hock.
The recipe is very easy (detailed instructions in the recipe card below):
Brown the sausage in a large non-stick skillet and set aside; retain any pan drippings.
In that same pan saute the onion, celery, bell pepper and garlic for 1-2 minutes; allow them to absorb any pan drippings from the sausage.
Add the vegetables to the slow cooker.
Layer the browned sausages, ham hock and red beans.
Sprinkle on the creole seasonings.
Pour in the chicken stock.
Cook on LOW heat for 6 hours or until the ham is coming off the bone.
Remove the sausages, cut into slices and add back to the slow cooker.
Remove any ham from the bone; add the ham back to the slow cooker and discard the bone.
Serve over prepared rice.
Whether for Mardi Gras or any day, this recipe is soul-warmingly delicious.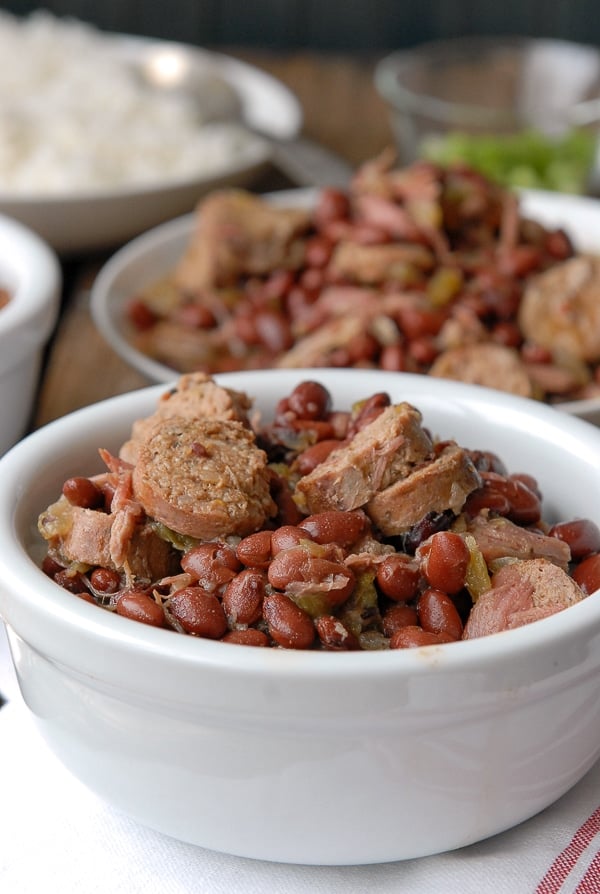 How to Store Red Beans and Rice?
Store any leftovers of the Red Beans and Rice in a tightly sealed container in the refrigerator for 3-5 days.
I recommend keeping them separate and combining when heating a serving in the microwave.
How to Freeze Red Beans and Rice
Red Beans and Rice freezes very well!
Freezing Red Beans and Rice
After the beans have fully cooked, allow them to cool slightly.
Place desired amount into a freezer-safe container or bag, leaving 1/2-inch room on top ('head space') for expansion.
May be kept in the freezer for up to 6 months.
Rice: Thought it is possible to freeze the rice, I recommend making a fresh batch of rice after thawing the beans for the best result.
How to Reheat Red Beans and Rice
Remove from the freezer and allow to thaw completely in the refrigerator (preferred method).
Reheat fully and serve over freshly prepared rice.
More Louisiana-Inspired Recipes You'll Love
Did you make it? Please RATE THE RECIPE below!
Please SUBSCRIBE and FOLLOW ME on FACEBOOK , TWITTER , INSTAGRAM and PINTEREST !

Originally published February 17, 2015. Updated February 2019.