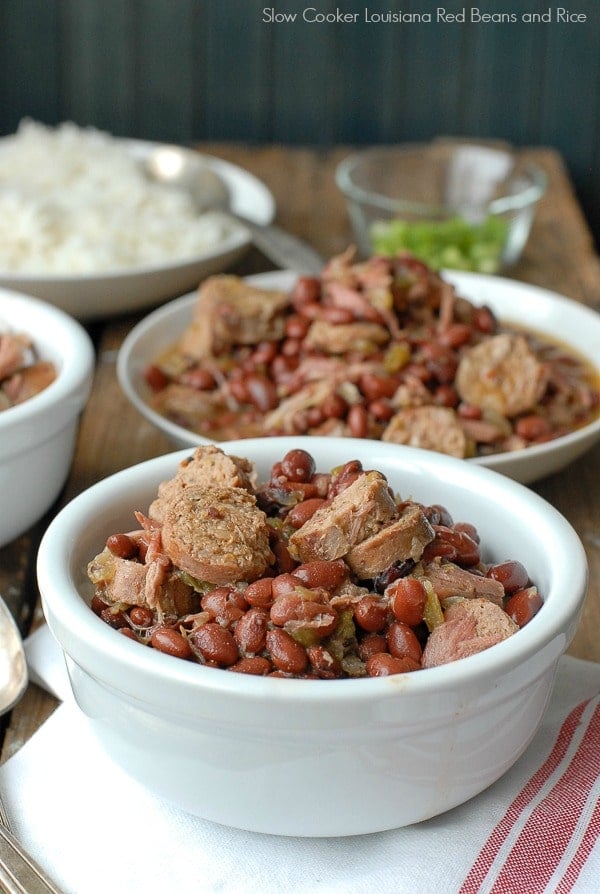 Today is Mardi Gras day and a huge party will ensue in New Orleans as well as other spots in the US who, like me, hate to miss a celebration.  After watching four seasons of HBO's 'Treme', I feel confident there is no other place to truly enjoy the festive spirit of Fat Tuesday other than NOLA.  It is the culmination of a holiday season unlike any other.  Being the last big bash before Lent, traditional foods and cocktails define the day along with the parades, costumes and bead-throwing from opulent floats.
I can't think of any food I love better than honest, country-style food.  It's unpretentious, approachable, full of flavor and usually easy to prepare.  With a stick-to-your-ribs spiciness, these Slow Cooker Louisiana Red Beans and Rice are no exception.  After sharing a gluten-free King Cake recipe and a daytime cocktail, Brandy Milk Punch, a signature savory recipe seemed in order.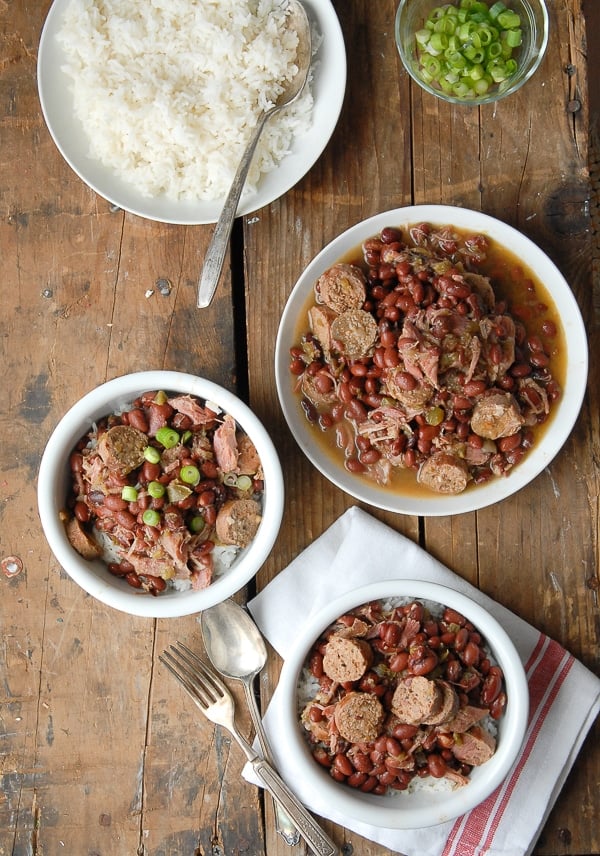 Like any holiday recipe, there are many variations locally representing family traditions.  Red beans and rice are each cooked separately.  Typically the beans include sausage with Andouille being traditional.  It adds a smoky, spicy layer to the beans.  Some recipes call for ham hock instead or in addition to the sausage making the beans irresistible in my book.  Creole spices further differentiate this dish from other similar bean recipes, giving it more of a kick and a signature flavor.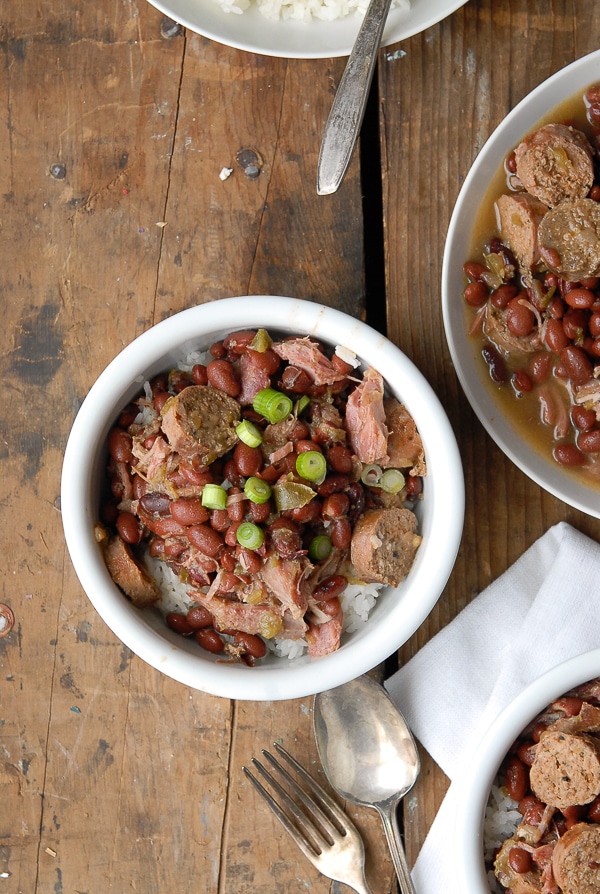 For my recipe I included Andouille sausage which is available at Whole Foods as well as a ham hock.  The recipe is very easy.  The foundation is sweet onion, celery, bell pepper and garlic lightly sautéed in a skillet after browning the sausage.  Instead of starting with dry beans which is the tradition, I used canned red beans allowing the recipe to be shortened slightly.  All these ingredients are loaded into a slow cooker to simmer for six hours on low filling your house with irresistible aromas.  Whether for Mardi Gras or any day, this recipe is soul-warmingly delicious.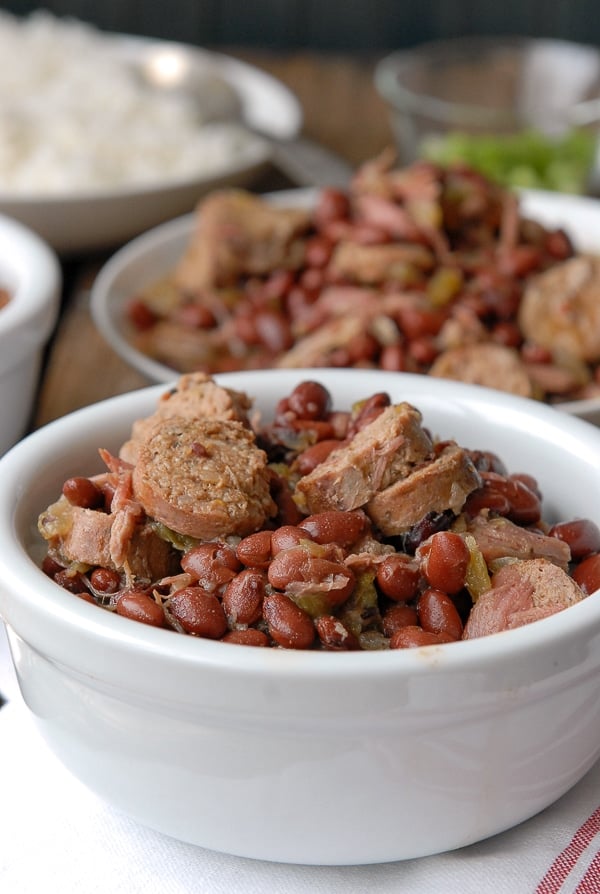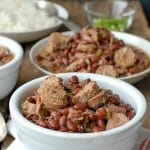 Slow Cooker Louisiana Red Beans and Rice
Though a simple recipe, Louisiana Red Beans and Rice are all but ordinary. Full of robust creole spices, smoky Andouille sausage, ham hock, the recipes is a comfort food all the way. Whether celebraing Mardi Gras or warming up in the winter months, this classic dish is one you'll want to make often.
Servings
10
-11 cups Red Beans (dependent on how much meat is on the ham hock)
Ingredients
1

teaspoon

Extra Virgin Olive Oil

1

pound

Andouille Sausage

1

medium Sweet Red Onion

, chopped

2

stalks Celery

, chopped

½

large Green Bell Pepper

, seeded and chopped

6

medium-large Garlic Cloves

, diced

1 1-2

pound

Ham Hock

4 15-

ounce

cans Red Beans

, drained and rinsed

2

teaspoons

Creole Seasoning

2 ½

cups

Low Sodium Chicken Stock

5

cups

prepared Long Grain White Rice
Instructions
In a large non-stick skillet, brown the sausage over medium-high heat and set aside. Note: if a non-stick skillet is not available, warm the olive oil first and brown the sausage. Retain pain drippings.

If not already used, warm the olive oil in the skillet again over medium-high heat. Add the onion, celery, bell pepper and garlic to the skillet and sauté for 1-2 minutes to soften slightly and pick up the pan seasonings from the sausage. Place into the bottom of the slow cooker.

Place the browned sausages on top of the vegetables followed by the ham hock. Add the red beans. Sprinkle the creole seasoning on top and pour in the chicken stock. Cook on LOW for 6 hours until the ham is coming off the hock.

Remove the sausages, cut into slices and place back into the slow cooker. Scrap any ham off the hock; place ham back in the slow cooker and discard the bone.