Spicy, tangy sauce, blue cheese crumbles, crunch celery all included in a classic recipe gone vegetarian: Buffalo Cauliflower. Guess what? You won't miss the meat!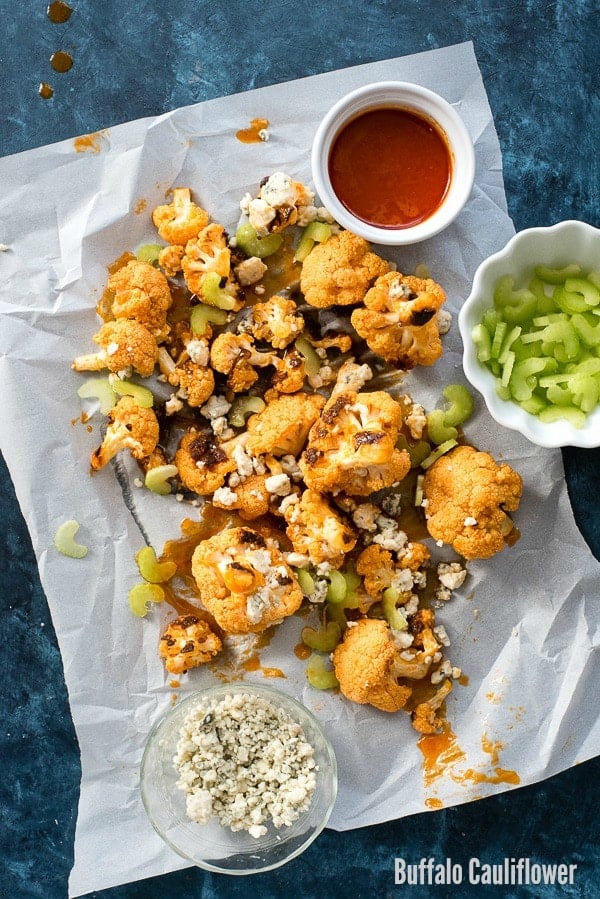 I have always love Buffalo Chicken Wings. To me they are the most perfect combination of spicy, tangy, succulent food there is.
I have loved blue cheese dressing since I was a child so the fact that is a standard dipping sauce proves it is a divine recipe.
Add some fresh-flavored celery for a nice crunch and perfection has been reached.
I love them so much I developed a Cheesy Buffalo Chicken Lasagna recipe to enjoy it in a different from (which has been wildly popular I will add).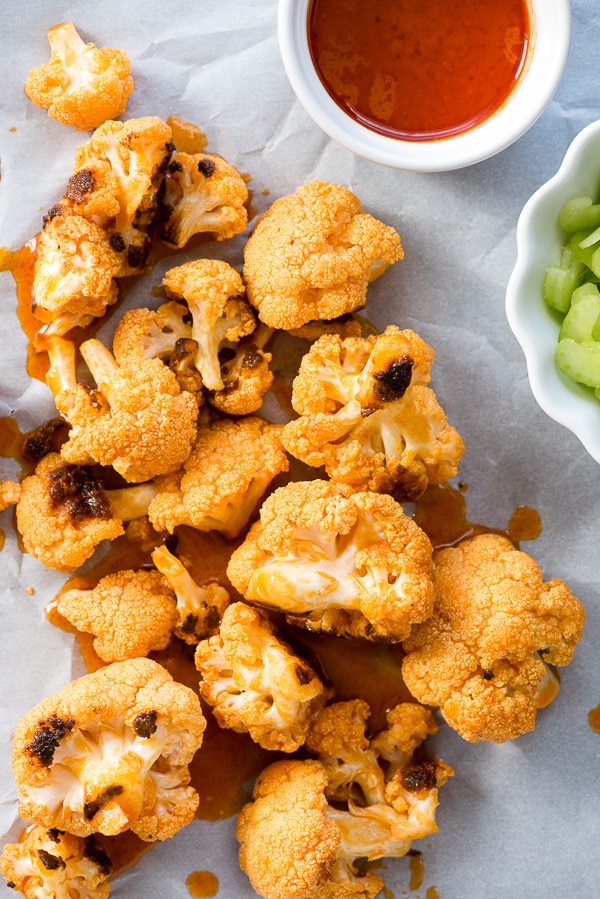 This past weekend was full of football play-off games in my household. Socked in with dreary weather and kids loaded up with homework, the countdown to the big game was evident. Though I'll watch a football game, I'm distractable and unless something fantastically interesting is going on, I generally mentally drift, this time thinking about food for the Super Bowl.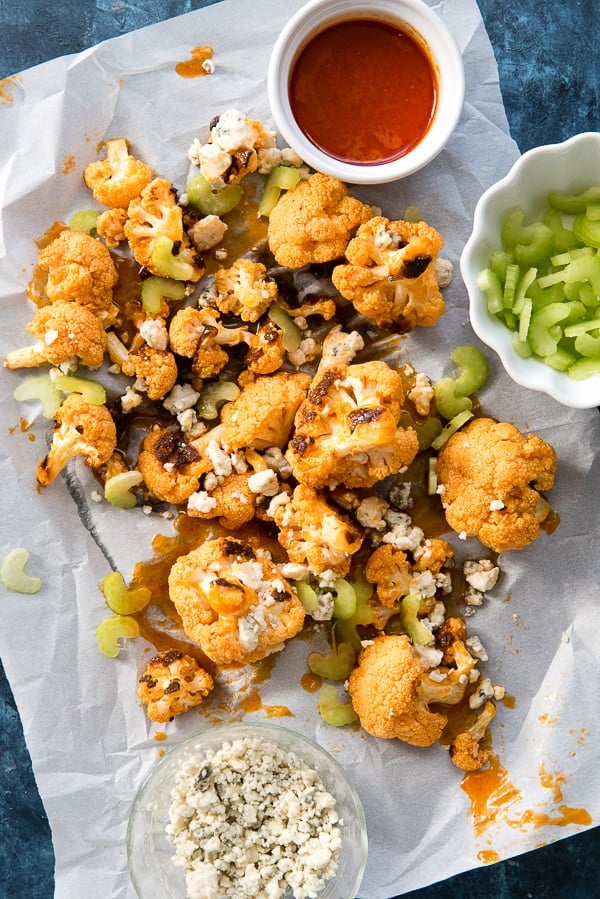 I have been making a concerted effort to think about adding vegetables into my family's eating regimen and not as an afterthought trailing the decision of what protein to serve for dinner. Periodically I'm sent cookbook copies for review from publishing houses. I have a stack next to my desk which I'll thumb through to share with you or to test in my own kitchen. "Meat on the Side" (Delicious Vegetable Focused Recipes for Every Day) by Nikki Dinki caught my attention, feeling like the manual for my New Year's resolution on the vegetable front.
Meat on the Side (St. Martin's Press) features over 100 recipes from an author who did not eat her first vegetable until she was 20 due to being a picky eater. To me the book speaks to people LIKE me; those of us who want to incorporate vegetables into our meal planning in a more interesting way. I don't want to give up meat but I want to get out of a vegetable rut AND to feature vegetables as the main dish of a meal (like with Butternut Squash Noodles in Sage Brown Butter or Paneer Tikka Masala) and not miss meat from time to time.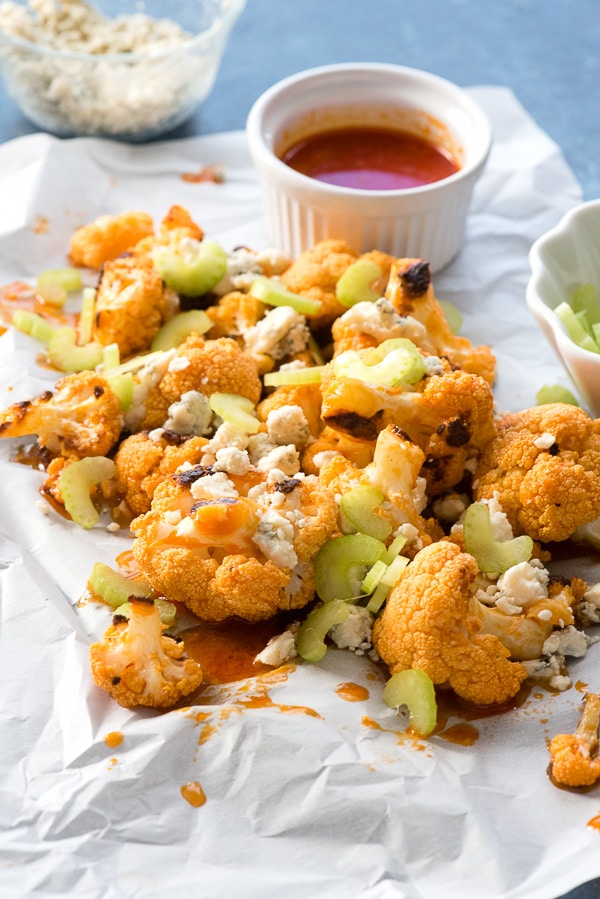 I spent some time flipping through the pages, reading the 'family friendly' notations on the recipes, admiring the breadth of recipe categories and then landed on the mother lode: Buffalo Cauliflower. Cue the angels singing on high. I knew this was a recipe I had to make.
As with my first paragraph wings description, this Buffalo Cauliflower recipe has everything we love; spicy, tangy sauce, blue cheese, crunchy celery and beautifully roasted cauliflower which as a fantastic, substantial bite.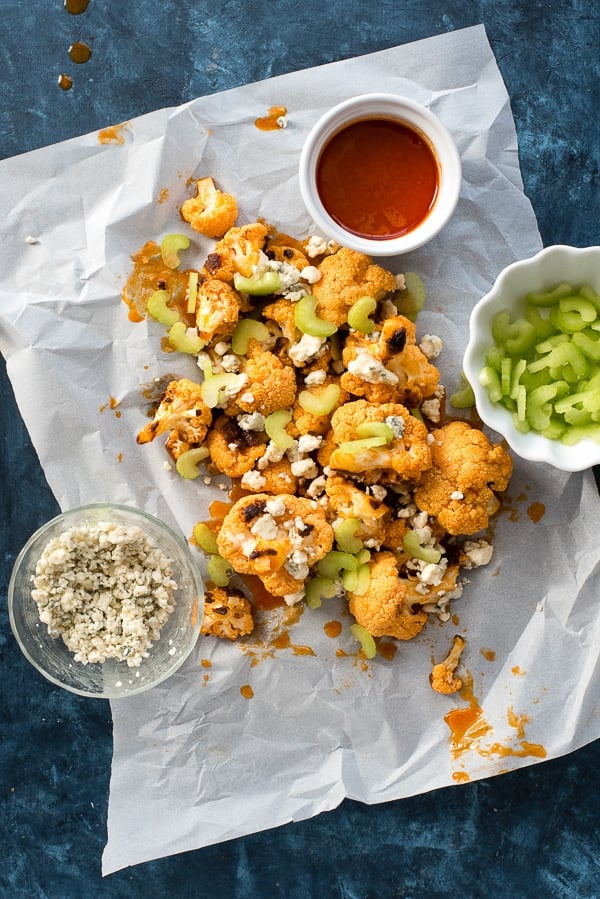 I loved every bite of this recipe AND having a perfect option to serve for gatherings or football food that is a meat-free option. And a recipe where the meat is not missed!
Try it with homemade buffalo sauce too!
This Buffalo Cauliflower recipe is chock full of favorite hot wing flavors. Spicy, tangy sauce, blue cheese crumbles and slices of cool, crunch celery. A great game day vegetarian appetizer!