Oatmeal Bars are a homey dessert recipe everyone loves. Fresh blackberries add a delicious sweetness to this easy oatmeal bars recipe.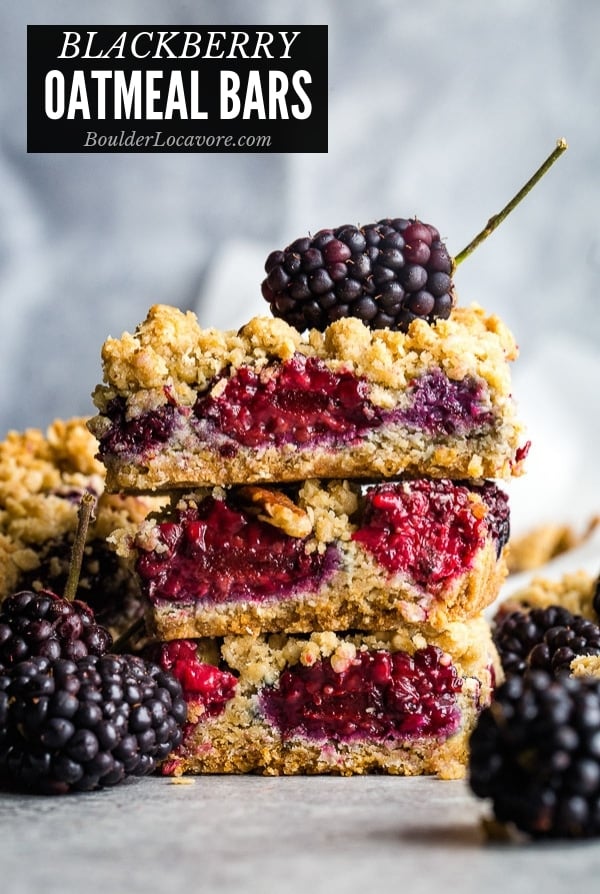 Oatmeal bars are very easy to make and have great homey flavors.
Add in some fresh blackberries and they become an irresistible treat you'll make on repeat!
Ingredients in these Oatmeal Bars
These ingredients in these oatmeal bars are probably already in your pantry and refrigerator!
fresh Blackberries
Granulated Sugar
Cornstarch
All-Purpose Flour, regular or gluten-free*
Quick-Cooking Oats, regular or gluten-free*
Brown Sugar
Baking Soda
Kosher Salt
Chopped Pecans
Unsalted butter, room temperature
PRO TIP: Frozen thawed blackberries may be substituted for fresh blackberries.
Use Quick-Cooking Oats (regular or gluten-free)
A key for this oatmeal bars recipe is to use Quick Cooking Oats. Do NOT traditional rolled old fashioned oats that take a longer time to cook.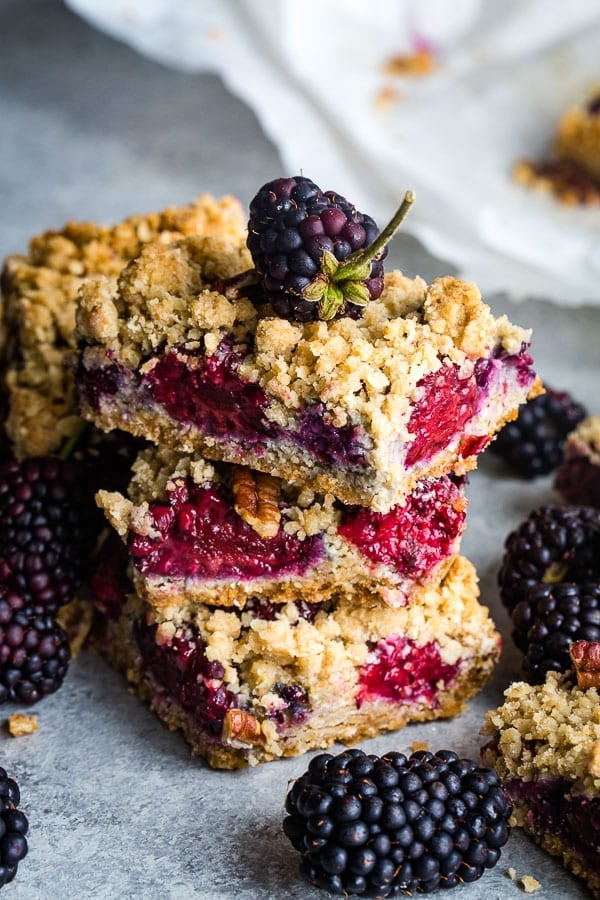 Regular or Gluten-Free Oatmeal Bars
We've tested this recipe with regular all-purpose flour and gluten-free all-purpose flour.
The results are fantastic with both!
My recommendation for Gluten-Free Flour
I like measure-for-measure type flours.
They have been developed to substitute one-for-one for wheat flour.
Check the ingredients! I personally do NOT like garfava or garbanzo bean flour in gluten-free flour blends used for sweet baking.
It has good structure but tastes beany.
The blend I used for these that I really liked is Bob's Red Mill 1 to 1 Gluten-Free Flour. It tastes great and works wonderfully in baking recipes.
There are multiple gluten-free flour blends.
I'm sharing what I used when developing the recipe that I felt provided great results in texture and flavor.
Use your favorite blend!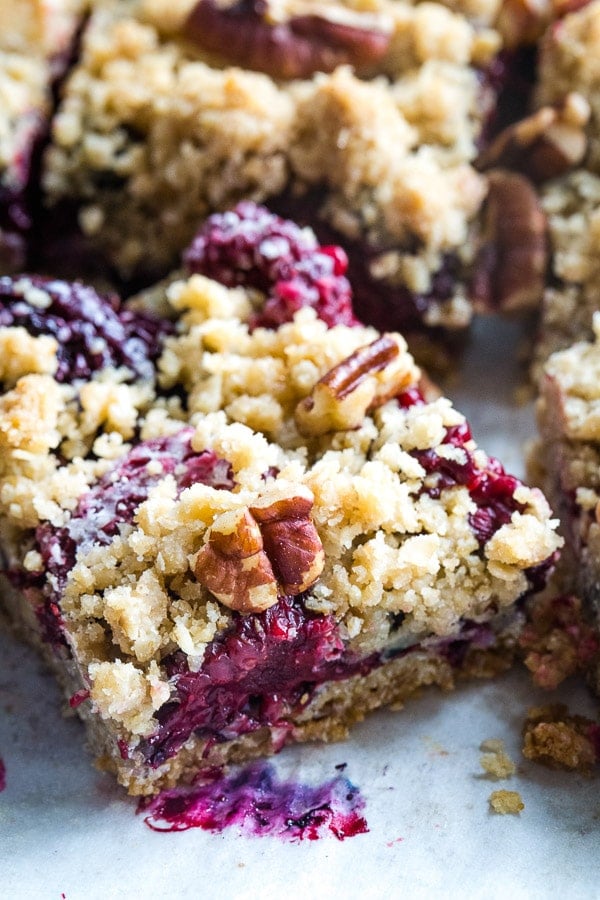 Gluten-Free Quick Oats
The other ingredients that makes these bars regular or gluten-free is the oats.
If making gluten-free oatmeal bars, be sure to use quick cooking oats labeled as 'gluten-free'.
If they are not labeled they probably are not gluten-free.
Oatmeal Bar Shortcut
Want an easy shortcut?
Instead of using fresh berries substitute blackberry preserves!
Skip the recipe step of tossing the berries in sugar and cornstarch.
Use 10-12 ounces of Blackberry Preserves.
Spread that evenly when the berries are added in the recipe and proceed with the rest of the steps.
Any preserves can be used! Experiment with strawberry or raspberry preserves too!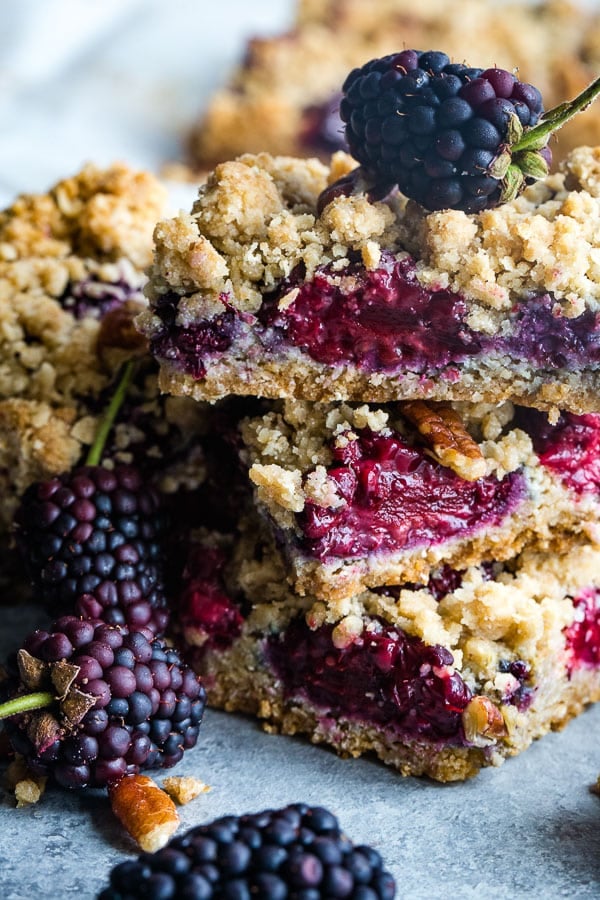 How to Make Blackberry Oatmeal Bars – Step by Step
For the detailed printable recipe instructions please refer to the recipe card at the end of the blog post.
Preheat oven to 350°F.
Line a 9×9 inch square baking pan with foil or parchment paper. Spray with non-stick cooking spray.
In a small bowl, toss blackberries with sugar and cornstarch. Set aside.
Use a standing mixer or handheld mixer and combine: the flour, oats, brown sugar, baking soda, salt, and pecans (photo 1). Mix to fully combine.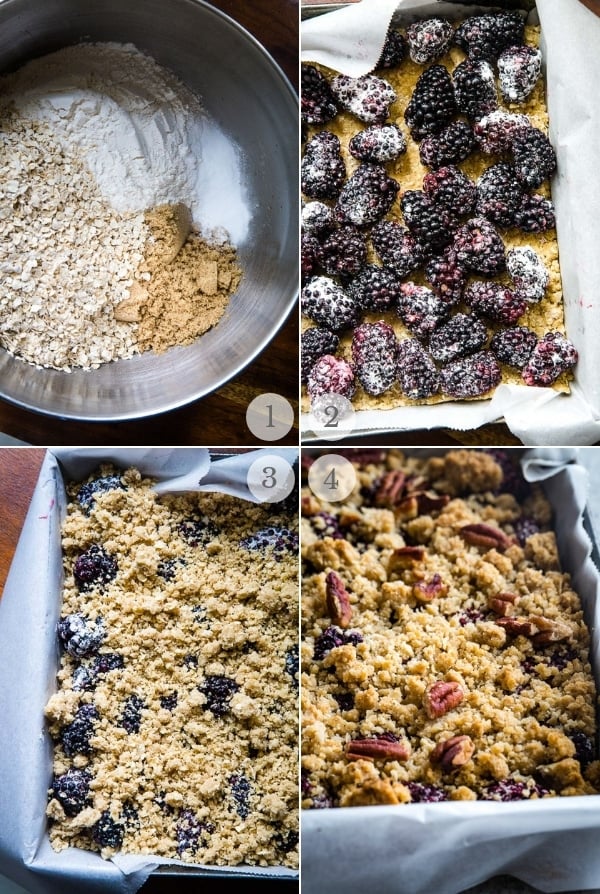 Add the softened butter and beat on low speed. Mixture should resemble coarse crumbs.
Spoon half of the oatmeal mixture into the prepared pan. Gently press mixture into bottom of the pan.
Top with the cornstarch-coated blackberries (photo 2).
Sprinkle with remaining oatmeal mixture (photo 3). NOTE: do not press down on the mixture.
Bake for 30 to 35 minutes or until golden brown (photo 4).
Cool completely before slicing into 12-20 squares (see cutting tips).

PRO TIP: Best Way to Cut Oatmeal Bars
These oatmeal bars are most easily cut when cold. When still warm they are more crumbly and soft.
Allow them to cool fully in the pan. Then place the pan in the refrigerator to chill until firm (a few hours or overnight).
Take them out of the refrigerator when firm, cut into bars. Select a size you prefer.
Allow to warm to room temperature before serving for best flavor.
Want a larger pan of Oatmeal Bars?
This recipe makes a 9-inch by 9-inch pan of fat oatmeal bars.
If you want to make more bars, use a prepared 9-inch by 13-inch pan.
Bake for 35 minutes or until golden on top.
Proceed with the recipe as written.
NOTE: when using a larger pan, the oatmeal bars will by thinner.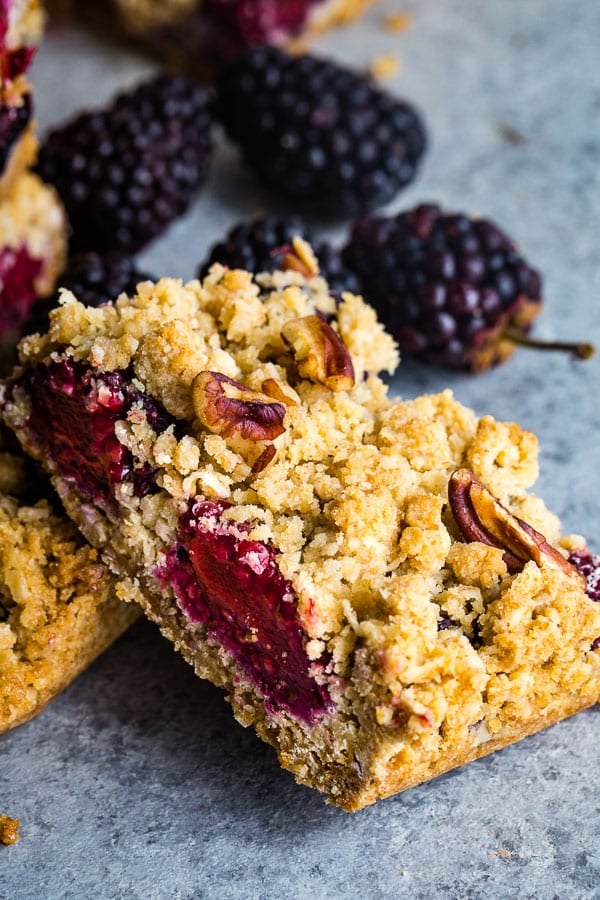 More Easy Dessert Recipes
Did you make it? Please RATE THE RECIPE below!
Please SUBSCRIBE and FOLLOW ME on FACEBOOK , TWITTER , INSTAGRAM and PINTEREST !