Pumpkin Puree is the star ingredient in all your favorite fall recipes! It's so easy and delicious to make it at home with these step-by-step instructions. No need to by the canned stuff anymore!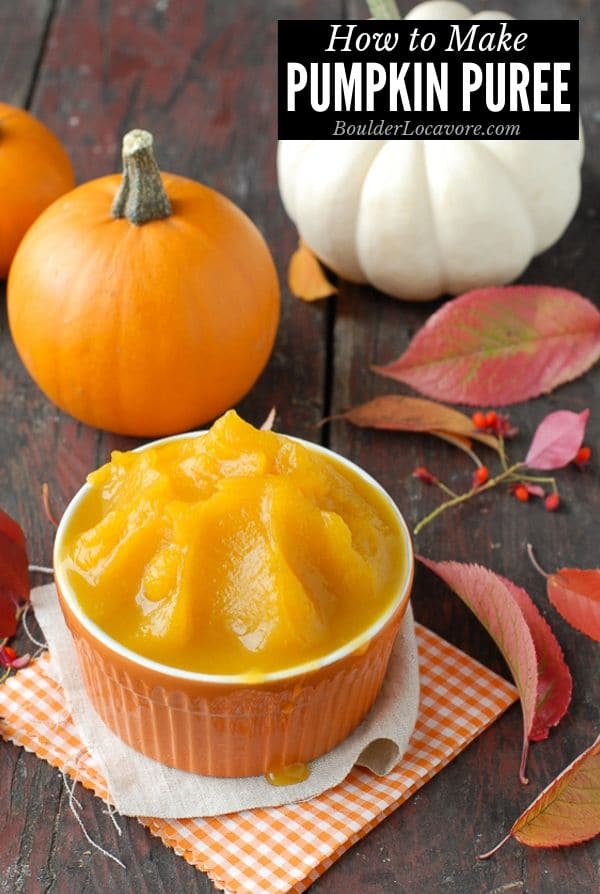 Whether you love Pumpkin Spice Lattes, pumpkin bread, pumpkin oatmeal or a steaming cup of pumpkin chowder by a roaring fire, it all screams fall.
All these favorite pumpkin recipes you love have something in common. They use pumpkin puree.
It's the what gives all those recipes their delicious flavor.
Sure, you can use it from a can but it's SO EASY and delicious to make it at home!
The method is simple and easy, as well as the puree freezes wonderfully for later use.
Jump to:
What is Pumpkin Puree?
It's the pureed pumpkin flesh. It's what you'd purchase in cans that becomes a key seasonal ingredient in many dishes.
It is the star ingredient in the classic Thanksgiving pie filling, along with all your other favorite fall recipes.
It's easy and satisfying to make your own pumpkin puree.
Great Nutritional Value
Pumpkins are an anti-oxidant, anti-inflammatory food. This makes them a great addition to one's diet to keep a body healthy.
They also have a high amount of Vitamin C.
The seeds are high in protein so when carving Jack o Lanterns save them!
I have the best roasted pumpkin seeds method to avoid wrestling with the squash goop.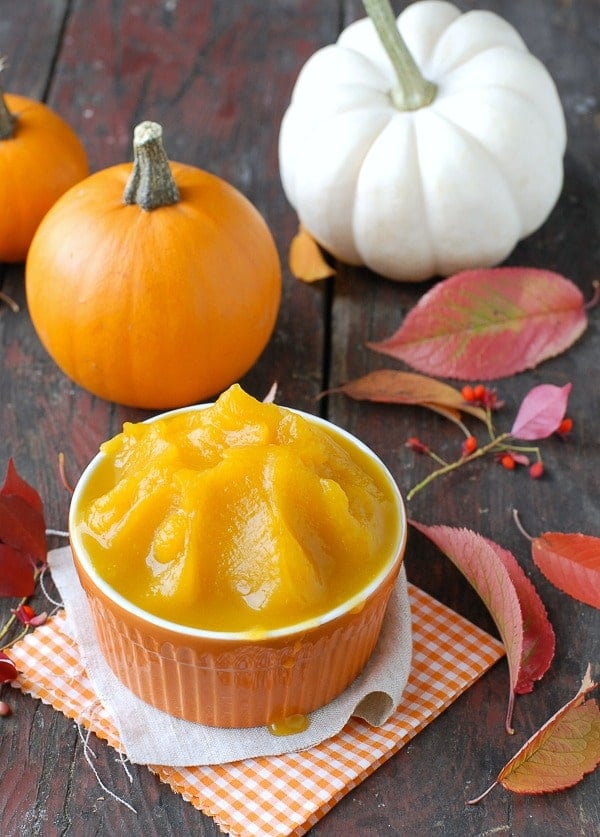 Best Pumpkins to Use for Making Puree?
The type of pumpkin I use is Sugar Pumpkin or Pie Pumpkins.
They are a smaller pumpkins with sweeter flesh.
Though small, sugar pumpkins yield a large amount of puree.
Fresh pumpkins are abundant in the fall in grocery stores and the Farmer's Market. It's easy to find these varieties.
They are superior to most Jack o Lantern giant pumpkins for this recipe.
How Much Puree Does One Pumpkin Yield?
The yield is highly dependent on its size and its meatiness.
I recently made puree using a seven-inch diameter pumpkin with flesh walls about 3/4-inch thick. The yield was 3 cups of puree.
EXAMPLE: The pumpkin shown in the recipe process photos below was in a 15-inch by 10-inch baking pan. It had a yield of 4+ cups of 'meat' before pureeing.
As a rule of thumb one 3-pound size should yield the same volume as one can of store bought puree.
How to Make it – Step by Step
Though it takes some time to cook, making the fresh pumpkin puree at home is very easy!
For a detailed printable recipe refer to the recipe card at the end of the blog post.
STEP 1. Preparation.
Preheat the oven to 375 degrees.
Slice the pumpkin in half (I suggest using a long sturdy serrated knife) (photo 1).
Scoop out the seeds and membrane (use a large kitchen spoon OR a special scooper for this task); (photo 2).
Reserve the seeds for making Roasted Seeds.
NOTE: don't worry about removing all the membrane. After it's cooked it will be very easy to remove before scooping out the flesh to puree.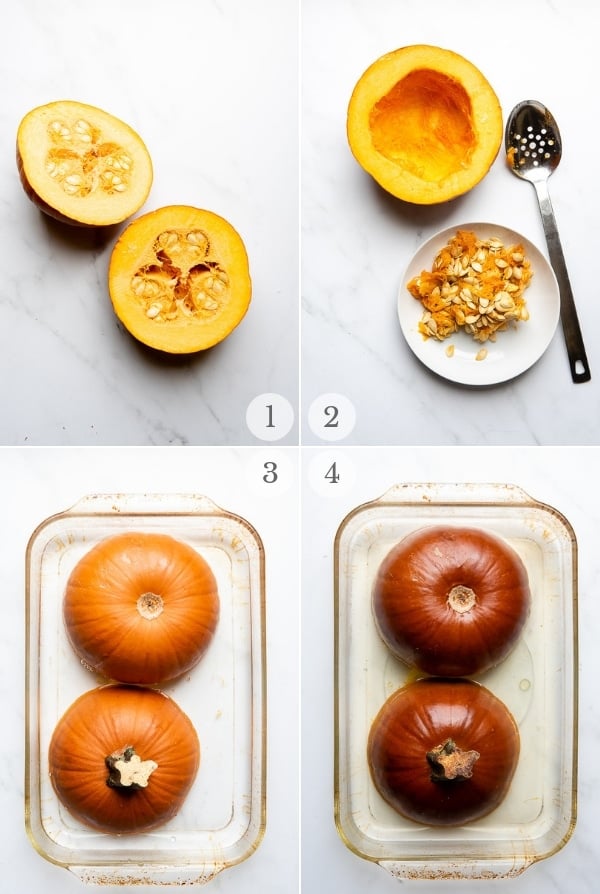 STEP 2. Cook the pumpkin.
Place the pumpkin halves cut-side down in a large baking dish filled with 1-inch of water (photo 3).
Bake for 45-90 minutes (photo 4) depending on the size of the pumpkin.
Example: a 3-pound size will cook for about 45 minutes, a 4-pound size 60-70 minutes.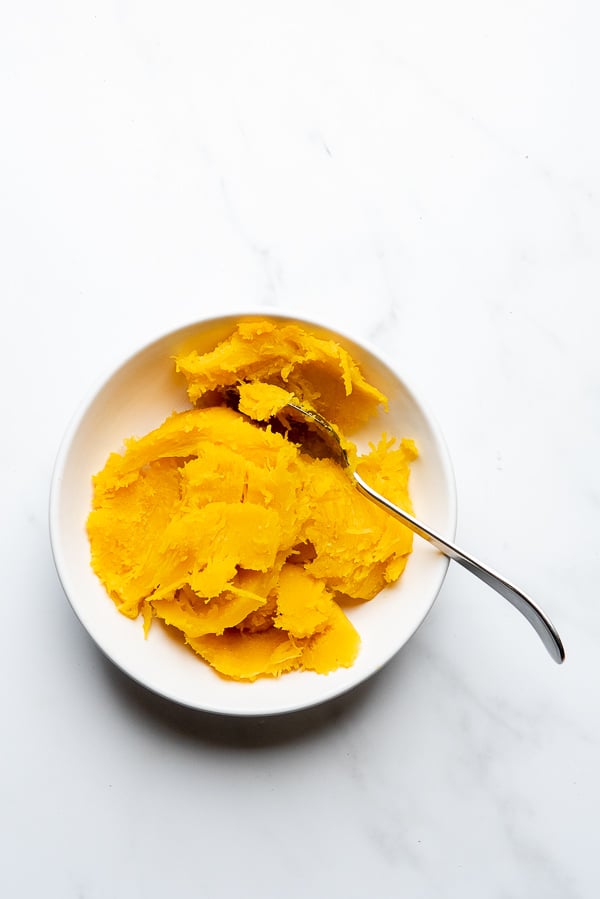 STEP 3. Make the Puree.
When the cooking is done (the flesh of the pumpkin will be soft, easily separated from the pumpkin skin and be fork tender), remove from the oven.
Allow to cool until it can be handled comfortably. Scoop out the flesh and process into a smooth puree in a food processor or blender. A potato masher can also be used.
Supplies Needed
How to Use it
It adds a creamy texture to soups and stews, is wonderful in breads without lending an overpowering flavor.
And of course stars in many desserts recipes at this time of year.
Some Favorite Recipes to Use it
How Long Does Homemade Puree Last in the Refrigerator?
Keep in a sealed container and will last 5-7 days in the refrigerator.
How to Freeze it
Freeze the puree for future recipes or to use in the off season rather than buying it canned.
Step-by-Step
Pour the puree into an ice cube tray
Freeze fully
Then transfer the frozen puree cubes to a larger freezer container or bag
It is a very easy way to use small amounts and to get ahead on your Thanksgiving ingredients!
When frozen in an airtight container, the puree will last 6-8 months.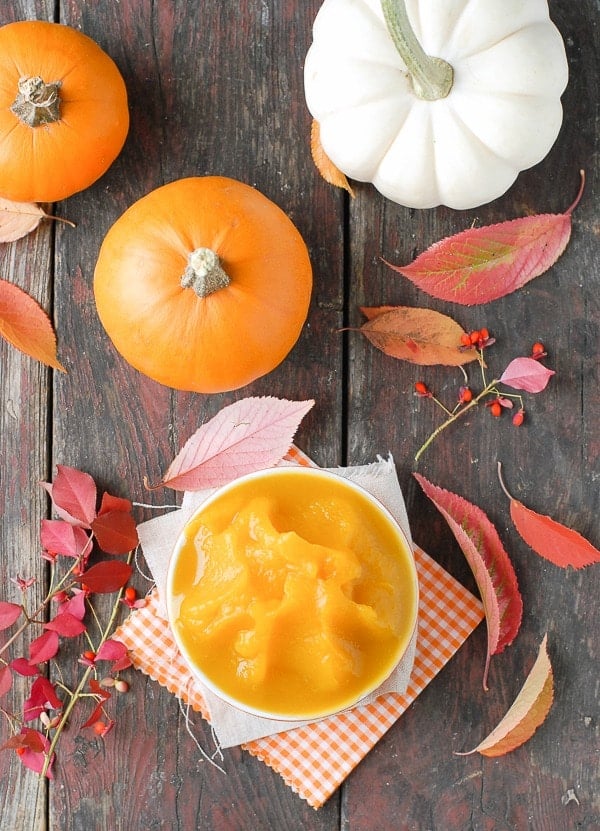 More Delicious Recipes to Try!
Did you make it? Please RATE THE RECIPE below!
Please
SUBSCRIBE
and
FOLLOW ME
on
FACEBOOK
,
TWITTER
,
INSTAGRAM
and
PINTEREST
!
Recipe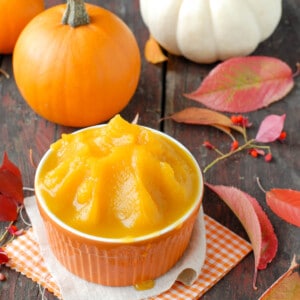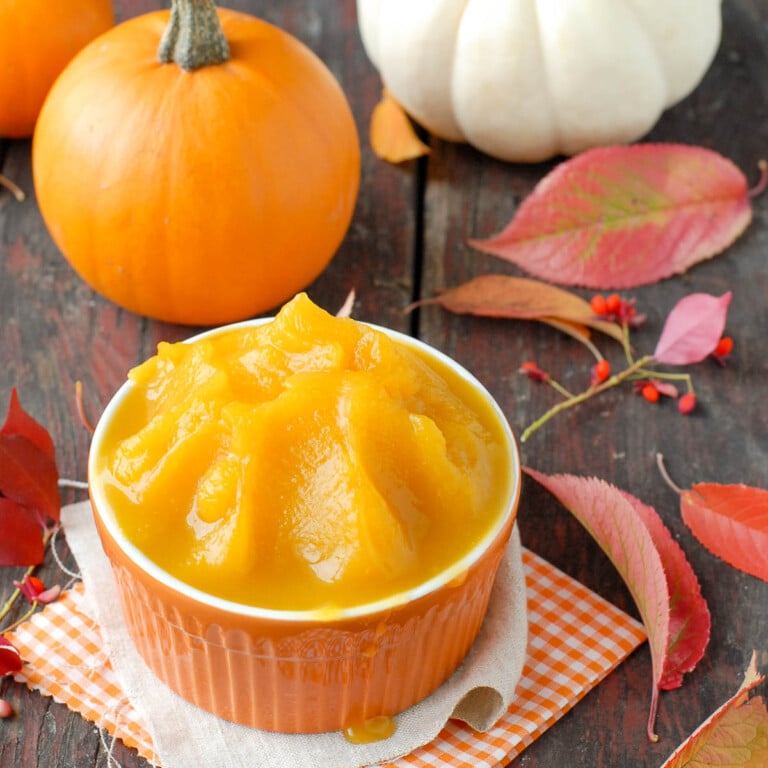 DIY Homemade Pumpkin Puree
Scrap the canned puree and make delicious Homemade Pumpkin Puree! It's easy to make when pumpkins are available and freezes great for future use. Use it anywhere canned pumpkin puree is called for.
Print
Save Recipe
Recipe Saved!
Pin
Rate
Servings:
3
cups estimate (dependent on pumpkin size; see below for an example)
Ingredients
1

Sugar Pumpkin

(or other variety designated best for eating); select a size when halved would fit into a large baking dish

Water
Instructions
Place pumpkin halves cut side down in a large baking dish. Fill dish with 1 inch of water. Place into oven and bake for 45-90 minutes; until inside of pumpkin is soft (dependent on the pumpkin size and thickness).

Remove from oven. Let cool to handle. Scoop out inside into a food processor or blender and pulse until pureed.
Notes
The yield is highly dependent on the pumpkin's size and its meatiness. As a guide, I made puree using a seven inch diameter pumpkin whose flesh walls were about 3/4-inch thick which yielded 3 cups.
Nutrition
Calories:
117
kcal
|
Carbohydrates:
29
g
|
Protein:
4
g
|
Fat:
0
g
|
Saturated Fat:
0
g
|
Cholesterol:
0
mg
|
Sodium:
4
mg
|
Potassium:
1541
mg
|
Fiber:
2
g
|
Sugar:
12
g
|
Vitamin A:
38590
IU
|
Vitamin C:
40.8
mg
|
Calcium:
95
mg
|
Iron:
3.6
mg
Originally published October 2014