Chewy Ginger Snap Cookies have a bold ginger flavor and irresistibly chewy texture. They are fun and easy to make at home!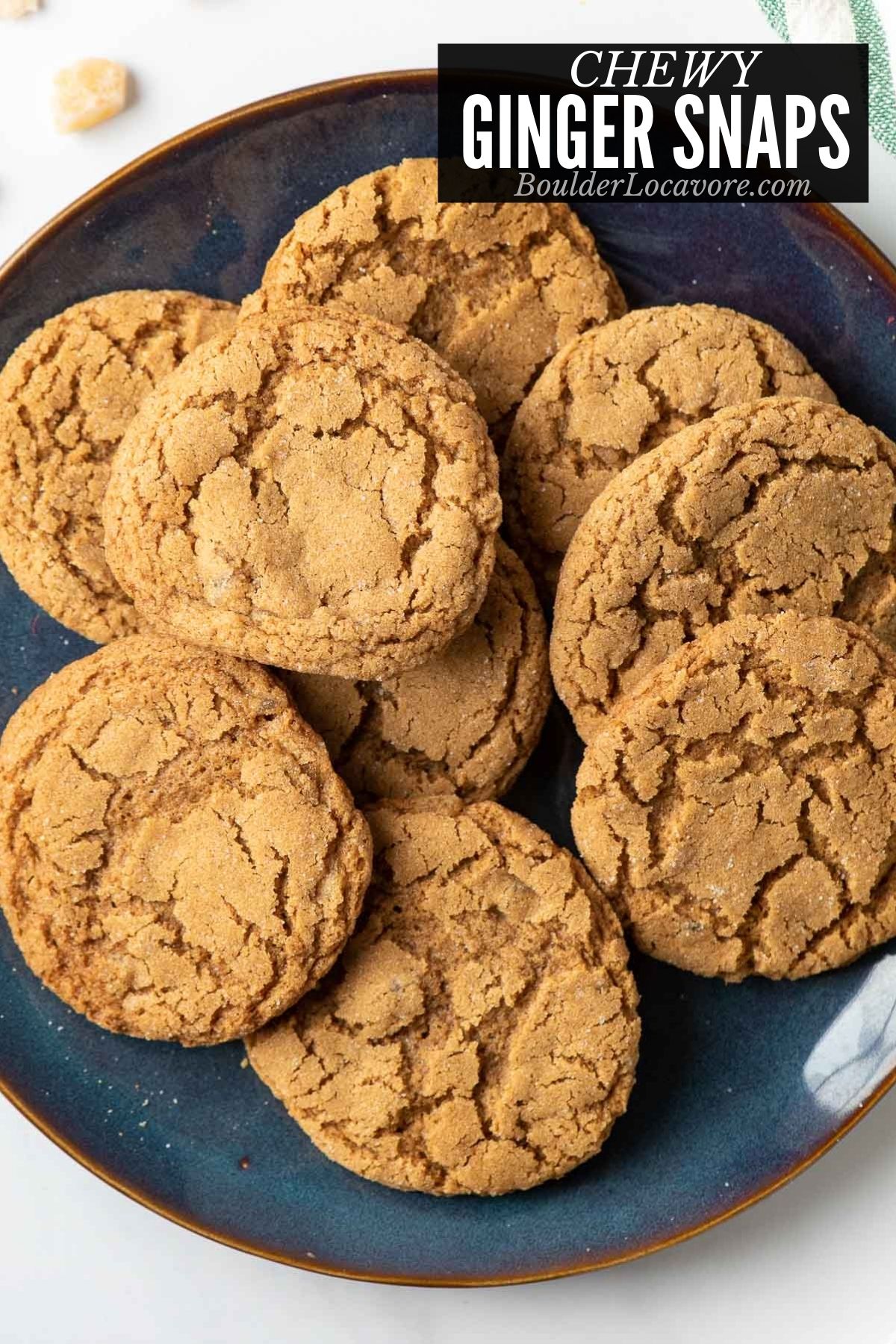 Gingersnap cookies are unforgettable. With a big, bold flavor of ginger and other spices, they really stand out making them a favorite holiday cookie for cookie exchanges.
Whether eating them on their own with a cup of coffee or making them into something else, like a pie crust or cheesecake crust, they are a delicious and versatile cookie.
This gingersnap cookie recipe is based on a vintage recipe and has been updated for a perfect combination of flavor, texture and appearance. We add a powerhouse flavor ingredient that really makes this a favorite cookie recipe.
They also can be made into a fully chewy cookie or a cookie with a crisp edge and chewy middle with one ingredient change!
Jump to:
What are Ginger Snaps?
Ginger Snaps, also known as Gingersnaps, Ginger Biscuits or Ginger Nuts in the UK, are cookies flavored with powdered ginger, as well as other spices such as cinnamon and usually molasses. They have a strong flavor of ginger.
When purchased in the store they are a brittle cookie with a distinct 'snap' when biting into them or breaking them.
The brittle texture makes them perfect for grinding into crumbs for other uses along with dunking in coffee or just eating them.
Ginger Snaps are usually a small reddish-brown cookie with crackly tops.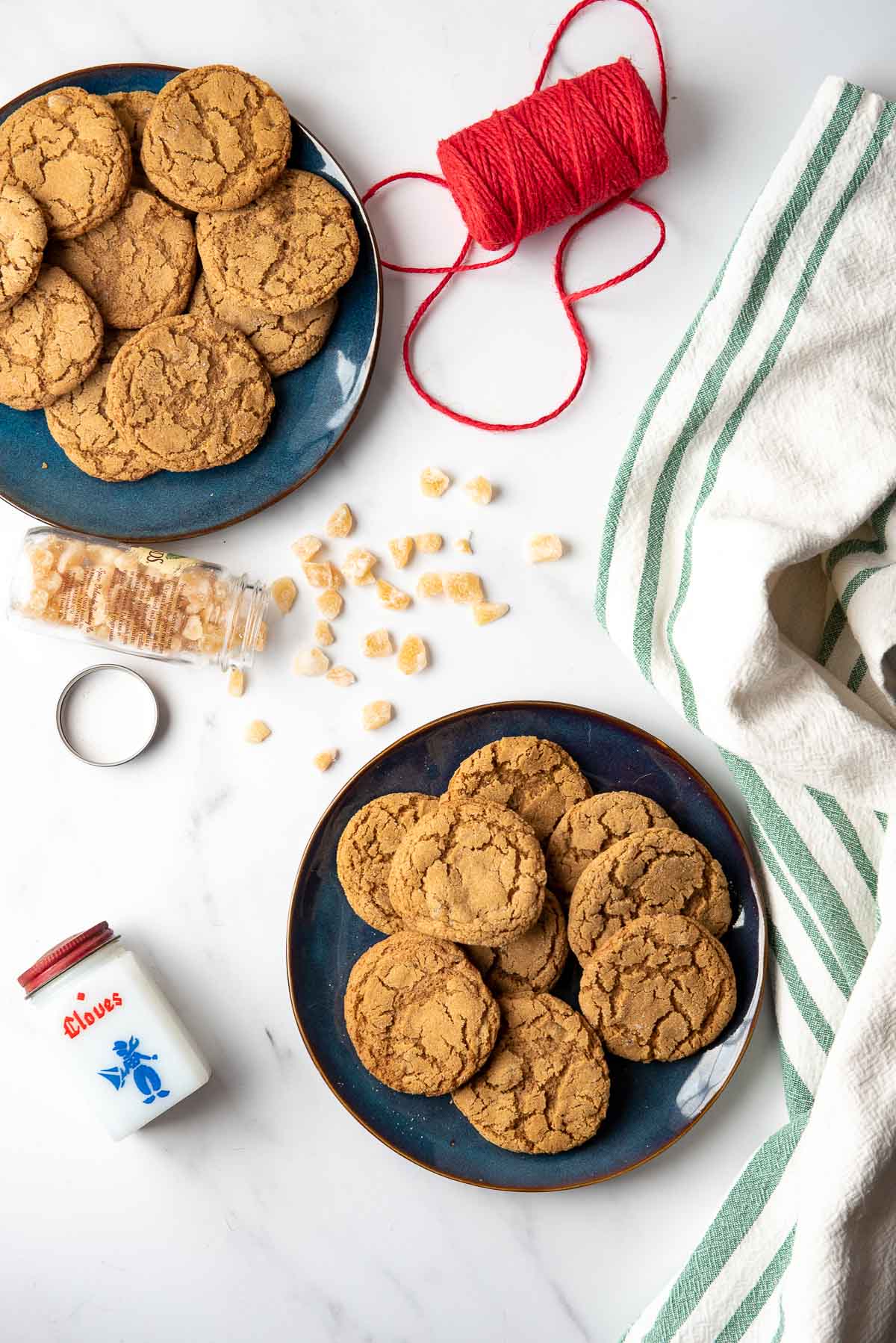 Why you'll love this gingersnap cookie recipe
The cookies have a soft chewy texture unlike brittle hard gingersnaps from the store.
The texture is pleasing and easier to eat then their brittle counterpart.
In addition to the classic spices, these cookies also have diced crystallized ginger with bring another level of bold ginger flavor to the cookie.
They stay soft in an airtight container at room temperature.
Easy recipe.
The ginger flavor gets stronger the day after baking.
Recipe Ingredients Notes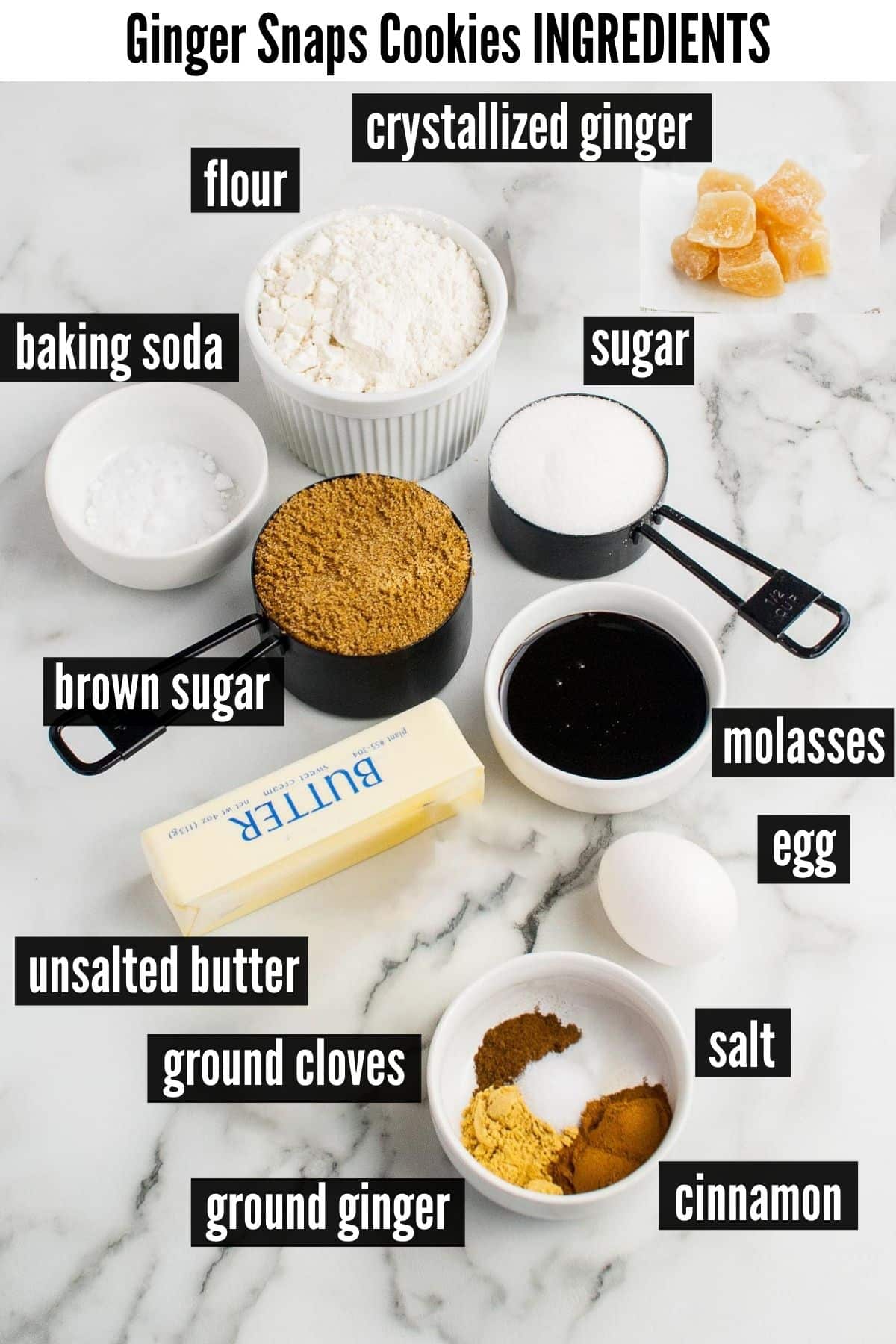 The ingredients for Ginger Snap cookies are much the same as other cookies. The spices and molasses are what give them their classic flavor.
Unsalted Butter. Start with softened butter.
Sugar. We use a combination of equal amounts of granulated sugar and light brown sugar.
Molasses. Use regular unsulphured molasses (like 'Grandma's' brand) not blackstrap molasses.
Baking Soda. See the notes on baking soda vs baking powder below. The cookies can be made with 2 teaspoons baking soda for the chewiest results or a combination of the two for a crispy outer area and chewy middle.
All Purpose Flour. Regular or gluten-free measure-for-measure flour blend can be used. For gluten-free baking we always use Bob's Red Mill gluten-free 1-to-1 flour blend.
Spices. The classic spices to give gingersnaps their flavor are ground cloves, ground ginger and cinnamon.
Kosher Salt. We recommend kosher salt as it has a better less salty flavor than table salt.
Crystallized Ginger. This is the powerhouse ginger ingredient that separates this cookie recipe from the rest! More below.
Baking Powder vs Baking Soda
This recipe was a vintage recipe from a magazine and originally included only baking soda which is typical in gingersnaps recipes. The baking soda makes the ginger snap cookie chewy instead of brittle with a snap.
We tested a number of variations to get the cookies 'just right' for flavor, texture and appearance.
In my recipe testing I found the cookies spread more when using baking soda. Baking powder helps them keep their shape.
If using a mix of baking powder and baking soda the end cookie is well formed, nicely crackles with a crisp area around the edges and chewy middle.
If you want a truly chewy ginger snap use all baking soda. For a more uniform cookie with a combination of snap and chewy center use half baking soda and half baking powder.
Crystallized Ginger
Also called 'candied ginger', this form of ginger has been cooked in a sweet simple syrup and rolled in sugar.
It has a gummy to semi-hard texture and comes in small pieces in a spice bottle or in a bag.
You'll find this ginger with the spices or baking supplies at the grocery store. Keep it well sealed to prevent it drying out and becoming too hard to chop.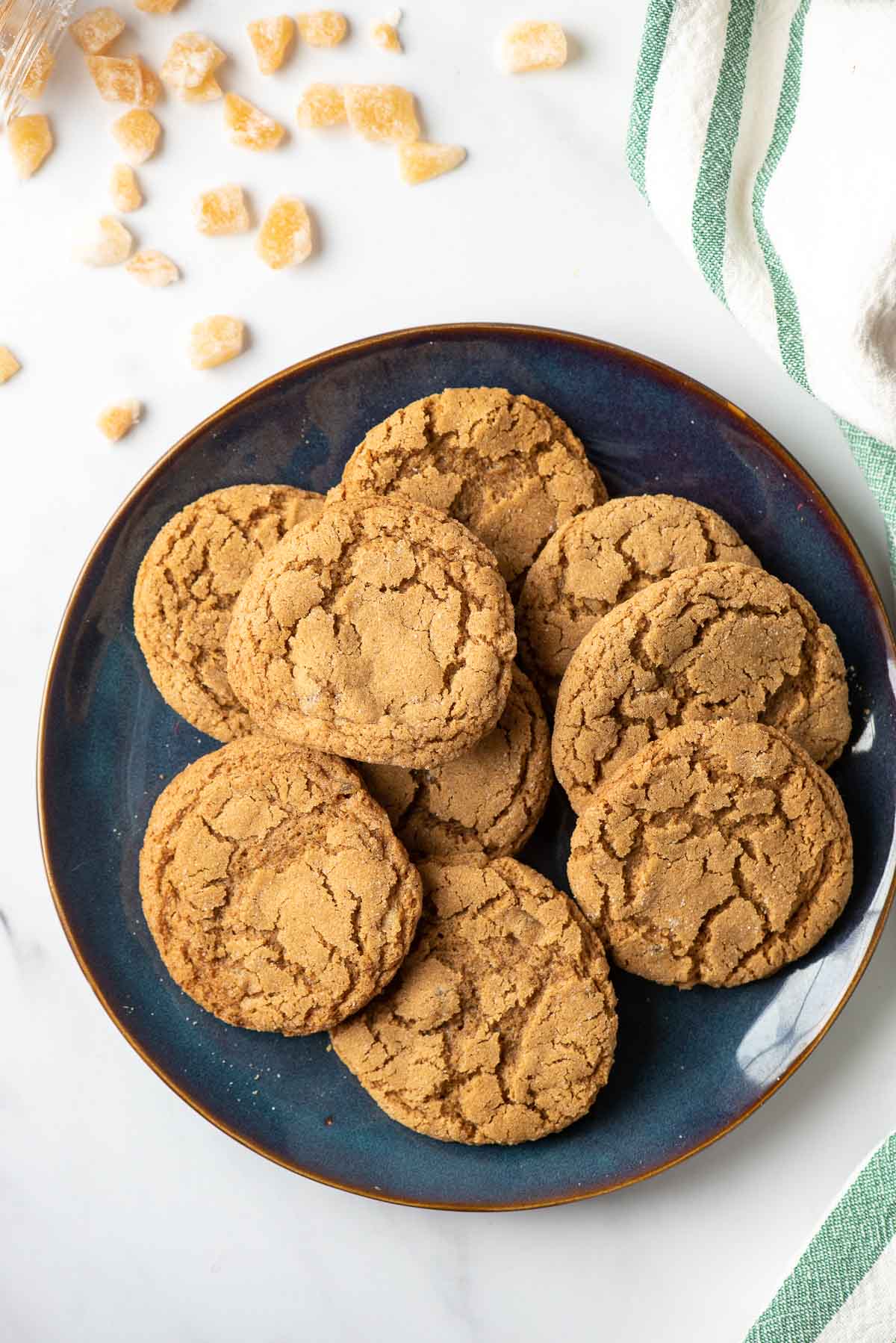 Making them Gluten-Free
The only ingredient that is not naturally gluten-free is the flour. I prefer to use a measure-for-measure style gluten-free flour blend.
These gluten-free flour blends are designed to swap into traditional recipes and produce the same results as all purpose gluten flour.
There are multiple brands that make this type of flours. Our recommendation and the only GF flour we now use for baking recipes is Bob's Red Mill Gluten-Free 1-to-1 Flour.
How to Make Chewy Gingersnaps – Step-by-Step
STEP 1. Make the dough
In a large bowl combine the baking soda (and baking powder if using), flour, and spices. Whisk to combine (photo 1).
In a second bowl using a hand mixer (or bowl of a stand mixer fitted with a paddle attachment) cream together the softened butter, brown sugar and granulated sugar on medium speed (photo 2).
Slowly beat in the molasses and egg to the mixture (photo 3). Do not overmix.
Slowly add the dry ingredients beating on low speed to fully incorporate (photo 4-5). Stir in the crystallized ginger.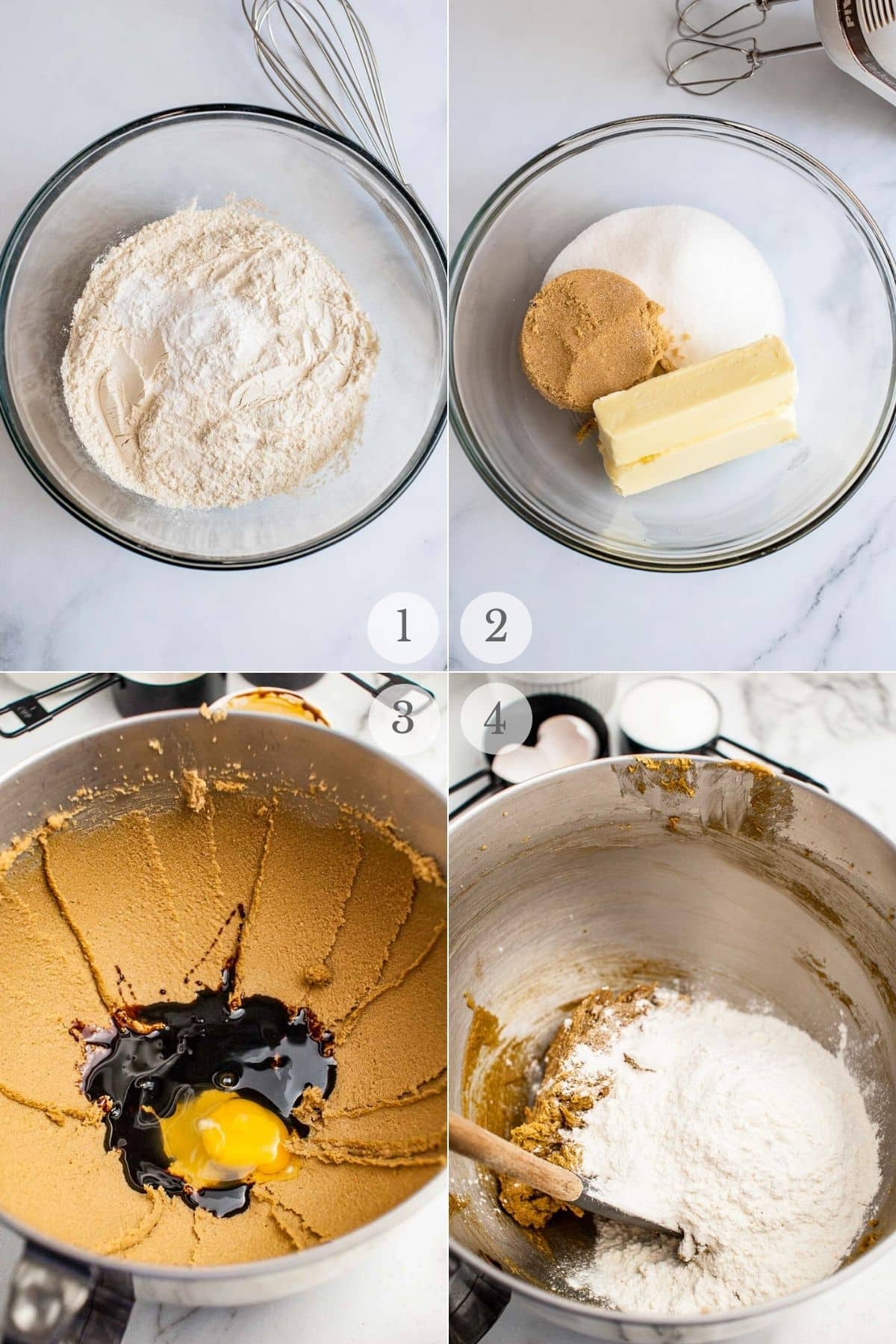 STEP 2. Chill dough
Cover with plastic wrap and chill the dough until stiff (1-2 hours).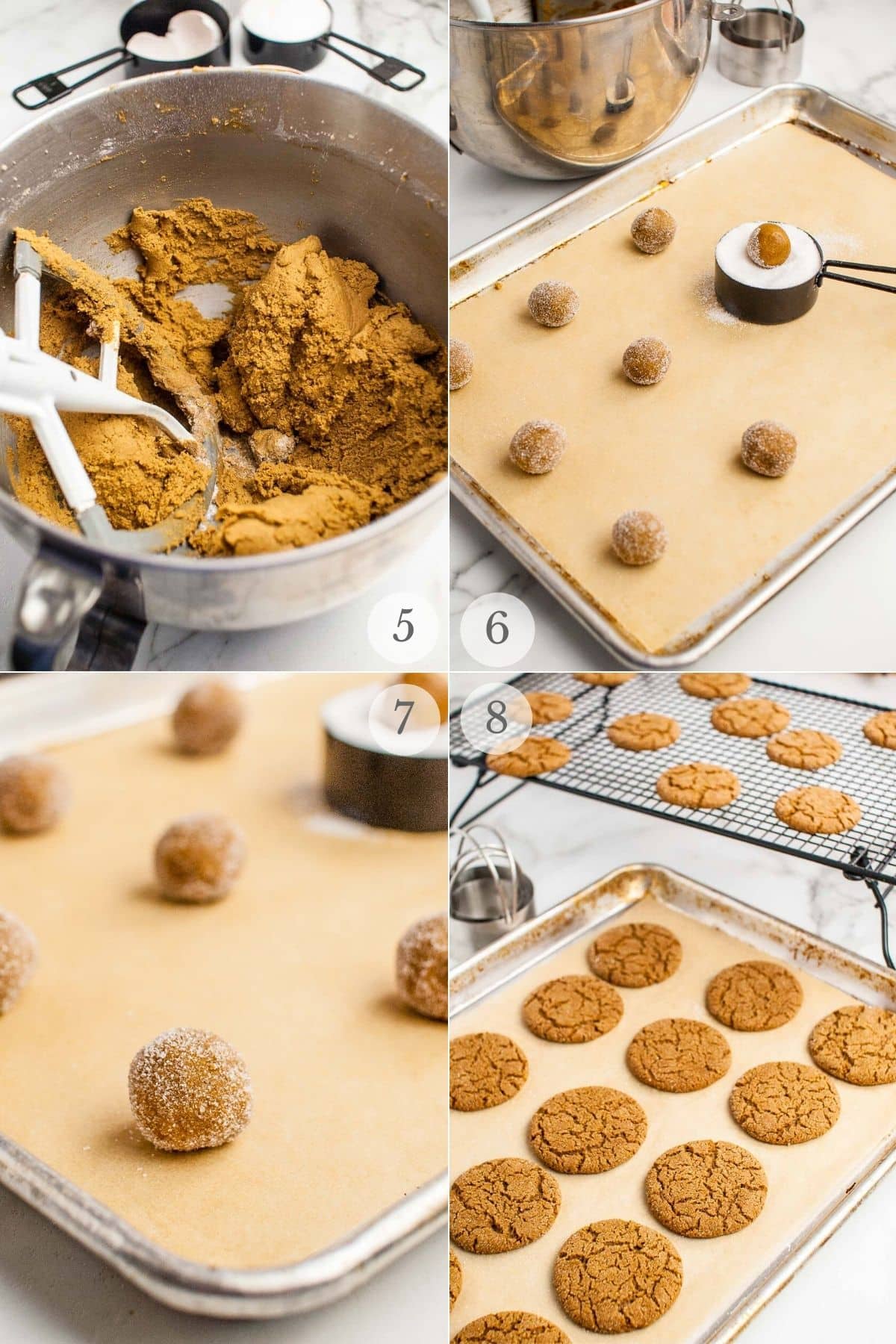 STEP 3. Make the cookies
Preheat the oven to 375 degrees. Line a rimmed baking sheet with parchment paper.
Using a 1-tablespoon cookie scoop to scoop gingersnap cookie dough into1-inch balls (alternatively you can shape dough by hand). Roll dough balls between palms of your hands to smooth (photo 6).
Roll each ball of dough in granulated sugar (photos 6-7). Place on prepared baking sheet 2 inches apart (photo 7).
STEP 4. Bake
Bake cookies for 8-10 minutes. After baking, allow cookies to sit on baking sheet for 5 minutes then transfer to a cooling rack to cool completely (photo 8).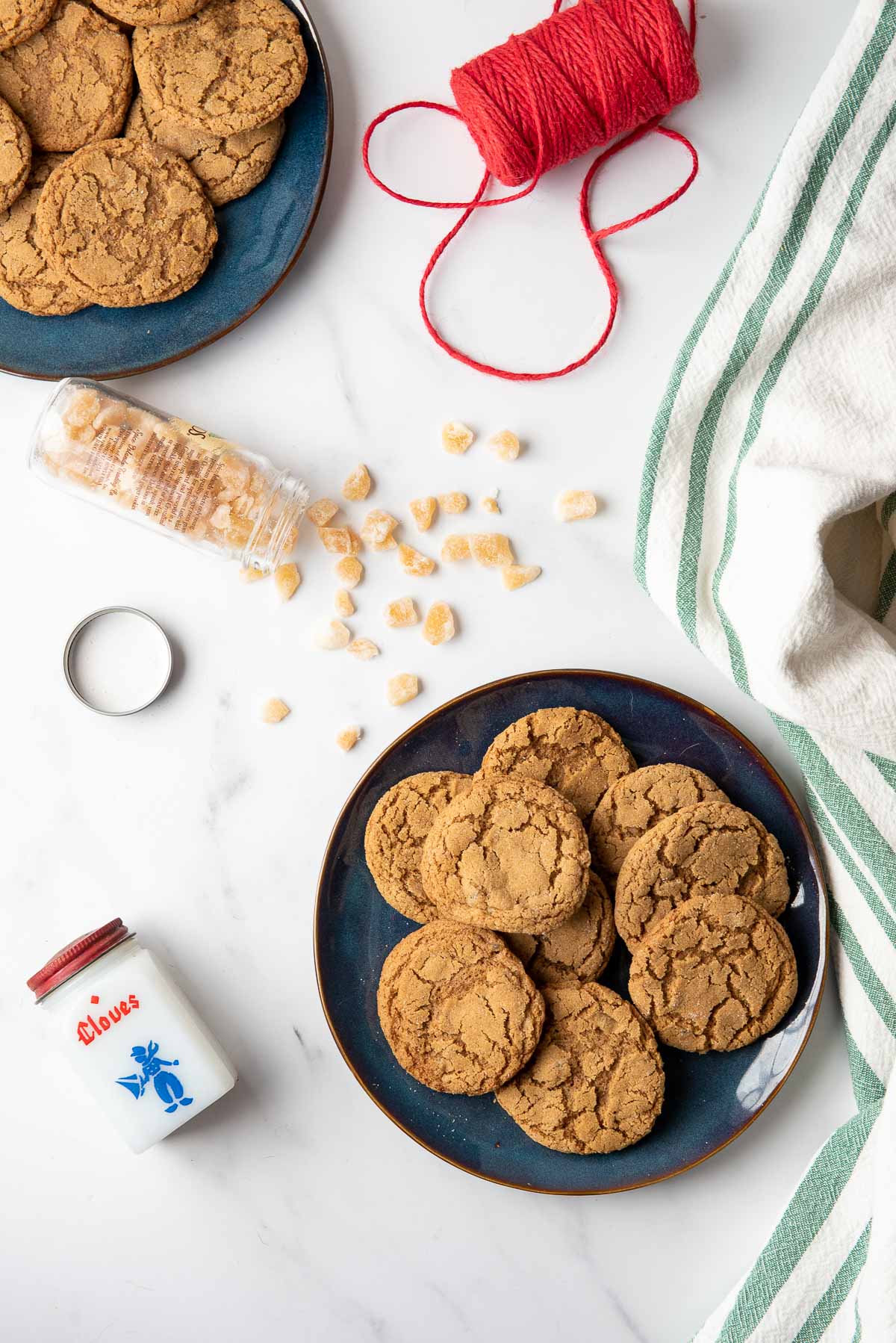 Why Chill the Cookie Dough?
Chilling cookie dough does three important things:
Solidified the fat so when baked the cookies don't spread as much. Chilled butter won't liquefy as quickly as room temperature butter. So the cookies hold their shape better.
Makes the flavor more concentrated. Sugar is absorbent and will soak in the flavors when chilled. This creates a more flavor-dense cookie when baked.
Creates a chewier cookie. When dough has been chilled it will create a more textured cookie rather than a soft, doughy texture.This also has to do with the sugar absorbing other ingredients during the chilling period.
How to Store
In an airtight container at room temperature up to 2 weeks.
Can also be frozen for up to 6 months.
More recipes you'll love!
Recipe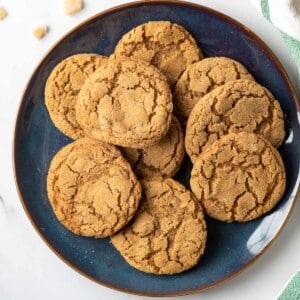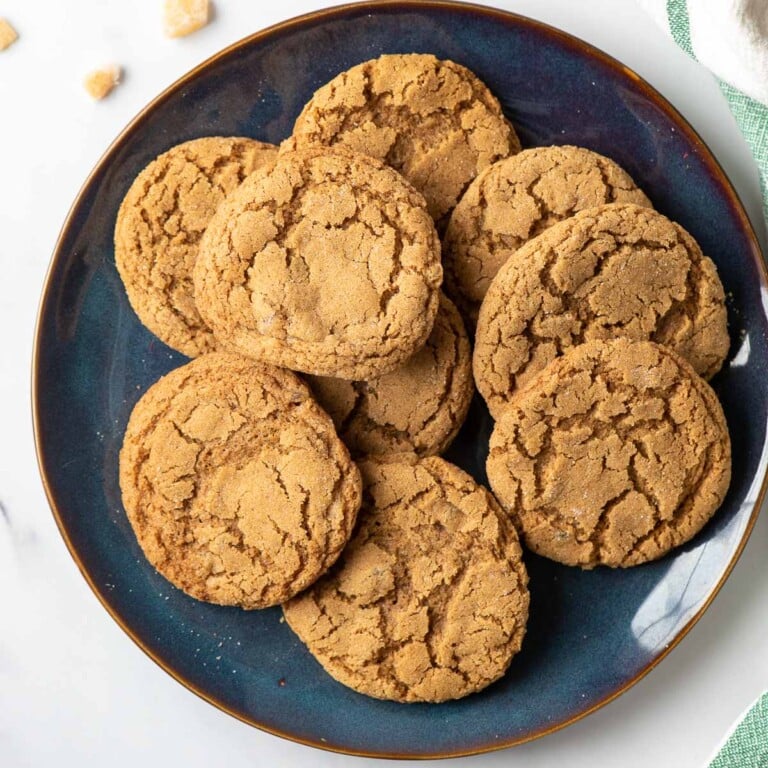 Chewy Ginger Snaps cookies
A beautiful soft, chewy version of the traditional Ginger Snap delivering the spices of fall in a moist cookie. Option included to make a crisp edge chewy middle version too!
Print
Save Recipe
Recipe Saved!
Pin
Rate
Ingredients
2

teaspoons

Baking Soda

(see Notes below)

2 1/4

cups

All Purpose flour

regular or gluten-free measure-for-measure flour blend

½

teaspoon

ground Cloves

½

teaspoon

ground Ginger

2

teaspoon

ground Cinnamon

½

teaspoon

Kosher Salt

¾

cup

unsalted Butter

softened

1/2

cup

granulated Sugar

(plus 1/2-3/4 cups extra for rolling the cookies before baking)

1/2

cup

light Brown Sugar

¼

cup

Molasses

1

Egg

room temperature and lightly beaten

3

ounces

Crystallized Ginger

diced
Instructions
In a medium mixing bowl, stir together baking soda (and baking powder if using – see NOTES below), flour, cloves, ginger, cinnamon and salt. Set aside.

In a second mixing bowl, using a hand held mixer or stand mixer fitted with paddle attachment cream the softened butter. Add the granulated sugar and brown sugar; beat to until light and airy (3-5 minutes).

Add the molasses and egg; beat on low to combine (do not over mix).

Slowly add the dry mixture to the wet mixture, beating on low speed, adding a small amount and allowing it to incorporate before adding more.

Stir in crystallized ginger.

Cover and chill in the refrigerator for 1-2 hours, or until dough is fully chilled and stiff.

Ten minutes before the hour chilling time is done, preheat the oven to 375 degrees. Line a rimmed baking sheet with parchment paper.

Place enough sugar to roll the dough in a small bowl (1/2 cup). Use a 1-tablespoon cookie scoop to scoop 1-inch dough balls. Roll the dough balls between the palms of your hands to smooth. Place in sugar and roll the dough ball to fully cover.

Place dough balls on the prepared baking sheet allowing 2 inch spacing between them. Bake for 8-10 minutes. Remove from oven.

Allow cookies to sit on the baking sheet for 5 minutes then transfer to a cooling rack to cool for 10 minutes or until set.
Notes
Ingredient Notes
For the chewiest cookie use only baking soda. The cookie are a bit thinner but remain chewy.
For a cookie with crisp edges and chewy middle use 1 teaspoon baking soda and 1 teaspoon baking powder. This combination creates a cookie that is slightly taller and with beautiful crackly tops.
Recipe Testing Notes
This recipe has been tested at sea level, at altitude (5,400 feet), with regular and gluten-free Bob's Red Mill 1-to-1 flour. If baking above 5,400 feet altitude adjustments may be necessary.
Storing and Freezing
Store the cooled cookies in an airtight container for up to 2 weeks at room temperature. They can also be frozen in an airtight container or freezer bag for up to 6 months. Thaw at room temperature.
NOTE: storing the cookies in the refrigerator will make them stiff and brittle.
Nutrition
Calories:
91
kcal
|
Carbohydrates:
14
g
|
Protein:
1
g
|
Fat:
4
g
|
Saturated Fat:
2
g
|
Polyunsaturated Fat:
1
g
|
Monounsaturated Fat:
1
g
|
Trans Fat:
1
g
|
Cholesterol:
13
mg
|
Sodium:
88
mg
|
Potassium:
46
mg
|
Fiber:
1
g
|
Sugar:
8
g
|
Vitamin A:
113
IU
|
Vitamin C:
1
mg
|
Calcium:
11
mg
|
Iron:
1
mg
Originally published: September 17, 2013
Ginger Snaps are a delicious, classic cookie with bold spicy flavors you'll love!