Creamy Lemon Pie is a sweet and tangy bright dessert recipe in any season. This no bake recipe is fast and easy. Everyone loves it and asks for it on repeat!

Creamy Lemon Pie is always a dessert favorite any time of the year.
In the winter the bright flavor and sunny color are a welcome escape from the cold.
In the summer, the cool, custardy lemon pie filling is refreshing.
This no bake Lemon Pie is easy and fast to make too!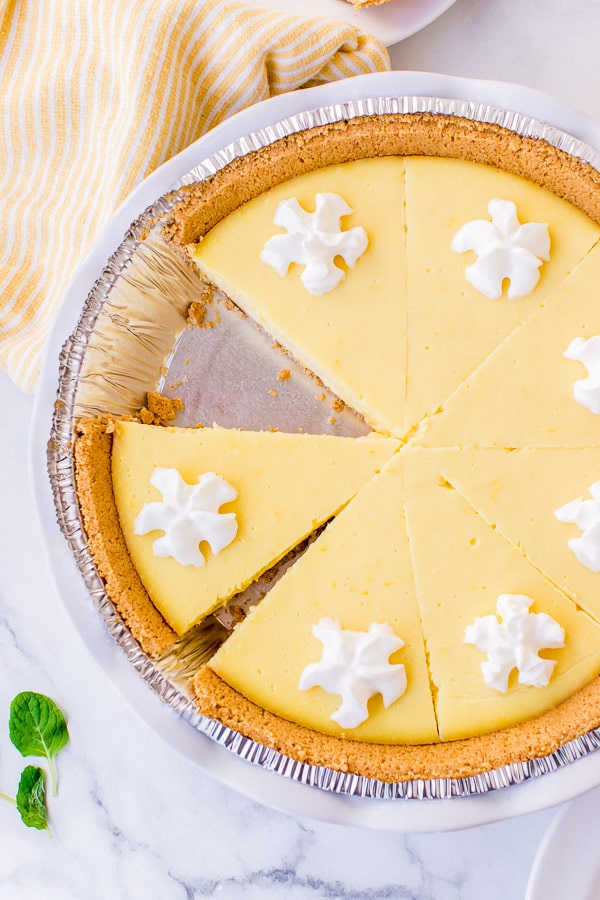 Lemon Pie Ingredients
It's a short list of wholesome ingredients!
All ingredients are easy to find. You may even have them in your kitchen now!
Pre-prepared Graham cracker crust
Granulated sugar
Cornstarch
Lemon zest
fresh Lemon Juice
Egg yolks
Butter (salted)
Vanilla Extract
Make it Gluten-Free
To make the pie gluten-free, use a gluten-free free pie crust.
All other ingredients are naturally gluten-free.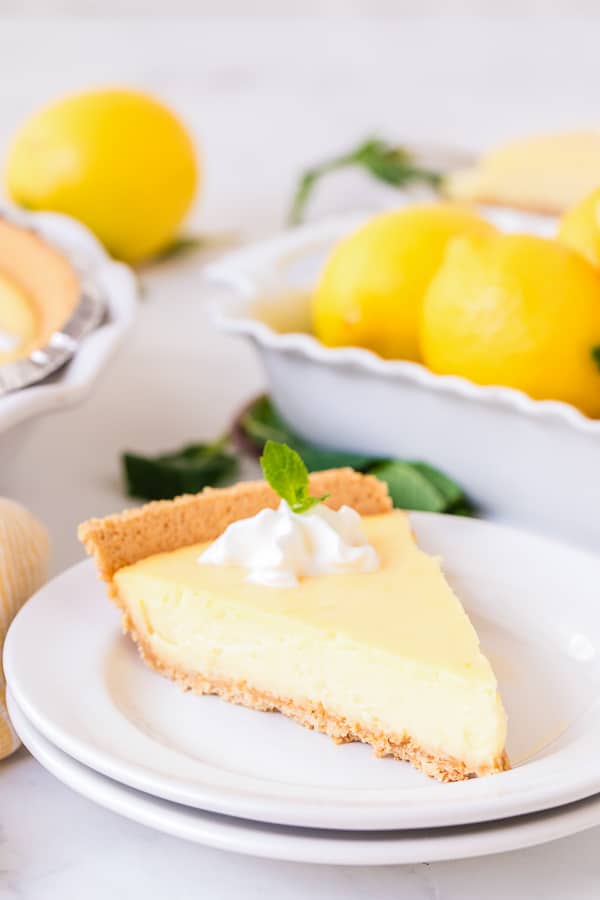 Ingredient Notes
Pie Crust
Using a purchased graham cracker pie crust is a delicious and a TIME SAVING ingredient choice!
A regular or gluten-free graham cracker crust may be used.
Also if you have a favorite 'from scratch' homemade pie crust you would rather use, go for it!
If you prefer a traditional pie crust (store bought or homemade), blind bake a flour pie crust for this recipe.
Ensure the crust is completely cooled before pouring the lemon filling into it.
Use Fresh Lemon Juice
Nothing beats the flavor of freshly squeezed lemon juice.
AND it tastes different than lemon juice concentrate.
If you prefer to substitute prepared lemon juice, my recommendation is a fresh style lemon juice over lemon juice concentrate.
Most grocery stores will carry a quality brand or have their own branded lemon juice.
Use fresh lemon zest in this pie, even if you are using a lemon juice concentrate for the best flavored lemon pie filling.
Pro Tips for Easy Zesting and Juicing
Here are some tips I've learned over the years for easy zesting and citrus fruit juicing.
Place the lemons in the microwave for 10 seconds before juicing. This will release more juice!
Using a great zester makes all the difference. I LOVE and use this zester all the time. It will zest citrus in seconds and feels like zesting butter (seriously).
Juicing can be done by slicing the lemon in half and squeezing through a strainer to catch seeds.
Other great juicing tools I've used are this handheld juicer and a traditional glass citrus reamer.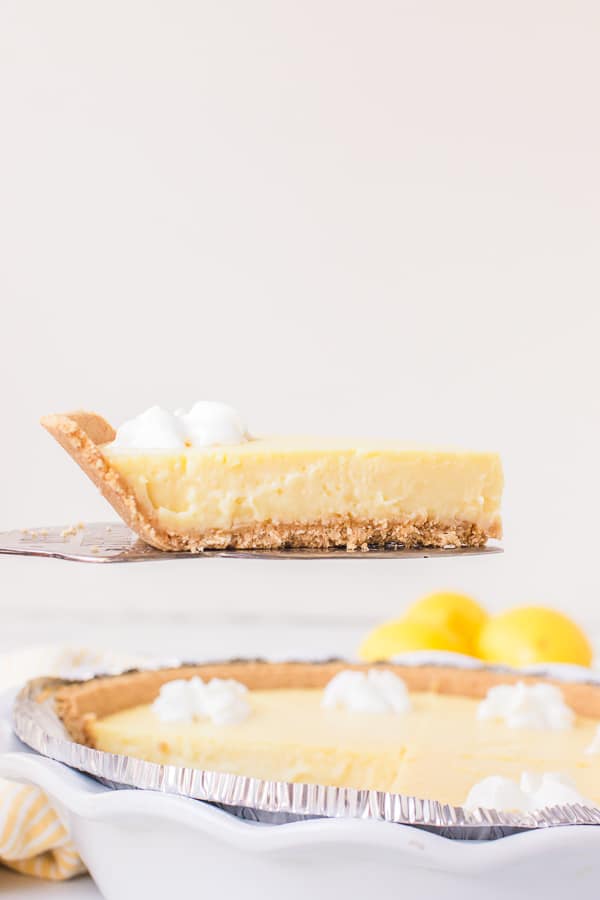 How to Make Lemon Pie – Step-by-Step
STEP 1: In a medium non-reactive saucepan combine the sugar, cornstarch, half and half, lemon zest, and lemon juice (photos 1-4). Cook over medium-high heat, stirring often, until mixture starts to bubble.
When cooking with an acidic ingredient like lemon juice it's important to use a pan made of a material that will not react chemically to the acid.
Here are examples of non-reactive pans (the RIGHT type of pan to use): stainless steel, glass, ceramic or one that is coated with enamel.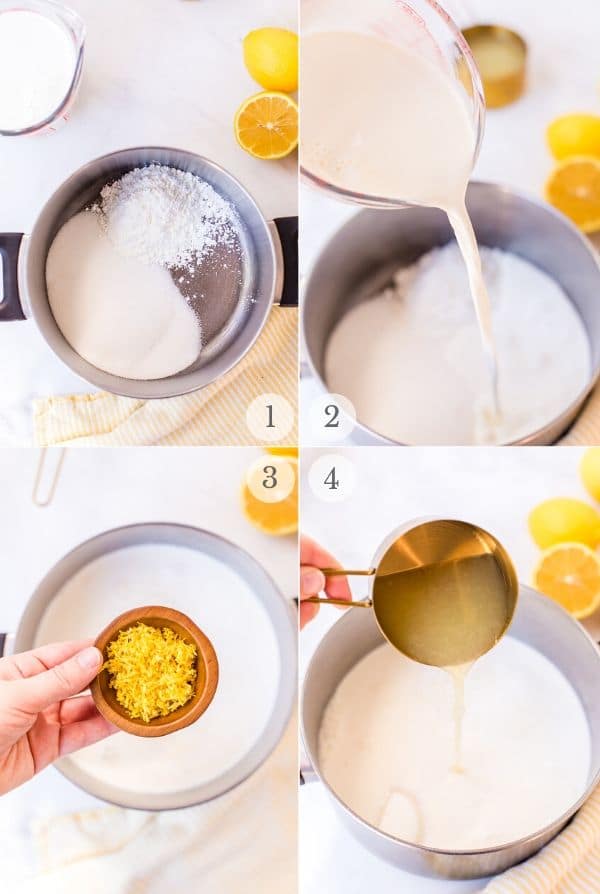 STEP 2: Reduce heat to medium and cook for an additional 1 minute, whisking constantly DO NOT OVER COOK (photo 5).
STEP 3: 'Temper' egg yolks. Add a spoonful of hot lemon mixture in to the egg yolks, stirring constantly. Repeat with an additional spoonful, stirring constantly (photo 6).
What is Tempering Egg Yolks?
If cold egg yolks and hot cream are combined, you can guess what will happen!
The cream will cook the egg yolks and curdle them.
To prevent this happening, especially when making custard or ice cream recipes, the yolks are 'tempered' first.
How to Temper Egg Yolks
This means a little bit of the hot mixture is added to the egg yolks and stirred constantly to prevent the yolks from cooking.
It cools the hot custard mixture and gently warms the egg yolks so they are similar temperatures preventing cooking of the yolks.
After the yolks have been tempered, they can safely be added to the large portion of the custard without worry about them cooking.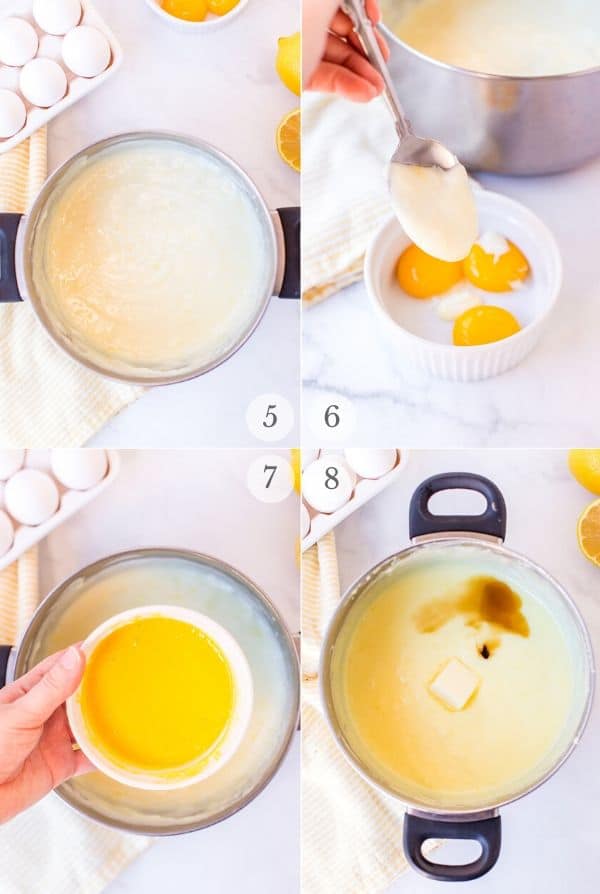 STEP 4: Add the tempered yolks back to the pan (photo 7). Cook an additional 90 seconds, stirring constantly. Remove from heat.
STEP 5: Stir in butter and vanilla (photo 8).
STEP 6: When mixture is smooth, pour into the pie crust. Chill for a minimum of 2 hours.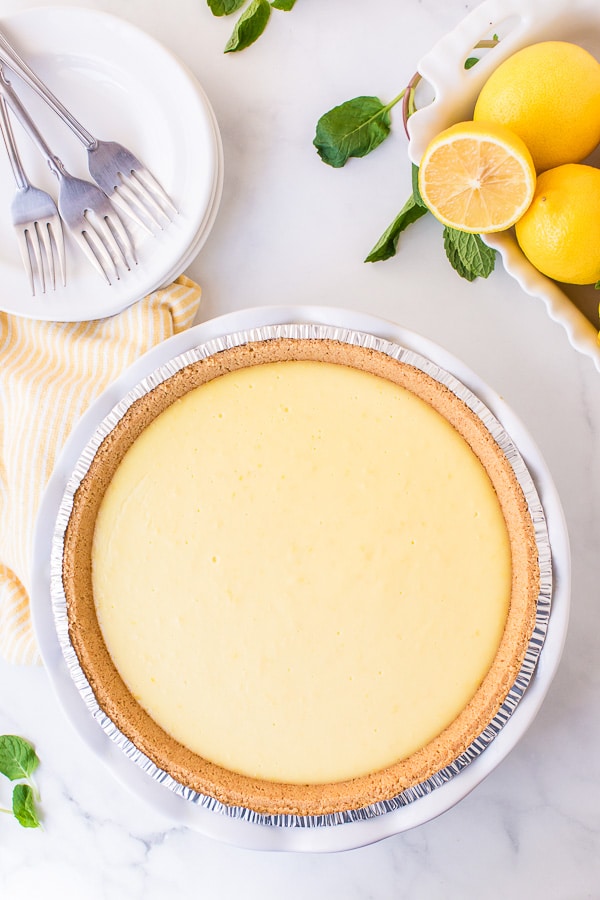 Can Lemon Pie Be Made Ahead?
I recommend making this pie no earlier than 2 days ahead of time for best results.
When I make this pie, I tend to make it the night before and let it chill overnight.
That way all I need to do is garnish it with whipped cream and serve it.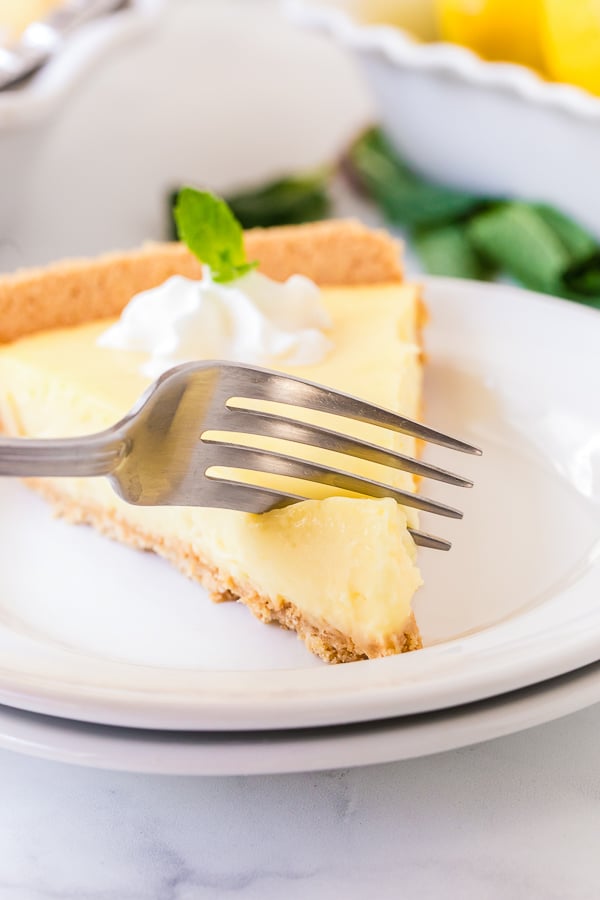 Storing Lemon Pie
The pie can be stored for up to 4 days in the refrigerator.
Tightly seal the pie before placing it into the refrigerator.
Freezing Not Recommended
I do NOT recommend freezing this Lemon Pie.
Typically custard filled pies do not freeze and thaw successfully. They can become watery.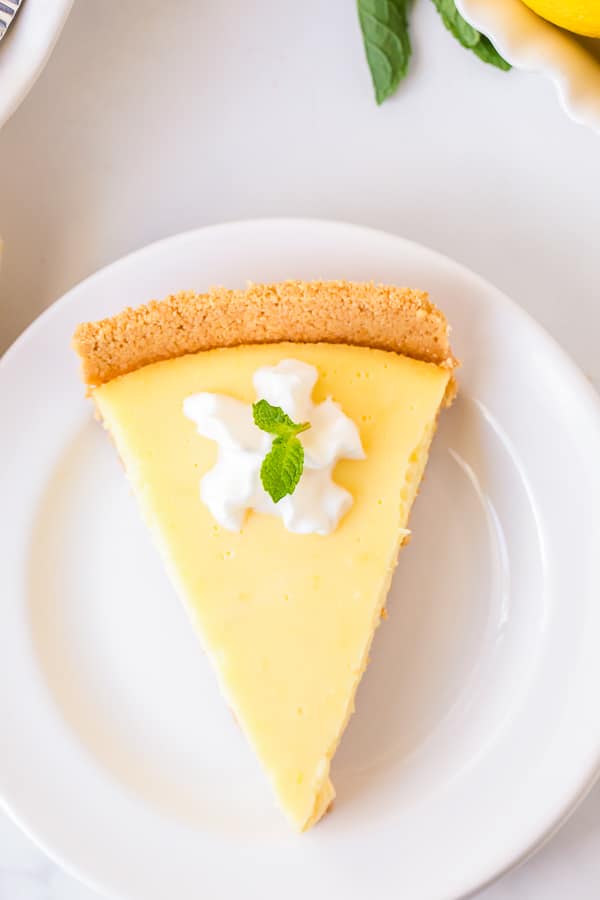 More Pie Recipes You'll Love
Try these Lemon Recipes too!
Did you make it? Please RATE THE RECIPE below!
Please SUBSCRIBE and FOLLOW ME on FACEBOOK , TWITTER , INSTAGRAM and PINTEREST !
This easy Lemon Pie recipe is always a favorite dessert any time of the year!