Sausage and Orzo Stuffed Sweet Peppers are a colorful, easy gluten-free recipe (depending on orzo type used) bursting with flavor and simple to make! Great for a delicious dinner any time.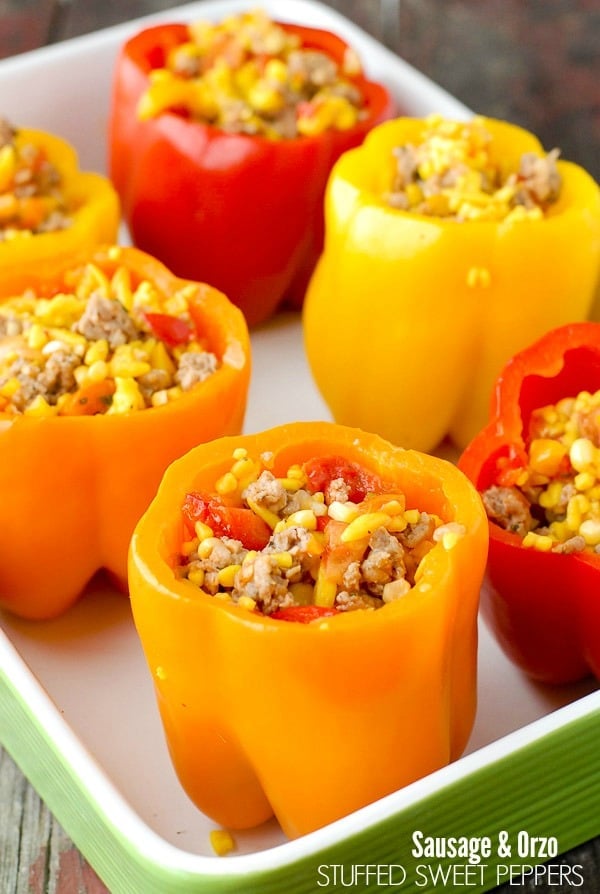 Perhaps a vestige of the 1970's dinner table, but I do love a good stuffed pepper. However unlike the '70's, this recipe is much more vibrant, both in color and flavor.
Grocery stores are brimming with beautiful peppers right now in every shade; green, purple, red, orange and yellow.
Choosing colors other than green makes for an exciting visual presentation of this Sausage and Orzo Stuffed Sweet Peppers, soon to be your new favorite fast weeknight comfort food recipe!
Use an Instant Pot? Try Instant Pot Stuffed Peppers too!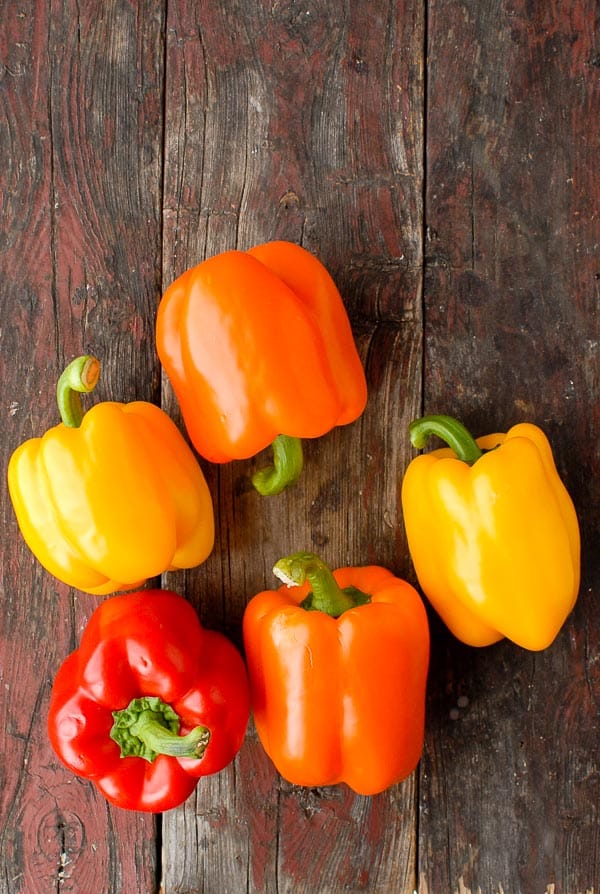 Stuffing peppers can become anything from a finely honed consideration of favorite flavors and textures, or a 'clean out the fridge' endeavor. I personally love combining a variety of shapes and textures to keep it interesting. Traditionally stuffed peppers include rice however these babies use Orzo, a delicate rice-shaped pasta that has a lighter texture than rice. Orzo has only recently become available as gluten-free orzo which is cause for celebration in my book. Once you try it you'll think of loads of uses for it I'm sure.
What's in a Stuffed Pepper? Are Stuffed Sweet Peppers Healthy?
Sausage and orzo stuffed sweet peppers truly provide a full meal, containing protein and carbohydrates in a deliciously filling form. Breakfast sausage, ripe tomatoes, corn kernels, garlic, herbs, Monterey Jack cheese and more combine to make this wonderful celebration of the season. It's a perfect option for your back to school meal planning! As with any recipe stuffed peppers are as healthy as their ingredients and this version is full of great nutrition, seasonal ingredients and low in saturated fat.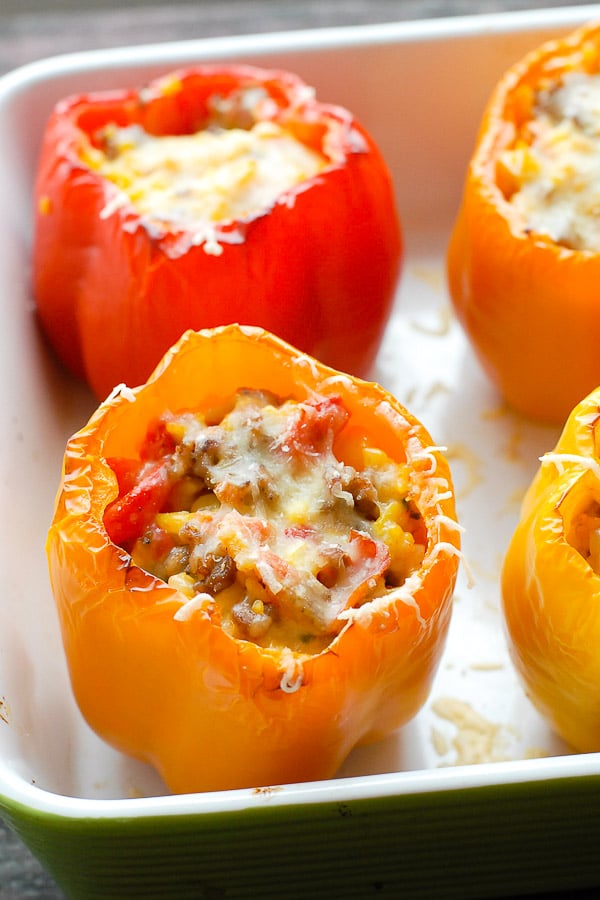 The fall brings into play another advantage of stuffed peppers in that making a big batch of them presents little extra effort to making only a few. They are a hearty dish to serve at football parties, gatherings or simply for a delicious dinner. I think of these sausage and orzo stuffed sweet peppers in the same way I do a spicy sauage skillet lasagna or even an early fall ratatouille. An easy recipe full of great flavor and fresh vegetables.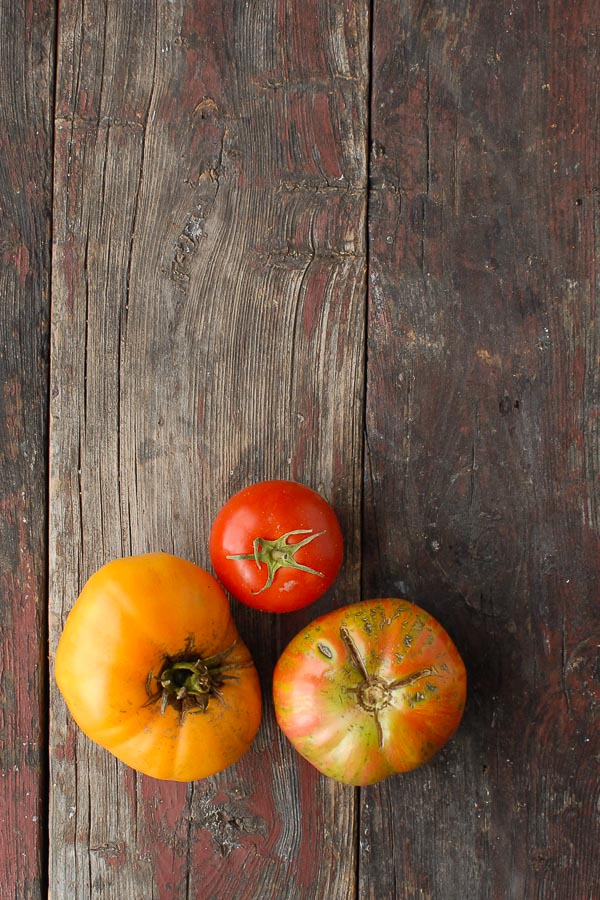 A recipe note: sweet peppers vary incredibly in size. I used very large peppers in this recipe, each with a cavity that would hold over a cup of stuffing. I have shared the volume of stuffing the recipes makes and offered two different pepper amounts depending on the size available in your area. The stuffing shrinks a bit while it cooks so don't be afraid to stuff amply!
How to Make Sausage and Orzo Stuffed Sweet Peppers:
Stuffing peppers is very easy to do. The sausage is sauteed and combined with the other ingredients including the prepared orzo. Once mixed together the sweet bell pepper is stuffed from the top after the stem has been removed. It is sprinkled with cheese and baked until the pepper itself is soft and cooked, then the entire stuffed pepper is eaten.
Whether for a large batch dinner, football parties, or an easy back to school weeknight dinner, Sausage and Orzo Stuffed Sweet peppers are a perfect comfort food recipe. With gluten-free orzo being more widely available, this may be made with traditional orzo or gluten-free depending on your dietary needs and preferences.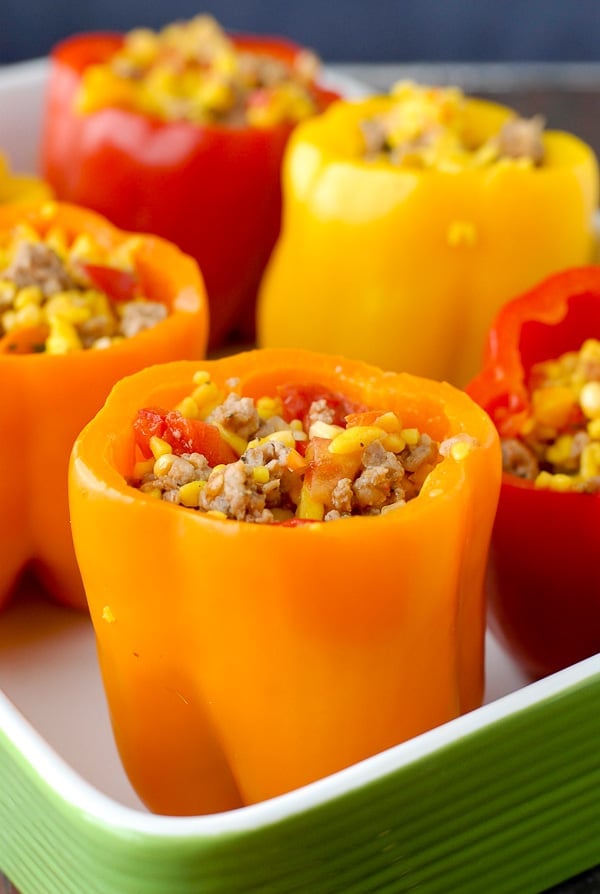 Celebrating the late summer early fall growing season is a delicous opportunity. These peppers are choke full of fresh heirloom tomatoes, corn kernels, breakfast sausage, garlic, herbs and more making for a mouthwatering recipe.