Raspberry Cheesecake Cookies with white chocolate chips are a home version of favorite Subway cookies! The delicious flavor combination in this buttery, chewy cookie can't be beaten!

Those who frequent the famous sandwich chain know the REAL secret!
It's Subway cookies.
You wouldn't expect it but the cookie varieties they sell are some of the most popular on the market.
Now you can make one of the favorites, White Chocolate Raspberry Cheesecake Cookies, at home!
They are fun to make and even more fun to eat.
Easy to make them regular or gluten-free too!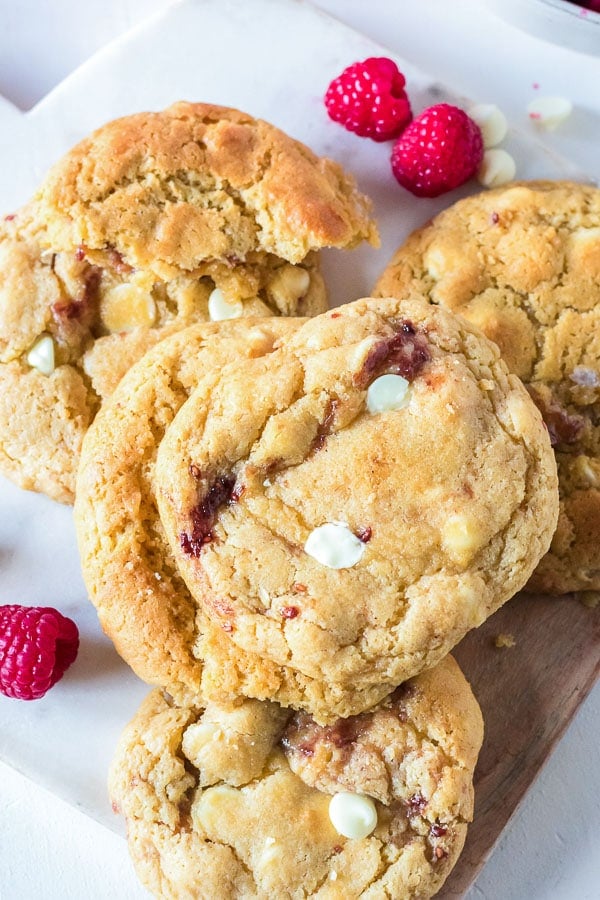 Raspberry Cookie Ingredients
All-Purpose Flour (regular or gluten-free)
Baking Powder
Kosher Salt
Unsalted Butter
Brown Sugar
Granulated Sugar
Jell-O Cheesecake Pudding Mix
Vanilla Extract
Eggs
White Chocolate Baking Chips
Raspberry Preserves

Ingredient Notes
Flour
We've recipe tested these delicious Subway cookies with each regular All Purpose Flour and a gluten-free measure-for-measure flour blend.
In both cases they turned out perfectly.
If making them gluten-free, I recommend a 1-to-1 or measure-for-measure blend for best results.
Cheesecake Pudding Mix
This pudding mix is a secret weapon in baking for me.
It adds authentic cheesecake flavor without all the rich cheesecake ingredients.
It's easy to swap into a baking recipe without having to change up other ingredients too.
I loved using it in this Fluffy No-Bake Strawberry Cheesecake Dessert Lasagna recipe.
What TYPE of Cheesecake Pudding Mix to Use
Jell-O brand INSTANT Cheesecake Pudding Mix is the correct type for these cookies.
They also make a sugar-free version AND a cheesecake filling (not pudding). Do not use these.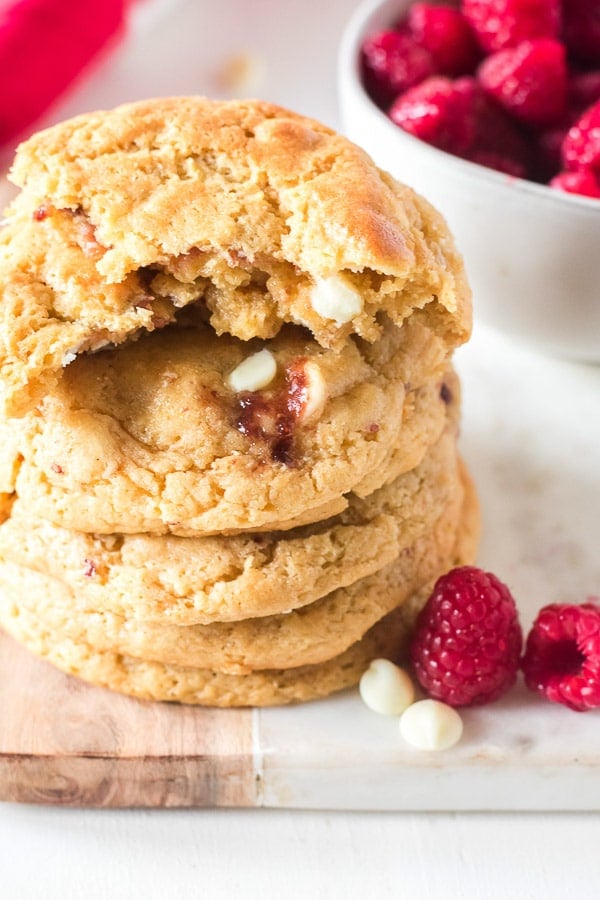 How to Make Copycat Subway Cookies – Step-by-Step
STEP 1: In a medium mixing bowl, combine flour, salt, and baking powder.
STEP 2: In a large mixing bowl combine softened butter and both sugars (photos 1-2). Mix until light and fluffy.
STEP 3: Add the vanilla extract and eggs. Mix until just combined (photos 3-4).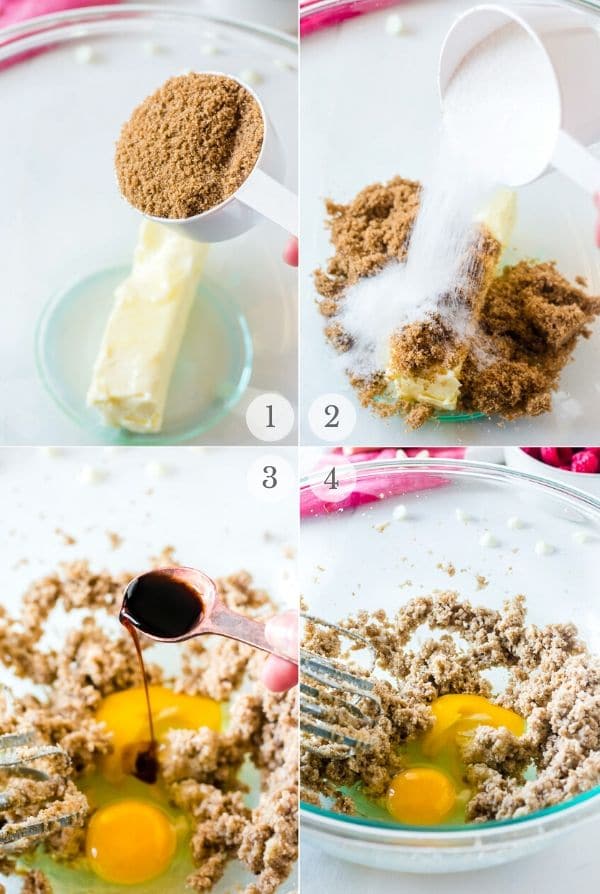 STEP 4: Add in the box of cheesecake pudding mix; mix well (photo 5).
STEP 5: Add in the dry ingredients into the moist ingredients (photo 6). Mix just until combined and a dough forms.
STEP 6: Fold in white chocolate chips (photo 7).
STEP 7: Chill dough for at least 30 minutes to an hour.
STEP 8: After dough is chilled preheat your oven to 350 degrees F. Prepare a cookie sheet with nonstick spray. Set a sheet of parchment paper for making the recipe (not in the baking sheet).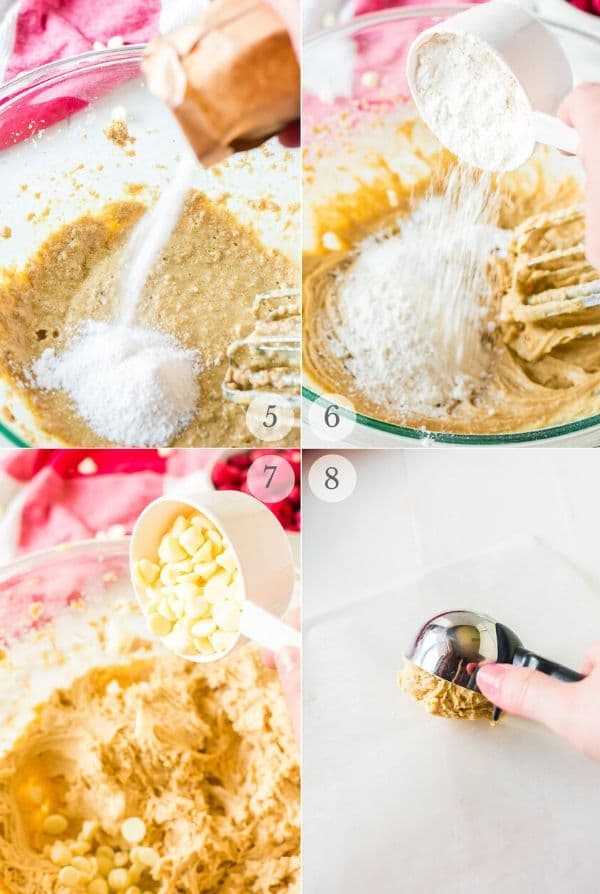 STEP 9: Using a 2-tablespoon cookie scoop, scoop out 2 tablespoons of dough and place on the parchment paper (photo 8).
STEP 10: Using your hand or a spoon, flatten the dough (photo 9).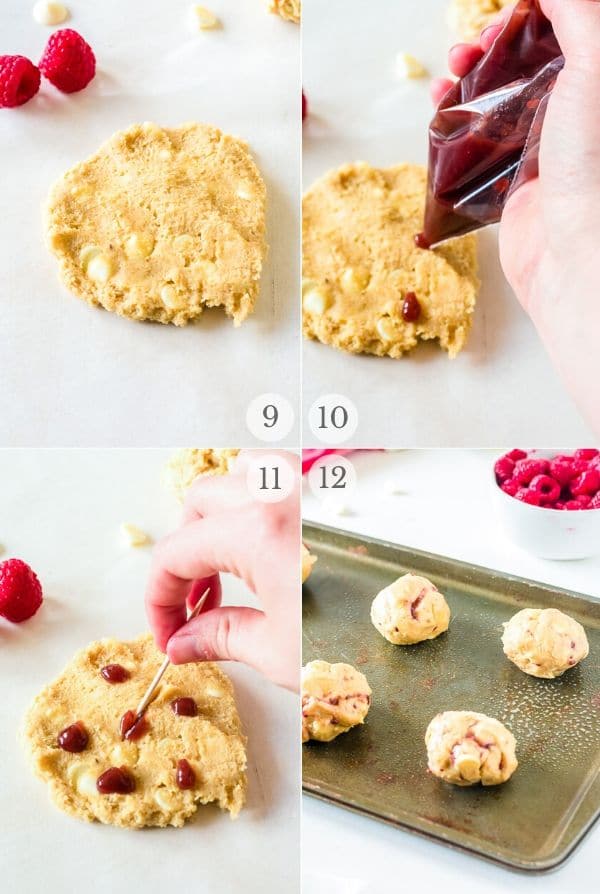 STEP 11: Place about ¼ cup of the raspberry preserves into a small Ziploc bag. Cut the tip off one the bottom corners to make a small hole. This creates a disposable piping bag.
STEP 12: Using the piping bag, pipe a few small circles of jam onto the cookie dough. Roll the dough into a ball and place on the baking sheet (photos 10-12). Repeat until the dough is all used.
STEP 13: Bake for 9-11 minutes or until the edges are golden brown. For a crispier cookie, bake about 15 minutes. Cool on the cookie sheet for a few minutes then transfer to a cooling rack to fully cool.
PRO TIP: Adding the raspberry preserves in this method keeps little pockets of raspberry in each cookie!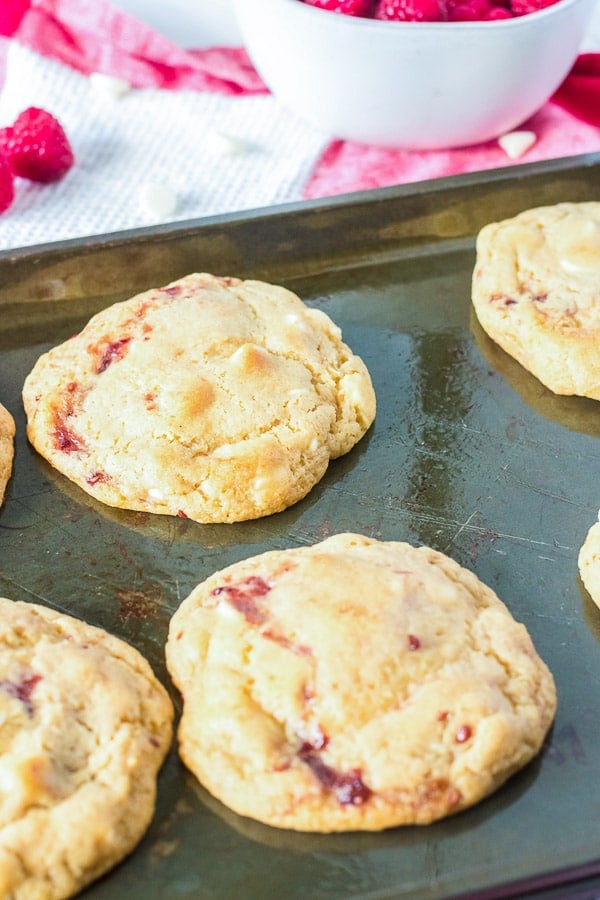 Can these White Chocolate Raspberry cookies Be Made Ahead?
Yes! Prepare the recipe as written. Store the unbaked cookies, well sealed, in the refrigerator for up to 5 days before baking.
Take the cookies out of the refrigerator to warm slightly while the oven preheats.
NOTE: if they are still cold going into the oven the cooking time may need to be extended by a few minutes.
Storing the Cheesecake Cookies
Store in an airtight container for up to 5 days.
Freezing
Allow the cookies to cool completely.
Layer the cheesecake cookies in an airtight, freezer-safe container with sheets of wax paper between each layer of cookies.
Keep them in the freezer for up to 6 months.
Store in an airtight container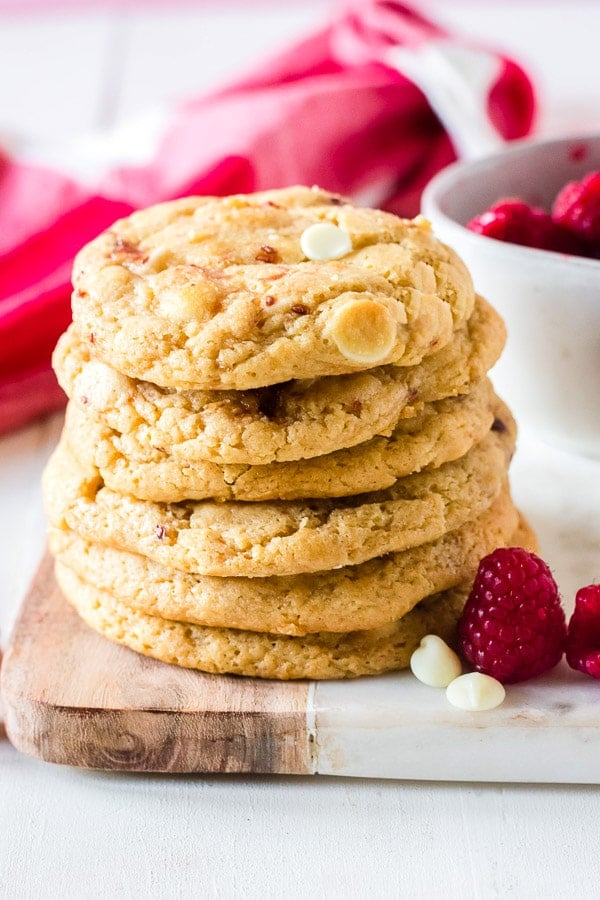 More Raspberry Recipes You'll Love
Try these Cookie Recipes too!
Did you make it? Please RATE THE RECIPE below!
Please SUBSCRIBE and FOLLOW ME on FACEBOOK , TWITTER , INSTAGRAM and PINTEREST !