Creamy Tuscan Chicken is an easy flavor-packed recipe that makes dinner time special! Parmesan cheese, fresh spinach and cherry tomatoes, Italian spices, succulent chicken breasts in a rich creamy garlic sauce make this a favorite restaurant dish at home.

This easy boneless chicken breast recipe is an Italian food lovers dream come true!
It's a fast and easy recipe with jaw-dropping flavors the whole family will love.
It's done on the stove top in about 30 minutes!
Enjoy it on it's own with a simple green salad and some roasted potatoes.
Or go all out with Tuscan Baked Apples, Italian Pasta Salad and Italian Cream Cake for an entire Italian-inspired meal!
Jump to:
Recipe Ingredients
Boneless Skinless Chicken Breasts – select chicken breasts the same size for even cooking. The recipe times are based on 8-ounce breasts.
Salt and Pepper – Kosher salt is a less salty tasting salt with better flavor. Freshly ground black pepper is always preferred if possible.
Olive Oil – olive oil has a lower smoke point (meaning higher heat will make it start to smoke). So when cooking the chicken use medium heat.
Unsalted Butter
Garlic Cloves
Spinach – Timesaving Tip: use prewashed spinach from the grocery store. Three cups is roughly equivalent to one 5-ounce package of fresh spinach.
Cherry Tomatoes
Half and Half
Italian Parsley
Parmesan Cheese – For a really creamy sauce grate your own Parmesan cheese. Pre-grated cheese is often combined with an anti caking agent (so it doesn't stick together). This prevents the cheese from melting in the same way as freshly grated cheese.
Italian Seasoning – this spice blend gives great flavor including all the classic spices used in Italian cooking in one blend!

How to Make Tuscan Chicken – Step-by-Step
STEP 1: Season the chicken with salt and pepper on both sides (photo 1).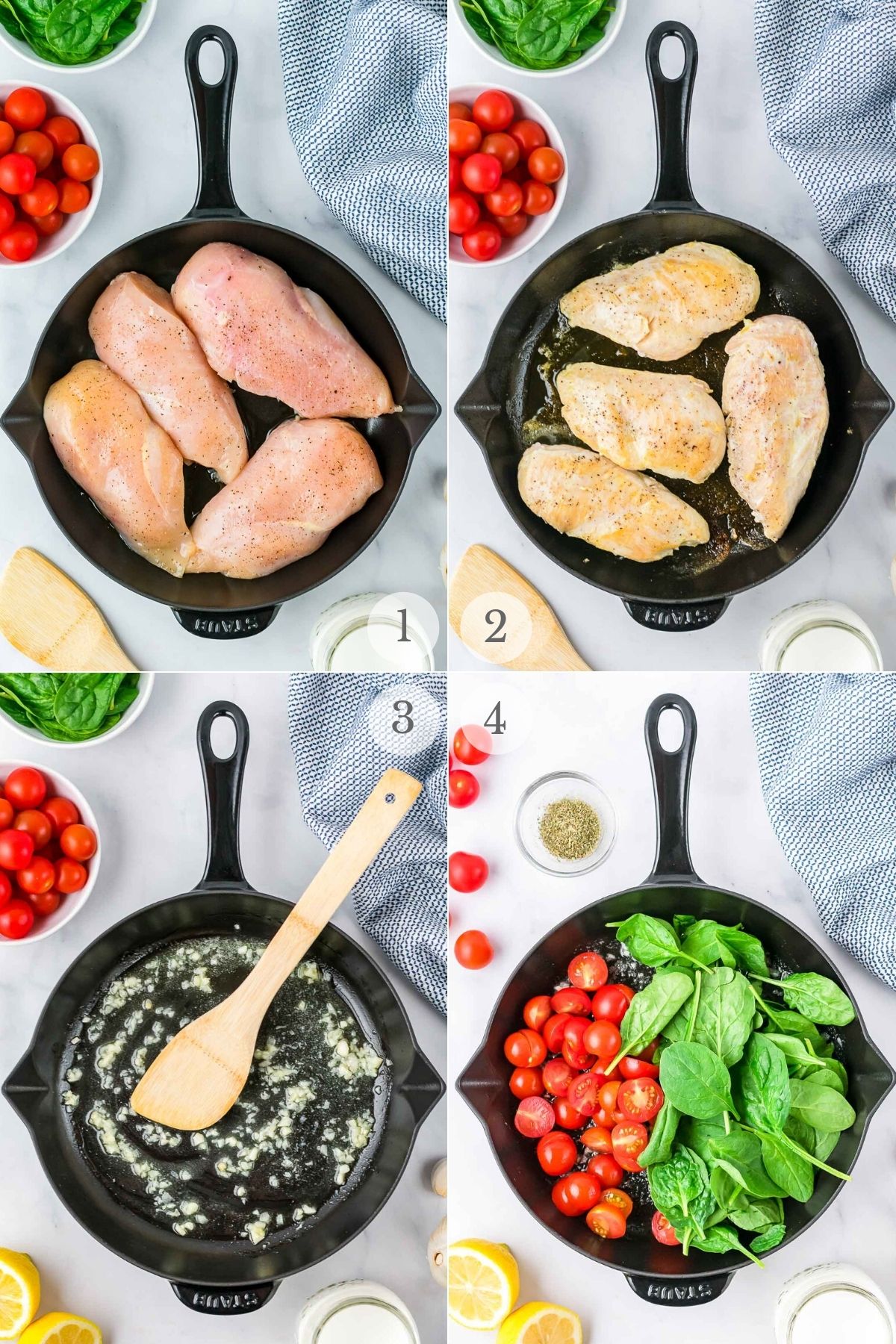 STEP 2: Heat the olive oil over medium heat in a large skillet. Add the chicken breasts to the skillet and cook 5-7 minutes on each side until cooked through (photo 2). Remove and set aside.

STEP 3: Add the butter to the skillet to melt. Add garlic and saute 2-3 minutes (photo 3).
STEP 4: Add the spinach and tomatoes to the skillet (photo 4). Saute until the spinach has wilted (photo 5).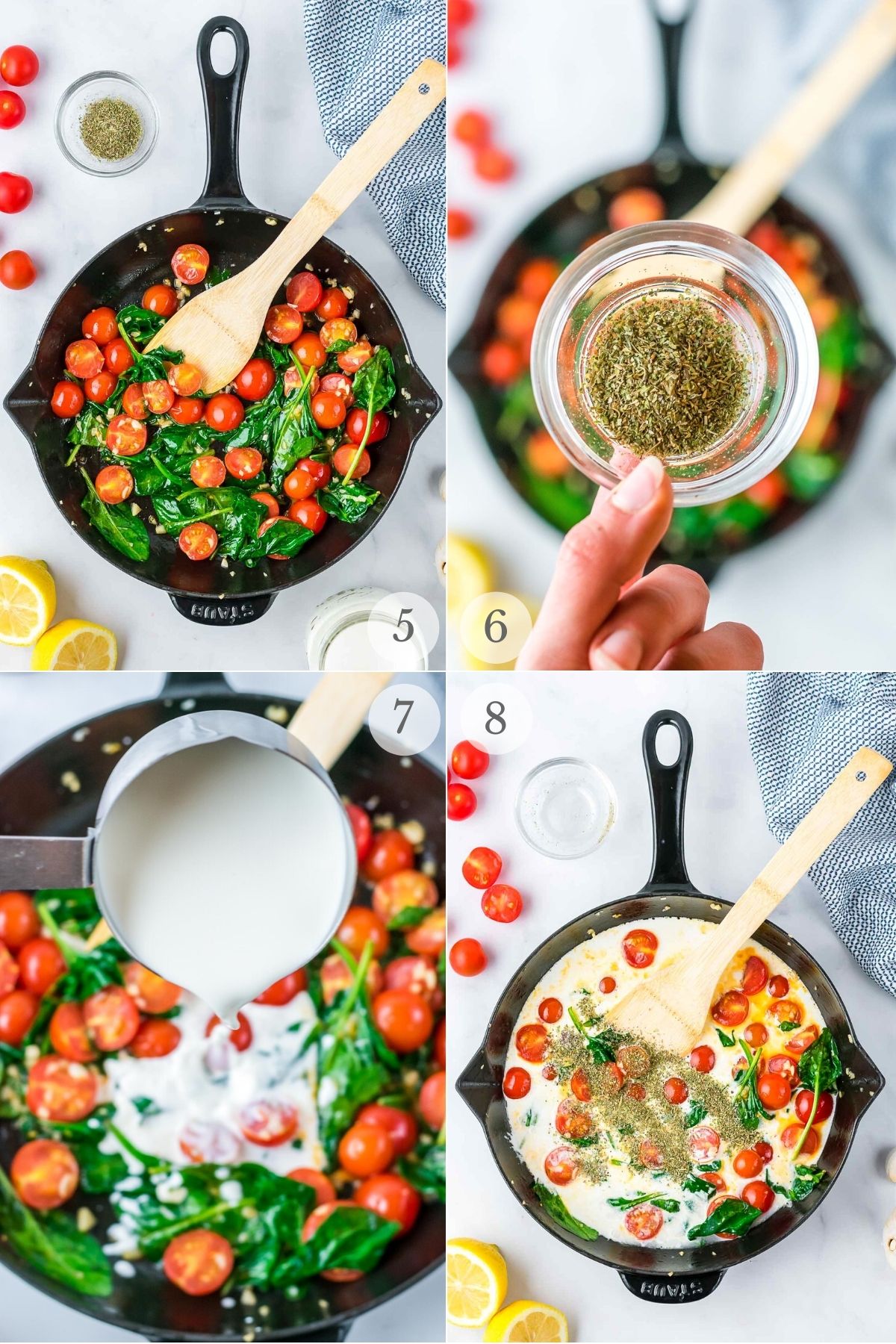 STEP 5: Stir in the Italian seasoning, remaining salt and pepper and Half and Half (photos 6-9). Bring to a low boil.
STEP 6: Stir in the parsley and Parmesan cheese (photo 10). Stir frequently over medium-high heat until the cheese has melted and sauce begins to thicken (aproximately 5 minutes).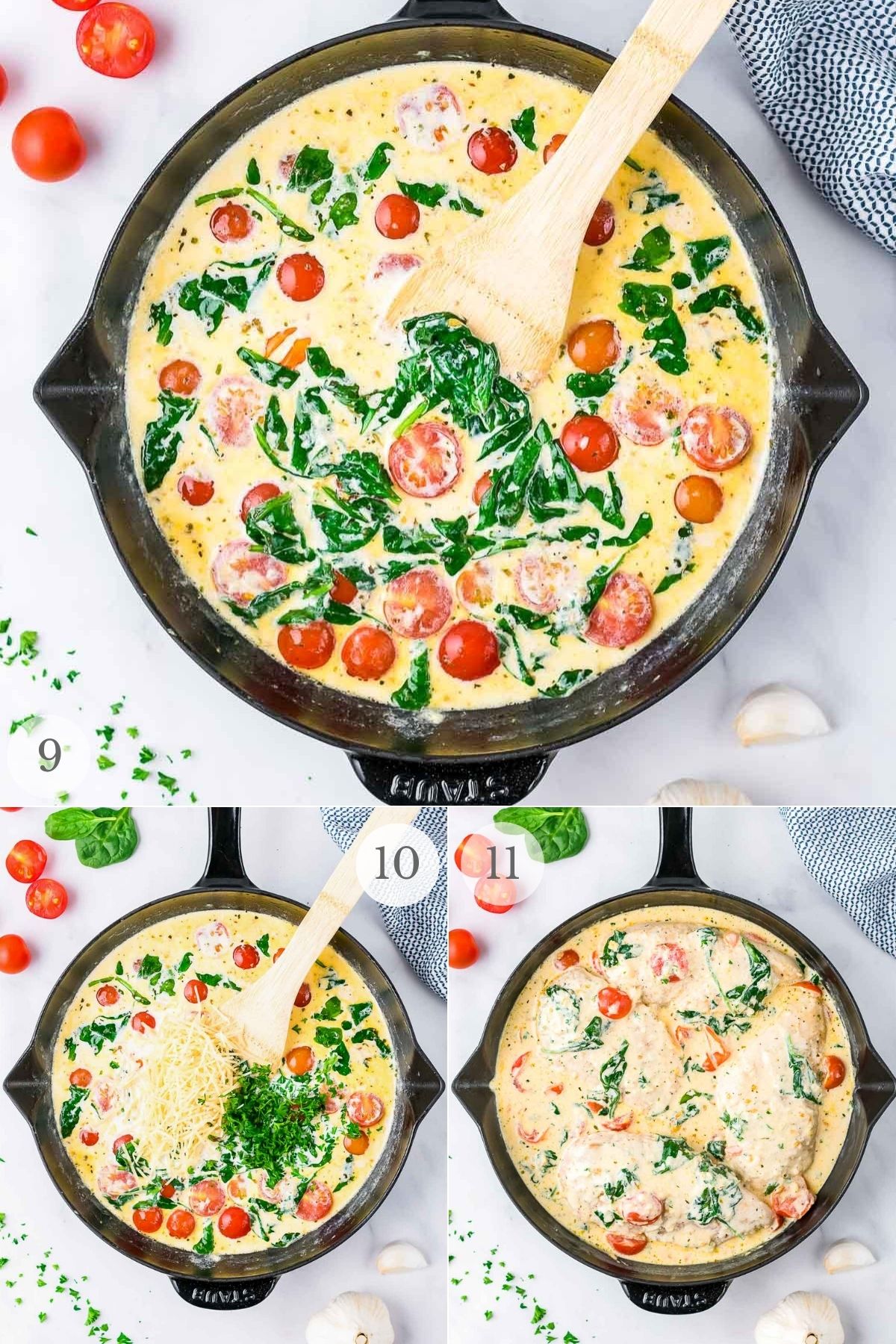 STEP 7: Add the chicken back to the skillet and spoon to cover with sauce (photo 11). Serve warm.
How to Know the Chicken is Done
The chicken will be lightly golden on the outside with no visible pink color inside.
Chicken is done when the internal temperature reaches 165 degrees F. Using an instant read thermometer is the fastest way to check this.
These boneless chicken breasts can be slightly under that when being removed from the pan.
Their temperature will continue to rise as they 'rest' as well as when they are added back with the sauce.
Variations
Try it with Boneless Chicken Thighs! Adjust cooking time as needed to ensure the thighs are cooked in the first step.
Substitute heavy cream for a richer sauce. Just add the heavy cream instead of Half and Half.
Sundried Tomatoes are a popular substitution for the fresh tomatoes. Sun dried tomatoes have a unique flavor found in classic Italian cooking.
Two options for sundried tomatoes:
In oil: when the tomatoes are in oil that will be soft and ready to use. Remove them from the oil when adding to the recipe. Use some of the oil instead of or with the regular olive oil when cooking the chicken too!
Fully dried: dried tomatoes will need to be reconstituted before using. Combine them with some warmed chicken broth for about an hour. When they are plump and soft, drain the broth and add them to the recipe.
Use 1/3 cup instead of the cherry tomatoes if substituting.
Add 1-2 tablespoons of capers (drained) for some tang.
Artichoke hearts (either in water, drained, or in oil) make a delicious addition too. Chop about 1 cup and add them to the sauce.
What to Serve with it
Because of the delicious cream sauce this is a perfect recipe to serve on something that will soak up the sauce.

More Recipes You'll Love!
Recipe
Creamy Tuscan Chicken
Delicious Tuscan Chicken is full of great flavor with succulent chicken, spinach, tomatoes is a creamy cheesy garlic sauce
Print
Save Recipe
Recipe Saved!
Pin
Rate
Ingredients
4

8-ounce

boneless skinless Chicken Breasts

(aproximately 2 pounds total)

1 ½

teaspoon

Kosher salt

1 ½

teaspoon

ground Black pepper

1

tablespoon

Olive oil

2

tablespoon

Unsalted butter

3

Garlic Cloves

minced

3

cups

fresh Spinach

(one 5-ounce container)

1 ½

cup

Cherry tomatoes

halved

1 1/2

cups

Half and half

2

tablespoon

Italian parsley

chopped

½

cup

grated Parmesan cheese

1

teaspoon

Italian seasoning
Instructions
Sprinkle ½ tsp of salt and ½ tsp pepper on both sides of the chicken breasts to season.

In a large skillet, heat 1 tablespoon of olive oil over medium-high heat. Add the chicken to the skillet and cook for 5 – 7 minutes on each side, until cooked through. Remove from the pan.

Lower the heat to medium-low heat, and add the butter to the skillet. Once the butter has melted, saute the garlic 2 – 3 minutes.

Stir in the spinach and tomatoes until the spinach is mostly wilted.

Sir the half and half, 1 teaspoon salt, 1 teaspoon pepper, and Italian seasoning into the skillet. Bring to a simmer.

Stir in the parsley and Parmesan cheese. Stir frequently over medium high heat until the sauce begins to thicken (aproximately 5 minutes).

Add the chicken back into the pan and spoon the sauce over it until covered.
Nutrition
Calories:
278
kcal
|
Carbohydrates:
9
g
|
Protein:
9
g
|
Fat:
23
g
|
Saturated Fat:
13
g
|
Cholesterol:
60
mg
|
Sodium:
1710
mg
|
Potassium:
411
mg
|
Fiber:
1
g
|
Sugar:
2
g
|
Vitamin A:
3156
IU
|
Vitamin C:
23
mg
|
Calcium:
280
mg
|
Iron:
2
mg