Lettuce Wraps are easy and fast to make. Fill them with taco meat and toppings and dinner is on the table in 10 minutes!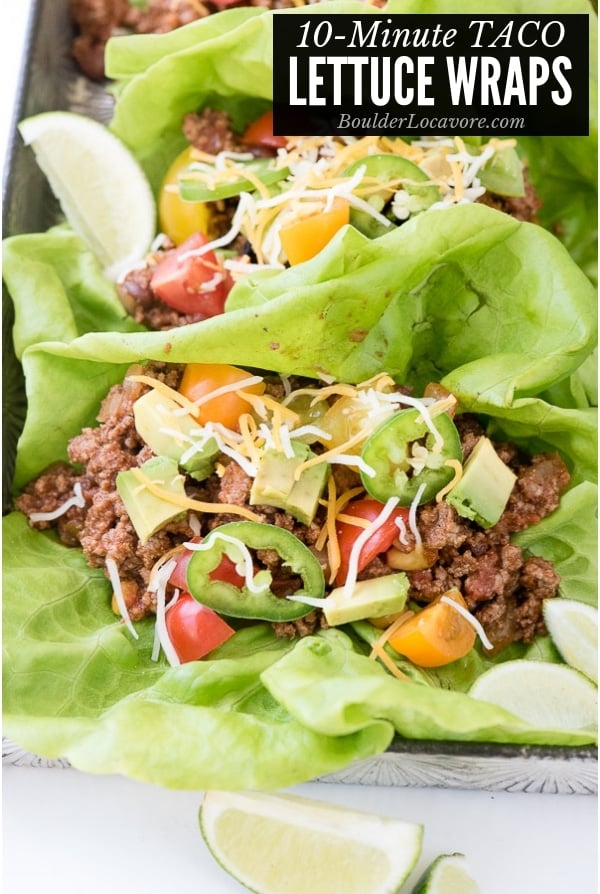 Lettuce Wraps are a fresh idea for a main dish anytime of the year.
My original idea came from a local burger joint that offers their burgers wrapped in lettuce. It's perfect for those gluten-free (me) and carb watchers.
I loved the texture of the hot burger and the cool lettuce, along with the texture of the lettuce with the meat.
I created these Taco Lettuce Wraps in the same spirit and love getting them on the table in 10 minutes too!
What are Lettuce Wraps?
Lettuce wraps are a fresh, flavorful main dish option that is great year round.
Instead of using a flour-based wrap or tortilla, filling ingredients are added to fresh lettuce leaves to roll and eat.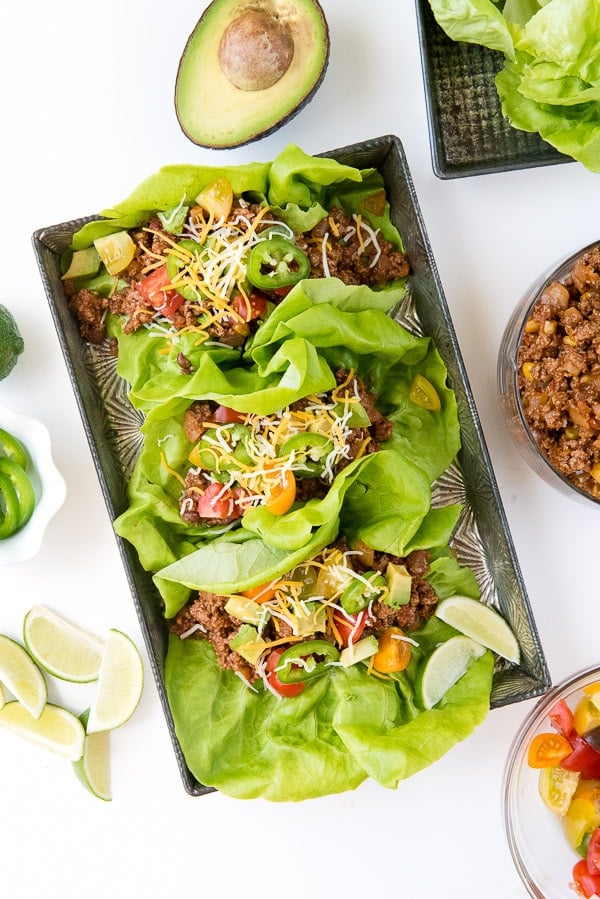 Why Make Lettuce Wraps
Lettuce Wraps are fast and easy to make. They are perfect for a fresh-flavored meal. Why make them?
Perfect for low carb watchers
Gluten-free diners don't have to worry about flour wraps when using lettuce
They are light and fresh though the filling makes a satisfying meal option
Ingredients in Taco Lettuce Wraps recipe
The ingredients in these lettuce wraps are simple and easy to find:
Olive Oil
Yellow Onion
Ground Beef
jar Black Bean and Corn Salsa (or salsa of choice)
Taco Seasoning
Butter Lettuce
Optional topping ideas:

diced tomatoes
sliced jalapeno peppers
diced avocado
finely grated cheese
guacamole
sour cream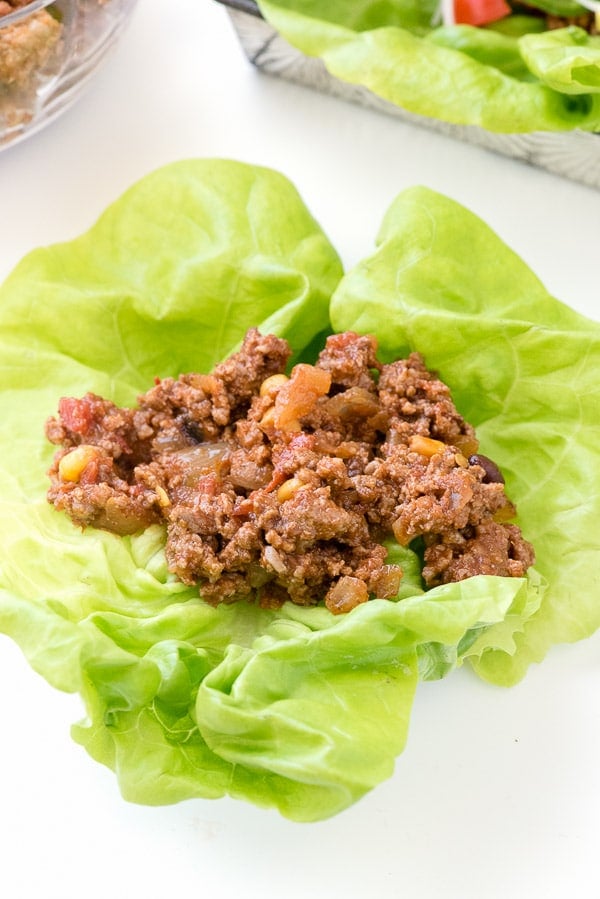 What Type of Lettuce to Use
All lettuce is not created equal for this type of recipe!
Though cooling Iceberg lettuce is a perfect complement for Mexican flavors, it's not very 'bendable'.
It can crack and split leaving the taco ingredients in your lap potentially.
Romaine lettuce has a nice boat-like structure perfect for filling, but honestly I don't love the flavor with this type of recipe (I'm mad about it in Caesar Salad however).
The preferred lettuce for these lettuce wraps is Butter Lettuce.
The larger leaves on the outside of the lettuce head have a nice cupped shape, a light flavor and easy bite.
There is no tugging to bite through the leaves.
The leaves are pliable and thick enough to securely house the filling and complement the flavors of the taco filling.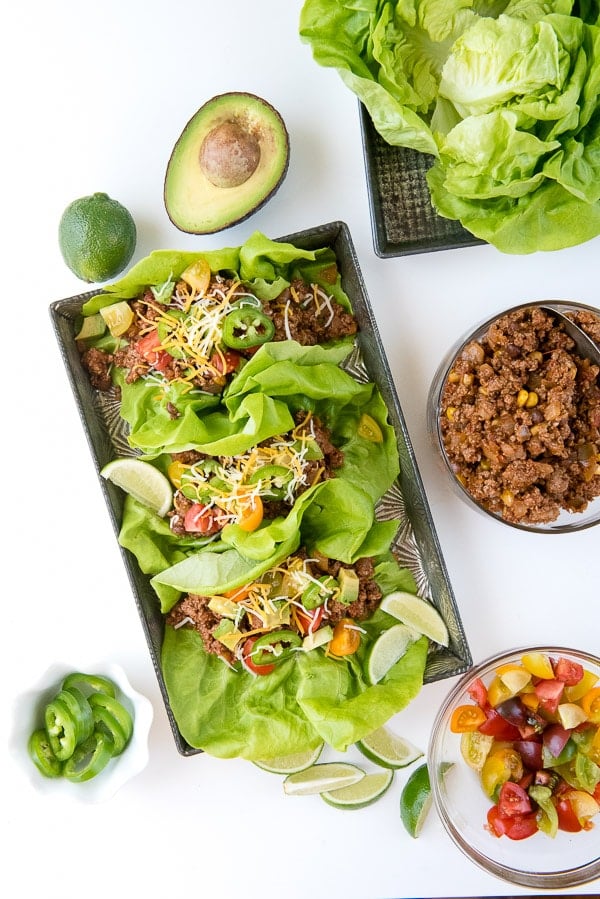 How to Make Taco Lettuce Wraps – Step by Step
Making Taco Lettuce Wraps is very fast and easy! They seriously are done in 10 minutes!
In a large skillet over medium-high heat, warm the olive oil.
Add the onions and sauté until translucent (3-4 minutes).
Add the ground beef and cook until no pink remains. Drain any excess fat if needed.
Add the salsa and taco seasoning and stir to fully combine.
Cook for an additional 1-2 minutes.
Remove from heat.
How to Assemble the Taco Lettuce Wraps
The Lettuce Wraps can be assembled, plated and served. Or set up buffet style for diners to serve themselves!
Preparing the Lettuce
Break off any of the center rib that extends past the end of the lettuce leaves and discard.
This allows a flush bottom to the leaf.
Making the Wraps
Take two similarly sized large lettuce leaves and overlap the bottoms by about 1 inch.
Add approximately ¼ cup of the taco meat in a line over the overlapping part of the leaves.
Add any desired toppings and serve.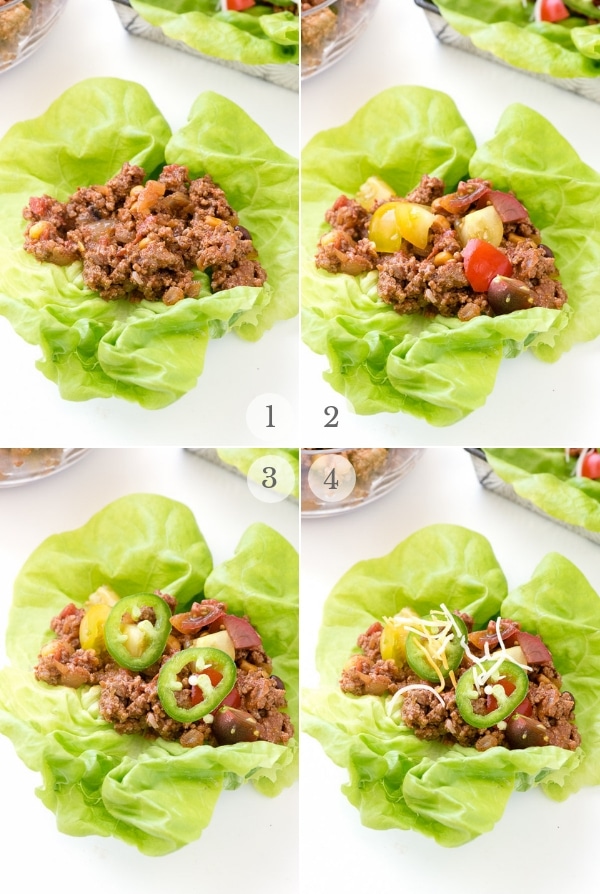 These lettuce wraps have:
Taco meat
Sliced cherry tomatoes
Sliced fresh jalapenos
Sprinkle of shredded Mexican cheese blend
How to Use and Store Leftover Taco Meat
If you find you have leftover meat, it can be refrigerated (sealed) for a few days and just reheated to make more wraps.
The great part of this recipe is that the filling can be used for traditional tacos as well.
It can be used with soft corn tortillas or in crispy traditional taco shells too.
It also can be layered on a salad.
What to Serve with Lettuce Wraps
Here are some dishes I would recommend: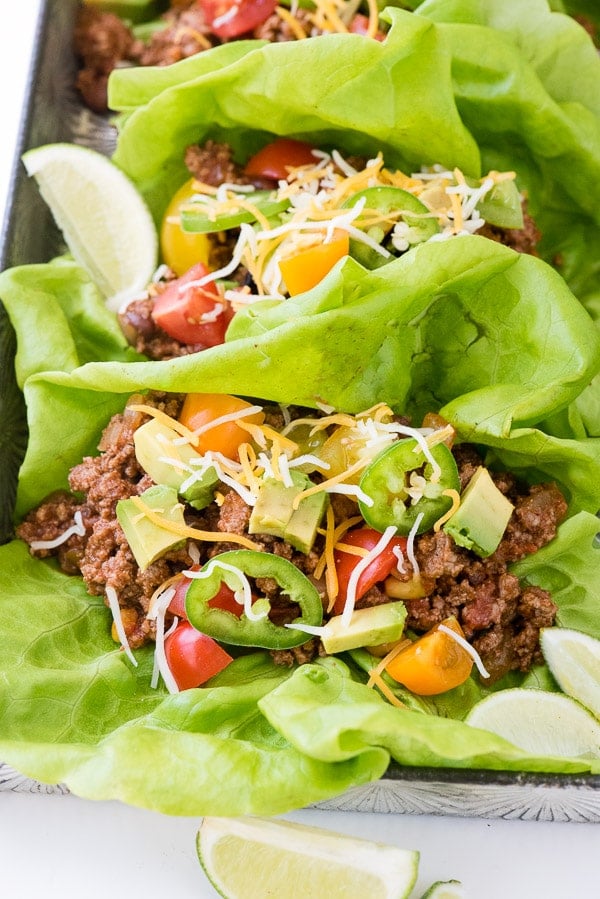 Please SUBSCRIBE and FOLLOW ME on FACEBOOK, TWITTER, INSTAGRAM and PINTERST!
Did you make it? Please RATE THE RECIPE below!
Originally published: June 18, 2016