Fresh and tasty 10 Minute Taco Lettuce Wraps are the best of each tacos and lettuce wraps. Loaded with robust flavor and fresh ingredients they are great for a buffet or a busy night when you just don't feel like cooking!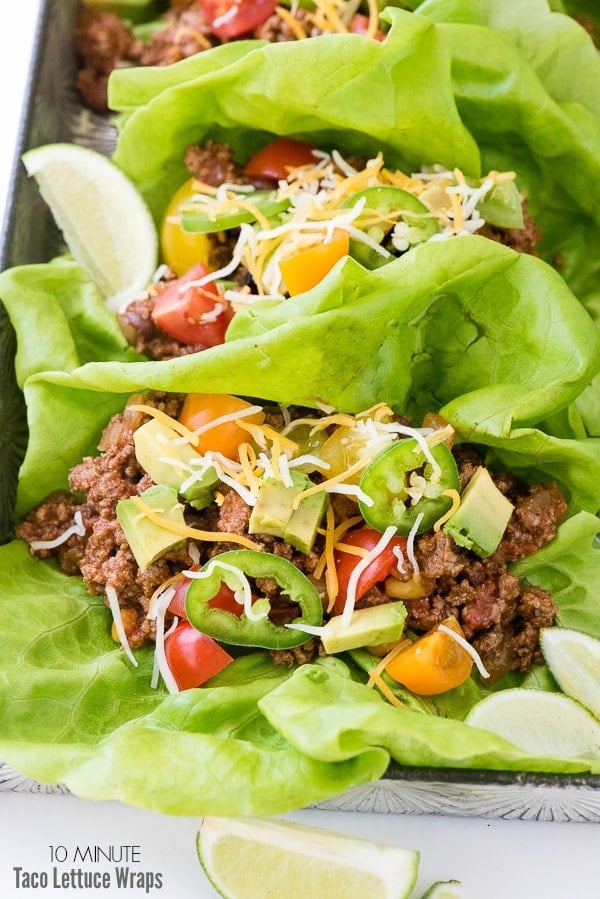 I think there is a misconception that Food Bloggers are constantly in the kitchen whipping up impressive meals for their families three times a day. Well at least that is not happening in my household. As much as I love great food, lengthy recipes are saved for not so busy weekends. I'm always on a quest for fast, easy, delicious recipes all we'll enjoy and that won't require hours in the kitchen. If you like that type of recipe, you'll love this recipe for 10 Minute Taco Lettuce Wraps.
I've loved P.F. Chang's lettuce wraps forever but it wasn't until we started buying burgers from a local healthier (antibiotic free, pasture raised, etc.) burger chain that I really began to think differently about lettuce. Being gluten-free we would never buy burgers from regular food chains. This place however offers the option to have burgers wrapped in lettuce instead of a bun.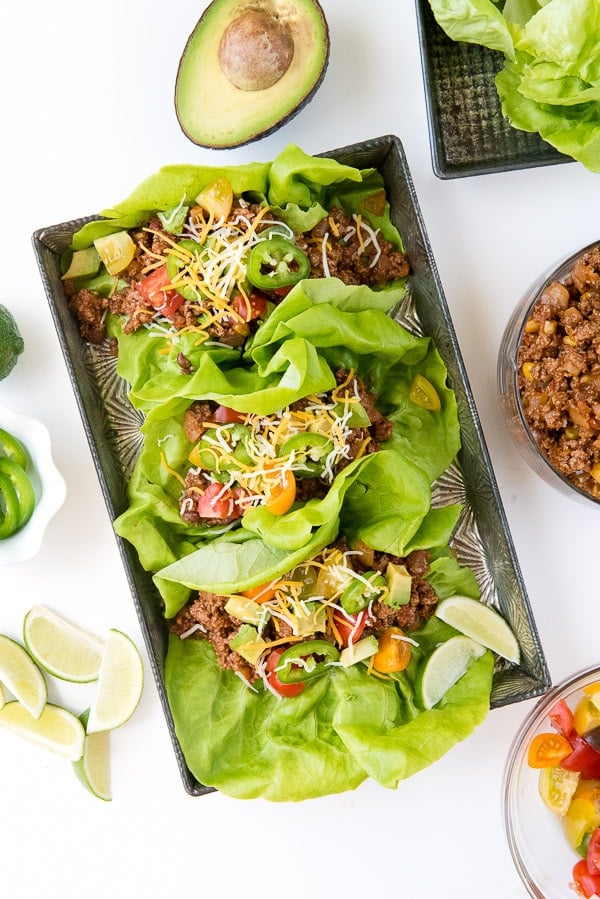 For us it is perfect and offers those watching their carbs or just not preferring a bun a great alternative. After having our first lettuce-wrapped burger we were hooked; not just because of the gluten-free aspect but because it tastes so good! Everything is fresh and crispy with the iceberg lettuce.
Fast forward to the heat of summer which for me feels like a message to stay out of the kitchen! We love Mexican food and I wanted a light summery option that wouldn't take forever to cook. And I was out of soft tortillas and taco shells.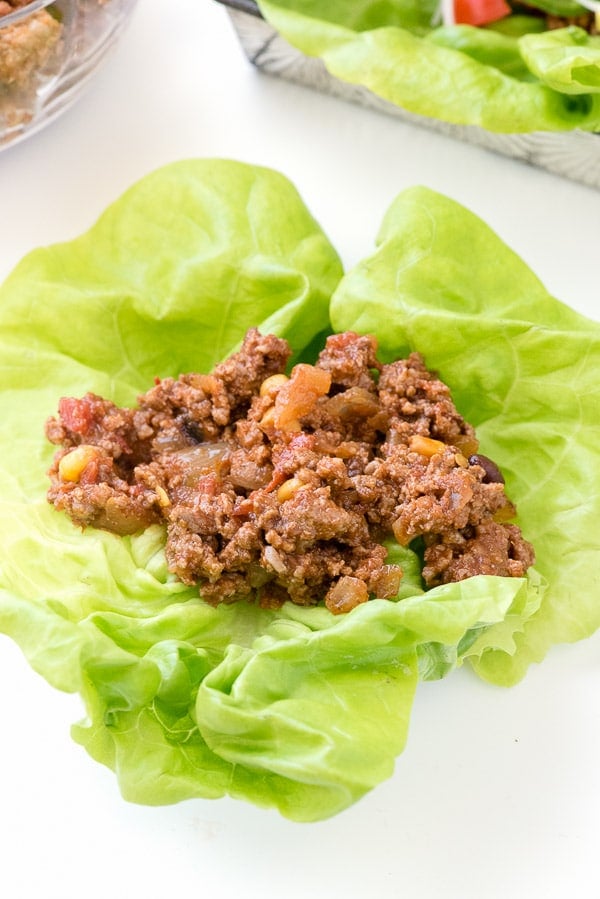 I hate to be a cheater-cheater-pumpkin-eater but I sometimes love to see how to minimize ingredients to yield a satisfying end result equivalent to longer recipes. This recipe uses the flavor power of great salsa along with a few basic ingredients to create a taco alternative wrapped in lettuce.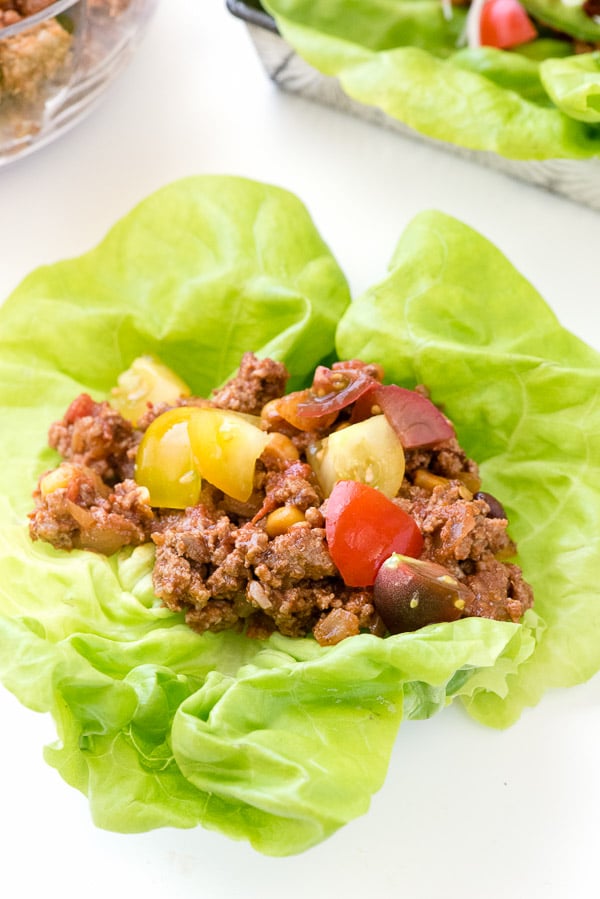 Let's talk about lettuce for a minute. All lettuce is not created equal for this type of recipe. As much as I love iceberg lettuce and think of it shredded for most Mexican dishes, it's not very bendable. It can crack and split leaving the taco ingredients in your lap potentially. Romaine lettuce has a nice boat-like structure perfect for filling, but honestly I don't love the flavor with this type of recipe (I'm mad about it in Caesar Salad however).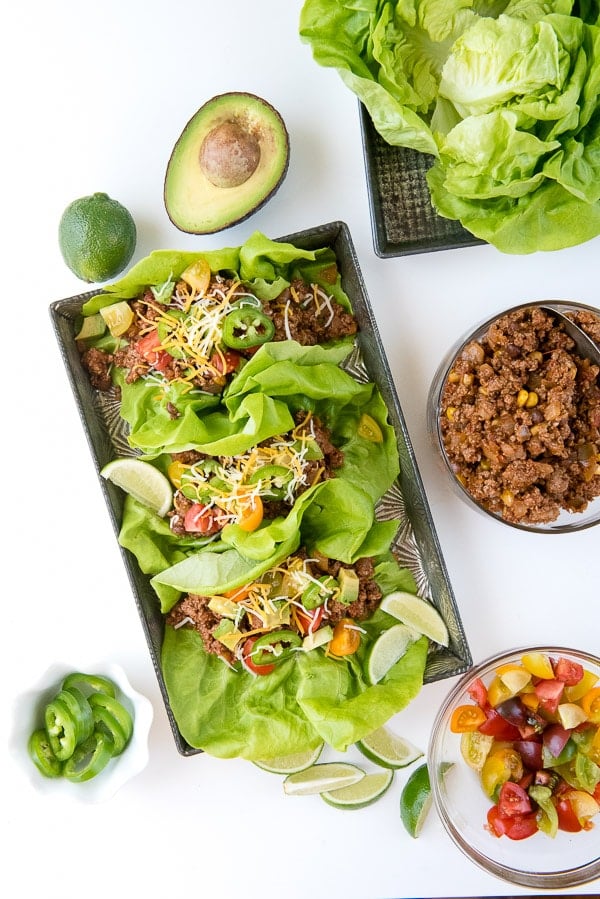 My favorite lettuce is Butter Lettuce. Its leaves are larger on the outside of the head with a nice cupped shape, a light flavor and easy bite. There is no tugging to really bite through the leaves. The leaves are pliable and thick enough to securely house the filling and complement the flavors of the taco filling.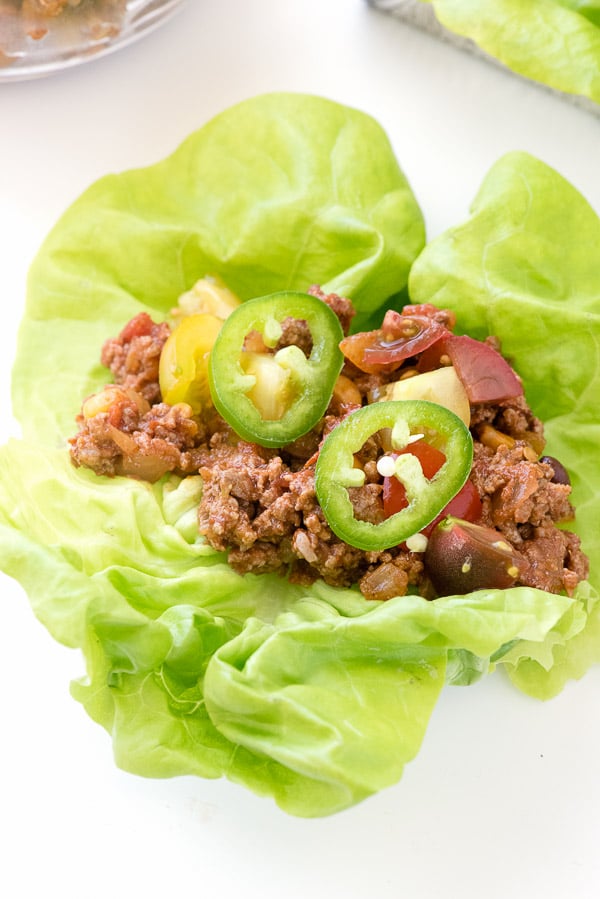 The sky is the limit for what you top the 10 Minute Taco Lettuce Wraps with. I used diced seasonal tomatoes, fresh jalapeno slices, some chopped avocado and a sprinkling of finely shredded Mexican cheese blend. Sour cream is usually a popular topping in my house as well.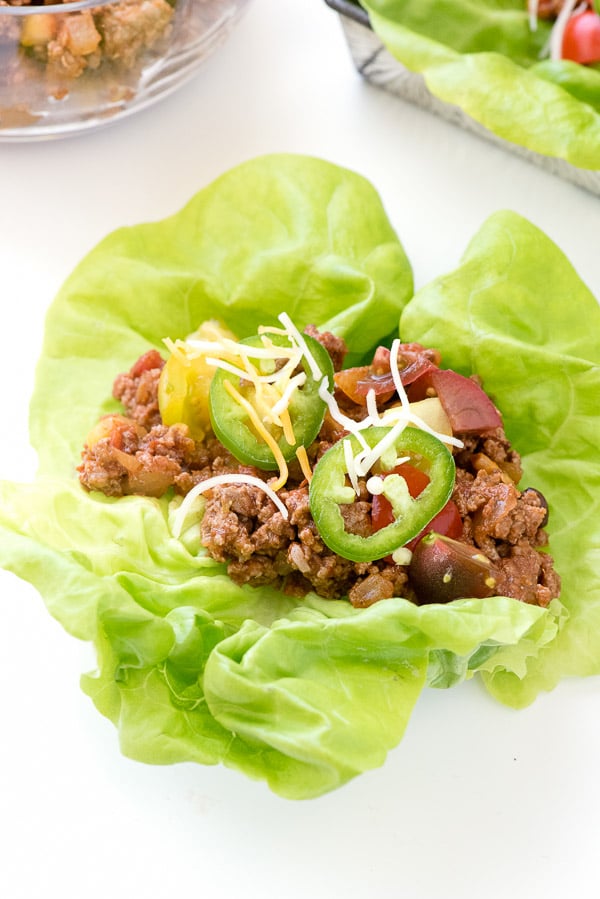 If you find you have leftover meat, it can be refrigerated (sealed) for a few days and just reheated to make more wraps. The great part of this recipe is that the filling can be used for traditional tacos as well. We tend to make them with soft corn tortillas (my youngest is in braces currently) but also like crisp corn taco shells as well.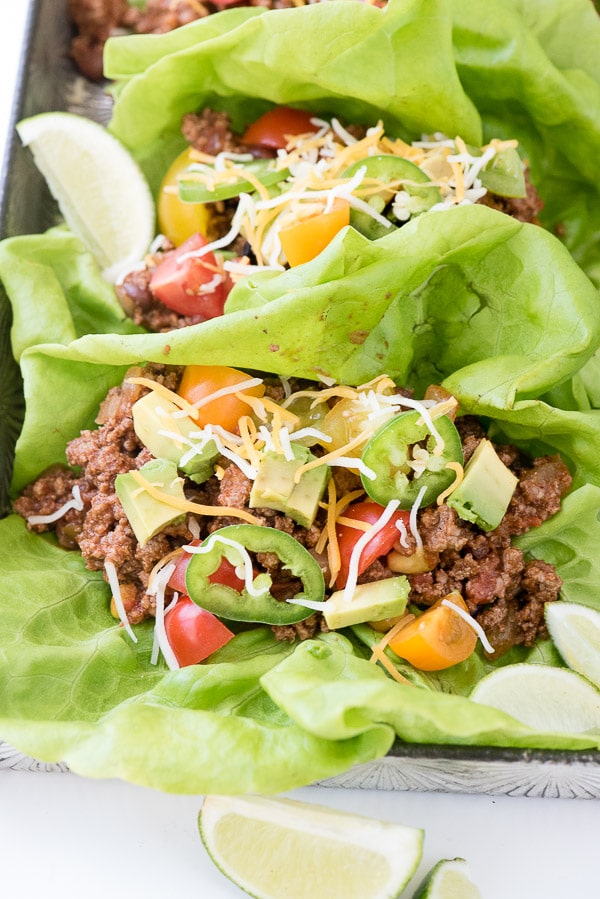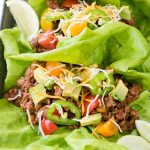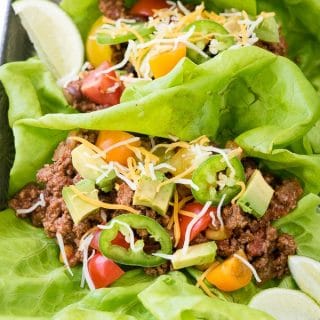 10 Minute Taco Lettuce Wraps
10 Minute Taco Lettuce Wraps and the best of each tacos and lettuce wraps. They are loaded with fresh ingredient and the meat is cooked in less than 10 minutes. It's an easy meal to serve as a buffet for dinners to make their own with an assortment of toppings. Perfect for those gluten-free or watching their carbs. The total preparation time may be longer depending on choice of toppings.
Servings
14
14 tacos if using 1/4 cup of meat per taco lettuce wrap) 3 1/2 cups taco meat
Ingredients
2

teaspoons

Olive Oil

¾

cups

peeled

, chopped Yellow Onion

1

pound

Ground Beef

(I prefer 85% fat for the flavor; excess fat may be drained)

14-15

ounce

jar Black Bean and Corn Salsa

(mild or medium heat to your preference)

1

tablespoon

Taco Seasoning

2-3

heads Butter Lettuce

, leaves separated and rinsed

Optional topping ideas

, diced tomatoes, sliced jalapeno peppers, diced avocado, finely grated cheese, guacamole, sour cream
Instructions
In a large skillet over medium-high heat, warm the olive oil until the surface is rippling. Add the onions and sauté until translucent (3-4 minutes).

Add the ground beef and cook, stirring often breaking the meat into small pieces, until no pink remains. Drain any excess fat if needed.

Add the salsa and taco seasoning and stir to fully combine. Cook for an additional 1-2 minutes. Remove for heat.

To assemble the Taco Lettuce Wraps: If any of the center rib on the lettuce leaf (the part the was attached to the head) extends past the bottom of the leaf, break that part off and discard. This allows a flush bottom to the leaf. Take two similarly sized large lettuce leaves and overlap the bottoms by about 1 inch. Add approximately ¼ cup of the taco meat in a line over the overlapping part of the leaves. Add any desired toppings and serve.
Nutrition Facts
10 Minute Taco Lettuce Wraps
Amount Per Serving
Calories 103
Calories from Fat 63
% Daily Value*
Total Fat 7g 11%
Cholesterol 23mg 8%
Sodium 237mg 10%
Potassium 245mg 7%
Total Carbohydrates 3g 1%
Protein 6g 12%
* Percent Daily Values are based on a 2000 calorie diet.