Banana Bread Cookies are full of homey banana flavor, spicy cinnamon, cream cheese and nuts. This is a favorite dessert recipe people just can't stop eating. A new way to enjoy the classic quick bread flavors everyone loves!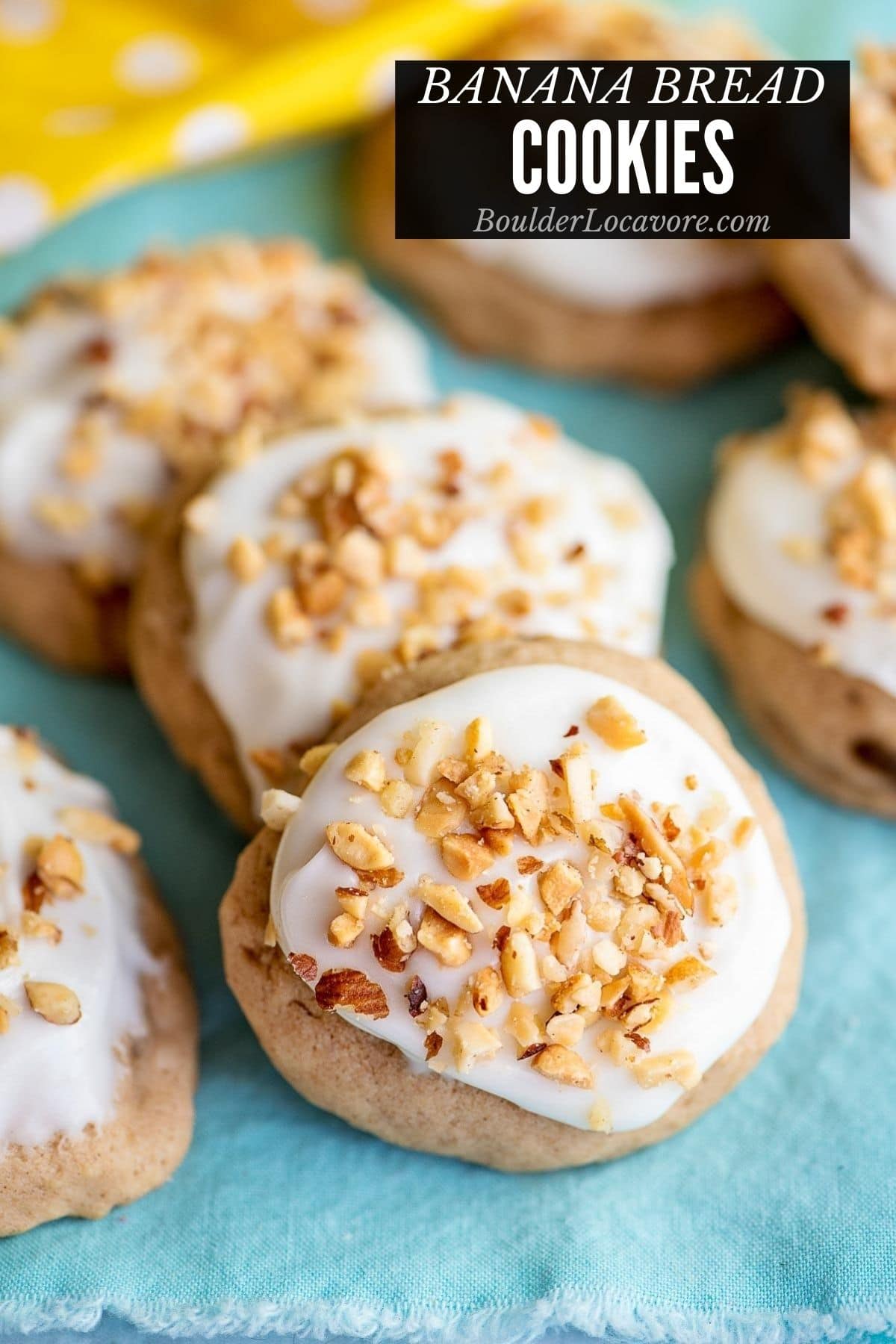 If you love banana bread then these cookies will be your new favorite!
They have all the favorite flavors in a moist, cakey cookie.
It's quick and easy.
You'll want to hide some for yourself before sharing them with others!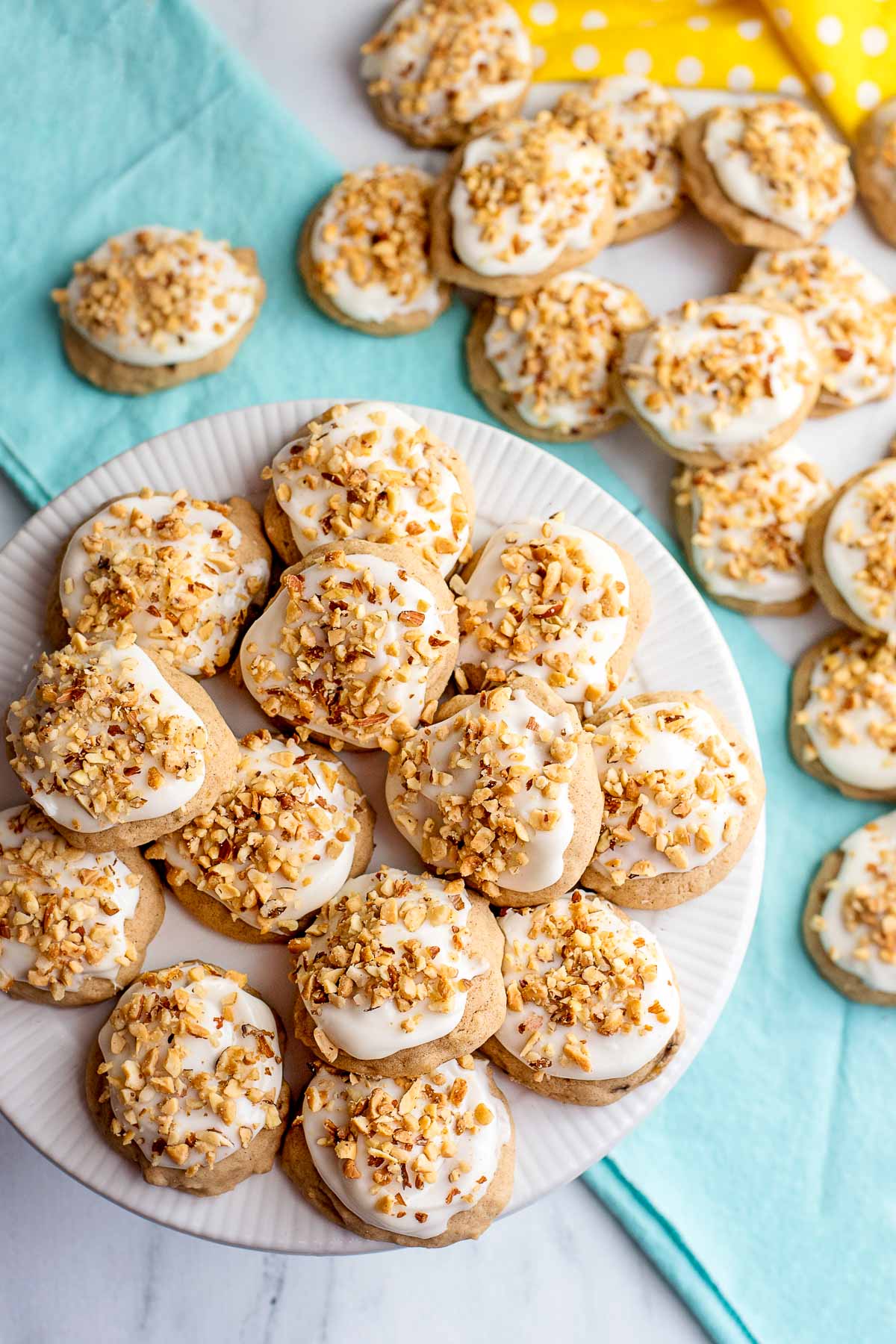 Recipe Ingredients
Light Brown Sugar
Unsalted Butter
Ground Cinnamon
Eggs
Bananas – choose ripe bananas. You'll need 1 cup worth. They should be fully ripe for for texture (easy to mash) and best flavor.
Milk
All Purpose Flour – regular or gluten-free measure-for-measure flour blend may be used (the recipe has been tested with both).
Baking Powder
Salt – I recommend Kosher Salt. It's less salty tasting and distributes well when sprinkled into recipes.
Cream Cheese – be sure to use softened cream cheese. Either allow it to sit out at room temperature until soft or use the soften function on a microwave.
Powdered Sugar
Chopped Walnuts – use your favorite nuts finely chopped for the topping.
Light Corn Syrup – this ingredient is a little trick! Added to the frosting and the frosting seals itself so the cookies can be stacked without messy frosting.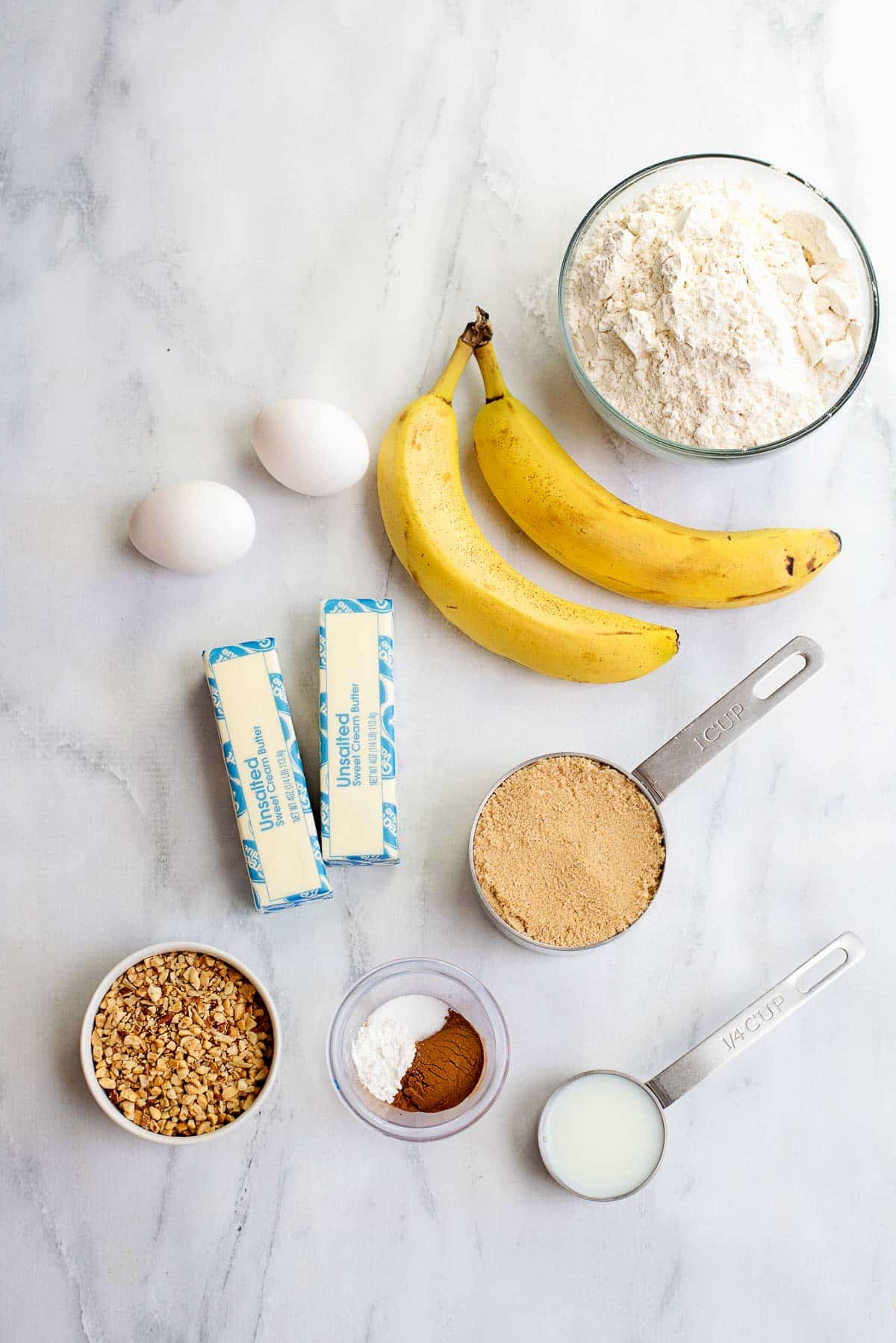 Cookie Texture
The cookie is more of a cakey cookie versus a chewy cookie.
The outside sets when baking and the inside has a light consistency.
We tested this recipe multiple times at sea level, at altitude, with regular flour and gluten-free measure-for-measure flour blend.
When baking at altitude with the gluten-free flour, the cookies developed more lines and light cracks than the sea level regular flour cookies.
The texture was still moist and the flavor delicious. The frosting covers up the tops of the cookies too.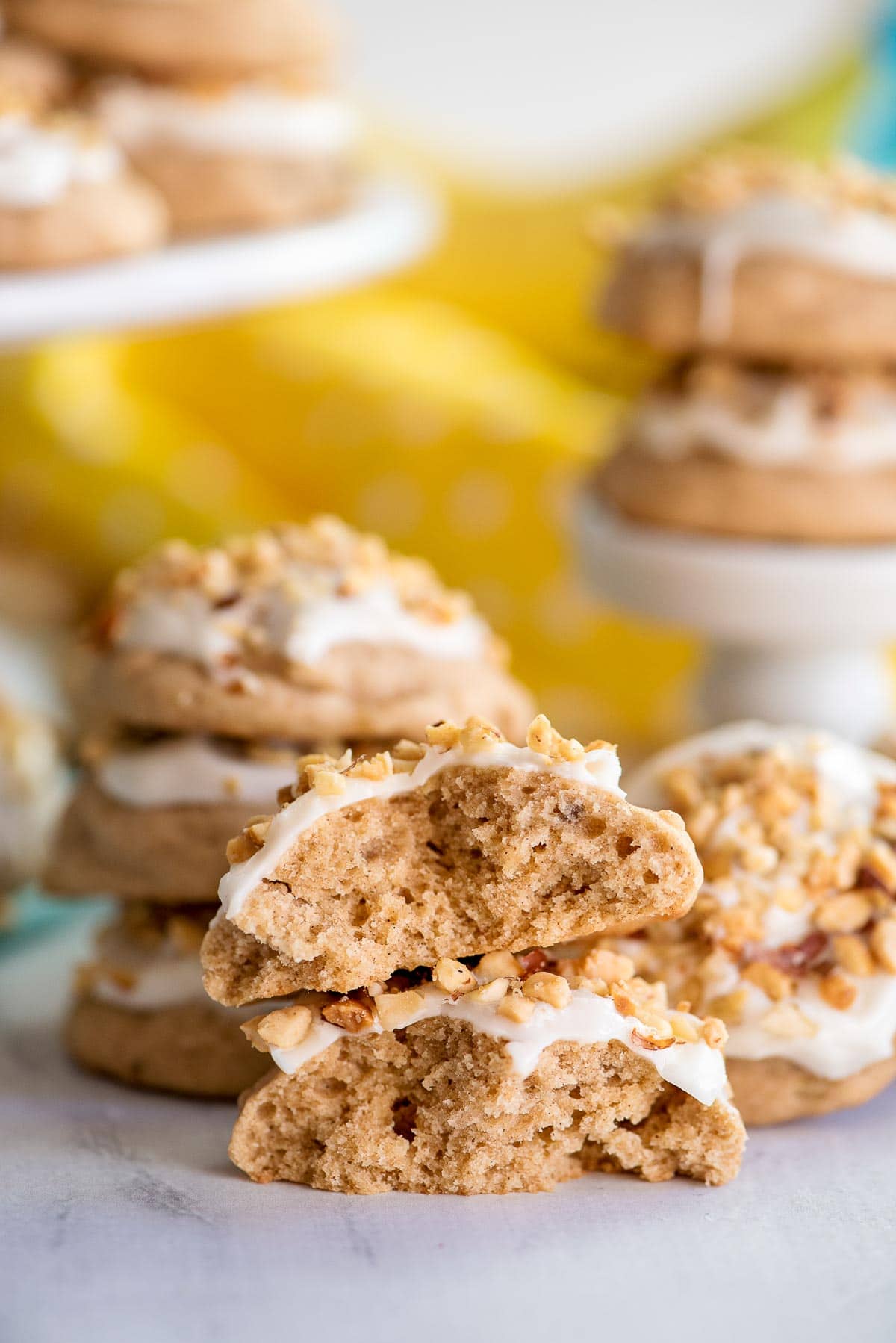 How to Make it – Step-by-Step
STEP 1: Preheat oven to 375 degrees. Line a rimmed baking sheet with parchment paper (unless it is non-stick).
STEP 2: Using a mixer combine the brown sugar, butter, cinnamon and eggs (photos 1-2). Add the milk and mash bananas (photo 3); mix to fully combine (photo 4). The batter will be lumpy.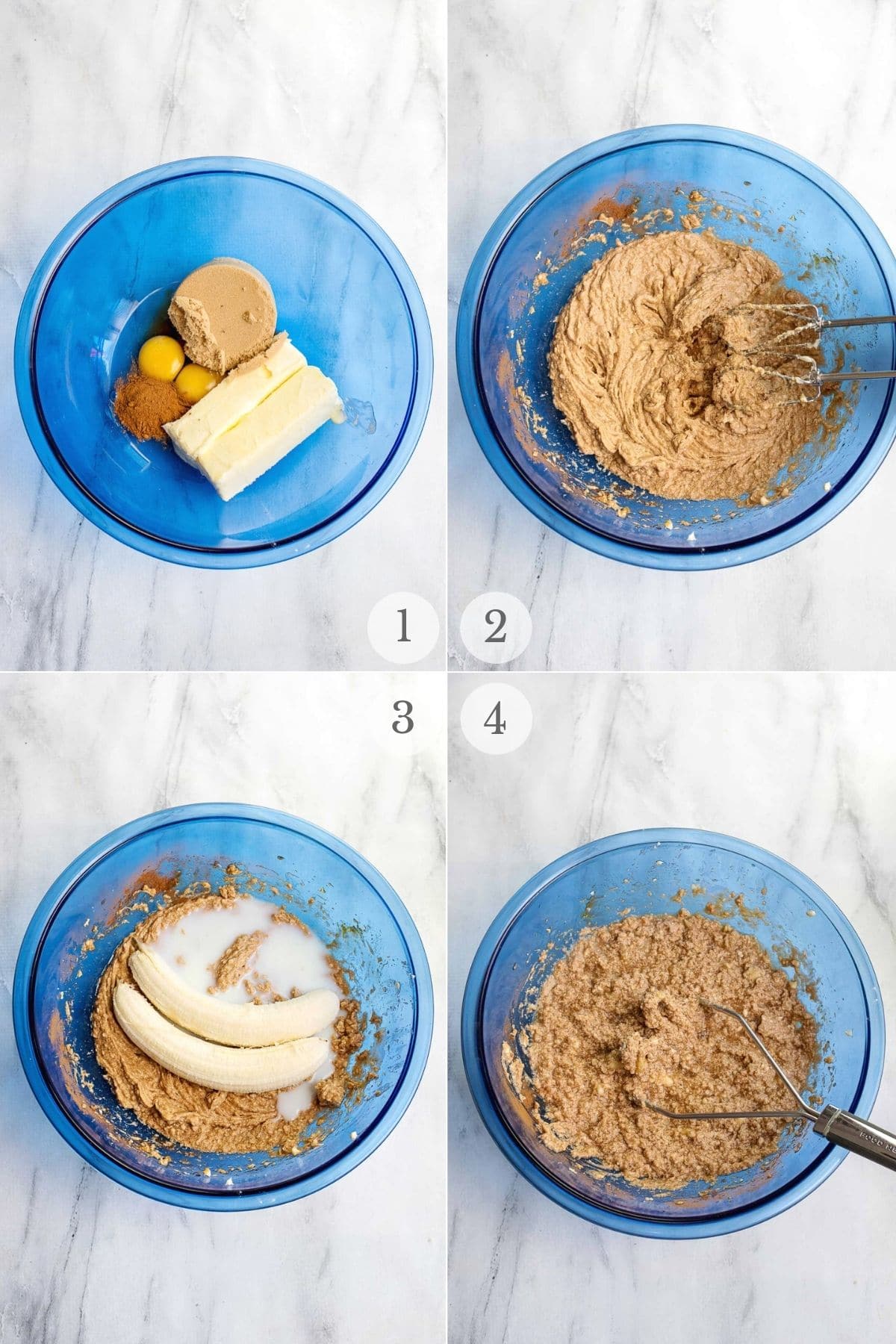 STEP 3: Add the flour, baking powder and salt (photo 5); stir to fully combine (photo 6).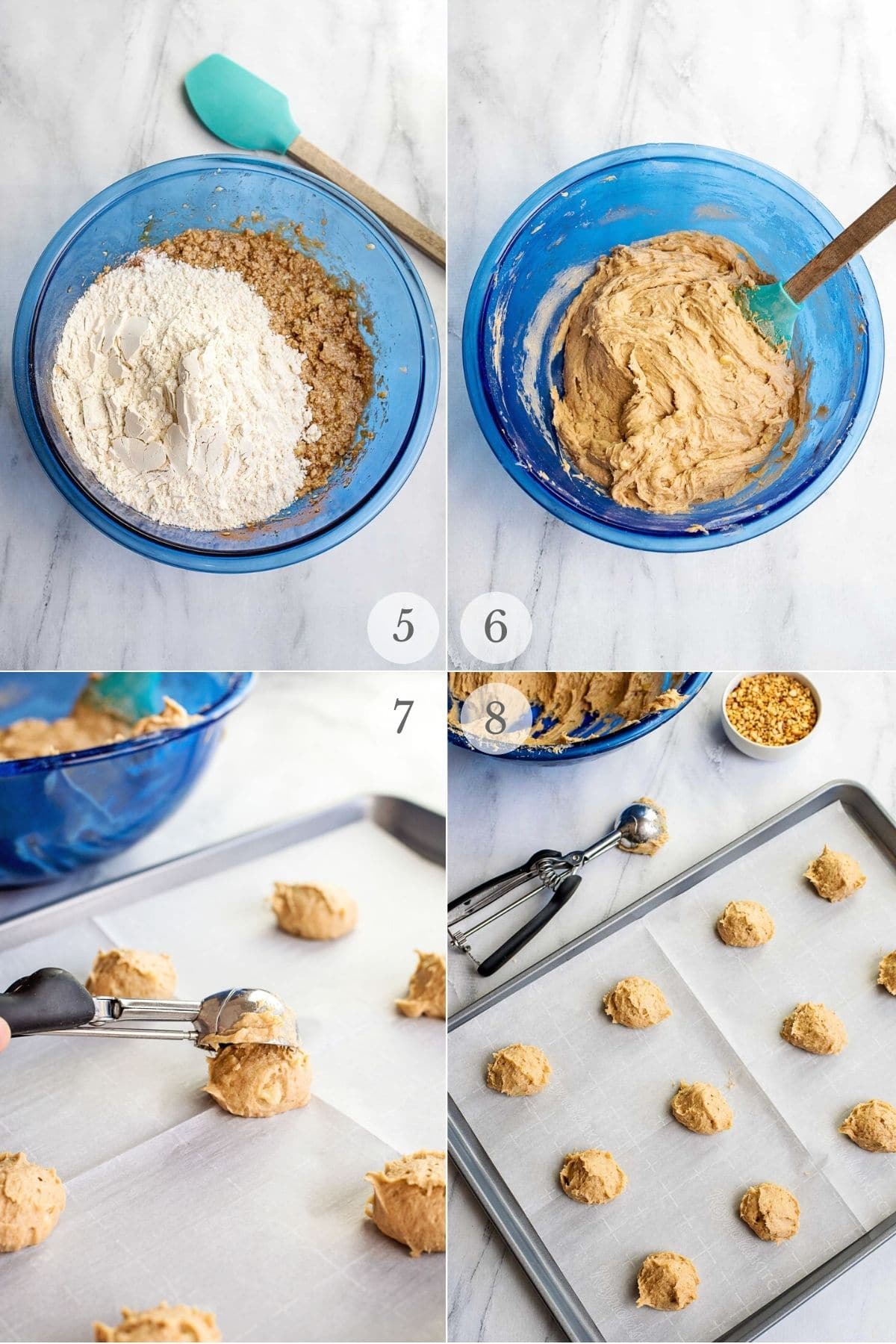 STEP 4: Drop in rounded tablespoons leaving 2 inches in between onto the cookie sheet (photo 7-8). NOTE: using a 1 1/2 tablespoon cookie scoop makes quick tidy work of it!
STEP 5: Bake for 9-11 minutes just until the tops are lightly golden in color (photo 9). Cool on the baking sheet 5 minutes then transfer to a wire rack to fully cool before frosting (photo 10).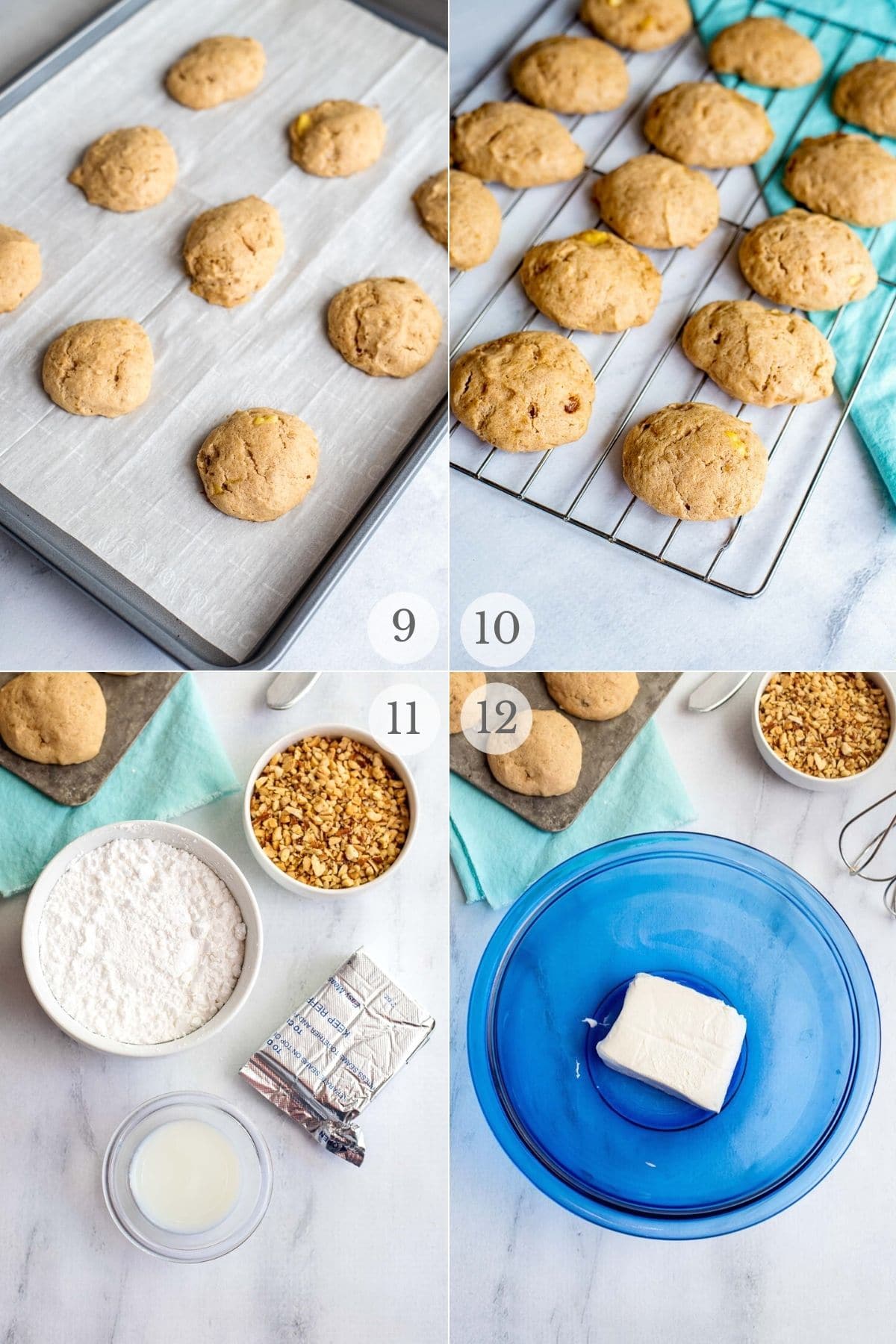 Frosting the Cookies
(ingredients in photo 11)
STEP 1: Using a mixer beat the softened cream cheese until light and fluffy (photos 13-14).
STEP 2: Add 1 cup of powdered sugar (photo 15) and mix until creamy (photo 16). Add in the remaining powdered sugar and continue to mix until frosting has formed.
PRO TIP: to prevent the frosting from sticking when stacking the cookies, add 2 teaspoons of light corn syrup to the frosting.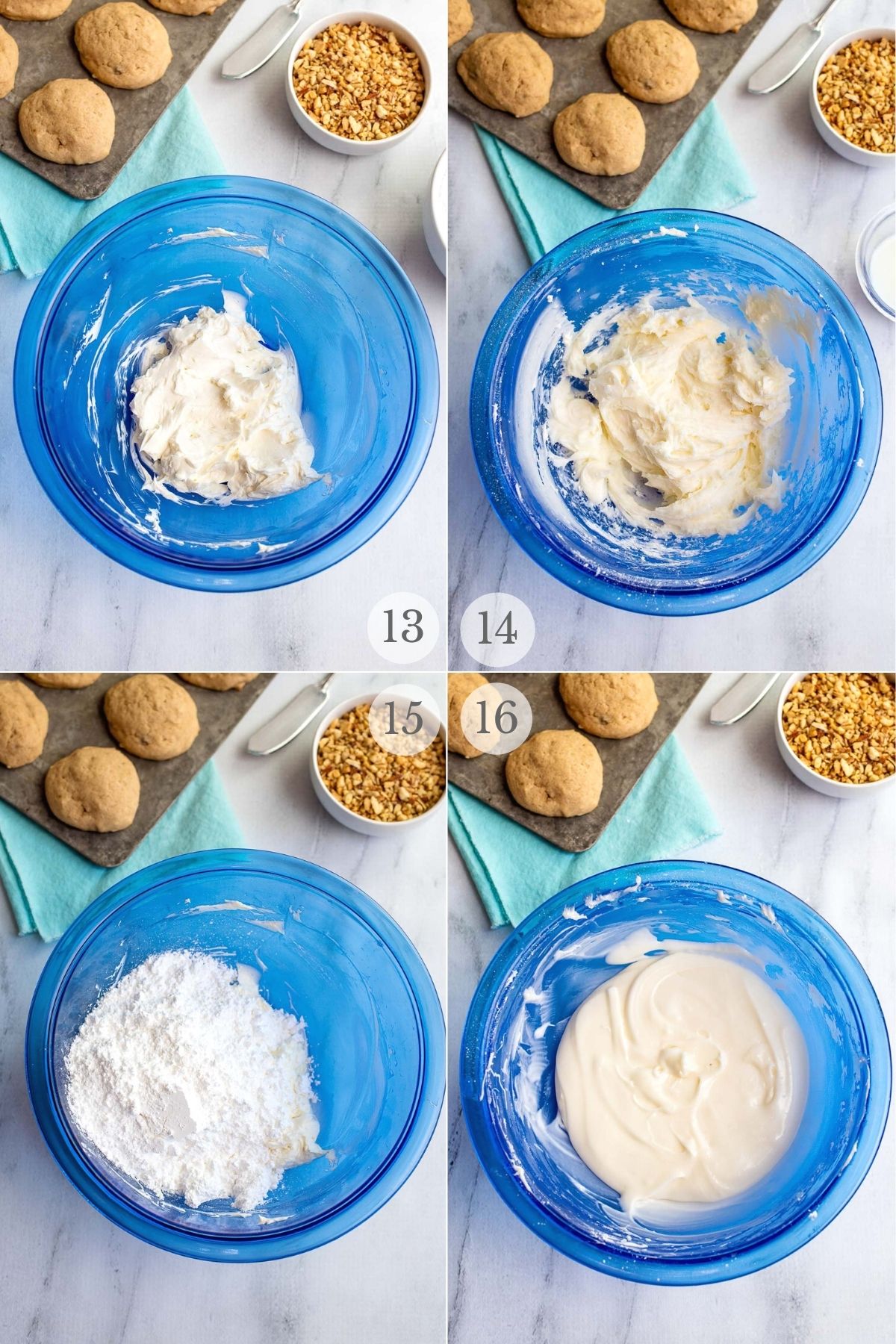 Frosting the cookies and sprinkle with the nuts.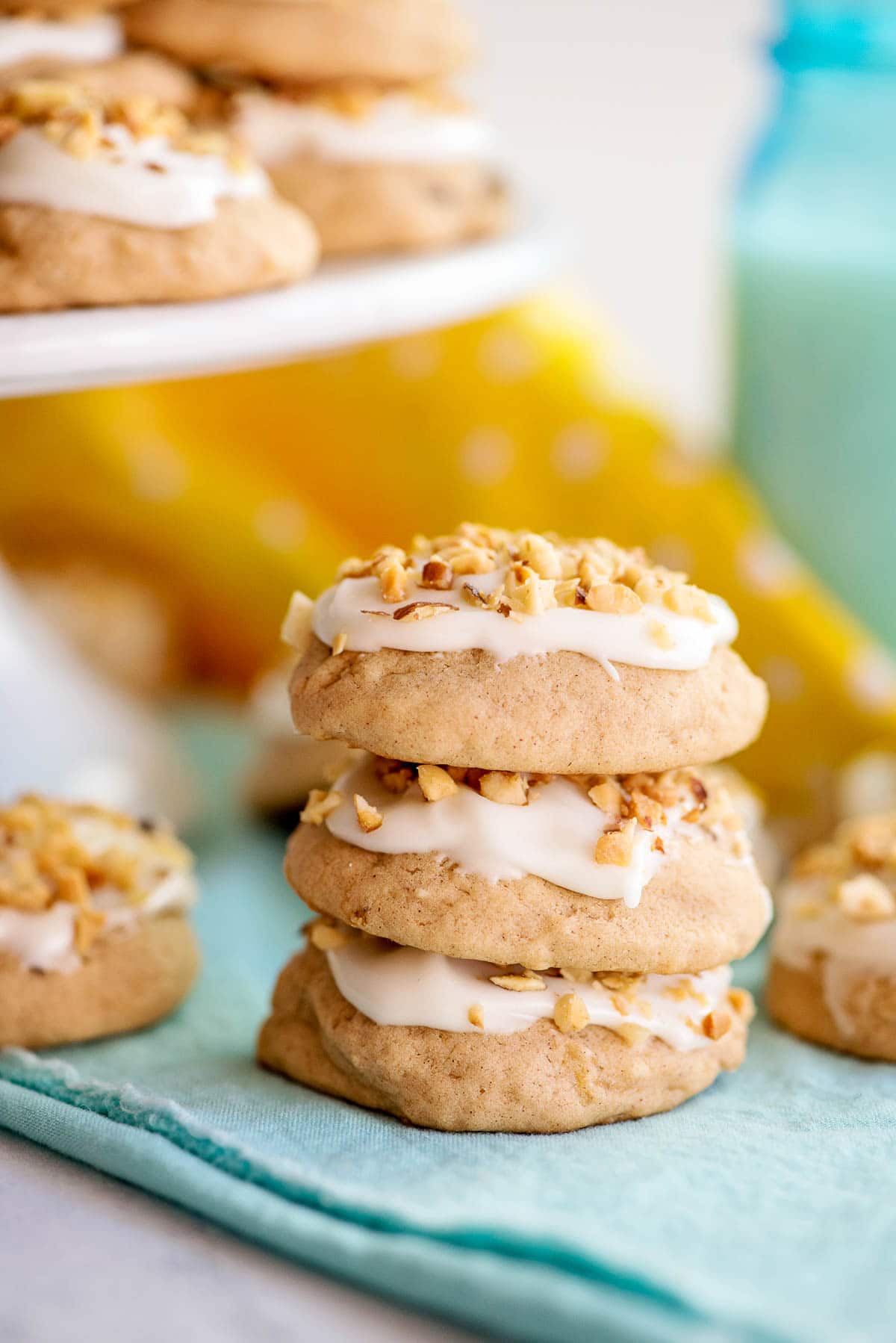 Pro Tips
Using a 1 1/2 tablespoon cookie scoop is fast and easier than scooping the cookie dough with a spoon.
Allow the cookies to cool on the baking sheet then fully on a wire rack. These are light, cakey cookies that are more delicate until they fully cool.
Adding a just a bit of Light Corn Syrup to the frosting seals it. The cookies can be stacked on each other. It will set once the frosting sits for a few minutes.
Frost a cookie and add nuts, then repeat for the next cookie (versus frosting all cookies then adding nuts). This ensures the nuts will stick if using the corn syrup trick in the frosting.
Nut topping for ice cream can be used instead of chopping nuts to add on top of the frosting (time saving tip!).
How to Store
Store in a sealed container in the refrigerator for up to 4 days.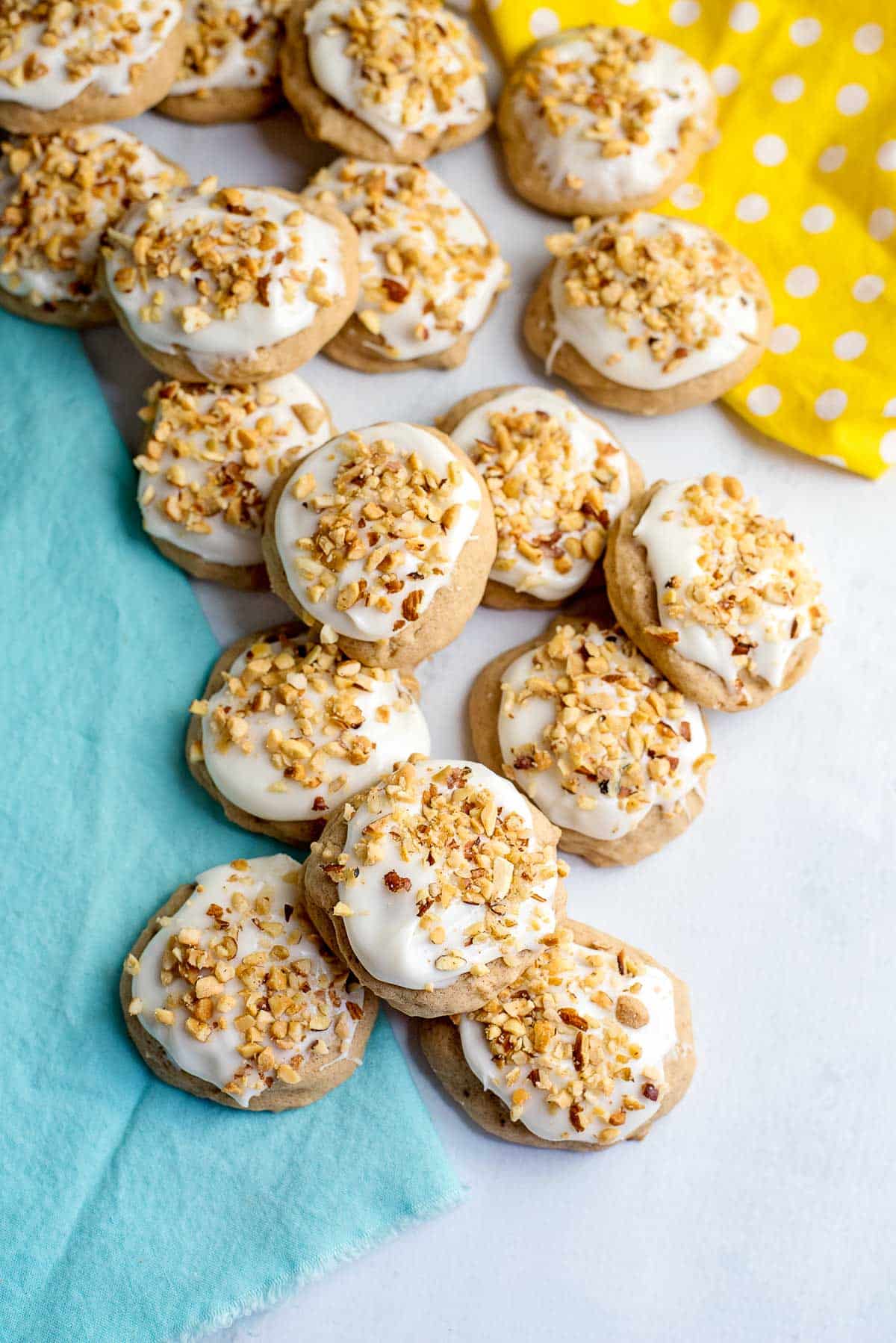 More Banana Recipes You'll Love!
Try these Cookie Recipes too!
Did you make it? Please RATE THE RECIPE below!
Please SUBSCRIBE and FOLLOW ME on FACEBOOK , TWITTER , INSTAGRAM and PINTEREST !