Fresh and light Asparagus Soup is made with just a handful of wholesome ingredients. It's a creamy soup but has no cream or milk in it! Perfect any time.

Grilled asparagus is always a great way to celebrate the summer season but Asparagus Soup is perfect all year long!
The flavors from the asparagus tips, tender stalks with onions and garlic along with some lemon make a delicious end result.
It's light enough for a summer soup and a great start to a winter meal without being too heavy.
It's a creamy soup in texture but unlike Cream of Asparagus soup, it doesn't have any cream or dairy!
You'll love this soup! It's family friendly with rave reviews from adults and kids alike.
Try our French Onion Soup too!
Recipes Ingredients
This soup is naturally gluten-free!
Olive oil
Yellow Onion – the onion can be rough chopped or thinly sliced. The soup is blended at the end so it doesn't matter which you choose.
Garlic Clove
fresh Asparagus
Low Sodium Broth – either vegetable or chicken broth can be used. Select low sodium so you can control the salt level with seasoning.
Juice of 1 Lemon – the lemon juice keeps the soup from becoming bitter. It adds a fresh flavor to the soup too.
Salt and Pepper

When is Asparagus in Season?
Asparagus is available all year. The true season is in the Spring in the United States with harvesting between February and June.
Depending on where you live, this is the perfect time to pick wild asparagus too!
How to Select Asparagus
The stalks should be straight as well as smooth and firm to the touch. They should not be limp or wilted.
The tips should be closed as in the photo above. They too should be compact.
The color should be a vivid and not dull.
How to Trim Asparagus
The very bottom of the asparagus stalk will often have a woody texture. This should be removed before cooking asparagus.
It's easy to trim because the asparagus will basically do the work for you.
Hold onto the end of the stalk (not the tip) and bend the stalk until it breaks.
The asparagus will naturally snap between the woody section and the tender area you'll cook.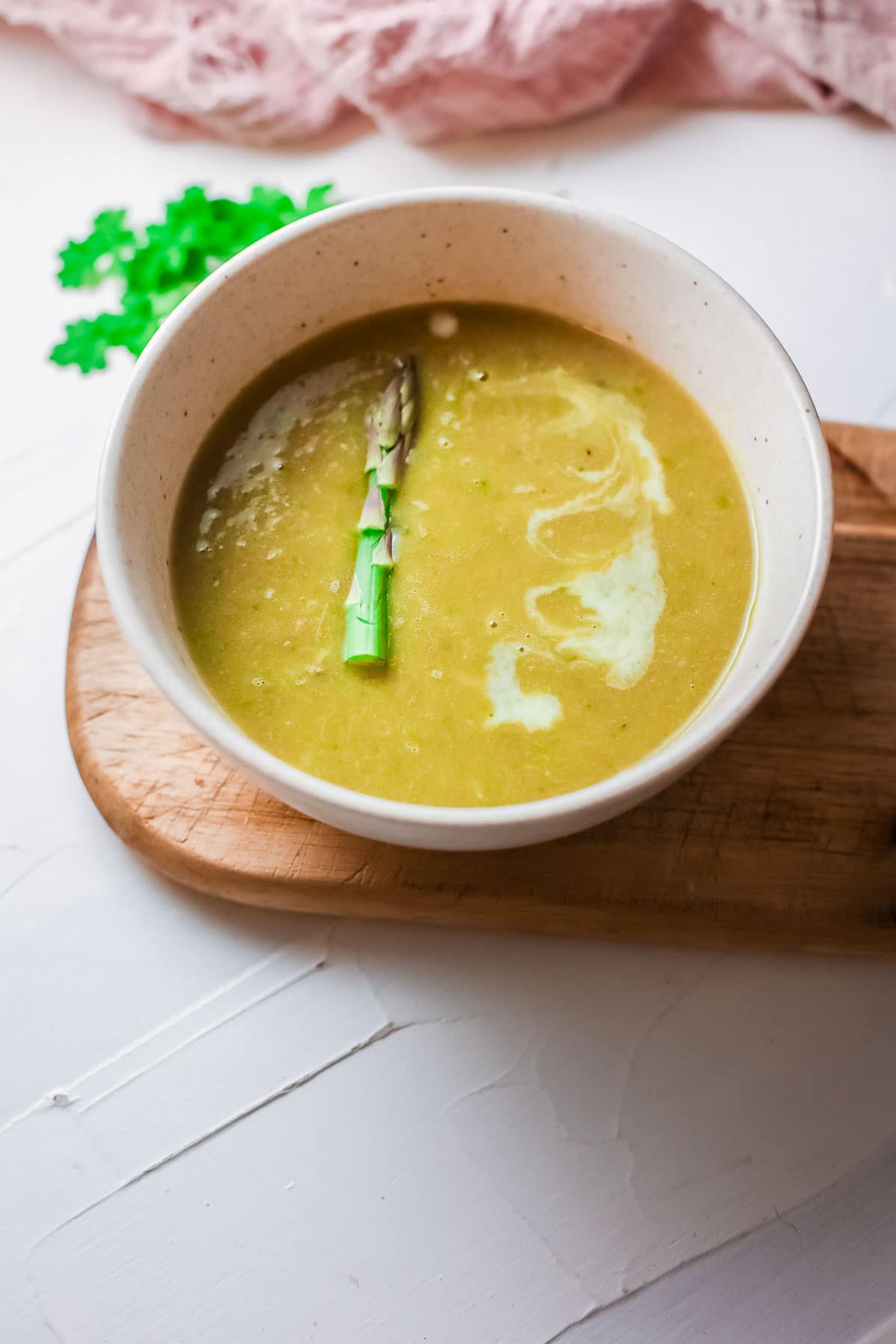 How to Make it – Step-by-Step
STEP 1: Heat the olive oil in a stock pot or Dutch oven over medium-high heat. Add the onion (photo 1) and saute, cook stirring until soft and translucent (aproximately 9 minutes).
STEP 2: Add the garlic and cook for 1 minute or until fragrant.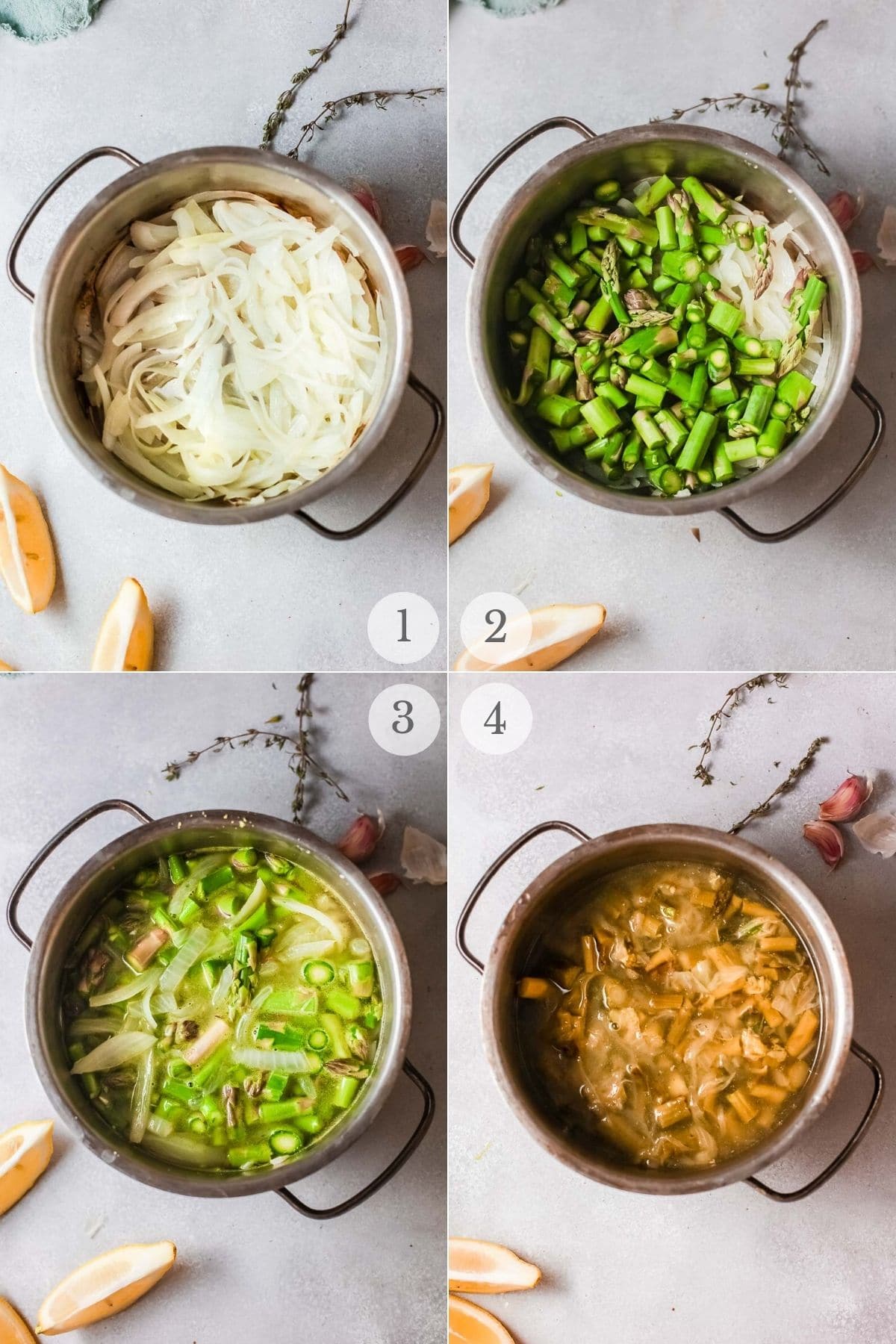 STEP 3: Add the asparagus (photo 2) and saute for 3 minutes.
STEP 4: Pour in the broth, salt and pepper (photo 3). Bring to a simmer and cook for 35 minutes or until the asparagus is tender (photo 4).
STEP 5: Use an immersion blender (aka hand blender) to puree the soup until completely creamy (see below). Add the lemon juice and stir to combine.
Alternatively a regular blender may be used processing the soup in batches.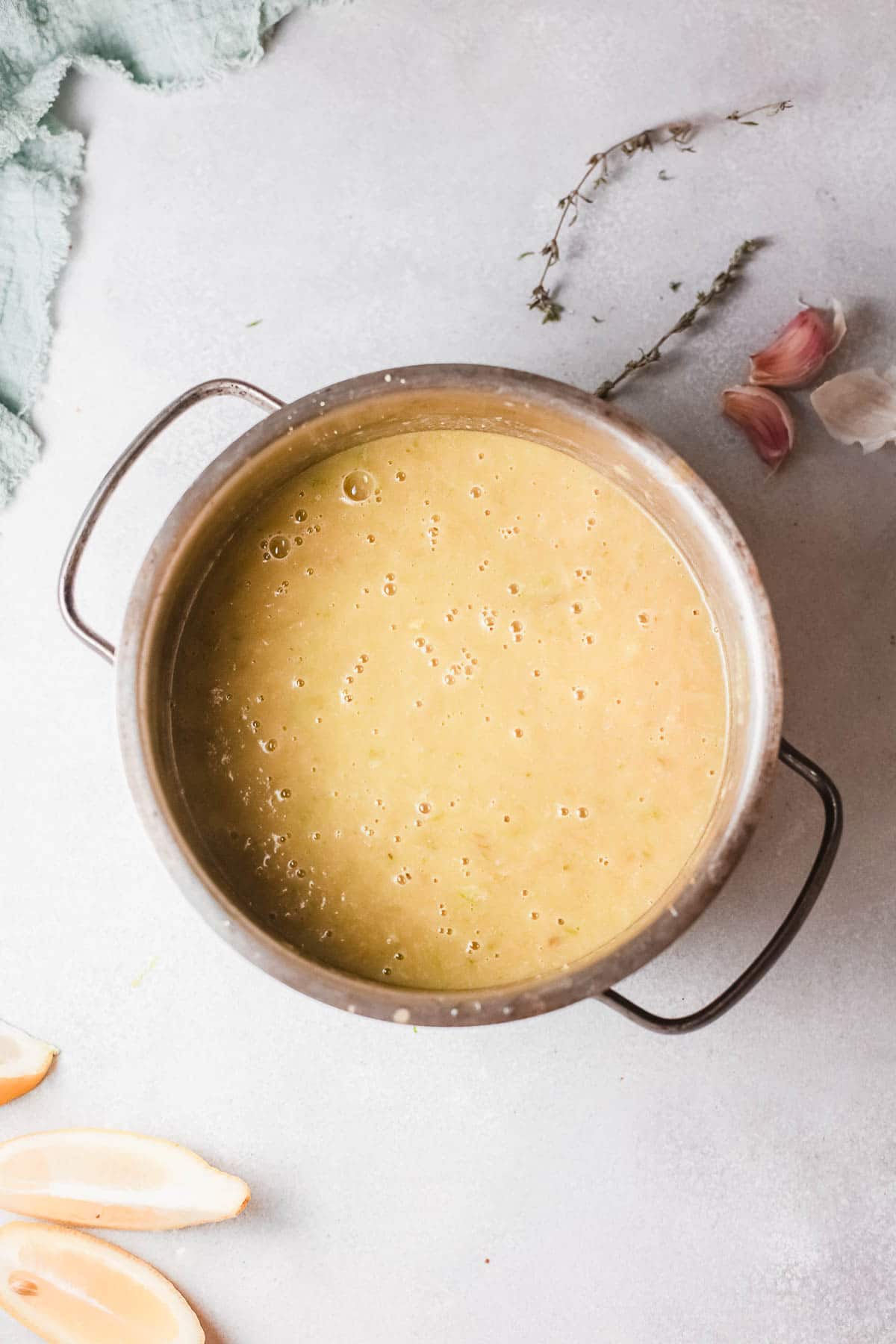 How to Serve it
This hot soup is perfect on its own BUT these favorite toppings add a special touch. Pick one or a few:
shredded Parmesan cheese
a drizzle of heavy cream
cracked pepper
spoonful of Greek yogurt
crumbled Bacon
How to Store it
Allow it to cool and store in a sealed container for 4-5 days in the refrigerator.
How to Freeze It
Since there is no cream or milk in the soup it can be frozen with great results.
Allow to cool fully. Place in a freezer safe container. Leave 3/4-inches space on top (for expansion), seal and freeze for up to 3 months.
Thaw in the refrigerator and warm on the stove top.
What to Serve with It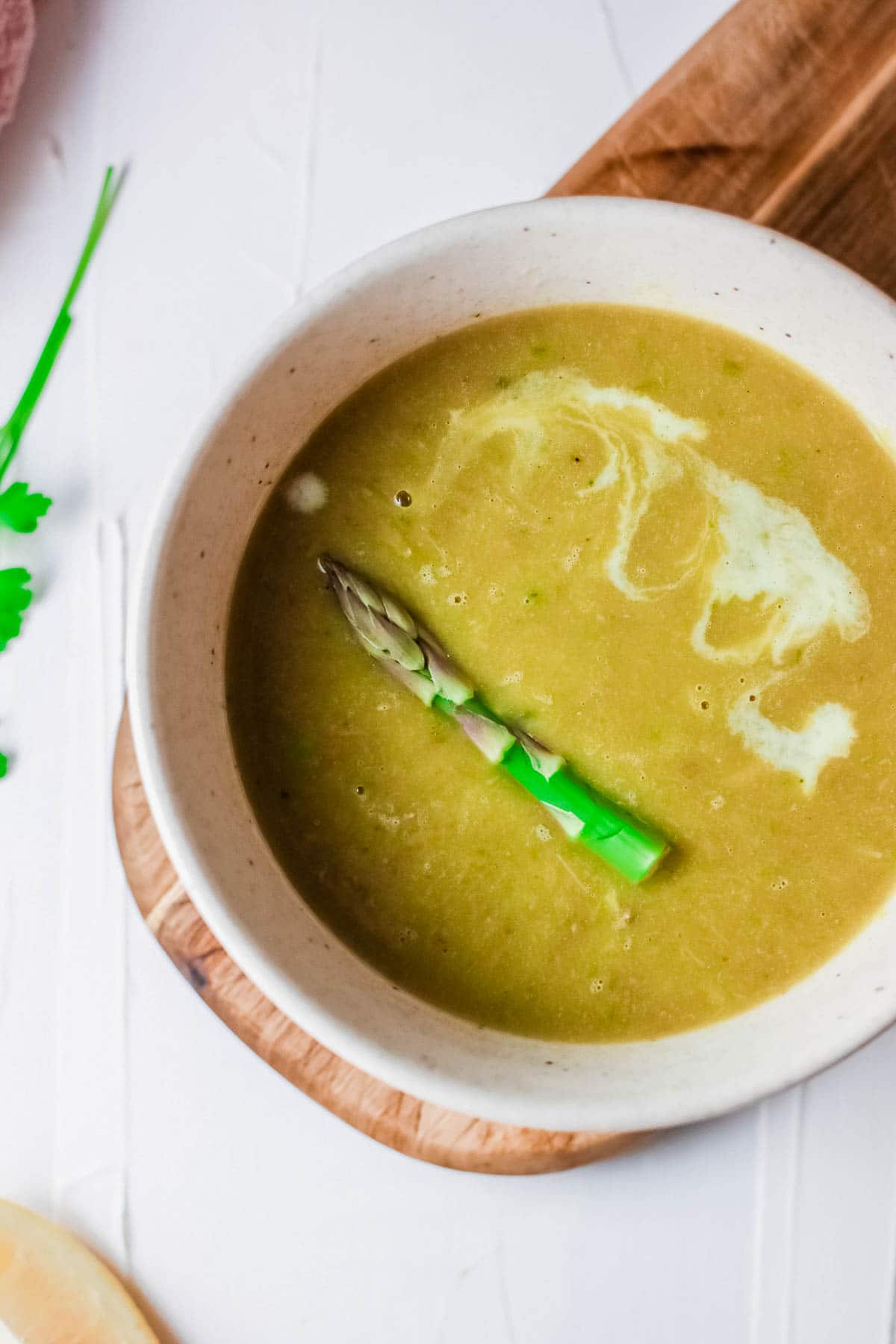 More Asparagus Recipes You'll Love!
Did you make it? Please RATE THE RECIPE below!
Please SUBSCRIBE and FOLLOW ME on FACEBOOK , TWITTER , INSTAGRAM and PINTEREST !