Move over classic margaritas there's a new cocktail in town! These easy Pineapple Margaritas are bursting with fresh flavors in a fresh-style marg. Perfect to pair with your favorite Mexican food.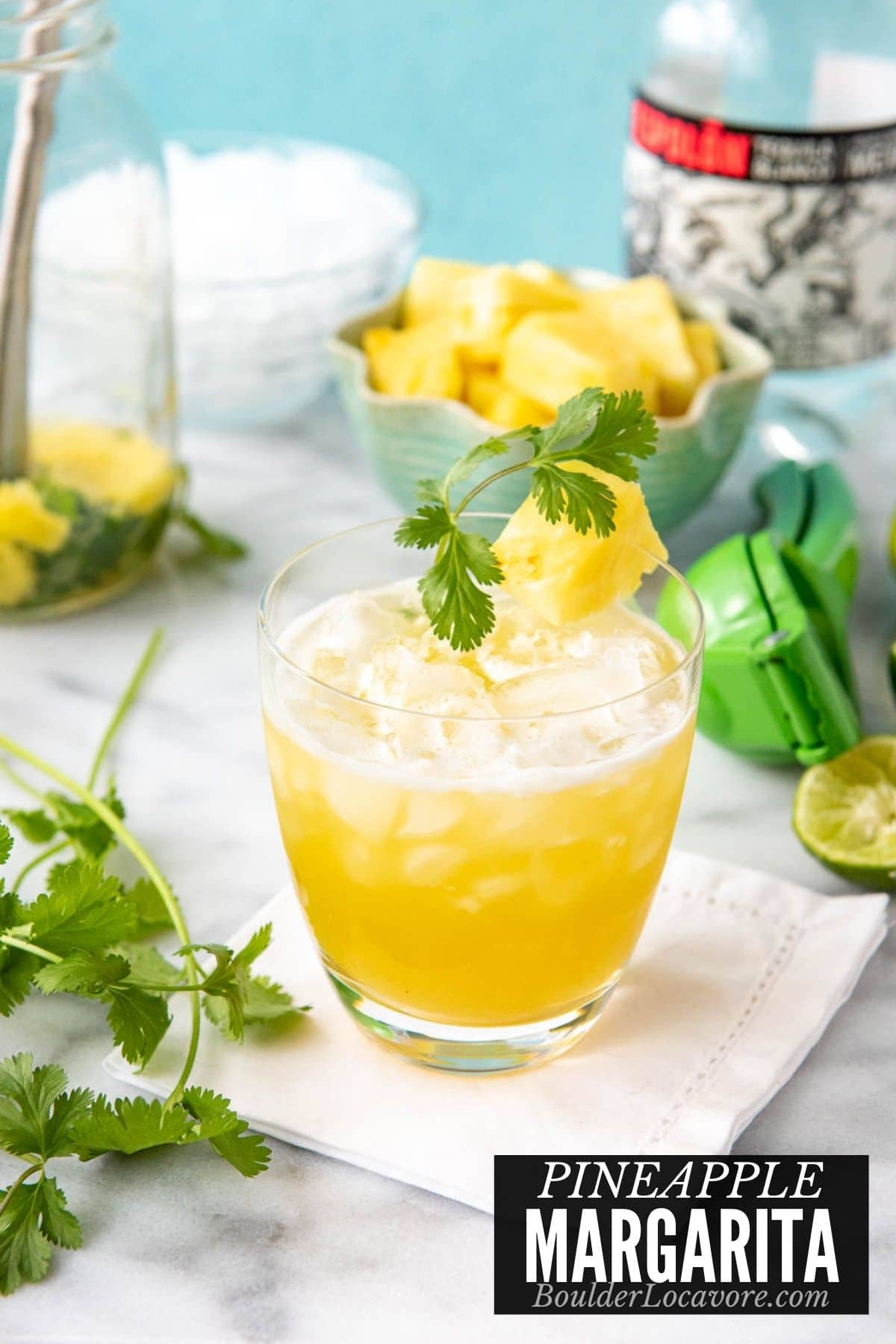 This fresh-style margarita is packed with pineapple and cilantro flavors. An unexpected combination that is thirst quenching and light.
Great on hot summer days or for celebrating Cinco de Mayo.
If you like a spicy cocktail try our Spicy Maiden. It is another pineapple cocktail winner.
The original inspiration for this cocktail came from a trip to a Santa Fe New Mexico restaurant a number of years ago.
After a long day we went out to a local restaurant with a friend in Santa Fe. Our server made a version of this cocktail tableside.
It was so delicious and refreshing I created my own version after reaching home.
Fresh-style Pineapple Margarita
Fresh-style margaritas are simply the best in my opinion.
Frozen margaritas are delicious but fresh-style margaritas allow the ingredient flavors to shine.
Instead of loading them up with sugary mixers or Triple Sec they are sweetened with agave syrup. Fresh lime juice brightens the flavors.
In the case of this pineapple margarita, the fresh pineapple and cilantro are muddles together with the tequila.
The resulting flavors are bright and fresh. It's a delicious cocktail especially in hotter temperatures.
Leaving out the extra sugary ingredients or mixers leaves the margarita tasting better and you potentially feeling better when you drink it.
I personally think the extra sugar contributes to hangovers….but I'm not a doctor and don't play one on TV.
Don't love Cilantro?
You can just leave it out.
What is muddling?
It's basically mashing together ingredients to release the natural flavors, juices and oil. This gives the freshest flavor to the cocktail.
It can be done in a shaker or a quart glass Mason jar as shown in the photos. Using a muddler will pulverize the solid ingredients and herbs.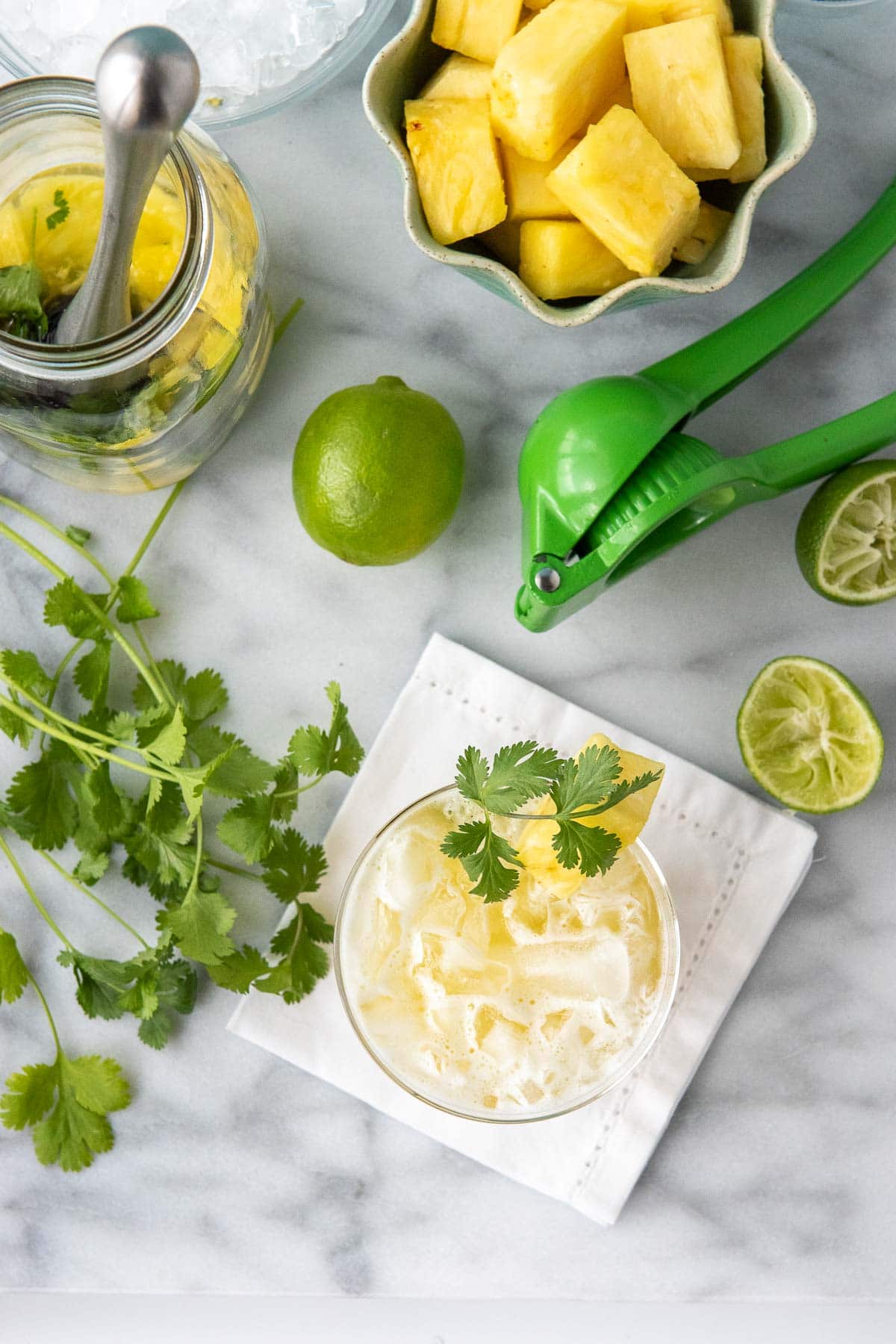 Recipe Ingredients + Notes
Pineapple. Use fresh, ripe pineapple for the best flavor. Also if the pineapple is under ripe it won't be as juice.
Cilantro. Use fresh cilantro. And if you aren't a cilantro lover, just leave it out. The straight pineapple margarita is delicious.
Tequila. Use Blanco or Silver tequila. The flavor is lighter so it won't overwhelm the pineapple flavor as an aged tequila can.
Agave nectar. This will lightly sweeten the margarita.
Pineapple juice. Just a touch will add more liquid and more pineapple flavor.
Lime juice. Freshly squeezed will give the best flavor. I prefer using a hand held juicer for this.
Ice. You'll need it both for making the cocktail and some fresh ice for serving.
Salted Rim
We did not salt the rim of this pineapple margarita recipe feeling it didn't need it for the flavor to pop.
You certainly CAN salt the rim or serve it in a traditional margarita glass.
Use margarita salt or kosher salt. Run some lime juice around the rim and then dip the glass into the salt, turning it gently for the salt to coat the rim.
Allow it to set before pouring in the margarita.
For photos of rimming a glass check these on our Salty Dog cocktail.
Supplies you'll need
Shaker or jar. Use a cocktail shaker or a quart size glass jar with a cocktail strainer.
Muddler. For the fresh ingredients.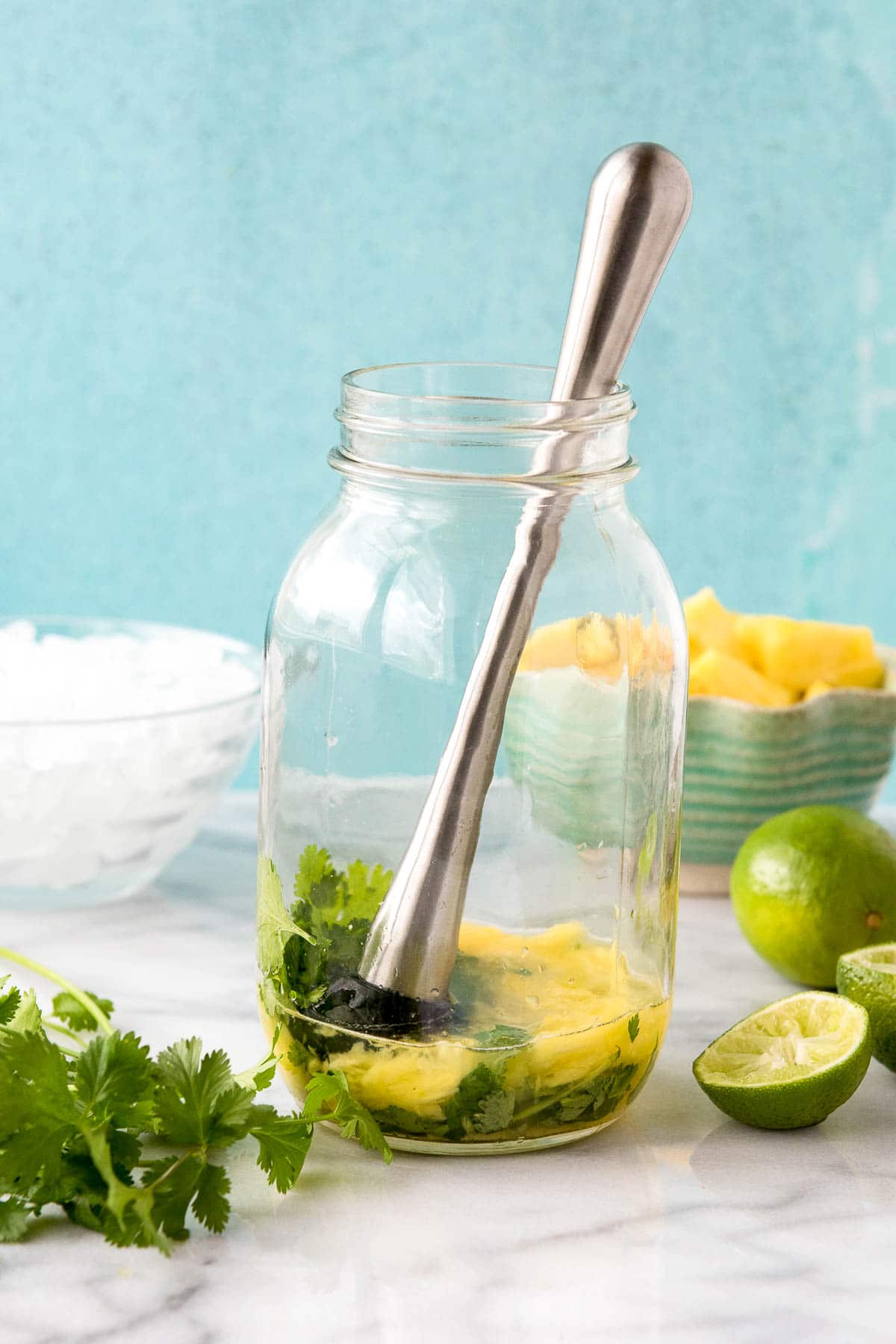 How to Make it – Step-by-Step
STEP 1. Muddle the fresh ingredients
Combine the pineapple, cilantro and tequila in a cockail shaker or quart size glass jar.
Use a muddler to break down the pineapple and cilantro.
STEP 2. Shake
Add the agave syrup, lime juice, pineapple juice and a handful of ice to the shaker.
Seal and shake vigorously to combine the ingredients.
NOTE: Shaking for a good minute allows the ingredients to fully mix and for the pineapple and cilantro to break down and infuse into the liquids.
STEP 3. Strain, pour and serve
Strain into an Old Fashioned glass filled with fresh ice.
Garnish with a pineapple wedge or lime wedge and a sprig of fresh cilantro.
What to serve with Pineapple Margaritas
These margaritas go with anything but are especially good with Mexican Food. Here are some favorite pairings: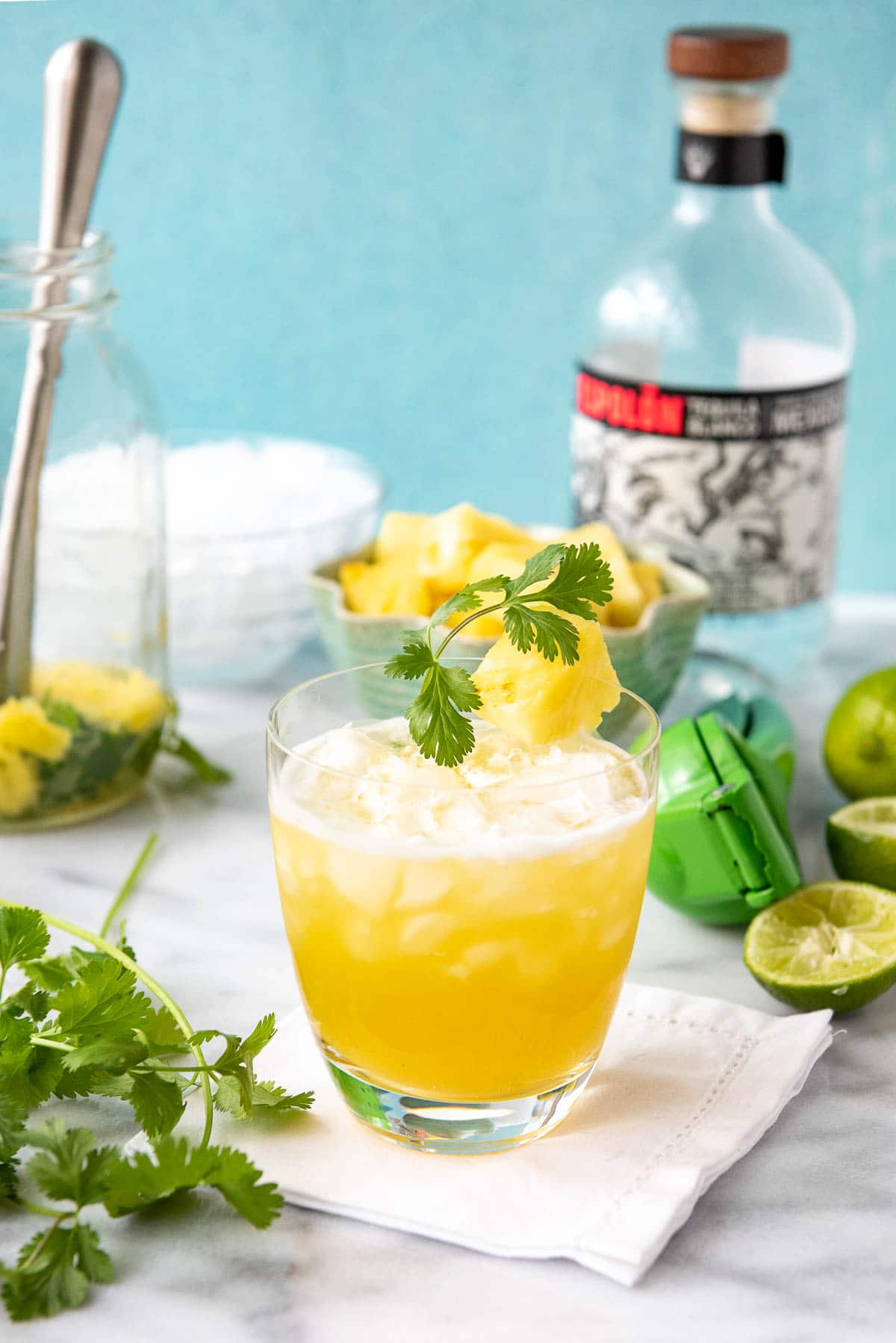 More Margarita Recipes You'll Love!
Did you make it? Please RATE THE RECIPE below!
Please
SUBSCRIBE
and
FOLLOW ME
on
FACEBOOK
,
TWITTER
,
INSTAGRAM
and
PINTEREST
!
Originally published: April 4, 2015