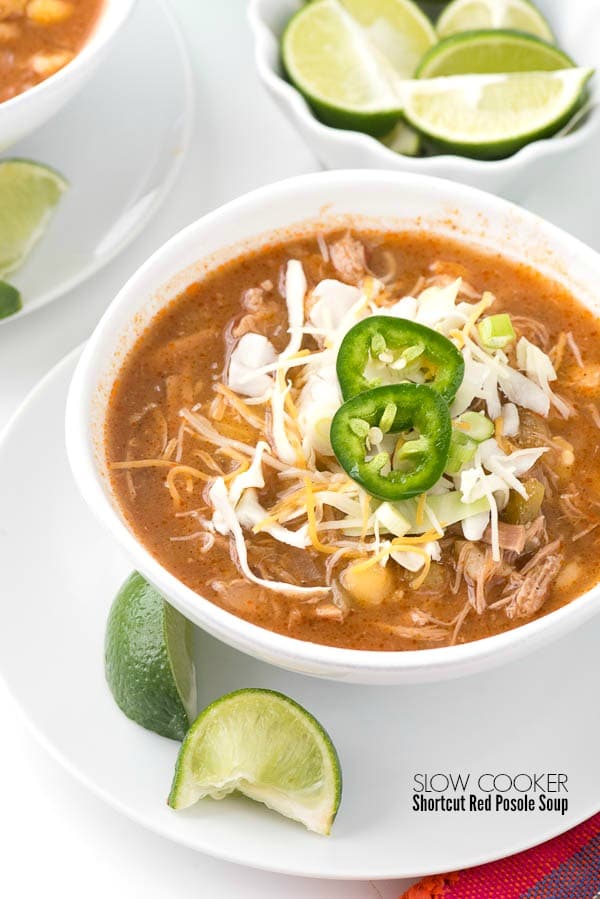 I had what felt like a lifesaving experience with Posole last month and I have not been able to get it out of my head.  Like a memory of a favorite life moment, I have pictured it frequently not ready to let it go.  I had driven down to Santa Fe to discover their Margarita Trail program.
I had four days of meetings and tastings before me as well as some side excursions planned to write about.  On the way down I felt the early signs of a cold coming on.  I had loaded the car with water, homeopathic and traditional remedies, determined not to let in set in.  But alas, it bowled me over like a freight train.
When we were in Santa Fe, all I wanted was hot spicy soup to eat.  I was fortunate to find it in a few locations and it was salve I needed to make it through.  Our last stop was at the Inn of the Governor's where we ended up staying for two nights due to a snowstorm delaying our drive home.
It was cold with snow flurries in Santa Fe too so instead of embarking out to cram more excursions into our last day, we stayed in our room with a blazing piñon fire.  I binge watched the newest season of House of Cards on my iPad while my kids caught up on homework due for school the next week.  It was so great to finally get a real rest in the comfort of our cozy room.
To our great fortune the onsite restaurant, Del Charro, provides the room service for the hotel.  I was once again able to order posole and what a gorgeous sight it was.  They top their version with strips of red tortillas I've only seen in Santa Fe.  The spicy broth was the elixir I needed and the chunks of meat and hominy gave it a hearty, filling substance.  It really was heaven.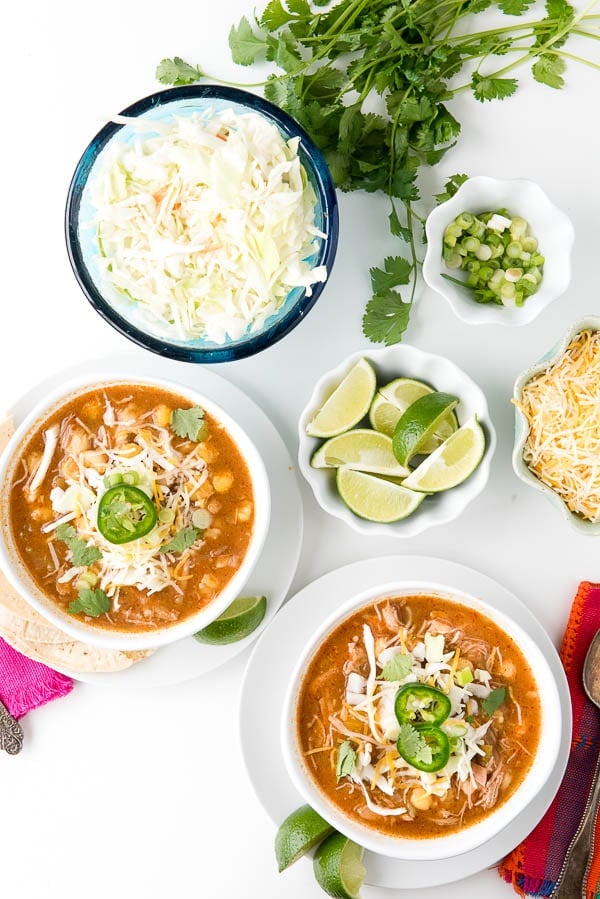 When I returned home I vowed I was going to make posole, having so appreciated when in Santa Fe, but time got away from me.  I was busy thinking of spring recipes, however a four-day snow storm and Cinco de Mayo paved the way for making some this past weekend.
For those who have not enjoyed posole it is a spicy soup recipe of Mexican origin containing hominy and usually pork.  It can be made in three ways, denoted by color.  Red posole (the type I'm sharing today) is made using multiple chilies to give it a spicy, sultry red color and flavor.  Green posole uses green ingredients such as tomatillos, jalapenos or cilantro to still create a spicy broth however with a green color to the soup.  White posole doesn't include any green or red sauce.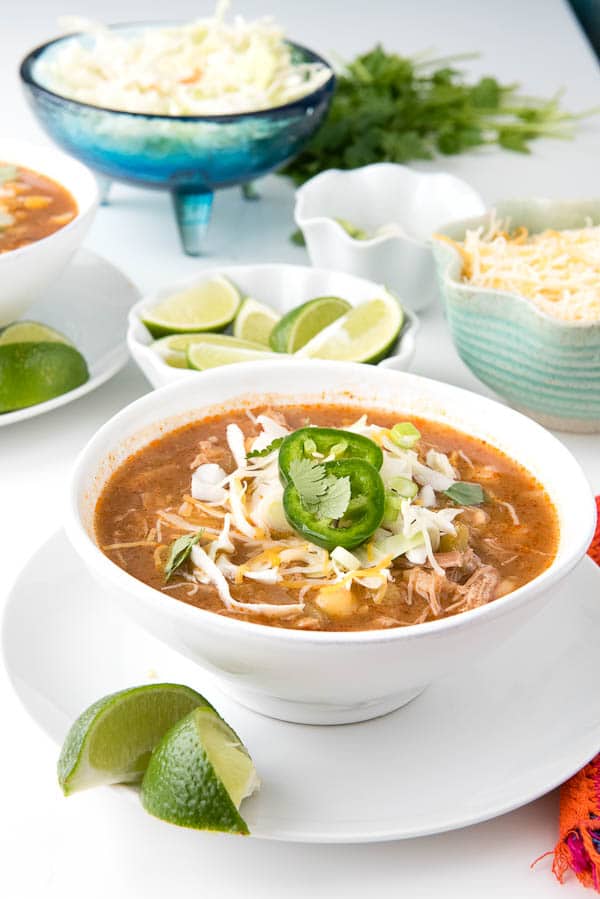 Posole typically is made with pork however some recipes call for chicken or both meats.  Like any recipe with historic roots, there are many versions and many ideas of what defines a true posole.  Family lineages have made it their way for generations, cementing it as a cornerstone in their culinary traditions.  In New Mexico posole is a New Year tradition, treated very much like eating Hoppin' John is in the south.  After tasting this again, we may ditch our black eyed pea devotion as the first thing eaten on New Year's Day for posole!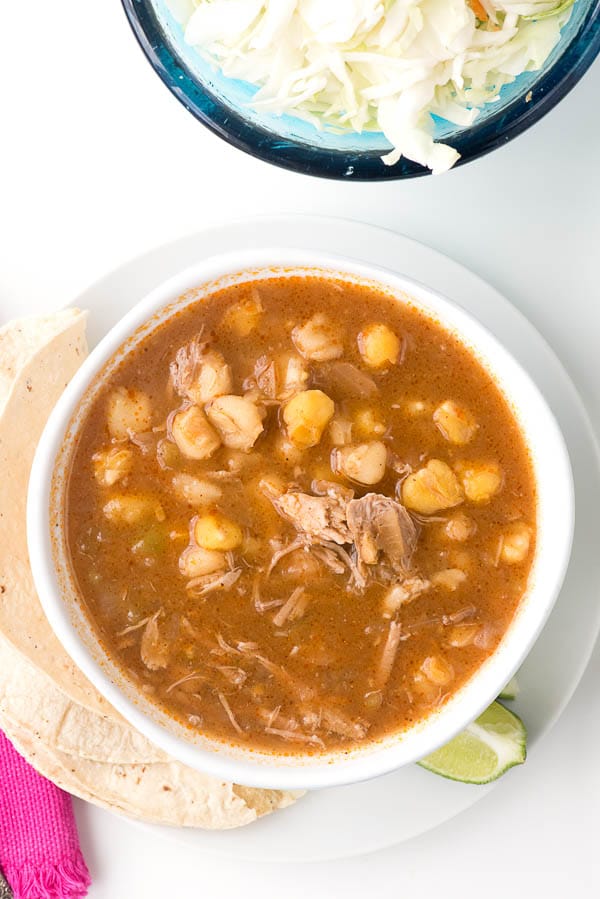 I always tread lightly when creating a recipe for something so coveted and traditional as posole.  I created a Slow Cooker Shortcut Red Posole recipe this weekend that we love.  The step of preparing the dried peppers and making a paste (similar to making Mole) is replaced with red enchilada sauce which I find bears the same deep-rooted flavors of serious chilies that I loved in the posole that I had in Santa Fe.  It can be difficult to find time to make everything from scratch. or to find specific chilies in some areas and this yields a delicious satisfying soup one won't soon forget.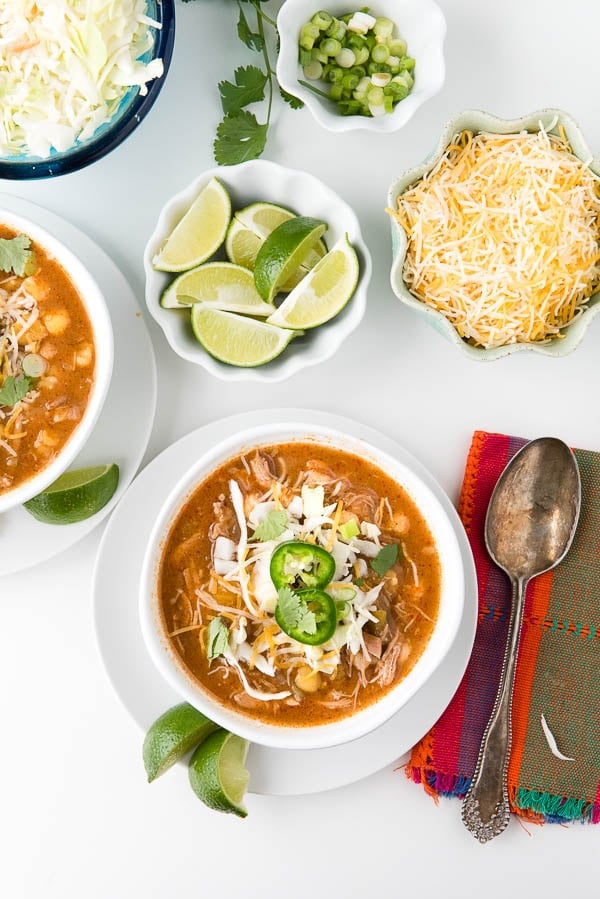 Instead of cubing the pork which is common as in this Green Chile Stew I shared early on Boulder Locavore, the pork shoulder is left to simmer and shredded at the end.  Posole is typically topped with a variety of things such as shredded cabbage, radish slices, cubed avocado, lime wedges, slices of chilies or fried tortilla slices.  The choice is yours to make it your own.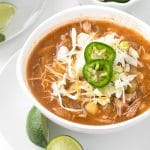 Slow Cooker Shortcut Red Posole
Total Time
7
hours
10
minutes
Ingredients
1

medium Yellow Onion

, peeled and chopped

1 2-

pound

Pork Shoulder

, trimmed of excess fat and string removed if tied

4

Garlic Cloves

, peeled and diced

1 4-

ounce

can mild Green Chilies

1 25-

ounce

can White Hominy

1 15-

ounce

can Yellow Hominy

½

teaspoon

ground Cumin

1

Jalapeno Pepper

, seeded and sliced into thin rings

2 15-

ounce

cans Red Enchilada Sauce

(select a gluten-free option if needed)

4

cups

Low Sodium Chicken Broth

Optional Garnishes: shredded cabbage

, radish slices, small avocado cubes, lime wedges, shredded cheese, tortilla strips
Instructions
In a large 6-7 quart slow cooker sprinkle the onions on the bottom and place the pork shoulder on top of them. Then layer the ingredients as noted in the ingredient list: garlic, green chilies, white and yellow hominy, cumin, jalapeno slices, enchilada sauce and chicken broth. Cook on HIGH for 7 hours or until the meat is fully cooked.

Remove the pork onto a plate or cutting board. Using two forks, shred the meat, discarding any pieces of fat, and return the pork to the slow cooker. Serve with garnishes. Note: the posole may be removed from the slow cooker, placed into a sealed container (allow to cool first) and refrigerated to allow flavors to deepen further before serving.
Recipe Notes
Though this version uses mild enchilada sauce it is still spicy. I suggest adding hot sauce when serving if more heat is desired versus using hot enchilada sauce which risks it becoming too spicy for some diners.