Posole is a soul-warming Mexican stew featuring hominy and pork in a savory broth. This shortcut slow cooker version will keep you warm all winter!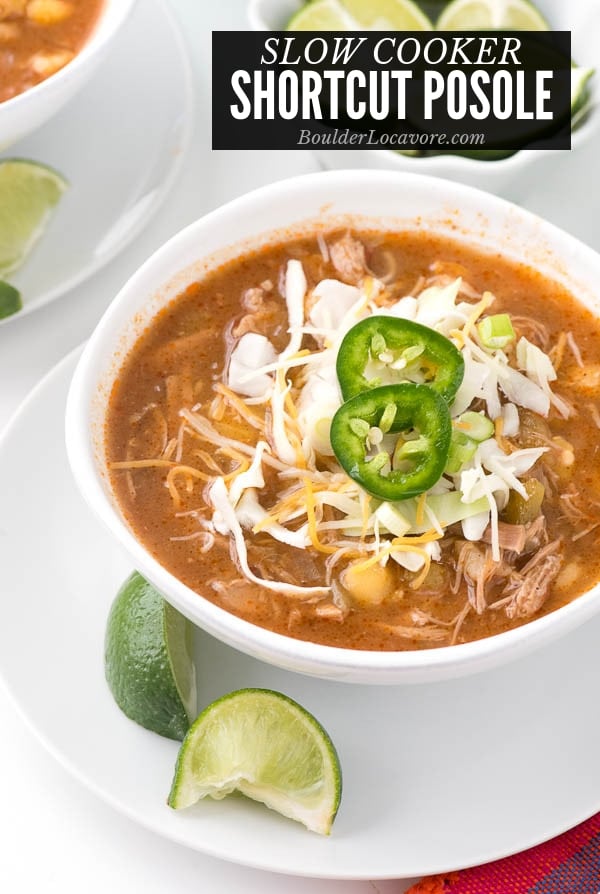 I love picking up recipes in my travels.
A cold weather favorite is Posole, that I was inspired to make at home after being caught in a Santa Fe, New Mexico snow storm!
After being stuck in our hotel (the Inn of the Governors) unable to drive back to Colorado, our day was made soul-warming with a bowl of Posole from their Del Charro restaurant.
Sipped in the coziness of our room by a roaring pinon wood fire, being snowed in didn't seem so bad!
Immediately following the trip, I created a slow cooker shortcut recipe that remains a favorite recipe to take the chill out of a winter's day.
Jump to: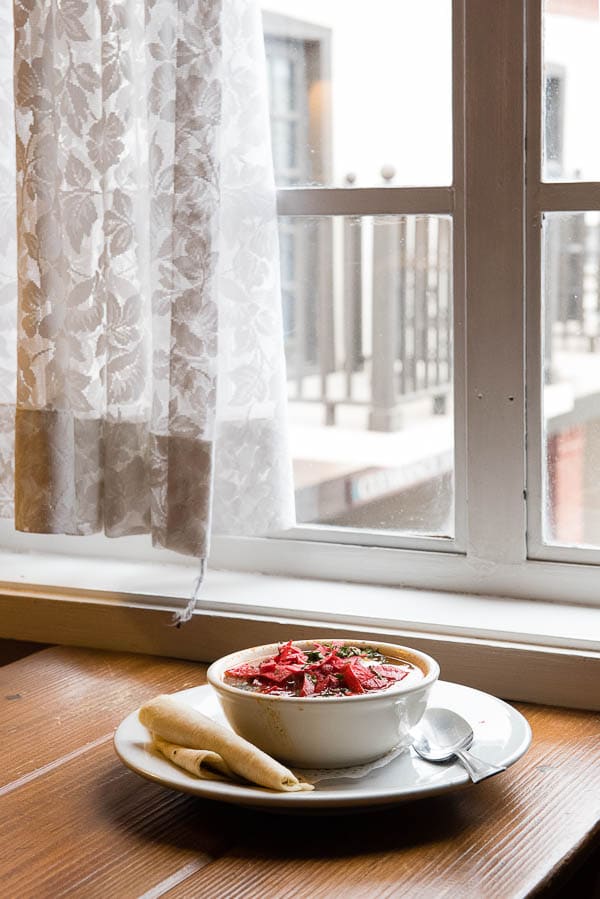 What is Posole?
Posole (also spelled Pozole) is an authentic Mexican soup or stew recipe made from hominy (dried corn soaked in a mineral lime bath).
The word 'posole' actually translates to mean hominy.
Typically it is made with pork however some recipes call for chicken or both meats.
Like any recipe with historic roots, there are many versions and many ideas of what defines an authentic Mexican posole recipe.
Posole is usually served topped with multiple garnishes. Sliced radishes, avocado, shredded cabbage, onion, garlic and lime wedges to squeeze into the tasty soup are all common.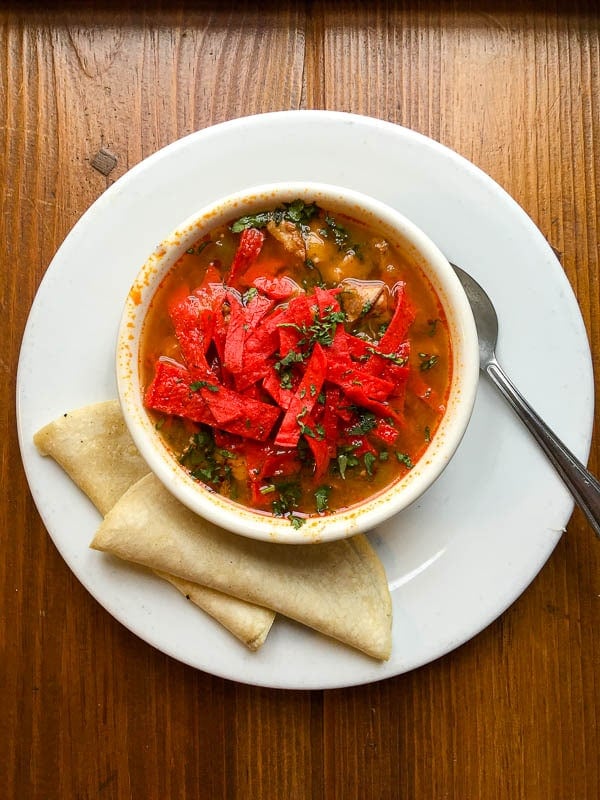 Ingredients in Posole
The ingredients in this recipe are simple and easy to prepare:
Yellow Onion
Pork Shoulder
Garlic Cloves
can mild Green Chilies
White Hominy
Yellow Hominy
ground Cumin
Jalapeno Pepper
canned Red Enchilada Sauce (select a gluten-free option if needed)
Low Sodium Chicken Broth
Optional Garnishes:

shredded cabbage
radish slices
small avocado cubes
lime wedges
shredded cheese
fried tortilla strips
pickled Jalapeno slices
Posole Recipe Timesaving TIPS
I always try to find shortcuts to make recipe preparation faster! Here are some I use for making this recipe:
Chop the onion in a mini chopper. After use just place the chopper container in the dishwasher
You'll love this easy way to seed jalapeno peppers!
I recently discovered frozen cubed avocado! It is harvested when ripe, peeled and cubed when frozen in a resealable bag. Remove the amount desired, allow it to thaw at room temperature and you are done! Perfect to use as a topping.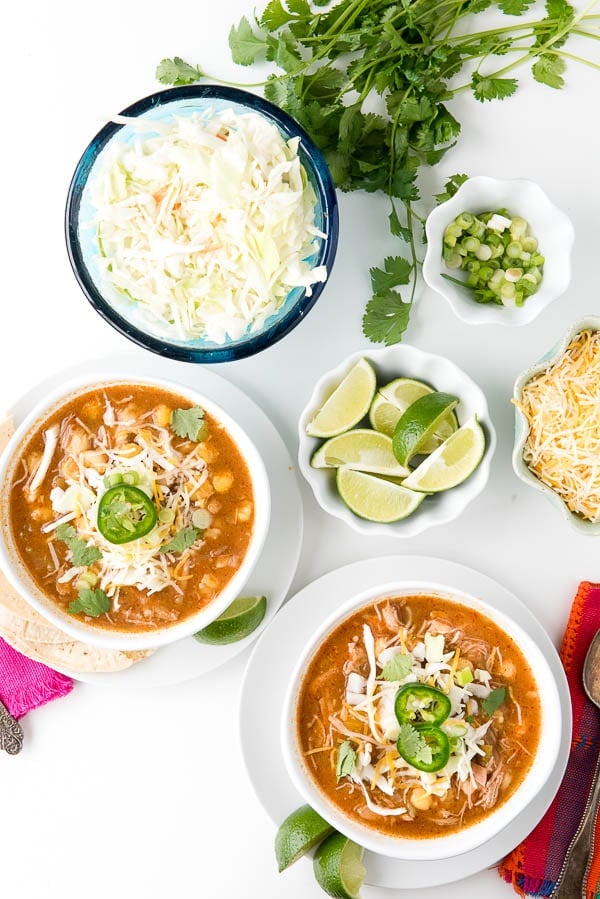 Authentic Posole Recipe Variations
Family lineages have made posole their way for generations, cementing it as a cornerstone in their culinary traditions.
In New Mexico, posole is a New Year tradition, treated very much like eating Hoppin' John is in the south.
Posole has some classic variations all denoted by color:
Red posole soup (the type I'm sharing today) is made using multiple chilies giving it an earthy red color and spicy flavor.
Green posole uses green ingredients such as tomatillos, jalapenos or cilantro to still create a spicy broth however with a green color to the soup.
White posole doesn't include any green or red sauce.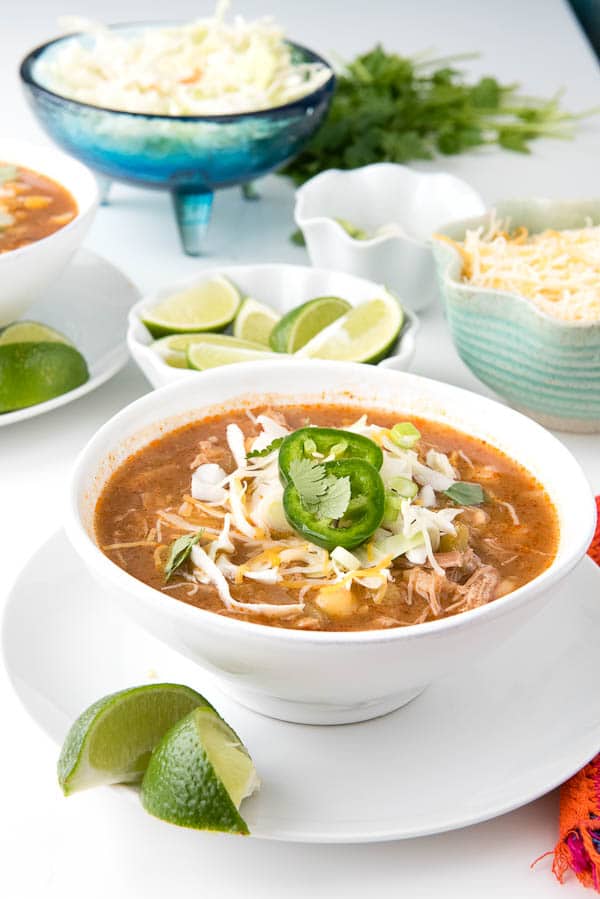 A Posole Shortcut
I always tread lightly when creating a recipe for something so coveted and traditional as posole.
This recipe is made easier while retaining the classic flavors by adding a shortcut step!
Instead of preparing the dried peppers and making a paste (similar to making Mole), red enchilada sauce is used.
I find it has the same deep-rooted flavors of serious chilies that I loved in the posole that I had in Santa Fe.
It can be difficult to find time to make everything from scratch, or to find specific chilies in some areas. This swap yields a delicious satisfying soup one won't soon forget.
A Note on Spiciness
Though this posole version uses mild enchilada sauce it is still spicy.
I suggest adding hot sauce when serving if more heat is desired versus using hot enchilada sauce which risks it becoming too spicy for some diners.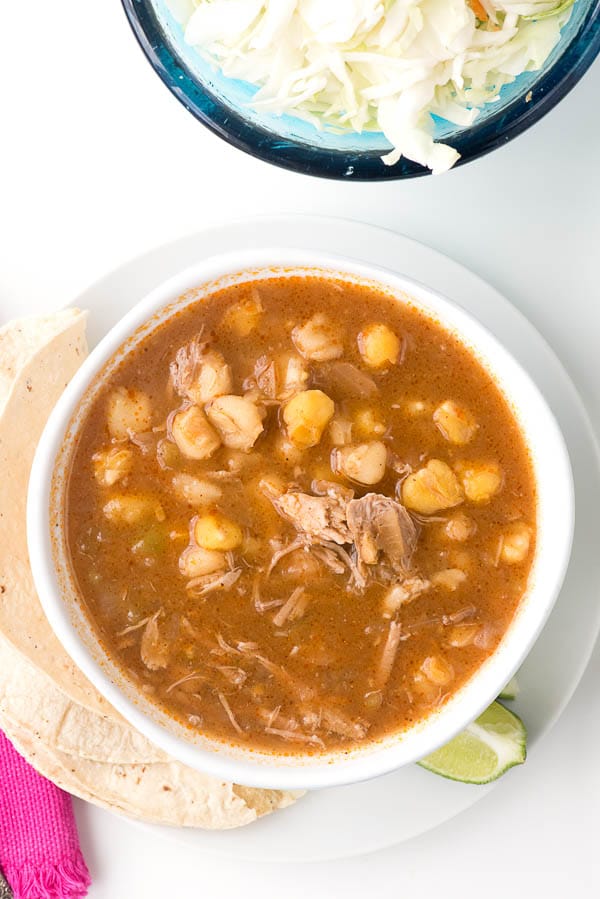 How to Make Posole in a Slow Cooker
We love this slow cooker version in my household.
It's easy and the long simmering of the ingredients creates an irresistible Mexican stew!
Sprinkle the onions in the bottom of a large 6-7 quart slow cooker.
Place the pork shoulder on top of the onions.
Follow by layering the ingredients as noted in the ingredient list:
garlic
green chilies
white and yellow hominy
cumin
jalapeno slices
enchilada sauce, and
chicken broth
Cook on HIGH for 7 hours or until the meat is fully cooked.
Remove the pork onto a plate or cutting board. Using two forks, shred the meat, discarding any pieces of fat, and return the pork to the slow cooker.
Serve with garnishes.

Can Posole be Made Ahead of Time?
Yes it can be made ahead of time! The posole may be removed from the slow cooker, placed into a sealed container (allow to cool first) and refrigerated to allow flavors to deepen further before serving.
Simply reheat on the stovetop or microwave before serving.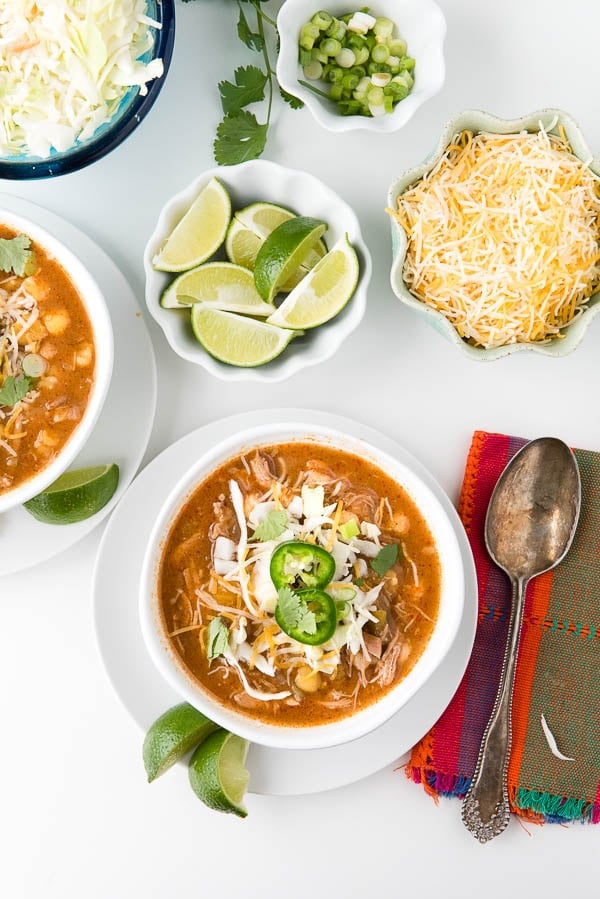 More Easy Comfort Food Stew Recipes You'll Love:
Did you make it? Please RATE THE RECIPE below!
Please
SUBSCRIBE
and
FOLLOW ME
on
FACEBOOK
,
TWITTER
,
INSTAGRAM
and
PINTEREST
!
Recipe
Originally published: May 3, 2016