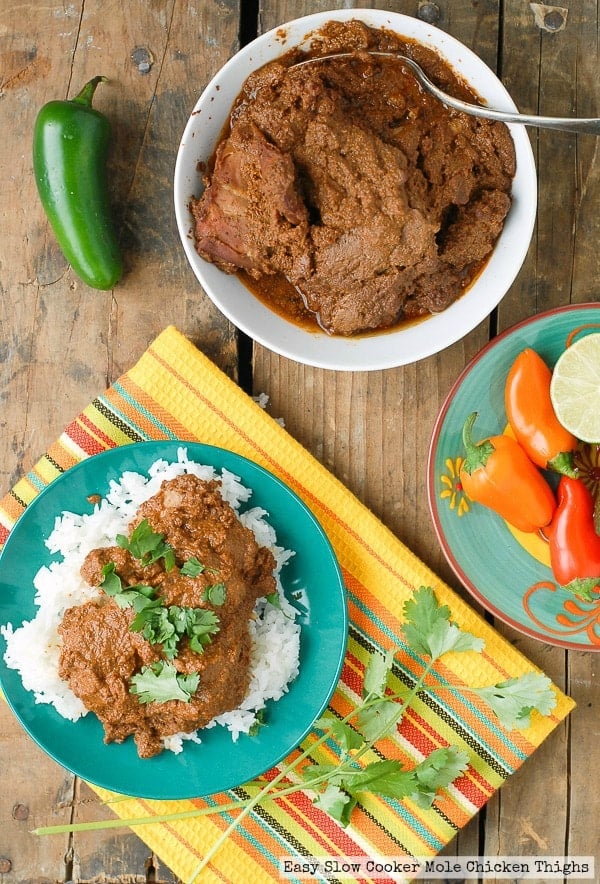 As we all frantically prepare for Halloween, many in the Hispanic community are focused on other impending holidays: El Dia de los Muertos (the Day of the Dead) on November 1 and All Souls Day November 2. Truth be told, most are not well acquainted with these holidays and often misinterpret them at face value due to the predominance of skeleton iconography.
Despite the eerie skeleton representation, these days are celebratory and joyous, and a time the dead are believed to return to commune with their loved ones. El Dia de los Muertos is a day to celebrate deceased children and All Soul's Day for departed adults. I will confess I too did not know about the holidays until more recent years, and found the skeletons haunting until understanding the true essence of the holidays.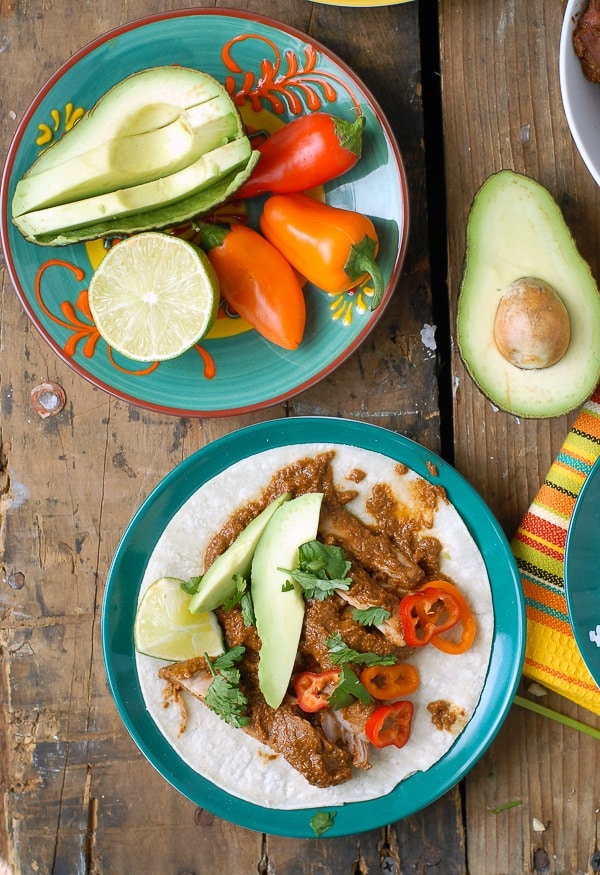 Think of welcoming the Grandparents for the holidays or your child coming home from college. There is much preparation and expense invested in these special days. Multi-level altars are constructed to both honor and embrace passed loved ones. To outsiders they appear as elaborate and ornate collages of objects, food, photographs and unending color. Special memorabilia, often new as families want only the best for their relations, are incorporated. Food offerings, or 'oferenda', are set out along with candles, marigolds (whose strong fragrance is believed to lead the dead back to the alter), decorated sugar skulls (which are also given as gifts to the living), fresh fruits and special foods. Though it may seem counter-emotional, it is a party grounded in the deep love and specialness felt for the loved ones who have crossed over.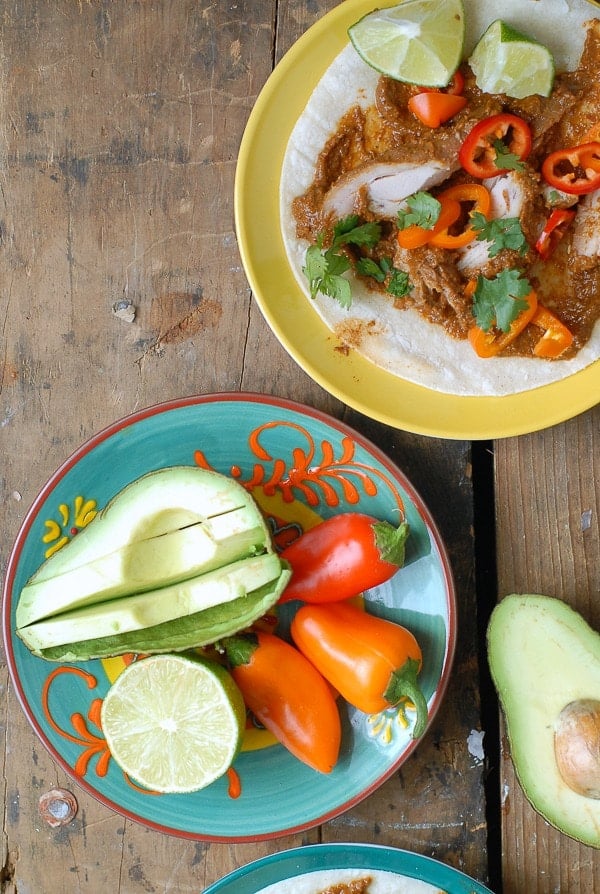 One of the special dishes shared for these holidays is Mole, a deep, rich spicy sauce containing chocolate. Like many ethnic foods, there is a wide variety of mole types and recipes, driven by family roots and the regions of Mexico. A mixture of chilies, dark chocolate, and spices such as cinnamon, cumin and Mexican oregano blend to create a distinct and brooding sauce that is wonderful over most meats or as a dip.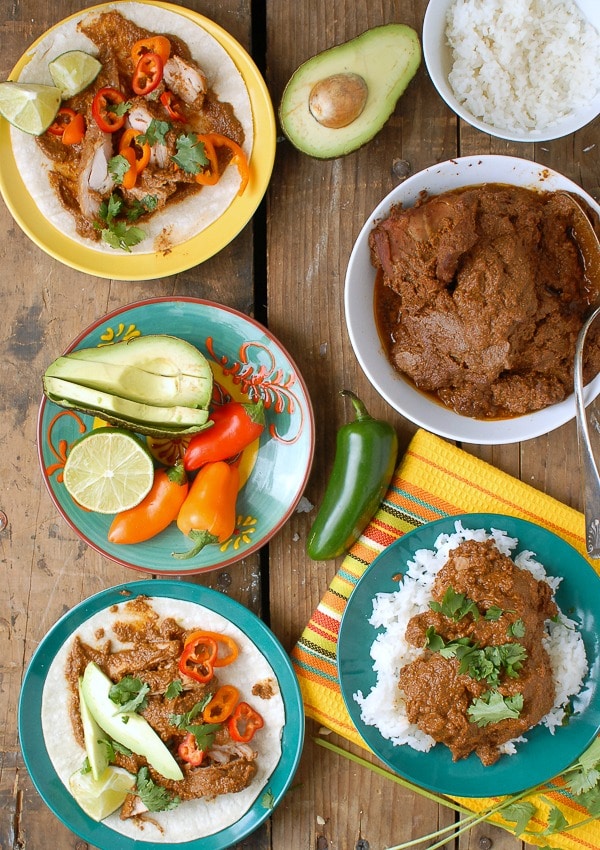 My son is starting his international language journey in Middle School and has elected to take Spanish. He is fortunate to have an exuberant and fun teacher affording them rich exposure to the Spanish and Mexican cultures along with learning the language. The class will have the opportunity to experience Dia de los Muertos including a taste of some of the traditional foods. I was asked, and happily agreed, to be a 'mole mom' after the teacher learned that I cook. It seemed a good time to adapt a traditional mole recipe into something easily put together in a slow cooker for you to enjoy too! May it keep you warm during the chilly months to come!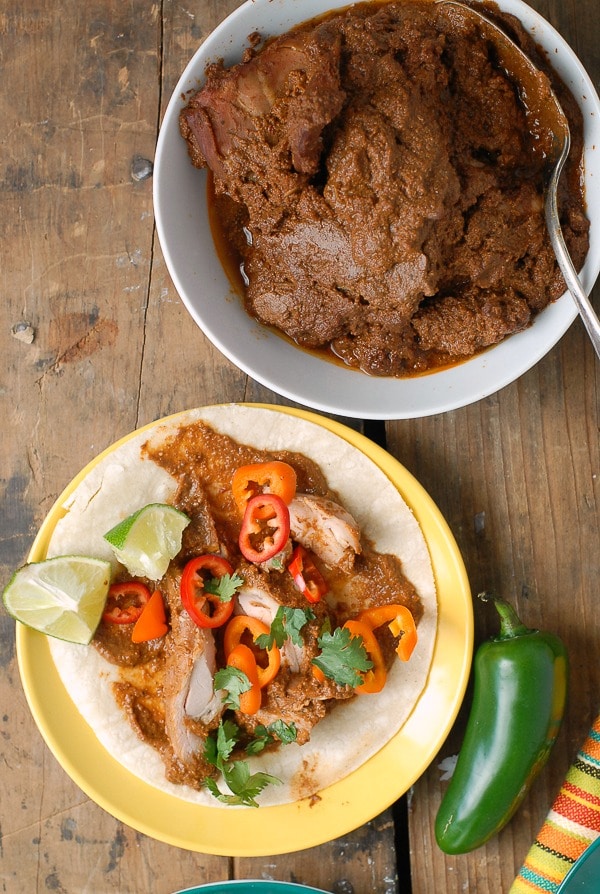 Mole is a rich, earthy Mexican sauce seasoned with chilies, spices and chocolate. Recipes differ from different regions of Mexico and by family traditions. This slow cooker version is very easy and uses ingredients widely available. It is a sultry, spicy sauce though not overly hot.
Cinnamon is a traditional ingredient in mole however since this recipe uses Ibarra Mexican Chocolate which already contains cinnamon it is not added separately. If using a more powerful blender such as a Vitamix to make the sauce larger ingredients need not be chopped into small pieces.
Regular blenders may require more chopping especially of the Ibarra Mexican Chocolate which is harder than regular eating chocolate. Ibarra Mexican Chocolate is sold in an iconic hexogonal, yellow and red striped package found in the International section of most grocery stores. Once cooked the chicken thighs and sauce may be eaten over rice or sliced in a taco.