Watermelon Margaritas taste like summer and are best using easy-to-make homemade Watermelon-infused Tequila! You'll want a batch in your refrigerator all summer long.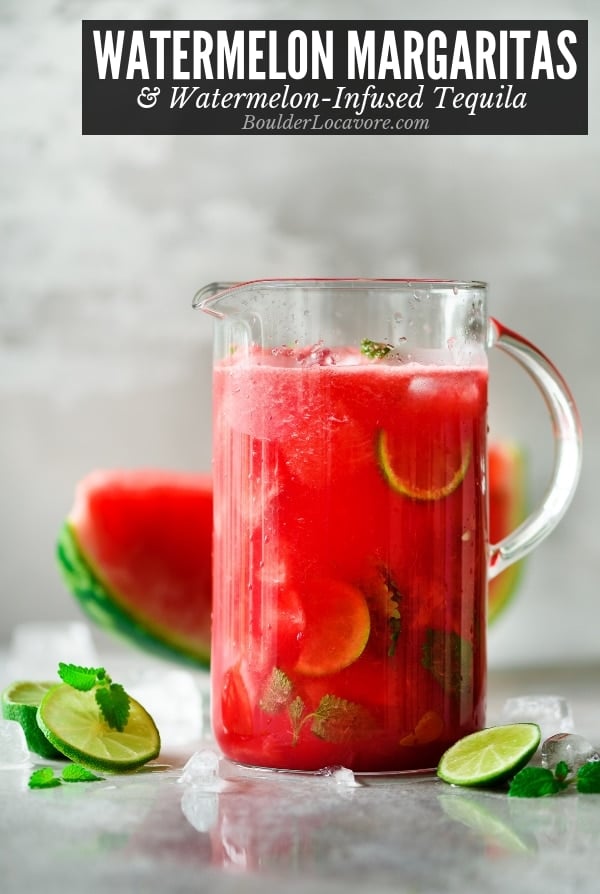 Margaritas are a summer cocktail favorite but none quench the thirst or the palate as much as Watermelon Margaritas.
Cool and refreshing, watermelon margaritas seem to instantly take the heat out of the steamiest of days.
My favorite way to make watermelon margaritas is by home infusing tequila with fresh watermelon.
It gives the tequila a true watermelon flavor with only a few days of infusing.
Some of the watermelon-infused tequila and boozy watermelon chunks are added to other delicious ingredients and blended.
It makes the best watermelon margarita you've ever had!
Infusing tequila is very easy. It only takes about 5-10 minutes to set up!
Trust me, after doing this just once, you'll have a batch at the ready in your fridge all summer long!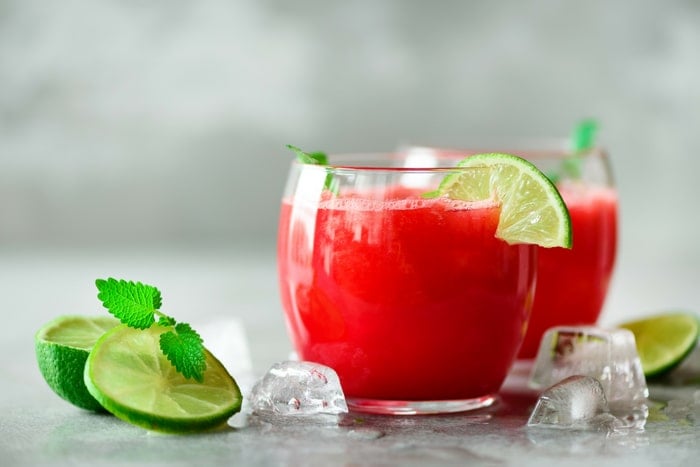 How to Make Homemade Watermelon-Infused Tequila
Making homemade watermelon-infused tequila is easy and gives a fresh flavor to watermelon margaritas.
Fresh chunks of seedless watermelon are added to quality blanco or silver tequila. The mixture is allowed to steep for 2 days to a week.
When the infusing time is over, leave the watermelon tequila in the refrigerator.
It will be ready to make a fresh batch of watermelon margaritas whenever you want them!
Why Use White (Blanco) or Silver Tequila for Homemade Watermelon Tequila?
White (blanco) and silver tequila are not aged and do not have a strong flavor. They are perfect for this watermelon margarita recipe.
Additionally, 100% agave tequila will include no additives.
Supplies for Making Watermelon Tequila:
I use a glass 8-cup Mason jar with a lid to make homemade watermelon tequila. Alternatively, you could use ajar with a spigotwhich allows easy draining of the tequila when it's done.
The watermelon margarita recipe uses the chunks of the infused watermelon. It requires removing some from the jar with each batch (something to consider when selecting the jar).
The watermelon tequila should be made in a glass container (not plastic or metal).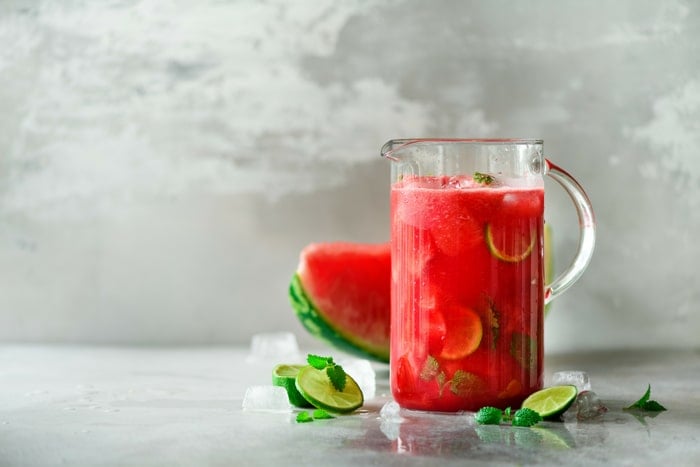 How to Make Watermelon Tequila – Step by Step
Step 1: Wash and dry the glass container to used for infusing the tequila.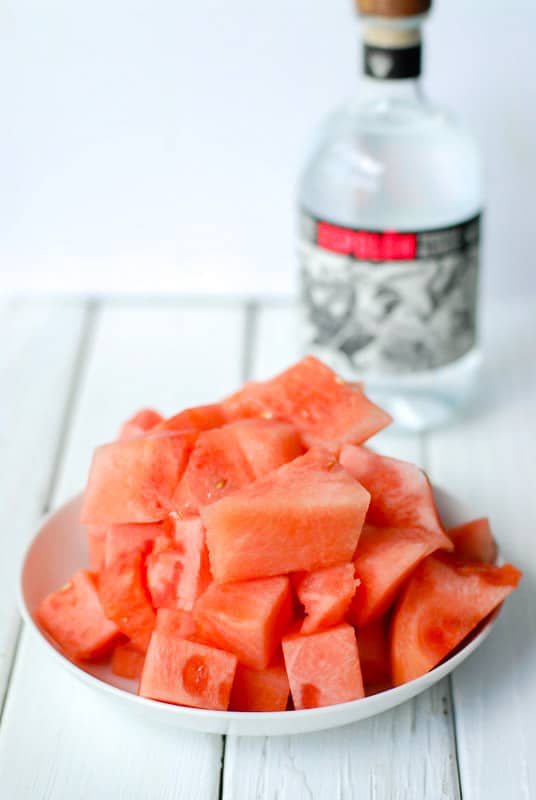 Step 2: Cut a small seedless watermelon into 1-inch cubes (doesn't need to be precise)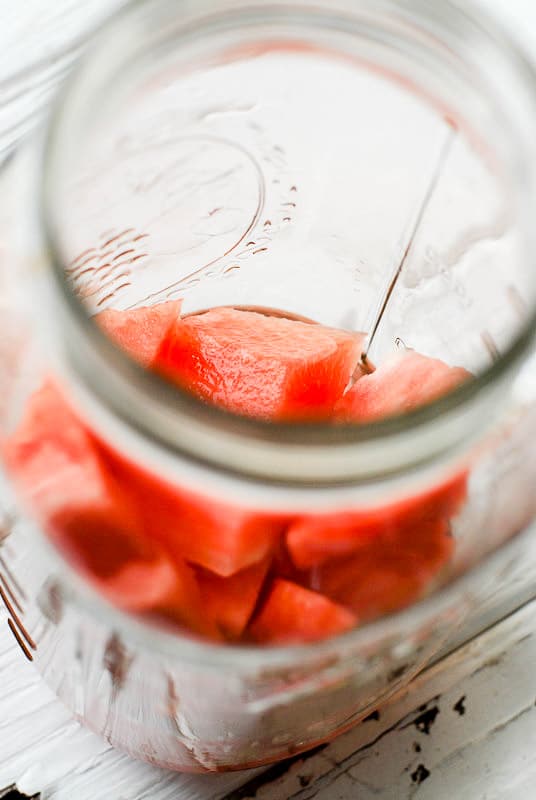 Step 3: Add the watermelon to the prepared jar and pour in a 750-ml bottle of Blanco or Silver Tequila.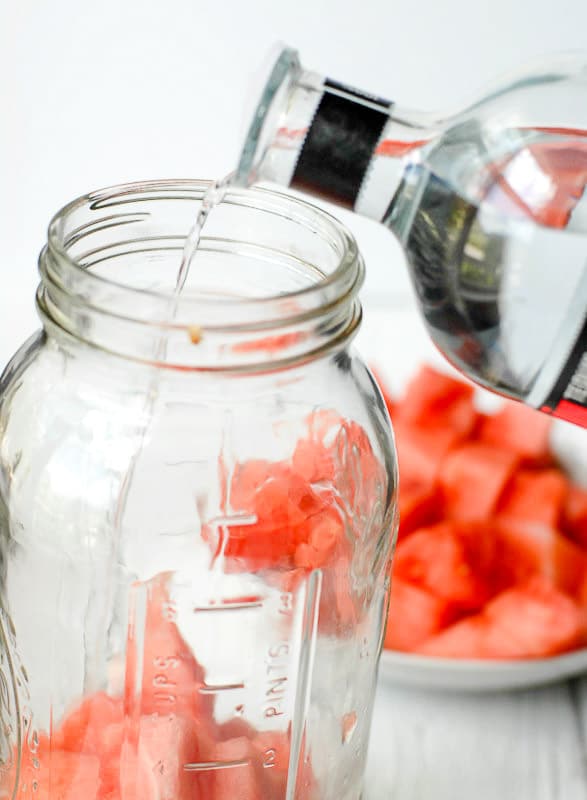 Step 4: Allow to sit in the refrigerator for a minimum of 2 days, preferably 1 week.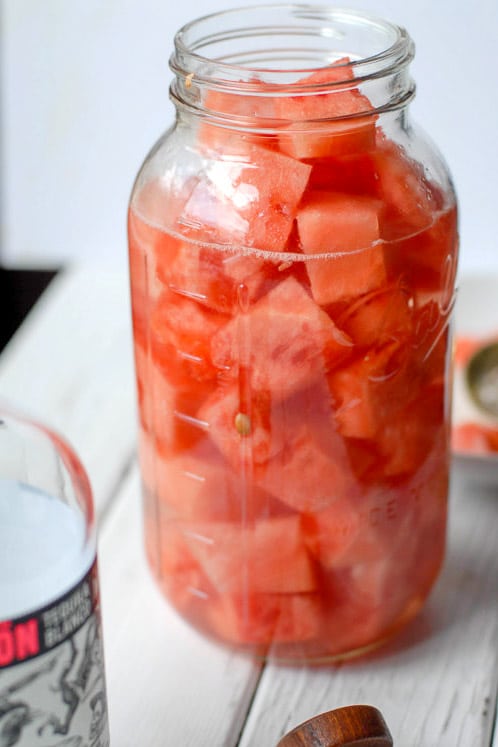 Step 5: When the infusion is ready, keep the jar with the watermelon and tequila in the refrigerator. It will be ready for making watermelon margaritas anytime!
How to make Watermelon Margaritas – Step by Step
When the watermelon tequila is ready, making watermelon margaritas is easy. It can be done in a few minutes!
For detailed printable recipe instructions refer to the recipe card at the end of the blog post.
Combine:
2 ounces of the watermelon tequila
a few chunks of the boozy watermelon
frozen limeade
orange liqueur (Cointreau or Citronage)
ice
Add the liquor and watermelon in a blender and blend until smooth.
NOTE: the ingredient quantity in the recipe can be multiplied to make multiple margaritas in one blending.
Supplies for making Watermelon Margaritas
A blender!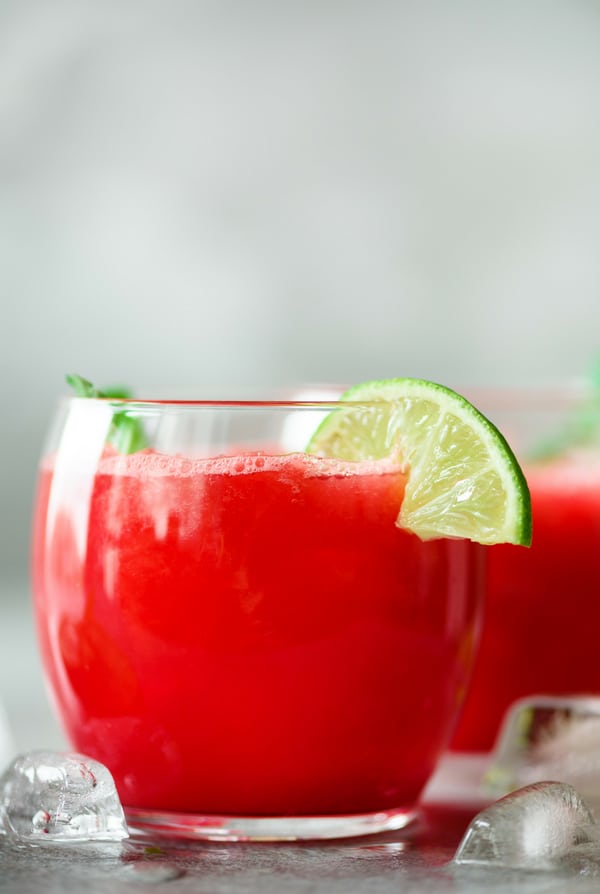 More Cocktail Recipes You'll Love
Please always drink responsibly!
If you've tried this Watermelon Margarita recipe please RATE THE RECIPE below!
FOLLOW ME on FACEBOOK , TWITTER , INSTAGRAM and PINTEREST to see more delicious food, travel and what I'm up to!
Originally published July 2011