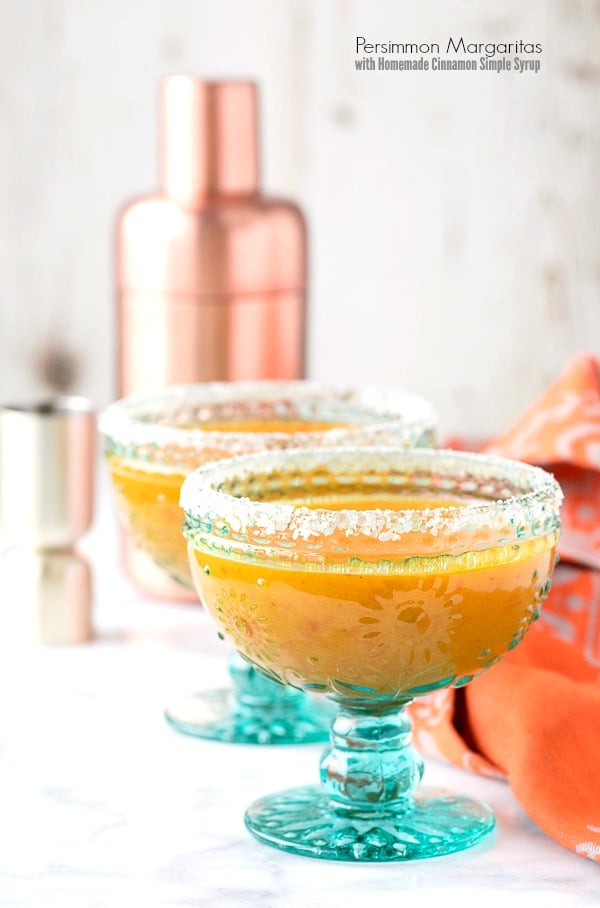 Do you ever find when the seasons change there are new fruits or vegetables at the store which you've never seen let alone have any idea how to eat them? I did not eat a kumquat until about three years ago when someone tipped me off to just pop them in mouth without trying to peel them. Romanesque looks like it's from outer space, with prismatic florets but it now one of my all-time favorite vegetables. Do you keep walking when spotting a Star Fruit, having no idea if it needs to be peeled, or cooked or if it's even really a fruit (it is and you don't need to peel it)? Especially now with international food logistics shipping all over the world, there are fruits and vegetables popping up constantly that are new to me.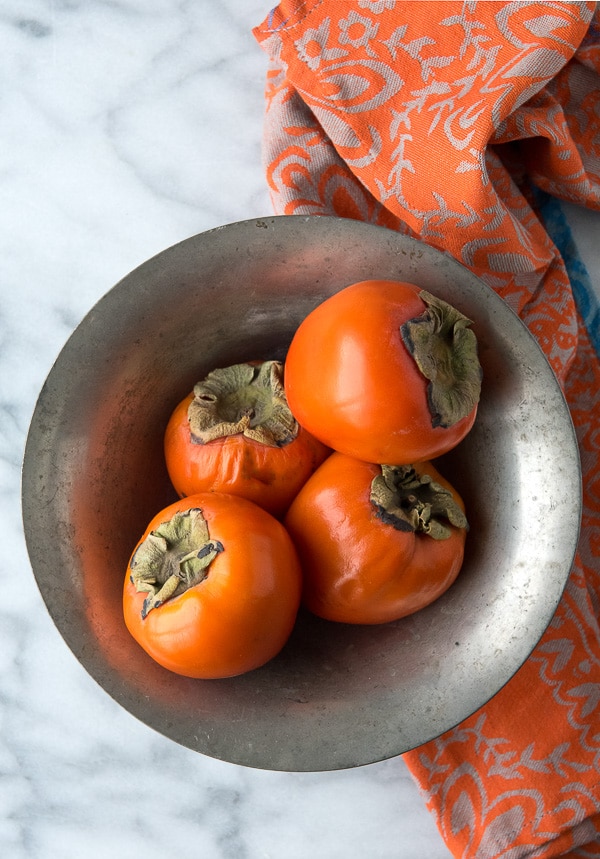 Chances are Persimmons may be one of those fruits you glance at sideways and hope no one asks if you know what they are. Persimmons remind me of my grandmother and great grandmother. Having lived in California where fresh produce is readily available, I remember visiting them over the Christmas holidays when I was a child, and they'd always have persimmons in their kitchens. I know now they were Hachiya persimmons with a funny conical shape that looked like a heart to me when they were sliced in half lengthwise. Nana and Grammy would scoop out the sweet, shiny deep orange flesh from a cut half with a spoon and simply eat them plain. I still delight in their potent hue reminding me of the deep red-orange tones of a slow burning winter fire. I don't recall ever eating them in a recipe only fresh.
Persimmons disappeared for me until I moved to California for college and continued to live there for the years following. At this time however I didn't really cook and anything I did make was pretty mainstream. It was really when I began eating seasonally that we became reacquainted, persimmons and I.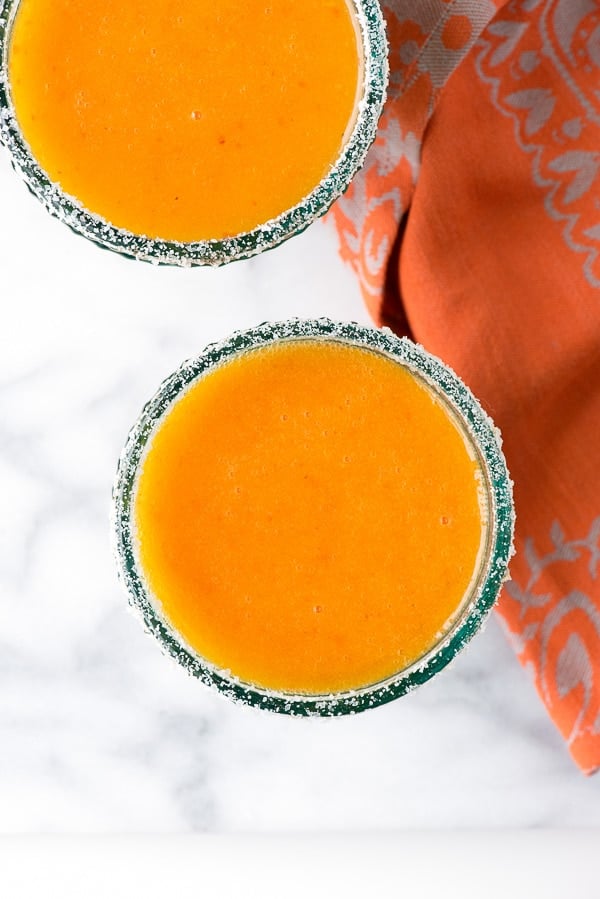 Eating seasonally has the same feeling for me as waiting for a loved one to arrive at an airport. I'm sure you know that feeling of anticipation when the plane has landed, the passengers are disembarking and you wait anxiously for your 'person' to walk through the doorway. That's how I feel waiting to see what new will be turning up in the produce section each new season. I can't wait to dream up a new use for a favorite fruit or something new to do with a vegetable I may have avoided prior, simply not knowing how to use it.
I was recently in Chicago for a conference and out to dinner with some great foodie friends at Rick Bayless's restaurant Topolobampo. While poring over margarita options my friend Sabrina mentioned persimmon margaritas, something I'd never had, never considered and they were also not on this cocktail menu. I pulled out my phone, as I will do when an idea strikes, and jotted down the idea. Once returning home and feeling a fun Thanksgiving cocktail was in order, I picked up some persimmons giving them a few days to fully ripen on my countertop in a brown paper bag.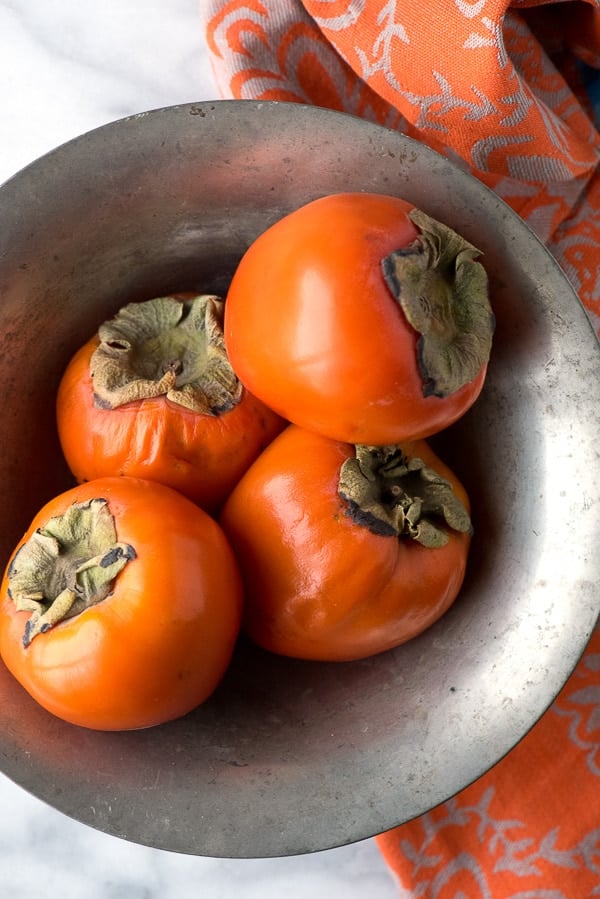 Hachiya persimmons are naturally sweet once ripe however if eaten before ripening they are very astringent so I've been told (I've only eaten them sweet and ripe). They have a glossy, smooth exterior and when they ripen the skin is not quite as taught, and they become soft. I read somewhere they should feel like a water balloon in your hand. To me they feel like the skin has loosened slightly from the flesh. The top of the persimmon, the calyx, needs to be removed and the flesh is easily scooped from the skin. I'll confess I've even pureed them with the skin which disintegrates into the pulp when processed on high speeds.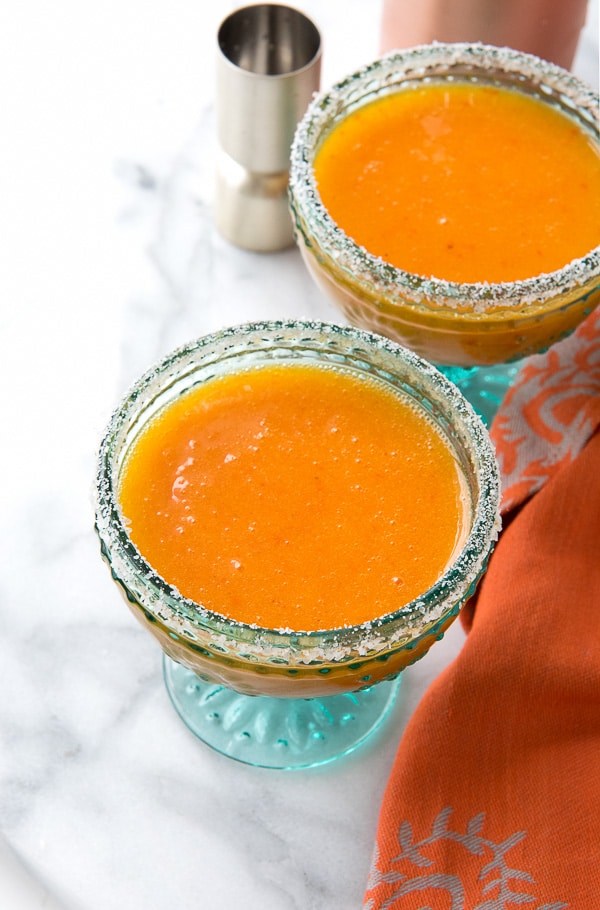 These margaritas are deep with flavor and the subtle touch of the homemade cinnamon simple syrup. In the summer I typically make fresh-style margaritas with blanco or silver tequila which is not incredibly flavorful. Reposado tequila, which is aged and rested in wood casks giving it a deeper flavor, is a perfect pair with the persimmons lending a serious almost smoky flavor to the cocktail. Simple syrup is super easy to make at home and I've been loving the cinnamon version I made earlier this fall which works well in these marg's. Lastly I'm a big fan of Smoked Salt, Alderwood Smoked Salt to be exact. A little goes a long way but a sprinkle over the rimming salt for the glass adds a further dimension still to my now favorite fall margarita!
This guide on How to Make Simple Syrup gives lots of great information and easy recipes! The simple syrup for these Persimmon Margaritas is also included in the recipe below.
Recipe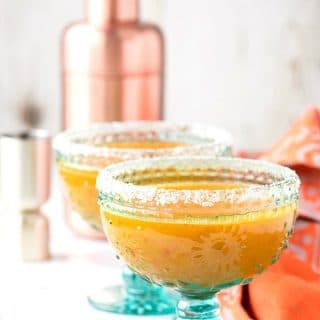 Persimmon Margaritas with homemade Cinnamon Simple Syrup
Persimmons give a nod that the cold weather months are upon us. Their sweet flesh has an irresistible color and their flavor is sweet and subtle. These margaritas truly welcome the season with layers of moody flavor from the reposado tequila, homemade cinnamon simple syrup and a touch of alderwood smoked salt on the glass rim. They are unexpected and great for holiday entertaining. There will be more puree than required for a batch of 2 margaritas however I feel sure you may want a second round once tasting these and can also use the puree for other recipes such as
Persimmon Pudding
Print
Save Recipe
Recipe Saved!
Pin
Rate
Servings:
2
margaritas (ingredients can be doubled keeping the ingredient proportions the same)
Ingredients
2

large ripe Hachiya Persimmons
Ingredients for the Margaritas:
4

ounces

Reposado Tequila

1 1/2

ounces

freshly squeezed Lime Juice

4

ounces

Persimmon Puree

(instructions below)

3

tablespoons

Homemade Cinnamon Simple Syrup

Rimming Salt

Alderwood Smoked Salt

, fine grain (optional)
Instructions
Remove the calyx (the leafy top) of the persimmons and discard. Scoop the persimmon flesh into a blender and process on high to puree. Extra puree may be stored for a few days sealed in an airtight container in the refrigerator or in the freezer for up to 6 months.

Pour rimming salt onto a flat medium size plate. Sprinkle some alderwood smoked salt on top of the rimming salt. Wet the rim of the serving glasses (tip: I use a piece of the persimmon skin, the moist inside, and run it over the top of the glass) and place upside down in the salt; gently twist back and forth to coat. Set aside to dry.

In a shaker combine the tequila, lime juice, persimmon puree and cinnamon simple syrup with fresh ice cubes. Shake vigorously to combine the ingredients. Strain into the rimmed glasses.
Nutrition
Calories:
289
kcal
|
Carbohydrates:
42
g
|
Protein:
0
g
|
Fat:
0
g
|
Saturated Fat:
0
g
|
Cholesterol:
0
mg
|
Sodium:
18
mg
|
Potassium:
219
mg
|
Sugar:
22
g
|
Vitamin C:
43.8
mg
|
Calcium:
15
mg
|
Iron:
2.5
mg