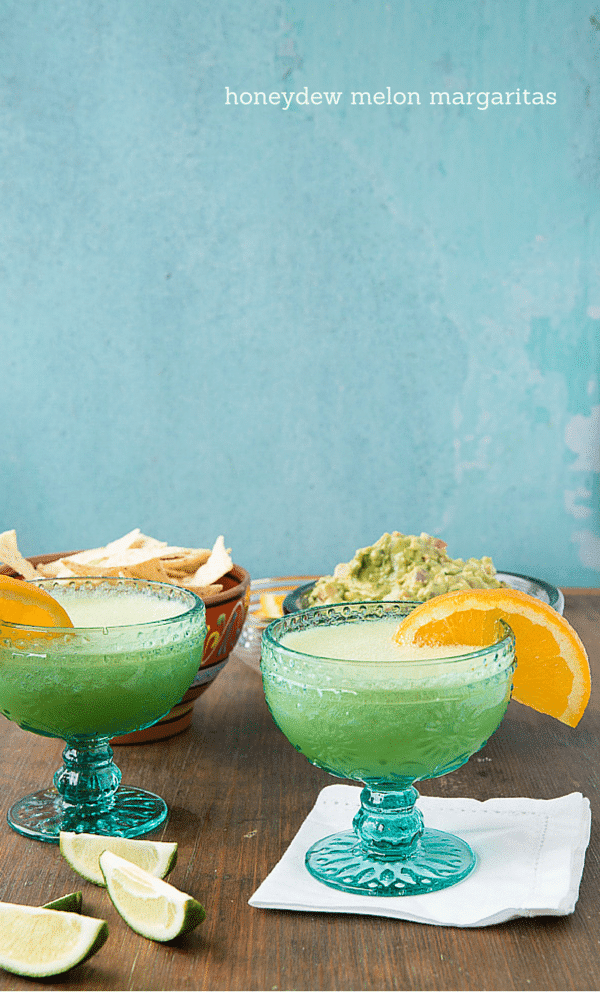 I have been making new combinations of margaritas almost daily for the past few weeks, enjoying all the fresh ingredients starting to make an appearance in grocery stores.  After discovering fresh-style Margaritas a few years ago, those made with tequila, agave and lime juice along with a muddled fresh fruit, there was no turning back for me.  They have a fresher flavor and aren't weighed down by sugary mixes so the intended flavors shine through.  The combinations of fresh fruits and herbs are endless, making the sole limiter one's own imagination.  Some favorites of mine are Blackberry-Mint, Strawberry-Blueberry and Cucumber-Thyme.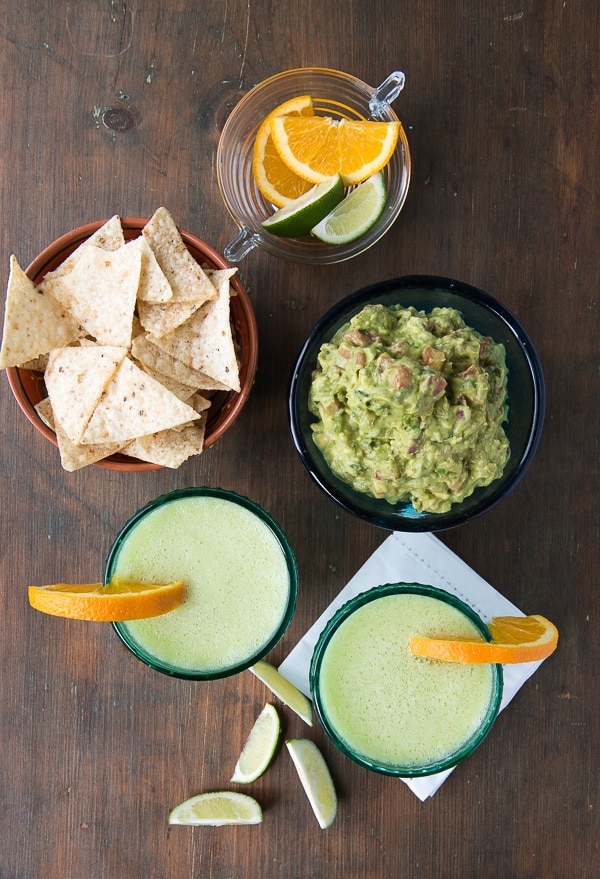 Though I've shared a number of new and exciting margarita recipes this month (Spicy Chipotle Mango, Pineapple Cilantro and a roundup of 12 favorite recipes) I couldn't help making just one more before Cinco de Mayo.  We've been loving plump, juicy blackberries lately and have made some margaritas with them using lemon thyme (an herb I can't use enough).  However, when I was at the store to fetch some more berries to share here, some beautiful small Honeydew melons struck my eye and I could not resist.
On a recent trip to Santa Fe I did some margarita tasting, which included a Midori Melon Margarita.  I had a wakeup call, realizing I had never tasted Midori, the emerald green melon liqueur, and assumed purely on appearance that it would be sickly sweet.  Don't judge a book by its cover or booze by its color; it was fresh, light and completely opposite of my presumption.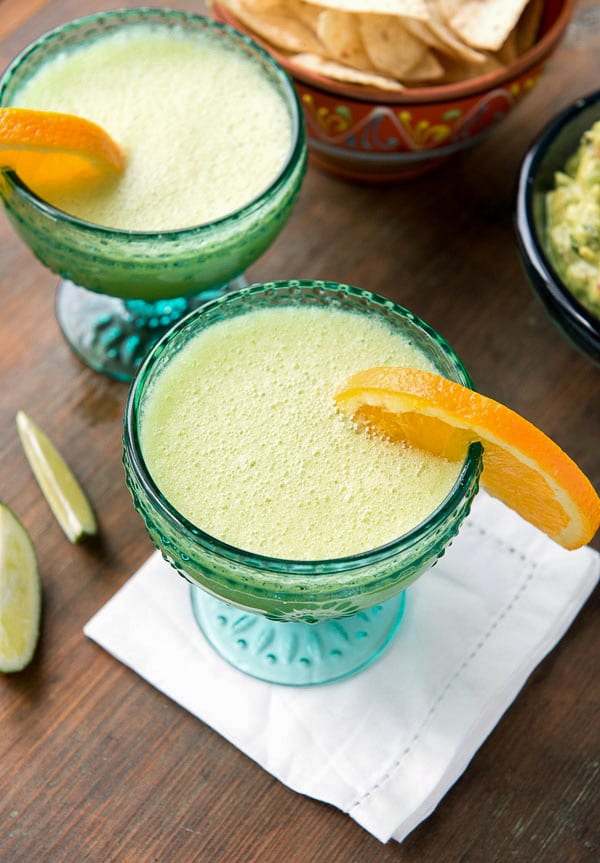 My normal preference for margaritas is to serve them over ice.  After muddling, shaking with ice, I strain them into an Old Fashioned, or Rocks, glass over fresh ice.  There are times I like the idea of a frozen margarita but don't always love the pulverized ice.  Instead of using ice in these frozen Honeydew Melon Margaritas, I used frozen melon chunks that once added to the blender with the other cocktail ingredients, behaves like ice to froth up into a smooth, creamy, light, refreshing margarita; no ice required!  Honeydew is a very mild melon and adds a fresh flavor in compliment to the other ingredients.  It's cooling as well making it a wonderful partner to spicy Mexican food!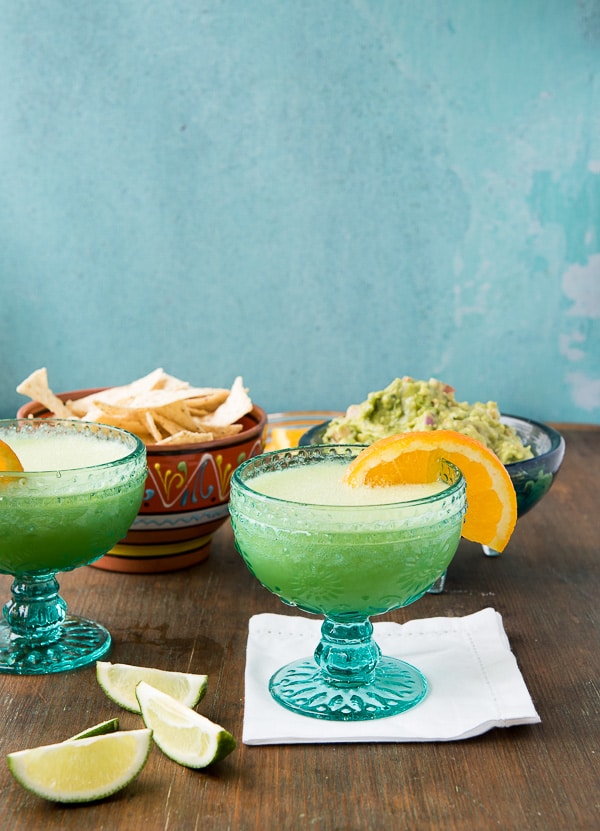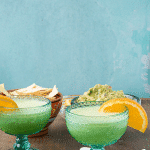 Honeydew Melon Margaritas
These fresh, light, refreshing Honeydew Melon Margaritas are a unique take on a traditional margarita. Frozen melon cubes allow a creamy, smooth frozen margarita instead of using ice. A cooling compliment to spicy foods or to cool a hot day. Allow time for melon cubes to be frozen before planning to blend the margaritas. Melon cubes may be stored sealed in the freezer for ready margarita mixing!
Servings
1
cocktail (can be multiplied for larger quantities)
Ingredients
1

cup

frozen honeydew melon cubes

(instructions below)

1 ½

ounces

Silver or Blanco Tequila

½

ounce

Midori melon liqueur

½

ounce

Lime Juice

¼

ounce

Agave Nectar
Instructions
Instructions for freezing melon cubes:
Plan for 1 cup melon cubes per margarita. Cut melon from the rind, removing any seeds; cut cubes approximately 3/4 inches in size.

Line a baking sheet with wax or parchment paper and place melon cubes in a single layer. Place in the freezer until frozen. After they are frozen, the melon cubes may be stored together in a plastic bag or freezer-safe container. Note: if melon cubes are frozen together instead of individually first, they will form a large block due to the high water content in the melon.
Instructions for Honeydew Melon Margaritas:
Place all ingredients into a blender and blend starting at low speed, increasing to higher speed, until the melon cubes are pulverized. Recipe may be doubled in one blending.