Queso Fundido is a hearty, spicy, cheesy warm dip perfect for a Cinco de Mayo or any day you want to feel like a celebration. It's an easy recipe that packs a punch of delicious flavors!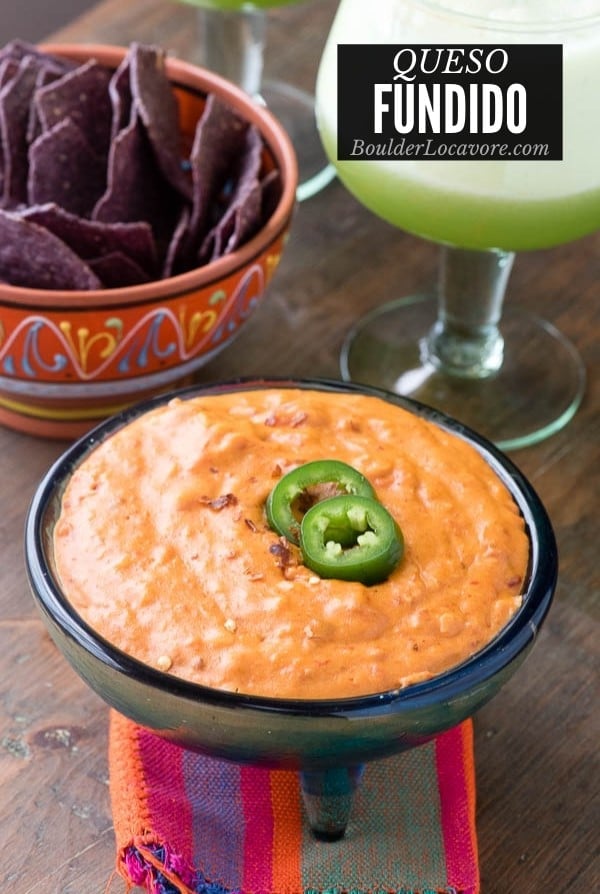 Queso Fundido is the appetizer recipe to get the party started!
Smoky, rich, cheesy dip so full of flavor people just can't walk away.
It's easy to make and served warm with your favorite chips or on tortillas!
What is Queso Fundido?
Queso (meaning 'melted cheese) is a rich, thick melted cheese commonly used as an appetizer.
Queso Fundido adds spicy cooked chorizo. It's a popular restaurant appetizer or party recipe.
Every recipe is slightly different, some including onions and peppers. Some are smooth in texture, others chunky.
This recipe is made of easy to find ingredients for a flavor-packed smoky, spicy cheesy appetizer recipe you'll love!
Ingredients
Ingredient Notes
What Type of Chorizo to Use?
Chorizo comes in two varieties, Mexican and Spanish. Use Mexican chorizo for this recipe.
Mexican chorizo is seasoned with vinegar and chile powder rather than garlic. It is in a loose form, like ground meat.
Spanish chorizo is a hard aged sausage and not to be used in this recipe.
Cream cheese
Use full fat cream cheese in this recipe. It's much richer and creamier.
What Cheeses Are In Queso Fundido?
Traditionally queso fundido is made with Mexican cheese like Menonita, Manchego and Chihuahua.
These cheeses can be hard to find outside Mexico.
I've substituted cheddar, jack and Colby for delicious flavor and texture.
You won't have to make a trip across the border to make this wonderful party food.
PRO TIP: Grate the Cheese Yourself
Grate your own cheese. Block cheese has a much better flavor and melts more smoothly than pre-shredded cheese.
Store-bought pre-shredded cheese has ingredients added to it to stop it clumping. This will affect how it melts.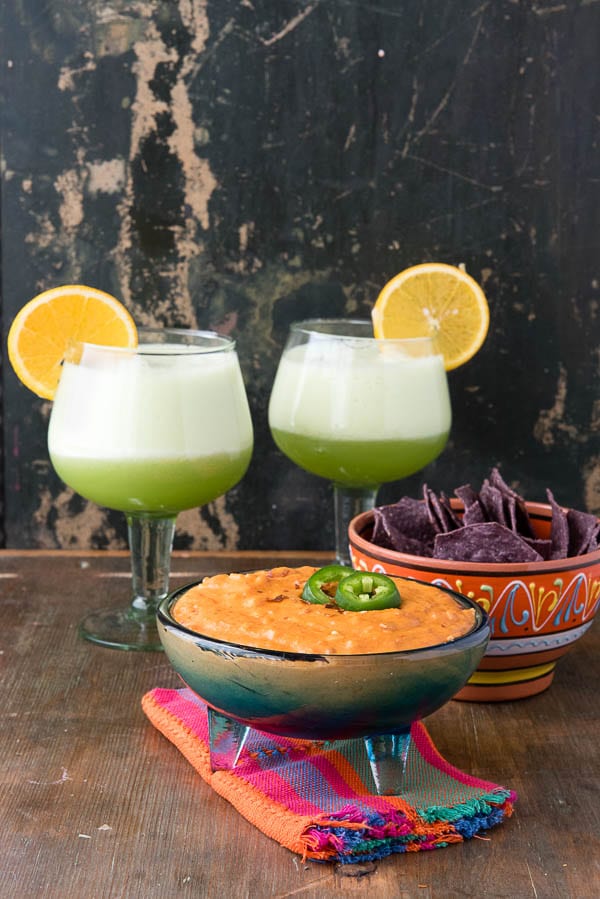 Why Make it on the Stovetop
Cheese can be tricky to cook with. Cooking the Queso Fundido on the stove top ensures all the cheese melts evenly blending into a thick rich mixture.
Some recipes call to cook this type of queso in the oven.
When cooking this dish in the oven, the cheese on the bottom often doesn't melt at the same speed at the cheese on the top.
The oil from the cheese can also separate in the oven cooking process leaving a less thick and creamy queso.
How to Make Queso Fundido – Step-by-Step
STEP 1: Cook the chorizo in a skillet over medium-high heat until it is fully cooked (5-10 minutes). Break into smaller pieces with a spatula while cooking. Spoon onto paper towels to drain any excess fat.
STEP 2: In a separate medium saucepan, melt the butter. Add the onions and garlic; sauté until the onions are translucent (4-5 minutes).
STEP 3: Sprinkle with the flour, toss to coat. Saute until the mixture turns golden in color.
STEP 4: Stir in the tomatoes, chipotle, adobo sauce and cream cheese. Stir constantly until the cream cheese melts.
STEP 5: Stir in the cumin and shredded cheeses. Stir until it melts and bring it to simmer.
STEP 6: Use an immersion blender to blend the dip to your preferred consistency (or leave it chunky). Stir in the cooked chorizo.
STEP 7: Add hot sauce or salt if preferred. Serve immediately. in a chaffing dish, small dip crockpot or fondue dish.
Top with pickled jalapeno slices when serving for an extra spicy kick!
PRO TIP: Keep it Warm when Serving
Keep the dip warm when you serve it.
To keep the dip smooth and melted serving it in a warming container is key. Try one of these ideas?
Can you make it ahead of time?
This dip is best served as soon as it is made.
To get ahead of things, you can cook the chorizo 24-hours before and keep it covered in the refrigerator.
Allow to it to warm up or pop it in the microwave for a few seconds before adding it to the dip recipe.
How to Eat Queso Fundido
The consistency is like a thick cheese fondue. It's perfect for dipping into or spooning onto something like a flour or corn tortilla!
Here are some serving ideas:
Tortilla Chips – perfect for a party and more traditional chip-and-dip serving. Mix up a colorful combination of different colors!
Tortillas (flour or corn) – either to dip in or to spoon the queso on for a soft taco style
Breadsticks – an easy combination when serving to a group at a party
French baguette slices – not traditional but delicious!
Vegetables – sliced vegetables can also be dipped
Reheating Leftovers
If you do have leftovers, you can reheat the queso fundido in the microwave in thirty second increments, stirring it in between.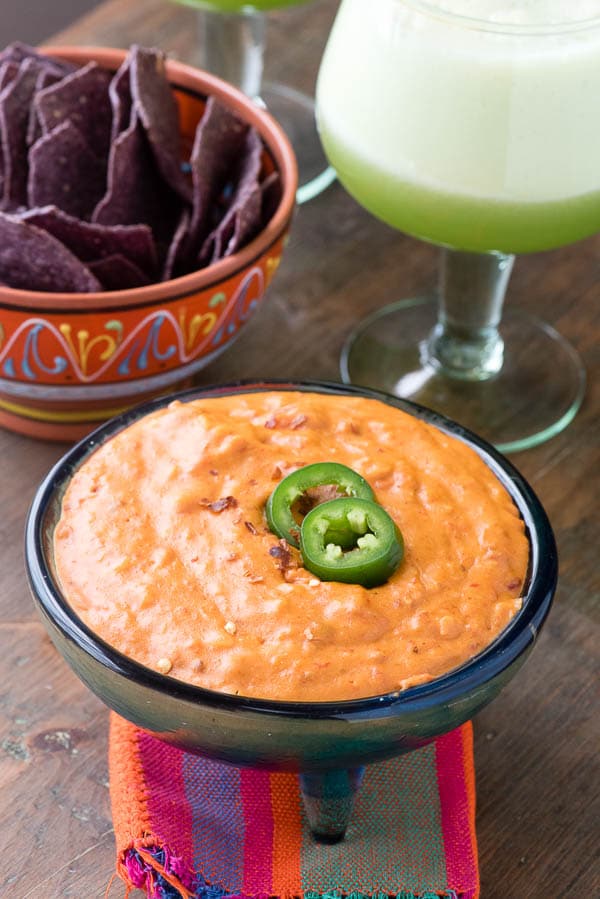 Make it a Meal – more Mexican Recipe favorites
Serve it with a

Cocktail

!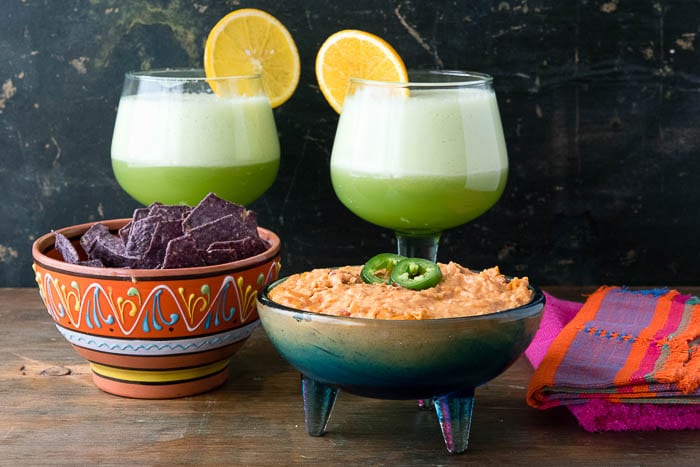 Did you make it? Please RATE THE RECIPE below!
Please SUBSCRIBE and FOLLOW ME on FACEBOOK , TWITTER , INSTAGRAM and PINTEREST !
Originally published: April 8, 2016