No need to wait for dessert to enjoy Carrot Cake any more! Start the day with Carrot Cake muffins chock full of carrot, raisins and walnuts. Topped with a crisp crumble topping too!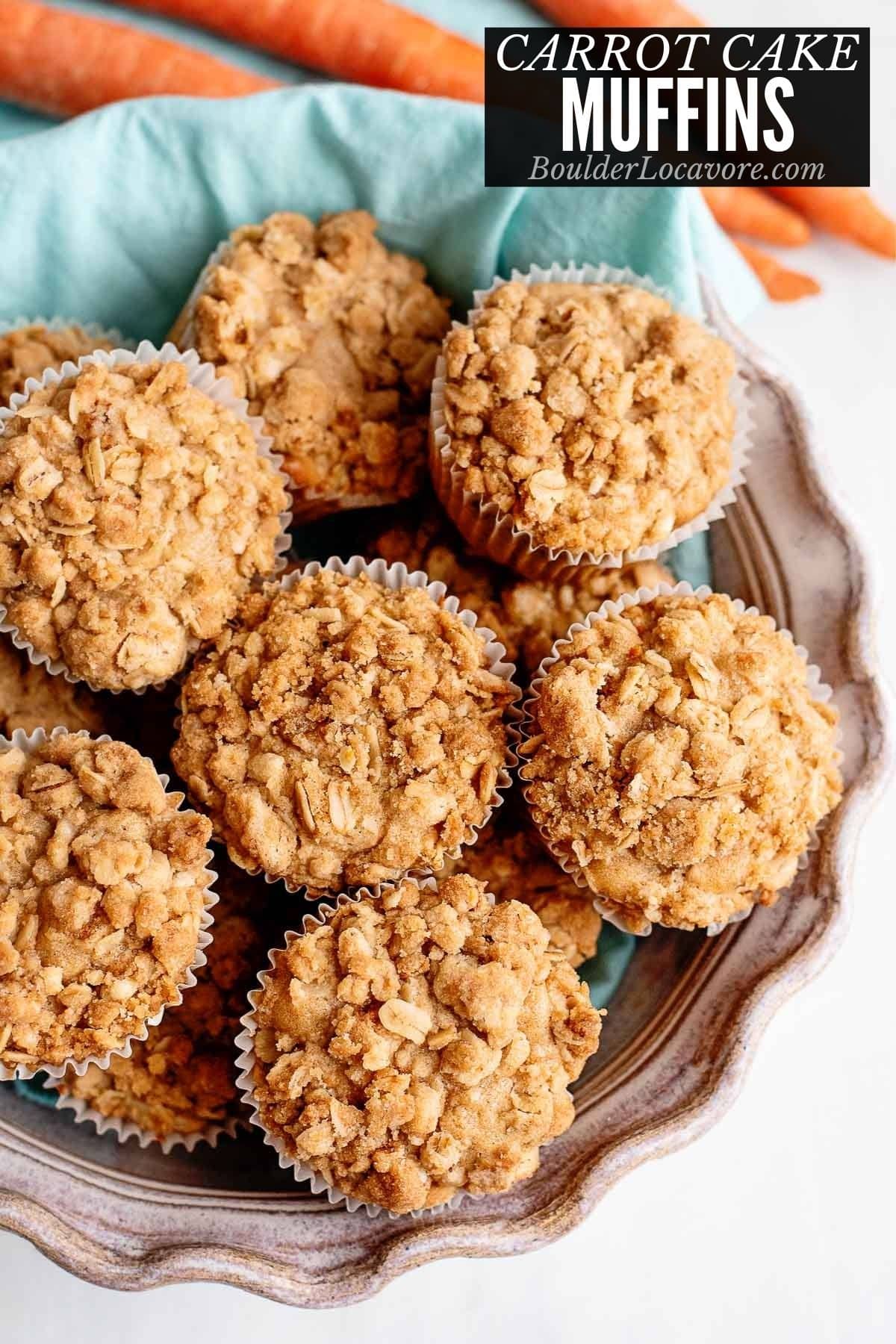 Start the morning off with a flavor packed bite of Carrot Cake muffins.
These moist, tender muffins are filling with a wonderful texture.
The wholesome ingredients and sweet flavor are perfect for a snack too.
If you love carrot cake you'll want to end the day with Carrot Cake Loaf or Carrot Cake cookies.
And you should! Why not?
Jump to:
Easy Carrot Cake Muffins
These muffins are one of the easiest ways to enjoy Carrot Cake.
All the ingredients and traditional flavors of the favorite cake in single-serving portions.
The crumble topping gives them a sweet crisp texture that is addictive.
Love the traditional Cream Cheese frosting on carrot cake?
We have an extra cream cheese glaze you can add for the full effect.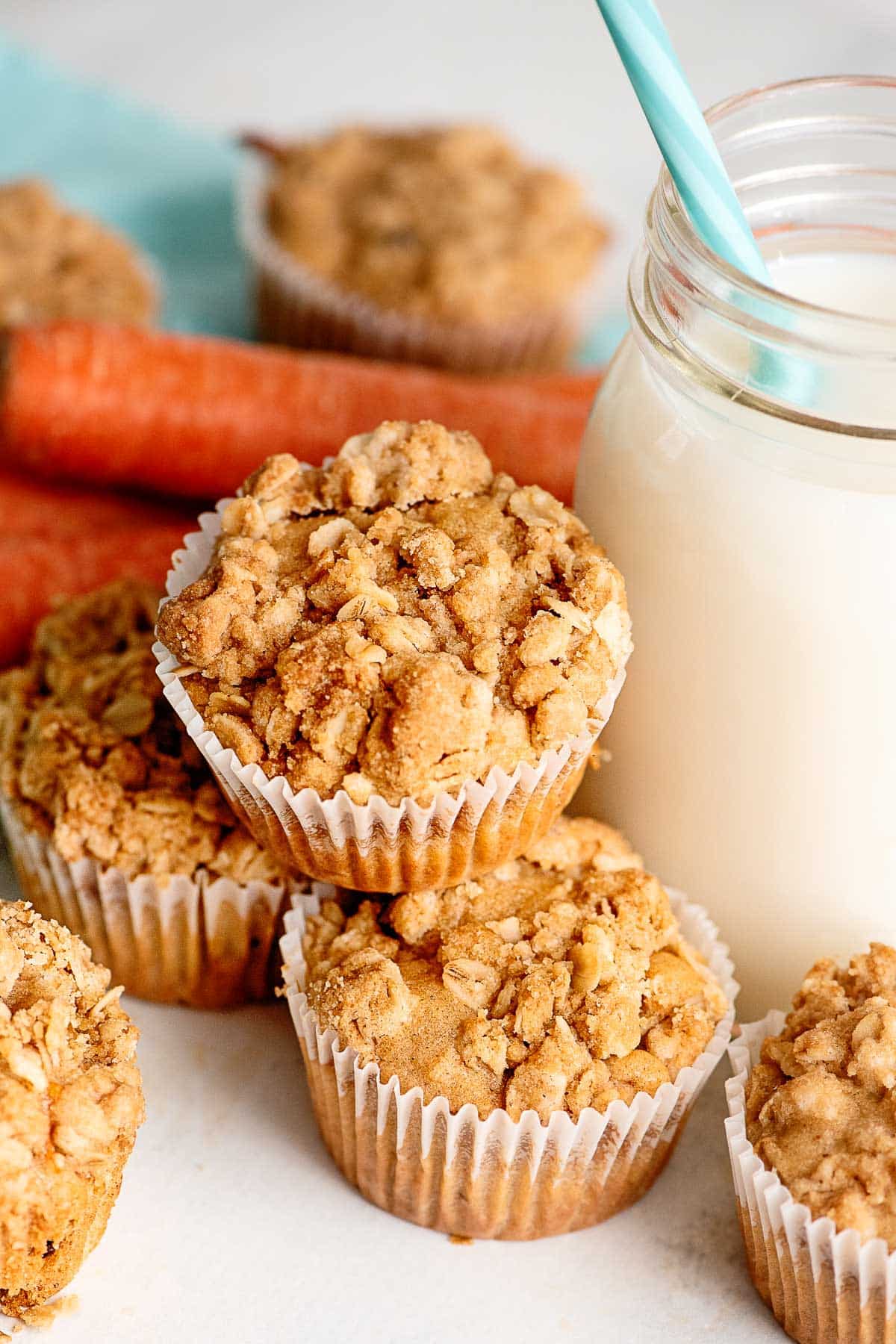 Recipe Ingredients + Notes
Crumble Topping
Old Fashioned Oats. Regular or gluten-free work. Use 'old fashioned oats' or 'rolled oats' not quick oats.
All Purpose Flour. Regular or gluten-free measure-for-measure flour work for both the topping and the muffins.
The gluten-free version of all our recipes are tested with Bob's Red Mill gluten-free 1-to-1 Baking Flour.
Brown sugar. Classic type of sugar used in a crumble topping.
Baking powder and Baking soda. This is a little baking trick! Including these helps the topping crisp more and brown better. If you want to leave them out you can too. They do not affect the flavor.
Unsalted Butter. Melted unsalted butter combines all the ingredients for a crumbly texture.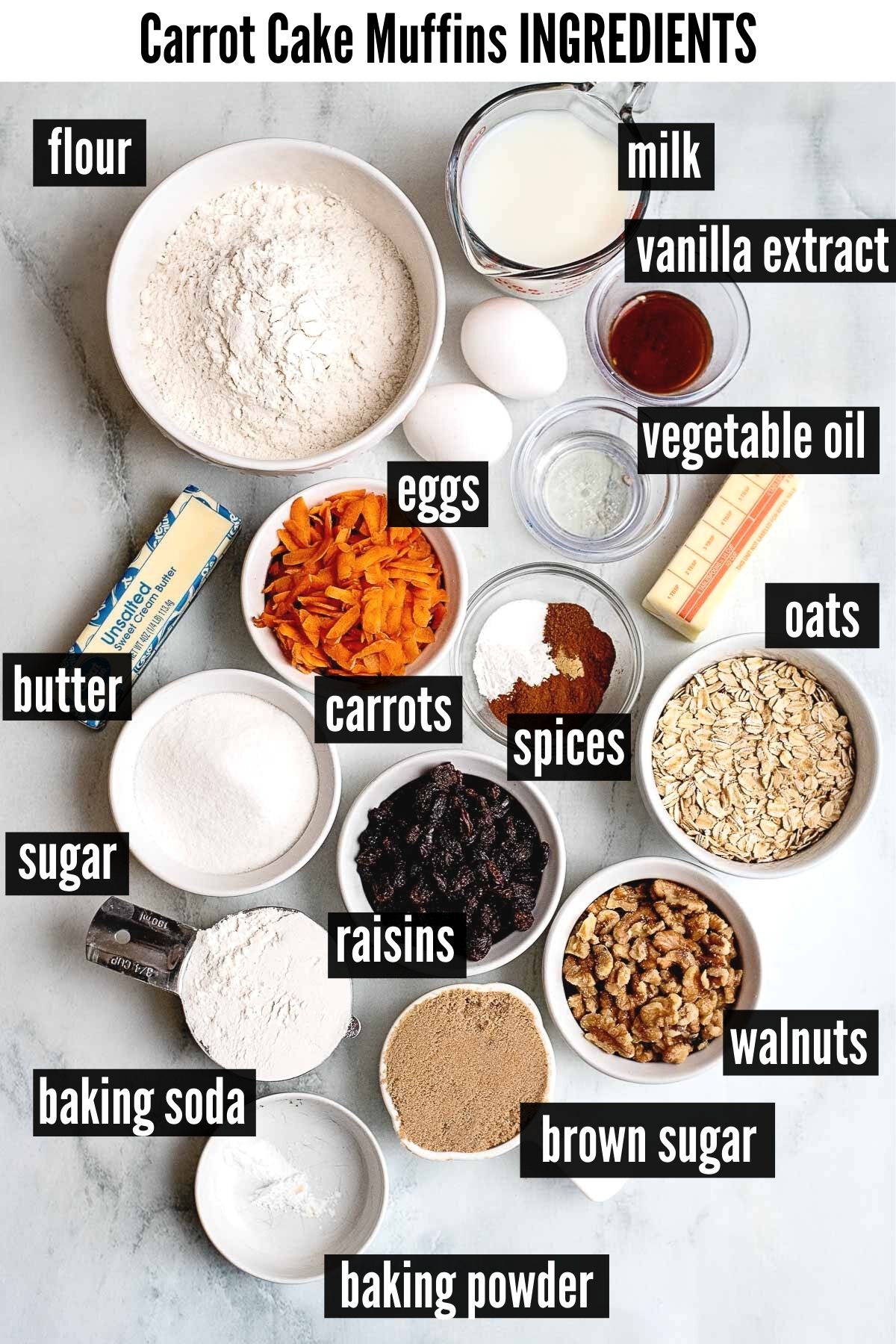 Carrot Cake Muffins
Milk. We used dairy milk, any fat percentage should work.
Eggs. Use large eggs.
Vegetable Oil.
All Purpose Flour. See notes in the topping section above.
Granulated sugar. Sweetens the muffins.
Baking powder. The rising agent used. Gives a wonderful texture too.
Spices and flavorings. Vanilla extract, cinnamon, ginger, nutmeg, salt.
Carrots. Grate your own. Store bought shredded carrots are convenient but they are very dry. Fresh carrots add moisture to the recipe you'll need. Grate by hand or use a food processor with shredding disk.
They also have a particular flavor that does not change when baked.
Raisins. Use plump raisins.
Walnuts. Chopped walnuts are used. For saving time they can be purchased already chopped.
Unsalted butter. As with the topping melted butter will be used.
Variations
Add some pineapple. Use ¼ cup of crushed pineapple and make sure it's thoroughly drained.
Try shredded coconut. Add ½ cup coconut.
How to make healthy carrot cake muffins?
Drop the crumble topping. Fill the muffin tins 3/4 full and bake for the same time testing for doneness. These muffins are full of great flavor on their own.
Swap applesauce in for the vegetable oil for fewer calories!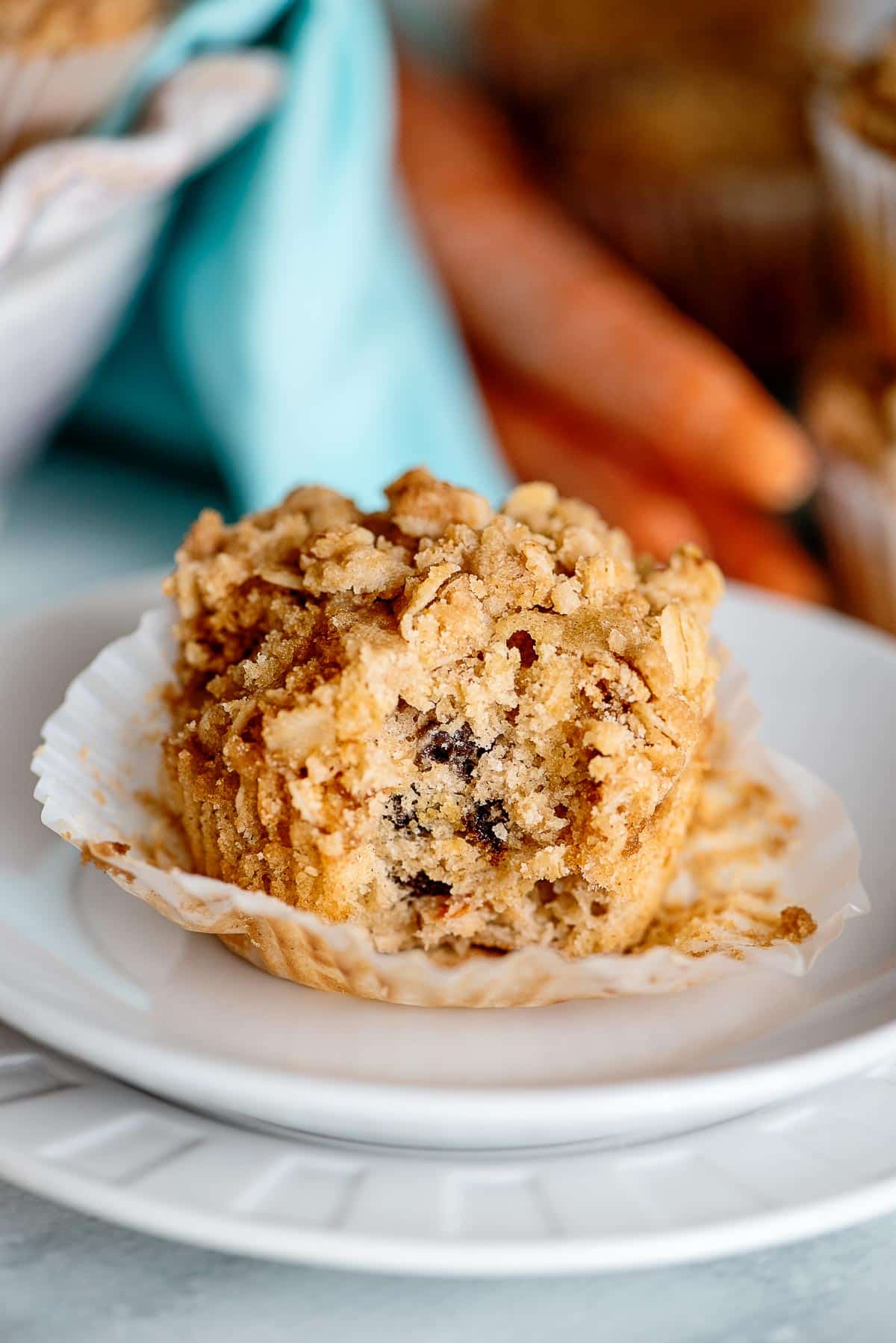 Add a Glaze
The muffins are delicious as made. BUT if you want to be a little extra add a glaze on top of the crumble topping.
Vanilla Glaze
To take these over the top, prepare a powdered sugar drizzle and top the muffins while they are still warm.
Use: ½ cup powdered sugar, ¼ teaspoon vanilla, and add just enough milk to get the desired consistency.
2-3 tablespoons of milk will probably be sufficient. Drizzle onto the muffins.
Cream Cheese Glaze
Love cream cheese frosting?
Another option is to add a cream cheese glaze to drizzle on while the muffins are warm.
This can replace the crumble topping OR be in addition to it.
To do this you will need:
4 ounces cream cheese – softened
½ cup powdered sugar
1 teaspoon of vanilla extract
1-3 tablespoons of milk
In a medium bowl, mix the cream cheese, powdered sugar, and vanilla until combined.
Add the milk 1 tablespoon at a time until the desired consistency has been reached. Drizzle onto the muffins.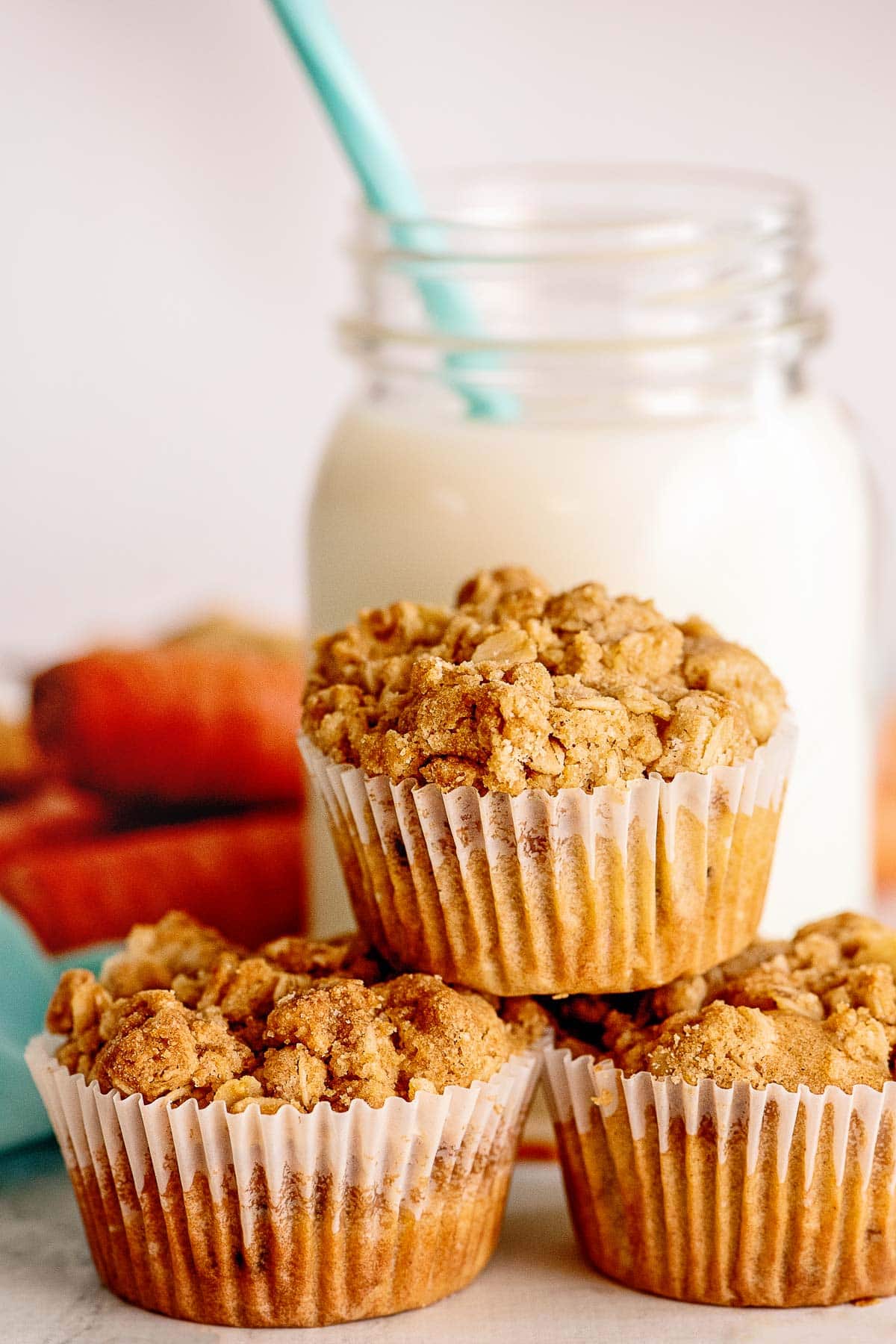 Tried and Tested Recipe
This recipe has been tested with regular all purpose flour, gluten-free measure-for-measure flour*, at altitude and sea level. Delicious results every time!
How to Make it – Step-by-Step
STEP 1. Preparation
Preheat the oven to 375 degrees F. Line a muffin tin with paper liners or spray with non-stick spray (photo 7).
STEP 2. Make the crumble topping
In a mixing bowl combine the topping ingredients and stir to combine (photos 1-2).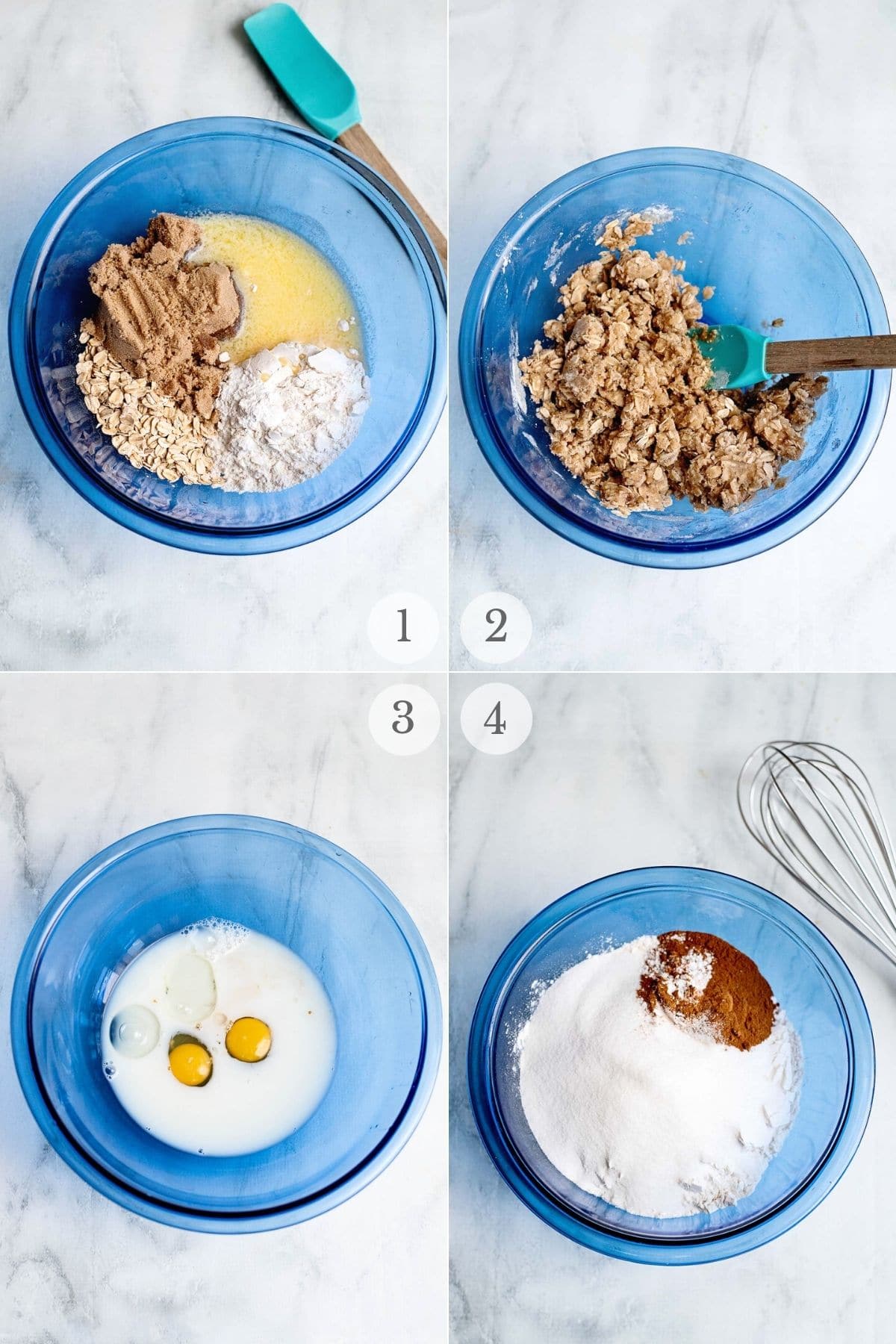 STEP 3. Mix the wet ingredients
In a large mixing bowl combine the milk, eggs, oil and vanilla extract (photo 3). Whisk.
STEP 4. Combine the dry ingredients
In a large mixing bowl combine the flour, sugar, baking powder, spices and salt (photo 4).
STEP 5. Finish the muffin batter
Combine the wet ingredients, dry ingredients and melted butter. Stir until well combined (photo 5).
Stir in the raisins, carrots, and walnuts (photo 6).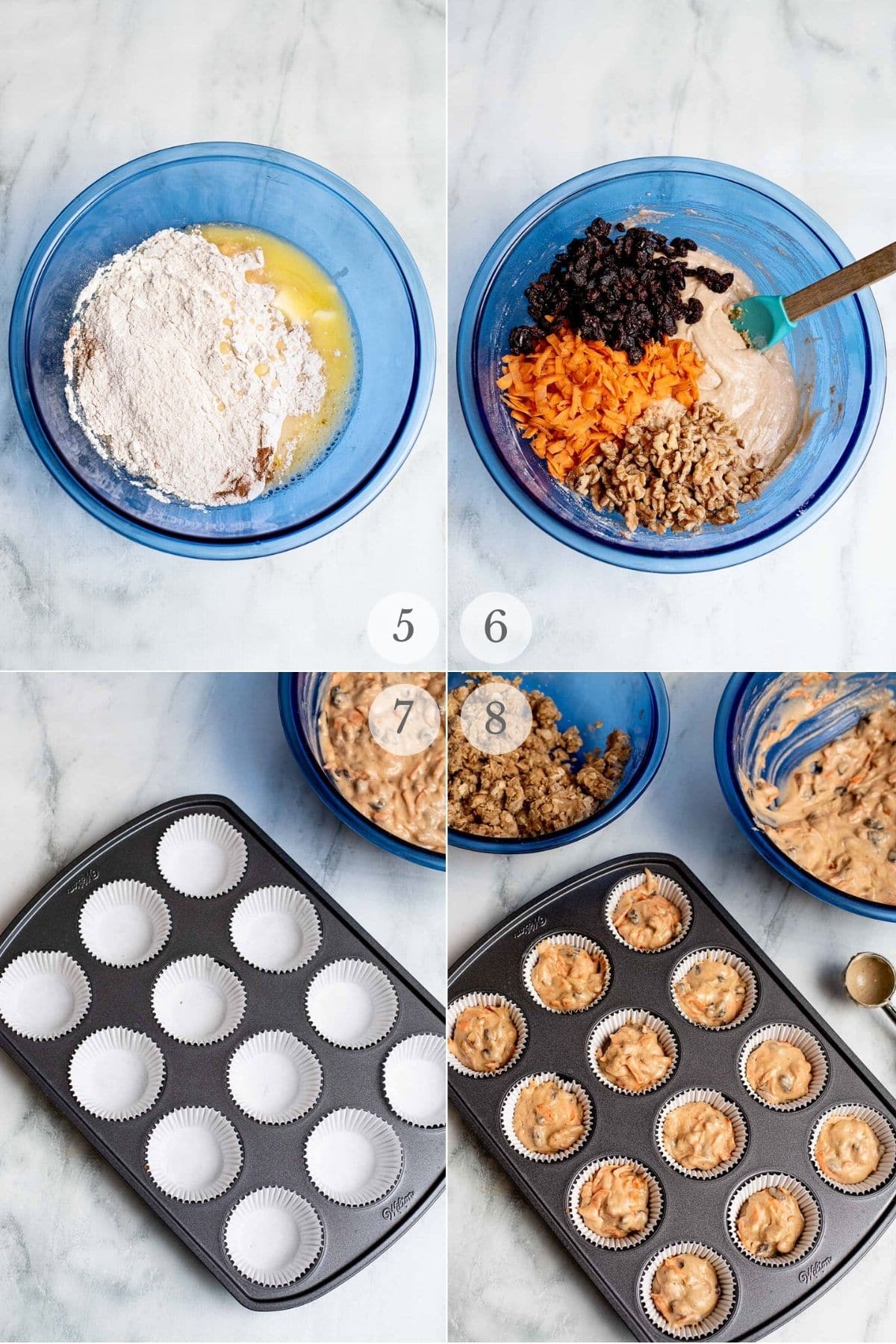 STEP 6. Fill and bake
Fill the muffin cavities 1/2 full (photo 8) and sprinkle the topping on top (photo 9).
Bake for 18-20 minutes until a toothpick inserted comes out clean.
STEP 7. Cool
Cool in the muffin pan for 5 minutes then completely on a wire cooling rack (photo 10).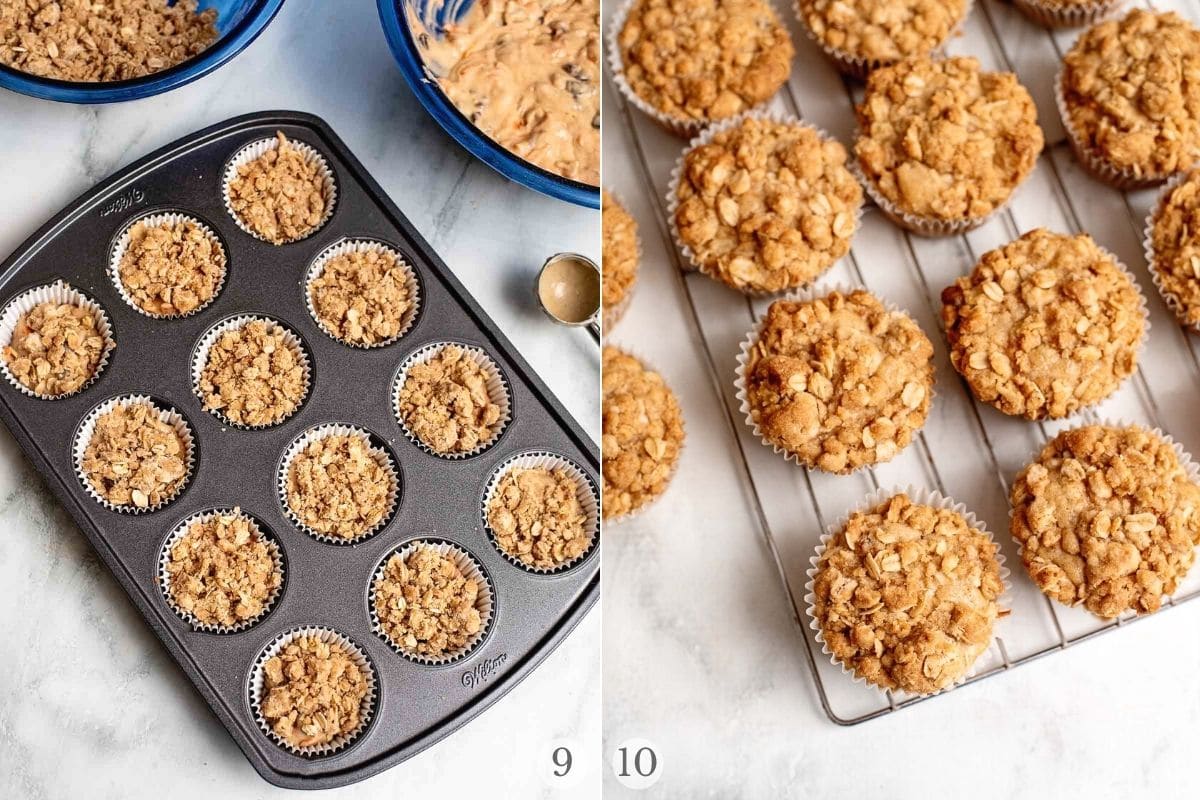 Pro Tips
Grate the carrots yourself. Carrots add moisture to the recipe and store bought grated carrots are very day.
How to Store them
These carrot cake muffins are great warm or cooled.
Best stored in an airtight container at room temperature for 3-4 days. The topping will soften after being stored but the taste won't change, they are still great.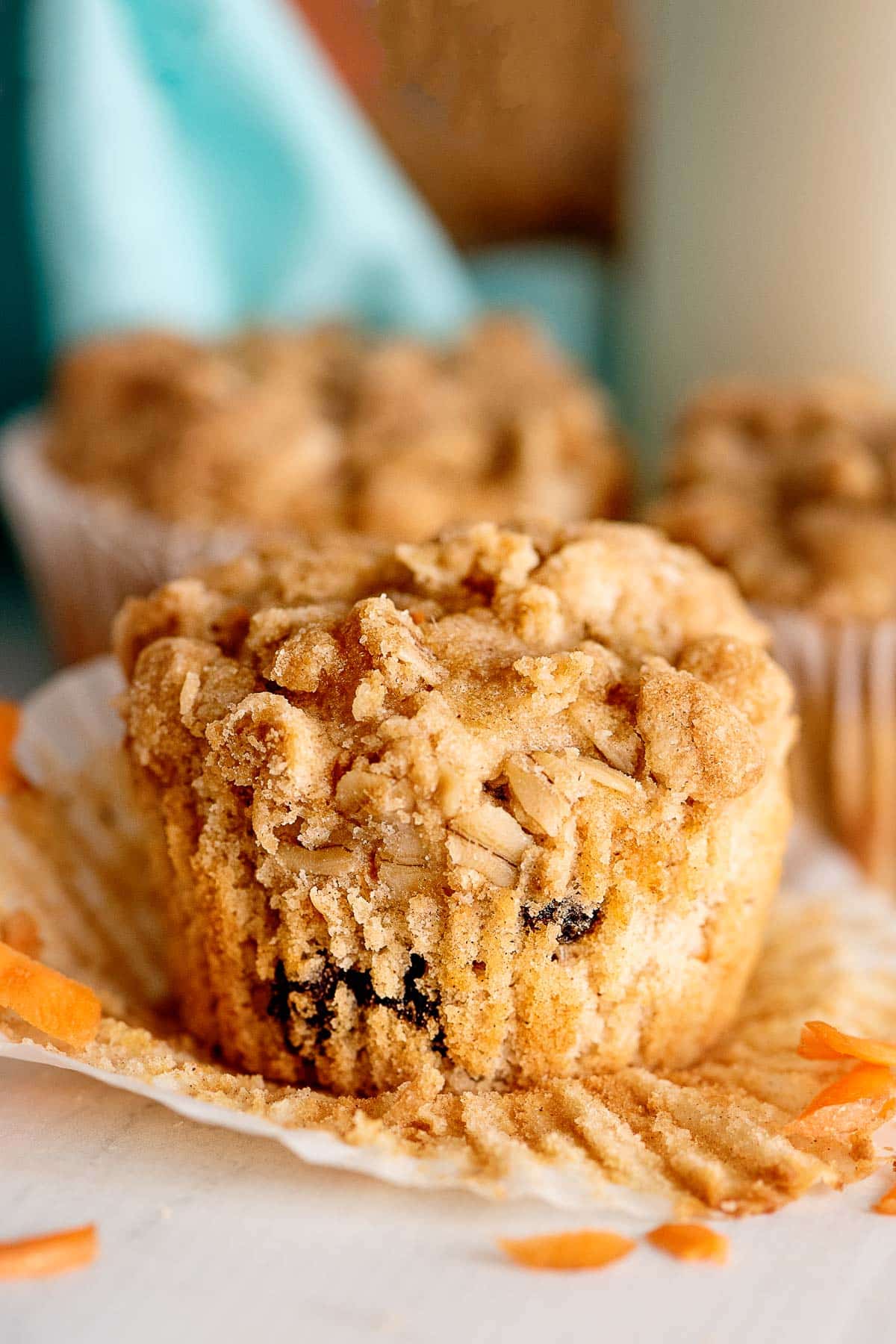 More Muffin Recipes You'll Love!
Did you make it? Please RATE THE RECIPE below!
Please
SUBSCRIBE
and
FOLLOW ME
on
FACEBOOK
,
TWITTER
,
INSTAGRAM
and
PINTEREST
!
Recipe