A refreshing, fizzy fall cocktail perfect for Halloween celebrating. The Grave Digger Cocktail can be quickly made up for a crowd or for solo sipping for a ghouslishly good time!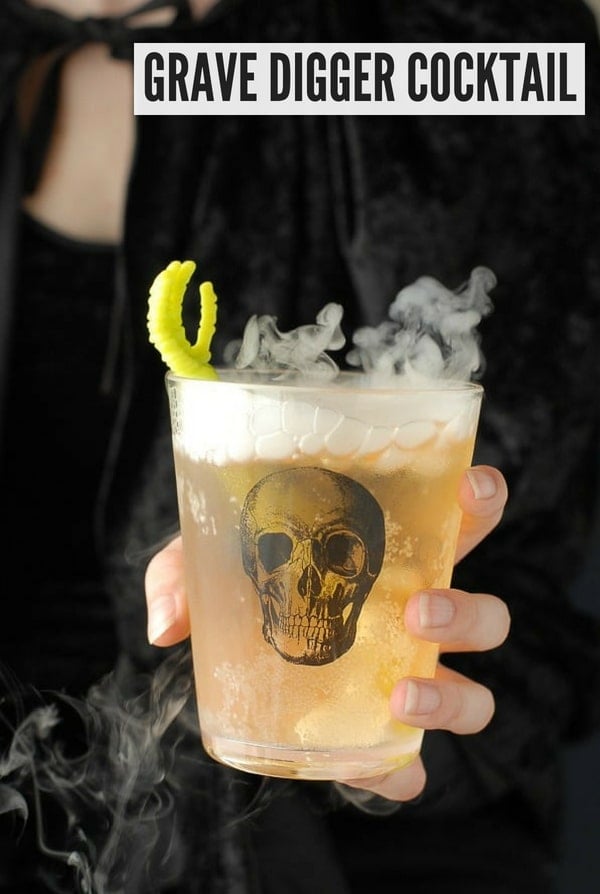 Waiting can be so hard. Though October has not quite arrived, Boulder Locavore has been besieged with readers and pinners looking ahead to Halloween!
I try to hold myself back from starting holiday recipes too soon for fear of burn out. But somehow the whimsy of Halloween does not saturate our holiday senses as other holidays can. I think no matter how young or old, the chance to become someone else and enjoy ghoulish food is always fun!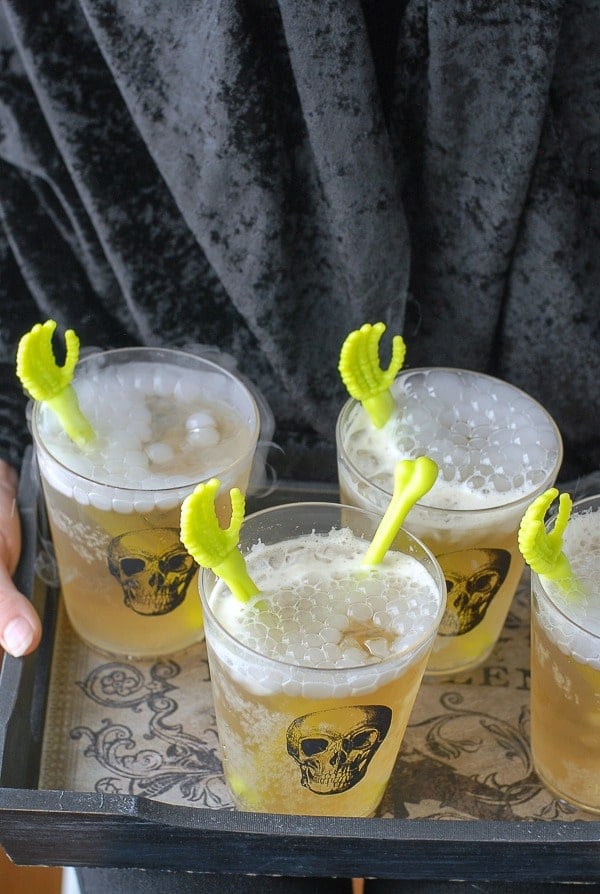 Grave Digger Cocktail: Perfect for Fall & Halloween
There is no better way to kick off October than with a fall-inspired Halloween-perfect cocktail, so says me!
In conjuring up this spooky sipper I found myself wondering 'if I were a grave digger, what would I drink?'  Whisky, I would.
I could picture man with a shovel in the thick of night silhouetted only by a harvest moon. Wiping his brow, he would pull out a small flask for a sip to keep him going to bury the new casket by morning.
I frankly know nothing about grave digging other than what I've seen in movies so it's probably all automated now; but I liked this eerie visual all the same.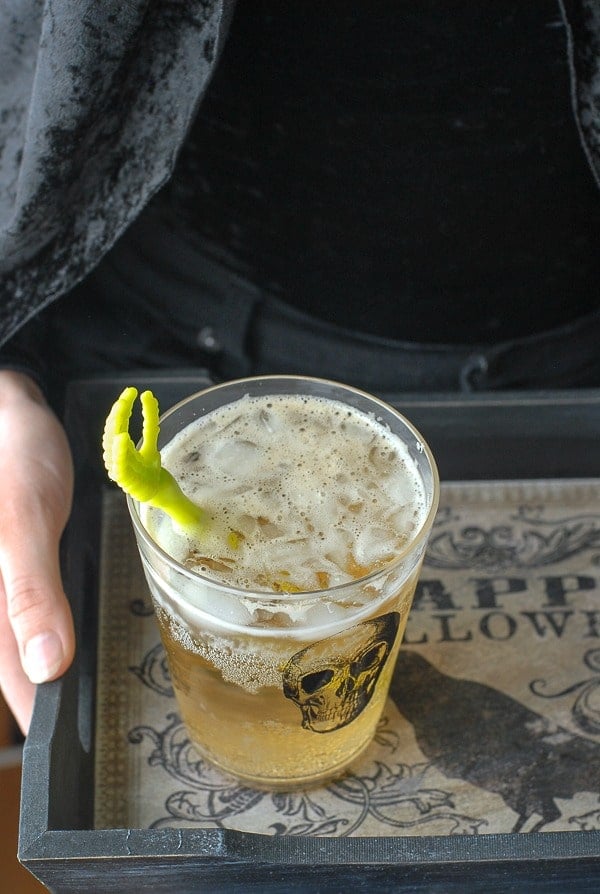 Ingredients in the Grave Digger Cocktail
It's apple season and hard cider is a great alternative to beer especially for fall. Most hard ciders are also gluten-free which is a plus for those needing to navigate gluten.
It has a bright flavor and carbonation making for a delicious apple-cider-meets-beer alternative.
I love the combination of bourbon and ginger, as well as apple and ginger so it seemed natural to combine all three into a concoction to celebrate fall and certainly for Halloween parties.
It's a delicious combination and doesn't pack too big a punch thanks to the ginger ale filler.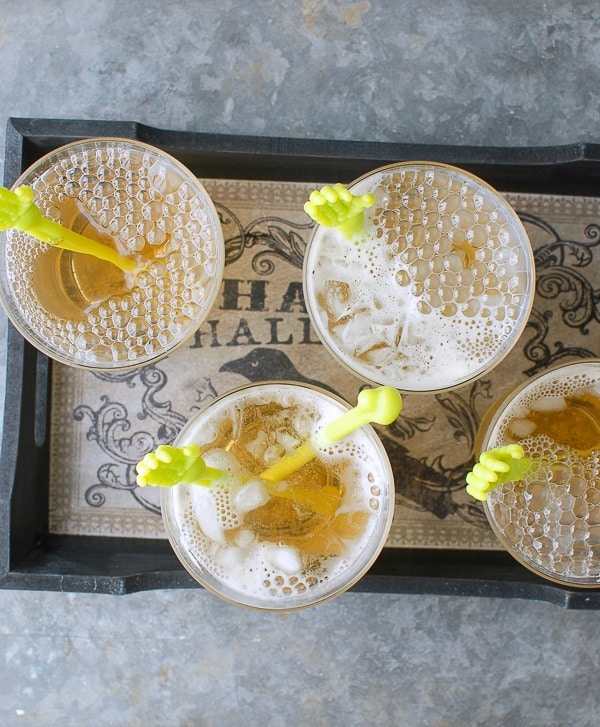 Using Dry Ice
Please note the addition of dry ice is a fun visual however drinks should not be consumed with active dry ice in them! 
Dry Ice is solid carbon dioxide frozen to -100 degrees which will cause frostbite. Once the dry ice has evaporated fully, drinks are fine to consume (I actually checked with a physician on this!).
For more information on dry ice (where to buy it, how to handle it) check this Dry Ice Guide.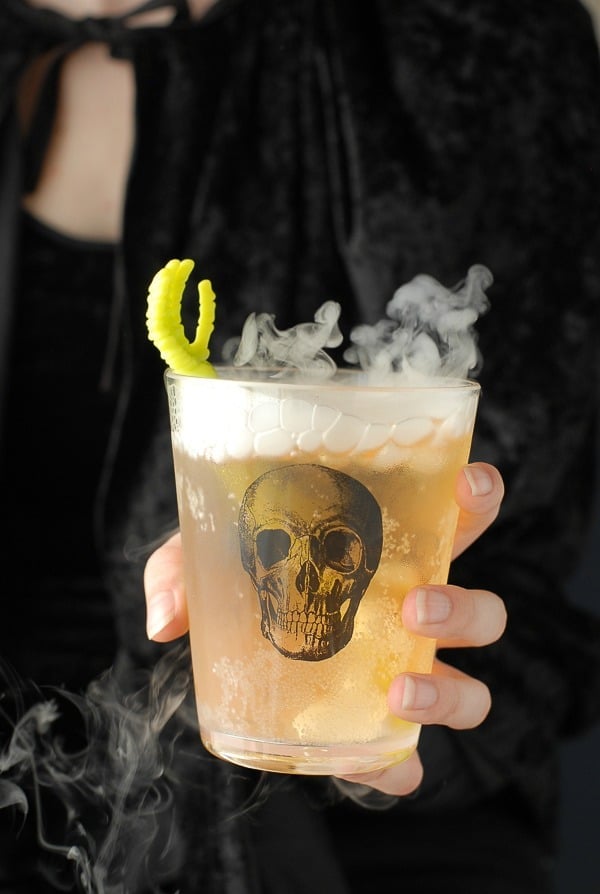 If you've tried this Grave Digger Cocktail recipe please RATE THE RECIPE below!
Please SUBSCRIBE and FOLLOW ME on FACEBOOK , TWITTER , INSTAGRAM and PINTEREST to see more delicious food, travel and what I'm up to!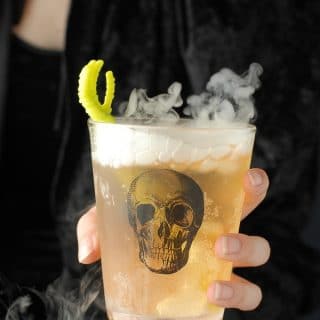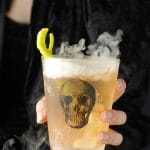 The Grave Digger Cocktail
The Grave Digger cocktail is perfect not only for Halloween but as a celebration of fall. Flavors of apple and ginger make this a great seasonal sipper.
Ingredients
2

ounces

Hard Cider

1

ounce

Whiskey

(I used Bourbon)

Ginger ale

, to fill

Crushed ice
Instructions
In a 12-16 ounce tumbler or high ball glass, combine the hard cider and whiskey. Fill the glass with crushed ice. Fill with ginger ale.
Nutrition Facts
The Grave Digger Cocktail
Amount Per Serving
Calories 94
% Daily Value*
Fat 0g0%
Cholesterol 0mg0%
Sodium 2mg0%
Carbohydrates 1g0%
Protein 0g0%
* Percent Daily Values are based on a 2000 calorie diet.