This Teriyaki Salmon is the perfect salmon recipe! Slightly sweet and salty, cooks for 12 minutes for a moist, flaky, delicious main dish. Easy enough for a weeknight dinner and impressive enough to serve to friends at a dinner party.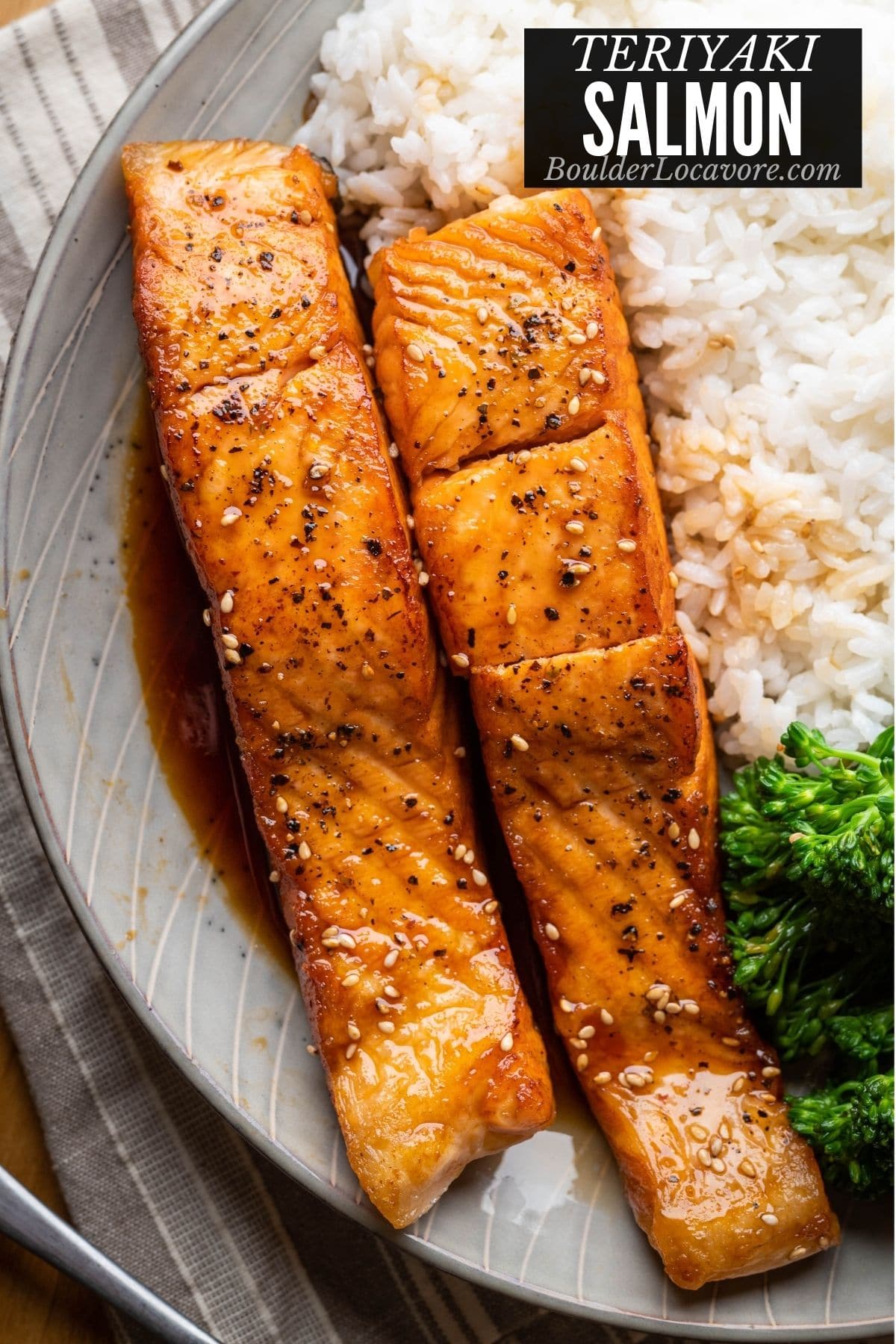 Everyone loves quick and easy dinner recipes and this is one of the best.
When you need a meal on the table fast and don't want to compromise taste, baked salmon is the answer!
It's ready in less than 15 minutes cooking time and the flavor can be easily changed with a great marinade.
Asian-inspired Teriyaki Salmon is always a favorite the whole family will love.
Fast and Easy Teriyaki Salmon
The sauce is fast to whip up and super easy.
The salmon marinates for 30 minutes and cooks for 12 minutes.
You'll have the teriyaki glazed salmon on the dinner table in well under an hour.
This easy salmon recipe is delicious thanks to the teriyaki marinade.
It's a sweet, salty, tangy sauce used both for marinating the salmon and thickened as a brush on sauce.
What is teriyaki sauce?
Teriyaki sauce is a Japanese sauce used for stir-frying, dipping or marinating.
It combines soy sauce, ginger, sugar and mirin (an Asian rice wine) for a taste that's equal parts tangy, salty and sweet.
You can buy it already made (either regular or gluten-free) or make homemade teriyaki sauce.
We've combined the two for a delicious, flavor-packed sauce that's fast to make.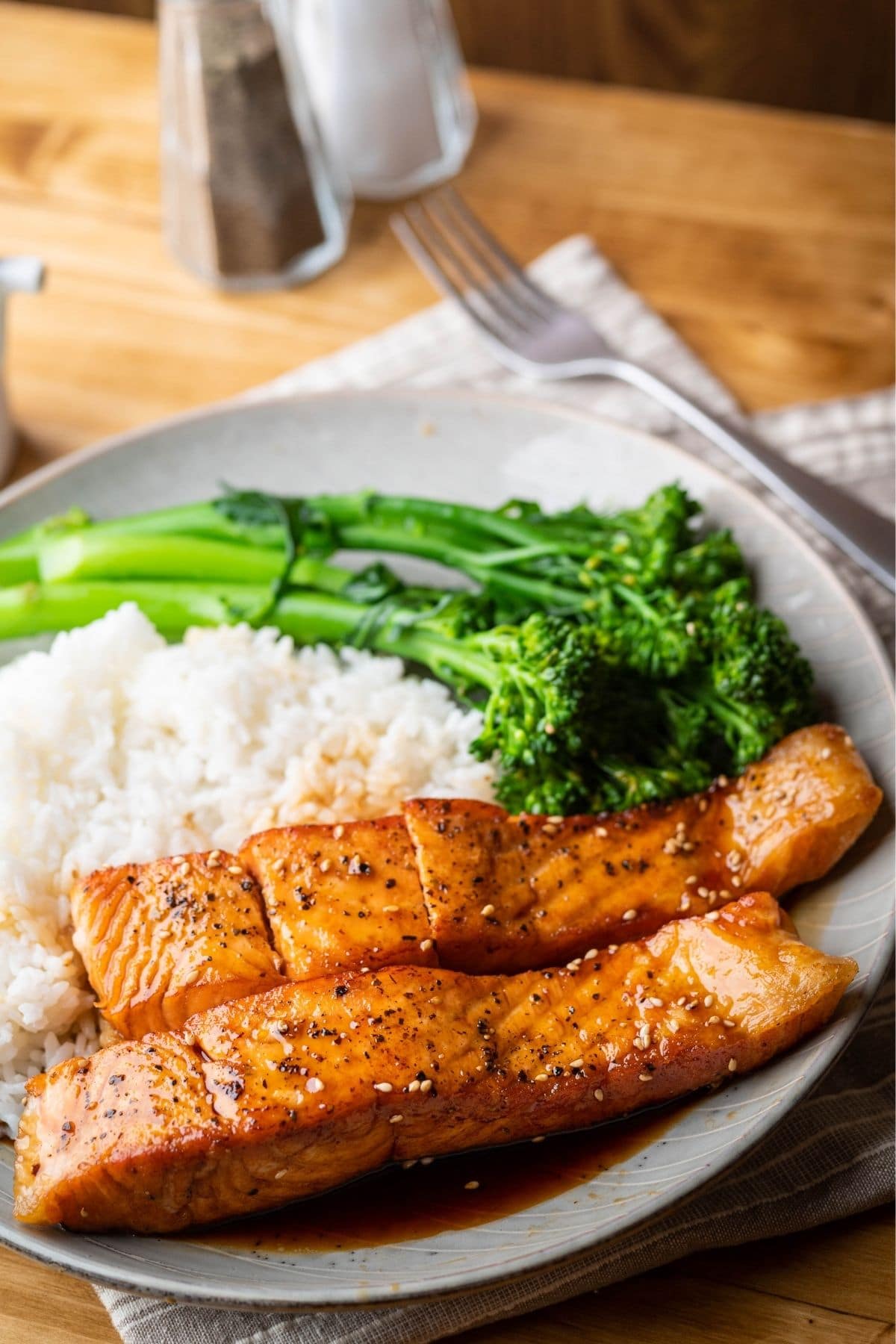 Recipe Ingredients + Notes
Salmon fillets: Use equal size salmon fillets so they cook in the same amount of time. Also use fillets with the skin on and cook with skin side down.
Teriyaki sauce: Teriyaki sauce is a slightly sweet and tangy Asian sauce that works also as a marinade. Regular or gluten-free versions work for this recipe.
Soy sauce: Soy sauce is a classic ingredient in teriyaki recipes as well as many other Asian recipes. It's a salty ingredient. Regular or gluten-free soy sauce or tamari can be used.
Rice vinegar: The rice vinegar gives a little tang and some sweetness to the recipe. If you don't have rice vinegar on hand you can also use apple cider vinegar for a similar result.
Sesame oil: We are using it for its distinct nutty flavor. Sesame oil is great for Asian dishes because it adds a little more complexity to the dishes.
Brown sugar: It adds a delicious sweet flavor! It also caramelizes so when we are making the sauce it gets more thick and syrup-like.
Garlic powder: It adds a nice little kick! Garlic powder doesn't get burned as easily so it's perfect for baking at a high temperature.
Ginger powder: Ginger powder is a great addition to a lot of Asian dishes! It's slightly floral and fruity and balances really well the sweetness and saltiness of the dish.
Using ginger powder instead of fresh ginger cuts down on prep time but still delivers delicious ginger flavor.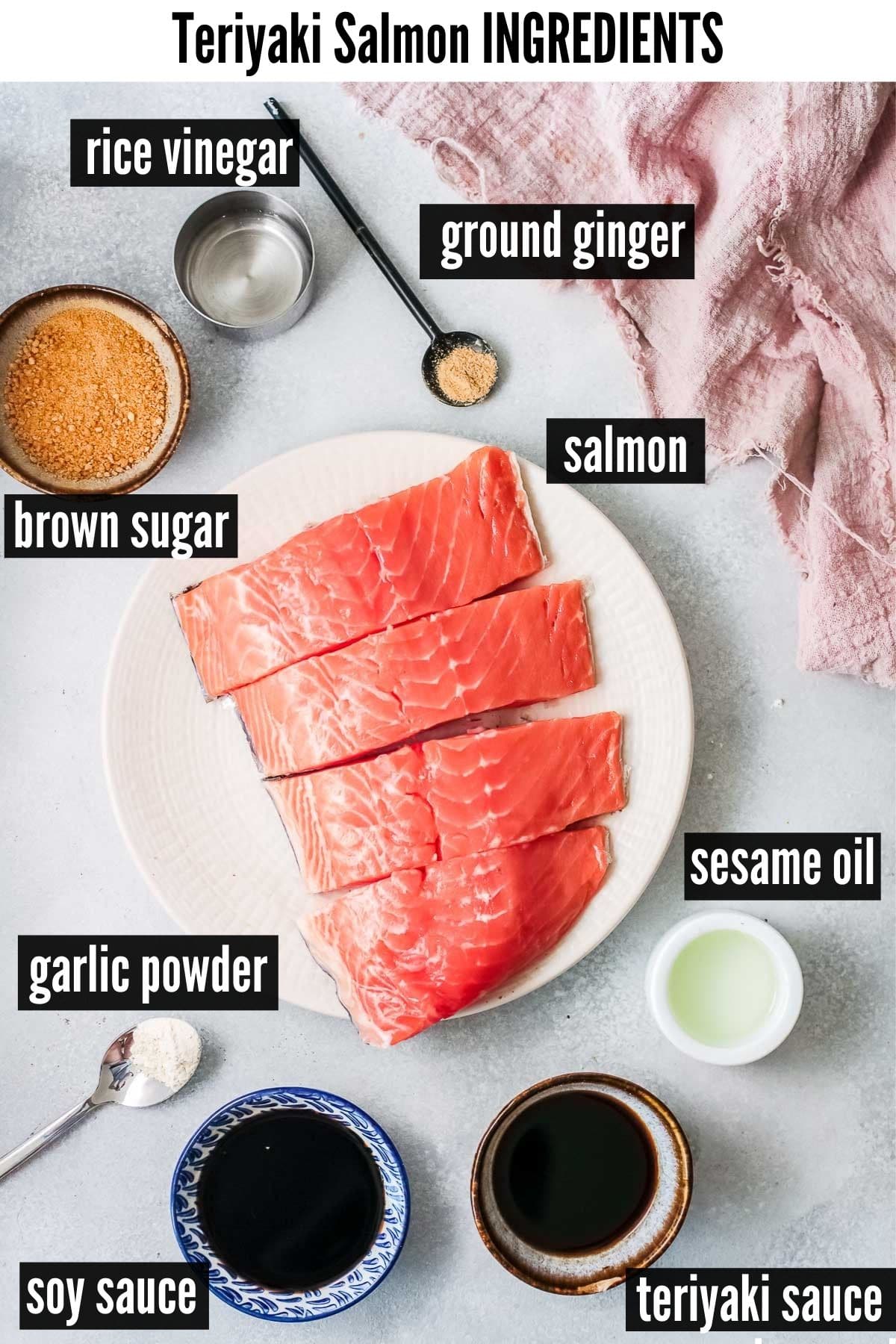 Notes on Cooking Wild Salmon vs Farm Raised Salmon
Wild caught salmon or farm raised salmon can be used.
Wild caught salmon usually bakes quicker than farm raised salmon since the pieces are slightly less fatty.
If using farm raised salmon it may need to bake it for 1 to 2 minutes longer.
Checking the internal temperature with an instant read food thermometer is always the best way to know if its done.
How to Make it – Step-by-Step
STEP 1. Preparation
Preheat the oven to 400 degrees F. Line a baking sheet or pan with parchment paper (photo 1).
STEP 2. Make the teriyaki salmon marinade
Add the soy sauce, teriyaki sauce, rice vinegar, sesame oil, brown sugar, garlic and ginger powders to a bowl (photos 2 -7). Whisk to combine.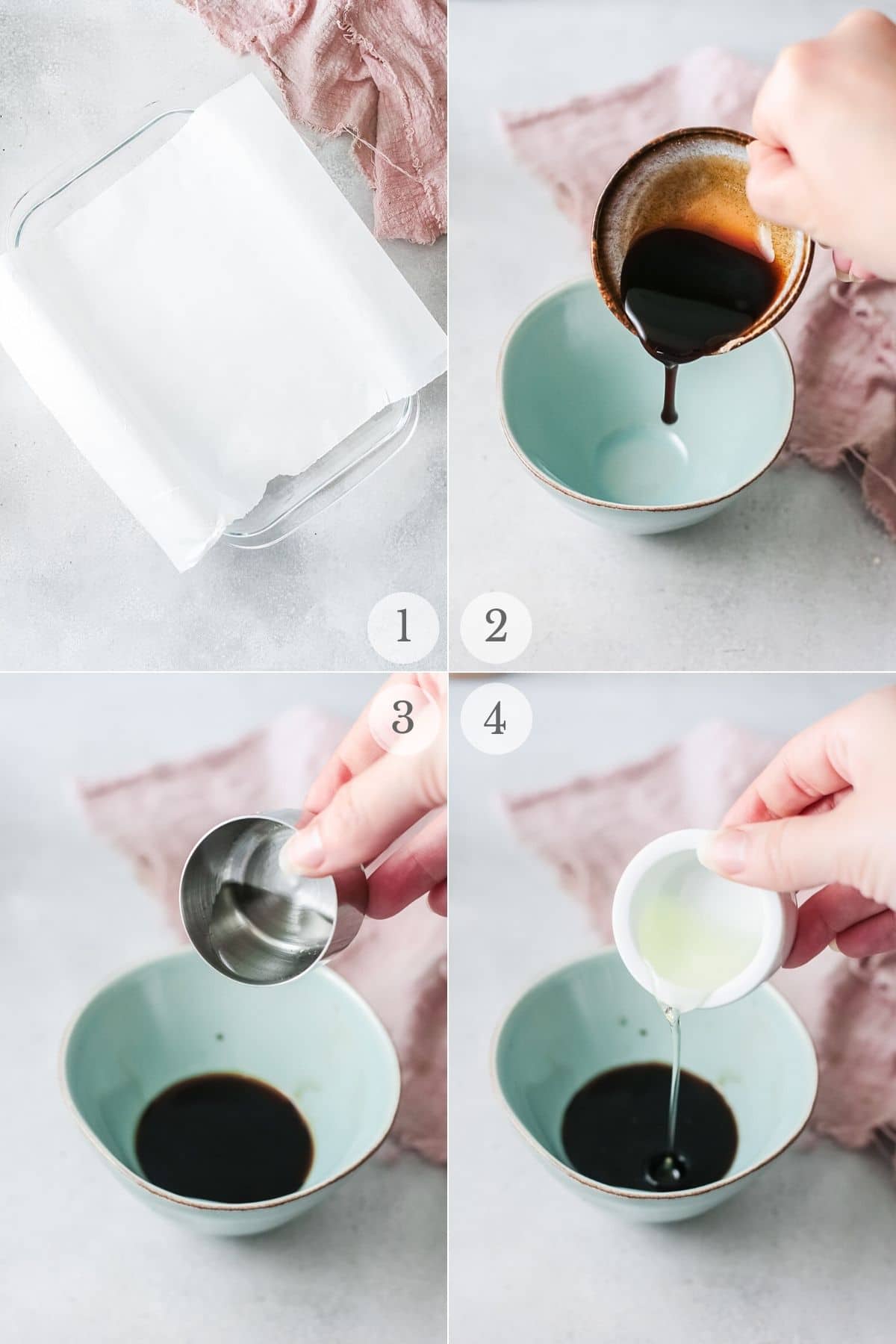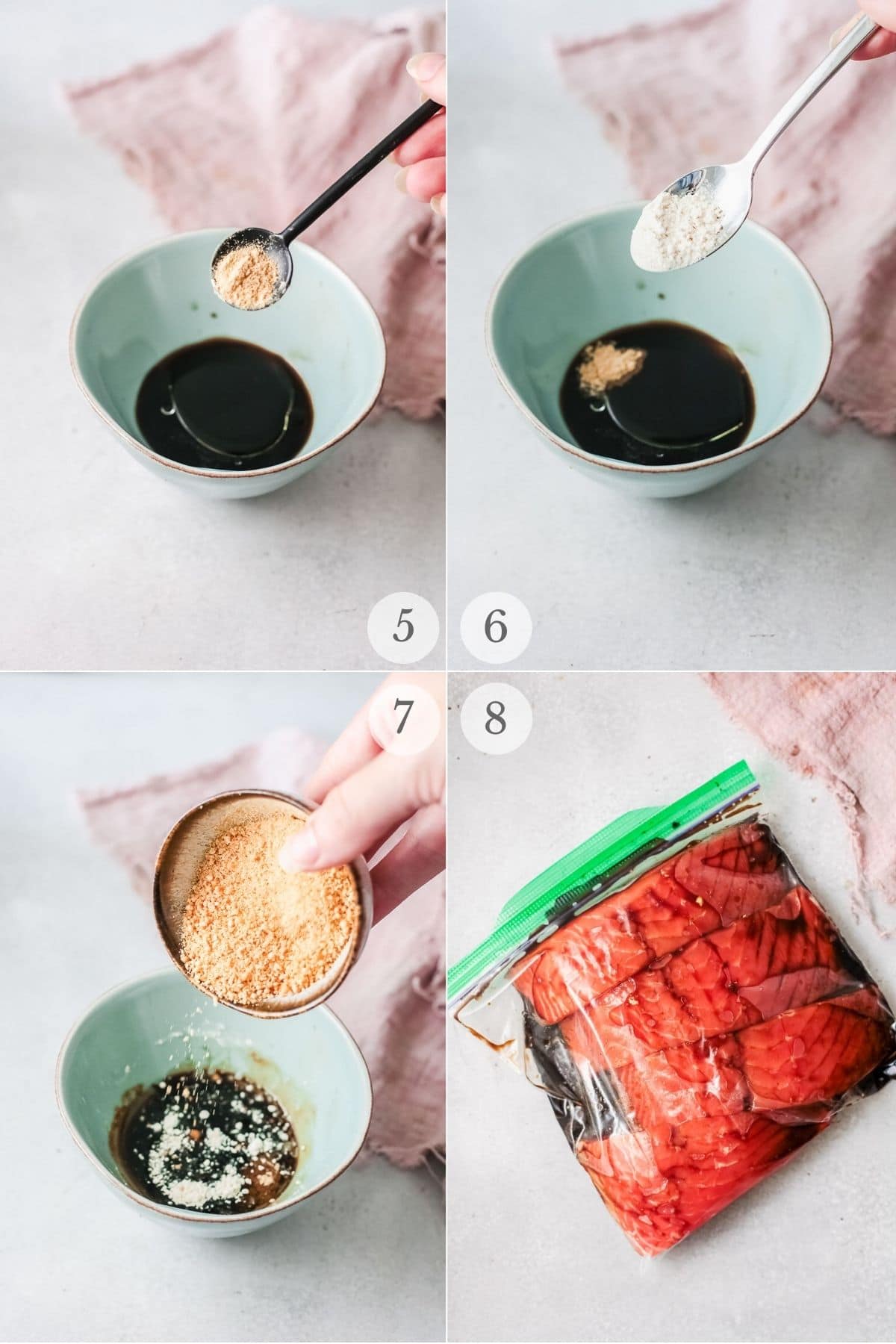 STEP 3. Marinate the Salmon
Put the salmon in a plastic zip top bag. Pour 1/4 of a cup of the marinade on top (photo 8).
Squeeze any extra air out of the bag before sealing.
Massage the bag to ensure the salmon filets are coated in sauce. Let it marinate for 30 minutes.
STEP 4. Bake
Place the salmon skin side down on the prepared baking sheet or dish. Drizzle the filets with the marinade from the bag (photo 9).
Bake for 12 minutes or until the salmon reaches 145 degrees F internal temperature.
STEP 5. Thicken the sauce
While the salmon bakes, heat the remaining marinade on the stove until warm and thickened.
Remove the baked teriyaki salmon from the oven and brush with the thickened sauce (photo 10).
Serve and enjoy!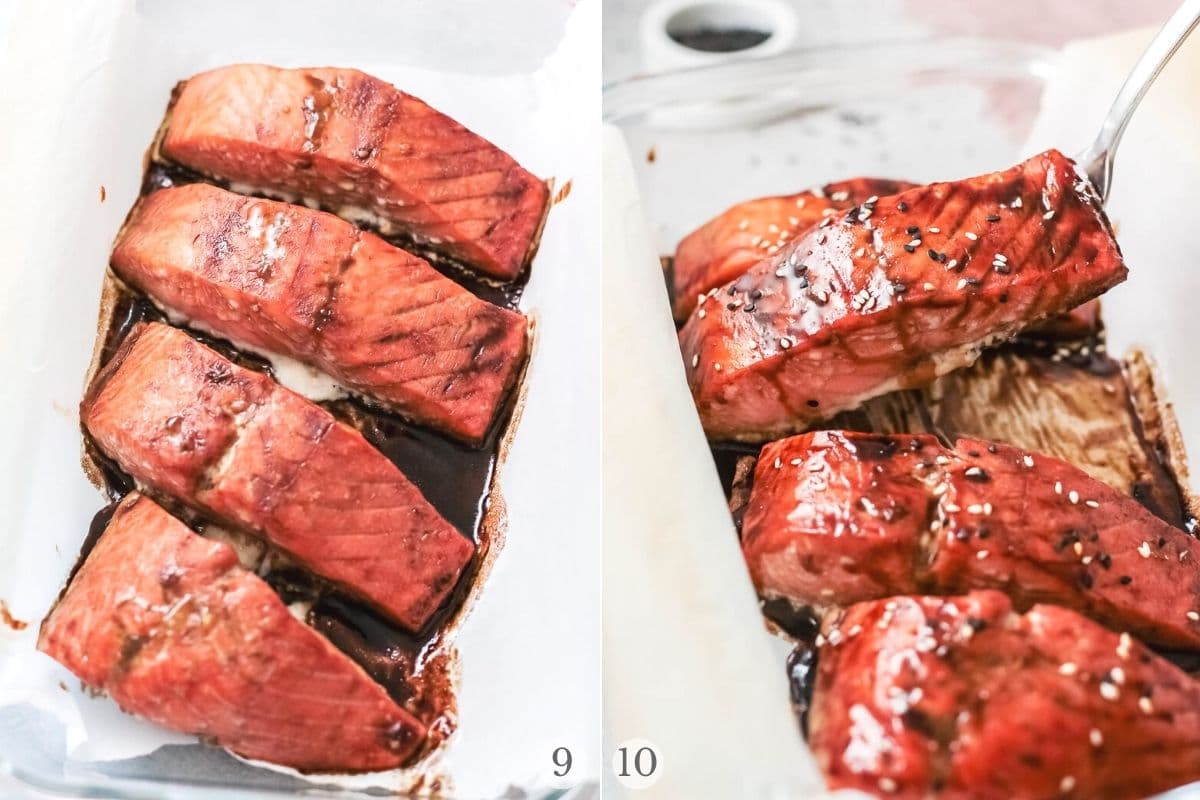 Recipe FAQ's + Pro Tips
Reduce the sauce. This step creates a syrup like consistency and helps the flavors blend perfectly. It is brushed on after cooking for a delicious infusion of flavors.
Garnish with sesame seeds. They add a nutty flavor that perfectly compliments the dish. White and/or black sesame seeds can be used.
Use salmon fillets the same size. Always choose fillets roughly the same size so they cook in the same amount of time. Larger salmon fillets may take longer to cook.
Use an instant read food thermometer to ensure they are cooked to at least 145 degrees F.
Why is it important to marinate the salmon?
It locks all the flavors into the salmon! That way you end up with a moist, flavorful fish fillet.
How can you tell when salmon is done?
Salmon is fully cooked when it reaches an internal temperature of 145 degrees F. The filets should be flaky and tender.
I recommend using an instant read food thermometer to ensure the salmon is fully cooked.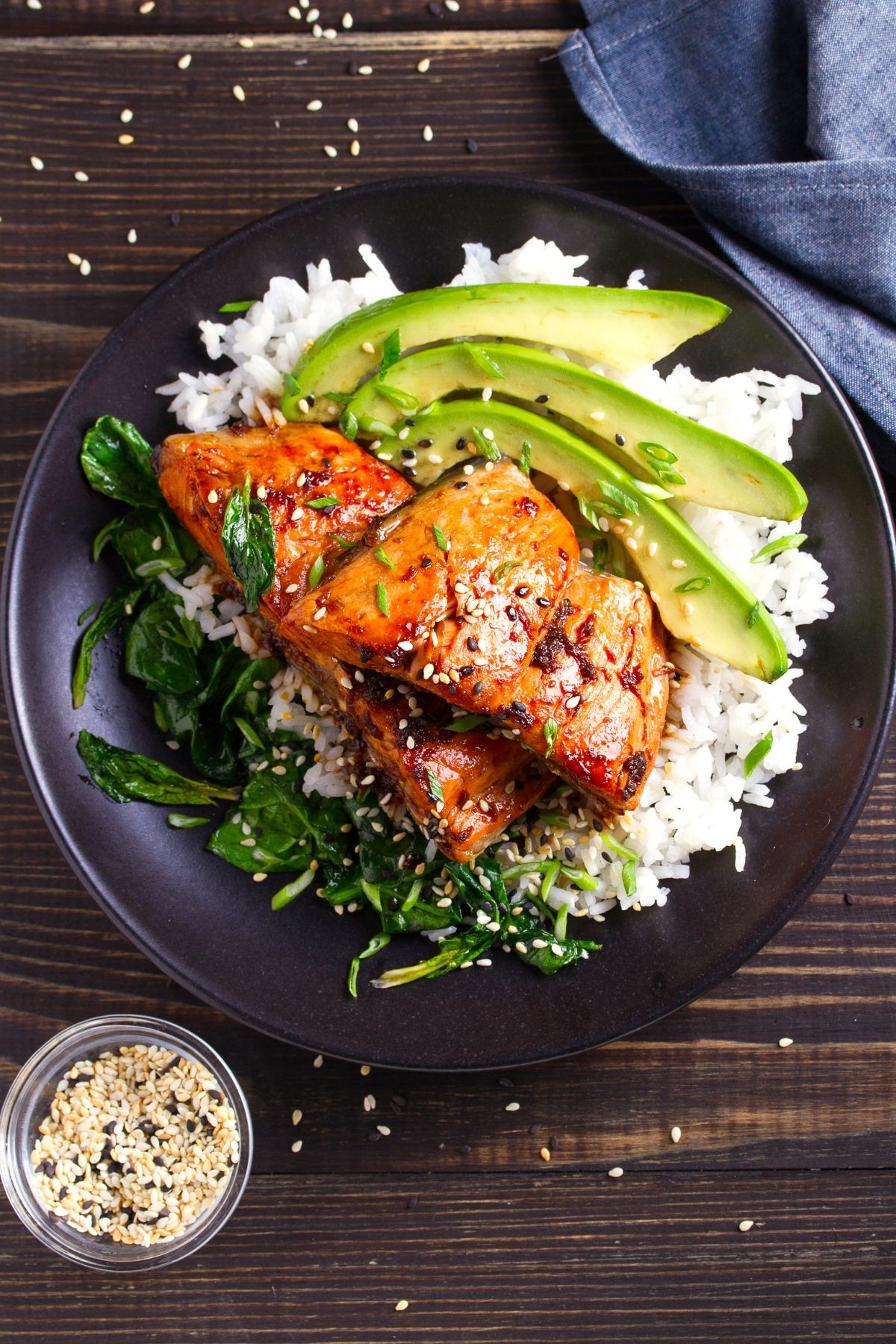 What goes with salmon teriyaki?
This salmon recipe is very flexible to pair with side dish recipes. It can be as simple as rice and a steamed vegetable or a tossed green salad.
The salmon can be added to top a favorite pasta recipe or noodles too.
Here are some favorite easy side dish ideas:
Storing Leftovers
Leftover baked teriyaki salmon should be transferred to the refrigerator within 2 hours of cooking.
Place in an airtight container in the refrigerator and store up to 2-3 days.
If after that time it smells suspect at all, pass on eating it.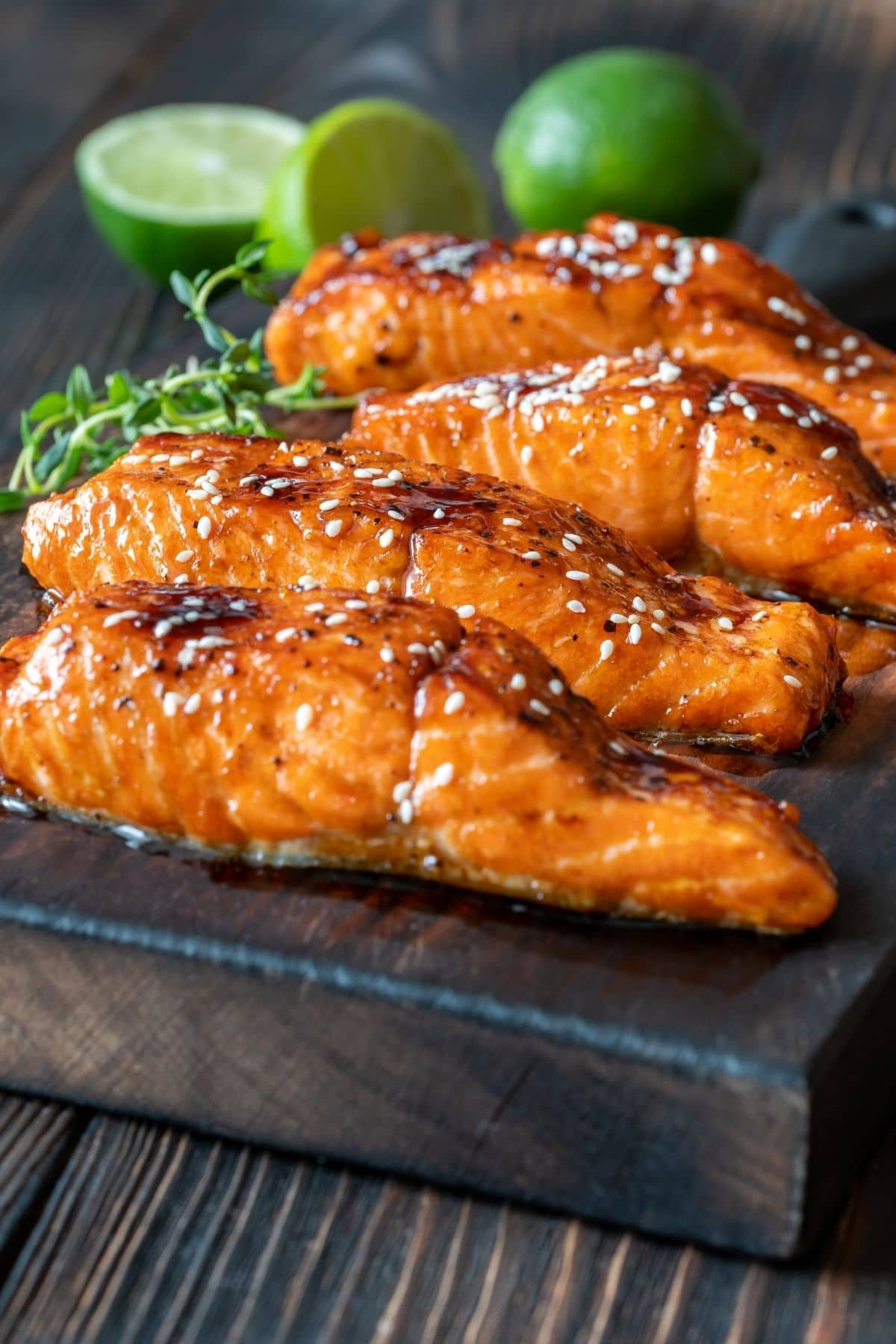 More Recipes You'll Love
Did you make it? Please RATE THE RECIPE below!
Please SUBSCRIBE and FOLLOW ME on FACEBOOK , TWITTER , INSTAGRAM and PINTEREST !