Minestrone soup is a hearty soup full of vegetables, beans, pasta and potatoes with delicious Italian herbs. This version is paired down for time and ingredients but not on flavor! It's a soul warming classic soup recipe.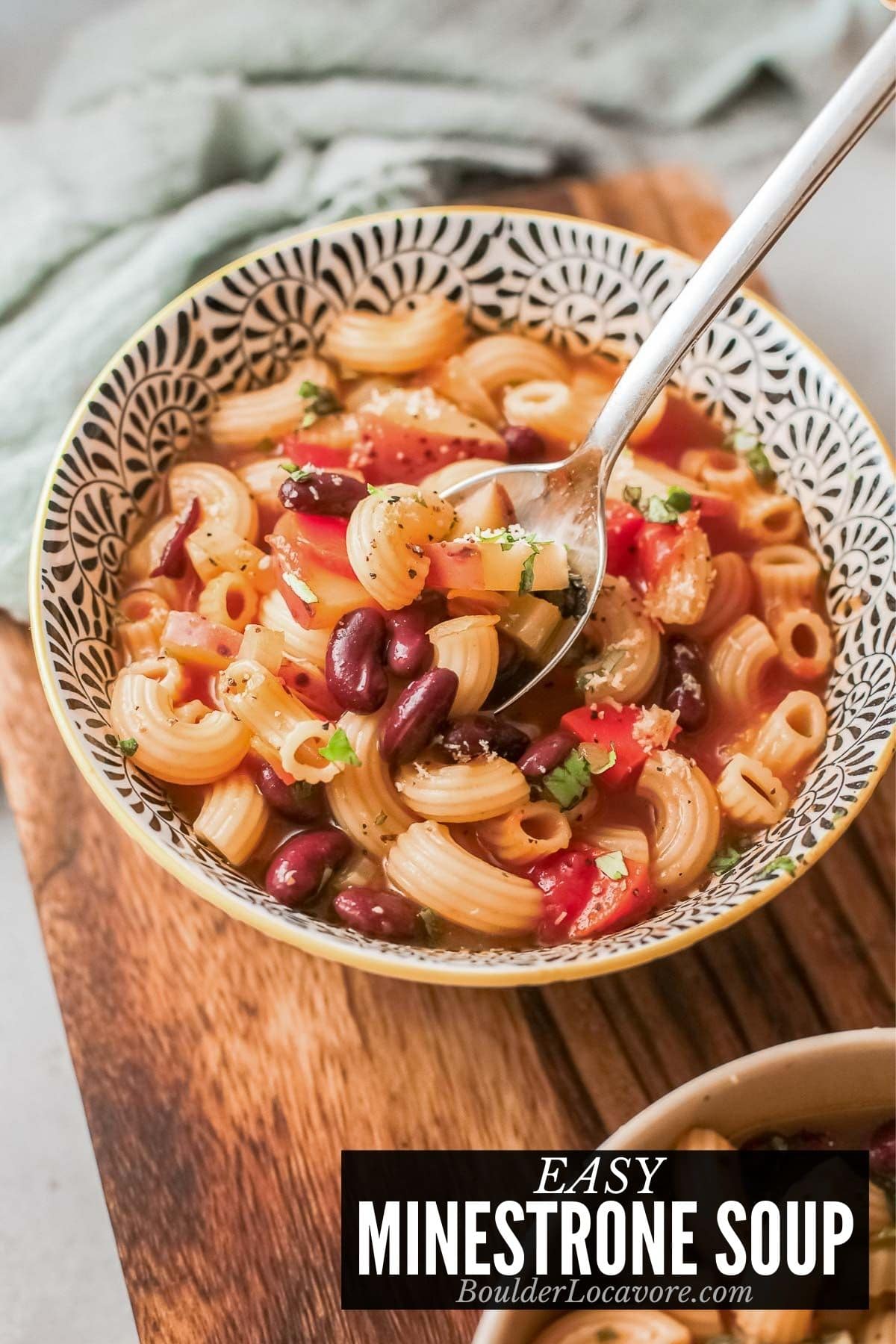 Italian food is argueably the best comfort food there is. Wonderful flavor, hearty textures and pleasing to the eye.
Minestrone soup is no exception. If you love soups like Pasta e Fagioli or Zuppa Toscana Soup you'll love this Minestrone soup recipe.
It's full of vegetables, potatoes, beans and pasta all in a simple delicious broth.
This family loved recipe is absolutely delicious!
Easy Minestrone Soup
I have had another recipe for 'Old School Minestrone Soup' on this website since almost when it began. It's a family recipe I remember my mother making every year.
It's delicious with about 30 ingredients and makes about 10 quarts. She would spend the day making it and canning it.
I'll be honest, I just don't have that kind of time or patience. So we've created a more streamlined soup recipe. It's just as good with loads of options to change up the ingredients to include your favorites.
And it's ready in less than an hour.
Think of this recipe as a stand alone recipe or a starting point to customize it with ingredients you love.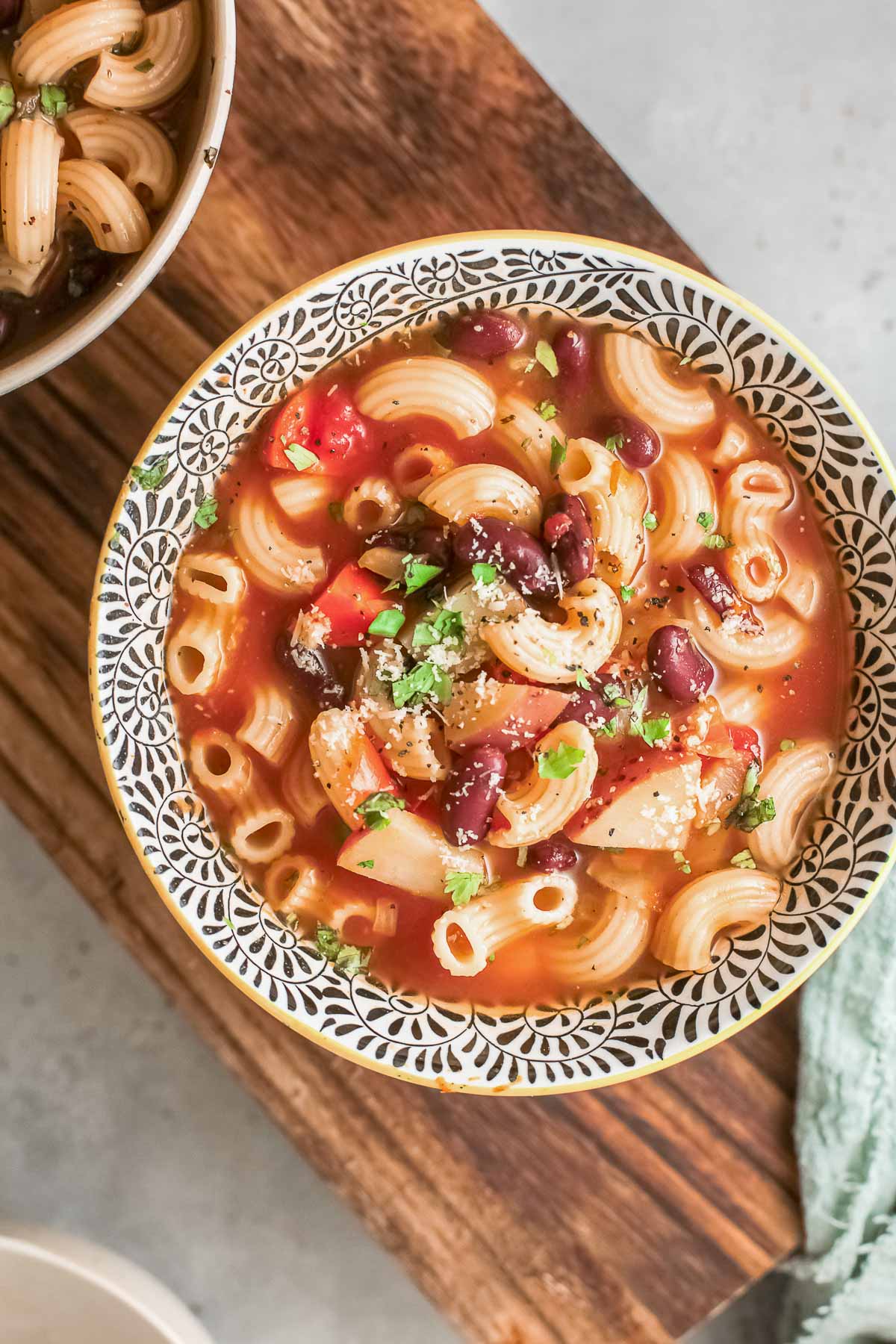 No wrong way to make it
This is one of those recipes like French Cassoulet that every family makes in their own way. There is not one set recipe.
It's a hearty vegetable soup that often uses whatever is in the refrigerator or pantry.
It can be vegetarian OR have meat. It can have potatoes and/or rice but doesn't have to.
That's the beauty of it. And why we've included such a long Variations list. There really is no limit to how it can be changed up.
Recipe Ingredients + Notes
Olive oil. Used for sautéing the vegetables and giving classic Italian flavor.
Yellow onion, Carrots and Celery. The holy trinity of soup starters. These are chopped and sautéed in the first step.
Canned Tomatoes. Either whole or diced tomatoes can be used. We recommend San Marzano type tomatoes if possible which are a flavor-dense Italian tomato. If you can find a type with Italian spiced added like garlic and basil even better!
Dark kidney beans. These add color and flavor to the soup. Or try a white bean (more in Variations below).
Seasonings: garlic powder, onion powder and Italian seasoning. These add a punch of flavor with no prep. The Italian seasoning blend is a great time shortcut but certainly not a flavor short cut. It has all the traditional spices you'll need.
Potato. We suggest a large Yukon Gold or new/Red Potato. They don't need to be peeled which saves time. The waxy consistency holds up well to simmering in the soup, unlike russet potatoes which can start to disintegrate.
Pasta. Either regular or gluten-free pasta work. Choose a smaller shape like digitali, elbow, or small shells.
Stock or Broth. Use low sodium chicken stock or vegetable broth (or a mix). You'll add salt at the end of cooking to your preference.
Salt and pepper. Used before serving.
Chopped parsley and parmesan cheese for topping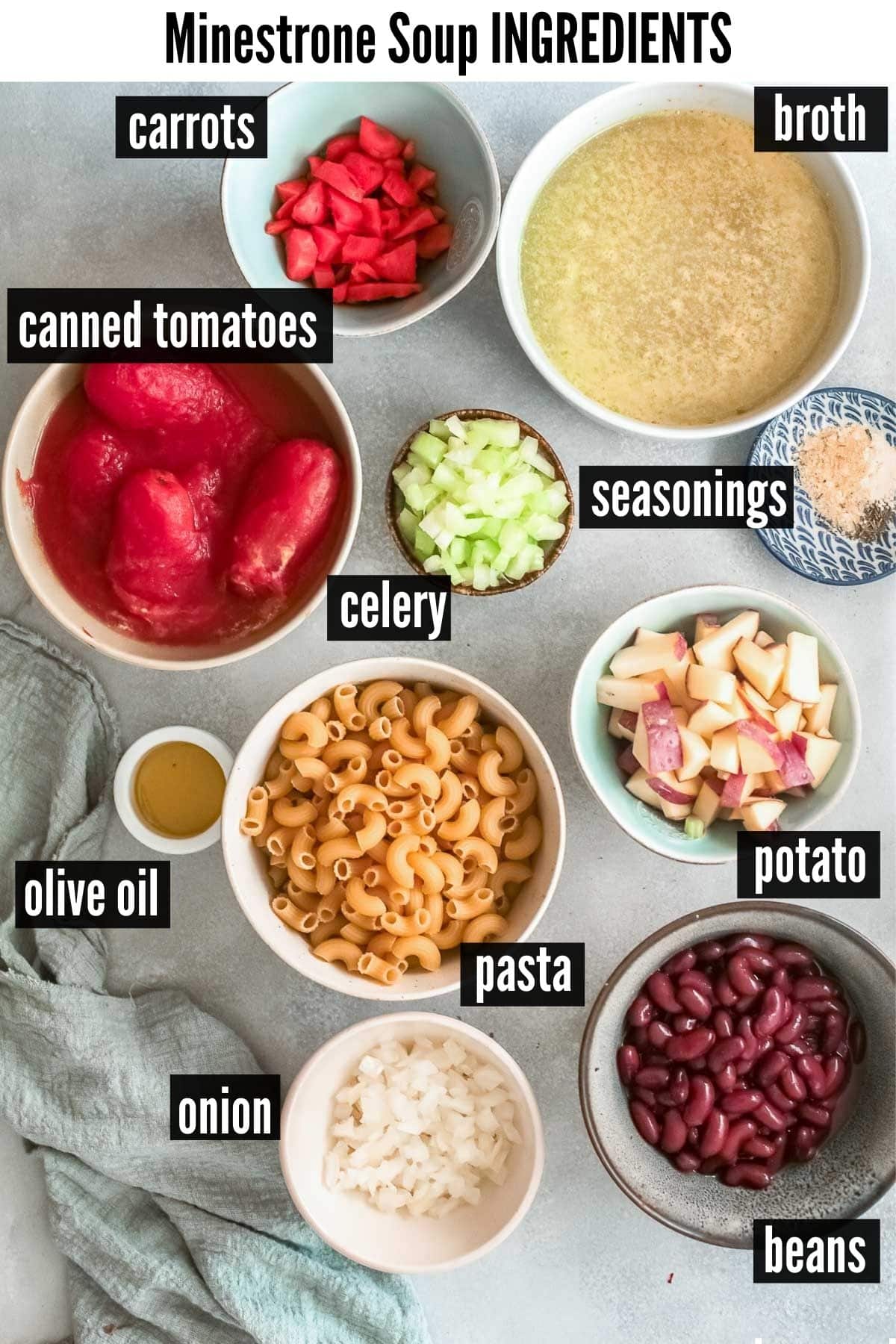 Variations
Add some fresh diced garlic. The garlic in the soup is very mild in flavor. If you like garlic, add up to 4 cloves fresh garlic minced. Add them for the last minute of the vegetables sautéing in the first step.
Add seasonal vegetables. Classic minestrone often includes zucchini, green beans, fresh tomatoes. If desired add those….
Swap the beans. A classic bean in minestrone soup is Cannellini beans. Use those instead of kidney beans.
Add salt. Saving the salt until the end let's you season to your liking without risking it being too salty. It will need salt. Either salt the finished pot of soup or let individual diners salt their own.
Add some fresh greens. Kale or spinach is delicious in this soup. Add 2 cups during the last phase of simmering when the pasta and potatoes are added.
Change up the spices. Add a bay leaf or two, a couple fresh sprigs of thyme, more dried oregano, some fresh basil or even some crushed red pepper flakes.
Stir in some pesto. If you love basil stir in some pesto at the end.
Add a splash of acid. When the soup is done cooking adding a 1-2 teaspoons of lemon juice or red wine vinegar. It really perks up the flavors.
Add some Italian sausage. Add either ground Italian sausage (sauté it in the beginning step) or sliced links. Hot Italian sausage will give a spicy flavor.
Tried and Tested Recipe
This recipe has been tested with regular and gluten-free pasta at sea level and altitude with great results. Our recommended gluten-free pasta brand is Tinkyada for it's flavor and good structure through cooking.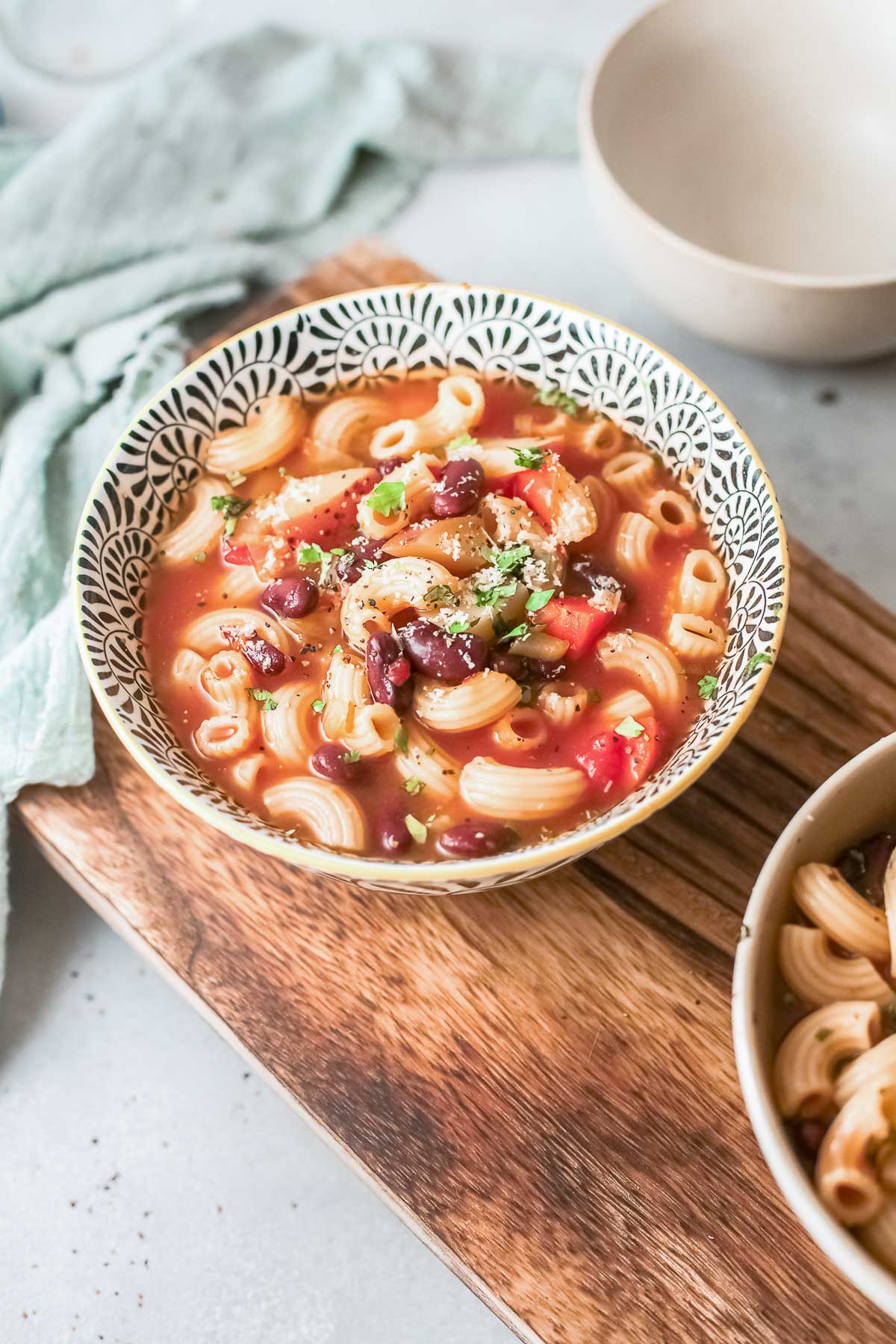 How to Make it – Step-by-Step
How do you make Minestrone from scratch?
You'll never believe how easy it is!
STEP 1. Sauté the vegetables
Heat the olive oil in a large stock pot or Dutch oven over medium heat. Add the onion, celery and carrots (photo 1) and sauté until softened (5 minutes).
STEP 2. Add ingredients and simmer
Add the tomatoes, beans, spices and broth (photos 2-3). Cook for 15 minutes with the lid on partially covering the pot.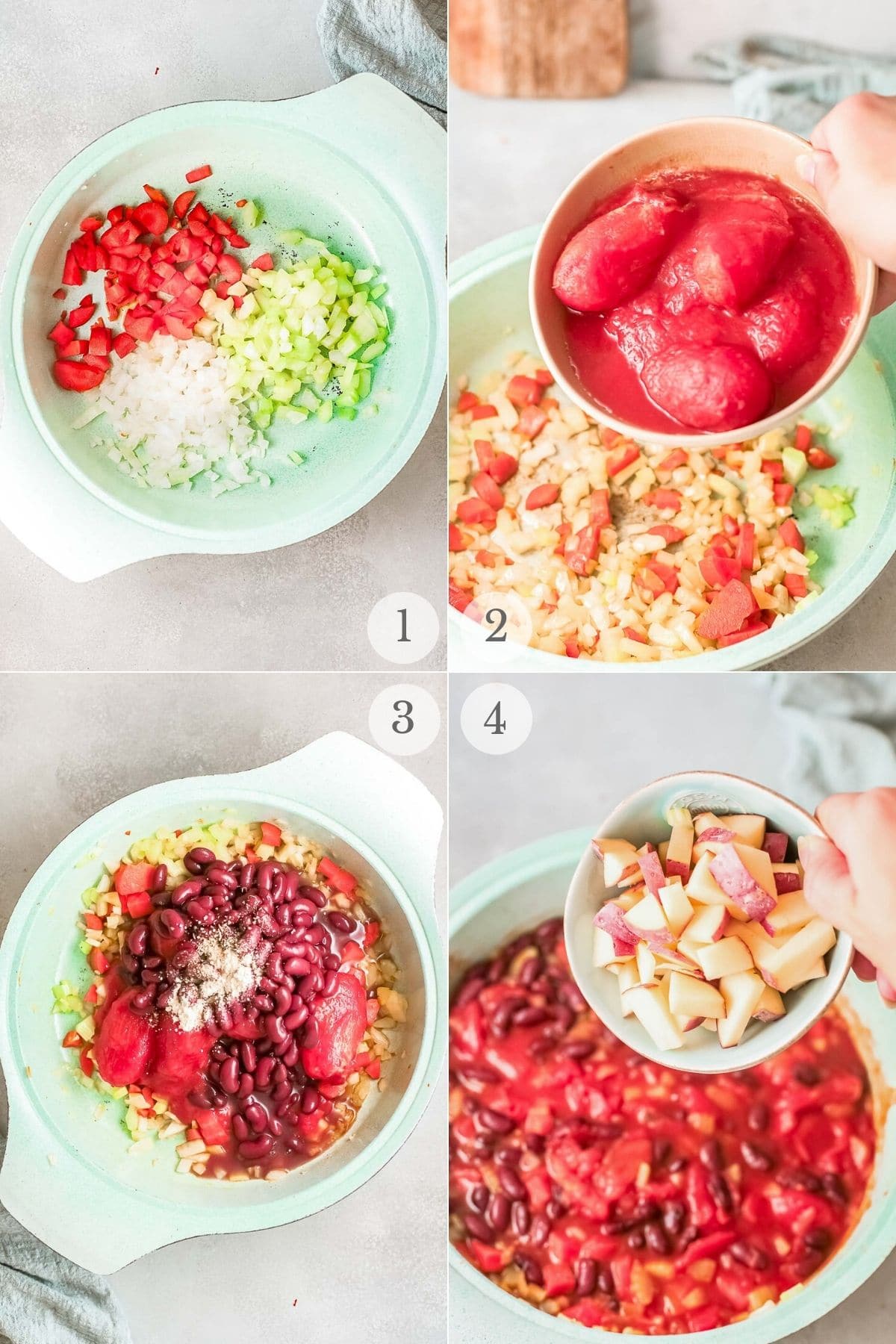 STEP 3. Add potatoes, pasta and finish cooking
Add the potatoes and pasta; stir to combine (photos 4-5). Simmer uncovered for 20 minutes or until the pasta and potatoes are cooked through (photo 6).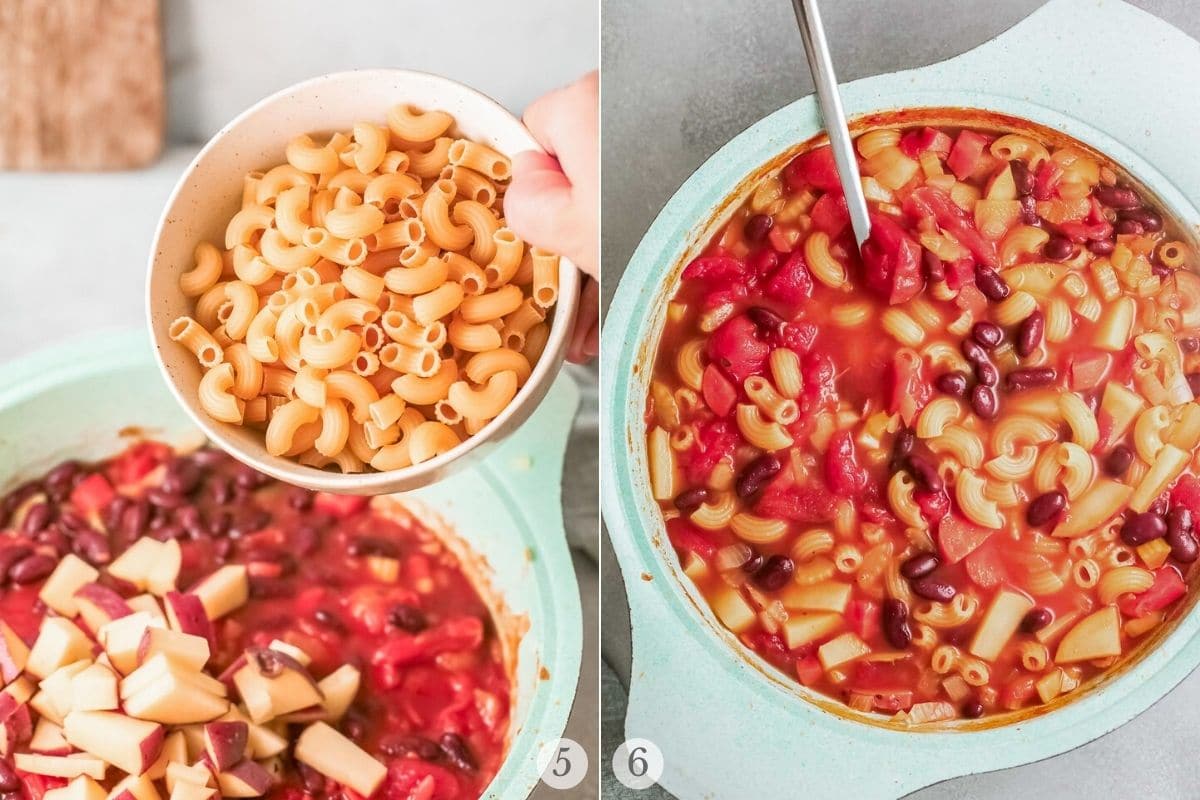 STEP 4. Garish and serve
Add salt either to the full batch or servings. Top with chopped Italian parsley and shredded Parmesan cheese.
Pro Tips
Don't leave the soup on the heat. Once the pasta is cooked it will absorb more liquid if left on warm on the stove top. Once the soup is cooked remove from the heat and rewarm servings if needed. If you do not add pasta to the soup it can be left on low heat.
Cut potatoes into small pieces. To ensure the potatoes cook in the same amount of time as the pasta, cut them into very small pieces.
Is it pronounced Minestrone or MinestronE?
I grew up calling it minestronE, saying an 'e' sound at the end. Many call minestrone (rhymes with drone), not pronouncing the E at the end. Or with an -eh sound at the end. There is no wrong way to say it.
What does the word Minestrone translate to mean?
It's an derivative of an Italian word meaning soup. But is better defined as a hearty soup made with vegetables, pasta and/or rice.
Storing Leftovers
Allow the soup to cool and store in an airtight container in the refrigerator for up to 3 days.
It can also be frozen. Allow to cool completely and put into a freezer safe airtight container. Freeze for up to 3 months. Thaw in the refrigerator overnight.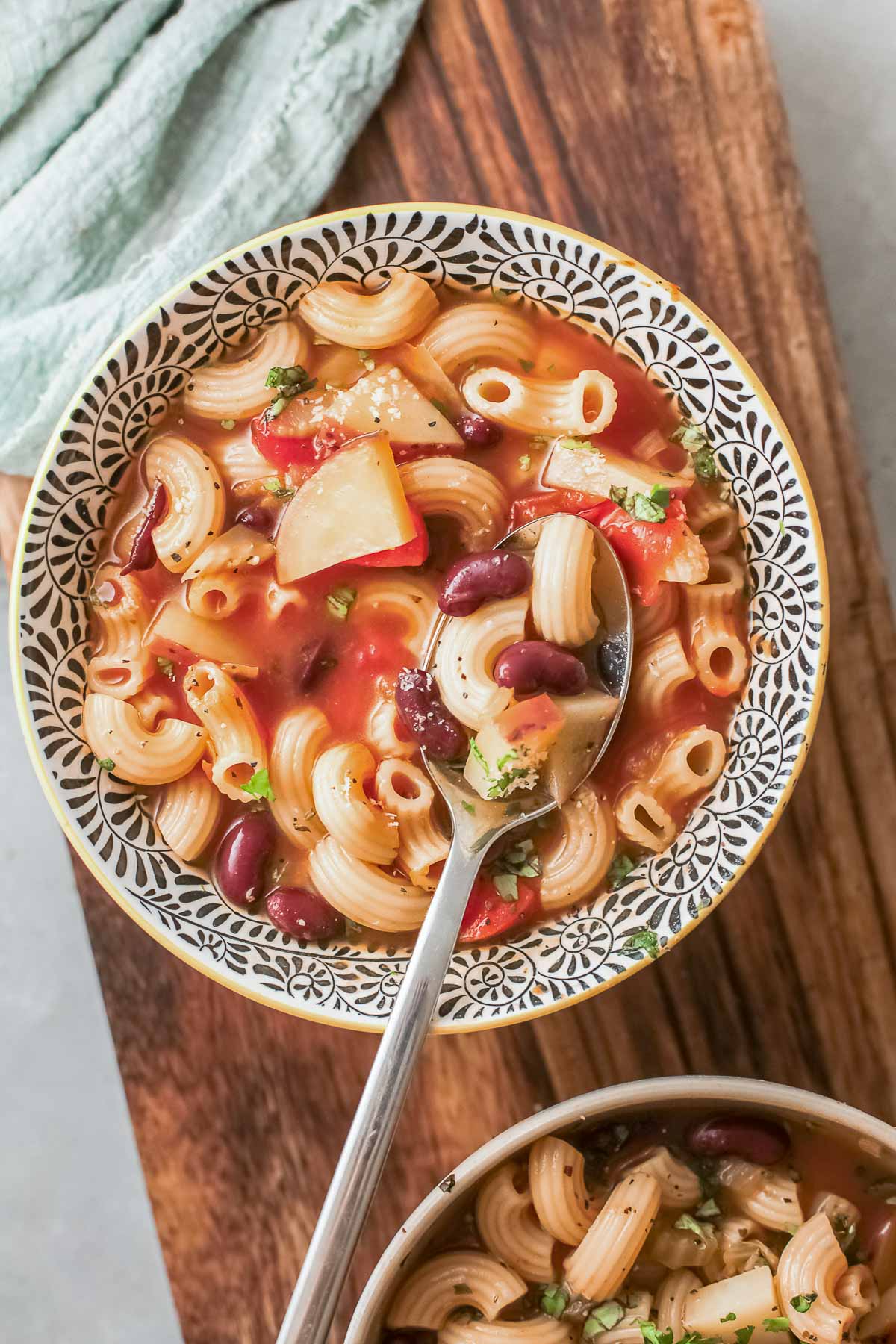 More Recipes You'll Love!
Did you make it? Please RATE THE RECIPE below!
Please
SUBSCRIBE
and
FOLLOW ME
on
FACEBOOK
,
TWITTER
,
INSTAGRAM
and
PINTEREST
!