A simple, fast, flavorful way to prepare salmon on the stovetop: Pan Seared Salmon with lemon and capers!  This 15 minute recipe creates perfectly cooked salmon ready to enjoy in flash!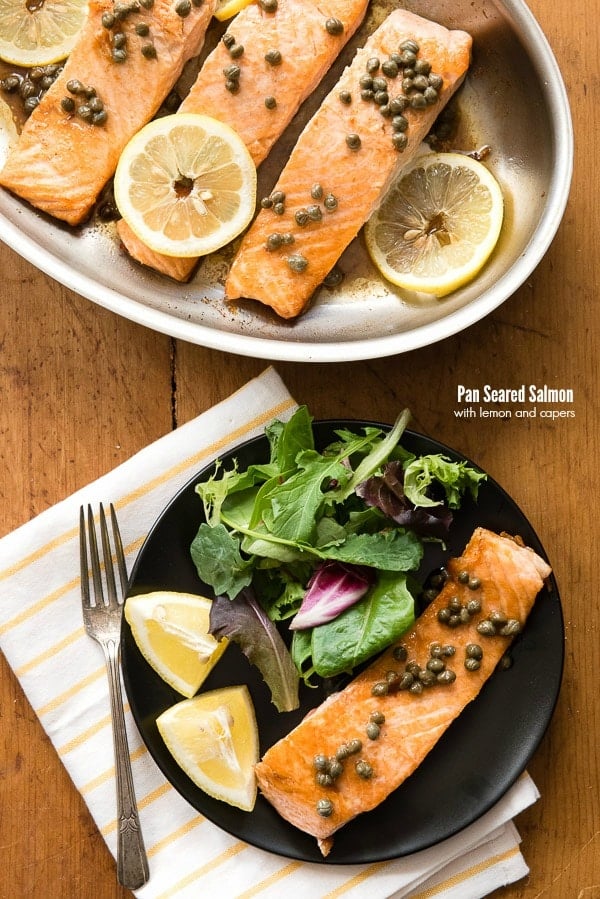 I have a fun post today!  A simple salmon recipe that is so easy it never crossed my mind to share it here: Pan Seared Salmon Steaks with Lemon and Capers.  And a test run of a cool new fish pan and I'm also giving away (a new one of course)!
Salmon is a favorite fish for me and one that is so easy to cook.  During the summer this Charred Cedar Plank Salmon with Lemon and Dill recipe is on high rotation.  Another fun recipe is one I picked up when visiting the famous El Tovar restaurant at the Grand Canyon: Salmon Tostadas.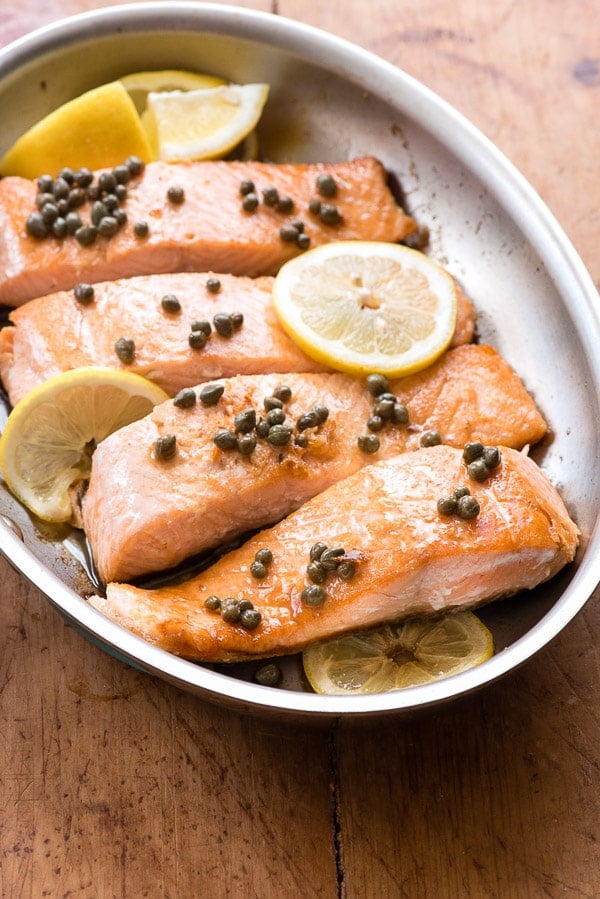 On a regular night however I need something fast and fabulous.  Pan Seared Salmon with Lemon and Capers is that recipe.  The salmon cooks for a total of 8 minutes.  The most difficult part of the recipe is slicing lemons for garnish. Not too taxing, right?  I love to serve it atop greens dressed with a simple oil and vinegar dressing but any side dish will do (some freshly steamed haricot vert would be great).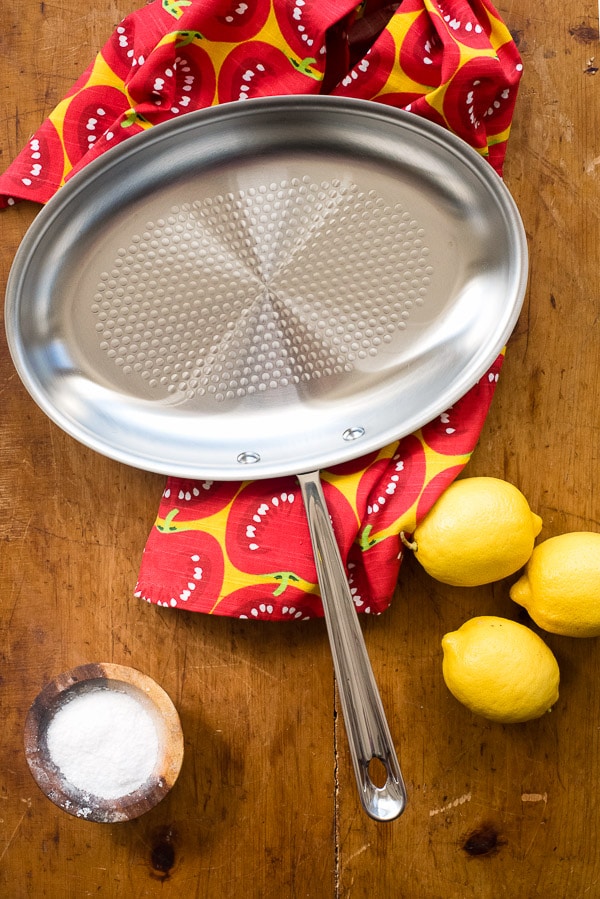 I picked this recipe in particular today as I used it to test the mettle of a new pan from All-Clad, the d3 Armor Fish Pan.  They approached me asking if I would use it and share my honest experience with Boulder Locavore readers.  I generally don't do reviews but we use a lot of All-Clad in the Boulder Locavore kitchen.  My husband was fully stocked when I met him and we've added more pieces along the way.  It's a brand I love and use daily.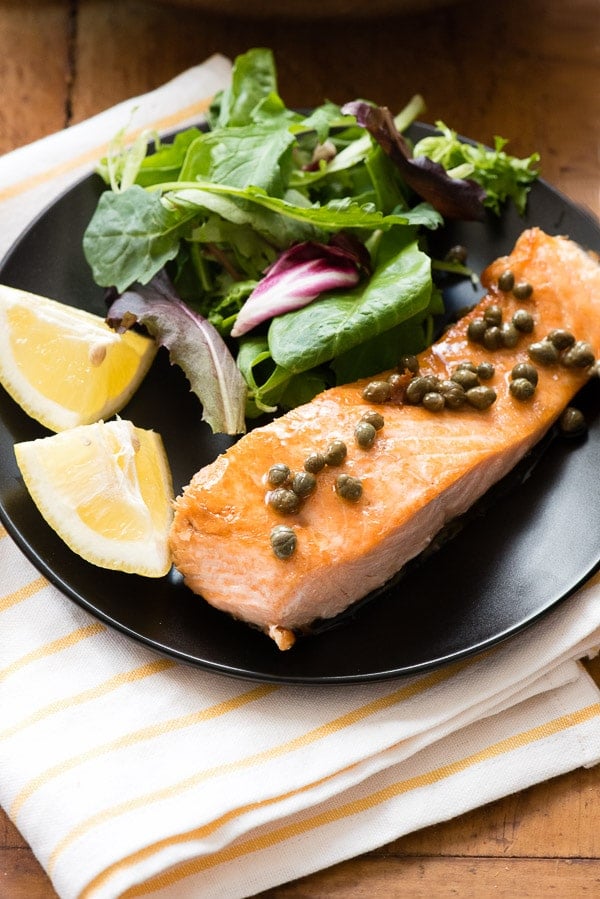 So for those who aren't familiar with the overall virtues of All-Clad you can find more specifics of this pan at the bottom of the post, but the pans are known for the strong construction and quick, uniform heating.  For instance, normally I'd heat a heavy skillet for this recipe for 2-3 minutes; this pan was ready to go in a little over a minute.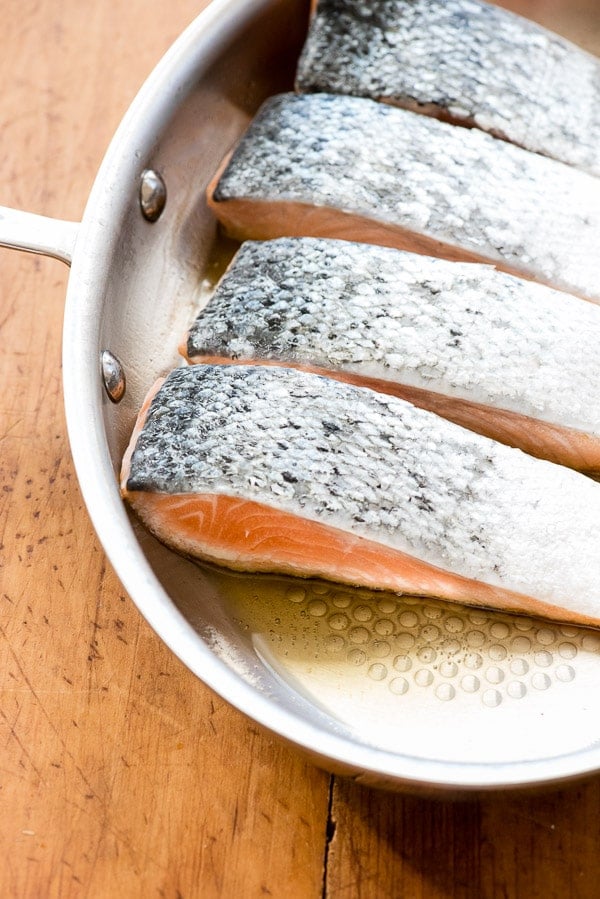 The stainless-steel fish pan has a special texture on the bottom of the pan which allows fish to release easily from the pan.  Any of you who cook fish regularly know the skin or flesh sticking to the pan is a drag.  I've had experiences of trying to release the skin, fruitlessly, with a spatula, which is distracting while cooking a fast fish recipe like this.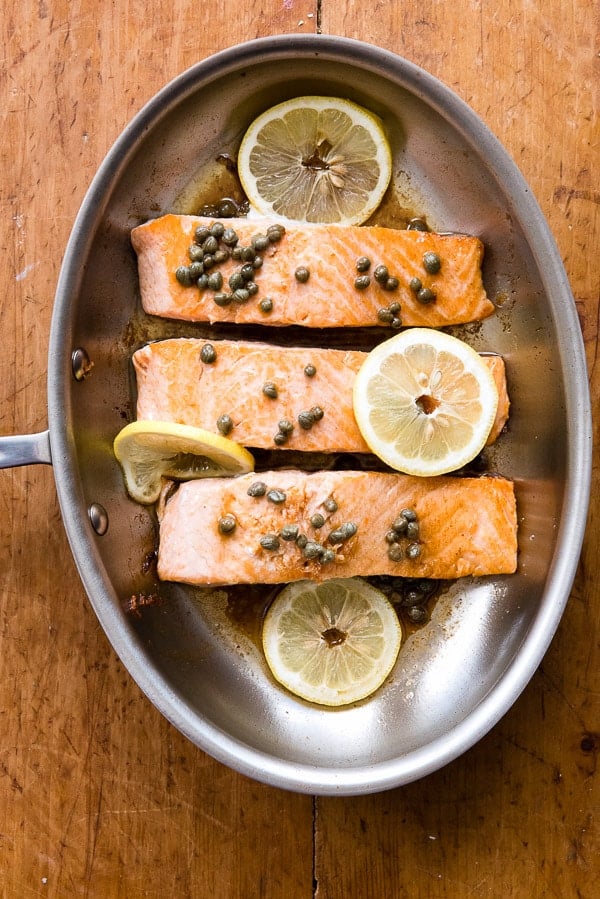 Another hazard of pan-frying fish is the splattering.  The design of the pan with the shape of the sides is design to contain splatter, as well as the long handle allows transporting the pan without being subject to painful oil splatters.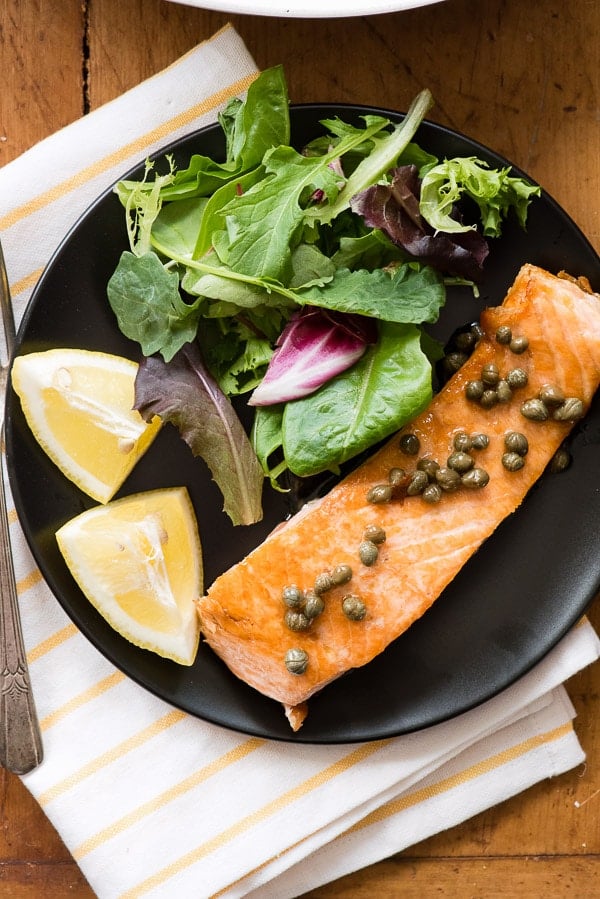 My experience?  The pan heats quickly as mentioned.  Indeed the construction allows the fish to be lifted from the pan without sticking.  One of the salmon steaks had been off the heat and I wanted to brown is further after the other were done.  When I flipped it over to brown the top again there was more resistance removing it from the pan.  I appreciated the long, sturdy handle which allowed a quick trot up a flight of stairs for a mid-preparation photo in my studio. The pan cleaned up easily with no marks left from the cooking.
I can see a lot of potential with the oval shape from whole fish or steaks, and frankly anything else you'd use a good skillet to cook.  It's a pan I'm happy to have in my kitchen arsenal and I'm sure we'll use often.  The pan is available at Williams-Sonoma and retails for $199.95.
Continue reading for recipe and to enter the giveaway…..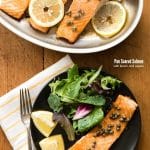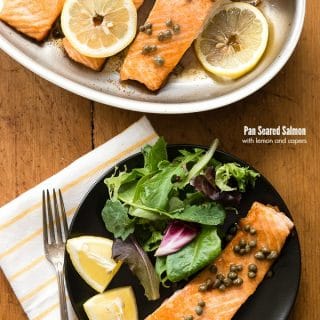 Pan Seared Salmon with Capers and Lemon
This easy pan-seared salmon recipe is ready in a flash and allows the flavor of the salmon to sing. The delicious sauce of butter, lemon and capers is the crowning glory of the 15 minute recipe!
Ingredients
2

tablespoons

Olive Oil

4 6-

ounce

Salmon Steaks

2

tablespoons

Unsalted Butter

Juice of 1 Lemon

3

tablespoons

Capers

Suggested garnish: lemon slices
Instructions
Heat a heavy skillet over medium heat for 2-3 minutes until hot. Increase heat to medium-high and add the olive oil.

When the surface of the oil is shimmering, place the salmon steaks flesh side down in the pan. Cook for 3 minutes. Turn salmon over and cook for an additional 5 minutes until the fish is opaque in color and flaky. Removed from pan and place on a serving platter or individual dining plates.

Reduce the heat to medium, add the butter, lemon juice and capers to the pan and cook, stirring constantly, until the butter has melted and the sauce has combined. Drizzle sauce over the salmon. Garnish with lemon slices and serve immediately.
If you'd like a chance to win an All-Clad d3 Armor Fish Pan, please enter the giveaway!
a Rafflecopter giveaway

All-Clad d3 ARMOR Fish Pan: A riveted surface on the interior of this stainless-steel fish pan promotes effortless release and easy cleanup without compromising exceptional browning and searing capabilities. Its oval shape is perfect for cooking whole filets and delicate seafood, as well as steaks and omelets. The d3 ARMOR Fish Pan is designed with low, flared sides to contain splatters and a long handle for safe easy transfer from stovetop to oven to your plate!
KEY PRODUCT DETAILS:
· Retail Price: $199.95
· 13″ diam., 3 3/4″ high · 2 lb. 9 oz.
· Made in USA
· Tri-ply construction sandwiches a heat-responsive aluminum core between an easy-care stainless steel interior and exterior.
· Riveted surface on the interior promotes effortless release and easy cleanup
· Bonded-metal construction ensures fast, even heating
Disclosure:  This is not a sponsored post.  I was provided an All-Clad d3 Armor Fish Pan for the purposes of this review.  All opinions are my own.