Pan Seared Salmon with Capers and Lemon takes four ingredients and 15 minutes, total! Perfectly cooked salmon fast enough for weeknights, great for entertaining!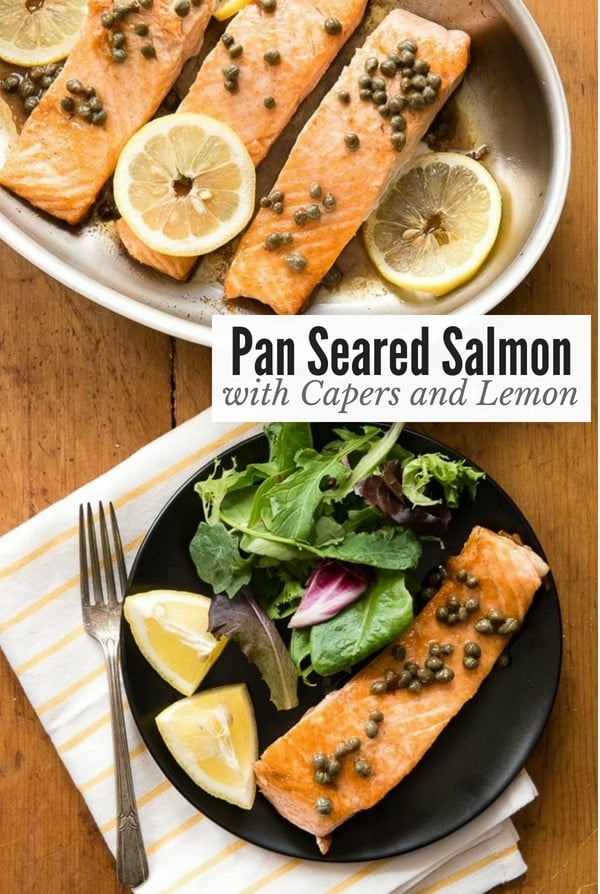 Originally published in October 2016; updated August 2018.
Some recipes are so easy and simple it doesn't feel right to call them a 'recipe'. Pan Seared Salmon with Capers and Lemon is one of those.
Can you call something with four ingredients that takes only 15 minutes a recipe? Whatever you call it, you'll want this in your fast easy recipe collection for weeknights, entertaining or when you feel like something that feels fancy but doesn't any time to make.
Salmon is one of my favorite fish and one that is so easy to cook. During the summer Charred Cedar Plank Salmon with Lemon and Dill recipe is on high rotation on my grill. I also love Salmon Tostadas which I picked up when visiting the famous El Tovar restaurant at the Grand Canyon.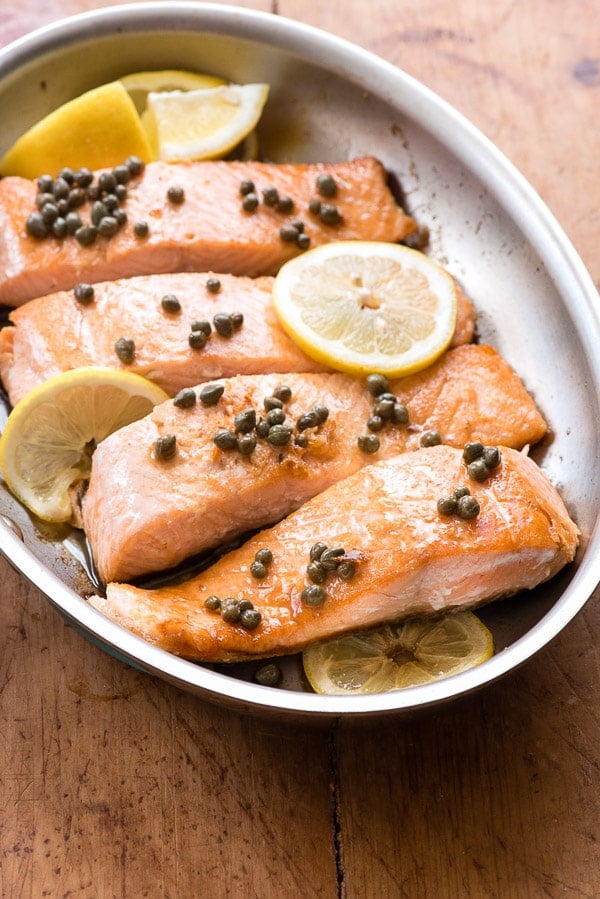 Pan Seared Salmon – An Easy 15-Minute Recipe
On a regular night however I need something fast and fabulous. Pan Seared Salmon with Capers and Lemon is that recipe. The salmon cooks for a total of 8 minutes!
The most difficult part of the recipe is slicing lemons for garnish. Not too taxing, right?
What is Pan Seared?
Pan searing is a method of cooking over high heat which seals the juices and forms a slight crust on the food. It's a fast and delicious way to cook salmon.
I love to serve the pan seared salmon atop greens dressed with a simple oil and vinegar dressing but any side dish will do (some freshly steamed haricot vert would be great).
What Pan is Used for Pan Seared Salmon?
A heavy skillet is all that is needed for stove top pan searing. The pan I used in the photos is a fish pan from All-Clad, the d3 Armor Fish Pan. . The recipe can be made with any heavy skillet.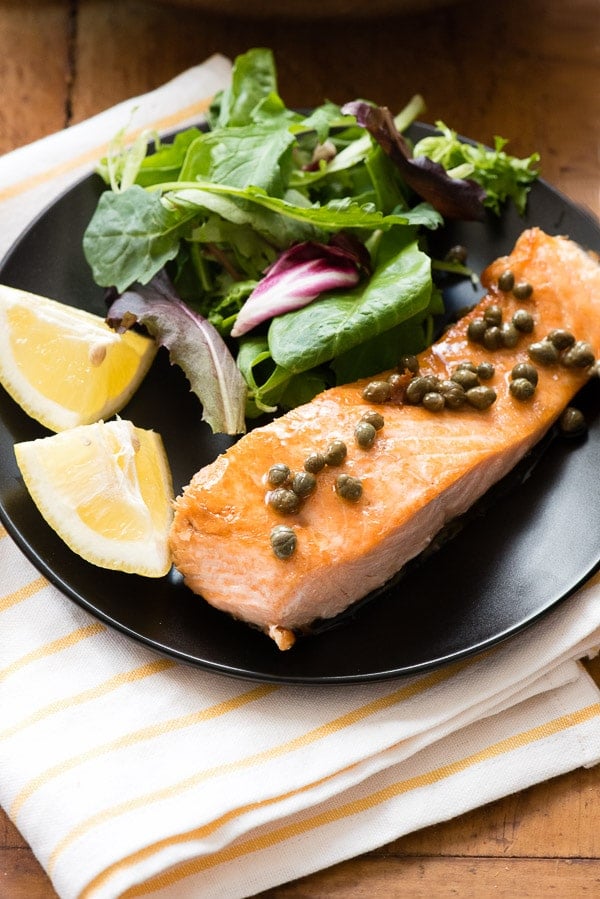 What are Capers?
By looking at them you'd never have an idea of what they might be or how they taste!
Capers are the unopened flower bud of a specific Mediterranean plant. They are typically pickled or salted which is how you'll find them, in a jar, at the grocery store.
What do Capers Taste Like?
Capers have a unique flavor all their own. Tangy, salty, almost sharp some would say. For a little ingredient they pack a big and distinct flavor!
They are well known in recipes like Veal Piccata. Their tangy flavor pairs well with the acidity in lemon for a rich, fatty fish like salmon.
How to make Pan Seared Salmon with Capers and Lemon – Step by Step:
This recipe is a perfect example of quality ingredients combined making a fantastic dish (and not needing sauces or condiments). A heavy skillet is heated for 2-3 minutes, oil is added and the salmon is placed flesh down into the pan.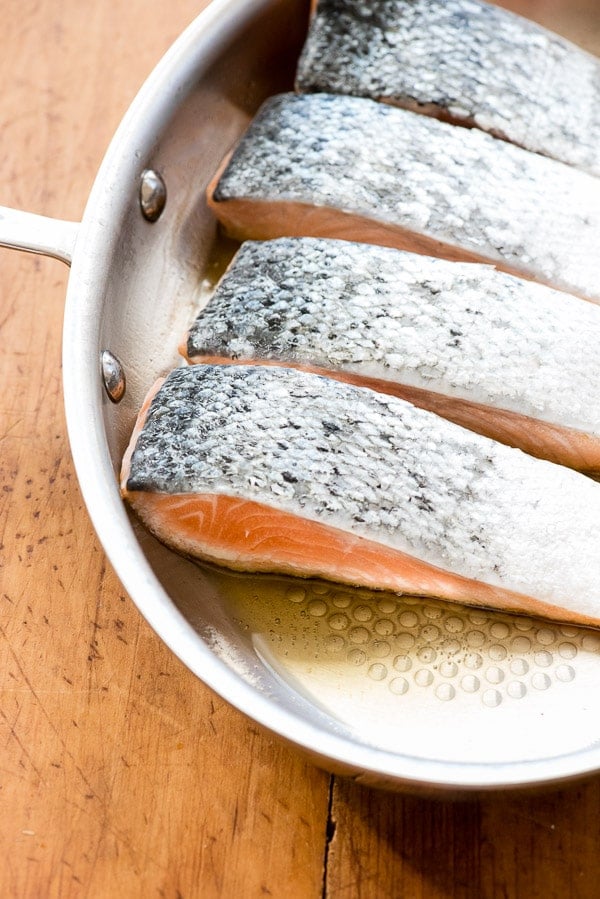 The salmon is cooked for 3 minutes, turned over, and cooked 5 minutes with the skin down; until it is opaque and flakey.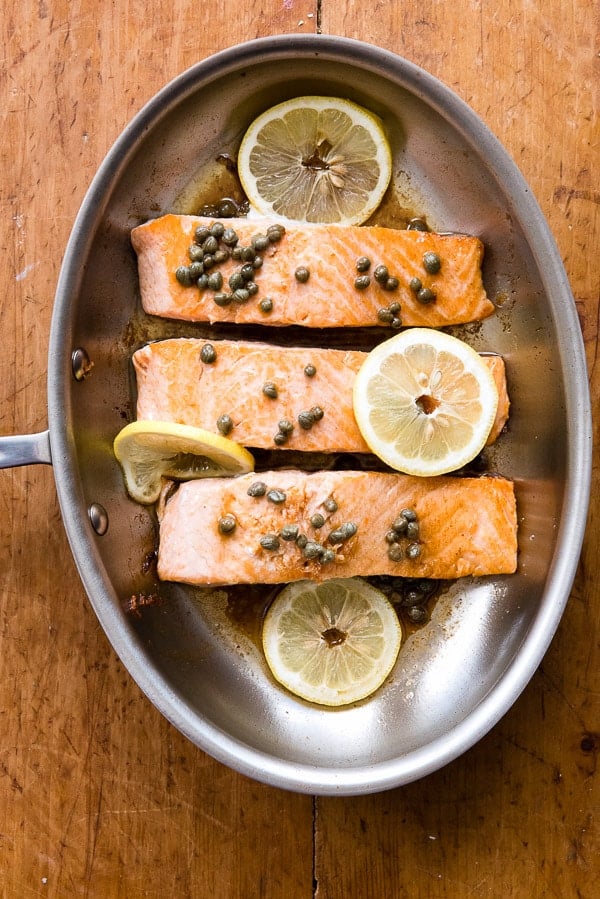 The salmon is removed, butter, capers and lemon are added to the pan, cooked briefly and drizzled over the salmon!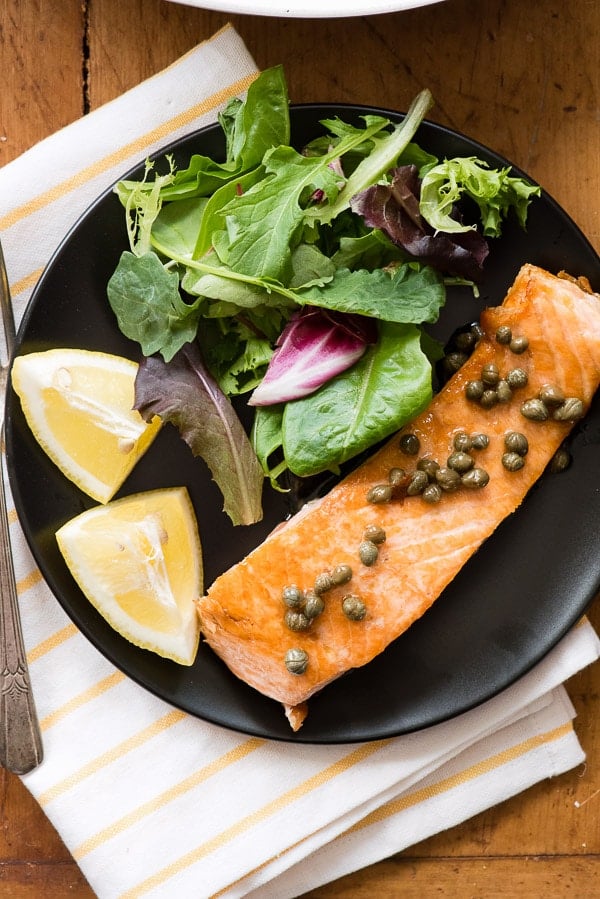 This recipe and other similar easy recipes can be found in our Easy Dinner Recipes collection.
More Easy Delicious Fish Recipes:
If you've tried this Pan Seared Salmon recipe please RATE THE RECIPE below!
Please SUBSCRIBE and FOLLOW ME on FACEBOOK, TWITTER, INSTAGRAM and PINTERST to see more delicious food, travel and what I'm up to!