Romanesco is an exotic looking member of the broccoli and cauliflower family that shouldn't be missed! Lemony Romanesco with Pine Nuts is a fast, easy recipe you'll love.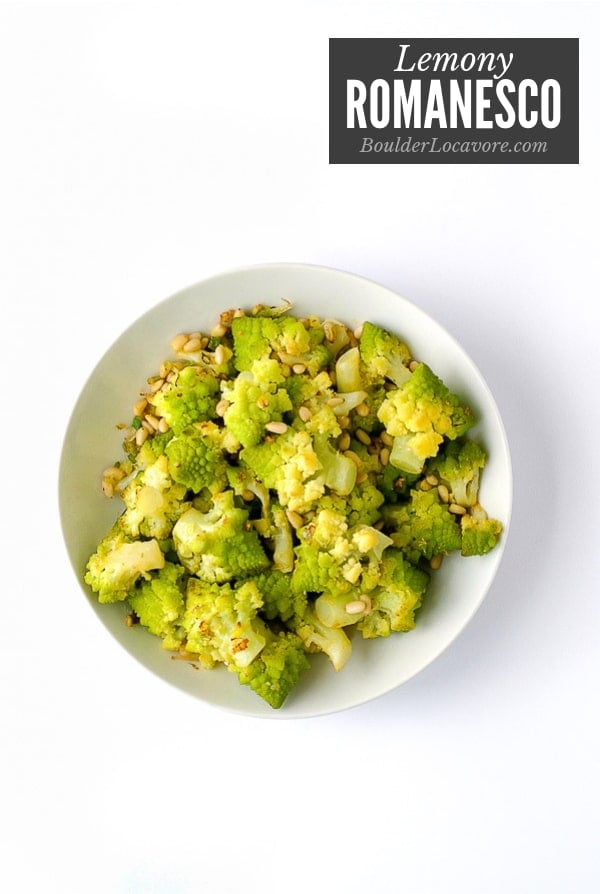 Have you seen this bizarrely shaped, bright green vegetable in your grocery store?
If so snatch it up because it has a short and sweet growing season!
There is no more welcome sight for me than finding Romanesco. There's no mistaking it as you can see from the photos.
It is a vegetable that stands alone in its outer space appearance and shocking chartreuse color.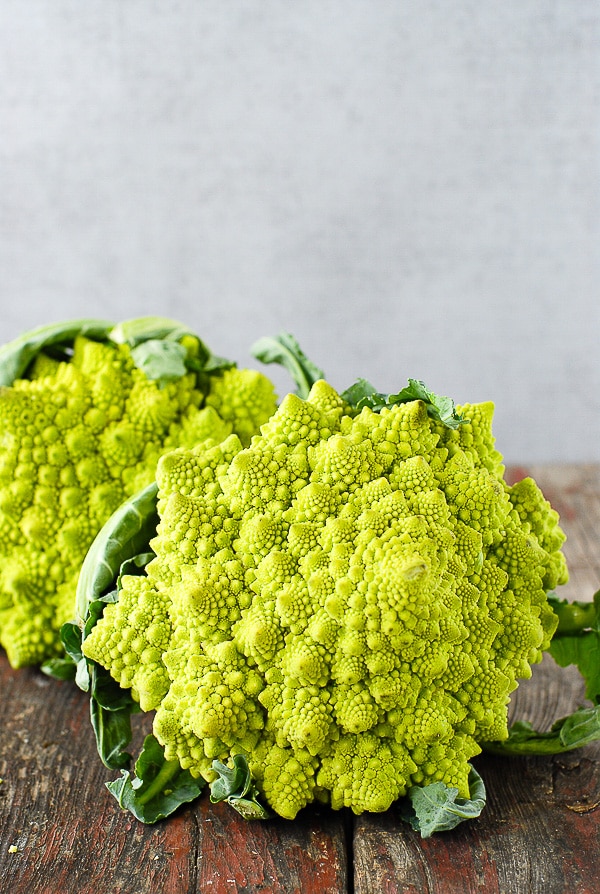 What is Romanesco?
I can't think of a more unique vegetable on the planet due to it's architecturally intriguing structure alone.
Also known as 'Broccoli Romanesco' or 'Romanesque Cauliflower', Romanesco is part of the Brassica family which also includes Brussels sprouts, broccoli, cauliflower and cabbage.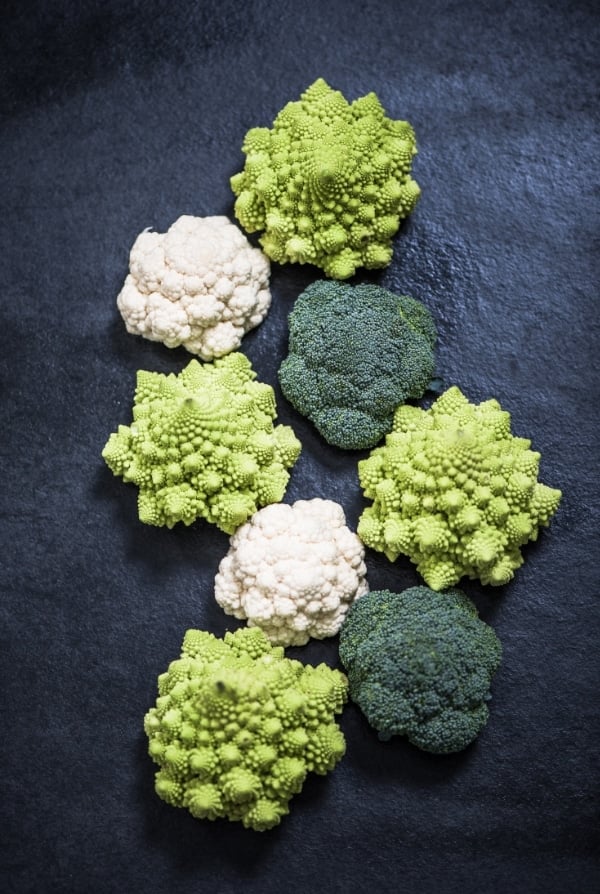 What Does Romanesco Taste Like?
Though it's green, Romanesco is truly most like a cauliflower in its texture and gentle flavor.
This recipe combines the flavors of lemon, garlic, scallion and a bit of heat from jalapeno; along with the soft, buttery bite of pine nuts.
When is Romanesco in Season?
Romanesco is a cold weather vegetable. It is generally in season from the fall through winter/early spring.
The season can extend longer, from winter-growing in more mild climates.
Romanesco doesn't tend to stick around long so snatch some up and enjoy this mild, sweet, exotic looking vegetable while you can!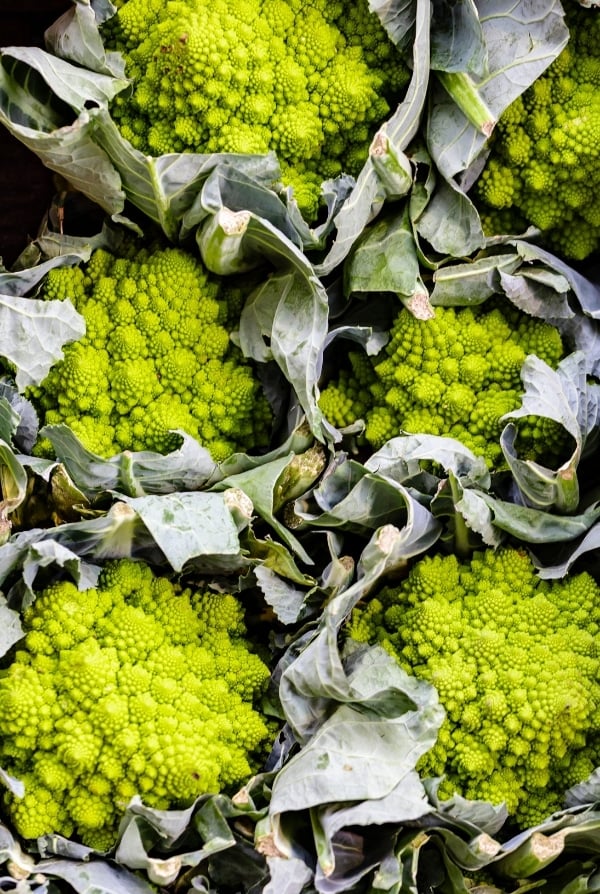 How to Cook Romanesco
Like both broccoli and cauliflower, Romanesco's bizarre fractal florets can be easily cut from the stem for quick and easy cooking.
It can be steamed and eaten 'as is', or lightly seasoned for a perfect side dish. Sauteing and roasting are also great options!
How to Cook Lemony Romanesco with Pine Nuts
This is a tasty, easy recipe with wonderful flavor. It takes ONLY 10 minutes to cook!
Gently steam the Romanesco florets for 3-5 minutes, until firm but no longer crunchy in texture.

In a large skillet, heat the olive oil over medium high heat.

Sauté the garlic, scallions, and jalapenos until the scallions begin to become translucent (approximately 2 minutes).

Add 1 teaspoon lemon zest and the pine nuts, stirring constantly until the pine nuts begin to turn light golden (1-2 minutes).

Add the steamed Romanesco and sauté to combine all the ingredients and flavors; about 2 additional minutes.

Sprinkle on remaining lemon zest, and a pinch of salt to taste; give the mixture a few quick stirs to integrate the zest and serve.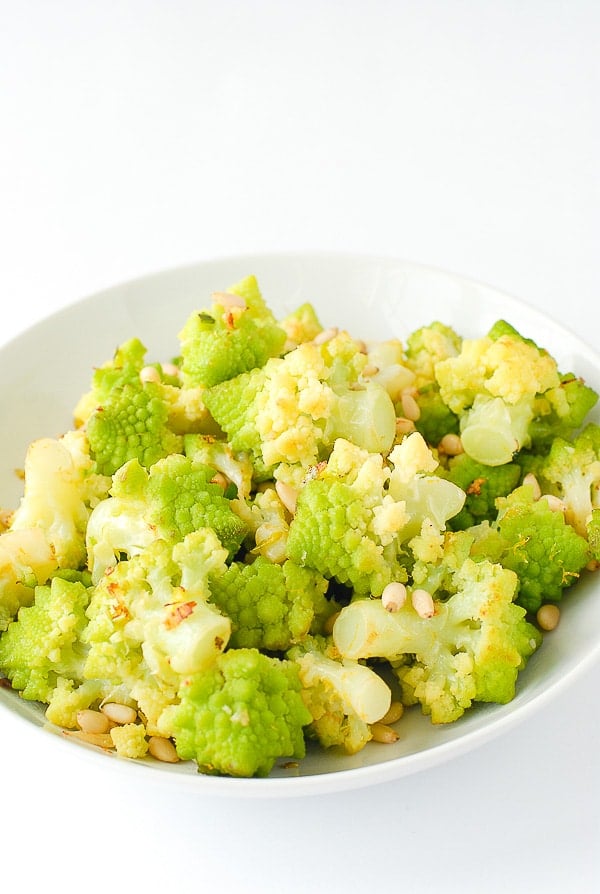 More Easy Vegetable Recipes
If you've tried this Romanesco recipe on BoulderLocavore.com please RATE THE RECIPE below!
FOLLOW ME on FACEBOOK , TWITTER , INSTAGRAM and PINTEREST !
This delicious recipe was originally published in March 2014 and has been updated in January 2019.