This super easy, quick recipe for Lemon Garlic Broccoli may surely become your new favorite. The broccoli has great texture with bright, fresh flavor!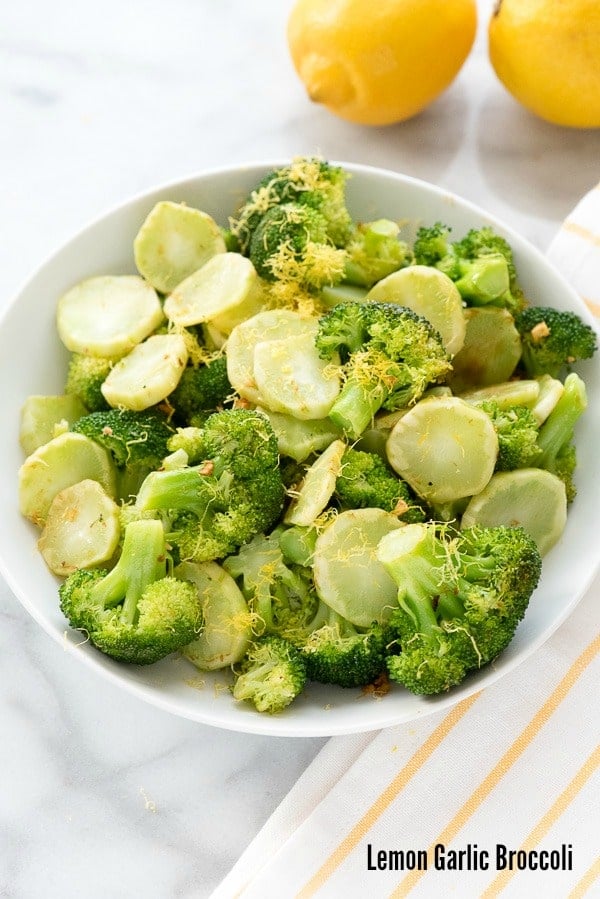 Who is trying to eat more vegetables this year? Truth be told for most of my life uncooked vegetables have been my favorite. But in the winter, it's too cold for that. Then there are vegetables whose flavor changes significantly enough when they are cooked (cauliflower) that it's like eating a completely DIFFERENT vegetable (it's why there is cheese sauce).
Broccoli was the first vegetable I learned to cook. It was in my wok in college (all the cool college kids had one). I had a stir fry cookbook from Sunset Magazine I think. I just remember laboriously cutting the broccoli into florets than making an X in the stalk of the floret per this cookbook. Apparently, it helps the broccoli cook more uniformly? Who knows. That was a long time ago in a land far, far away.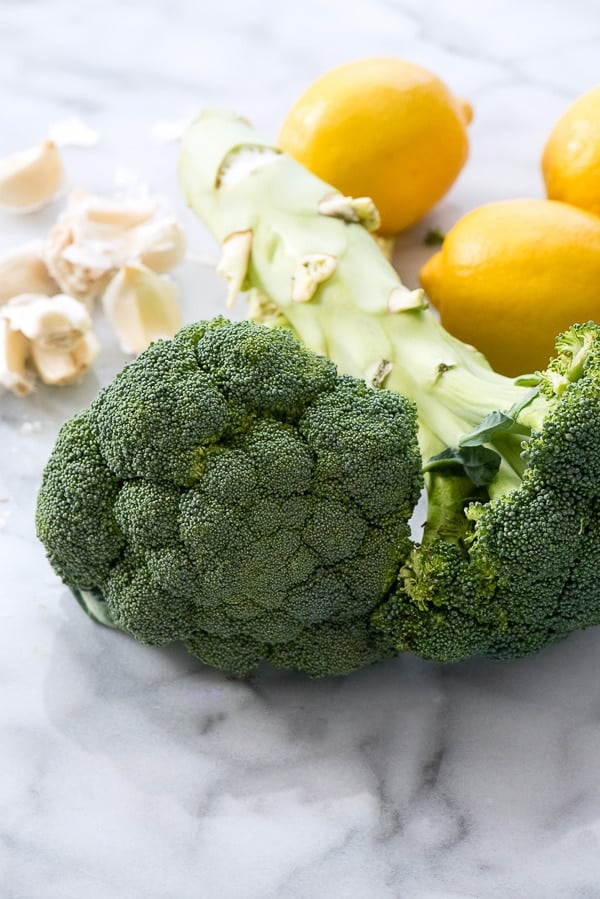 I really do love broccoli. It has a bit of a nutty taste when cooked. I love the crunch of it and always cook it so it still has a bite to it. I'm sure you've been at a buffet sometime and scooped some emerald green broccoli onto your plate expecting a crunch in the bite only to realize if you had no teeth you still could comfortably eat it. Yuck.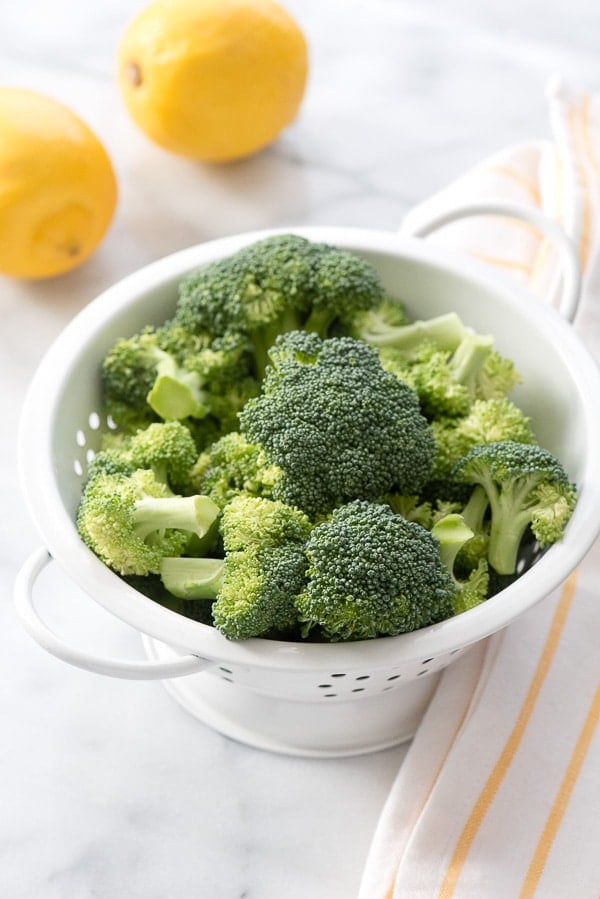 I have a super easy, delicious, fun-flavored broccoli recipe to share today: Lemon Garlic Broccoli. It's steamed before quickly being tossed in some hot olive oil that has been infused with (you guessed it) garlic and lemon. It has five ingredients but two are from the same thing so it seems like only four.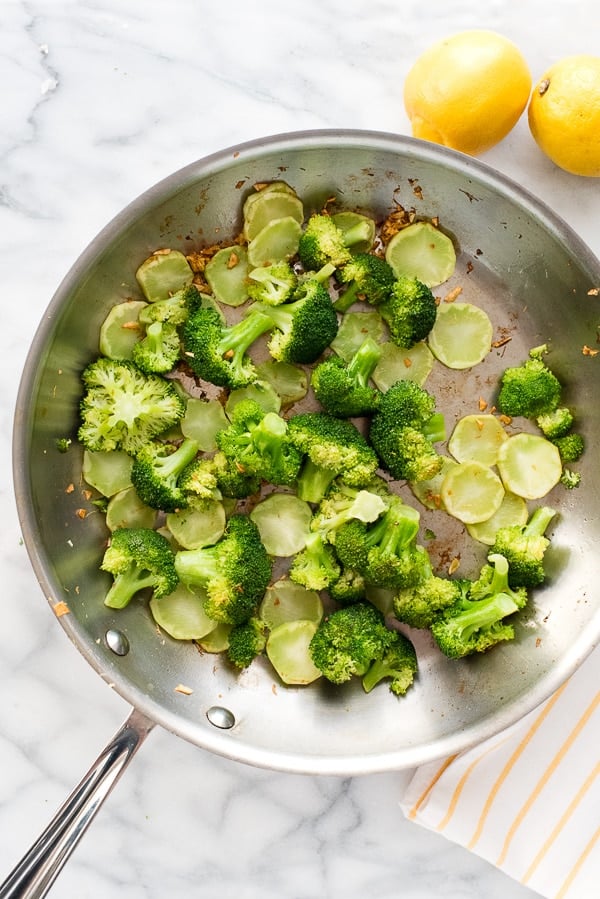 I love this recipe, especially at this time of year. It is light and healthy, with great flavor which makes it more satisfying too. The recipe takes about 15 minutes total to make. The Lemon Garlic Broccoli is great on its own and pairs easily as a side dish with all sorts of proteins. You could throw leftovers on a salad too.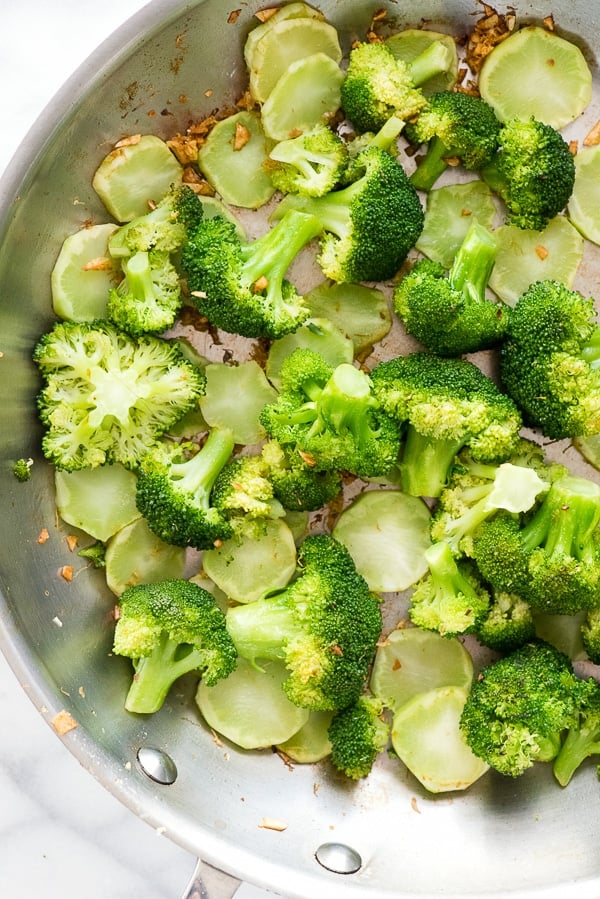 I have included a sorely ignored part of the broccoli into the recipe: the stalk. Do you eat the broccoli stem? It has a wonderful sweet flavor and nice texture. The very bottom of the stalk can have a woody consistency and we won't use that. The area just below the florets though (3-4 inches) is not to be missed. In fact I made a fun spiralizer recipe with broccoli stalks: Spiralized Broccoli-Stem Carrot Slaw with Dried Cranberries. You have been throwing away your favorite part of the broccoli!
One quick step turns ordinary steamed broccoli into this fresh, flavorful Lemon Garlic Broccoli recipe. Quick to prepare and a great compliment to any main dish.