The easiest dinner ever Sheet Pan Maple-Mustard Salmon with Potatoes and Carrots is ready in under an hour. Whether serving company or wanting something easy and fun mid-week, this is the recipe. Gluten-free.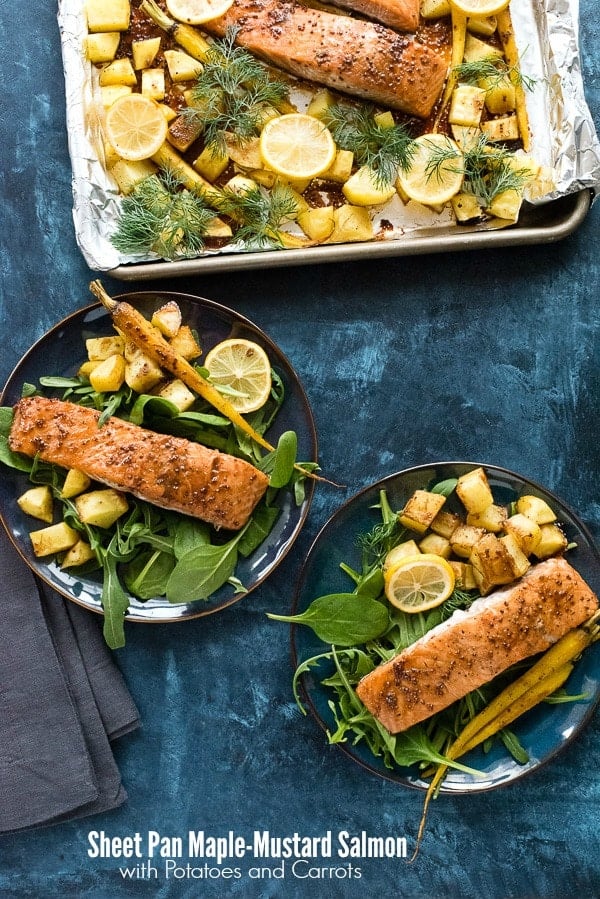 Last week I shared a delicious Sheet Pan Chicken Fajita recipe along with my current passion for more delicious, fast, one pan/one pot recipes! I heard from so many of you that you too are dying to have more! Well here we go! Sheet Pan Maple-Mustard Salmon with Potatoes and Carrots. It's delicious, it's beautiful and it's f.a.s.t.!

Look how easy this Sheet Pan Maple-Mustard Salmon is to make!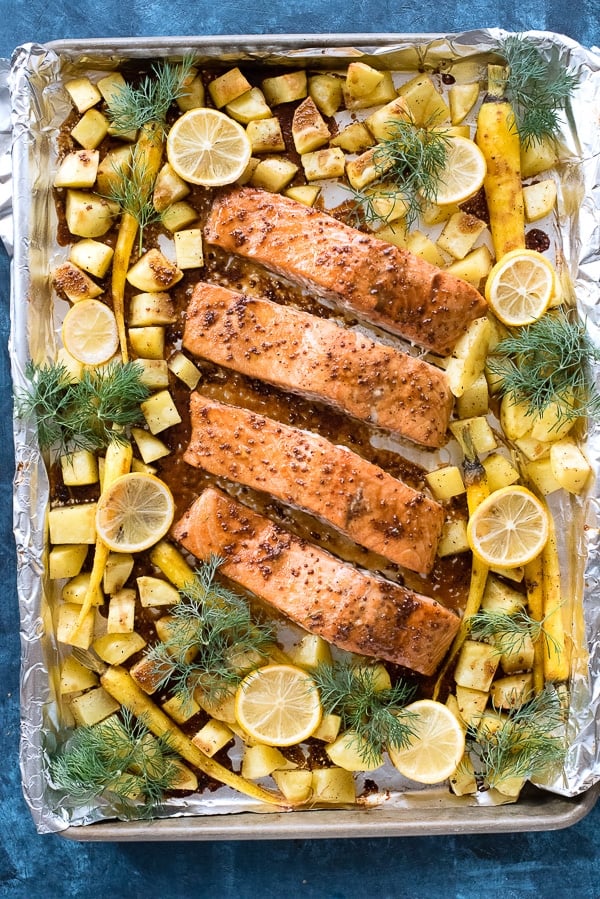 I really like salmon as does my family. Being inland the idea of fish doesn't pop to mind as much as some other proteins but every time we have it we love it. It is a fast fish to cook and does not dry out as some other leaner fish can. Pan Seared Salmon with Capers and Lemon and Salmon Tostadas are two of my FAVorite salmon recipes. The latter was shared form the chef at El Tovar, the famous restaurant at the Grand Canyon.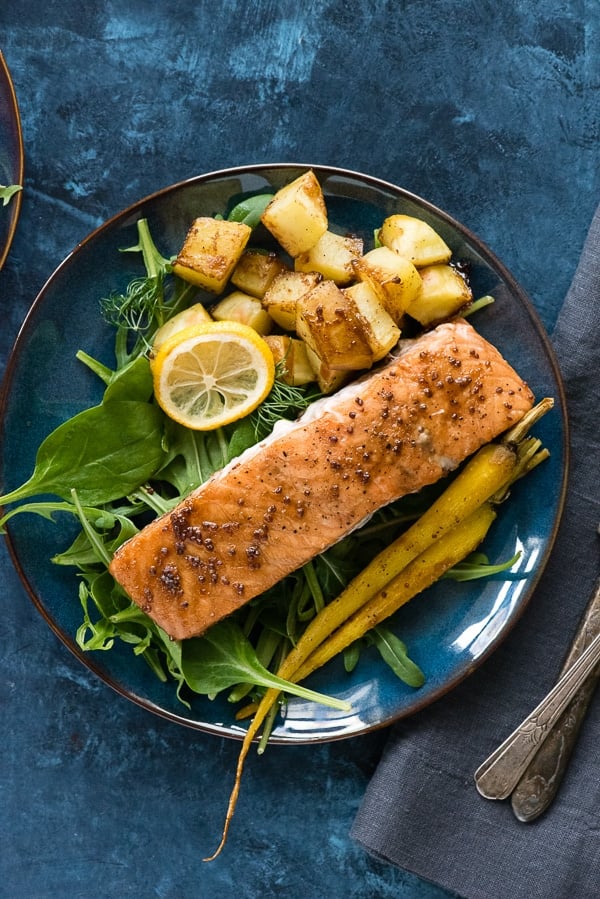 Salmon is a perfect sheet pan protein because it cooks quickly and can be co-cooked with vegetables to create a wonderful meal quickly. With this Sheet Pan Maple-Mustard Salmon with Potato and Carrot recipe the salmon is marinated (in THE most delicious marinade) while the potatoes and carrots begin to roast. It only needs to marinate 20 minutes which is fantastic.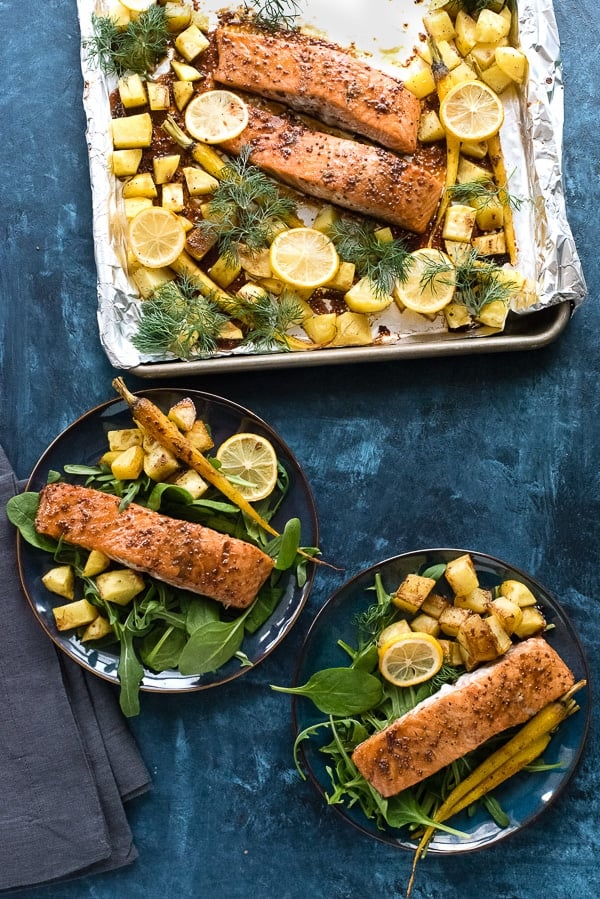 I need to touch on the marinade because I would drink it from a straw it's so good. A blend of maple syrup, Dijon mustards, balsamic vinegar and Tamari (or regular soy sauce if you are not gluten-free). It is a perfect blend of sweet, tangy and a bit salty. When the salmon is added to the sheet pan the marinade can be drizzled on the potatoes and carrots which is heavenly.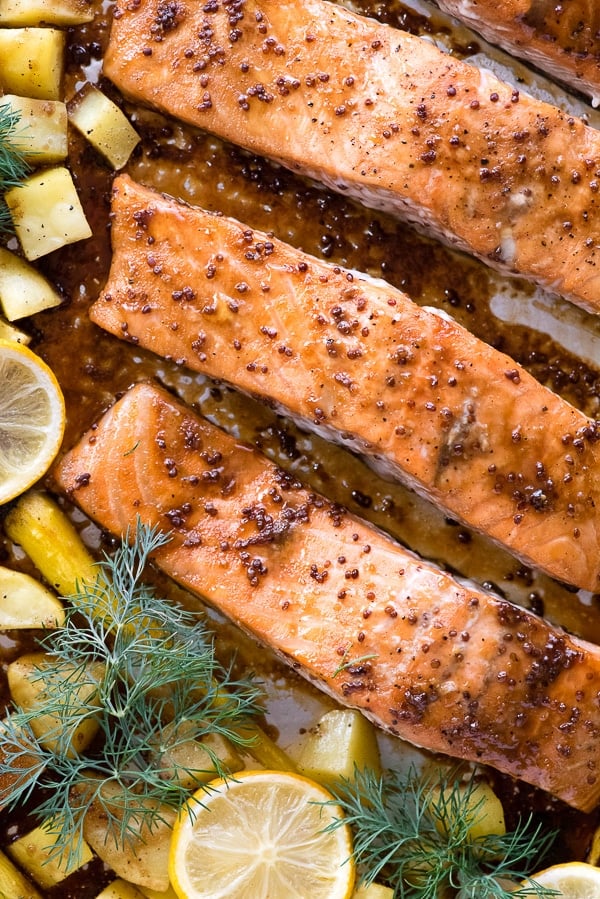 The main effort from you in preparing this recipe is peeling Yukon Gold potatoes and small carrots for roasting. With a great vegetable peeler, that task is a whiz. The vegetables are tossed with olive oil, salt and pepper and roasted, flipped when the salmon is added and everything is done at once!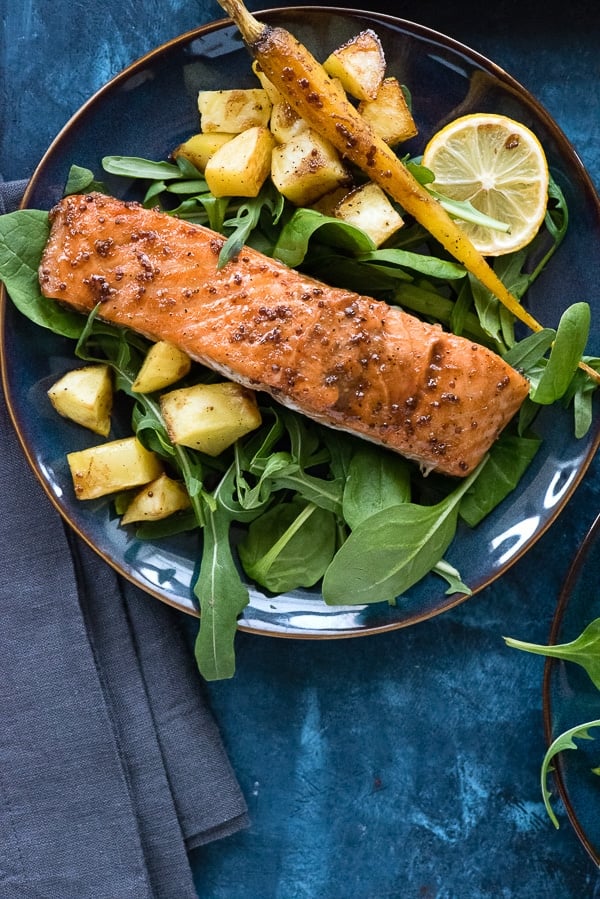 I added the salmon to a bed of baby arugula and spinach. The juices from the salmon and the glaze were enough to flavor the greens making a new favorite (fast) dinner recipe!
This is the sheet pan I use (and love!).
I want to connect with you! Leave a comment and follow me on Facebook, Twitter, Pinterest & Instagram!