There is a reason everyone is making Baked Feta Pasta recipe. It's flavor-packed, so easy to make and loaded with possible variations. It's that recipe you'll want to tape to the refrigerator to make on repeat.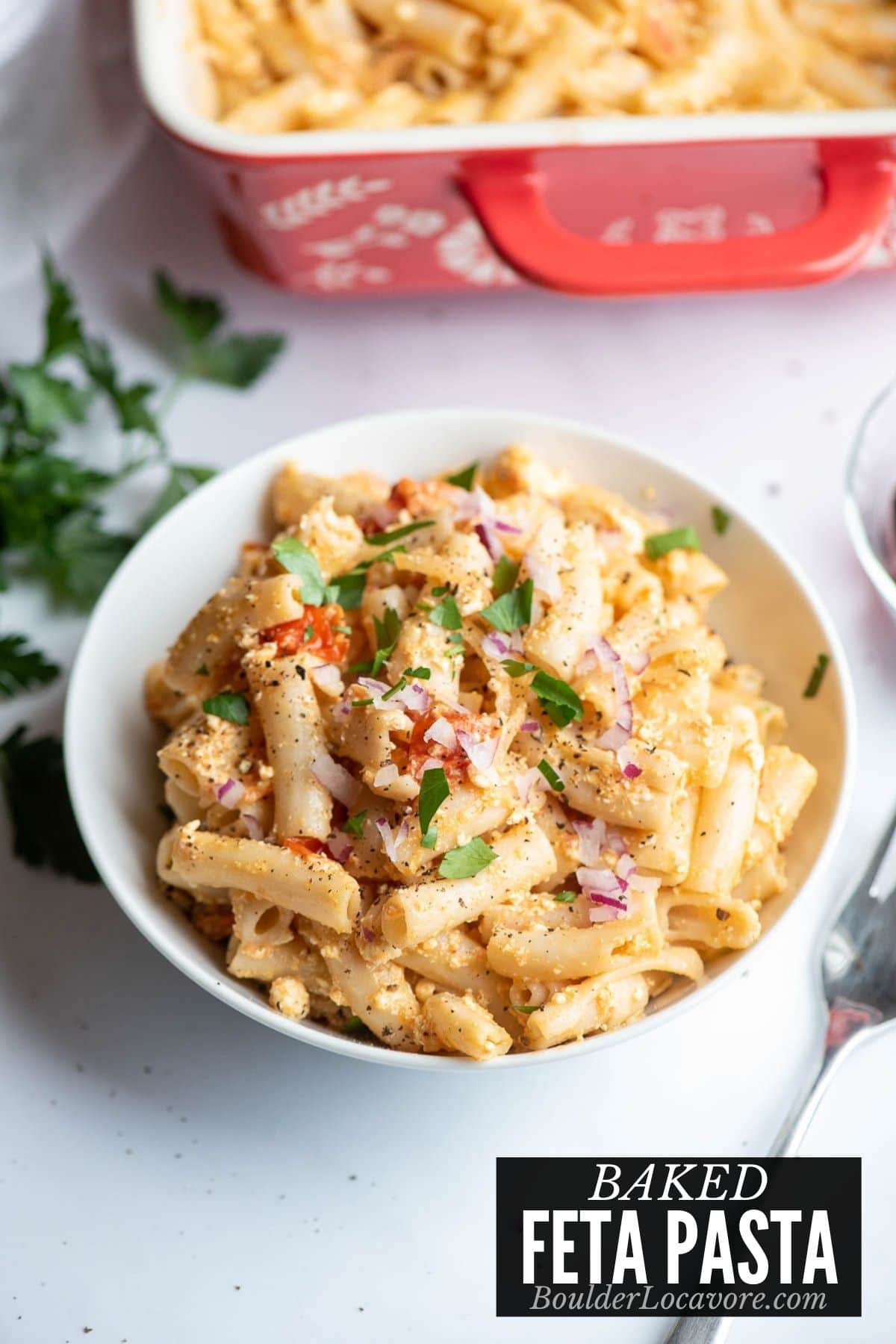 Who knew some of the biggest food trends would be coming from a social media platform?!
Tik Tok has given us hot chocolate bombs, whipped hot chocolate and now Baked Feta Pasta.
What's the big deal? It's genius, that's what.
This may be the easiest baked pasta dish you ever make and you'll be forever glad you did.
Jump to:
Just because this is a 'fad' don't discount it.
This recipe is fantastic for so many reasons!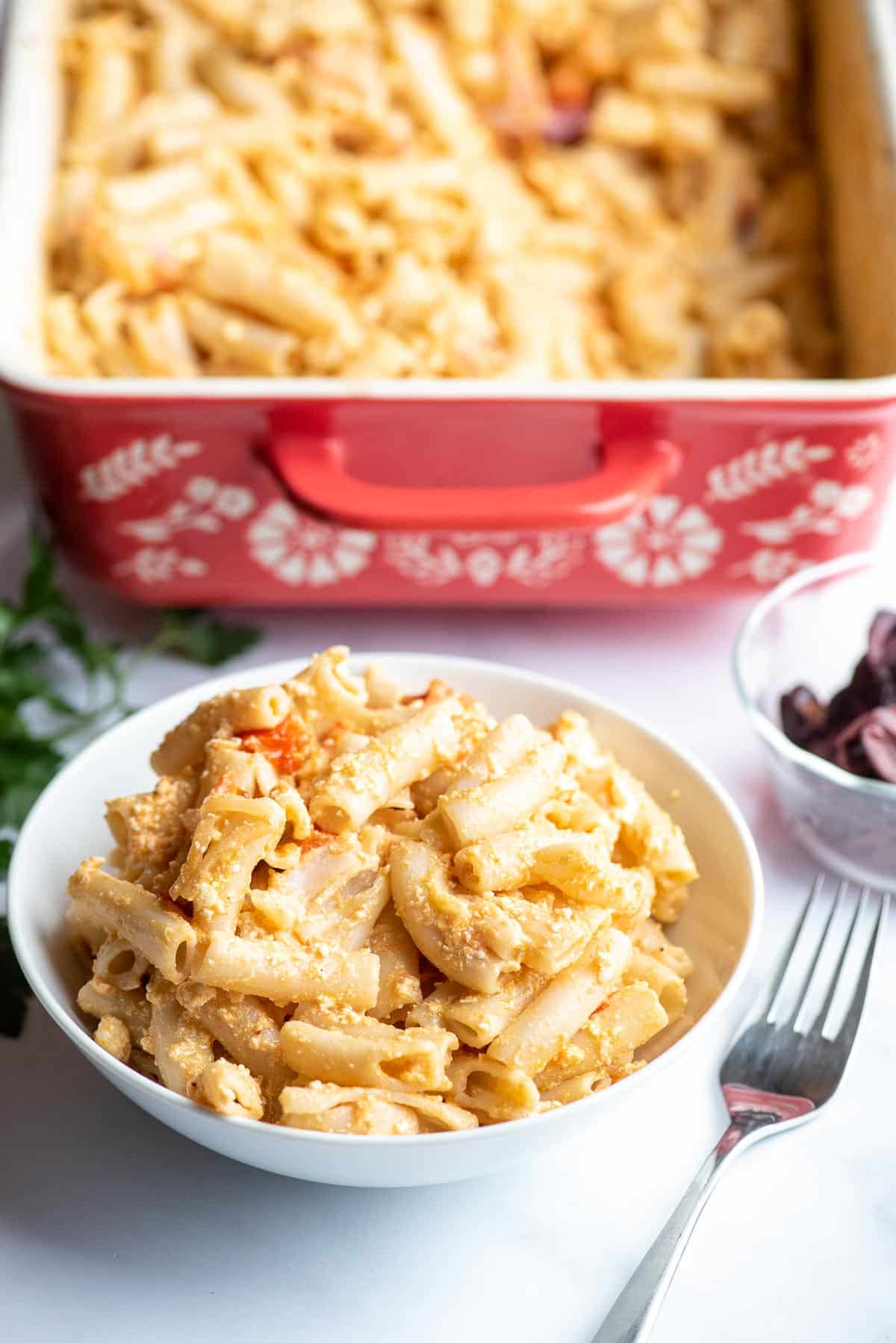 What is Tik Tok Baked Feta Pasta?
If you haven't seen videos of it, Baked Feta Pasta is a delicious creamy roast tomato sauce pasta recipe.
It uses only a few ingredients and everything for the sauce it loaded into a baking dish without any prep to speak of.
It's cooked at 400 degrees to allow the tomatoes to roast and caramelize.
The block of feta cheese softens when cooking and is mixed into the tomatoes.
Meanwhile you whip up a batch of your favorite pasta (regular or gluten-free).
When the baked dish comes out of the oven, everything gets a stir and the pasta is tossed in.
I'll note that though Tik Tok brought this recipe into the public attention, a Finnish blogger first published a similar recipe a few years ago causing feta to sell out in Finland.
That's how good it is.
Why you'll love this recipe
It doesn't get easier than this!
SO flexible. There are loads of ways to change it up (we've shared some favorites in Variations below). I never make it exactly the same way two times in a row.
It's soul-warming comfort food.
Can be made with regular or gluten-free pasta.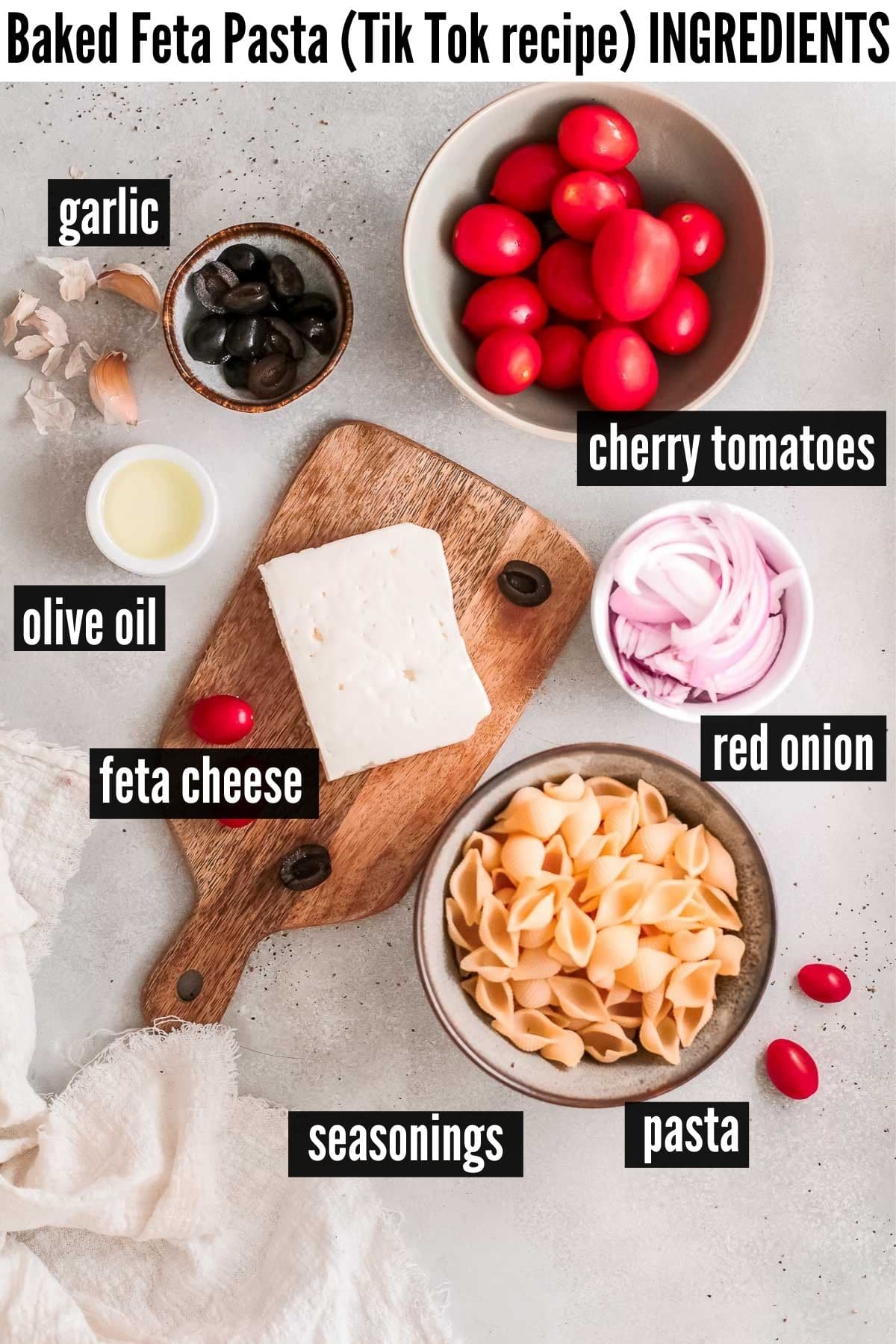 Recipe Ingredients + Notes
Cherry Tomatoes. You'll use 2 pints of cherry tomatoes. Grape tomatoes can also be used. Use all red or a mix of colors.
Feta Cheese. Use an 8-ounce block of feta or a wedge which is firm.
Olive Oil. This will be drizzled on the bottom of the pan and on top. It gives great flavor, healthy fat and allows the tomatoes to roast beautifully.
Red Onion. The Tik Tok version does not use onion but we love the extra flavor roasting the red onions gives the sauce.
Garlic. Whole cloves are roasted then smashed into the sauce after cooking for that great roast garlic flavor.
Crushed Red Pepper Flakes. This brightens the flavor without making it spicy. Adjust to your liking. More can be added when serving too.
Ground Black Pepper. Added before baking. We recommend adding any salt when serving since feta cheese is naturally salty.
Pasta. We love medium size pasta like penne, fusilli, small shells, spirals or bow ties. Regular or gluten-free pasta can be used.
What type of feta cheese to use?
Greek feta is made up of a higher percentage of sheep's milk or a combination of sheep's milk and goat milk.
It will create a creamier sauce in the end versus using a cow's milk feta.
The difference is really in the final texture of the sauce. Cow's milk feta may end up with more texture or pieces of the cheese in the sauce.
Both will taste good but choose based on your sauce texture preference.
In both cases the feta does not completely breakdown or melt like cheddar cheese does. So you'll see some tiny pieces in the sauce.
Amount of Pasta to use
The base recipe calls for one pound of pasta. Photo 10 below illustrates the sauce coverage for that amount of pasta.
If you want saucier pasta use 12 ounces instead.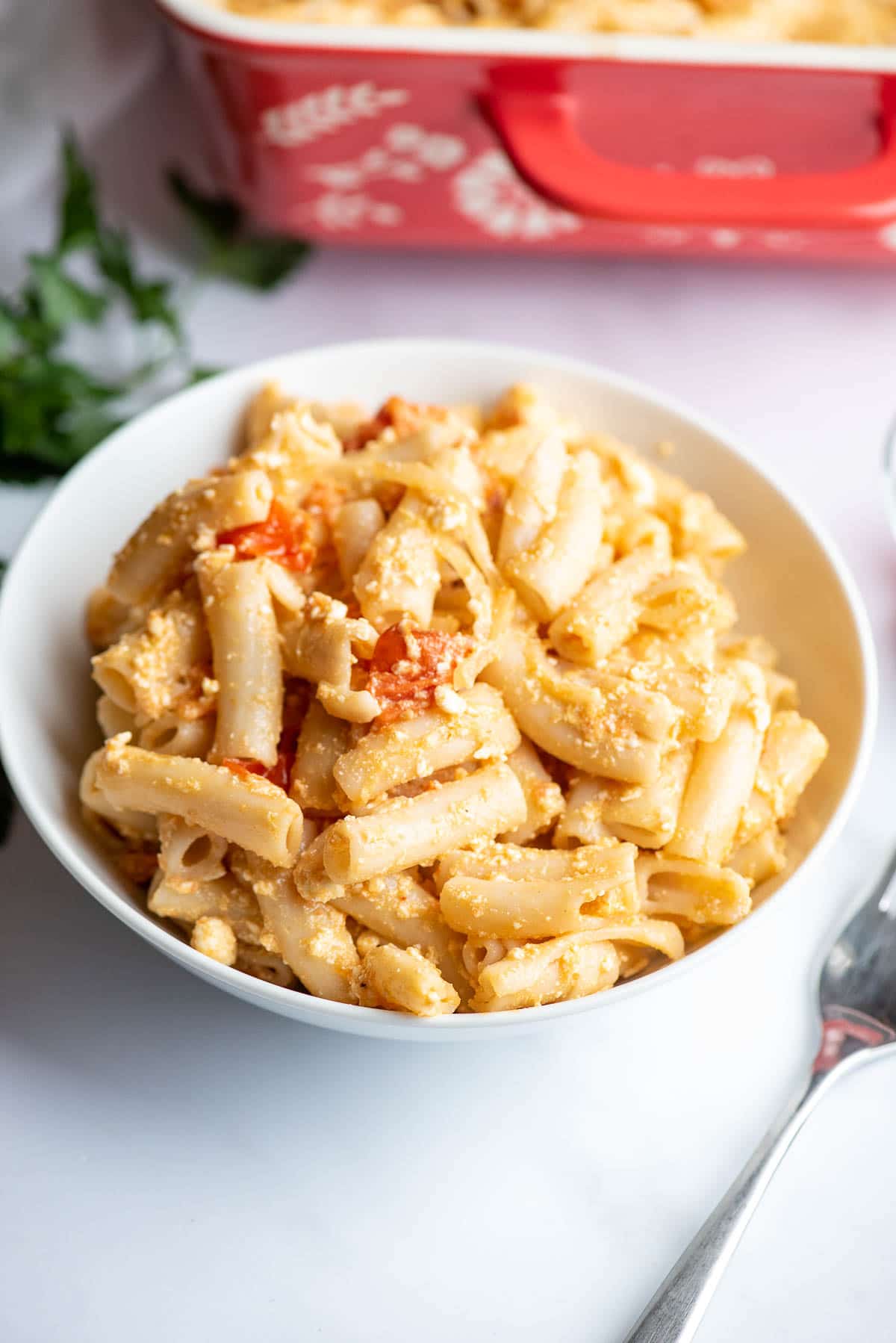 Optional Toppings or Stir-In Ingredients
The baked pasta is delicious as is out of the oven but if you want to add extra ingredients for flavor when serving or to stir in, try these:
Roasted red peppers. Make them yourself or buy them at the store. Chop and us as a colorful topping or stir in after baking the sauce.
Fresh basil leaves. Slice finely to stir in or garnish a serving with whole leaves.
Halved or Sliced Olives. Use black olives or Kalamata olives for more Mediterranean flavor.
Fresh Italian parsley. Chop some for a garnish to add more color to the pasta.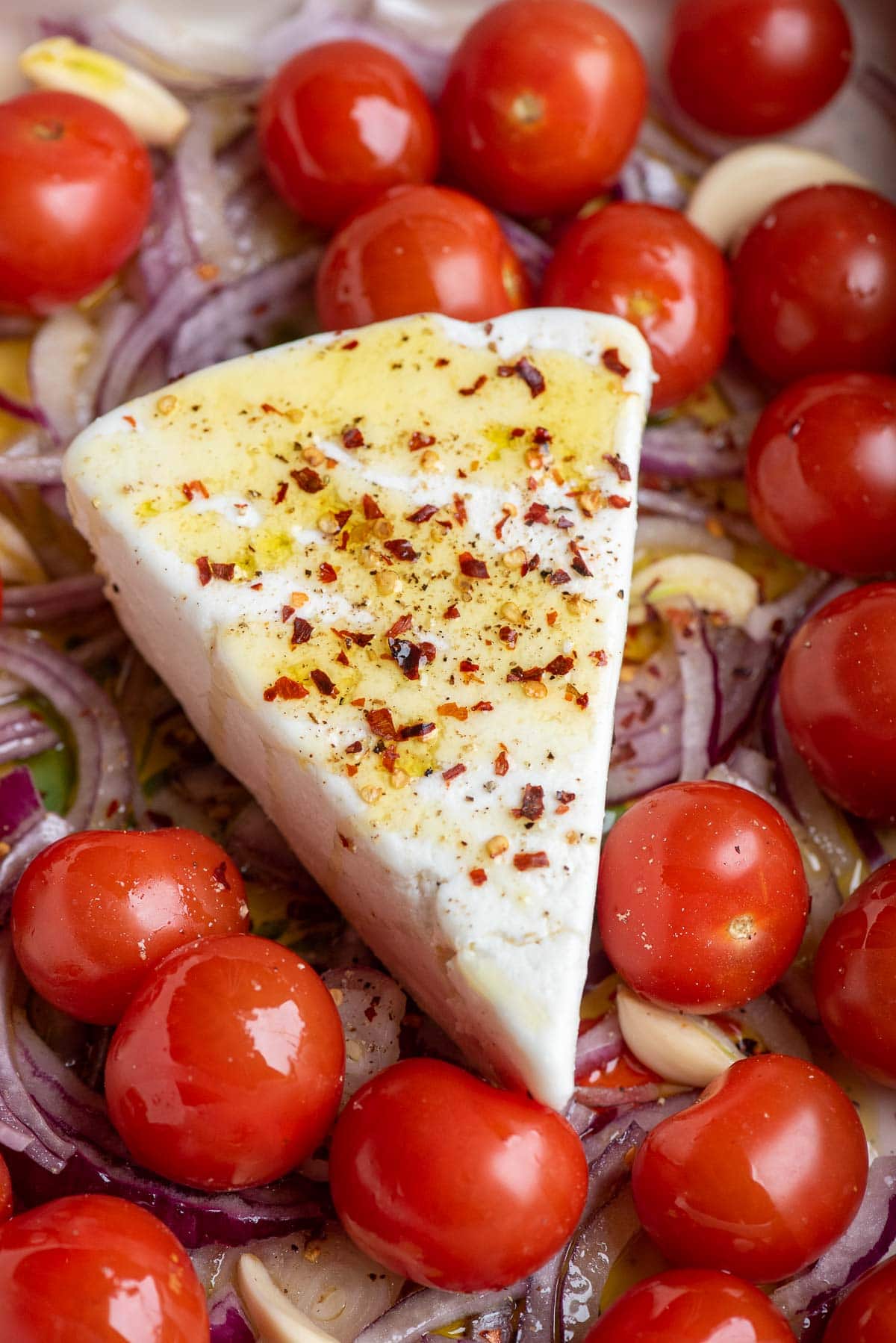 How to Make it – Step-by-Step
STEP 1. Preparation
Set an oven rack in the middle of the oven. Preheat the oven to 400 degrees F.
STEP 2. Add ingredients to the baking pan
Drizzle half the olive oil into the baking dish. Layer on the onions and place the feta in the center.
Add the tomatoes and garlic around the cheese.
Sprinkle with black pepper and crushed red pepper flakes (photo 1).
Drizzle the remaining olive oil evenly over the pan (photo 2).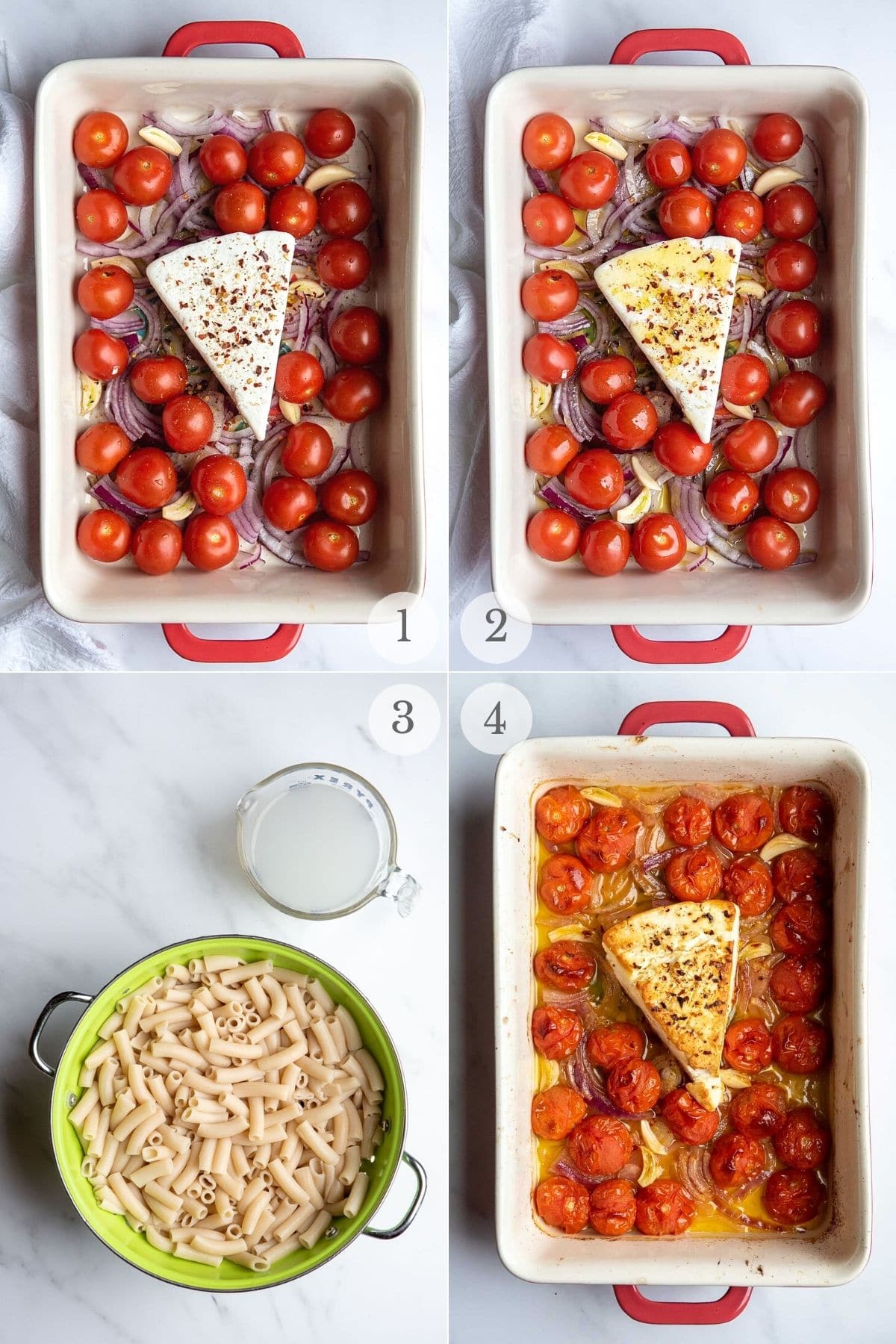 STEP 3. Bake
Add the baking dish to the oven and bake for 35-40 minutes until the feta is golden and soft, and the tomatoes have burst (photo 4).
STEP 4. Make the pasta
While the tomatoes and feta are baking, prepare pasta as noted on the package to al dente. Reserve 1/2 cup of the pasta cooking water (photo 3).
STEP 5. Make the sauce
Break the feta apart (photos 5-6) and mix all the ingredients in the pan together (photo 7). Stir until the feta and tomatoes are absorbed together (photo 8).
NOTE: the feta does not totally 'melt' which gives the sauce the appearance of being 'broken'. But just keep going!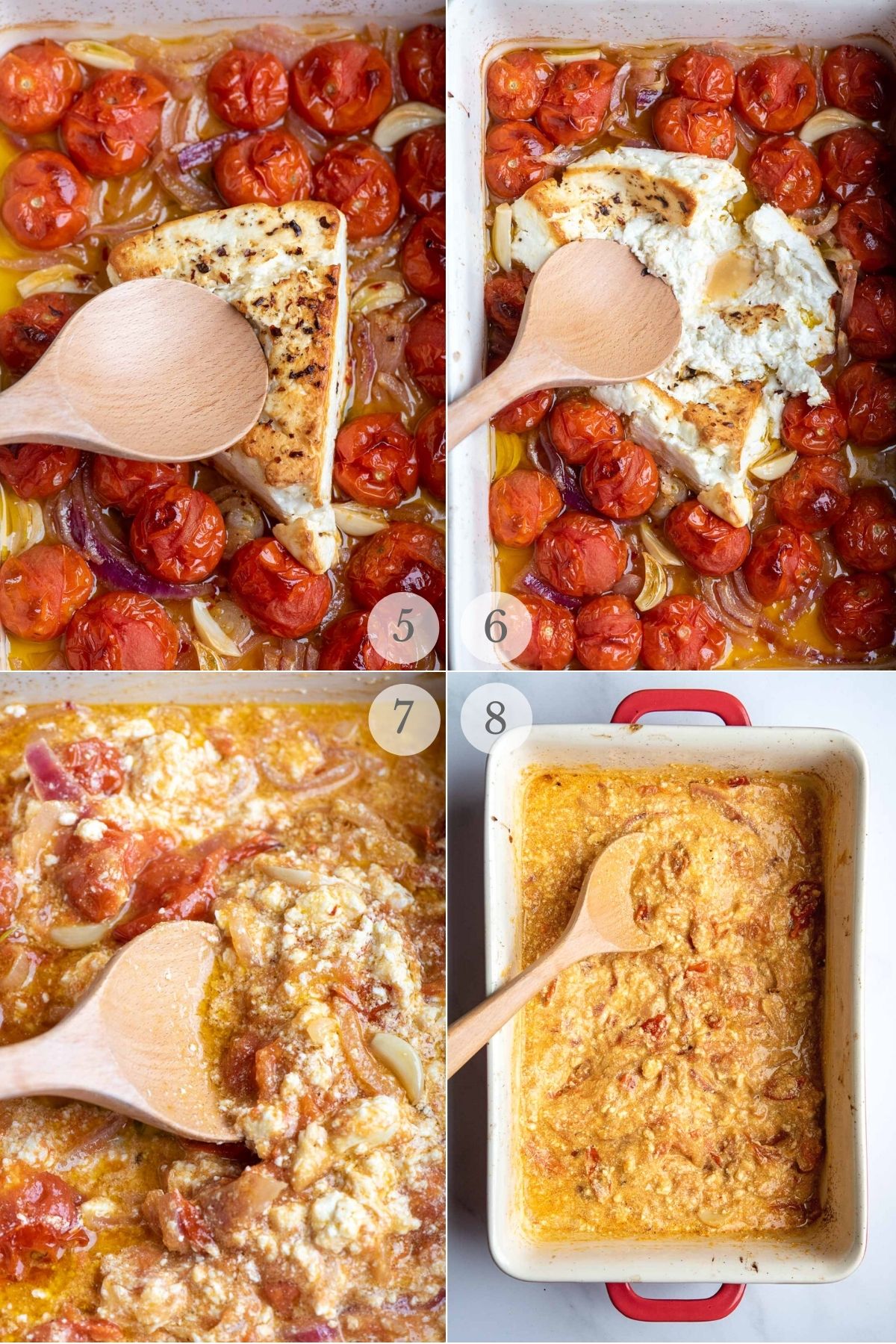 STEP 6. Mix it all together
Add the cooked pasta to the baking dish with the sauce (photo 9) and fold together to fully coat the pasta (photo 10).
Season with salt as needed.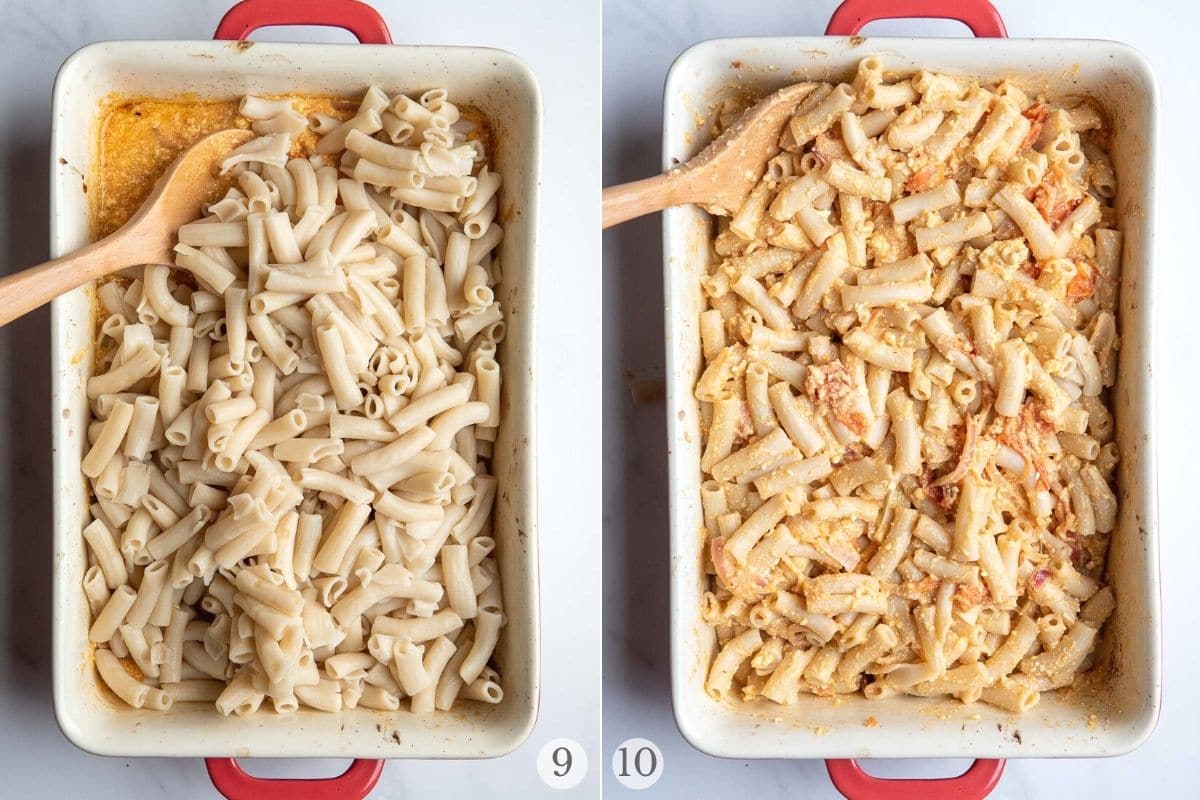 Variations
Use Goat Cheese or Ricotta Cheese. Changing up the cheese will change the flavor of the baked sauce. You could even use a block of cream cheese.
Add artichoke hearts. Stir in some chopped artichoke hearts at the end for more Mediterranean flavor.
Add some black garlic. If you haven't tried it black garlic adds a totally different flavor. It's not as sharp tasting as raw regular garlic so is great to dice and sprinkle on top when serving.
Serve it as an appetizer. Skip the pasta and serve with garlic toast rounds or homemade bagel chips for scooping!
Add different seasonings. Try adding some Italian seasoning, red pepper flakes, dried thyme or rosemary before baking the feta.
Pro Tips
Reserve some of the pasta cooking water. If after making the sauce you'd like it to be creamier add some of the pasta water. The starch in the sauce will help give the sauce a thicker creamy consistency.
Use less pasta if you like more sauce. For saucier pasta use 12 ounces of pasta instead of 16 ounces.
Use sheep's milk feta cheese. For the creamiest texture. Cow's milk will also work.
Frequently Asked Questions
What is the best pasta to use for Baked Feta Pasta?
Any favorite pasta you enjoy can be used. I tend to use a shorter pasta like penne, spirals, fusili or elbow pasta.

I love the smaller pasta shapes to get a really good coating of sauce.

Regular or gluten-free pasta can be used. My favorite gluten-free brand is
Tinkyada. It has good flavor and really holds it's shape well.
Can I use vegan feta cheese for this recipe?
We haven't tried that but if you do let us know how it turns out!
Can I use Zoodles for this baked pasta dish?
Sure! Any pasta will work because it is prepared separately and just tossed with the sauce.
Storing Leftovers
Store any leftovers in an airtight container in the refrigerator for up to 3 days. Reheat in the microwave.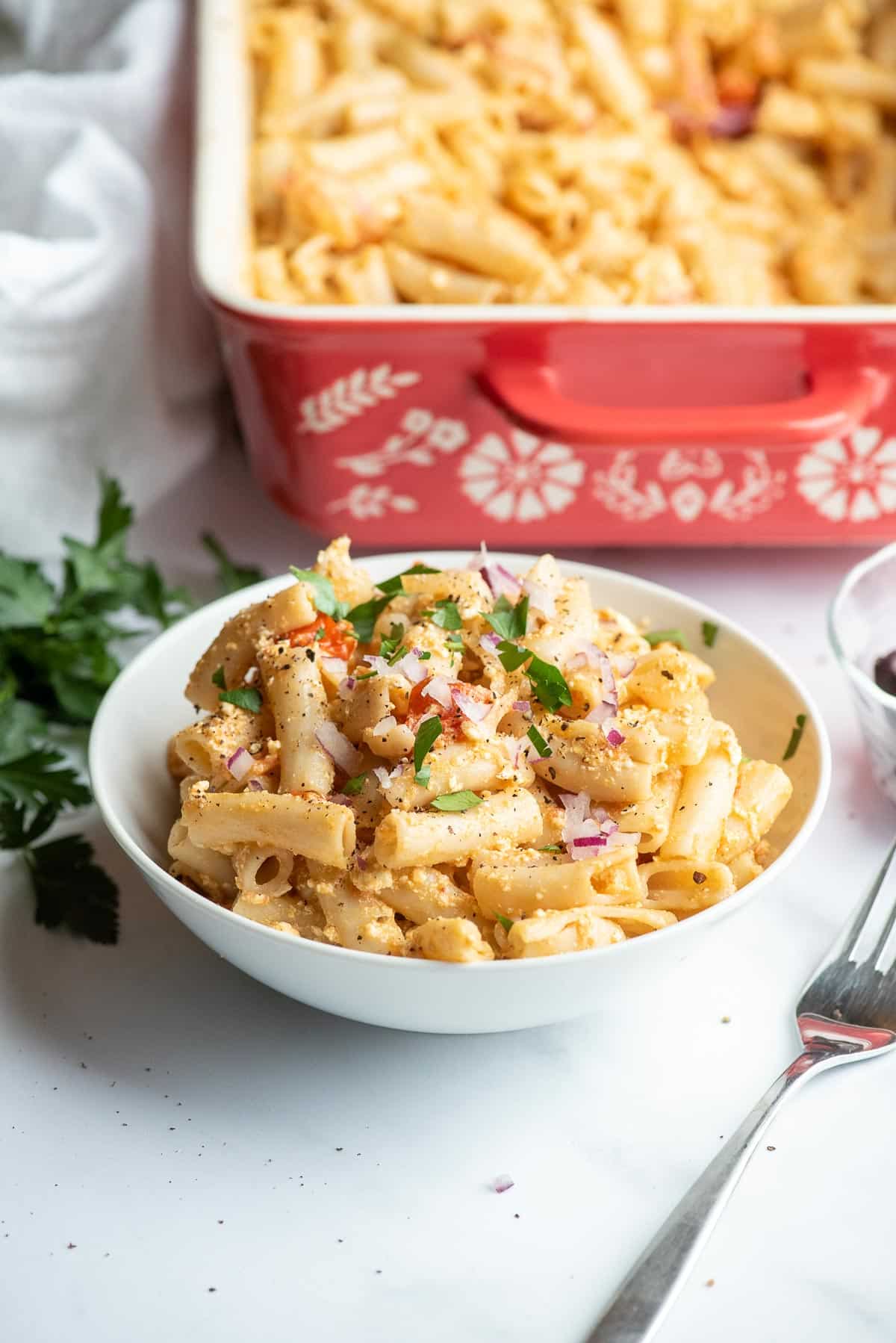 More Recipes You'll Love!
Recipe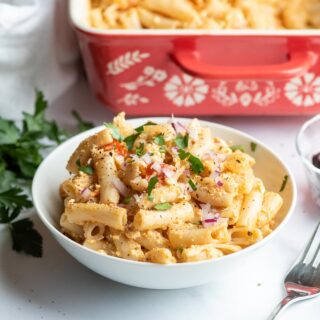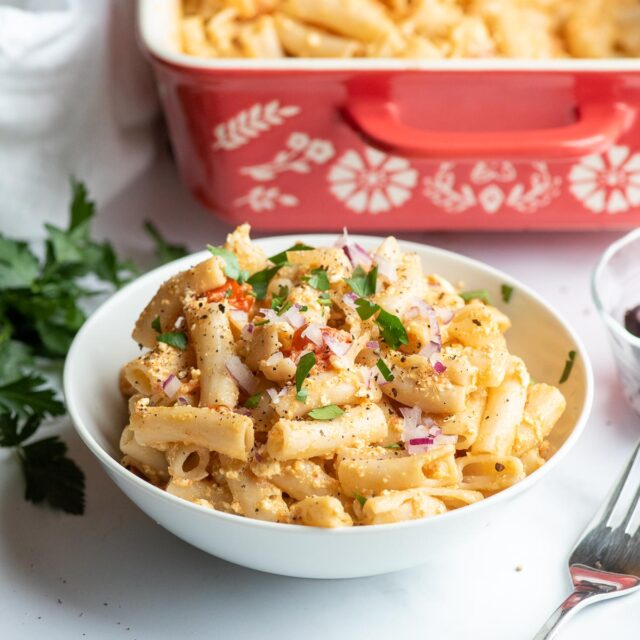 Baked Feta Pasta – Viral Tik Tok recipe
There's a reason this recipe is so popular! It's fast to put together, easy to make, full of great flavor and easy enough for week-nights. Lots of ways to change it up too!
Print
Save Recipe
Recipe Saved!
Pin
Rate
Ingredients
Ingredients:
1/3

cup

olive oil

½

medium

red onion

sliced and quartered

8

ounce block

feta cheese

2

pints

cherry tomatoes

4

garlic cloves

peeled and halved lengthwise

freshly ground black pepper

1/2-1

teaspoon

red pepper flakes

1

Pound

pasta

regular or gluten-free
Instructions
Place an oven rack in the middle of the oven. Preheat the oven to 400 degrees F.

Drizzle 1/2 of the olive oil in the bottom of a 9-inch by 13-inch baking dish.

Layer the red onions in the pan and place the feta cheese block in the center.

Add the tomatoes and garlic around the feta cheese in a single layer. Drizzle with the remaining olive oil, coating everything evenly. Sprinkle with pepper and red pepper flakes.

Place in the preheated oven. Bake for 35 to 40 minutes or until the feta cheese in golden and the tomatoes are roasted and slightly caramelized.

While the feta cheese is baking, cook the pasta according to package directions.

Save ½ cup of the pasta cooking water for later.

Remove the baking dish from the oven. Stir to break down the cheese and the tomatoes and combine everything together creating a thick cheese sauce.

Add the pasta and toss to evenly coat with the sauce. If wanting the sauce to be creamier add the reserved 1/2 cup of pasta cooking water and toss in.

If adding a stir-in ingredient (e.g. sliced olives, chopped artichok hearts, sliced fresh basil) add it now.

Salt to taste if needed. If desired, top with the fresh cherry tomatoes, diced red onion, shaved parmesan, Kalamata olives, fresh basil or Italian parsley and/or a lemon wedge
Notes
Stir in or Garnish options
This recipe is incredibly flexible. Stir in other Mediterranean ingredients for a whole different flavor:
1/2 cup pitted, sliced Kalamata olives
1/2 cup chopped Artichoke hearts
Fresh basil, sliced (if stirring in) or chopped as garnish
Torn Italian parsley (garnish)
1/3 cup chopped Roasted Red Peppers
Black garlic
Variations
Use goat cheese, ricotta cheese or cream cheese.
Use different seasonings: Italian seasoning, dried rosemary, dried thyme.
Use different shapes of pasta: penne, fusilli, small shells, elbow, spirals, bow tie.
Amount of pasta and sauce
This photos in the blog post show the 1 pound of pasta coated with the sauce. Though the sauce is not thick it's bold with flavor.
If you prefer more sauce and less pasta, use 12 ounces of pasta.
If using gluten-free pasta we recommend Tinkyada brand both for flavor and structure.
How to Make a Half Batch
I receive requests for smaller portion recipes and this one is easy to halve.
Follow the recipe as written in the recipe card below but….
use half the feta cheese
half the tomatoes
half the onions
Reduce the olive oil to 1/4 cup
Monitor while baking until the feta is golden and soft (probably around 25 minutes)
Nutrition
Calories:
260
kcal
|
Carbohydrates:
14
g
|
Protein:
8
g
|
Fat:
20
g
|
Saturated Fat:
7
g
|
Cholesterol:
34
mg
|
Sodium:
839
mg
|
Potassium:
642
mg
|
Fiber:
2
g
|
Sugar:
9
g
|
Vitamin A:
1308
IU
|
Vitamin C:
43
mg
|
Calcium:
220
mg
|
Iron:
2
mg