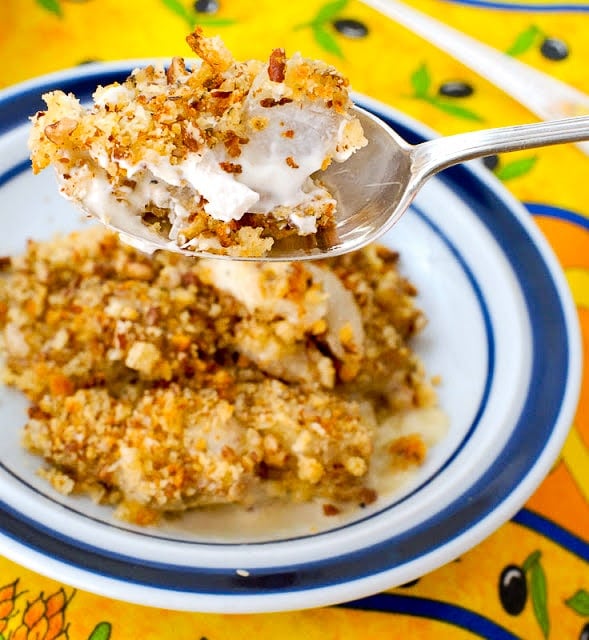 I'm posting later than normal today. NOT because I was up at 2 a.m. to watch the Royal Wedding (though I did turn on CNN this morning for the debrief to find Anderson Cooper a bit too obsessively comparing the two royal kisses on split screen) but because I've fled the manic thermal gyrations of my Rocky Mountain spring weather for the predictable heat of the high Sonoran desert, beginning the day in the civilized mid 70's. I'm sharing my morning coffee with palm trees dancing in the breeze aside my balcony, bathed in the golden light that promises a heated day. All this while wearing my PJ's, a certain non-starter were I to be back in Boulder.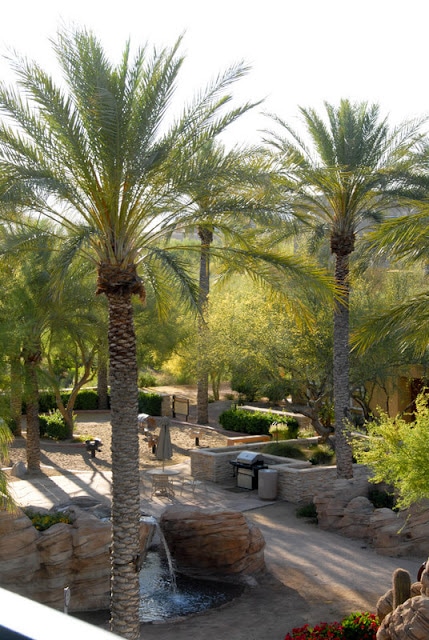 Seems appropriate that my topic du jour is Sunchokes. I picked these up from Red Wagon Organic Farm at the Farmer's Market. If you recall my market methodology is twofold; get what I need, and to seek out new and unusual items I know nothing about to learn more. As part of my No Vegetable Left Behind Act, I purchased these sunchokes having absolutely no idea whose family in the plant world to whom they'd be related nor what their flavor profile would consist of. This is where the farmer becomes a culinary consultant, not only responsible for merely growing and harvesting successfully, but having to spout off a myriad of cuisine lore and tactics so people like me know that to do with their produce and are enticed to try.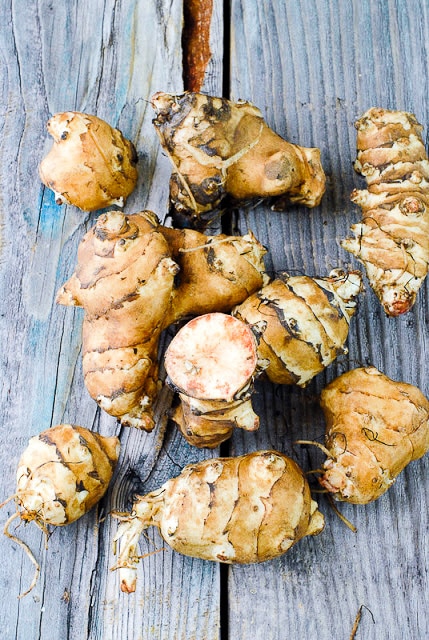 Sunchokes, also known as Jerusalem Artichokes (with no seeming roots back to Jerusalem from my research), are the tuber of a variety of sunflower plant which is native to eastern North American and Canada. They are known by many other names such as earth-apple and girasola, from Italian, meaning 'turning to the sun' as many sunflowers do as they grow. Fun sunchoke fact: the sunchoke was cultivated 400-500 years ago in North American and the Lewis and Clark expedition members ate them during their journey across the U.S. when provided by Native Americans (love that)*.
At first blush, these primitive beasts look like the outcome of a foraging dig in some deep woods somewhere. After tasting them cooked, I should be so lucky to find something like this in the wild. Looking visually like a kissing cousin to a ginger root but bearing the consistency of a potato-water chestnut cross, I was completely intrigued. When researching recipes I found an abundance of soup recipes but wanted something less common.
I finally stumbled upon what I now believe is the Golden Ticket; a delicious bake using ginger and garlic that is out-of-this-world flavorful and delicious, with a beautiful consistency of creamy sauce and potato-like bite (still with a bit of a crunch) bearing very subtle flavor tones of actual artichoke. This was one of  those 'hit the jackpot' recipe attempts that will remain in my top selections whenever I see sunchokes now.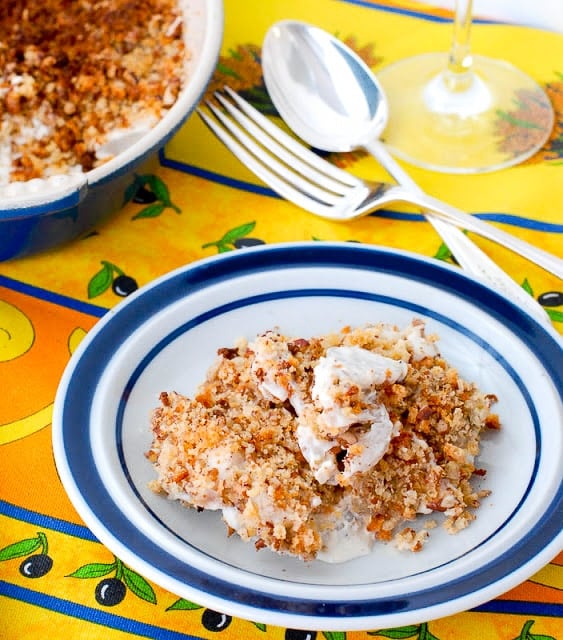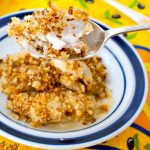 Creamy Scalloped Ginger Sunchokes
Gingery sunchokes with a crunchy top are satisfying and delicious.
Servings
4
-6 side servings
Ingredients
2

cups

Sunchokes

, peeled and sliced (approximately 8-10)

1

cup

Heavy Cream

3

tablespoons

freshly grated Ginger

2

large Garlic Cloves

, minced

½

teaspoon

Kosher Salt

¼

teaspoon

freshly ground Black Pepper

1 ½

teaspoon

Cornstarch

¾

cup

dried Bread Crumbs*

¼

cup

diced Pecans
Instructions
Preheat oven to 400 degrees. Butter a 1 quart casserole or gratin dish.

In a saucepan combine sunchokes, ¾ cup PLUS 2 tablespoons of the cream, ginger, garlic, salt and pepper over medium heat, stirring constantly to prevent burning. Let cook 5 minutes once hot to combine all flavors and soften the sunchokes.

Mix the remaining 2 tablespoons of cream with cornstarch; stir to fully combine. Add to sunchoke mixture in saucepan and continue to cook 5-10 minutes longer until the mixture begins to thicken.

In a small bowl combine the bread crumbs and pecans and stir to fully mix together.

Spoon the sunchoke mixture into the prepared baking pan. Cover the top evenly with bread/pecan mixture.

Place the baking dish of sunchokes in a larger roasting pan. Fill with hot water to reach halfway up the side of the baking dish to create a water bath.

Bake until done when top becomes golden brown;about 25-30 minutes.
Recipe Notes
*To make homemade bread crumbs: Toast bread and process into crumbs in a food processer or mini chopper. Extra bread crumbs may be sealed and frozen for future use.
Recipe adatped from About.com
Nutrition Facts
Creamy Scalloped Ginger Sunchokes
Amount Per Serving
Calories 392
Calories from Fat 243
% Daily Value*
Total Fat 27g 42%
Cholesterol 81mg 27%
Sodium 465mg 19%
Potassium 453mg 13%
Total Carbohydrates 32g 11%
Protein 6g 12%
* Percent Daily Values are based on a 2000 calorie diet.