Sunchokes, or 'Jerusalem Artichokes', may not be the most well known vegetables but one bite of this Creamy Ginger Scalloped Sunchoke recipe and you'll be hunting them down every winter and spring!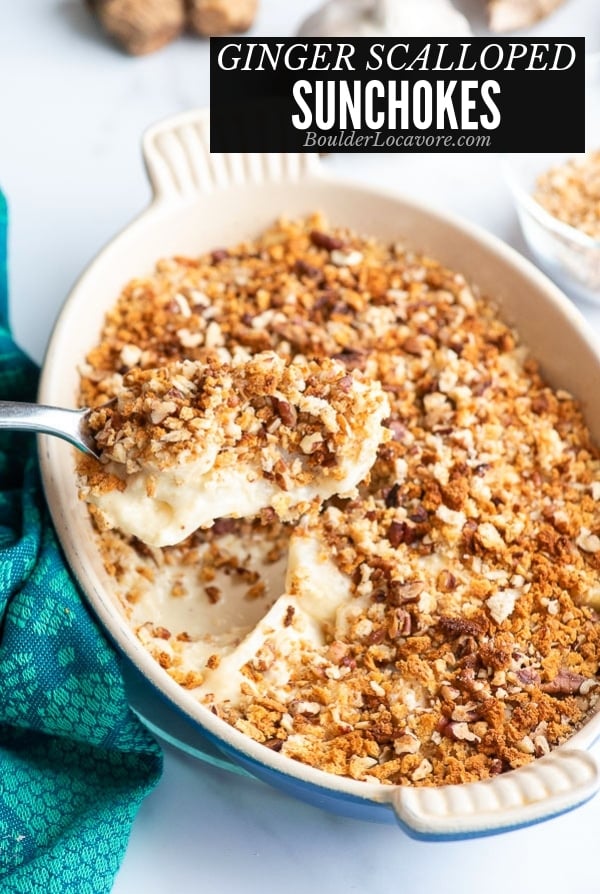 Years ago when I had started my locavore experiment I would strive to pick up unfamiliar produce at the Farmer's Market to try.
One of those finds was Sunchokes.
As you might imagine from their appearance, I had no idea what they were, how to prepare them or how they would taste.
With some research I found what may be my family's favorite spring vegetable!
When it's Sunchoke season, be sure to grab a pound and try this Creamy Ginger Scalloped Sunchokes recipe.
You'll be craving it again next spring.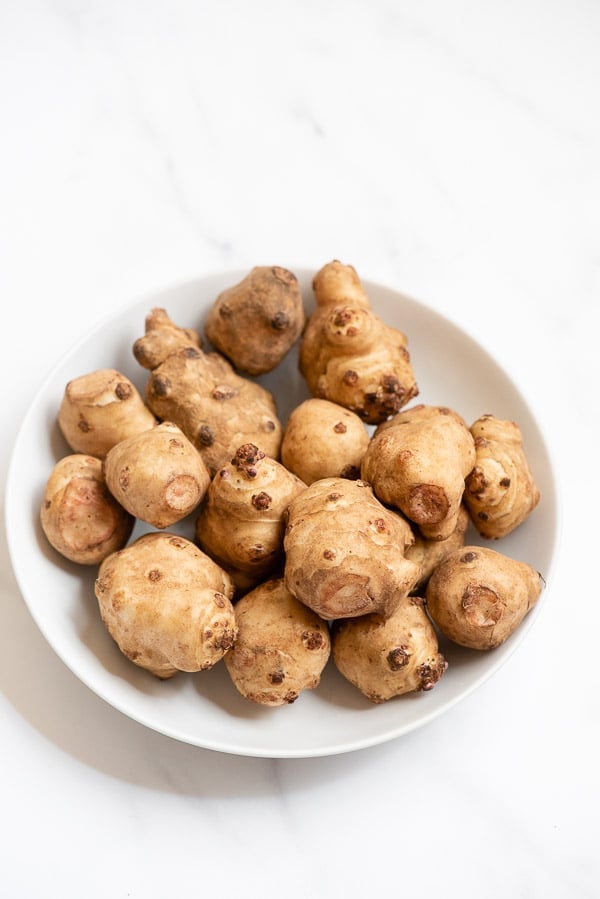 What is a Sunchoke?
Also known as Jerusalem Artichokes (with no seeming roots back to Jerusalem from my research), are a root vegetable.
Specifically they are the tuber of a variety of sunflower plant which is native to eastern North America and Canada.
Sunchokes are known by many other names such as earth-apple and girasole (the Italian word for sunflower; meaning 'turning to the sun' as many sunflowers do as they grow).
Fun fact: the sunchoke was cultivated 400-500 years ago in North American and the Lewis and Clark expedition members ate them during their journey across the U.S. when provided by Native Americans.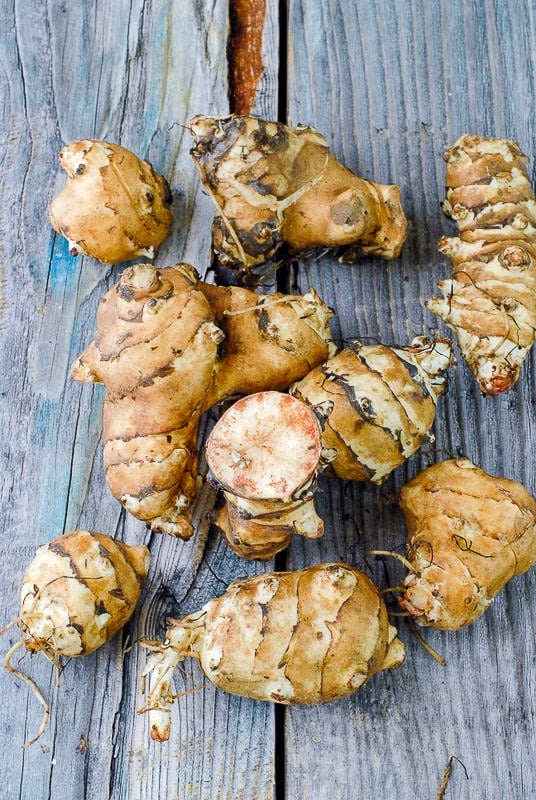 What do Sunchokes Taste Like?
They look like a kissing cousin to a ginger root but with the consistency of a potato-water chestnut cross.
Sunchokes have a mild flavor and a satisfying texture when cooked.
When cooked they are still a bit firm like a potato before it's fully cooked.
When is Sunchoke Season?
Sunchokes are available year round with the primary season in North American being September through April.
In Colorado I've only found them in the spring and we now wait for them each year!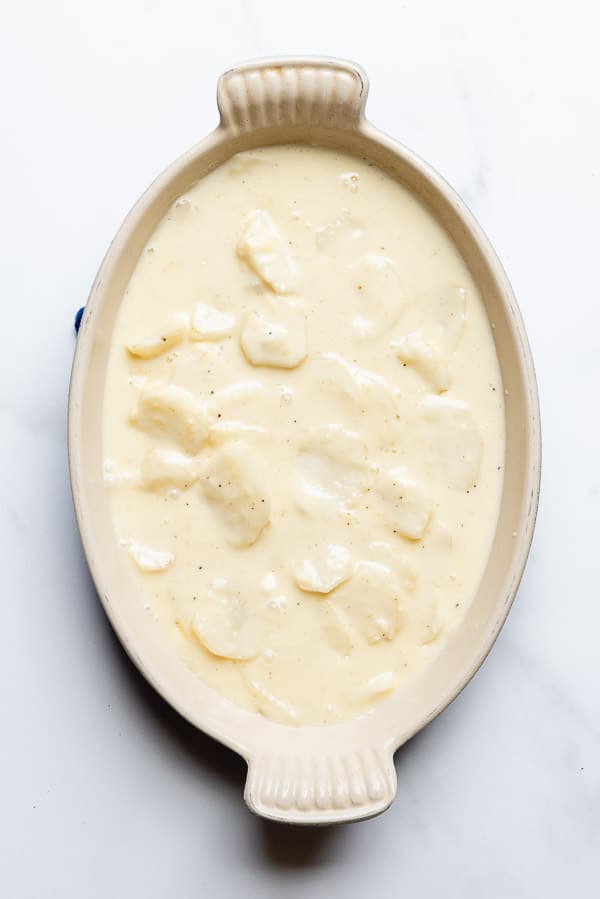 How to Prepare
Sunchokes can be cooked much like potatoes; with or without the peel, roasted, sautéed, boiled.
Unlike potatoes, they also can be eaten raw!
How to Store
Store in an airtight container in the refrigerator for up to 2 weeks.
They should still be firm with no soft spots when preparing them to eat.
Creamy Ginger Scalloped Sunchokes recipe
This recipe is absolutely a family favorite.
Rich flavors of ginger and garlic with a crunchy breadcrumb-pecan topping.
The sunchokes are thinly sliced with a satisfying 'mouth feel' and crunch.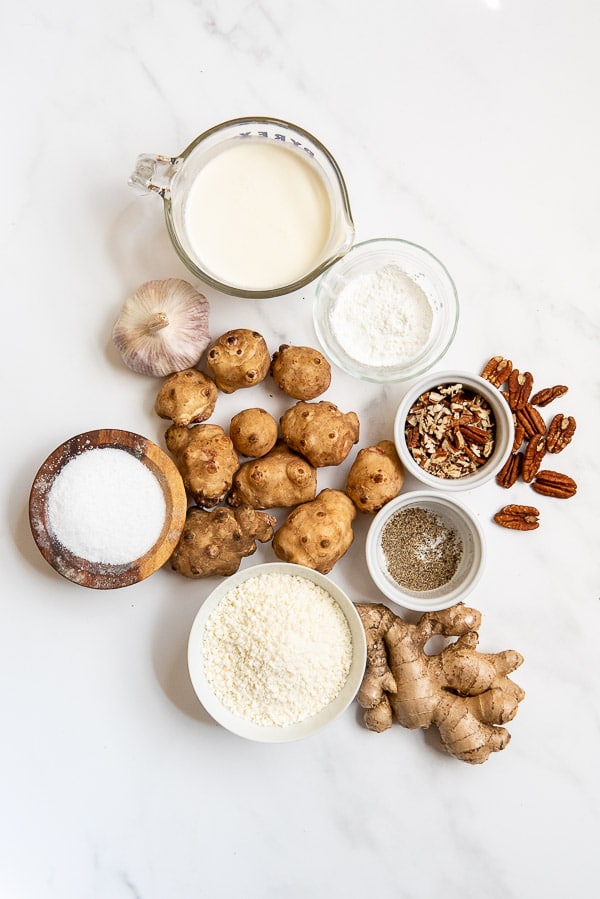 Ingredients
The sunchokes are the only tricky ingredient to find in this recipe since they are not available all year long:
Sunchokes
Heavy Cream
Ginger
Garlic Cloves
Kosher Salt
Black Pepper
Cornstarch
Bread Crumbs
Pecans
Where to Buy Sunchokes?
Check grocery stores with good quality seasonal produce.
Whole Foods usually has them or their produce person can tell you when they are available or order some for you.
Farmer's Markets are also a great place to look.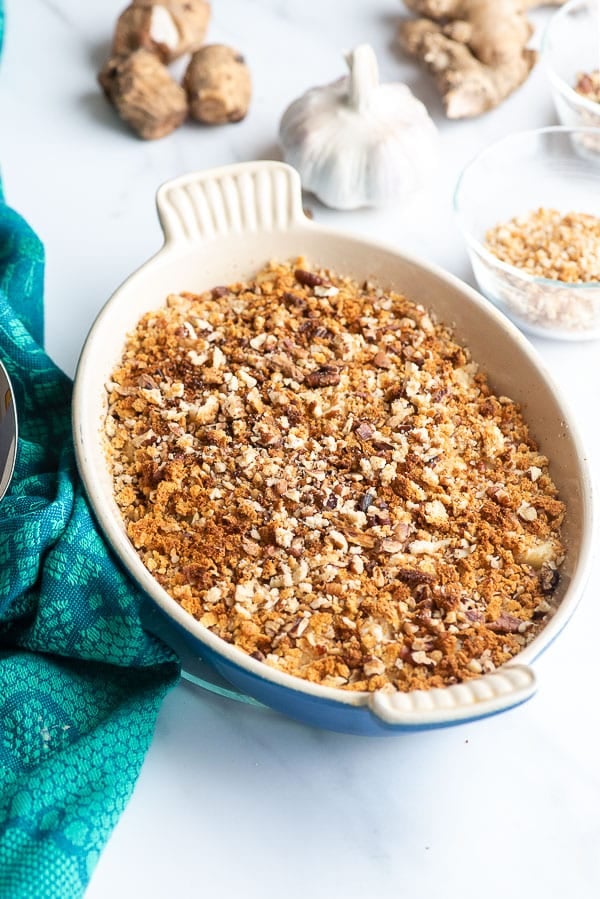 What is a Water Bath?
A water bath is a method of cooking a recipe in a larger pan filled slightly with water rather than cooking it directly in the oven's heat.
It's commonly used for recipes needing more moisture while they cook (like cheesecakes) or more gradual heating (recipes like custards, puddings or other dairy-based dishes).
Due to the cream base of the sunchoke recipe, it cooks to perfection in a water bath.
How to Make a Water Bath
Once the sunchokes recipe is prepared in the casserole dish place it in a larger roasting pan.
Fill the pan so the hot water reaches halfway up the side of the sunchokes recipe dish.
TIP: in my experience it's easiest to fill the roasting pan with water IN the oven rather than moving it (which risks spilling or splashing water into the sunchokes).
Place the roasting pan with the sunhokes dish on an extended oven rack (carefully of course).
Pour in the water and slide it into the oven to cook.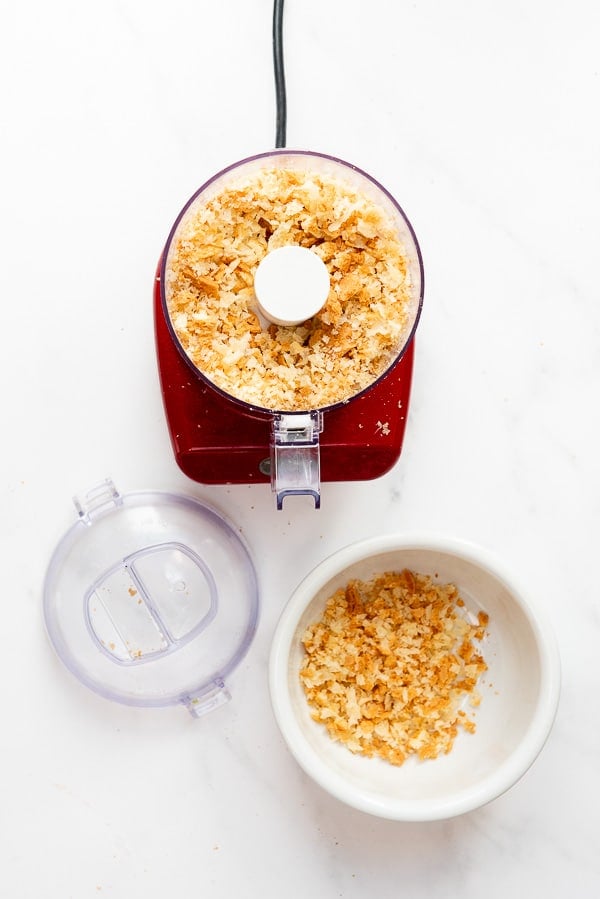 How to make Homemade Breadcrumbs
Purchased or homemade breadcrumbs may be used for this recipe. Regular or gluten-free breadcrumbs too.
The finished photos used homemade breadcrumbs and the process photos used purchased gluten-free Panko breadcrumbs.
They are all delicious but making your own breadcrumbs is easy and a great way use up bread you might normally discard.
Making breadcrumbs from scratch is very easy. It's a great trick in the event you run out of purchased breadcrumbs too.
Making Homemade Breadcrumbs – Easy Step by Step Instruction
This method works for any type of bread (gluten-free or with gluten).
Step 1: Toast slices of bread in a toaster using a higher setting, in a toaster oven or under the broiler (watching to ensure no burning). Allow to cool until they feel room temperature to the touch.
Step 2: Break the toast into a few large pieces and process through a food processor, mini chopper or blender until achieving the desired crumb consistency.
Step 3 (if needed): If the crumbs still have any moisture, spread the crumbs into a single layer on a rimmed cookie sheet and bake on 400 degrees for 5 minutes, shaking the pan halfway through. Crumbs should just begin to turn golden. Allow to cool fully before incorporating into a recipe or freezing in a sealed bag for future use.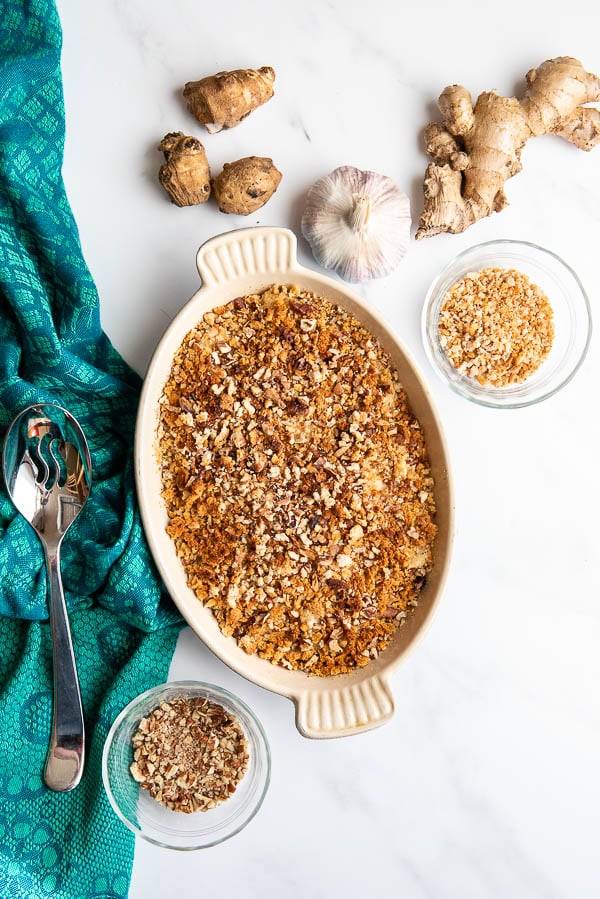 How to Make Creamy Ginger Scalloped Sunchokes recipe – Step by Step
Please refer to the recipe card at the end of the blog post for specific measurements.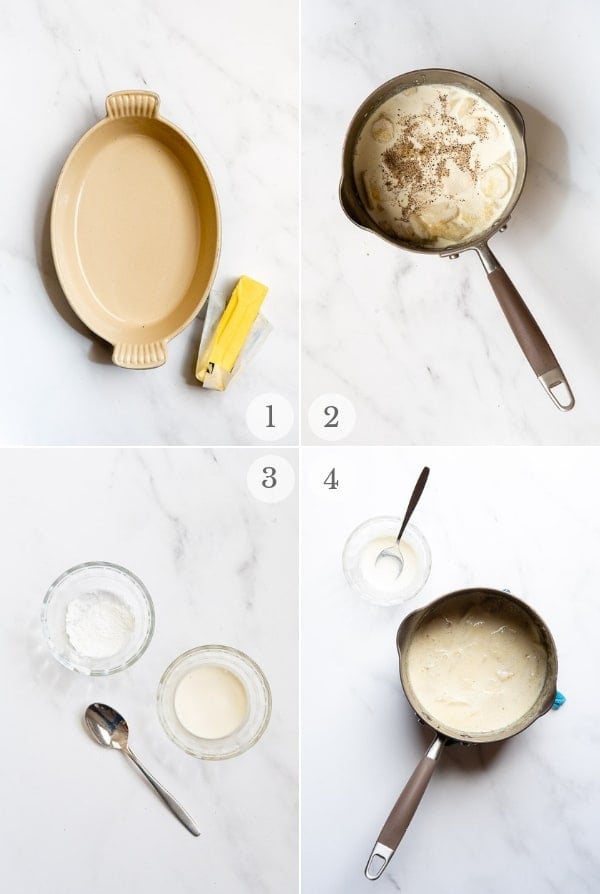 Preheat oven to 400 degrees. Butter a 1 quart casserole or gratin dish (photo 1).
In a saucepan combine sunchokes, the cream, ginger, garlic, season with salt and pepper over medium heat, stirring constantly to prevent burning. Cook 5 minutes once hot to soften the sunchokes (photo 2).
Mix the remaining cream with cornstarch; stir to fully combine (photo 3).
Add to sunchoke mixture in saucepan and continue to cook 5-8 minutes longer until the mixture begins to thicken (photo 4).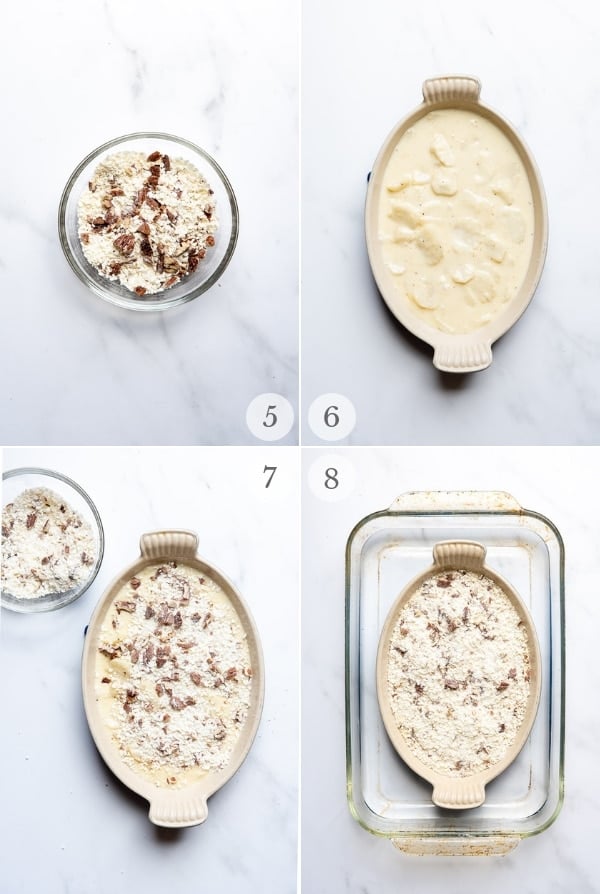 In a small bowl combine the bread crumbs and pecans (photo 5).
Spoon the sunchoke mixture into the prepared baking pan (photo 6).
Cover the top evenly with bread/pecan mixture (photo 7).
Place the baking dish of sunchokes in a larger roasting pan. Fill with hot water to reach halfway up the side of the baking dish to create a water bath (photo 8).
Bake until done when top becomes golden brown; about 20-25 minutes.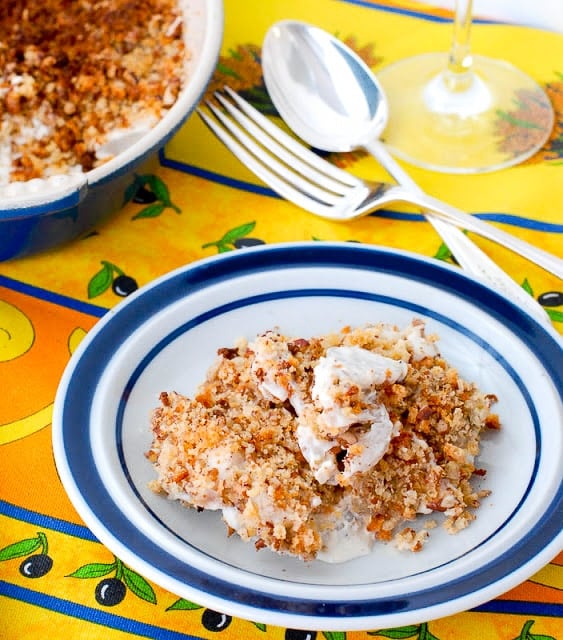 How to Complete this Meal
Pair with roasted chicken or grilled meats.
More Vegetable Recipes You'll Love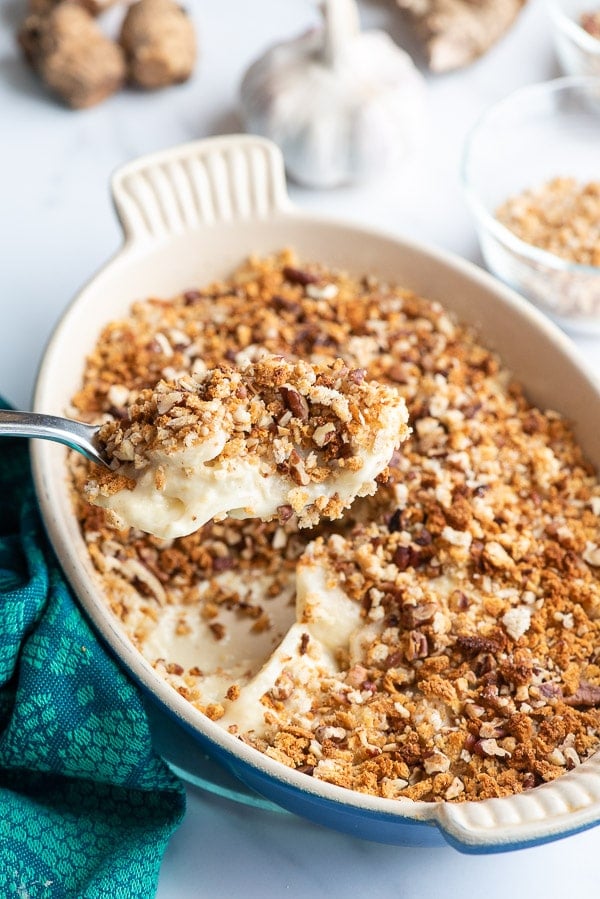 Did you make it? Please RATE THE RECIPE below!
Please SUBSCRIBE and FOLLOW ME on FACEBOOK , TWITTER , INSTAGRAM and PINTEREST!
Originally published: April 29, 2011