Roasted chicken recipes are the best kind of comfort food. This version transforms boneless chicken breasts into a fall feast with apple cider, apples, onions and more. A one pan dish for a soul-warming meal.

This recipe is classic 'Sunday dinner food'. But the great news is it's easy enough to make any night of the week.
Favorite flavors of fall combine with tender and juicy cooked chicken breasts for a meal your family will love.
This chicken is never dry!
Perfectly paired with Roasted Garlic Buttermilk Smashed Red Potatoes, Mashed Sweet Potatoes or Balsamic Roasted Fall Vegetables for a full meal.
Easy Baked Chicken Recipe
Oven baked chicken is one of the easiest dinner recipes to make. Especially with boneless chicken breasts which cook quickly.
This recipe includes apple cider and chicken broth which keep the chicken moist. They also make delicious cooking juices to drizzle on when serving.
Everything is tossed together in one baking dish and cooked in 20-25 minutes!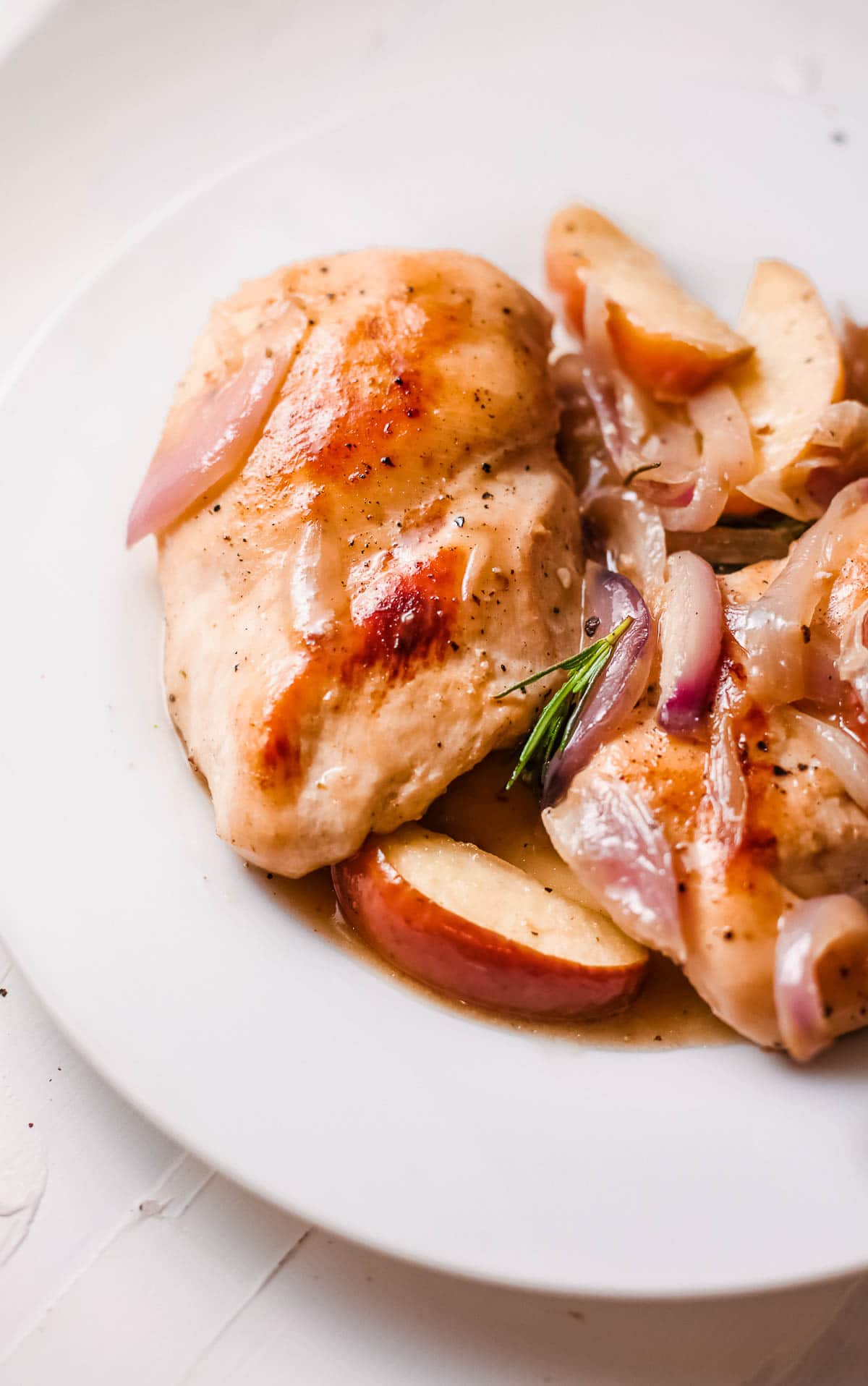 Recipe Ingredients + Notes
Boneless Skinless Chicken Breasts – this is a great recipe for this type of chicken. The liquids will flavor the chicken and keep it from drying out while cooking.
Unsalted Butter – melted butter adds a richness to the chicken recipe.
Apple Butter – apple butter is a thick, seasoned spread that's full of fall spices. It has a more concentrated apple flavor than applesauce. Store bought or homemade apple butter can be used.
Red Onion – slices of red onion cook in this dish to give great flavor but also add to the served chicken.
Garlic – the recipe uses 2 fresh garlic cloves minces or pressed.
Apples – fresh apple slices add a second type of apple flavor to this dish. They are delicious after cooking on top of the chicken too.
White Wine – just a bit of white wine makes the broth perfect. If you perfer not to use wine, add more chicken stock (an additional 1/3 cup).
Apple Cider – the third apple flavor in the recipe is full of homey spices. Store bought or homemade apple cider can be used.
Chicken Stock – I recommend using low sodium chicken broth. Salt is added and the dish can be salted further 'to taste' when served if desired.
Rosemary – fresh rosemary sprigs cook with the chicken adding a wonderful aromatic flavor.
Italian Seasoning. A perfect spice blend that pumps up the flavor and pulls together all the ingredients. Try our homemade Italian Seasoning blend!
Salt and Pepper – I recommend Kosher salt which is a less salty tasting salt. Freshly ground black pepper is always preferred if possible.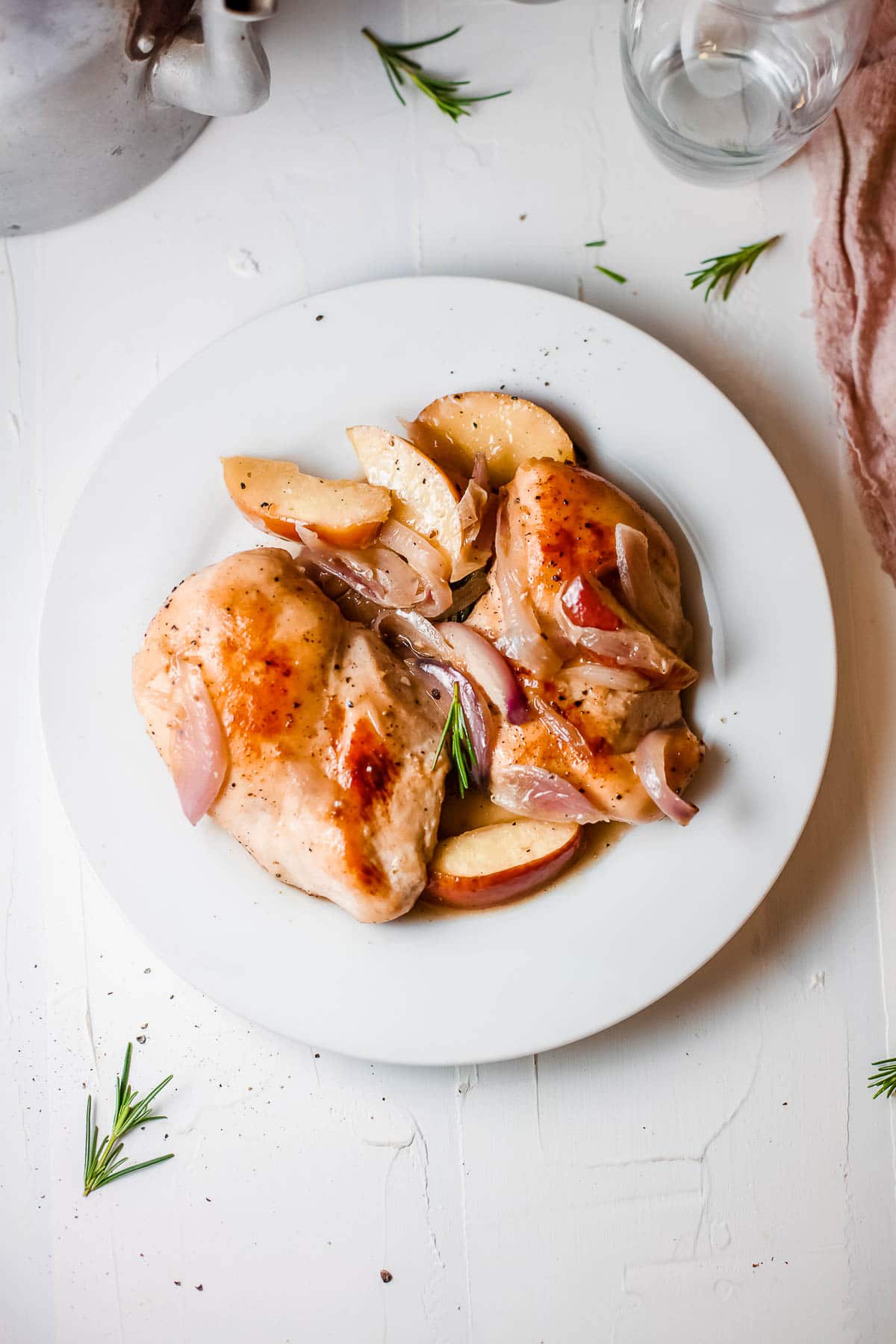 Note on Chicken Breast Size
They seem to range wildly these days. I've gotten some that are truly around 8-ounces a piece and other times 1 breast is almost a pound.
Select breasts around 8-ounces (for a total of 2 pounds) and breasts that are the same size. These factors will effect the cooking time.
Depending on the size, the cooking time may need to be increased (or decreased if smaller than 8 ounces).
How to take the Internal Temperature of Boneless Chicken Breasts
Insert the probe of an instant read thermometer or regular meat thermometer into the thickest part of the breast.
The temperature should be at 165 degrees or slightly lower. The chicken temperature will continue to rise slightly when removed from the oven.
The advantage of an instant read thermometer is it literally takes the temperature instantly. So the chicken isn't out of the oven long.
A traditional meat thermometer takes longer to register the temperature.
Best type of apples for Roasted Chicken?
I recommend apples with alot of flavor. Honeycrisp, Golden Delicious, Fuji, Granny Smith.
Granny Smith apples are tart so combine only one with a sweeter apple for a delicious flavor mix.
What are the Best Types of White Wine for Roasted Chicken?
Pinot Grigio, Sauvignon Blanc, Chardonnay or Chablis are all great choices.
Variations
Add some crushed red pepper or chili flakes to add some spicy heat. It's a nice complement to the sweet apple flavors.
Shallots can replace the onions for a slightly different flavor. They taste like a combination of onion and garlic and are not quite as strong as onions.
How to Make it – Step-by-Step
Preheat the Oven. Heat the oven to 400 degrees F.
Layer the Ingredients in a Baking Pan.
Add the melted butter and apples.
Next the chicken, onion slices, apple slices and garlic.
Pour on the white wine, chicken stock and apple cider.
Season with salt, pepper, Italian seasoning and rosemary sprigs.
Toss to combine.
Bake. For 20 to 25 minutes until the chicken is cooked through and 165 degree F internal temperature.
Broil. For 3 minutes to make the chicken breasts golden. NOTE: monitor to prevent burning.
Rest. Let the chicken rest for a few minutes before serving. This lets the juices redistribute in the chicken.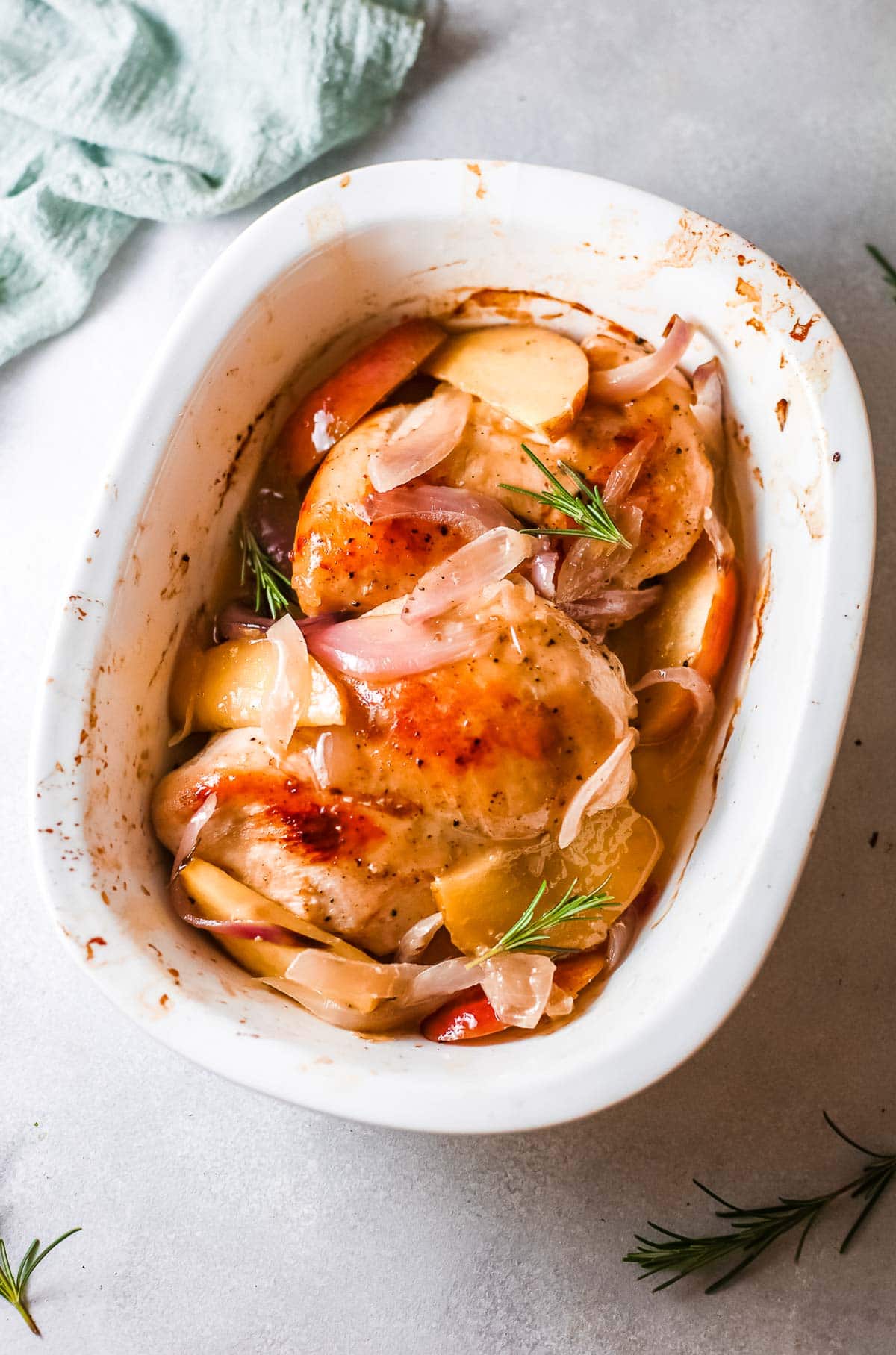 Pro Tips
Select same size chicken breasts. This allows them to cook evenly in the same amount of time.
Use an Internal Thermometer. Cook the chicken until it reaches 165 degrees F internal temperature. Looking at the chicken is not always a reliable indicator that it's cooked.
Measure in the middle of the breast ensuring the thermometer is inside the chicken (not touching the pan).
Use Low Sodium Chicken Broth. This allows you to control adding the salt to taste.
Storing Leftovers
Store any leftovers in an airtight container in the refrigerator for up to 3 days.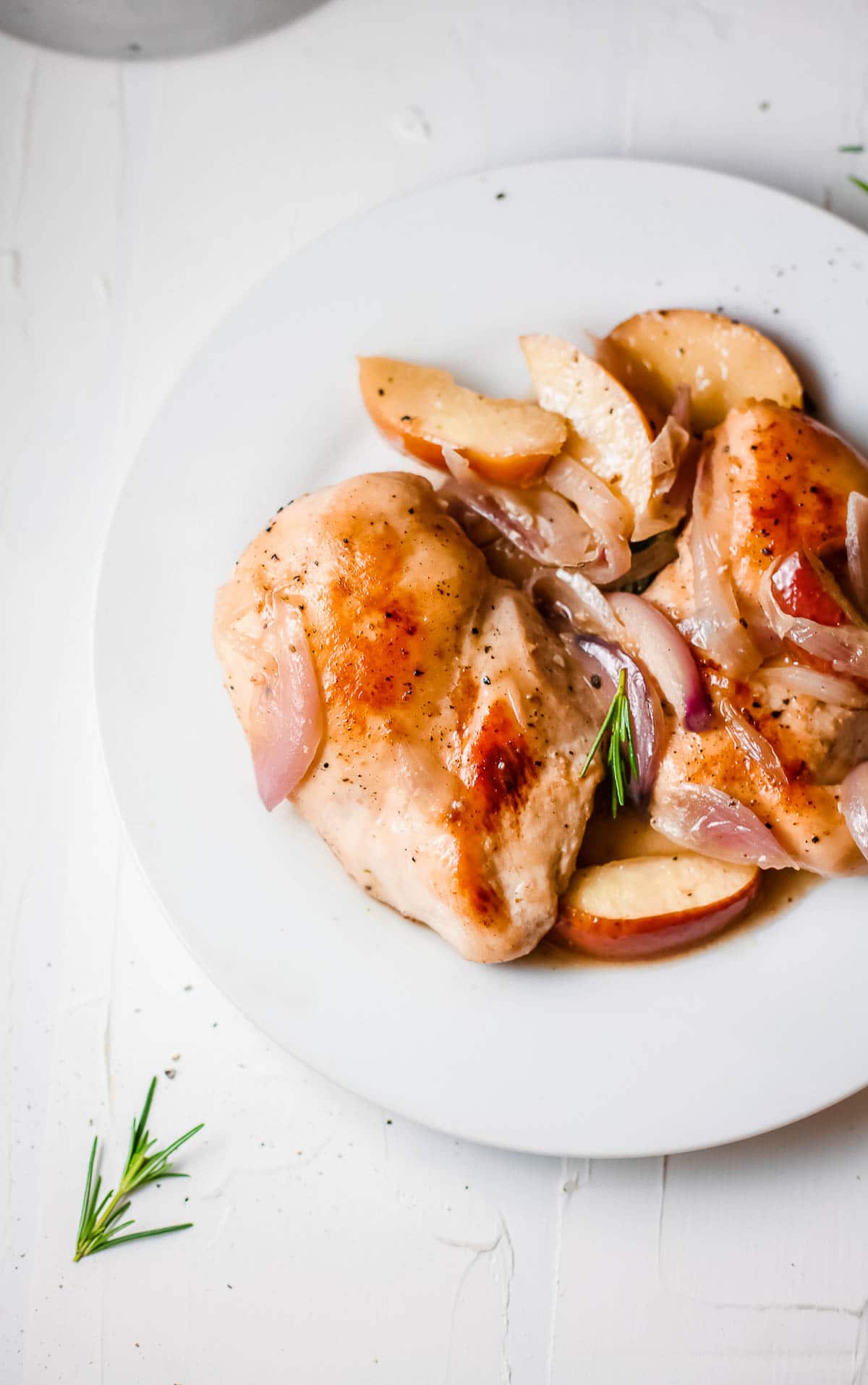 Try these Recipes too!
Did you make it? Please RATE THE RECIPE below!
Please SUBSCRIBE and FOLLOW ME on FACEBOOK , TWITTER , INSTAGRAM and PINTEREST !
Recipe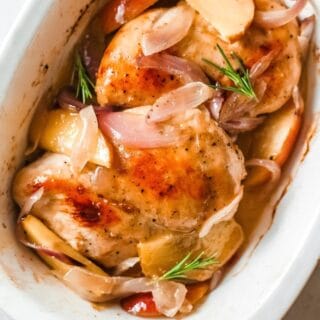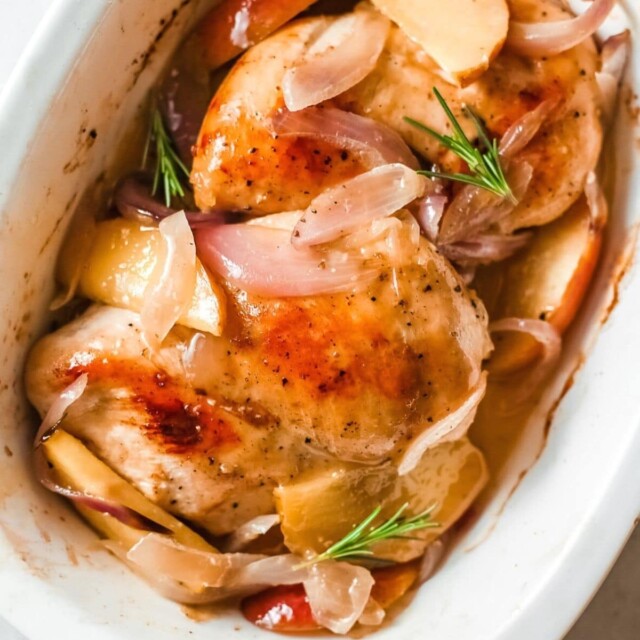 Roasted Chicken Breasts with Apple Cider and Onions
Tender, juicy chicken breasts roasted with apple cider, apples, and onions Is a fast, easy and delicious recipe anytime.
Print
Save Recipe
Recipe Saved!
Pin
Rate
Ingredients
4

8-ounce

boneless, skinless Chicken breasts

(approximately 2 pounds total)

6

tablespoons

Unsalted butter

melted

1/4

cup

Apple butter

1

large

Red onion

sliced

2

Garlic cloves

diced or crushed

2

small

Apples

sliced

1/3

cup

White wine

1/2

cup

Apple cider

1/3

Cup

Low Sodium Chicken stock

1/2

teaspoon

Kosher Salt

1/4

teaspoon

ground Black Pepper

2

teaspoons

Italian seasoning

2

rosemary sprigs
Instructions
Preheat the oven to 400 degrees F.

Place the butter and apple butter into a 9-inch by 12-inch baking pan (or similar size). Add the chicken breasts, red onion slices, apple slices and crushed garlic.

Combine the white wine, chicken stock and apple cider. Pour over the chicken in the pan.

Season with salt and pepper, Italian seasoning and rosemary sprigs. Toss to combine.

Take to the oven and bake for 20-25 minutes or until the internal temperature of the chicken reaches 165 degrees..

Turn the broiler on in the oven. Broil for 3 minutes watching it closely or until the chicken is golden brown.
Notes
● You can add some chili flakes if you want it to be slightly spicy.
● You can swap the onions for shallots too; the result is just as delicious.
Nutrition
Calories:
270
kcal
|
Carbohydrates:
26
g
|
Protein:
2
g
|
Fat:
17
g
|
Saturated Fat:
11
g
|
Cholesterol:
46
mg
|
Sodium:
307
mg
|
Potassium:
209
mg
|
Fiber:
3
g
|
Sugar:
18
g
|
Vitamin A:
582
IU
|
Vitamin C:
6
mg
|
Calcium:
35
mg
|
Iron:
1
mg