Peanut Butter Chocolate Chip Cookies are loaded with delicious ingredients including oatmeal and M&Ms! All your favorite cookies baked together in one monster of a treat.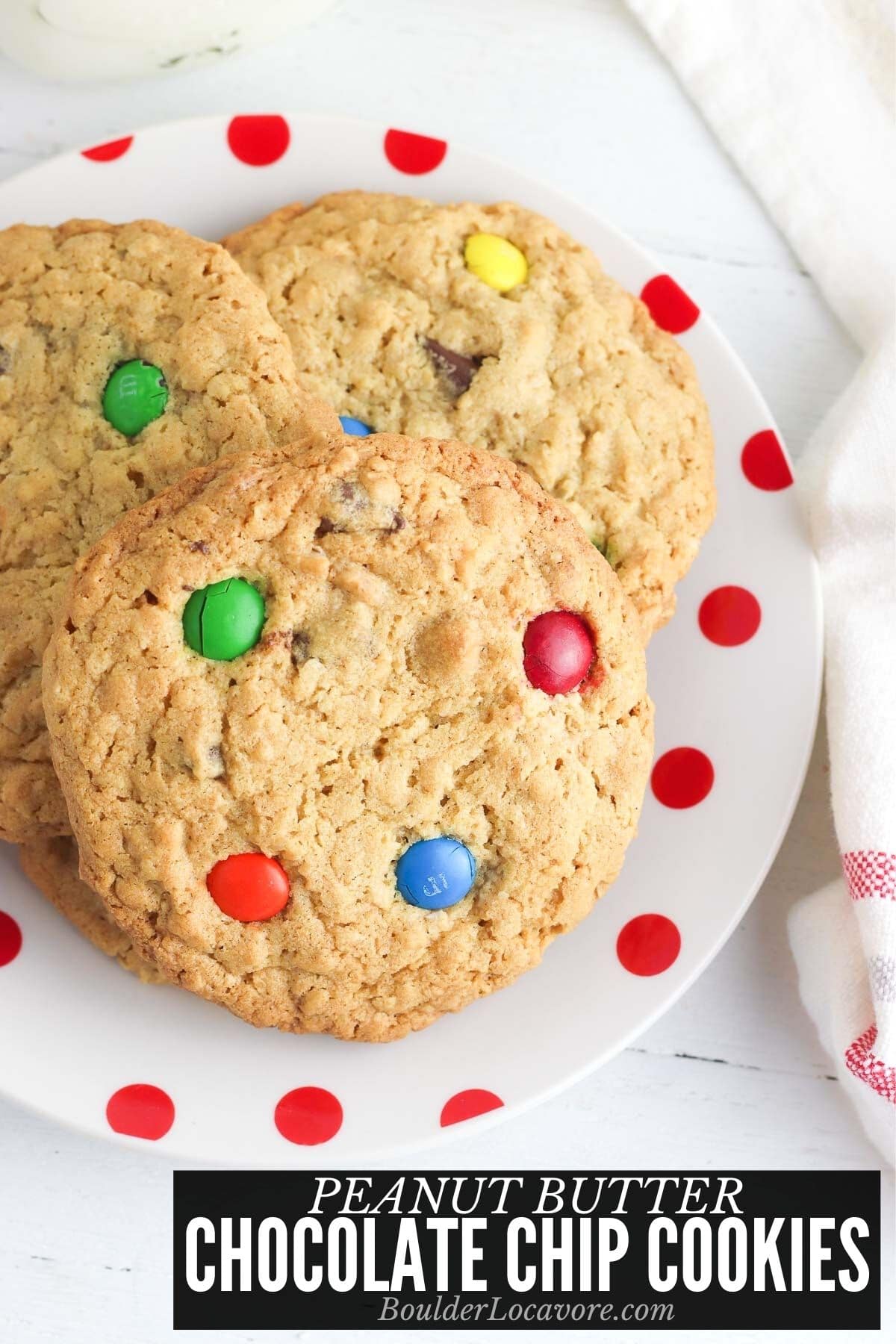 These HUGE cookies have the best of all worlds: peanut butter, chocolate chip and oatmeal.
You may also know them at Monster Cookies because they are a combination of three different cookies in one.
What could be better really?
The BEST Peanut Butter Chocolate Chip Cookies
Can't decide what cookies to make? These oatmeal Peanut Butter Chocolate Chip Cookies are the answer.
They have peanut butter flavor, a bit of texture from the oats and lots of chocolate sweetness.
Colorful M&Ms bake on top! And they are just as easy to make as any other drop cookie.
Just mix, spoon onto a cookie sheet and bake.
No one can resist a Peanut Butter Oatmeal Chocolate Chip Cookie fresh out of the oven!
Whether you call them Monster Cookies or not, these sweet treats are the ULTIMATE cookie.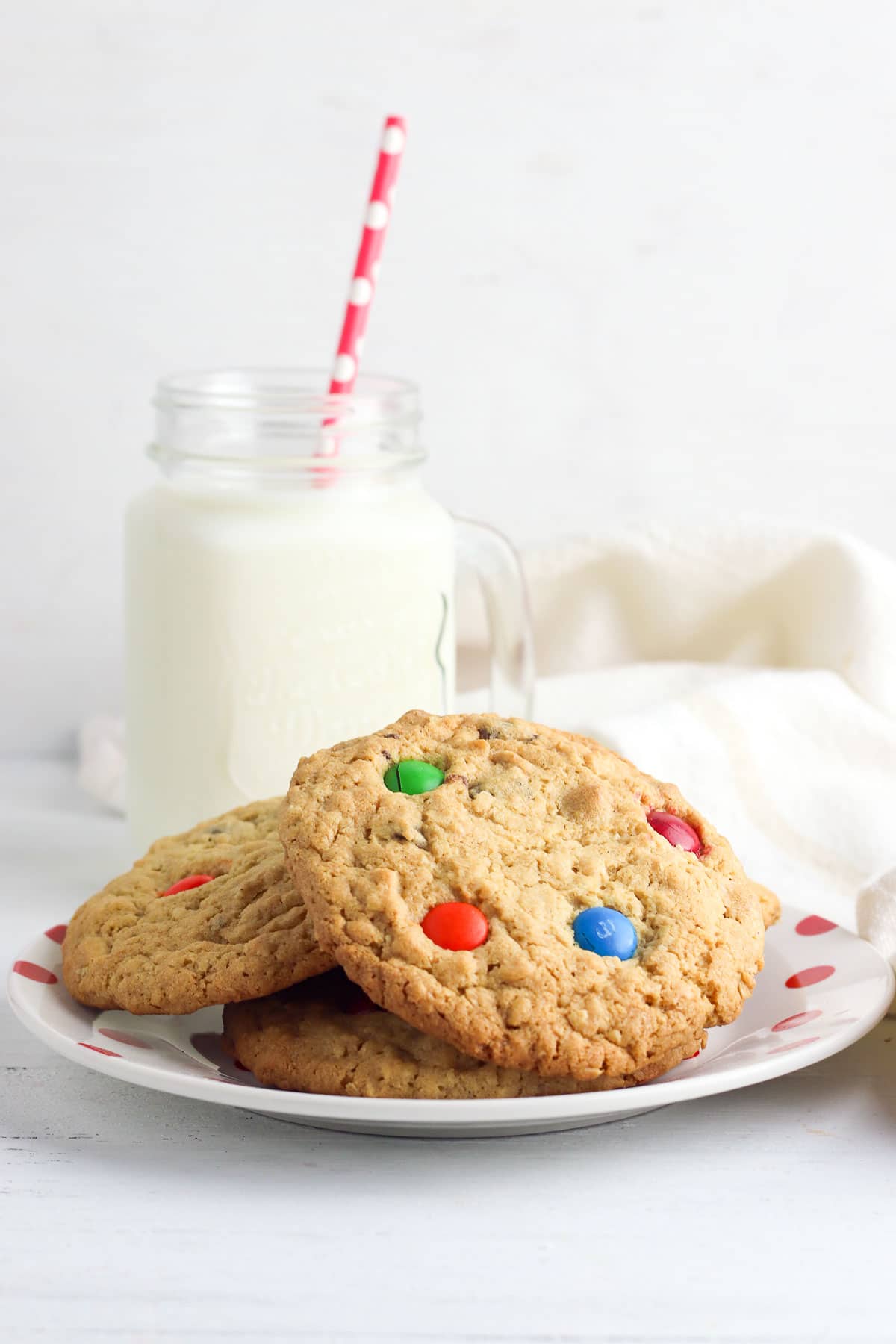 Recipe Ingredients + Notes
Unsalted Butter. Use softened butter for the best results.
Brown sugar and Granulated white sugar. The sugar combination gives great sweetness.
Peanut butter. Shelf stable no-stir peanut butter works best. Natural peanut butter has oils that separate which could result in a crumbly, greasy cookie.
Creamy peanut butter is what we use but crunchy peanut butter would work too.
Vanilla extract.
All purpose flour. Regular or gluten-free measure-for-measure flour blend can be used. To make it gluten-free I use Bob's Red Mill gluten-free 1-to-1 baking flour.
Baking Powder and Baking Soda. Helps the cookies rise perfectly and have a nice texture.
Salt. We like kosher salt which is a better tasting salt.
Quick cooking oats. Regular or gluten-free quick oats can be used. Do not use rolled oats for this recipe.
Peanut butter chips. The second dose of peanut butter flavor in the cookies!
Semi sweet chocolate chips. These are just the right amount of sweetness for the chocolate.
M&Ms. We used original multi colored M&Ms here. You could also substitute other flavors or colors of M&Ms if desired.
Variations
M&Ms Substitutes. Swap out M&M's for Reese's pieces for an even more peanut-y variation. Peanut Butter M&Ms would be delicious too!
Butterscotch Monster Cookies. Use butterscotch chips instead of the chocolate morsels for a different take on the classic.
More chocolate. Substitute more chocolate morsels for the peanut butter chips if you can't get enough chocolate!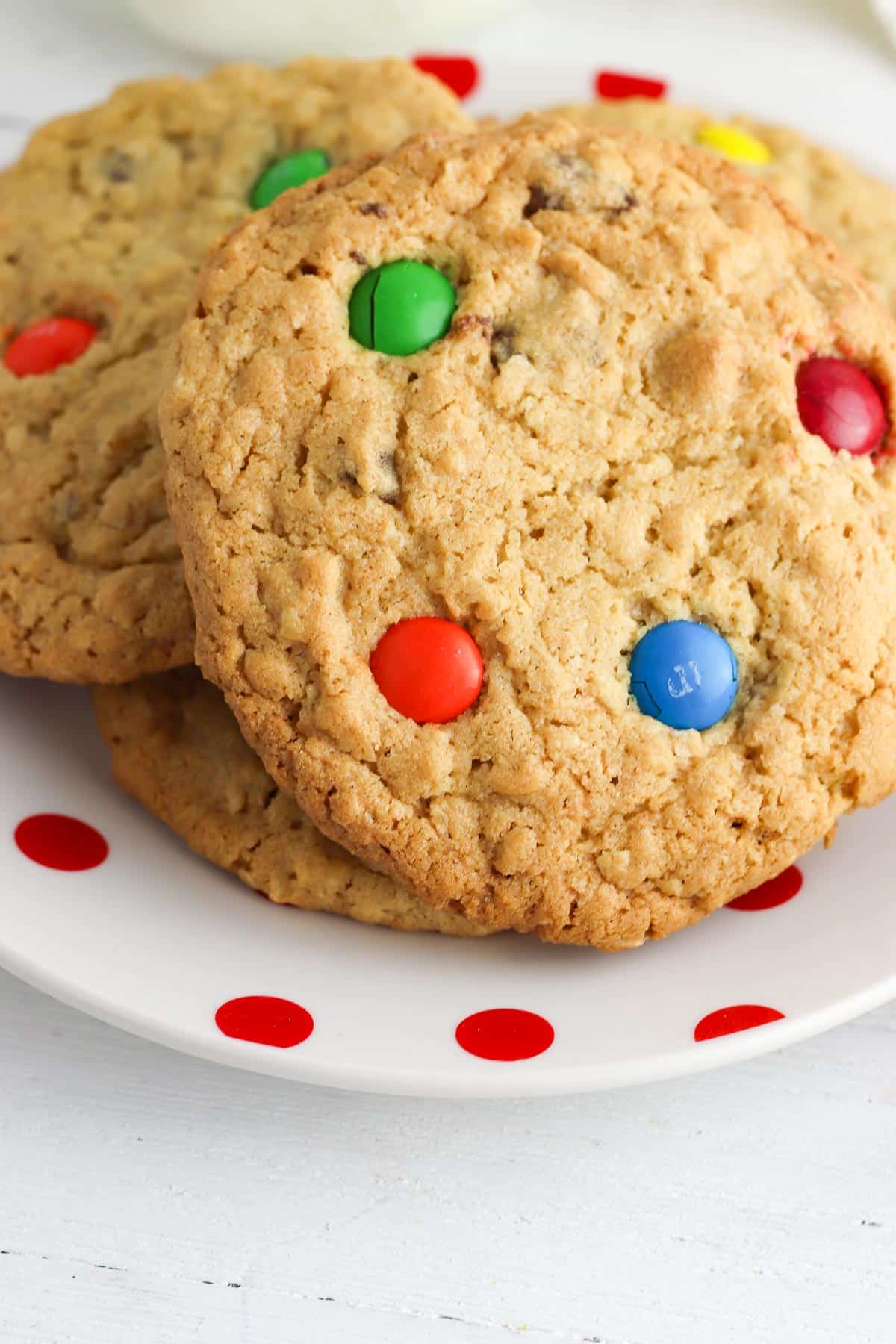 TRIED AND TESTED RECIPE
This recipe has been tested with regular all purpose flour, gluten-free measure-for-measure flour, at altitude and sea level. Delicious results every time!
How to Make it – Step-by-Step
STEP 1. Preparation
Preheat the oven to 350 degrees F. Line a baking sheet with parchment paper.
STEP 2. Mix the wet ingredients
Beat butter with the white and brown sugars (photo 1).
Add peanut butter and vanilla extract (photo 2).
Beat until light and fluffy. Then, add the eggs (photo 3) and beat to combine.
STEP 3. Mix the dry ingredients
In a separate bowl, combine flour with baking soda, baking powder and salt. Whisk to combine (photo 4).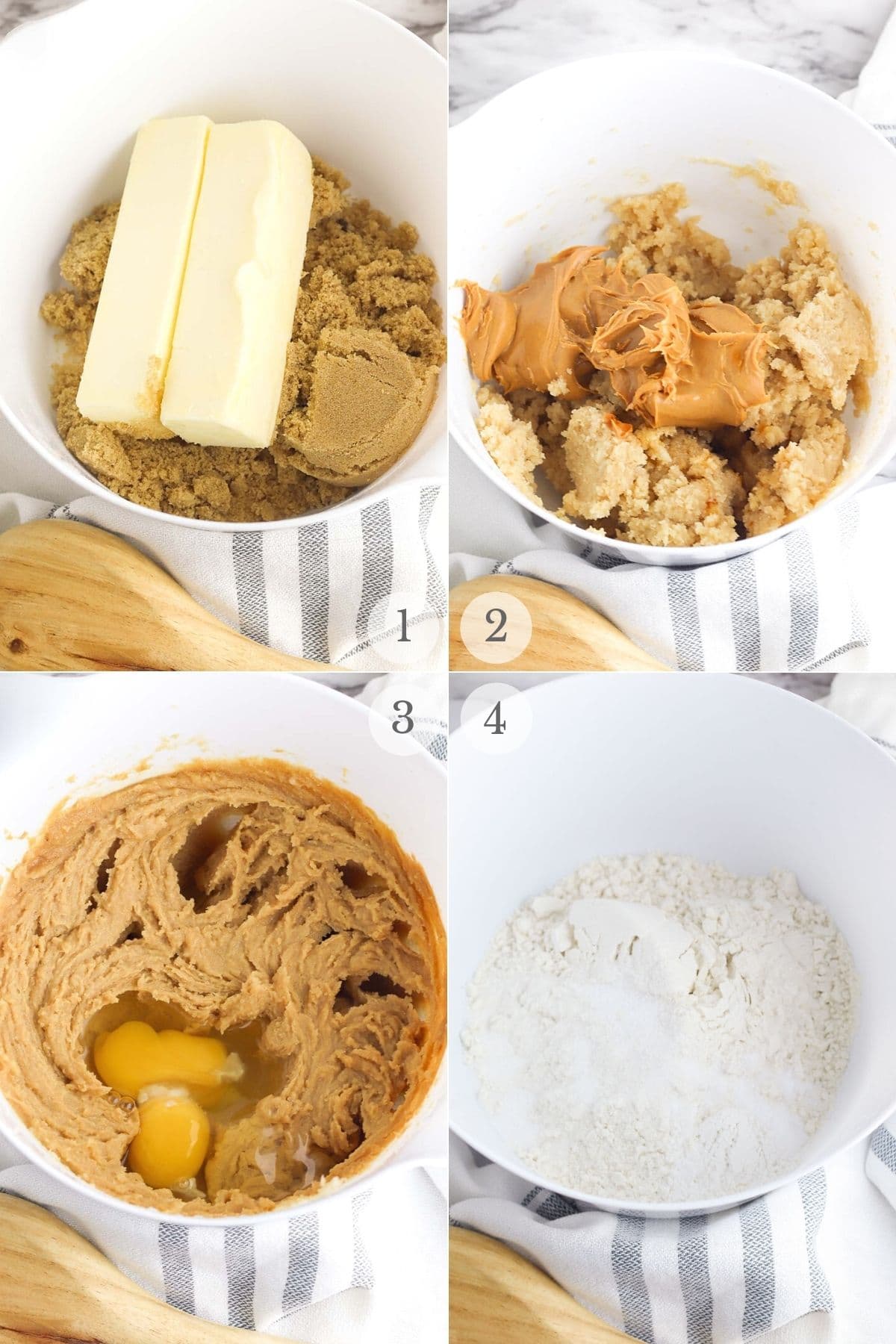 STEP 4. Add dry ingredients to wet
Add the flour mixture to the butter mixture (photo 5 ). Mix to combine. Stir in the quick cooking oats (photo 6).
If you're using a stand mixer, switch to hand mixing with a large wooden spoon. Fold in the chocolate chips and peanut butter chips (photo 7 ).
STEP 5. Scoop and bake
Scoop dough onto a prepared baking sheet using a 1/4 cup measuring cup.
Press the cookie dough balls down lightly (photo 8). Top each one with four M&Ms (photo 9).
Bake for 16 to 18 minutes.
The Peanut Butter Chocolate Chip cookies are done baking when the edges are golden brown, but centers remain soft.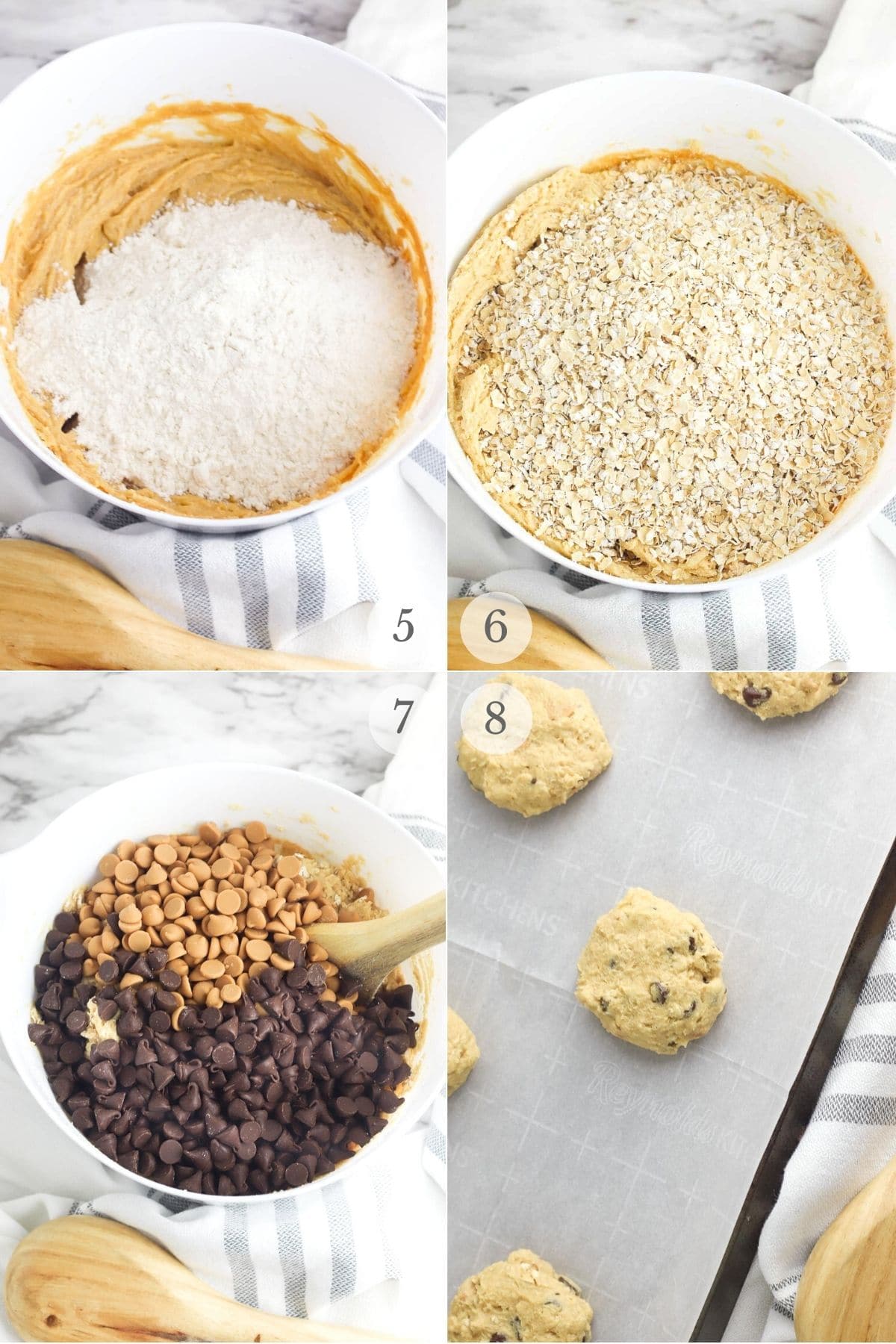 STEP 6. Cooling the cookies
After baking allow the cookies to cool for 5 minutes on the baking sheet. Then move them to a wire rack to cool completely (photo 10).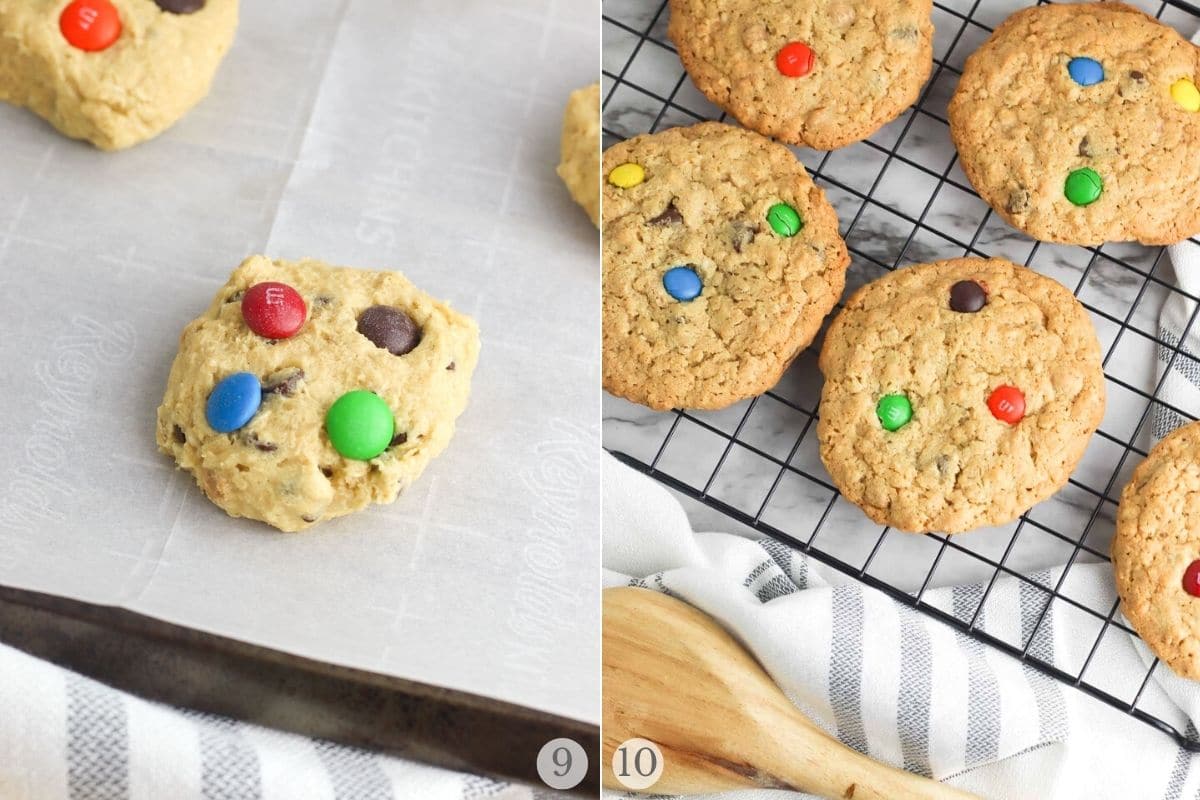 Recipe FAQs + Pro-Tips
These cookies are BIG. Leave 2 to 3 inches between cookies on the baking sheet. They'll spread as they bake. Ours were around 4 inches across.
Do not over bake. The center of the Peanut Butter Oatmeal Chocolate Chip Cookies should be a little soft and doughy when you remove them from the oven. The edges will have some crispness.
Over baking results in a crumbly, tough cookie. These are best when they are crispy on the outside with a buttery crumb.
Hand mix at the end. You can use a stand mixer with a metal paddle to make the dough for the early steps.
When it's time to fold in the morsels and M&Ms, switch to hand mixing with a spoon.
(Don't break a plastic mixing paddle like I did!)
Are These Cookies Chewy?
No, these cookies are not chewy and moist like a traditional oatmeal cookie.
Using fine quick cooking oats gives these some texture, but the taste and texture is more similar to a peanut butter cookie.
Why do you add the M&Ms only on top of the cookies?
Adding M&M's to the top of the cookies (vs. folding into dough) gives a colorful, cheery touch of extra chocolate to the cookie tops!
You can actually see the bright colorful M&Ms this way.
It also gives you more control over how the M&Ms get distributed.
When you fold the candy into the batter, it's much harder to mix them evenly into the stiff dough.
Plus, you get a lovely crunch of melt-in-your-mouth M&M candies in every bite.
Why are my monster cookies flat?
There are a few reasons monster cookies turn out flat.
Using hot or melted butter will make the cookies spread as they bake. Which is why we used softened or room temperature butter.
Adding dough to preheated baking sheet also can cause this.
Often, monster cookies come out flat if they're pressed down too thin before baking. Just press down slightly.
You don't want to press them all the way into a cookie shape before they bake. Remember, they will spread!
Are Monster Cookies Gluten Free?
To make them gluten-free use gluten-free flour and gluten-free quick oats.
Storing Leftovers
Store the cookies at room temperature in a sealed container for up to a week. They also keep well frozen! Store in freezer bags in the freezer for up to 3 months.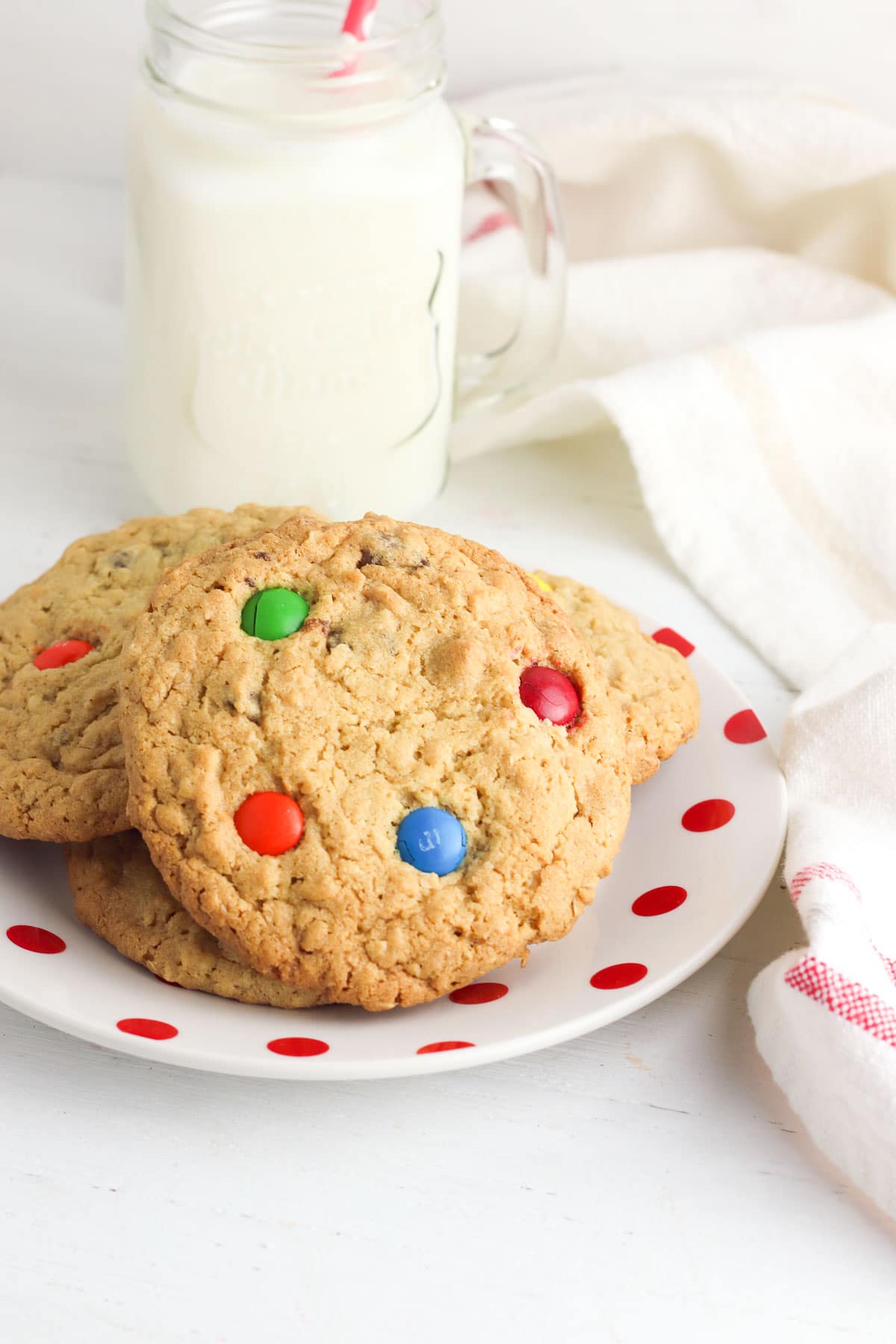 More Recipes You'll Love
Did you make it? Please RATE THE RECIPE below!
Please SUBSCRIBE and FOLLOW ME on FACEBOOK , TWITTER , INSTAGRAM and PINTEREST !