Artichoke season just got easier with Instant Pot Artichokes! They are fast, easy and delicious. Everything you need to know is right here!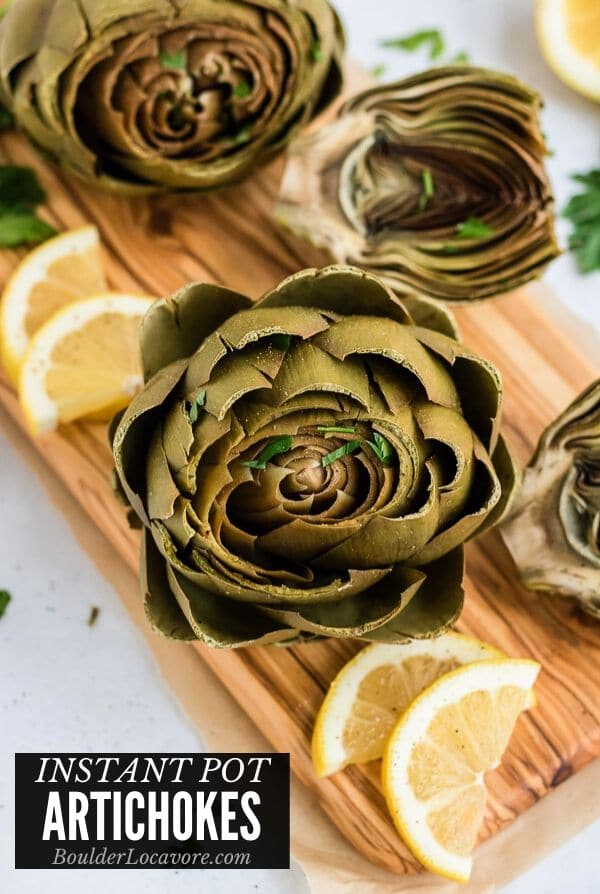 These weird and wonderful vegetables are always an exciting part of spring.
Technically they are thistles and they are delicious!
Whether you are lucky enough to find them all year or just in the spring, you can whip up Instant Pot Artichokes in a flash!
And if you aren't sure how to eat them this tutorial will tell you everything about How to Cook and Eat Artichokes.
It includes a conventional cooking method too.
Ingredients Needed
Globe Artichokes (medium-large size)
Lemon
Water

Ingredient Notes
Artichokes
This recipe is for cooking globe artichokes, also called French artichokes or green artichokes.
These are different than Jerusalem Artichokes or sunchokes.
How Many Artichokes Fit in an Instant Pot?
Approximately three medium artichokes will fit in a 6-quart Instant Pot.
If the artichokes are slightly smaller four should fit.
The quantity you can cook at once will be a function of the size of your Instant Pot.
PRO TIP: Do not pack the artichokes into the Instant Pot. Leave some room. Refer to the photos in the step-by-step instruction collage below.
Increasing the amount of artichokes does not change the cooking time.
When are Artichokes in Season?
Though artichokes can be available all year, in the United States the peak season is March-May with a smaller crop in October.
Caring for Artichokes
PRO TIP: Do not wash your artichokes until right before you are ready to prepare them.
To keep them fresh as long as possible, put a little bit of water on the stem then dab it off before storing in the fridge.
Artichoke Cooking Time in the Instant Pot
This recipe is written for medium sized artichokes which take 20 minutes cooking time.
Time to come to pressure will be additional to this time.
Adjust the cooking time accordingly for artichoke size:
Small artichokes will take approximately 10 minutes
Larger artichokes will need to cook 30 minutes.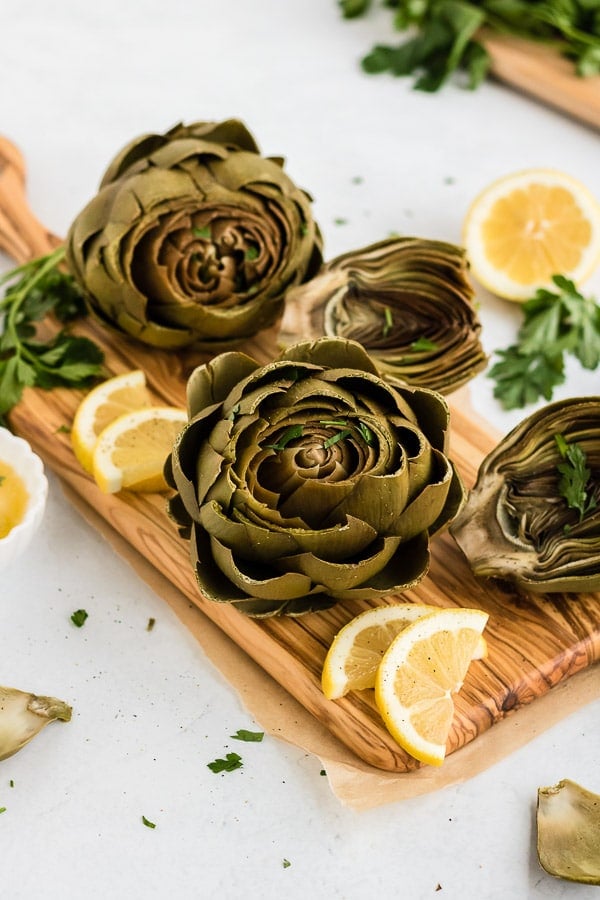 How to Select Perfect Artichokes
Choose an artichoke that has tightly packed leaves
Choose an artichoke that feels heavy for its size.
The artichoke should feel firm and its stem should not easily bend.
Squeeze the artichoke leaves and listen for a "squeak"
How to Trim an Artichoke
STEP 1: Slice the stem off flush with the bottom of the artichoke.
STEP 2: Cut off the top of the artichoke.
STEP 3: Make a straight cut across the tip of the outer artichoke leaves removing the thorn.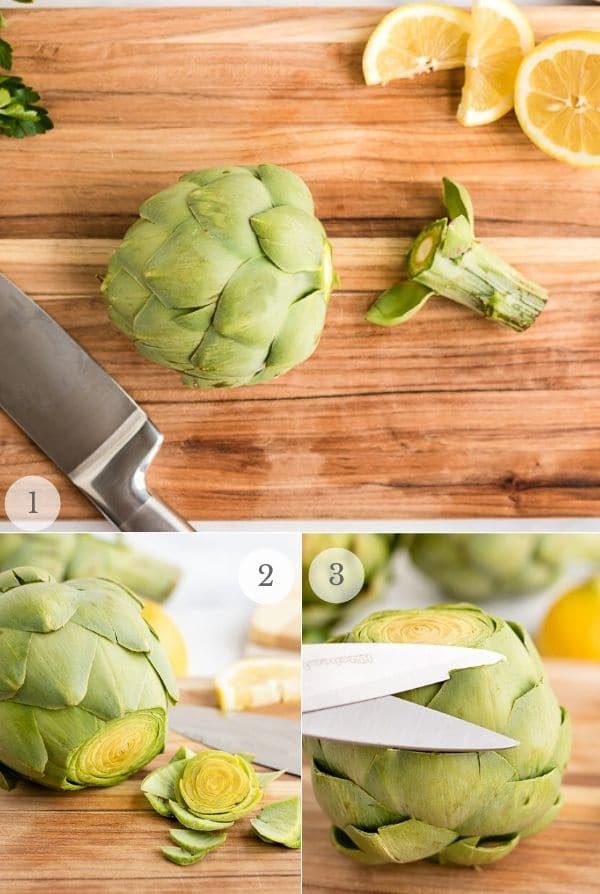 How Much Water to Use in the Instant Pot?
According to Instant Pot, the perfect way to cook artichokes in ANY size Instant Pot requires the following amounts of water:
The 8 Quart Models need 1.5 cups of liquid.
The 6 Quart Models need 1 cup of liquid.
The 3 Quart Models need .75 cups of liquid.
How to Make Instant Pot Artichokes – Step-by-Step
STEP 1: Trim artichokes (photo 1).
STEP 2: Place the trivet (steamer rack) into the Instant Pot insert. Pour in the amount of water called for based on your Instant Pot size. Add lemon pieces to the water (photo 2).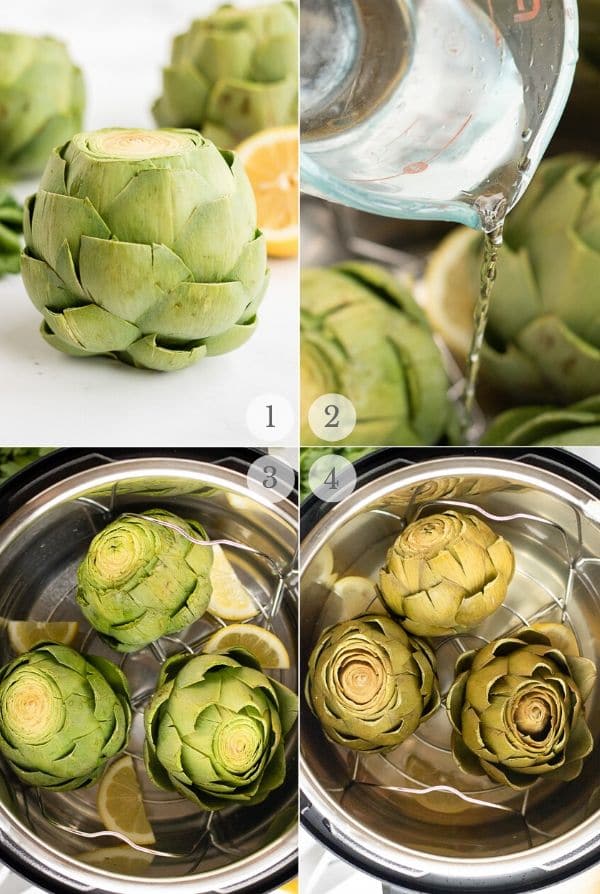 STEP 3: Place artichokes on the trivet, stem side down (photo 3). Seal the lid. Cook on Manual HIGH PRESSURE for 20 minutes.
STEP 4: After cooking completes do a Quick Release. Serve artichokes immediately (photo 4).
Why do a Quick Release with Instant Pot Artichokes?
It keeps the artichokes from getting mushy.
How to Serve Artichokes
Artichokes can be served whole or halved for easier access to the tender inner leaves and the heart.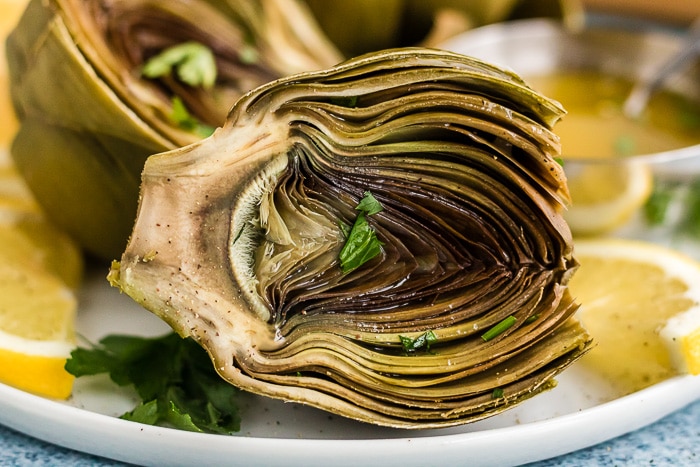 How to Serve the Artichokes
The artichokes can be served whole or cut in half vertically (stem to tip).
The artichokes must be cooked whole. To serve them halved, cut them after cooking.
Dipping Sauces to Eat with Instant Pot Artichokes
The best dipping sauces are simple. Combining mayonnaise or butter with herbs, garlic and or lemon provide a delicious complement to the delicate artichoke flavor.
Four favorite sauces can be found here: Artichoke Dipping Sauces.
Also this Chipotle Mayo Dipping Sauce is delish.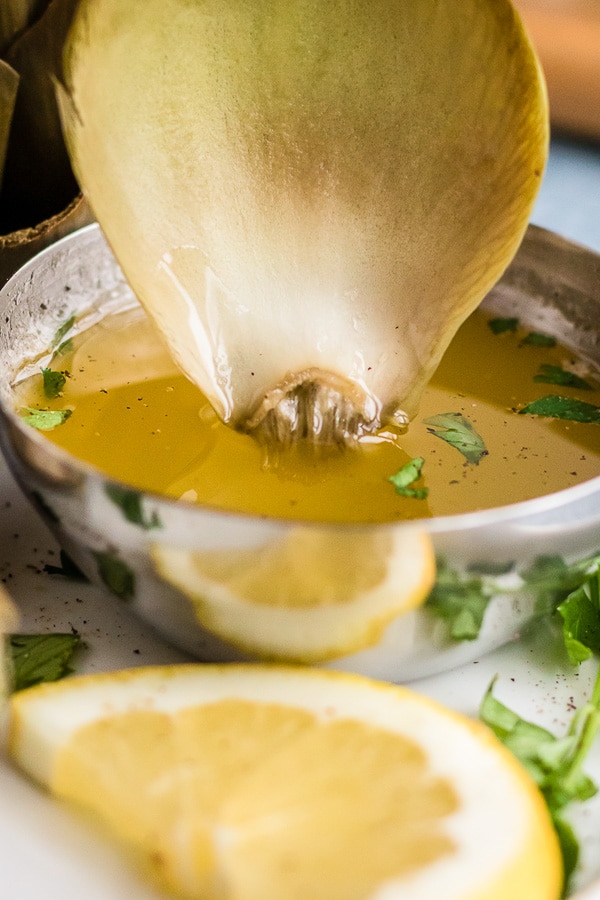 Did you make it? Please RATE THE RECIPE below!
Please SUBSCRIBE and FOLLOW ME on FACEBOOK , TWITTER , INSTAGRAM and PINTEREST !
Instant Pot Artichokes will become a new favorite way to cook artichokes!