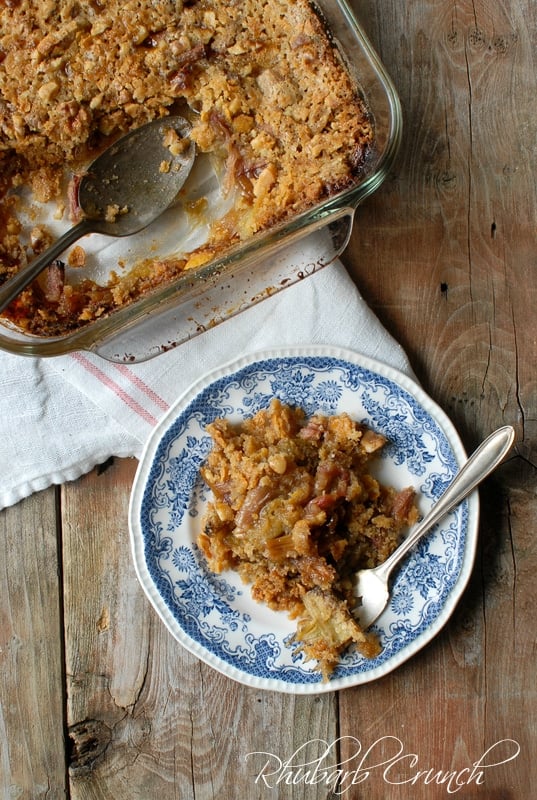 I feel a bit sorry for rhubarb if I were being quite honest. Spring rolls around and all eyes are on the berries. Shiny, ruby-red strawberries, bursting blue blueberries and of course the tantalizingly sweet demure raspberries. Few cast a glance at what appears to the uninformed as sunburned celery stalks, often forced to keep company with the greens and lettuces as though it is merely a fruit interloper. In fact it is not a fruit however it is used in recipes as a fruit. What a confused identity for the poor little rhubarb. And frankly one rarely considers rhubarb for anything unless comingling with its soul mate, the strawberry. It's a bit like a popular girl who is invited to every party and an invisible friend who no one notices unless they are keeping company together.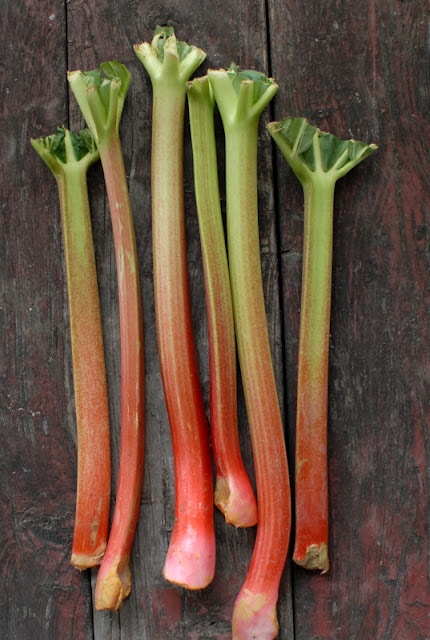 I personally have no memory of rhubarb in the cuisine of my upbringing. None. It was an experimental venture once I became focused on exploring every seasonal produce item coming my way. When I first bought some from my CSA farm, I had no idea how to prepare, how to treat it or what to make with it. It just happened at the time I wrote post about a local Vodka distiller who provided me a recipe for a Rhubarb Pie Cocktail.  The recipe calls for a puree to be made of the rhubarb leaving it a beautiful peachy colored puree, highlighting its signature tang with enough sweetness to make it enticing without making it overbearingly sweet. I fell in love on the spot.
From time to time I peruse my maternal grandmother's recipe box. When she passed away a number of years ago I was struck by how few things she kept in her apartment. Though she and my grandfather had downsized from a city apartment and weekend home, to a duplex and then after my grandfather died to a two bedroom apartment. Her closets were not packed with nostalgic items with which she could not part leaving the items she did have clearly as valuable. On a whim my Mom grabbed her recipe box and suggested I take it. My memory of her culinary pursuits was more functional so at the time I did not appreciate the treasure trove of family memories the little worn box held.
After I started to write this blog the recipe box came into full center. I had not begun to develop recipes as I do now, and for a number of reasons did not want to share the recipes of others, copyright notwithstanding. I would look through Nana's recipe box finding handwritten cards from her as well as my great Grandmother, making them feel close at hand. I found recipe cards giving attribution to long time family friends and relations, as well as dishes from a bygone era pushed aside for the current trends in cooking.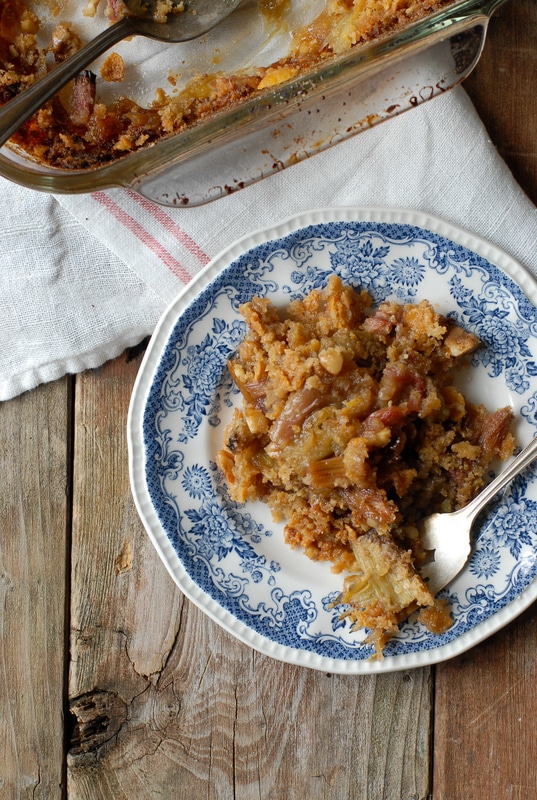 It's been some time since I've dipped into Nana's recipe box. At  the peak of each season I love to take a look and see what she might have been cooking. I find many of her desserts to be wholesome, focused on key seasonal produce. The recipes are simple, homey and grounded in a more straight forward approach. I found a little recipe that caught my eye for 'Rhubarb Crunch'. At first look it seemed to be a cobbler with a funky name. I was running potential replacement names through my head until I tasted the final dish and totally understood. The topping includes cornflakes along with the usual characters of butter, sugar and nuts. Though the cornflakes contribute to the crunch, it's really that the topping becomes a sort of toffee when cooled providing a distinct sweet crunch to compliment the soft, sweet rhubarb. It cooked to only about ¾ inches deep leaving it a scoopable dessert which is fantastic and would also be perfect complimented with vanilla ice cream. It's relaxed, comfortable and delicious!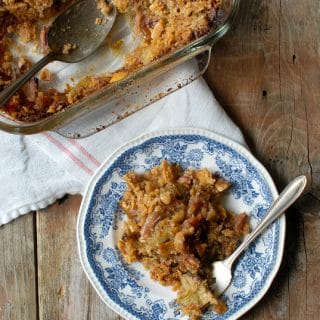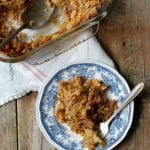 Rhubarb Crunch
A vintage dessert in the cobbler family, this relaxed scoopable dessert celebrates the best attributes of rhubarb with a wonderful toffee crunch topping. Would be great with a chilly scoop of Vanilla Ice Cream!
Total Time
1
hour
30
minutes
Ingredients
2 ½

pound

fresh Rhubarb

½

cup

mild flavored Honey

Dash of Kosher Salt

¾

cup

Flour

(use a gluten-free blend if making the dish gluten-free)

¾

cup

Light Brown Sugar

, firmly packed

½

cup

cold Butter

, cut into ½ inch pieces

¾

cup

Corn Flakes

, crushed (use gluten-free corn flakes if making the dish gluten-free)

½

cup

chopped Walnuts
Instructions
Preheat the oven to 350. Prepare a 13x9x2 inch baking pan by greasing it with butter.

Cut the rhubarb into 1 inch pieces. Place them into the prepared baking pan.

Combine the honey and salt. Drizzle over rhubarb.

Cover and bake until tender, 30-40 minutes.

While the rhubarb cooks, in a large bowl combine the flour, brown sugar and butter. Using a pastry whisk, mix all the ingredients together to form a grainy mixture like small stones.

Mix in crushed corn flakes and nuts. Sprinkle over the rhubarb, and cook uncovered at 400 degrees until the top begins to brown (in my oven it was around 15 minutes but keep checking so it does not over brown or burn).

Remove and allow to cool until almost room temperature which allows the crunchy topping to form.
Nutrition Facts
Rhubarb Crunch
Amount Per Serving
Calories 498
Calories from Fat 198
% Daily Value*
Fat 22g34%
Cholesterol 40mg13%
Sodium 177mg7%
Potassium 661mg19%
Carbohydrates 75g25%
Protein 5g10%
Vitamin A 730IU15%
Vitamin C 16mg19%
Calcium 203mg20%
Iron 2.8mg16%
* Percent Daily Values are based on a 2000 calorie diet.