Rhubarb Fool is a creamy, tangy, chilled whipped dessert with a dreamy texture that's like eating a rhubarb-flavored cloud. This easy recipe is a 'must make' during rhubarb season!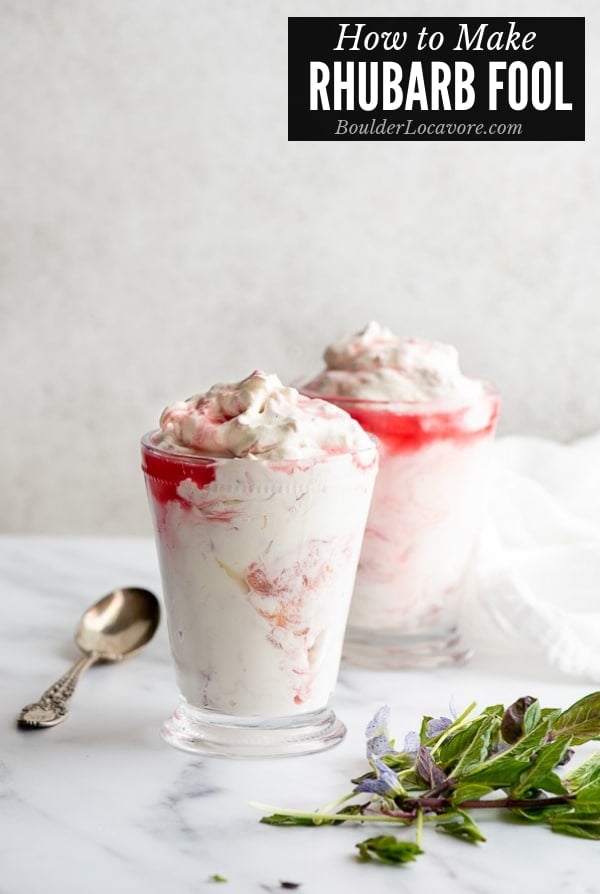 Rhubarb lovers! This recipe is for YOU! This iconic British summer dessert is a light and dreamy recipe to celebrate rhubarb season: Rhubarb Fool.
I was looking back at some older recipes on Boulder Locavore to find a rhubarb season favorite: Brined Boneless Pork Loin Roast with Rhubarb-Cherry Port Sauce. The sweet-tangy combo of the sauce and the ease of cooking the lean pork roast make it a favorite in my household.
Jump to:
I happened to glance at the first comment on the recipe which was from a friend in England, Sue (who shared a guest post about What the Heck IS Boxing Day Anyway?), asking 'have you made Rhubarb Fool?' I'd long since forgotten her question but the time seemed right to make it!
What is Rhubarb Fool?
A British dessert harkening back a few centuries, Rhubarb Fool is a light dessert combining a sweet-tangy rhubarb compote with freshly whipped unsweetened cream. The two are folded together making a cloud-like, lofty rich dessert with signature rhubarb flavor.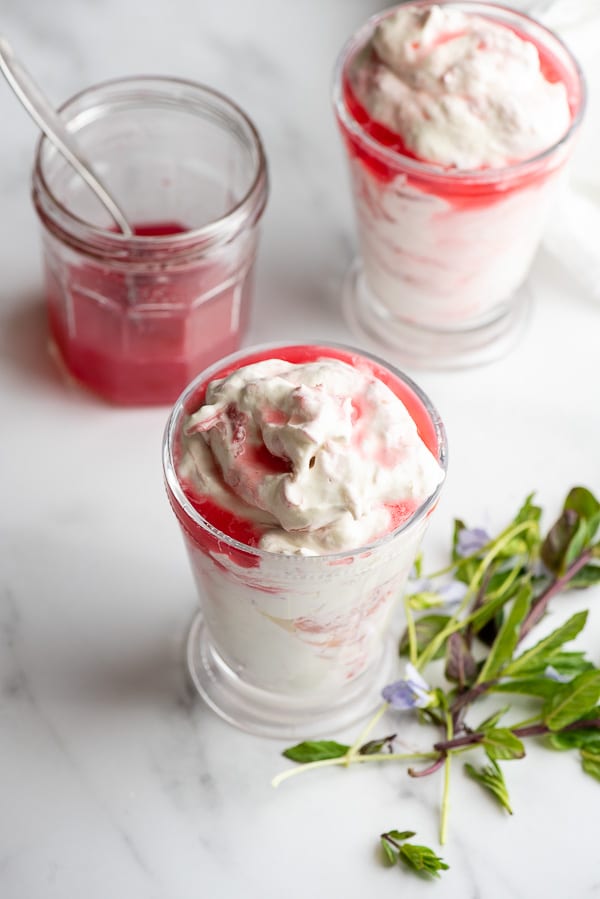 Rhubarb is Really a Vegetable
Did you know rhubarb is actually a vegetable? For those unfamiliar it looks like a brightly blushing cousin of celery in ribbed stalks. Rhubarb's distinct tangy flavor pairs well with sweet flavors making it a main star of desserts over savory dishes; Strawberry Rhubarb Pie probably being the most familiar.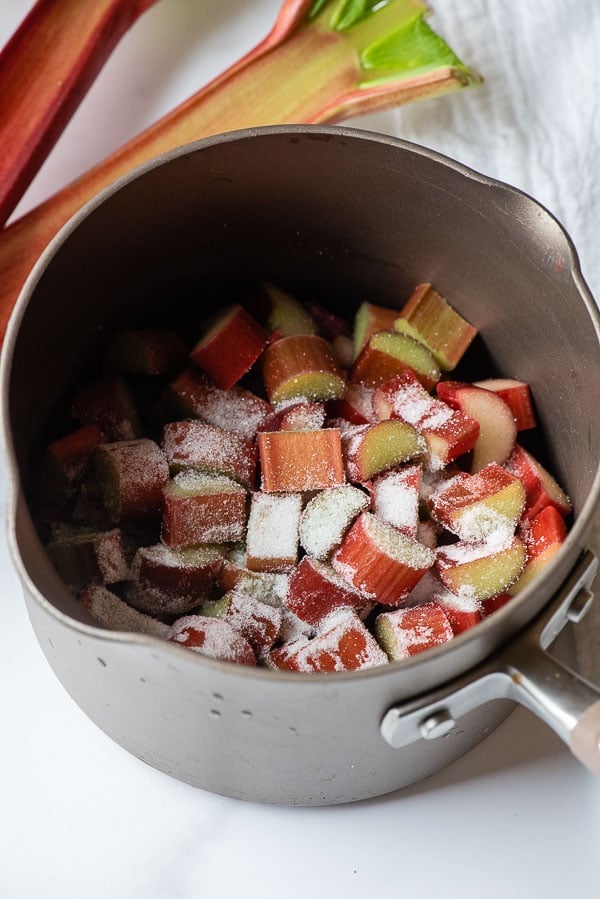 When is rhubarb available?
Rhubarb has a shorter season in the United States, usually showing up in stores in the spring with the prime season being April through June. Gobble it up while you can!
There are many delicious recipes in which to use it (I'll list more below) but it won't be around too long.
How to make Rhubarb Fool – Step by Step:
STEP 1. Cook the rhubarb
Slice the tangy rhubarb. Combine with sugar in a medium saucepan over medium heat, covered (photo 1).
No water is required because the cooking process releases the water in the rhubarb.
Cook for five minutes until the rhubarb is soft and begins to breakdown. A few stirrings, and three more minutes breaks the rhubarb down fully (photo 2).
PRO TIP: The more the rhubarb is stirred, the more it breaks down while cooking. If you prefer larger pieces, stir less. If you prefer a smoother texture as shown in the photos, stir more at the end to reach the desired consistency.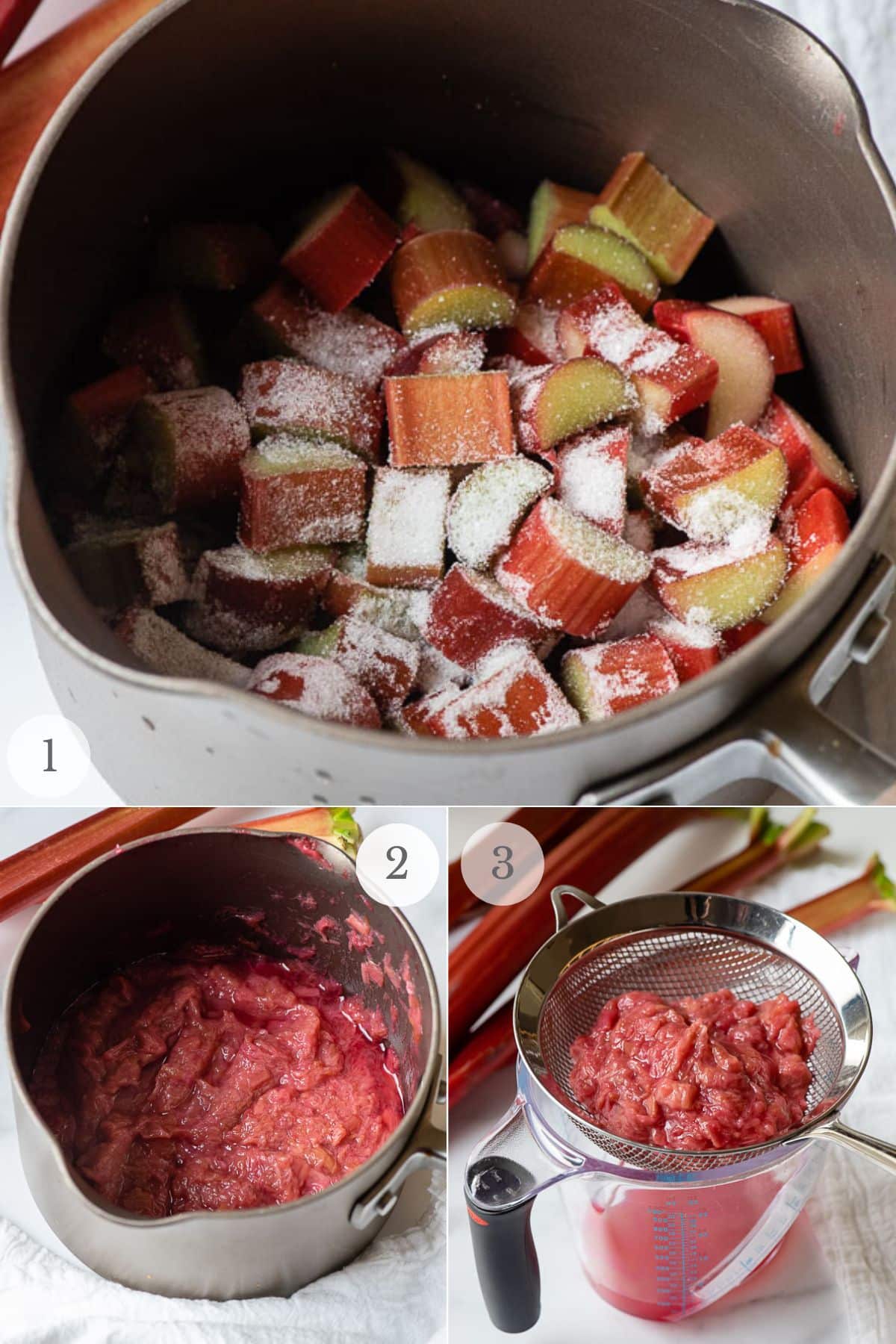 STEP 2. Strain
Put the rhubarb mixture into a strainer (a fine mesh sieve) and allow the juice to separate leaving a thick compote (photo 3). Chill both the juice and pulp separately.
STEP 3. Make the rhubarb fool dessert
Whip heavy whipping cream into soft peaks (photo 4). Fold in the rhubarb compote creating a lightly streaked salmon-color dessert (photos 5-6).
Spoon the rhubarb fool into serving glasses or bowls, drizzle with the juice and chilled for at least an hour before serving (photo 7).
It's a simple but rich dessert and one that celebrates rhubarb flavor. At first I was hesitant about not adding sugar to the whipping cream but it's truly perfect without it.
More Rhubarb Recipes You'll Love:
Recipe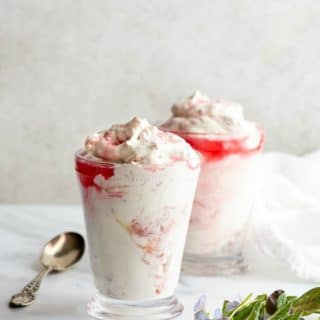 Rhubarb Fool
This lofty, chilled dessert is a summer favorite. A simple sweetened rhubarb compote is folded into freshly whipped cream, drizzled with rhubarb syrup and chilled. It's a rich summery dessert.
Print
Save Recipe
Recipe Saved!
Pin
Rate
Ingredients
1

pound

Rhubarb

rinsed, ends trimmed, leaves removed and cut into ½-inch thick slices

¼

cup

Granulated Sugar

2

cups

Heavy Whipping Cream
Instructions
Combine the rhubarb and sugar in a medium sauce pan with lid over medium-high heat. Allow to come to a simmer and cook for 5 minutes stirring a few times. Stir and reduce heat to low, replace the lid and allow to cook an additional 3 minutes until the rhubarb is soft and breaking down. NOTE: the more it is stirred the more it will breakdown into smaller pieces.

Place a sieve over a small bowl and allow the juice from the rhubarb to drain into the bowl. Reserve the juice. Allow both to cool. NOTE: may be refrigerated to speed cooling or until later dessert preparation.

Whip the heavy whipping cream until it makes soft peaks. Fold in the rhubarb compote (NOT the separated juice) until they are combined. Spoon into serving glasses and drizzle with some of the juice. Chill for at least 1 hour before serving. NOTE: the juice may be drizzled on just before serving instead OR in addition.
Nutrition
Calories:
321
kcal
|
Carbohydrates:
13
g
|
Protein:
2
g
|
Fat:
29
g
|
Saturated Fat:
18
g
|
Cholesterol:
108
mg
|
Sodium:
33
mg
|
Potassium:
277
mg
|
Fiber:
1
g
|
Sugar:
9
g
|
Vitamin A:
1245
IU
|
Vitamin C:
6.5
mg
|
Calcium:
117
mg
|
Iron:
0.2
mg
Originally published: April 29, 2018